This post contains references to products from one or more of our advertisers. We may receive compensation when you click on links to those products. Terms apply to the offers listed on this page. For an explanation of our Advertising Policy, visit this page.
Our team at TPG stays in a lot of hotels each year. Many of them are for our in-depth reviews, while others are for personal stays. Either way, we often end up comparing notes and suggesting properties to each other.
Basically, we love a great hotel.
For more TPG news delivered each morning to your inbox, sign up for our daily newsletter.
Earlier this month, our reporters and editors gathered in Scottsdale, Arizona, for a staff retreat — a great way to reconnect after many months apart. In a word, our time at the JW Marriott Scottsdale Camelback Inn Resort & Spa was phenomenal.
Since the hotel knew we were coming, we can't offer a full review. But we can tell you about the many things we liked about the desert resort.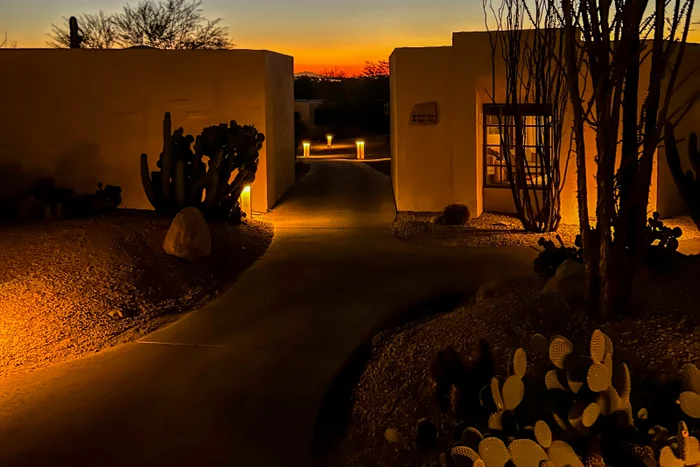 The Camelback Inn opened on Dec. 15, 1936, with 75 casitas all constructed with handmade adobe bricks.
Today, as the resort approaches its 85th anniversary, it has just completed a $12.5 million renovation. The rooms have been updated but the resort still holds true to its roots of fireside cookouts, relaxing by the pool or just finding a quiet spot to enjoy the desert sunset.
There are bigger and more luxurious resorts in the area, but Camelback stands apart in its layout. There are 453 casitas and suites spread across the property. The clusters of casitas (small cottages) make the hotel feel much more intimate.
Walking paths wind around the property, which is arranged like a collection of tiny villages, and every casita has an outdoor patio and seating area. The design creates a sense of privacy while still offering guests all the amenities of a large resort.
The Marriott family connection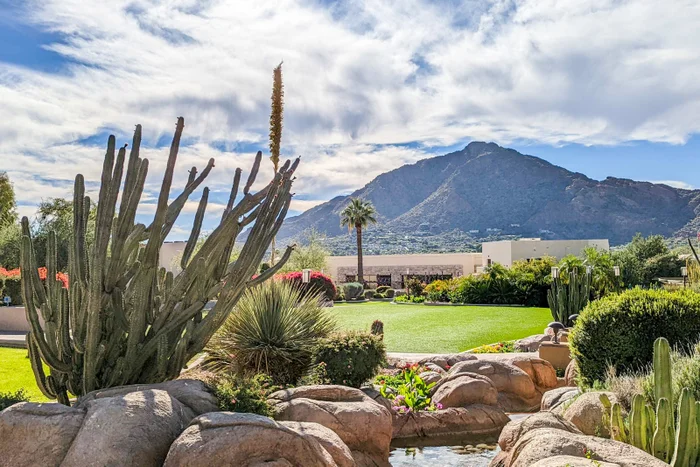 In the late 1940s, the Marriott family started to vacation at Camelback Inn — and a tradition of escaping to the resort has been passed on through the generations.
The family liked the hotel so much, in fact, that they purchased it in 1967 for $2.8 million. It was the first acquisition made by J.W. Marriott Jr. (known as "Bill") after he took the hotel company over from his father.
To this day, Bill Marriott, the company's longest-serving CEO and current chairman of the board, celebrates each birthday there.
"This place is perfection," Bill Marriott says on a video honoring the resort's 85 years.
Marriott company insiders say it remains one of his favorite hotels – along with the Fort Lauderdale Marriott Harbor Beach Resort & Spa in Florida.
A great value
We are the TPG team, so of course we're going to look at the value of a resort on points.
The Camelback Inn is a Category 6 hotel, meaning it currently costs between 40,000 and 60,000 points a night to stay there, depending on the date.
As with all Marriott properties, the fifth night is free when you're booking a stay on points. Unlike Hilton and Hyatt, unfortunately, the $40 nightly resort fee isn't waived.
As a point of comparison, the nearby Phoenician, a Luxury Collection resort, is a Category 7 hotel.
With room rates at the Camelback Inn frequently at or above $500 a night, a stay there can be a great use of points.
For Platinum Elite members or higher, the hotel offers its $26 continental breakfast for free for up to two guests in the room. For an extra $7, those guests can access the hot buffet items including the omelet station, pancakes, French toast, bacon and sausage. While breakfast is always tastier if it is truly free, for an extra $7, it still felt like a pretty solid spread.
And though we hate resort fees — especially when staying on points for an award stay — guests seem to actually get something in return.
At TPG, we believe hotels should be upfront about the total price of a room and that an award stay should be an award stay. Period.
Still, there are resort fees that seem to offer nothing of value and those that do. I still laugh when I recall the downtown Boston hotel that included a cup of clam chowder in its "destination fee."
At the Camelback Inn, the $40 nightly fee includes use of the tennis courts along with balls and racquets; use of the driving range along with clubs and balls; and two hours' use of the property's bicycles.
While we would prefer there be no resort fee, we at least saw lots of value in it, since this is a true resort with lots of bells and whistles.
A connection with nature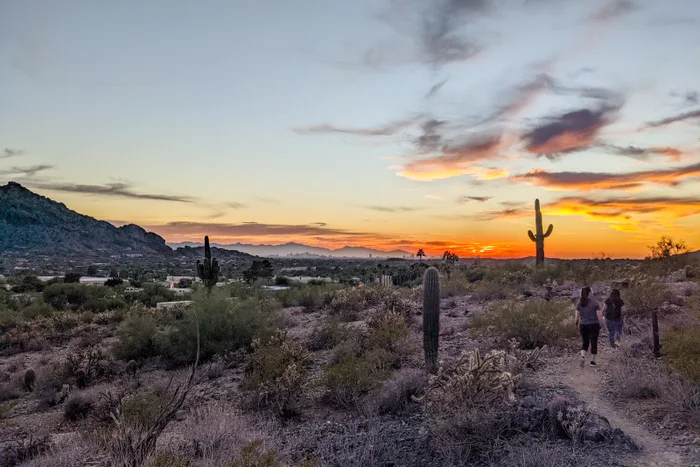 Members of the TPG team enjoyed plenty of sunrise and sunset hikes.
Guests can easily walk off breakfast on a short loop trail on Mummy Mountain. It took members of the TPG team less than 20 minutes from start to finish (and that included stopping for photos along the way). You get a great view of neighboring Camelback Mountain and can see downtown Phoenix in the distance.
The trail is just a short walk from the rooms, with its start located just past the spa. That makes a quick, sunrise hike doable even for travelers who can't easily get out of bed without first having a cup of coffee.
If you're craving something more strenuous, it's just a 20-minute walk from the resort to Camelback Mountain for a proper hike.
What the rest of the team thought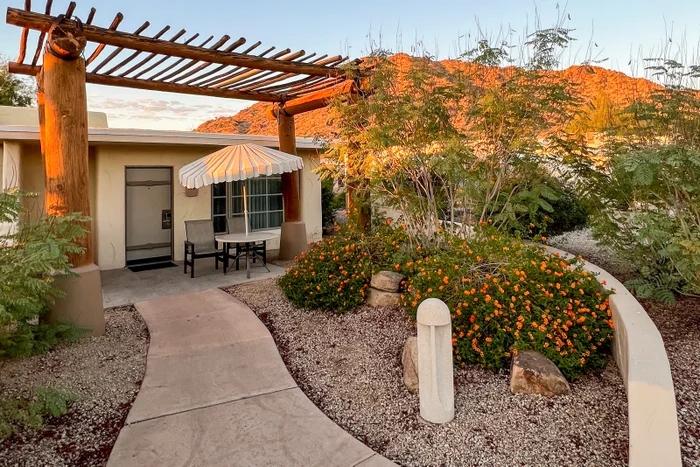 Don't just take my word for it. Here are some impressions from the rest of the TPG team:
"I loved having a balcony overlooking Camelback Mountain, which made me feel at peace," said writer Caroline Tanner. "I also particularly enjoyed the expansive tennis courts, which provided ample space for the TPG team to show off their tennis [skills] … or lack thereof."
Anka Twum-Baah, the senior vice president of customer loyalty and content, said, "The landscape was breathtaking. It's a great place to get creative juices going where you can work and play."
For senior news editor Clint Henderson, it was the access to the outdoors and the atmosphere that won him over.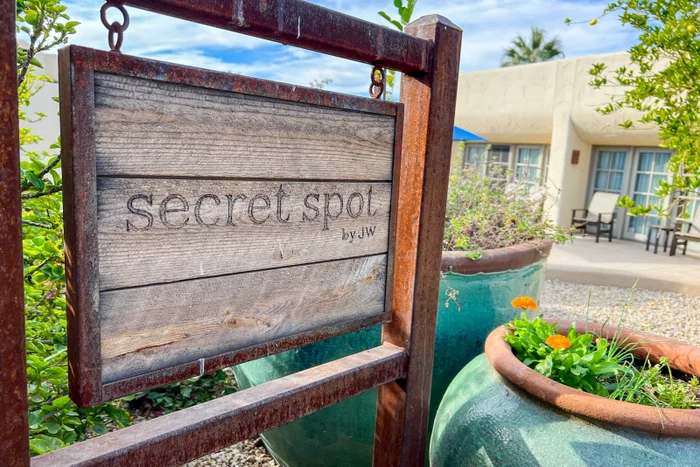 "I loved the laid-back vibe at The Camelback," Henderson said. "Service was unobtrusive, but any requests got fulfilled quickly and with a smile. My favorite part of the resort was the access to hiking – from nearby mountains to a neighborhood hike to see the ultra-high-end homes near the resort. There's nothing quite like the light in Arizona."
Editor Erica Silverstein felt similarly: "My favorite thing about the resort was how it fit in so well with the desert landscape. I loved that I could walk five minutes from my casita to a trailhead and take an easy walk into the hills to get amazing cactus, mountain and sunrise [and] sunset views."
Katie Genter, a senior writer, said that "although the [resort] is within reach of Phoenix and surrounding areas, it also serves as a destination itself. And especially as the coronavirus pandemic continues, I appreciated that the resort offers plenty of outdoor dining options and event spaces."
"Plus," she added, "the resort grounds are beautiful and I loved the variety of outdoor activities available at the resort including relaxing by the pool, taking a hike, borrowing bikes and hitting some balls at the driving range.
Benét Wilson, a senior editor at TPG, said she "fell in love with the landscaping at the hotel."
"There's no surprise that cacti were everywhere," she added. "But it was the variety that impressed me. They were mixed with green spaces, water features and beautiful pops of color with bougainvillea around the property.
Senior editor Benjamin Smithson agreed. "I found all the cactus across the property oddly beautiful and would regularly stop to admire them," he said. "Their bright green colors made a pleasant contrast to the desert floor and beige buildings."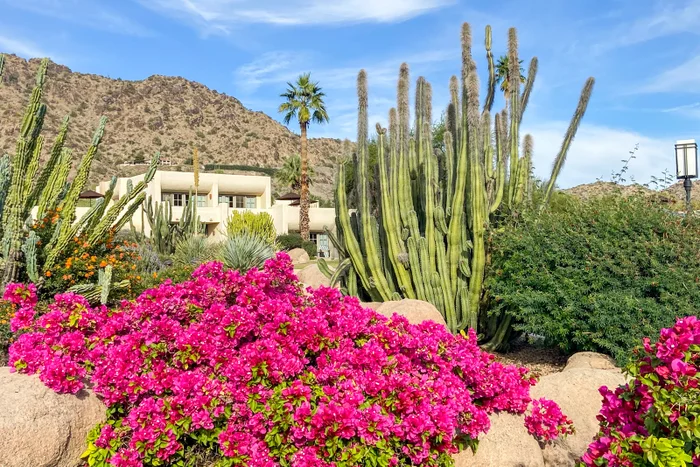 "It truly felt like a home away from home, which I find rare for a hotel property," said travel editor Madison Blancaflor. "The layout of the resort rooms felt residential, and all of the open space was so lovely — especially [for] someone who spends most of her time in crowded New York City."
"Between the cozy decor (I spent more than one of our nights there curled up on a couch in front of one of the fireplaces with coworkers to catch up), the amenities (impromptu TPG tennis tournament, anyone?) and the near-perfect weather, I could easily see myself going back for a personal trip. I'm not shocked it's a favorite property of the Marriott family. I think, over the course of one retreat, it became my favorite Marriott property, too."
Bottom line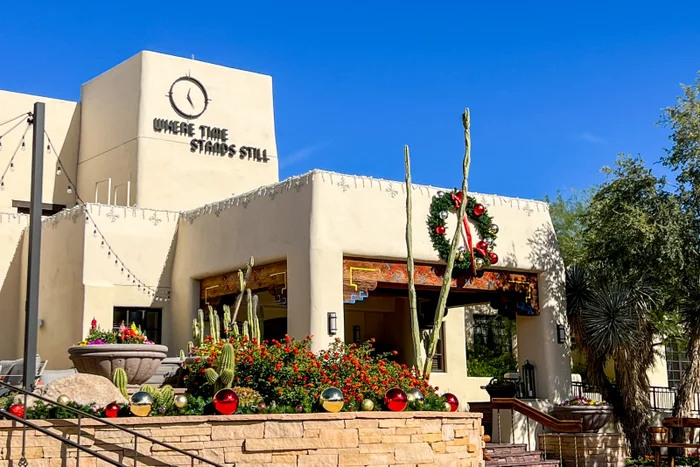 Yes, the resort knew we were coming. But there are some things you just can't fake.
As I said at the start, this isn't the most luxurious hotel out there. Over-the-top luxury is not why you come to Camelback Inn.
You come for something unique. You come for something that doesn't feel like the last 100 hotels you've stayed at. You come to unwind, as the sign out front says, in a place "where time stands still."