You have to have credentials to get most anywhere. You have to present your ticket at the movie theater, your member card at the grocery store, and a special pin to get into the gated community. But how do you get the credentials to move forward in your career?
As jobs are becoming more technically-based, they require a higher skillset—and skills that you can't just say you have. You need to prove it. You may claim to have skills with Excel—but so does Karen down on the corner, and she still stumbles over normal keyboard shortcuts. So how do you prove your expertise? By earning certificates.
These certificates are earned by taking a test by a third-party organization, and are industry-standard to show that your skills are up to par. But there's one problem. These exams can be expensive—often $100 to $300. You don't want to waste your money by paying that much, only to fail the exam, and have to take it (and pay for it) again.
But how do you study for a certification exam? Study guides from the organizations are often outrageously expensive, other guides may be incorrect, and you can be sure the administrator isn't grading on a curve like Mrs. Lawson from high school.
That's where exam prep sites like Whizlabs comes in. Let's see if this prep site is worth the price, and whether it will truly prepare you for your certification exam in this Whizlabs review!
What Is Whizlabs?
This Indian IT company was founded in 2000 by Napil Nakra and Padeep Chopra. They offer "affordable world-class online certificate training courses and practice tests." They're not a small company either—they've been used by 3 million working professionals and 100+ companies to train for the exams.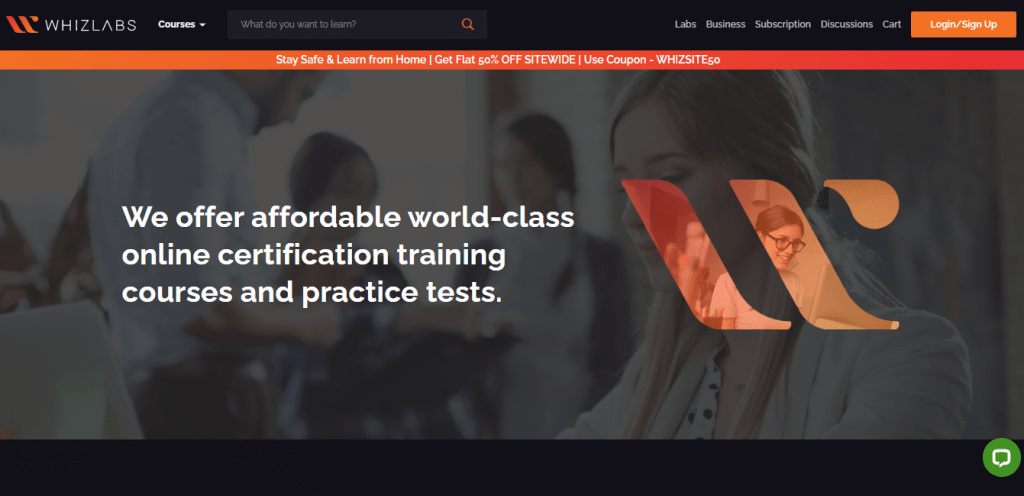 Their goal is to "act as a stimulant to bring positive career change for everyone," and they do this by offering in-depth exam prep training—using practice tests and lesson videos.
How Whizlabs Works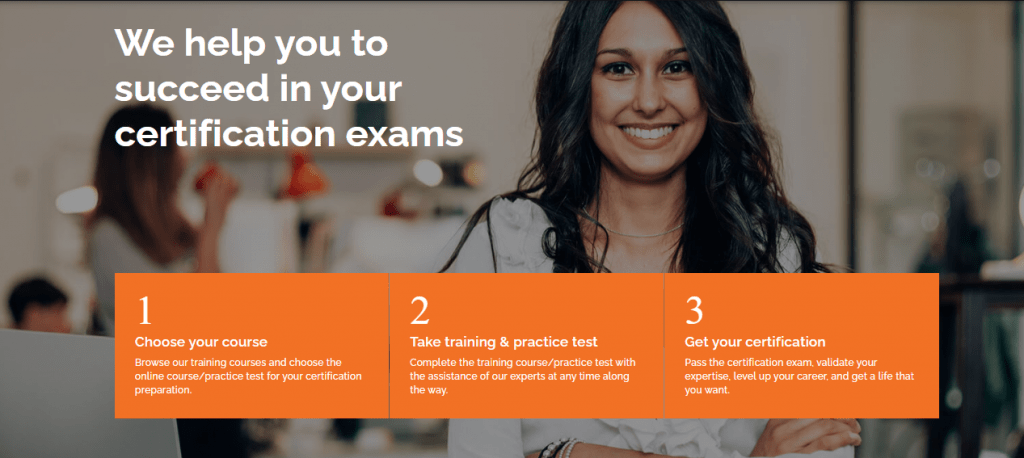 While you can browse courses before making a profile, the whole Whizlabs process is more streamlined if you create your account first. You can do this with email, Google profile, Facebook, or LinkedIn profile.
Once you create your account, you'll be asked to select several topics you're interested in—that way Whizlabs can recommend courses for you right away, and save you some scrolling.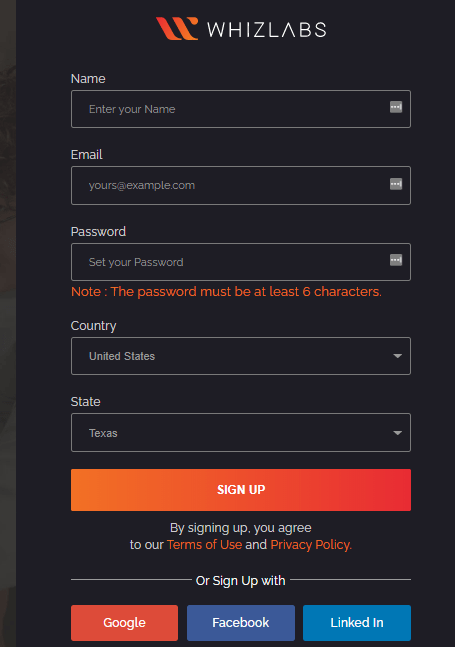 Right away, you're taken to the course page, where you can search for specific courses, or browse through Whizlabs' large selection. There are courses to earn your certificate in Cloud Computing, DevOps, Cybersecurity, Java, Big Data, Project Management, Agile, Linux, IT Ops, Business Analysis, Blockchain, Blue Prism, and Networking. These larger categories then have different individual courses, whether that's AWS, or CompTIA certificates.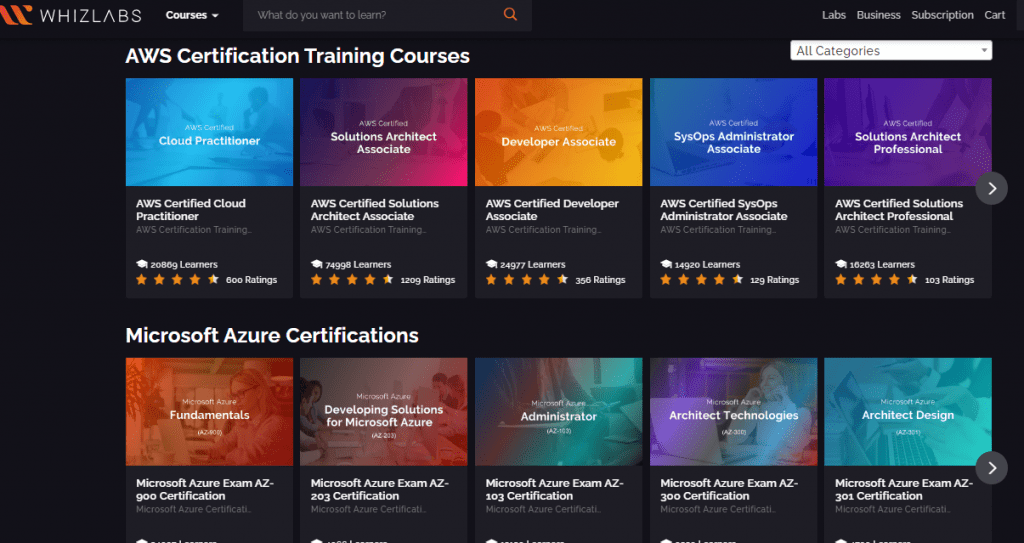 As you scroll through the individual courses, you'll be able to see the number of learners who have gone through each course, and their ratings of it.
You'll also be able to see how long the videos take, along with how many labs. The title card displays the number of practice questions each course includes—as the more you answer questions similar to the exam, the more likely you are to feel comfortable and confident when taking the certification exam itself.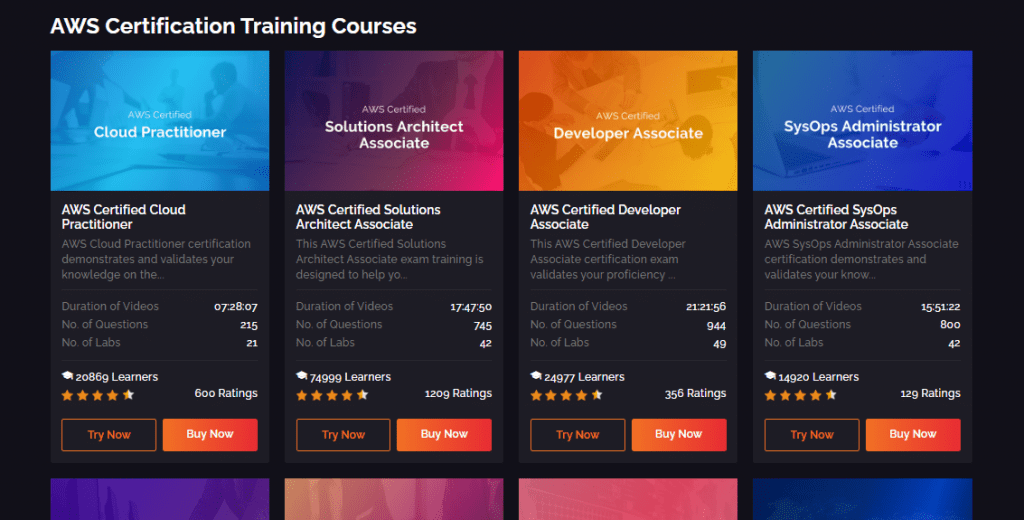 One the course's page you'll be able to take the free practice test, which is about 10 questions long, or purchase the full practice tests and online learning. You'll also be able to see information about the real certification exam—number of questions, cost, and passing score—along with reviews from others who have used this course to pass their exam.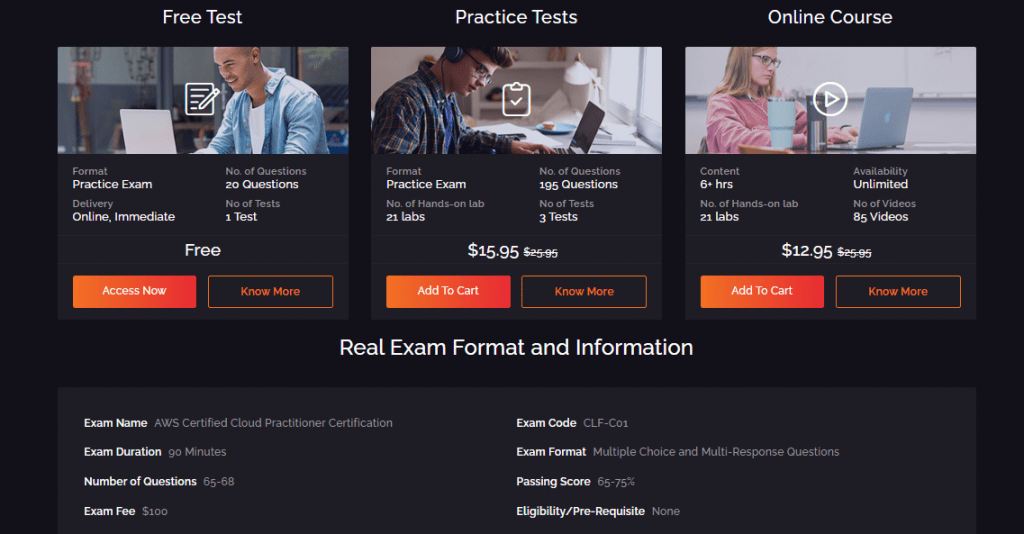 Whizlabs' tests are set up to look, feel, and have similar questions to the real certifications exams. The more familiar you are with the content and layout, the smoother the real test will go. Their free test includes 20 questions, with a 30-minute timer, that are multiple choice. You can skip forward to questions, and mark ones to review later.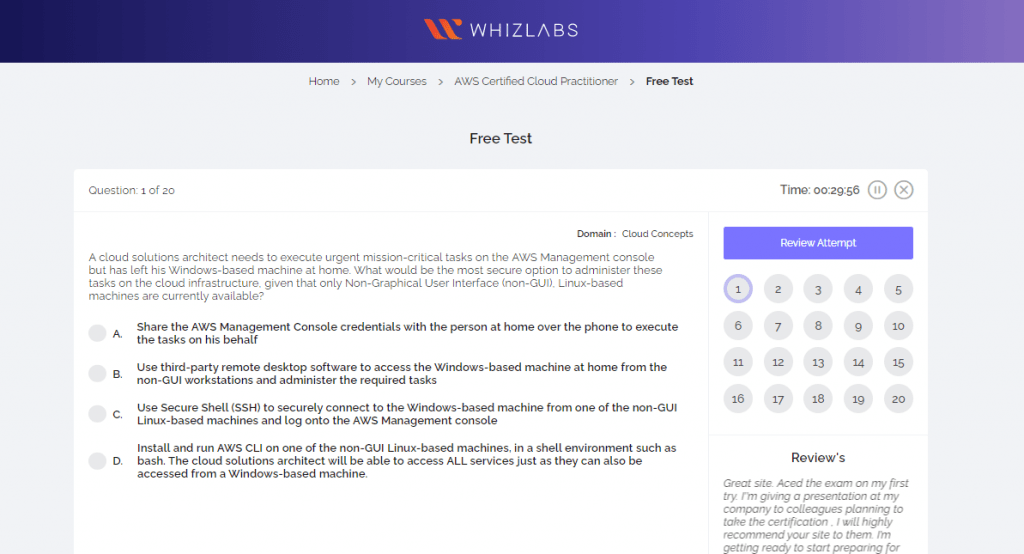 Once you complete your quiz, you'll be able to see your score along with a performance report indicating which topics still need work. You can also review the questions, which have in-depth explanation of why each answer was wrong or right. Be sure to go through these explanations so that you fully understand the material, as they often include links to documentation or YouTube videos to take your learning further.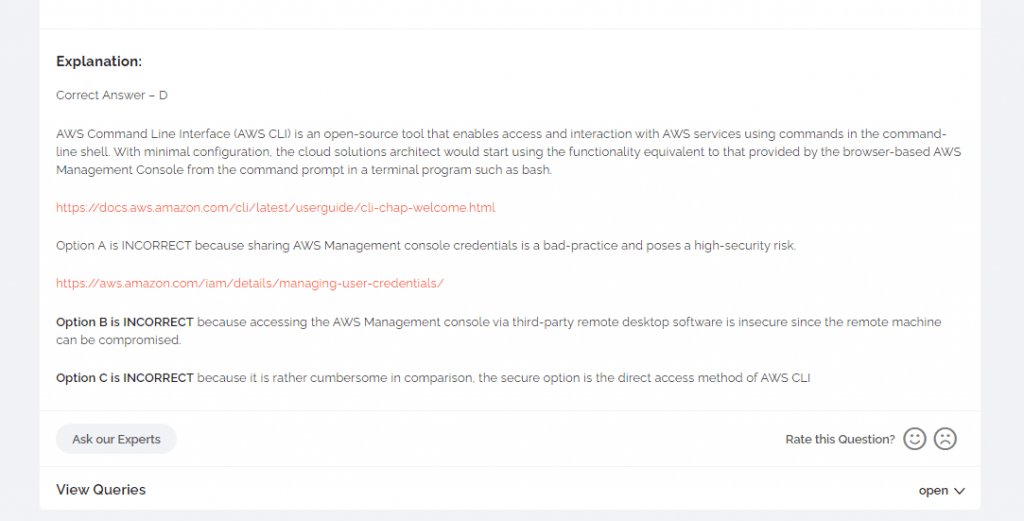 The full tests cost $15.95, and provide you with 3 full-length practice exams to go through, to test your knowledge and see where you still need to study. These exams offer all the seem features of the practice ones—but more questions allow you to go over more topics.
Whizlabs also offers online courses, short video lectures that teach the topics so you completely grasp them. While this option adds another $12.95 to the cost, it also includes labs—which allow you to do things like test your knowledge of the AWS environment.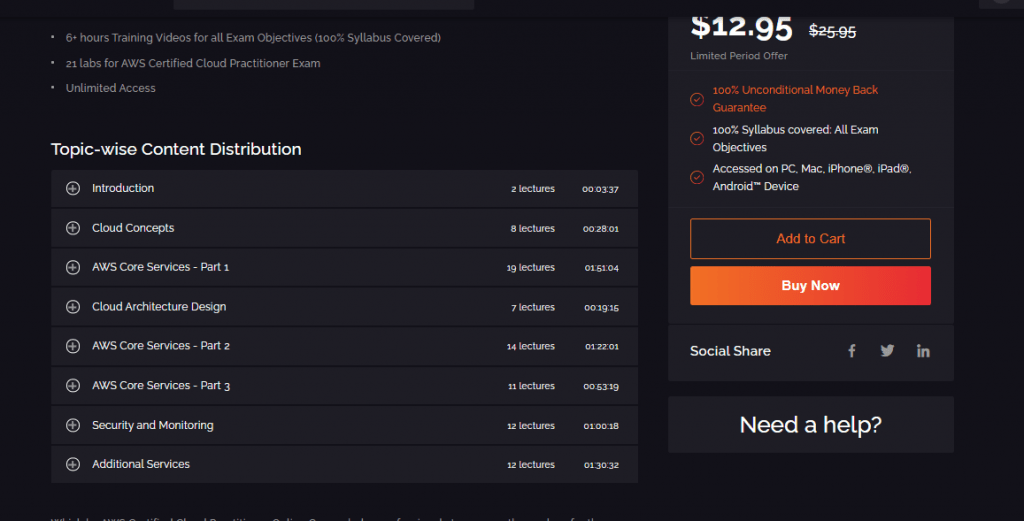 Once you finish a course, passing all the practice exams and/or completing all the videos and labs, you'll receive a course completion certificate, as well as lifetime access to the course.
One of Whizlabs' most distinctive features is their 100% back guarantee—if you don't pass the certification exam the first time after going through their program, they'll refund your purchases from Whizlabs. While there are some limitations to this, they're all fairly common sense (you have to have actually completed the Whizlabs course, and passed the Whizlabs tests), and Whizlabs has made good on this guarantee before.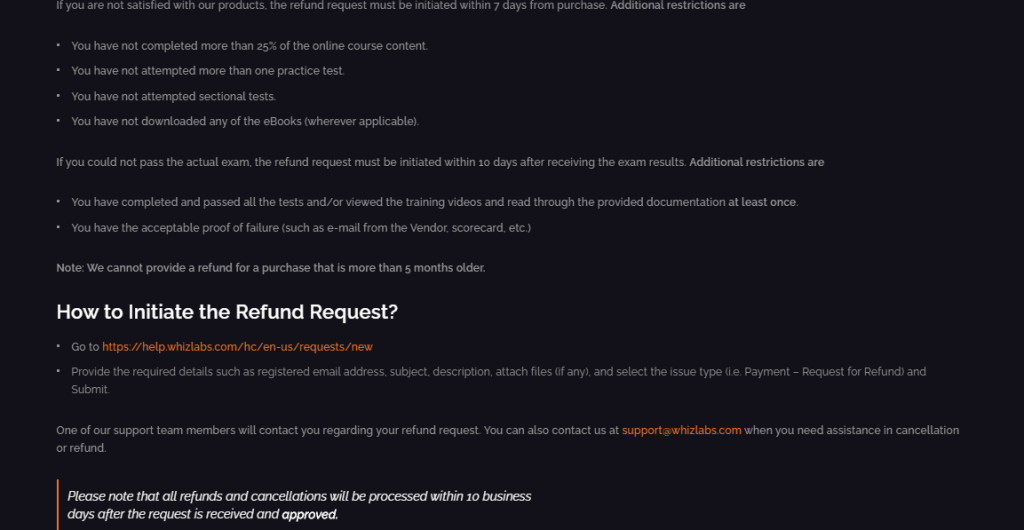 Is Whizlabs Legitimate?
The company is a legitimate training site, and is used by larger companies like Cisco and Bloomberg.

Another indicator of a company's quality is their customer service—fake sites won't both to fix users' problems. Whizlabs, however, offers a present and active customer service, available 24-7, and reported as being very helpful and kind in interactions with customers. They have both a live chat, as well as a help desk to get aid in fixing any problems.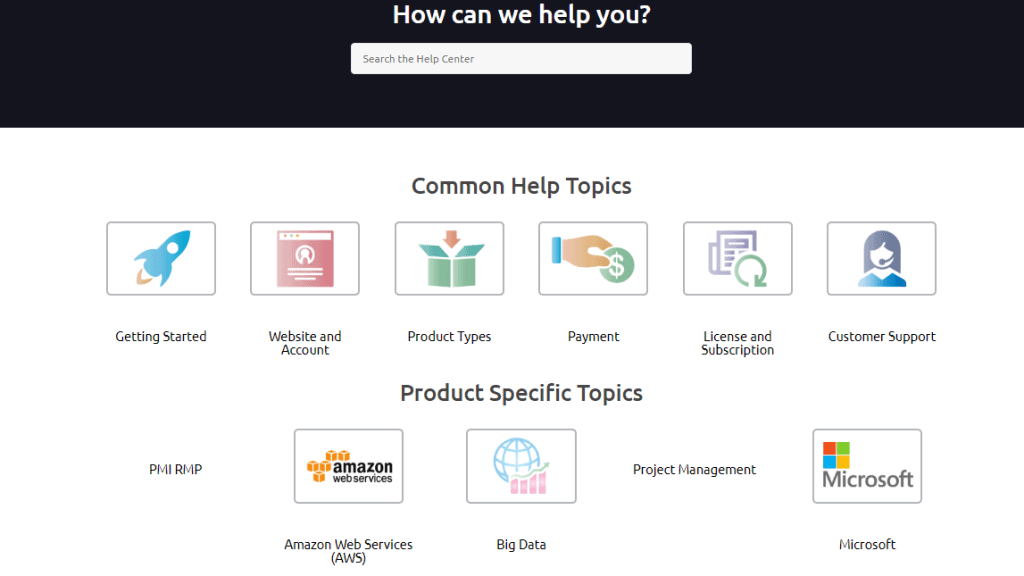 The refund Whizlabs offers is legitimate as well—if you don't pass your exam on your first try, then you'll be refunded for your study materials purchased from Whizlabs (though not your exam fee).
Whizlabs' courses are also high-quality. Though there have been some complaints about practice questions being too easy or poor grammar in explanations, a massive majority have positive feedback about the courses. The courses are also updated regularly, to ensure it is still properly reflecting the exam materials
Is Whizlabs Worth The Money?
When asking if Whizlabs is cheap, the answer is complicated. If you purchase individual practice tests one by one, they cost about $15.95, which is on the cheaper side of test preparation. To purchase the online lessons, which guide you through the knowledge you need to know, it'll be another $12.95.
When you look simply at the price tag of Whizlabs subscription, it can be easy to hesitate at the $99/year cost. However, this equals only $8.25 a month—which is far cheaper than purchasing even one singular course. This year subscription gives access to all of the courses, as well has AWS hands-on labs, and apps for mobile devices.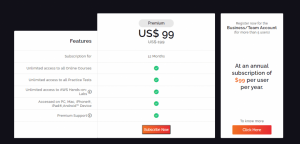 Unfortunately, Whizlabs doesn't offer any free trial for its subscription, so you'll have to fully commit to jumping in. Yet they do offer free tests for each course, 10 questions based off the exam to give you an idea of what's in the full packet.
When you consider the price, you have to consider what you're gaining as well. The certification exams have fees of hundreds of dollars—isn't it worth a few extra to ensure you don't have to pay that fee again? Purchasing the study materials may just save you several hundred—and save you from a lot of stress.
Get 50% Off All Whizlabs Courses With Code "WHIZSITE50"
GET THE DEAL
Whizlabs Alternatives
Whizlabs VS PluralSight

PluralSight is another site focusing on up-skilling individuals for the workplace, and they offer certification preparation as well. They offer a free 10-day trial of their programs, so you're able to get a taste before committing. Unlike Whizlabs, videos are included in all their courses, and they have a large customer service based in Utah, ready to make the process streamlined for users.
However, Pluralsight is focused more on businesses and teams within a company than an individual. Pluralsight also costs more than Whizlabs—monthly costs $29.99, while a year's subscription is $299, far more than Whizlabs' $99/year. Whizlabs also has a larger selection of certificates that it prepares for, while Pluralsight only offers PMP, CompTIA, and ISACIT.
Whizlabs Vs GoSkills

GoSkills also allows you to earn PDU's—Professional Development Units—and their accreditation is built-in, so you earn certificates simply by going through their courses. GoSkills is more gamified as well, allowing the allure of fun and earning badges to further learning and help you to keep on track.
However, GoSkills also costs more than Whizlabs: $29/month or $199/year. Furthermore, while GoSkills does offer certifications, it's less of exam prep than actual courses. Their options are limited—there's no material on AWS, nor the many categories and courses that Whizlabs boasts.
Conclusion: Whizlabs
Certificates can further your career, and Whizlabs is the perfect place to study for them. Their price is worth the investment of passing the exam first-try, and their 100% refund ensure that your money is worth it. Though having to purchase videos and practice tests separately can be cumbersome, it allows you to purchase only what you need. The layout and explanations on the practice tests ensure that you are confident, calm, and completely prepared to pass any of your certificate exams.