Selling online may sound easy, but the truth is, only a handful of sellers are successful — primarily because of the high seller fees many eCommerce sites usually charge. However, If you are someone from Southeast Asia who wants to start selling online, Lazada is your best bet.
This is because Lazada can help you reach a large audience without building your own. However, if you're already an experienced seller, selling on Lazada can be beneficial for you and help expose you to more customers.
Despite the massive audience, selling on Lazada can be tricky, and you may even end up going out of business if you don't do it properly. Don't worry, because, in this article, we'll explain everything you need to know about how to sell on Lazada successfully.
From why you should sell to some of the best tips to creating a profitable eCommerce store on Lazada, we'll arm you with all the knowledge you need to start your business confidently.
Without further ado, let's dig in.
What is Lazada?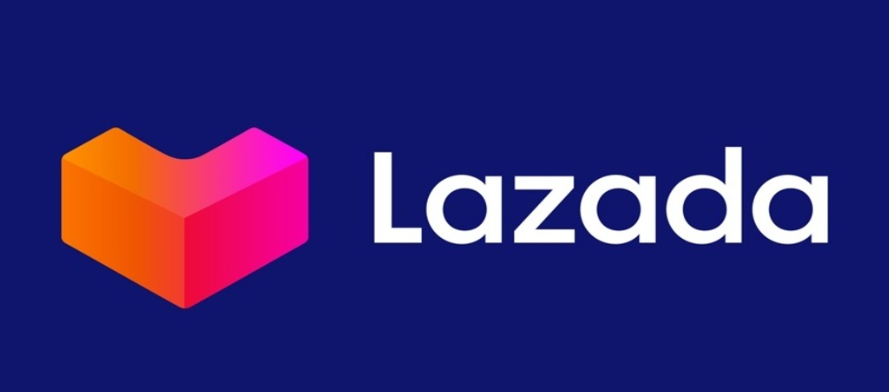 Lazada is Southeast Asia's leading eCommerce platform. And it's not just a marketplace. The company also hosts a platform that enables sellers from other countries to sell in Vietnam, Thailand, Singapore, and Malaysia.
Lazada's work model was only focused on selling goods to customers through their warehouses when it started. But in 2013, it allowed third-party retailers to sell their products through Lazada.
This changed the game for Lazada. 65% of their sales came from third-party sellers in 2013. In 2016, Alibaba took control of Lazada to globalize it. Since then, the Lazada marketplace has been one of Southeast Asia's leading online shopping sites.
Which countries is Lazada available in?
Lazada is available across many Asian countries, such as:
Indonesia (Lazada.co.id)
Malaysia (Lazada.com.my)
The Philippines (Lazada.co.th)
Thailand (Lazada.co.th)
Vietnam (Lazada.vn)
Lazada is open to sellers based in Southeast Asia and outside the region. Sellers from Hong Kong, China, Europe, and the United States can sell on Lazada. You can use one account you set up to sell on all Lazada platforms.
Why Sell on Lazada?
Business owners who want to target the Asian Market should consider using Lazada because it has multiple benefits.

The Hybrid Model Helps Business Owners and Customers
Lazada's hybrid model — combining aspects of B2C and C2C — allows the platform to function as a place for users to buy and sell from each other while also directly selling and shipping products from their warehouses.
The hybrid model benefits the business owners and customers who can sell on Lazada.
Low Commission Fees
You do not need to spend much to be a seller on Lazada. There are no commission fees on Lazada, making registering as a seller on Lazada completely free. Moreover, there are no hidden costs. The commission fee is between 1%-4%.
Large Customer Base
Lazada is one of the largest online marketplaces in Asia. It recorded  39,407,700 visitors from September to December 2020! If you want to start selling online, then Lazada has a vast customer base you can tap into.
This massive audience means businesses can also benefit from the high website traffic and reach as many customers as possible.
Easy-To-Use Interface
The features Lazada offers are user-friendly, so you can quickly learn how to sell on Lazada. You can fully utilize the features backed by Alibaba's technology in managing your products up to the point where your customers receive their purchases.
Effortless Communication With Customers
Online customer service is just as important as a perfectly presented product inventory or an excellent e-commerce site. When customers run into issues, businesses should be there to provide solutions.
Lazada has real-time messaging built into the e-commerce site to help brands engage with customers and solve their problems. This helps curb bounce rates, shopping cart abandonment, and shopper dissatisfaction.
Furthermore, you can also directly address customer complaints and customer feedback.
Built For Smartphone Users
The majority of shoppers in Southeast Asia use smartphones to browse and purchase. Lazada is mobile-friendly and built for smartphone users. Shoppers can download the mobile app from Apple and Play store and use it on their phones. That's why selling on Lazada can be a smart move for sellers.
Who can sell on Lazada?
To be a seller on Lazada, you need to:
Have an email id and phone number to register your business with
Have a business license
Have prior shopping experience on other e-commerce sites like Amazon, Etsy, or more.
Have a Payoneer card or p-card that is registered as an enterprise.
If you meet these criteria, you can go ahead and start selling on Lazada.
How To Start Selling On Lazada?
For anyone looking to open a seller account on Lazada, this step-by-step guide can help you out. You need to follow a few steps before starting selling on Lazada.
Registration
Visit the official website of Lazada in your country, then click on Sell on Lazada at the top of the screen, as shown in the screenshot.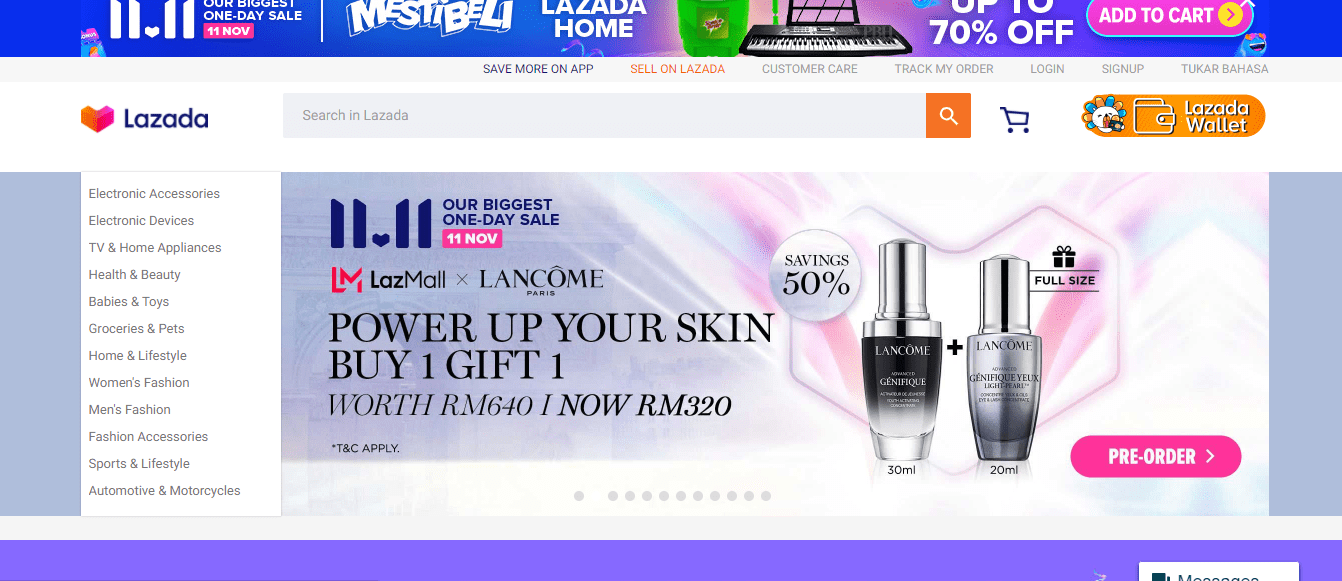 You will have three options: a Lazmall seller, a local seller, or a Lazmall global seller.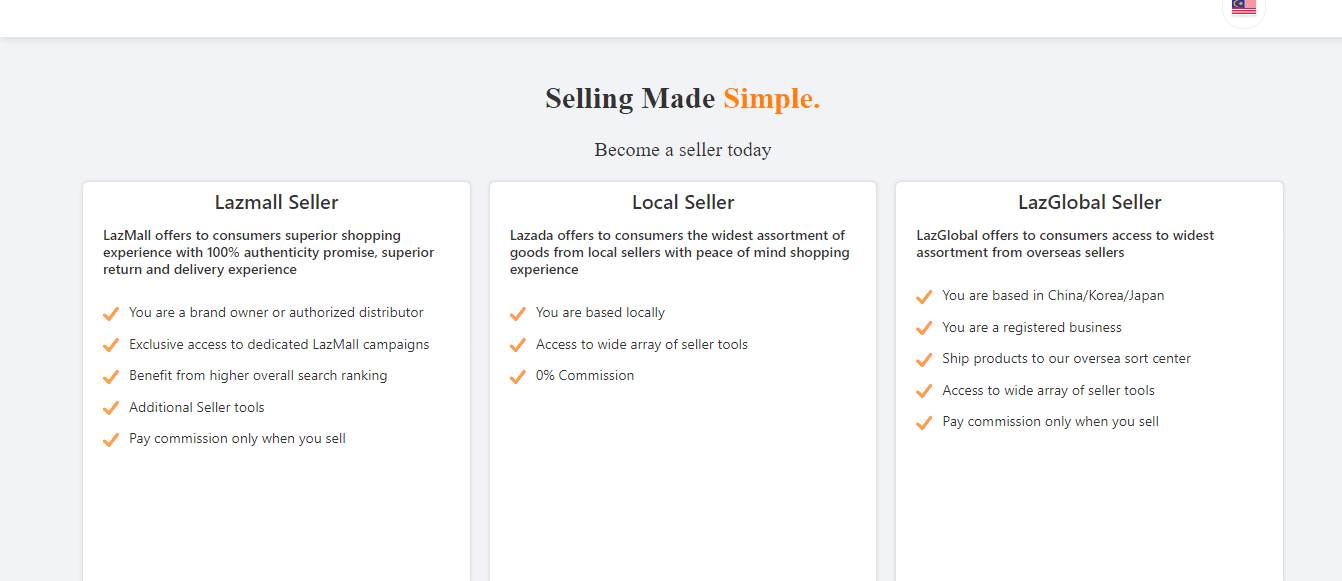 All the different types of sellers will have various benefits. If you wish to stay local, you can be a local seller. However, if you're going to be a brand owner, then Lazmall seller is a better option. Finally, if you plan on going international, then Lazmall global is a great idea.
Choose the Lazada seller you want to be and click on the Signup option below the screen.
If you choose to be a Lazmall seller, you must add your brand name, mobile number, and verification code. Then you will have to upload documents.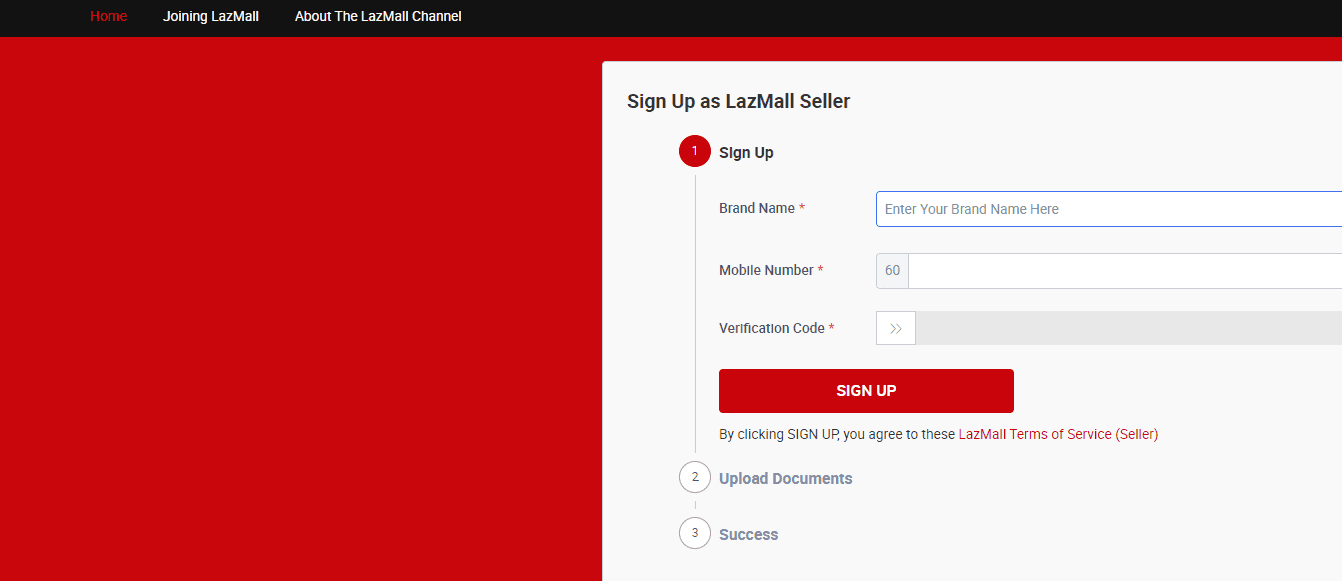 These are the documents you need to upload to become a Lazmall seller
SSM certificate
Your company's latest bank account statement.
A trademark certificate, trademark number, or exclusive distributor letter of authorization.
You need a square logo, long logo, square banner for mobile and desktop marketing materials.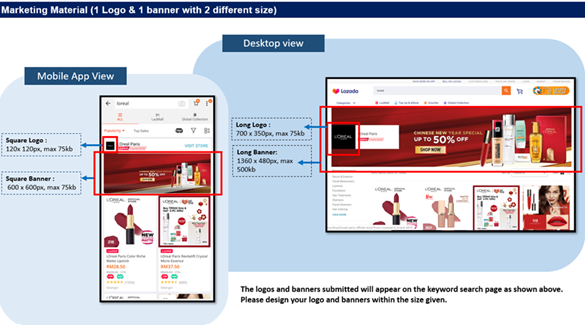 For new sellers, the process is smooth. Once you upload the documents and submit the form, Lazada will verify your application for registration. Application review may take up to 3 days.
After Lazada has approved your Lazmall account, you can create your storefront and start selling.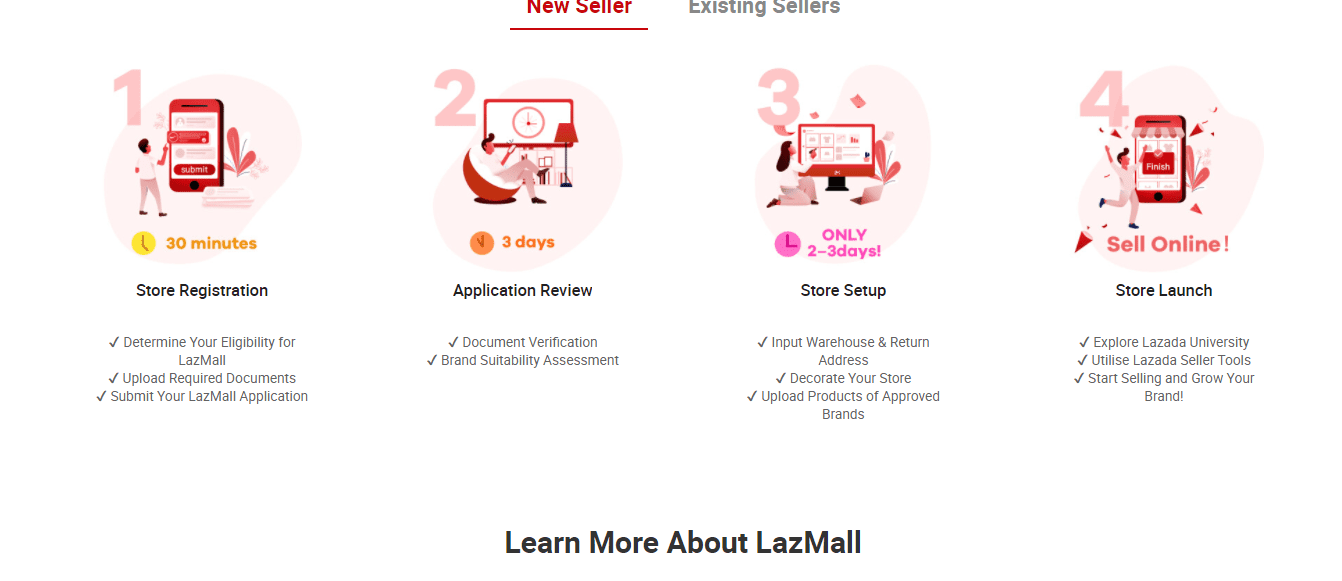 However, if existing sellers want to become Lazmall sellers, they must follow a different process.
Head over to Lazada seller center
Click on Profile>Brands
Check if you are eligible to become a Lazmall seller.
If you qualify for conversions, then submit the Lazmall application.
It takes 72 hours to review the application until they notify you of your approval status.
The process of registration for all three types of sellers is similar. You will have to enter your brand/ business name/registered company name, then verify your email id and phone number.
After that, you will have to submit all the necessary documents like business license, brand certificate, bank account statement, etc. (NOTE: if you own a local business license, then register as a local Lazada seller)
In the next step of registration,  fill in your Business information and Billing address.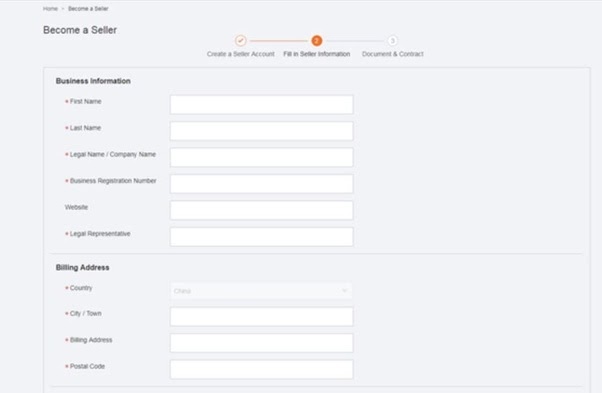 After submitting the form, you will receive an email. If the data is correct, you will be approved and receive an email confirming this.
To activate your seller account, click the link in the email. Once the registration process is completed, Lazada will train you as an online seller.
Training at Lazada University
Lazada offers free training courses to help you understand the ins and outs of selling at Lazada University. It offers many lessons, starting from the basics, marketing on Lazada, and growing on the Lazada store.
With the resources Lazada university offers, you can run your business account on the platform and make higher sales. You can find all your questions answered in the new seller dashboard, along with comprehensive new training courses.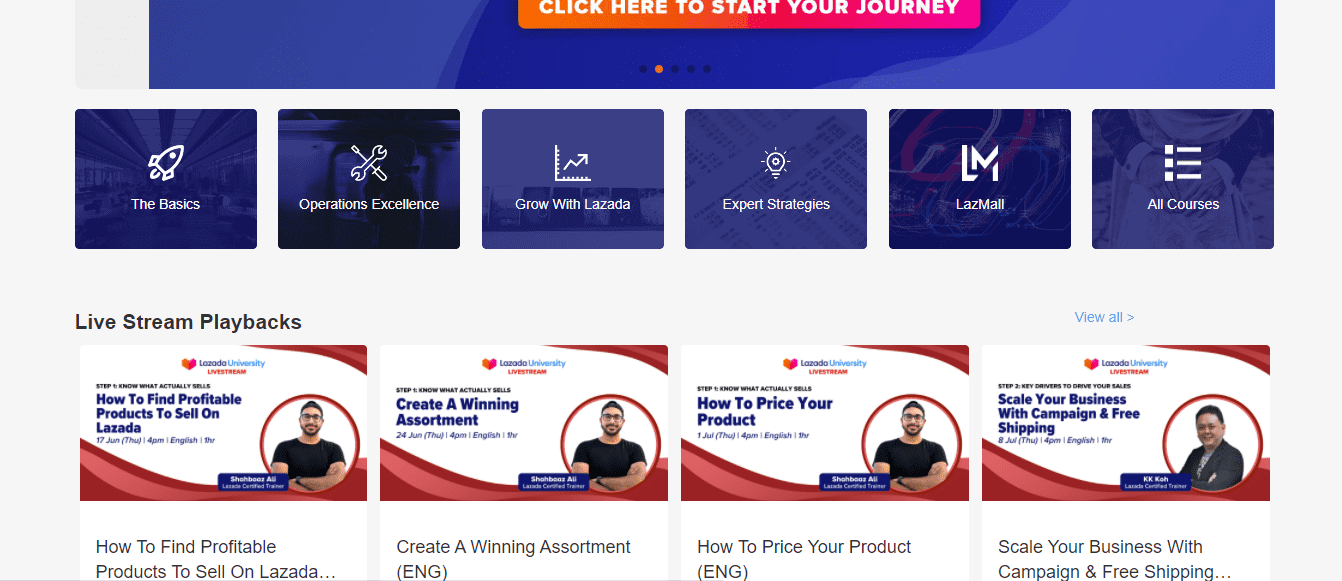 List your Products
The next sensible step is to add products to your Lazada marketplace. You can either add the products one by one or upload them in bulk. If your business is small, uploading the products one by one would be sensible.
However, the bulk upload would be a better choice if you have a larger business. You can add products to the Lazada seller profile using the mobile app or the Lazada seller center.
Uploading Products on the Lazada app
Download the Lazada app from Playstore or Apple store.
Go to the Account page and Sign in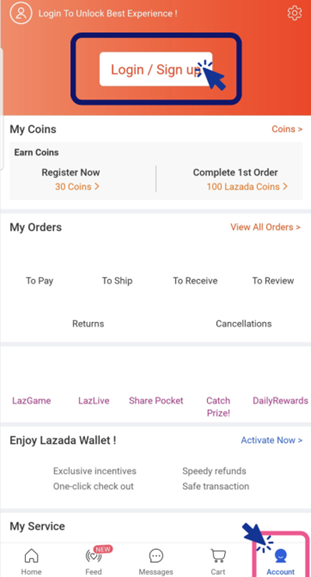 In Seller center in the app, click on Upload product to add a new product listing
Upload up to 8 images of your product.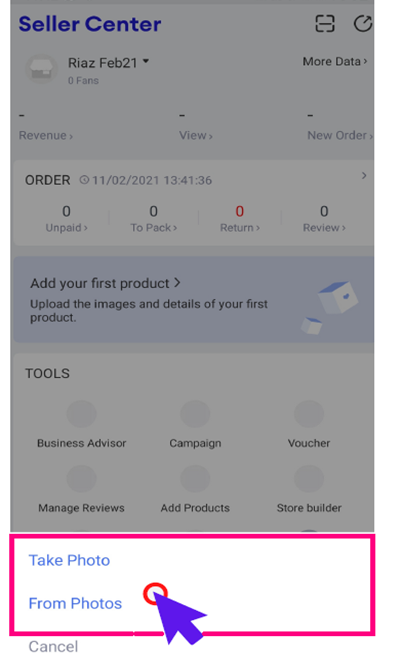 Fill out the product details like images, video, product name, description, category, brand name, etc. After, click on Submit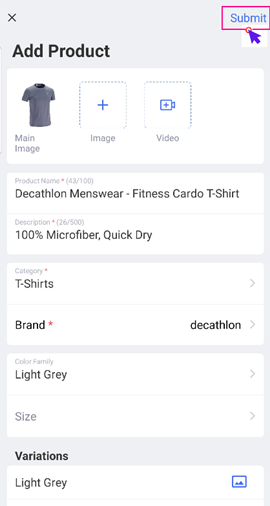 Uploading new products on Lazada through the mobile app is a quick way of expanding your business. To give your business a chance to grow even faster, you can also upload product videos through the Lazada app.
If you want to win the trust of your prospects, videos can help you showcase your products' authenticity. And a fantastic product video offers the most information about your products, and flaunting its features will create a more positive impact.
How can you create impressive product videos when you are a new business owner?
Offeo has got your back! This simple yet powerful video-making platform can create mind-blowing video content in a few minutes! You don't need to spend hours editing products as Offeo can help you do it within 3 minutes.
Create amazing product videos for your e-commerce store with Offeo.
Upload Products To The Lazada Seller Centre On Desktop
Singular Upload for Lazada
Log in.
In the seller center dashboard, click on Products> Add products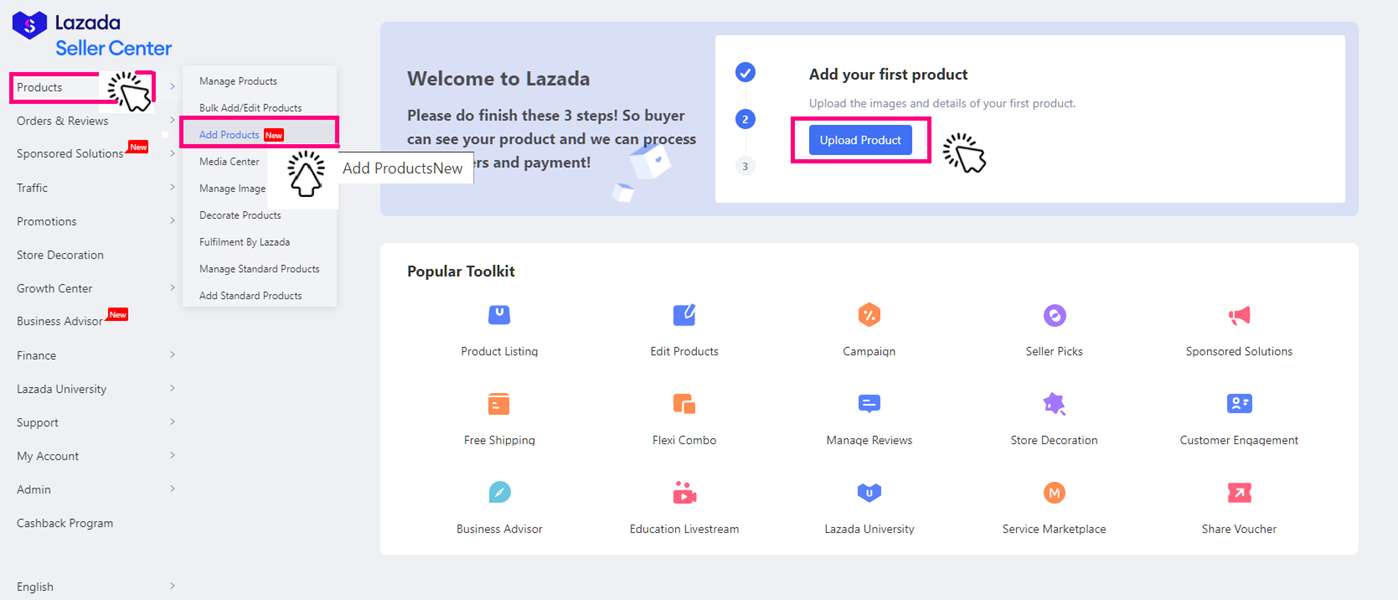 Click on Upload product
Enter the basic product details like category, product name, description, images, price, number of stock, SKU information, etc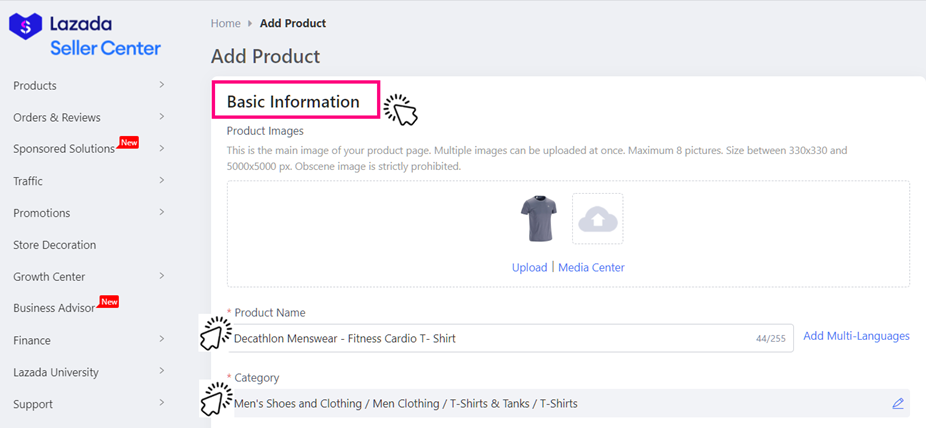 Click on Submit once you have filled in the information.
For Bulk Product listings
Log in to seller center
Click on Products.
Select Bulk Add/Edit products.

Select the right product category to generate templates.
Click on Download templates to download the template of your product category.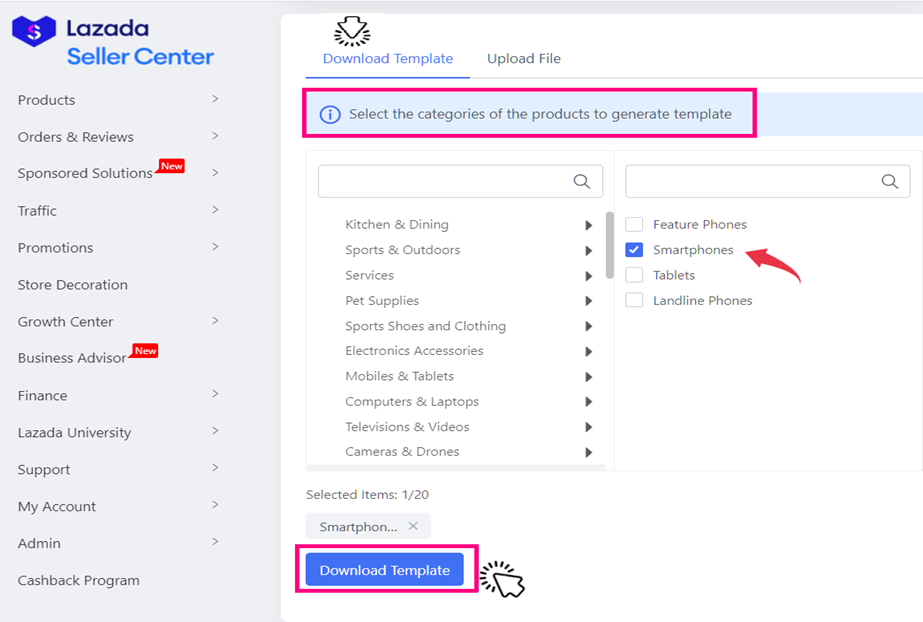 Fill out the template as required and save it.
Click on Upload file
Select the downloaded template/excel sheet you filled. Click on Submit
How to Boost Sales in Lazada Marketplace
Ah! Your products are finally on Lazada. But there's more to do. You can use these specialized techniques to better your business on the website.
They are not hard to use; just stay consistent, and your sales will increase in no time. To help your business to become even more successful, below are some of the best ways to boost your sales.
Optimize for Lazada's Search Engine
Your traffic is the foundation of your business. By optimizing for Lazada search engine, you can bring more traffic to your store and get more sales. You can also drive independent traffic to your store by using social media and digital marketing.
Below are the steps you can do to optimize your store:
Improve your product titles and descriptions
Add high-quality images and videos in product details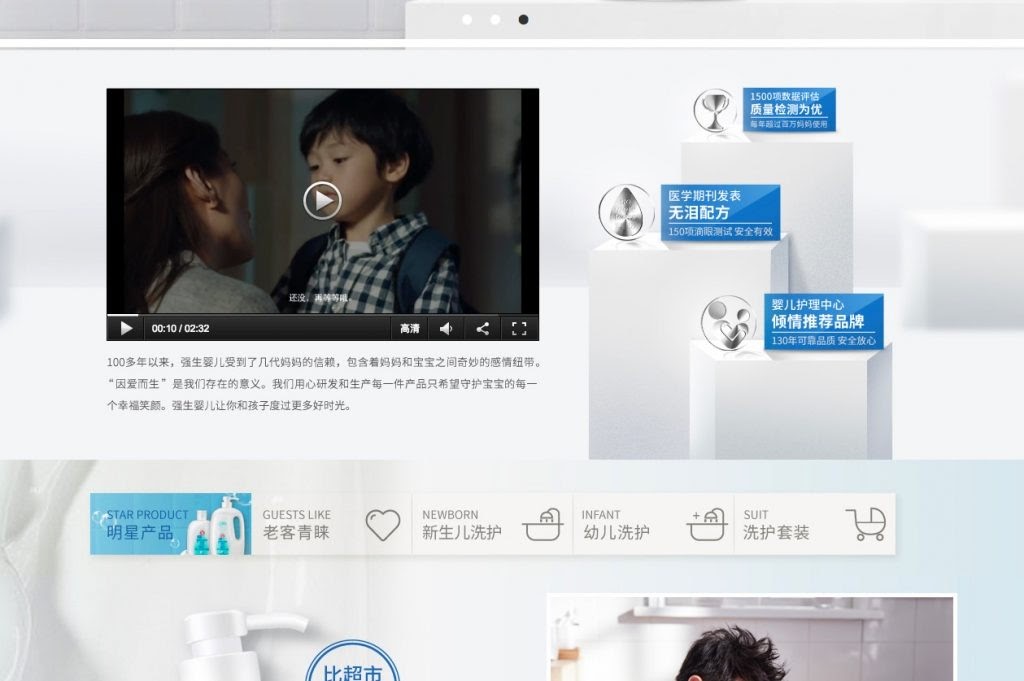 Target the right keywords, use keywords that customers use in product search.
Price your products competitively. Focus on maintaining your profit margins while making sure your prices are competitive.
Offer free shipping.
Use a powerful CTA for higher conversions.
Ensure to always have enough products in stock to prevent your product from falling from search results and losing the boost you had in the past.
Have good customer reviews to win prospective buyers' trust— providing excellent customer service is one of the best ways to achieve it.
Proper order management is necessary if you want to be a successful seller. If manual order management is too much, you can always use the order management tool/software to make the job easier.
Driving traffic to your product listings and website is essential because the more people see your products, the more the chances of them buying them.
Maximize Lazada's Promotional Tools
Like many other stores in the eCommerce industry, Lazada also offers many promotional tools to its sellers. Sellers of Lazada take advantage of these resources to make better sales and an improved user experience.
Lazada always produces resources and materials to help sellers make better sales and improve users' experience. Go to the Lazada Seller Center for valuable materials that will help you out.
You can use Lazada University to learn how to grow your business on the platform.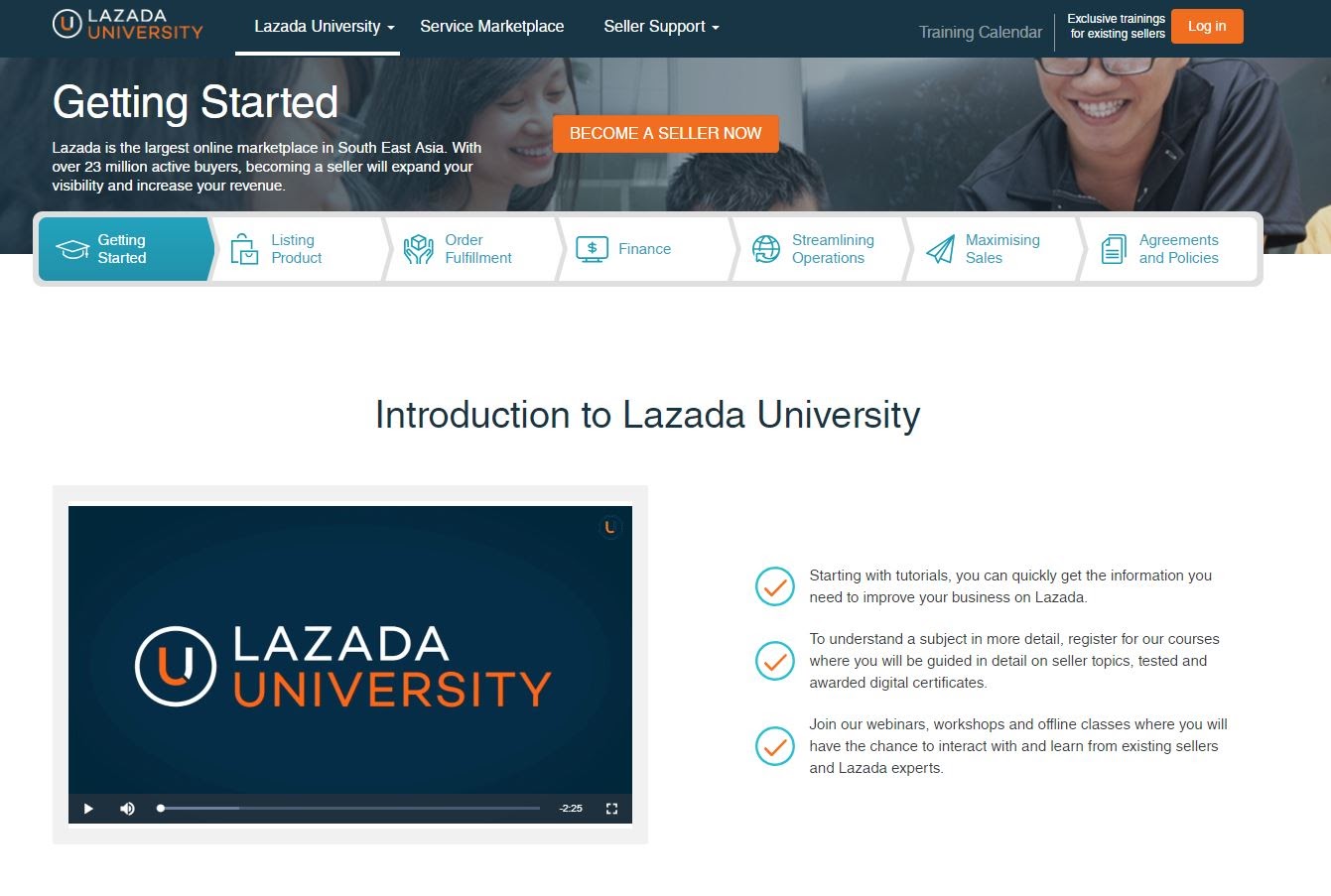 Apply for the Lazada promotions. If approved, your product will be listed in the promotional area, giving you better visibility and conversion rates.
Sellers on Lazada have the opportunity to grow their business with various promotional tools. If you are a seller and want maximum sales, the best way to do it is to follow the tips mentioned above. But above all, make sure your products are of the highest quality and reach the customers fast.
If you have a Lazada account, you know what to do to be a top seller. But there are also things you must avoid doing on Lazada.
Don't Sell These Products on Lazada
Do not sell from the list of prohibited items. Lazada has a strict policy of prohibited items that you should not sell on the platform. We have mentioned the list of prohibited items below.
Obscene products (As described in the link above)
Duplicate or malicious software
Gambling & Gaming Products
Chemicals/Toxic/Acid
Telecommunication devices
Food items that violate guidelines set by the Food Regulation Authority
Anything related to vulgarity
Any sort of weapons
Counterfeit products/ unauthorized replicas of original
Second-hand stuff
Specific religious or political items
Liquid items with volume over 20 cl
Don't Be Rude to Customers
Besides not selling prohibited items, you should avoid getting rude to customers. No matter how frustrated you ate, do not abuse or talk rudely with customers. It will lead to negative reviews and harm your ratings.
Do not deal with more items than you can deal with. You can't sell all varieties of products. Pick a niche and stick to it.
Do not make your product description too technical or difficult to understand. The simpler the language, the easier it is to understand. Avoid technical terms unless necessary.
FAQs regarding Lazada
What are the costs of selling on Lazada?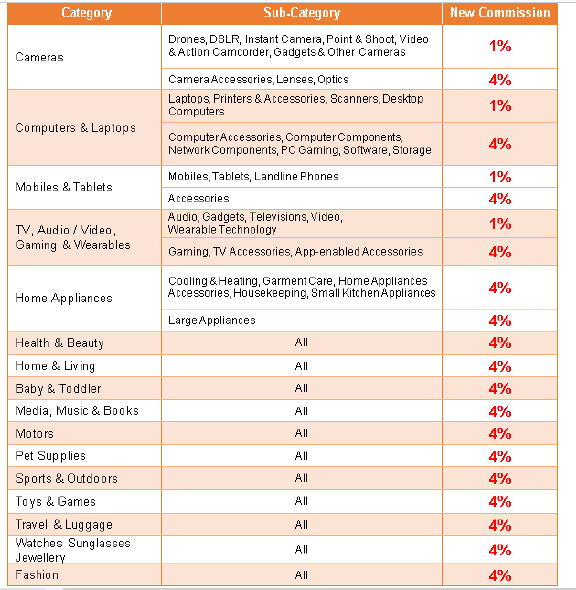 Sellers do not need to pay registration fees or monthly fees to start selling on Lazada. The platform charges a 2% payment fee and a 1% to 4% cross-border order value commission. Sellers don't pay any setup fees or monthly charges. The rates are low compared to other eCommerce platforms like Amazon, eBay, etc.
What can I sell on Lazada?
You can sell baby products, fashion items primarily for women, electronics, etc., to Southeast Asian countries that will give you huge profits.
Make sure you sell niche-specific products. If you want to sell fashion items, stick to it and don't start selling electronics out of the blue.
What are the delivery options for Lazada sellers?
There are two ways to deliver your products through Lazada.
Lazada Global Shipping
Manage the delivery yourself
What is Lazada Global shipping?
Under Lazada global shipping, you can choose between Hong Kong fulfillment and ASEAN fulfillment. Hong Kong fulfillment operates cross-border warehouses in Hong Kong, Mainland China, and Korea.
Rather than shipping directly to a customer in ASEAN, you send your products now to Lazada's sorting center in Hong Kong. From there onwards, Lazada takes care of shipping orders, returns, and order management.
ASEAN fulfillment imports the products into an ASEAN country, such as Vietnam, and stores products in warehouses. Cross-country sellers do not have to use a local shipping company.
How do I manage Lazada's orders by myself?
You can ship the orders using a local carrier. Upon receiving an order, you can print the shipping label directly from your Lazada account. This shipping label should be attached before handing over the package to Lazada. This is an excellent option for sellers with fewer products.
Conclusion: How to Sell on Lazada
Lazada is the oldest and most famous online e-commerce marketplace in Southeast Asia. Anyone who wants to expand into the SE Asia market must try Lazada.
Lazada is the top marketplace in Southeast Asia and an attractive option for foreign sellers. They can use Lazada to establish themselves in new markets. If you want to be a Lazada seller too, take these steps as mentioned in the article above:
Register on Lazada
Verify your email id and number
 Submit necessary documents like brand certificate, account number, tax information, etc. for review
Receive the verification email and verify
Add products listings in your storefront
Share the listings.
Promote your listings
Manage your orders.
Selling in South East Asia is a piece of cake if you use Lazada. You can exploit the enormous traffic of the platform.
Moreover, you do not have to pay any unnecessary fees for listing your products. What are you waiting for? Start selling on Lazada straightaway.