Coursera was formed in 2012 to transform lives through open access to world class education. Today, with 92 million learners and 7,000+ courses from top institutions such as yale, stanford and google, coursera has come to symbolize the very best in elearning.
But is coursera worth it? What are the best coursera courses? Can i get coursera for free? Can i get a refund if i don't like coursera?
I've spent several weeks delving deep into coursera to answer these questions and more in this in-depth coursera review.
First, a quick overview.
Quick summary
Features:
7,000+ courses and degrees
250+ prestigious partner institutions
11 Categories
Teaching from leading academics, Nobel prize winners, c-suite executives and leaders in their respective fields
Various subscriptions as well as the ability to buy single courses
Pros
The chance to earn a certificate from the world's top organisations
Lots of free content to sample risk free
Well structured and resourced courses and excellent teaching
Huge catalog of courses
Prestigious education at affordable prices
Learn offline
81% of learners give its courses a 5* rating
Cons
Confusing pricing
Courses vary in quality
Best for: anyone who is intellectually curious or is looking for promotion, a new job, a career change or just wants to open new doors into the future.
Overall: coursera offers the opportunity to learn from the world's most respected institutions and universities. Institutions that students take on mountains of debt to attend on campus. Coursera brings this education to you for a fraction of the price. If you're serious about investing in yourself, you'll find it difficult to find a better platform than coursera. And with lots of ways to sample coursera for free, you have nothing to lose by checking it out.
In this detailed Coursera review I'll be covering
What is coursera and who are their instructors?
How does coursera work and how much does it cost?
Coursera free trial
What a coursera lesson is like
Best coursera courses and offerings
How i reviewed coursera
What i liked and thought could be improved
Who coursera is for and whether you can buy it as a gift
How to find the best courses on coursera
Alternatives to coursera
What others have said about coursera
Is coursera worth it?
Faqs
What is Coursera?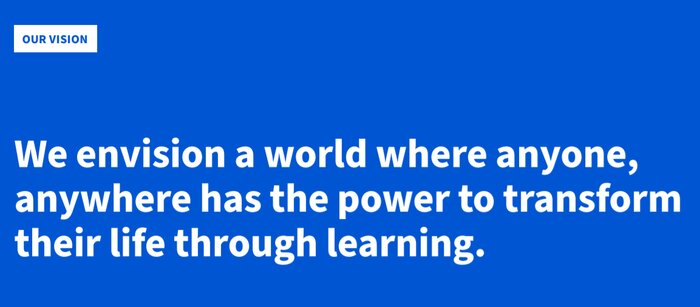 Coursera is one of the largest learning platforms in the world.
It was started in 2012 by two stanford professors with a mission to provide universal access to world-class learning.
Just seven years later coursera achieved unicorn status (a valuation of $1bn+).
In 2020 alone, it attracted as many learners as its closest competitor did in its entire existence.
Today, cousera has 92 million registered users and is partnered with 250+ leading universities and industry educators to offer over 7,000 courses and degree programs. Much of its content can be accessed completely free.
In addition, over 100 fortune 500 companies, and more than 6,000 businesses, campuses and governments use coursera to upscale or reskill their employees, students and citizens.
Who are Coursera's instructors?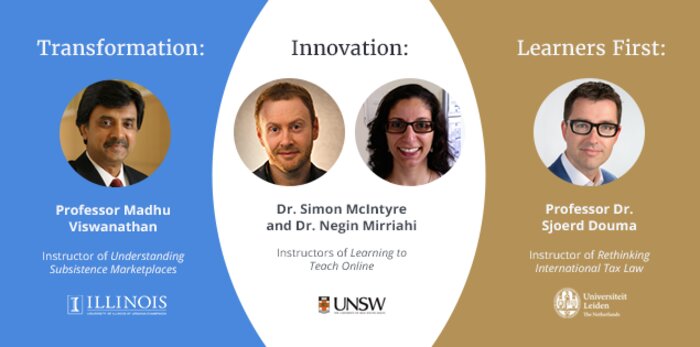 Coursera's aim to provide access to world class learning is reflected in the quality of its instructors.
These include:
Nobel prize winners
Best selling authors
Academics from prestigious universities such as Princeton and Yale
C-suite executives from the world's leading companies
Practising experts in their respective fields
How does Coursera work?
There are many different ways to learn on Coursera. Basically you can:
Buy individual courses and certifications outright
Take some content for free (without certification)
Subscribe on a monthly or annual basis
The first thing to do is sign in. This is easy and free. Just provide an email address and password (or use your existing facebook or google details):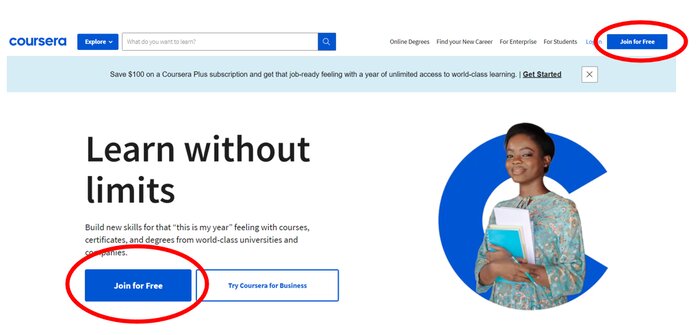 You can then explore the platform to find the option that best suits you. I've summarized them here along with what to expect from each one:
Signing in gives you access to the coursera community where you can start a conversation with other students, ask questions, showcase your work, etc.
Subjects covered by Coursera include:
Data science
Computer science
Information technology
Physical science and engineering
Business
Social sciences
Health
Personal development
Math and logic
Language learning
Arts and humanities
Once you've made a choice, you'll be able to find everything you need to know before committing yourself. And, of course, you can ask questions of the Community if you need any additional information.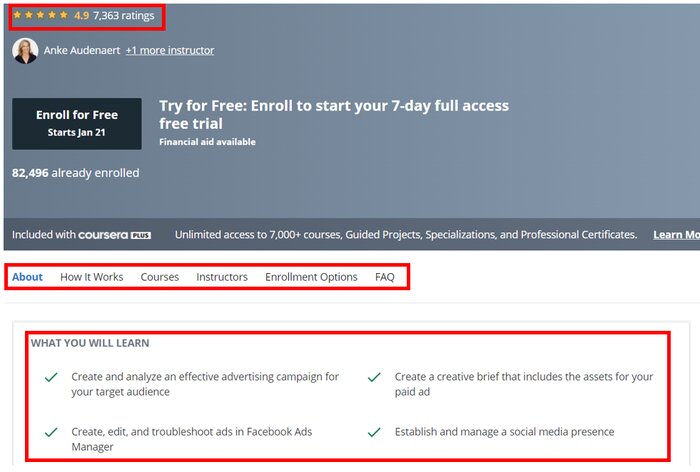 Coursera costs, refunds and free trials
In summary, coursera courses can be accessed for free, guided projects start at $9.99 and specializations and professional certificates from $39.99 a month. A coursera plus subscription is $399 per year and full degrees start at $9,000.
We go into more detail below about the costs of each of the following offerings:
Coursera plus subscription
Courses
Guided projects
Specializations
Professional certificates
Mastertrack
Degrees
Business
Coursera Plus Subscription

Courseraplus gives you unlimited access to courses, guided projects, specializations and some professional certificates for as long as your subscription is active.
The cost for coursera plus is either $59 monthly, or $399 up front for the year (an annual saving of $309 over the monthly cost).
This works out to just over $1 a day to be taught by the world's best and brightest which is amazing value and a sound investment in you and your future.
Courses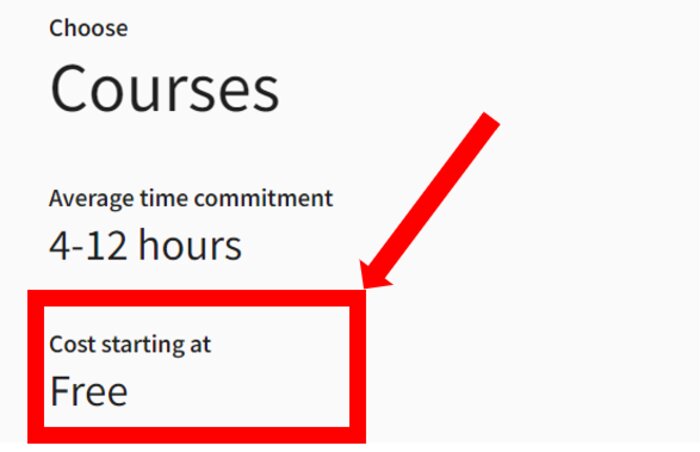 Coursera's 1,800+ courses can be taken for free. If you wish to receive a certificate you can purchase the course. Coursera courses start at $49.
Coursera guided projects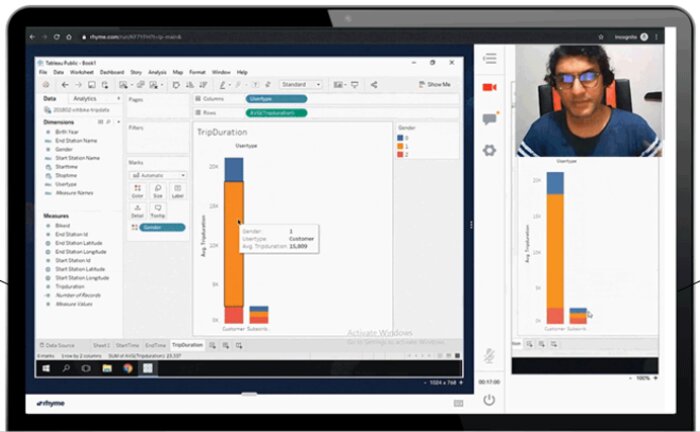 These short (2 hour) projects are designed to teach a specific skill and start at $9.99 each.
They are intended to help learners develop in-demand skills in a meaningful context and mimic one to one tutoring sessions.
Coursera Specializations and Professional Certificates
Both these options start at $39 per month.
Specialializations teach career relevant skills and are designed to build mastery. They take up to three months (sometimes more) to complete. You can audit individual course units in most Specializations for free.
Professional Certificates are designed to get you job ready for an in-demand career and can take up to six months to complete.
Coursera MasterTrack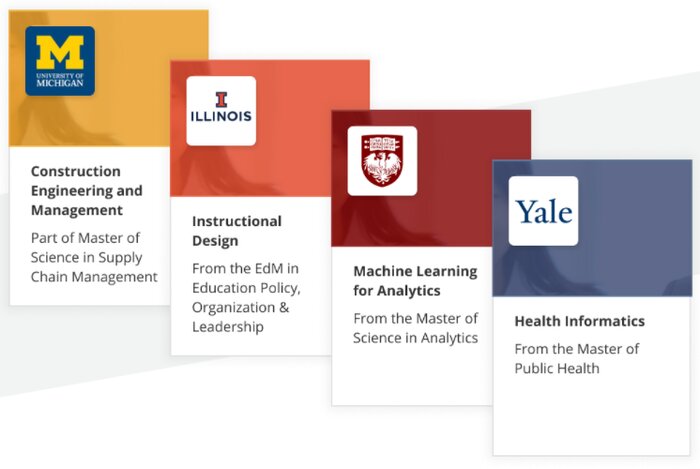 A Master Track is a comprehensive online module taken from a full Master's program. They take between 4-7 months to complete and count towards the full Master's degree if you want to take things further. MasterTracks start at $2,000 for the full program.
Coursera Degrees
Coursera degrees are full online bachelor's degree and master's programs from leading universities that take between 2-4 years to complete.
Tuition fees for a coursera degree start at $9000 for the full program. They can be as much as $40,000, but this is a fraction of what it would cost to complete that degree in-person.
You pay as you go for the courses you are enrolled in each term.
Coursera refund
Coursera refund and money back policies vary depending on whether you have made a one-time payment or are subscribing on a monthly or annual basis.
The table below explains how these work:
If you make a purchase through a third party, their own refund policies apply.
For more detail on this you can check out our coursera refund guide.
Coursera free trial
There are lots of ways to experience Coursera for free. So you can sample much of what's on offer without spending a cent.
There are:
Individual Specialization units that can be audited for free
Seven day free trials with:
Coursera Plus monthly subscription
Specializations
Professional Certificates
As well as this, Coursera offers 14 day money back guarantees on most of its products
Can i buy coursera as a gift?
No, coursera doesn't offer gift cards or any way of making payments for another user. A coursera account is always automatically linked to the name of the payee.
What a Coursera lesson is like
Given the number of different course types and partner institutions on Coursera, I'll have to generalize a little here.
But overall, at the course start you will get a basic outline of the syllabus and topics to be covered by the course. Then, in a typical lesson you can expect:
High quality video lectures that build in difficulty and link to prior learning
Accompanying transcripts
Quizzes, questions, projects and assignments to check and reinforce understanding
Opportunities to connect with other students to discuss problems and share experiences
Access to a wide range of supporting resources such as podcasts, pdf files, e books, readings, Ted talks, case studies and examples, etc.
Best Coursera courses
Some of the most popular and highly rated courses from each of coursera's offerings are:
Course: machine learning | stanford university
Guided project: google ads for beginners | paid media
Specialization: excel skills for business | macquarie university
Professional certificate: ibm cyber security analyst | ibm
Mastertrack: social work: practice, policy and research | michigan university
Coursera degrees: bachelor of science in computer science | university of london
Of course, the best course for you depends on what you're interested in!
But to give you a clearer idea of what to expect from Coursera's different learning paths, I've reviewed the top classes in each category below:
Top Coursera Courses

Machine Learning | Stanford University | Rating: 4.9/5 
Instructor: Andrew Ng. Ng's many achievements include founding DeepLearning.AI, and the Google BrainTeam. Given this, and the fact he's an adjunct professor at Stanford and author of 100+ papers on machine learning, he's more than qualified to deliver this course.
Learn: What learning is, how machines do it without explicit programming, the most effective machine learning techniques, how to implement them for yourself and how to practically apply the techniques to new problems.
Includes: 45 Video lessons divided into 4 sections (totalling 7 hours), 40+ readings, 9 quizzes and a certificate if the course is purchased.
Best for: Anyone who is curious about how a car can drive itself and what the future looks will find this course fascinating and will be made to feel comfortable with the technical language thanks to plenty of examples and case studies.
The Science of Well Being | Yale University | Rating 4.9/5 
Instructor: laurie santos is a professor of psychology, host of the happiness lab podcast and director of the comparative cognition laboratory and the canine cognition center at yale.
Learn: Why our ideas about what will make us happy often turn out to be wrong, how to overcome annoying aspects of the mind that misdirect us, and the practical steps you can take to make a positive change and be happier and more productive.
Includes: 26 video lessons divided into 4 sections (totalling 4 hours), 18 readings and 3 quizzes, and a certificate if you purchase the course.
Best for: Given that this course is delivered by a Yale Professor of Psychology and can be taken for free, I can't see anyone losing out by giving it a go.
Top Coursera Guided Projects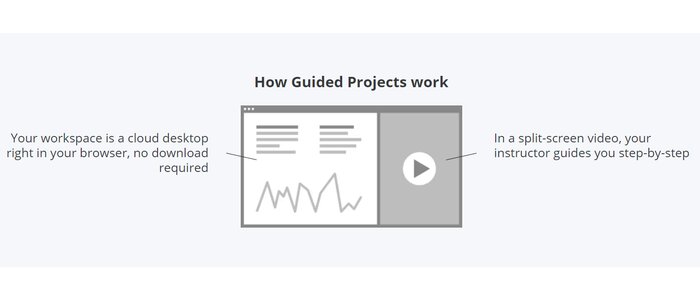 Google Ads for Beginners | Coursera | Rating:4.5/5 
Instructor: Ishita Sinha is Marketing Manager for paid media at Coursera. She has many years of experience of paid media campaigns, growth and product marketing, consumer research, brand strategy, positioning/messaging, and lifecycle marketing.
Learn: Everything you need to know to create a Google Ads account, do effective keyword research, navigate the Google Ad dashboard and create a successful, tracked and optimized campaign.
Includes: A split screen workspace and step-by-step video guidance for doing everything from setting up a Google Ad account to campaign optimization. A certificate
Best for: A complete Google Ad Novice will get everything they need to get up and running. Many students with more experience felt it explained a few tricky things they had been wrestling with.
Build a Full Website using WordPress | Freedom Learning Group | Rating:4.5/5
Instructor: Stacey Shanklin-Langford is a tutor from Coursera Project Network, teaching 20 online courses on Coursera, such as Create and Design Digital Products, Using WordPress to Create a Blog for your Business and Basic Game Development.
Learn: How to create an attractive and user friendly full website from scratch, utilize themes and plugins, update your homepage, edit content and add links and social media buttons.
Includes: A split screen workspace and step-by-step video guidance for doing everything from setting up a new website through editing and using links. A certificate
Best for: A complete WordPress novice as this is basic introductory course
Coursera Specializations

Excel Skills for Business | MacQuarie University | Rating: 4.9/5
Instructor: Four tutors led by Nicky Bull, a corporate trainer, consultant and lecturer with over a decade of experience designing and delivering educational programs. She has also received the Coursera Outstanding Educator Award for Student Transformation in 2018.
Learn: How to apply Excel skills and techniques to solve a range of business problems, design sophisticated spreadsheets, perform complex calculations and operations, and use advanced Excel features and techniques confidently.
Includes: Four courses that start with the essentials and incrementally build in stretch and challenge. A hands-on project that needs to be successfully completed to earn the certificate.
Best for: Students with a working understanding of Excel will get the best value as although the course begins with Excel essentials, three of the course units focus on developing advanced Excel Skills.
Python for Everybody | University of Michigan | 4.8/5 
Instructor: Clinical Professor Dr Charles Severance, who teaches technology related courses including programming, database design, and Web development at the University of Michigan.
Learn: The basics of how to program using Python, how to use Python's built-in data structures such as lists and dictionaries to perform data analysis, how to use Python to access data from the web and how to use databases in Python.
Includes: Four course units that start with the basics and slowly build in difficulty. A hands-on project that needs to be successfully completed to earn the certificate.
Best for: Anyone with computer experience who is new to coding will get huge value from this Specialization as It starts at ground level and builds gradually to cover more complex techniques.
Coursera Professional Certificates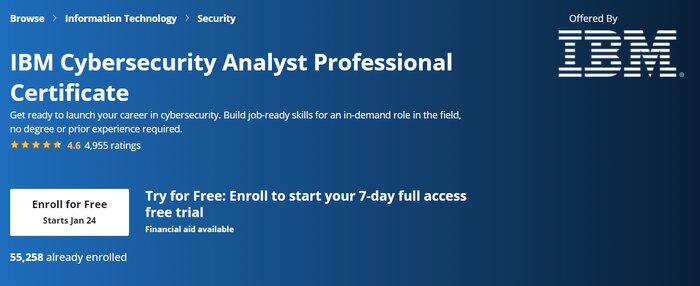 IBM Cyber Security Analyst | IBM | Rating 4.6/5
Instructor: Tutors at IBM Security Learning Services
Learn: All the content you need to get job ready for a role in the Cybersecurity industry. Including basic Cybersecurity concepts and terms, key processes and frameworks, basic network security, vulnerabilities, incident response protocol and defence tactics.
Includes: 7 course units, assessments, a real-world security breach hands-on collaborative project, access to virtual labs, sites and industry tools. Completion also means you are eligible to earn the introduction to cybersecurity tools & cyber attacks ibm digital badge.
Best for: anyone considering a role in cybersecurity who is comfortable working with computers and willing to learn new technical skills. Also those who want to understand cybersecurity from the bottom up and enjoy collaborative problem solving.
Facebook Social Media Marketing | Meta | Rating 4.9
Instructors: Anke Audenaert, CEO & Co-Founder of online education production company Aptly and adjunct Professor at UCLA, and Daniel Kob, Chief Marketing Officer at Meta.
Learn: How to build an online presence, create and manage advertising campaigns, attract a following, manage your social media accounts and evaluate your efforts.
Includes: Six linked courses, hands on collaborative projects that help you apply new skills practically and (on successful completion) a Coursera and Facebook Digital Marketing Associate Certificate – plus exclusive access to the new Facebook Network job search platform.
Best for: Anyone interested in preparing for an entry level role in social media marketing, whether they are total beginners or have some informal experience.
Social Work: Practice, Policy and Research | Michigan University
Instructor: Tutors from the #1 school for social work in the US.
Social workers effect positive change with individuals, families and communities
Key research, knowledge, policy and frameworks guide social work practice
Social work policy has evolved over the last century
To understand the connection between social work and social justice and how to use a social justice lens
To appreciate the different roles of social workers in a range of settings
Includes: Six rigorous and linked courses, live sessions with instructors and peers, flexible and personalized learning, quizzes, assignments, collaborative projects and case studies. Passing this MasterTrack successfully results in a University of Michigan Certificate and allows you to complete the full Masters for 45 instead of 60 credits.
Best for: Anyone with a strong interest in pursuing a career in social services. If you wish to take the full Master of Social Work degree, previous human service experience at post degree level is preferred.
Coursera Degrees

Bachelor of Science in Computer Science | University of London
Instructor: tutors from Goldsmiths (University of London)
Master in-demand computing skills
Solve complex problems
Sharpen your innovation and creativity
Develop technical and transferable skills
Shine in one of 7 specialist fields (for example AI, Machine Learning, Games Development, etc.)
Includes:  A range of resources on computers, tablets and other mobile devices through a Virtual Learning Environment. 16 compulsory modules, 6 elective modules, two projects resulting in a portfolio of work and exams. Fully online tuition with academic support and feedback from the University of London as well as access to student forums. The option to attend classes in-person.  A full degree certificate from the University of London.
Best for: Anyone aged 17+ with relevant high school qualifications and/or work experience wanting to pursue a career in computer science. A performance based admission route is available if you don't meet the requirements for direct entry.
Coursera for business

There are two membership accounts for businesses who want to offer their employees world class continuing professional development.
Coursera for business includes access to 5,000+ courses, 100+ skillsets, and 1,900+ guided projects from top universities and companies. With enterprise you also receive access to other benefits including job-based learning programs, private authoring tools to create your own courses, an account manager, skill metrics and user analytics.
How I reviewed Coursera
I've spent a lot of time navigating every corner of Courser's platform to investigate the range, quality and cost of what's on offer.
I also sampled several specific courses. This included topics I felt confident in which helped me gauge the quality of the teaching. And courses I knew little or nothing about to see if claims that no prior experience was necessary were backed up by good introductory content and incremental teaching that kept me engaged and learning.
What I liked about Coursera
The chance to earn a certificate from the world's top organisations
Coursera is partnered with 250+ of the world's most prestigious institutions and universities.
To have the chance to receive a certificate from one of these organisations could really make you stand out from the crowd if you are in the market for a promotion, a new job or a career change.
Given the cost, and the fact that you can sample much of this content for free, this is a real benefit of coursera.
Lots of free content for you to sample risk free
Coursera offers almost 2,000 courses for free, and the opportunity to audit course units from its more complex programs for free.
This gives you the chance to get all the information you need to know about the quality of the teaching and the suitability of the course to make an informed decision before making any financial commitment.
You don't receive a certificate for free content, but you will have the option to upgrade at any point.
Well structured and resourced courses and excellent teaching
A key element of good teaching is the structuring of tasks to incrementally build skills or the understanding of key concepts.
Coursera does this well and provides opportunities to apply new skills and ideas practically with assignments, projects and challenges.
Learning is supported with a variety of resources including podcasts, youtube videos (such as ted talks), graphics, animations, e-books, etc. Key takeaways are emphasized and there is an easy option for capturing screens and making notes.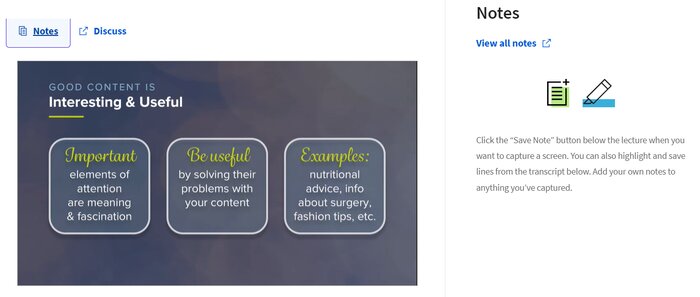 The courses I experienced were so much more than just 'talking head' video lecturers. That said, when they do take this format, the instructors are high calibre and include renowned experts in their fields, academics from universities such as Yale and C-suite executives from the world's leading companies.
Huge catalogue of courses
Coursera has the largest catalogue of courses of any learning platform and, though there is a strong emphasis on career relevant topics and skills, there are courses in every subject imaginable.
The choice within each subject is wide ranging, from introductions, overviews and very specific deep dives. There is also a wide range of learning paths, from short 2 hour guided projects through to full blown bachelors' and masters' degrees.
The keyword here is choice.
Prestigious courses at affordable prices
Course costs are affordable and, for the quality, excellent value.
Degree courses are, of course, in the thousands of dollars. But even so fees are significantly lower than taking exactly the same degree on campus. Especially bearing in mind accommodation costs.
And financial aid is available to students who are unable to meet the full cost of a Coursera course or progam.
Learn offline
You can download materials to learn offline using the Coursera App. This gives you real control over when and where you learn and allows you to slot sessions into your schedule wherever you are.
What could be improved
Confusing pricing
Coursera offers so many different options for learning that its pricing structure can seem confusing.
You won't find out the exact cost of any particular option until you are signed in. And in some cases, only by clicking on enroll can you be sure. You can navigate away at that stage, but it is a little off putting that costs are not more transparent on the site.
That said, the reason for so many offerings is to enable coursera to reach as many people as possible, whatever their needs, circumstances or budget. So having a tricky pricing structure is partly due to them trying to fulfil their aim of changing the world through learning!
If you want a detailed and granular breakdown of coursera's pricing, check out our article how much does coursera cost?
Courses vary in quality
Inevitably, with over 7,000 courses on the platform, there will be some variation in teaching styles and course quality.
The courses I viewed differed quite a bit in terms of their approach. One had very little 'talking heads' teaching and lots of screen graphics and animations to support learning. Another focussed far more on a lecture style delivery. Though in that instance, the speaker had a lot of charisma and was very engaging!
Both approaches worked for me but we all learn in different ways and what works for me might not suit your learning style.
The good thing is that, in many cases you can audit courses or parts of courses for free, and you can always read the reviews to get a sense of what others thought of it. Plus you can also ask the Coursera community any specific questions you have about course delivery.
So this is just something to bear in mind, rather than an overall con.
Who Coursera is for
Coursera has so much on offer it really does suit a broad audience. But in general I would say Coursera is for:
Anyone who is intellectually curious and loves learning new things
Busy people looking to fit in some high quality learning whenever and wherever they can
Anyone looking for promotion, a new job or a career change
Those looking to open new doors into the world of tech or computer science 
Business teams and business leaders looking to invest in the continuing professional development of their teams
Students who would value certification from world-class universities 
Learners looking for open source but high-quality channels of education
How to find great courses on Coursera
There are quite a few ways to navigate the Coursera platform to find courses. The two most straightforward in my view are using:
Search if you know the subjects and topics that most interest you
What we Offer if you want to explore the different learning paths on Coursera
What we Offer
I found this the most helpful way to explore the different options on coursera. It meant i knew in advance the approximate cost, length of course and goal of each option before taking a closer look.
Just scroll the very bottom of any screen and click on the what we offer option: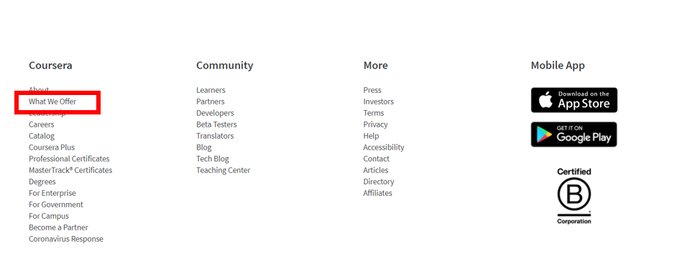 You'll then see the following, allowing you to explore all the different options according to your goal, time commitment and budget: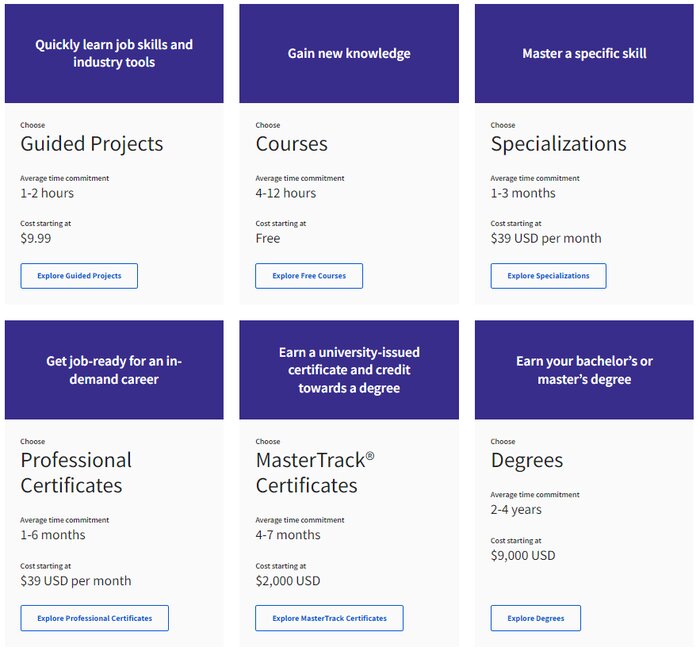 You can also use the search function and filter your searches.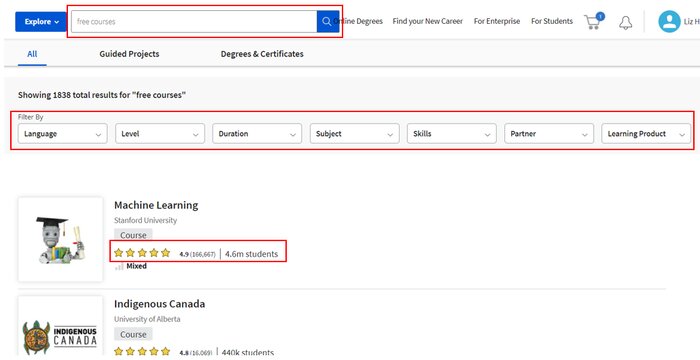 Whether you use search or what do we offer to explore, results will be listed with the most popular and highly rated courses at the top.
When you find a course you like, click on enroll to find out more details and read student reviews.
If it's not for you, just navigate away with the back button.
Is Coursera legit?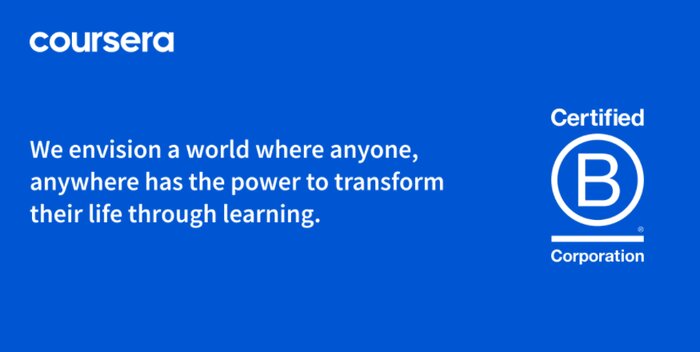 Coursera is 100% legit. Now in its tenth year of operating, it is one of the world's leading educational platforms.
In February 2021 Coursera became a Certified B Corporation – meaning it is formally designated as a business meeting high standards of verified performance, accountability, and transparency on a range of factors. One month later it became a public company and its shares are now listed on the New York Stock Exchange.
Coursera alternatives
Online learning is big business and there is stiff competition between different platforms. Which is good news for you. If anything, you're spoilt for choice.
Closest to coursera is edx. It was founded in the same year and has harvard, stanford, oxford, and other world class learning partners on board. Offerings and pricing are broadly similar. The main difference is in the number of courses available. The course library for coursera is much larger and coursera has nearly three times as many learners.
Other, less academic e-learning platforms that come to mind are udemy and skillshare. Like coursera, both of these platforms offer courses in a wide range of subjects. However, anyone can sell their course on these platforms so the quality is much more variable. Check out our article udemy vs coursera for more detail.
Also, neither udemy or skillshare offers free content. That said, both are significantly cheaper than either coursera or edx. Courses are purchased individually on udemy and skillshare offers a monthly subscription to access all of its learning content, which may work better for some learners.
Masterclass offers classes hosted by celebrities and legends in their fields of expertise. They include cooking with gordon ramsay, creative writing with margaret atwood and jazz with herbie hancock. The focus is on the experience here, rather than academic learning, and the platform is famed for its incredibly high-quality production values.
Finally, if you're looking for a platform dedicated to data science skills then datacamp might be for you. They offer over 350 courses including coding with python and r, skills and career tracks where you can hone in on your learning priorities and workspace areas where you can practice writing code.
Other well established sites for courses on the latest technologies are udacity and pluralsight.
For a detailed comparison, check out our article coursera alternatives.
Coursera: What others have said
My aim here is to write a balanced review. So, i've scoured forums like reddit for comments for coursera users to identify a broad consensus as to how learners feel about the site.
Overall, feelings are positive. People seem to appreciate the quality of the courses and teaching and feel that coursera certificates are valuable.
But there are comments that online coursera courses are not as good as in person classes and that question the value of a paid certificate.
This comment sums up that perspective:
I have some sympathy for this view. In person classes allow for learner input, spontaneity and constant updates and changes. That said, as an online platform coursera is available to anyone, anywhere. And even if you live in the us, you may not be able to afford, or access, stanford.
That's the point of coursera – it makes high quality learning available and accessible to everyone regardless of geography, circumstances or wealth. And this learner voiced the exact opposite opinion to that of the previous commenter:
The most common comments center around what taking coursera courses say about you as a person and how this is likely to open new doors.
And i think my own feelings were best summed up by this comment:
Honestly, if you look at the cost of taking a Coursera course from a prestigious institution on an hourly basis as this commenter did, it's incredible value.
Evaluating Coursera
Features: 7,000 courses and degrees from over 250 respected, prestigious partner institutions. Many of which can be taken or audited for free with a chance to upgrade and receive a paid certificate. Option to buy courses individually or subscribe to the platform.
Content quality: lessons consist of a variety of mediums: high quality video lectures, transcripts, visuals such as graphics and animations and audio such as podcasts.
Content breadth: The full range of disciplines from data science, business, computer science, arts and humanities, personal development, information technology, language learning, math and logic, health, social sciences and physical science and engineering.
Teachers: Instructors will be from Coursera partnership institutions like Yale, Google and IBM. So they know what they are doing when it comes to both content and delivery.
Supporting materials: Aside from video and textual lesson content there are assignments and projects, e-books, readings, podcasts and additional vidoes such as Ted Talks.
Payments & refunds: Coursera Courses can be accessed for free, Guided Projects start at $9.99 and  Specializations and Professional Certificates from $39.99 a month. A Coursera Plus subscription is $399 per year and Full degrees start at $9,000. Refunds vary depending on whether you are subscribing or paying for a course individually.
Support: Available through the Coursera Help Centre.
How to open a Coursera account
Opening an account in Coursera is simple. All you need is an email address and password. Or you can use your existing Facebook or Google details.
Then, just sign in. This can be done from the home page or by clicking the Join for Free button which appears in the top right hand corner of most pages: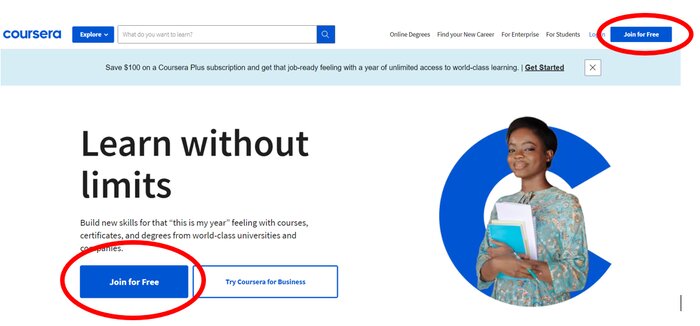 Is Coursera worth it?
In my view yes.
Coursera offers the opportunity to learn from the world's most prestigious universities and institutions. Students accrue mountains of debt to physically attend these universities but coursera makes it possible for a mere fraction of the price.
And in some cases, for free.
There's a huge catalog of options and courses are carefully structured, educationally sound and fully resourced. Teaching is delivered by recognized experts in their respective fields. And bear in mind that coursera courses are not gimmicky youtube videos – they are academic, educational courses that focus on results.
However, coursera is a big platform with lots of choices. You will need to be prepared to take time to find the courses that best fit for your needs and circumstances.
Once you have found a course you are interested in, whether or not it will be worth it partly depends on you! Online learning only works to the extent that you put the work in.
That said, if you're serious about investing in the best thing you can ever invest in – yourself- then you will be hard pressed to find a better platform than coursera.
And with so much content that can be taken or sampled for free, or with a 14 day money back guarantee, you really have nothing to lose by checking it out.
Frequently asked questions
How much does coursera cost?
Coursera courses can be accessed for free, guided projects start at $9.99 and specializations and professional certificates from $39.99 a month. A coursera plus subscription is $399 per year and full degrees start at $9,000.
Does coursera have a refund policy?
Coursera's refund and money back policies vary depending on whether you have made a one-time payment or are subscribing on a monthly or annual basis. Generally, one time payments have a 14 day money back guarantee, monthly subscriptions can be cancelled at any time.
How many courses are there on coursera?
There are over 7,000 courses available on coursera.
Does coursera have a free trial?
Seven day free trials are available with coursera plus, specializations and professional certificates and nearly 2,000 courses can be completed (without certification) for free.
Does coursera give certificates?
Yes, all coursera paid for options are fully certified if you complete the course(s) successfully.
What languages is coursera available in?
Coursera offers courses in over 50 languages, the top ten are english, spanish, russian, french, portuguese, arabic, german, vietnamese, italian and chinese.