This is a complete Everlast boxing gloves review.
In this review, you'll find the right Everlast boxing glove for you no matter what your goals are.
Further on in this post, I'll also answer the most frequently asked questions about Everlast.
Ready to rumble?
Let's jump into the…
Top 9 Everlast Boxing Gloves
This is the best pair of Everlast boxing gloves on this list: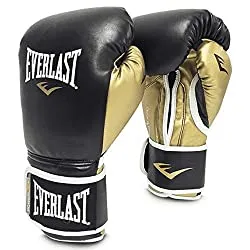 Everlast Powerlock Training Gloves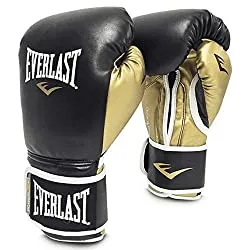 Available size: 14oz, 16oz.
Available colors: Black/gold, black/white, red/blue, blue/red.
What's good about the Everlast Powerlock Training Gloves?
You can use them for any part of your training: The reason why these Powerlock gloves are so great for training is because of the multi-layer dense foam that provides terrific comfort and protection whether you're sparring, hitting the mitts, or the heavy bag.
Excellent design: I love how these gloves look with the juxtaposing Everlast logos and the wide variety of colors to choose from.
You can choose between laced and velcro: These gloves come in a laced version and a velcro. Generally, the laced version is best for competition bouts due to the enhanced wrist support and velcro is best for training due to the ease of use.
Compact gloves: If you have average-sized hands (i.e. 7.6 inches for men, 6.8 inches for women) you'll find these Powerlock gloves very compact and comfortable. There is also a smooth polyester liner in the inside which is another reason why the gloves are so comfortable.
What's bad about the Everlast Powerlock Training Gloves?
The top of the glove may split with consistent use: Unfortunately, the leather at the top of the glove is quite loose — which creates wrinkles. Over time, these wrinkles may become dry and eventually split due to the repeated sweat and friction.
The grip bar has room for improvement: The grip bar (upper palm-side of the glove) is quite thin which makes it difficult to hold a solid fist.
The inside wrist padding is quite thin: While the Everlast Powerlock glove has excellent wrist support from the top of the wrist, the bottom side has only a thin layer of foam padding which makes it quite flimsy.
Summary
Overall, while there could be improvements such as the tightness of the synthetic leather around the top of the glove, the thickness of the grip bar, and the equal distribution of EPA foam padding; I believe that the Everlast Powerlock Training Glove is Everlast's best boxing glove simply because it's comfortable and compact to wear for someone with average-sized hands, and it will protect you well thanks to the multi-layered foam padding.
Everlast Women's Elite Prostyle Boxing Gloves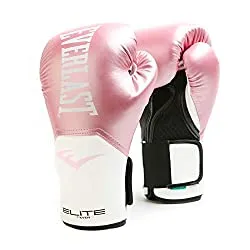 (Best all-round for women: based on quality, price, reviews)
Available sizes: 12oz, 14oz.
Available colors: Pink, navy blue.
What's good about the Everlast Women's Elite Prostyle Boxing Gloves?
A natural, comfortable fit: Everlast has done a good job at conforming these Elite Prostyle Gloves so that they fit the natural shape of your wrists and fists, thereby making them very comfortable to wear.
Moisture resistant: These Prostyle gloves are moisture-resistant because they come with a breathable mesh that allows air to flow through the glove both during training and after drying. This airflow will keep your hands cooler and your gloves dryer.
Easy to use: The Hook & Loop wrist strap is very easy to put on and take back off again, meaning you are able to quickly have a drink during your training session. However, if you want even better wrist support, opt for a pair of lace-up gloves such as the Maxx Maya Lace-Ups because lace-ups do a better job at keeping your wrists in place.
What's bad about the Everlast Women's Elite Prostyle Boxing Gloves?
Two layers of foam: Competitor gloves that fall under a similar price range to the Everlast Elite Prostyles such as the Unisex Venume Chellenger have an additional layer of foam (triple layer) meaning they offer slightly more protection. Therefore, if you have a lot of experience and you hit hard, I'd recommend getting the latter.
Could do with more sizes and colors: They only come in two sizes (12oz/14oz) and two colors (pink/navy blue). I would like to see a range of at least four sizes and colors.
Summary
The elegant Everlast Women's Elite Prostyle Gloves are a great pair of gloves that come with the latest boxing glove technologies.
While it would be good to see an additional layer of foam, the foam does cover every part of the glove making all-round protective.
The gloves are also manufactured to be comfortable to wear for a long period of time thanks to the testing of shapes and moisture resistance.
1910 Classic Fight Gloves
What's good about the 1910 Classic Fight Gloves?
Premium metallic leather: Full leather construction including a leather mesh style palm that'll help with longevity.
Ventilated palms: The palm of the glove has perforated leather containing numerous holes that will help keep your gloves dry.
Pact with history: They look like the original boxing gloves made in 1910 except that they now have the advanced modern technology of today's gloves.
Satin carrier bag: A sleek, stylish, satin black carrier will arrive with the gloves for free.
What's bad about the 1910 Classic Fight Gloves?
Pricing: A really expensive glove that costs hundreds.
Stitching: The stitching where the thumb meets the palm could be improved, especially since the price tag is so high.
Needs more color options: At the moment the 1910s are only available in a metallic white or blue. It would be nice to see more options in other colors such as red, black, and pink.
Summary
If you're looking for a high-quality pair of competition gloves that not only looks the part, but come with the balance of power and protection that you need, then the 1910s are what I recommend you get.
The price is very high but thanks to the technological advancements including metallic leather, medium density foam, and ventilated palms, they won't let you down in the ring.
What's good about the Elite Pro Fight Gloves?
Comfortable: The Elite Pro Fight glove has a newly designed anatomically shaped shell, meaning you're able to get optimal fist placement.
Protective: The gloves are made with high-quality blended foam and quilted horsehair giving you the ability to dig deep into your opponent.
Excellent ventilation: The cleverly placed perforations on the thumb and palm of the glove will help keep your hands cool in the later rounds. This technology will also allow the gloves to dry quicker after your bout/sparring.
Great material and engineering: The fine stitching and premium Mexican leather are the reason why these gloves cost a lot of money and the reason why they will last a long period of time.
What's bad about the Elite Pro Fight Gloves?
Price: On the price point, these are a very expensive pair of gloves which is due to the materials and time taken to produce each pair. I especially like the printed quote on the palm side which says, "Greatness Is Within". The sole reason behind your success in the sport.
Summary
With elegant and intelligent manufacturing, these Everlast Elite Pro Fight Gloves are one of a kind with an atomically shaped shell for comfort, blended foam and quilted horsehair for protection, specially placed perforations for cooling, and real Mexican leather for longevity and maximum strength.
Whether you've been in the fight game for one year or ten, these will serve you well no matter who your fighting against next.
Click here to buy these Elite Pro Fight Gloves on Everlast's US website or via Geezers boxing if you're in the UK.
Everlast Pro Style Boxing Training Gloves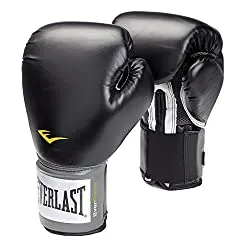 (Best training glove)
Available size: 8oz, 10oz, 12oz, 14oz, 16oz.
Available colors: White, black, red, blue.
What's good about the Everlast Pro Style Boxing Training Gloves?
Breathable mesh: These Pro-Style boxing gloves come with a breathable mesh on the palm-side. This means that air is able to flow in and out of the glove, thereby keeping your hands cooler and reducing the moisture both during and after training.
Inexpensive: If you're low on budget, the Pro Style Gloves would be perfect for your boxing training as they are protective and contain the majority of up-to-date glove technologies.
Attached thumb: The Pro Style Gloves also come with an attached thumb Everlast call 'ThumbLok'. An attached thumb is important to have on a glove because it will prevent your sparring partner from getting poked in the eye and it will also hold your thumb in place, thereby protecting it from fractures/strains.
What's bad about the Everlast Pro Style Boxing Training Gloves?
Two layers of foam: While two layers is an adequate amount of foam padding to protect your hands when training only a few times per week, the more often you train, the more you'll find that they start to hurt your hands because two layers are simply not enough over the long run. Other brands, such as Hayabusa have quadruple foam padding which offers much more protection.
Complaints of rips/tears: From my research online, I spent time reading the reviews and I can see that several people have complained about how their Pro Style Training Gloves have ripped after a short use of time. This might be due to the fact that they are made from synthetic leather which is known to be of poorer quality than real leather.
Summary
In summary, these Everlast Pro Style gloves have the latest technologies including a breathable mesh, attached thumb, and are made of PU leather. I also like the fact that they come in four different colors and five different sizes making them suitable for many.
The only downsides are that they are not the most protective due to the lack of foam layering, and they could have actually used real leather like Everlast do in their higher-quality gloves. However, with that being said, you are compensated with a less expensive glove which is perfect for any training session.
Everlast Pro Style Elite Training Boxing Gloves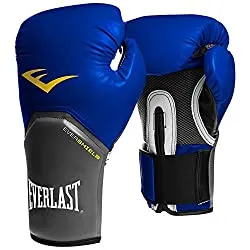 (Best Everlast gloves for beginners)
Available size: 12oz.
Available colors: Blue.
What's good about the Pro Style Elite Gloves?
Easy to use: The Hook & Loop strap will allow you to quickly put these gloves on and take them back off again, which is important in between rounds when you'd like to open your water bottle for a drink.
Odor repellant: Everlast's "Everfresh" technology is the perfect anti-microbial treatment that prevents bacteria growth and eliminates offensive odors.
Well ventilated: Everlast are famous for their "Evercool" technology that consists of a breathable mesh making up the palm of the glove. A lot of people complain about their gloves becoming too hot so this mesh helps to regulate the temperature and keep your hands cool. It also prevents your gloves from rubbing during a workout.
What's bad about the Pro Style Elite Gloves?
Not the highest quality in the world: Due to the low price range, these Pro Style Elite Gloves are made from synthetic leather which means they may not last as long as real leather.
Summary
The Pro Style Elite Boxing Gloves are quite simply one of the most popular Everlast boxing gloves.
The Hook & Loop strap makes them really easy to put on and Everlast's 'Evercool/Everfresh' technology provides a comfortable fit and odor repellant system.
They are also really inexpensive making them one of the best to get as a beginner.
Everlast Prospect Youth Glove & Mitt Kit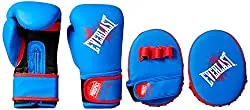 (Best Everlast gloves for kids)
Color: A mix of blue, red, and black
Age range: 7-13
What's good about the Everlast Prospect Boxing Gloves?
It has good protection: The evenly distributed foam padding is soft and will absorb punches well. This means that hand/wrist injuries will be uncommon when training or sparring.
Easy to take on and off: The super-strong wrist strap can be adjusted depending on the circumference of the wrist meaning your boy/girl will be supported, comfortable, and this means you can use the gloves easily.
Good value for money: The Everlast Prospect Gloves are currently listed at a mid-range price for a children's boxing glove due to the materials and design involved.
They come with mitts: Mitts are what get held up by a coach in a 1-1 training session. This extra equipment may come in useful if you want to train your child/friend/family member.
What's bad about the Everlast Prospect Boxing Gloves?
The mitt's finger stitching is prone to tears: This is a mass-produced product and the factory that makes it doesn't do the best job on stitching the mitt's finger stitching to the leather surface. The glove itself however can take a lot of punishment and will likely be outgrown rather than become unusable.
There is only one color option: While the mixture of blue, red, and black does look good, one way Everlast can improve in the future is to create more color options.
Summary
The Everlast Prospect Youth Boxing Gloves are one of Everlast's best children's boxing glove and although it's somewhat expensive, if you want to get a protective, comfortable, and easy-to-use boxing glove for a kid then this is the one to get.