For all of the skin-care devotees out there (raises hand), Glow Recipe is most likely a brand we've all tried and fallen in love with. What started out as a curated Korean beauty e-commerce site has since blossomed into one of the Internet's buzziest brands with launches that frequently go viral on TikTok and are used on celebrities for their red-carpet glam.
Inspired by innovative Korean formulations and their own upbringings — like their grandmas rubbing chilled watermelon rinds to soothe irritated skin — cofounders Christine Chang and Sarah Lee have skillfully developed products that address basically every skin-care issue under the sun. And they're keen on listening to community feedback, too, as evidenced by certain reformulations, like that of the brand's Blueberry Bounce Cleanser.
If you couldn't already tell, Glow Recipe's powerhouse ingredients are made up of nourishing fruits, which so far include avocado, banana, blueberry, papaya, pineapple, plum, and watermelon. Look a little more closely and you'll find so many more skin-loving ingredients in each formula, like hyaluronic acid, alpha hydroxy acids (AHAs), beta hydroxy acids (BHAs), niacinamide, polyhydroxy acids (PHAs), retinol, vitamin B5 — and the list goes on. All you have to do is reap the resurfacing, hydrating, and soothing benefits.
Read on to discover some of our favorite Glow Recipe products from the brand's ever-expanding lineup and find out why they leave our skin, well, glowing.
Best  Glow Products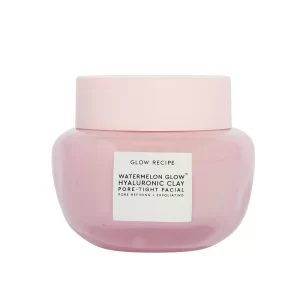 In need of a deep, pore-cleansing reset that doesn't leave your skin feeling tight and uncomfortable? Look no further than the Watermelon Glow Hyaluronic Clay Pore-Tight Facial, which touts itself as a non-drying clay mask, thanks to its unique, hyaluronic-acid-infused kaolin clay. Compared to your typical clay-based products, it's less of a hassle to wash off as well. In addition to brightening watermelon enzymes and hydrating watermelon extracts, a team of pore-busting beta hydroxy and poly hydroxy acids (BHAs and PHAs) clears debris and congestion in just five minutes. Call it what it is: an express facial in a jar.
Papaya Sorbet Enzyme Cleansing Balm
Cleansing balms put in the work when it comes to melting away all of those layers of sunscreen, foundation, waterproof mascara, and dirt/oil. Applied onto dry skin, the Papaya Sorbet Enzyme Cleansing Balm gets everything off without an ounce of tugging or harshness, and it leaves your skin feeling even softer than before. That's thanks to the addition of moisturizing papaya seed oil and natural papaya enzymes (also called papain), which gently resurfaces skin for a smooth-as-heck finish.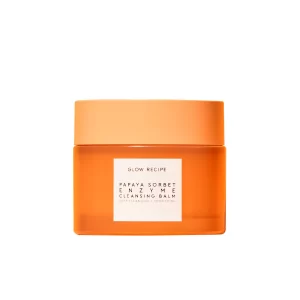 Watermelon Glow Pink Dream Body Cream
Slathering yourself from head to toe in the signature Watermelon Glow scent is no longer a dream, with the brand's first foray into body care — the Watermelon Glow Pink Dream Body Cream. Infused with hydrating hyaluronic acid, smoothing alpha hydroxy acids (AHAs) derived from hibiscus, and antioxidant-rich watermelon seed butter, this pink-hued moisturizer is sure to leave your skin feeling like silk. There's barely any downtime, either. It basically disappears into skin within seconds, negating any chances of greasiness or heavy residue.
Avocado Ceramide Recovery Serum
If your skin's been feeling stressed, the Avocado Ceramide Recovery Serum will reset your complexion with a potent blend of extra soothing ingredients. Avocado, rice milk, allantoin, niacinamide, and turmeric are the anti-inflammatory superstars that Allure contributing editor Marci Robin attributed to a visible reduction in her own redness.
But wait, there's more. The nourishing, green-tinted serum also contains "a chlorophyllin copper complex, which contributes to color correction physically" and helps with skin healing, cosmetic chemist Ginger King explained to Allure. Sign us up.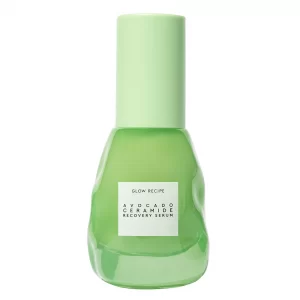 Watermelon Glow PHA + BHA Pore-Tight Toner
The Watermelon Glow PHA + BHA Pore-Tight Toner has a satisfyingly thick, syrupy texture to it, thanks to a base of moisture-replenishing, electrolyte-rich cactus water. That doesn't mean that it feels sticky once it's sunk in, though. In fact, it absorbs very quickly, leaving behind a noticeably more hydrated, plumper complexion. A powerful 6 percent duo of chemical exfoliants, PHAs and BHAs, dissolves sebum in clogged pores and clears away dead skin cells without causing irritation — which is why it's an ideal, Goldilocks-like concentration for most. That 6 percent is matched with the same amount of hyaluronic acid for high levels of hydration all day and night.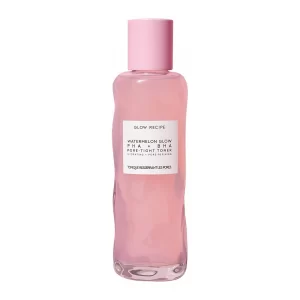 Plum Plump Hyaluronic Serum
Hyaluronic acid, as you may know, is one of the most dependable and effective skin-care ingredients for boosting and maintaining hydration levels — and serums, in particular, are some of the most potent ways to get your daily dose. Infused with antioxidant-rich plums and five molecular weights of hyaluronic acid to "hydrate the skin at each level," board-certified dermatologist Marisa Garshick previously told Allure, the Plum Plump Hyaluronic Serum sets out to be the best in its class. Allure senior commerce writer Sarah Han loves the silky texture of this lightweight, gel-like serum that sinks in immediately and leaves her skin soft to the touch and visibly soothed.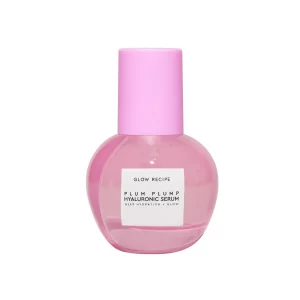 Watermelon Glow Niacinamide Dew Drops
Let us count all the ways you can utilize the Watermelon Glow Niacinamide Dew Drops. You can use them as a serum or moisturizer prior to sunscreen and/or makeup, a hydrating primer, or a highlighter. As the name suggests, this pink-hued gel is spiked with niacinamide to minimize the appearance of stressed-out skin — including redness and leftover hyperpigmentation from acne — or signs of aging, like fine lines and uneven texture.
We can't forget to mention the cocktail of antioxidant-rich watermelon, hydrating hyaluronic acid, and non-comedogenic (aka, non-pore-clogging) moringa seed oil, which all work together to plump skin, boost barrier function and guard against free radicals. It's no wonder Han deems this versatile, glow-inducing product as an essential part of her skin-care and makeup routine.