We've been to Cornwall on many family holidays over the years and the one place that is hugely popular for tourists is Land's End – a headland which is the most westerly point of England, and the closest point to the North American Continent.
Depending on the weather – you can feel like you're standing on the edge of the world. In the summer months, you may be glad of seeking the shelter of the sprawling shopping and restaurant complex. But you will also have to contend with the crowds.
An Interesting History…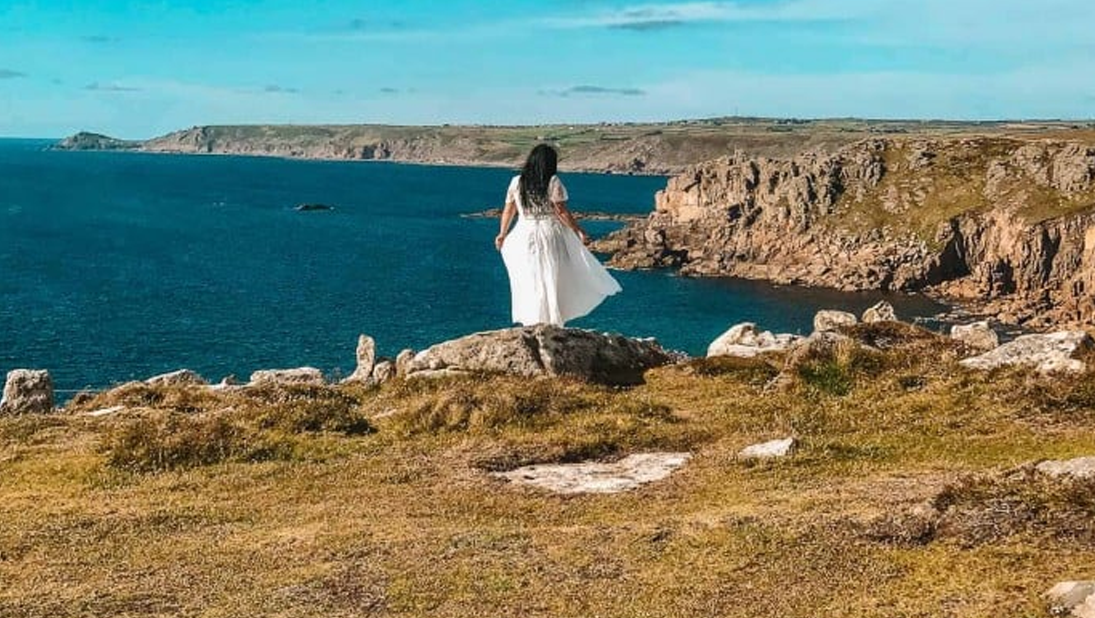 Is it worth visiting Land's End? Well, it is considered to be one of the UK's most treasured and famous landmarks. There are many legends surrounding the Cornish destination which was referred to as 'Belerion' – Place of the Sun in Ancient Greece.
In fact, artifacts have been found that date back to the Mesolithic Period (10,000-4000 BC), indicating that Land's End has been welcoming people for over 10,000 years or more. Plus, with over 130 recorded shipwrecks at Land's End, a trio of infamous lighthouses – Longships, Wolf Rock and Lizard, create a protective triangle over the most well-lit waterways in Britain.
LAND'S END CORNWALL – What to Expect
When we visited for the first time, I wasn't sure what to expect… I imagined we'd just park the car, get out and enjoy the views, much like you do with other natural beauty spots in Cornwall. But like any other tourist attraction, this one, in particular, has constructed a huge complex around what is essentially a clifftop view.
Prebook Your Tickets Before Visiting
Don't even think about going to Land's End Landmark without pre-booking your vehicle parking online to guarantee entry and save money on parking rates (£6 per vehicle instead of £7 per vehicle when paying on arrival).
If you do not book your parking ticket in advance, there is a possibility that you could be turned away due to COVID-19 restrictions. You can stay as long as you like, however you will need to arrive in your chosen 30-minute time slot to assist with on-site capacity management and social distancing measures. You can book parking online here.
Shopping at LAND'S END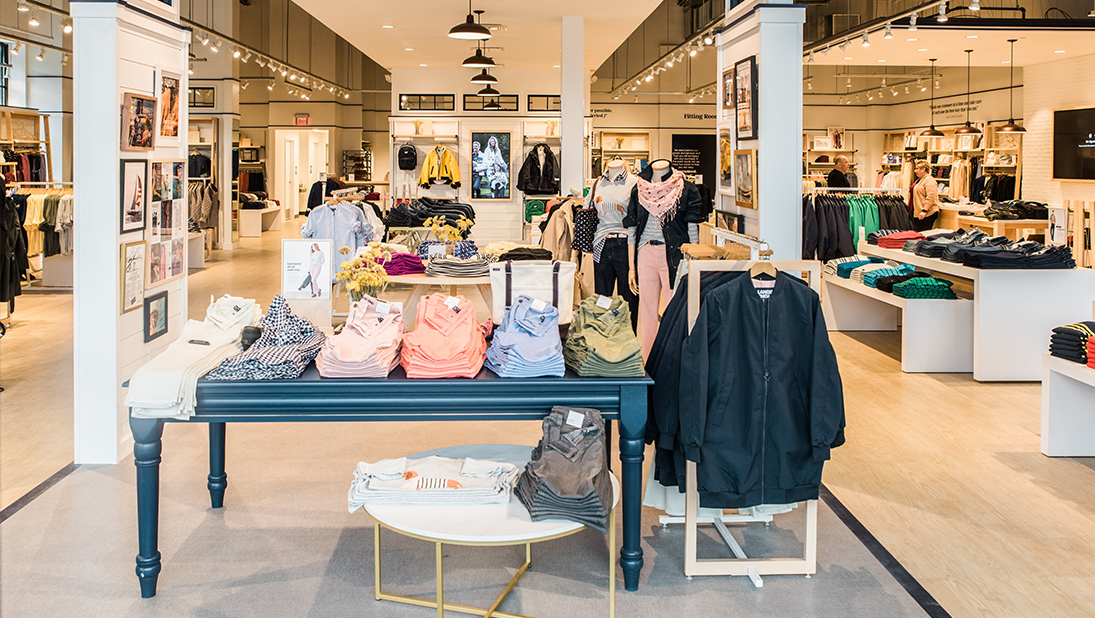 The Land's End West Country Shopping Village even has a factory outlet, if you fancy picking up a fashion bargain or two. You'll also find plenty of gifts and souvenir shops. More interestingly, you can find local crafts and art from independent artists and craftworkers.
Food at LAND'S END Landmark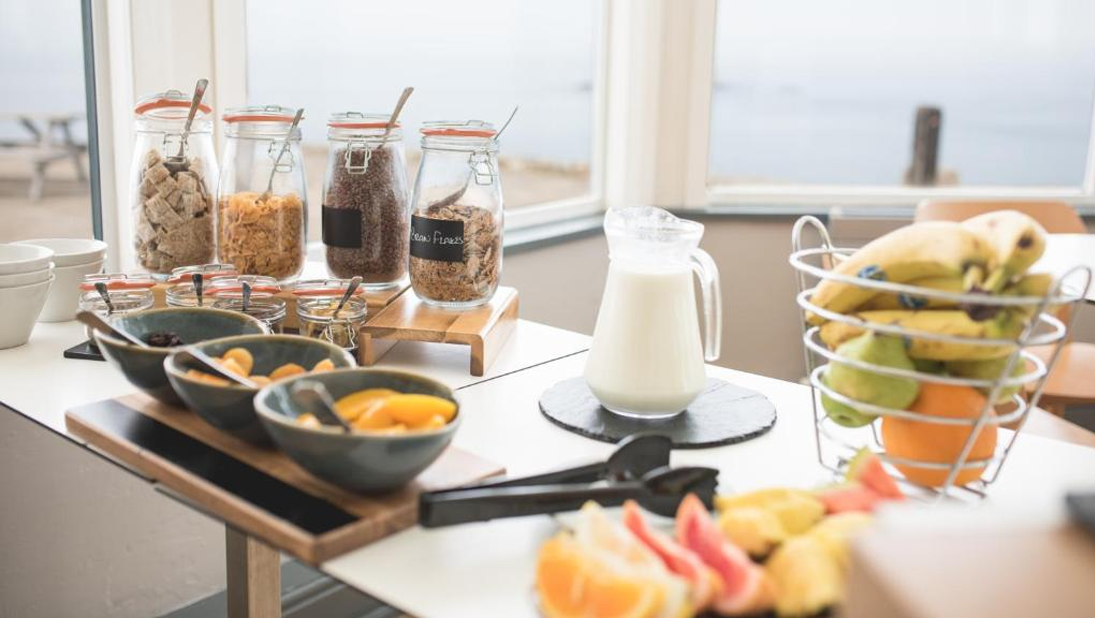 There are cafes and kiosks serving refreshments and snacks, including baked treats, Cornish pasties, doughnuts, and even an ice cream parlour. If you wanted a sit-down meal, the Land's End Restaurant and Bar has a comprehensive menu serving lunch and dinner.
First and Last Point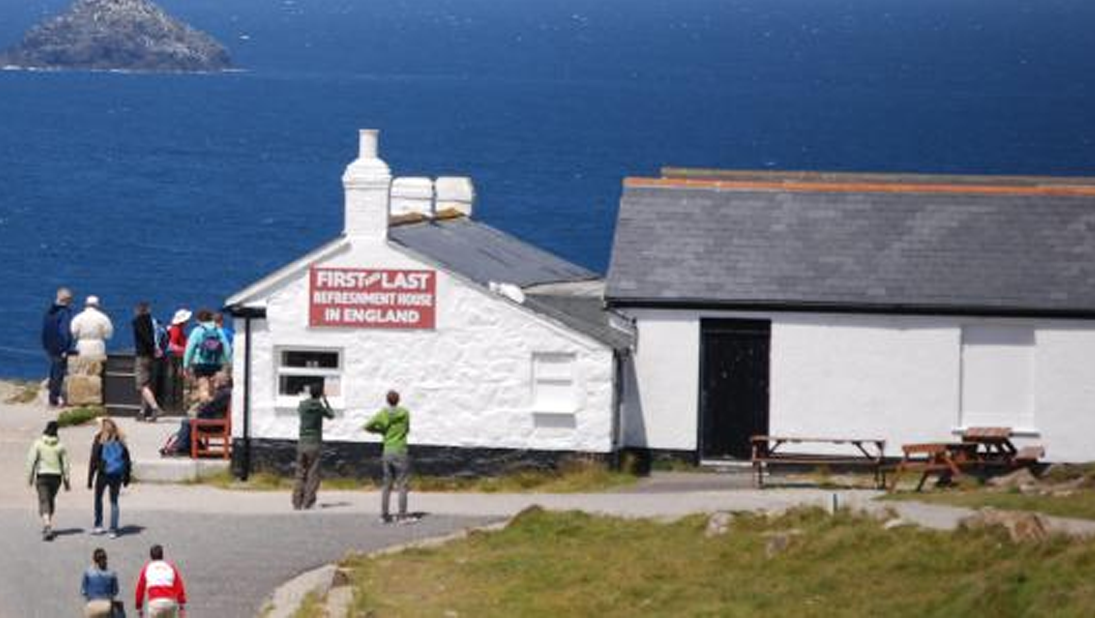 Once you move away from the main shopping and food areas, and join the coastal path, it does feel much more pleasant. It's just a short walk to the First and Last Point of Land's End where you will greeted by breathtaking views across the Atlantic Ocean and the waves crashing mercilessly against the granite rocks and cliffs.
LAND'S END Signpost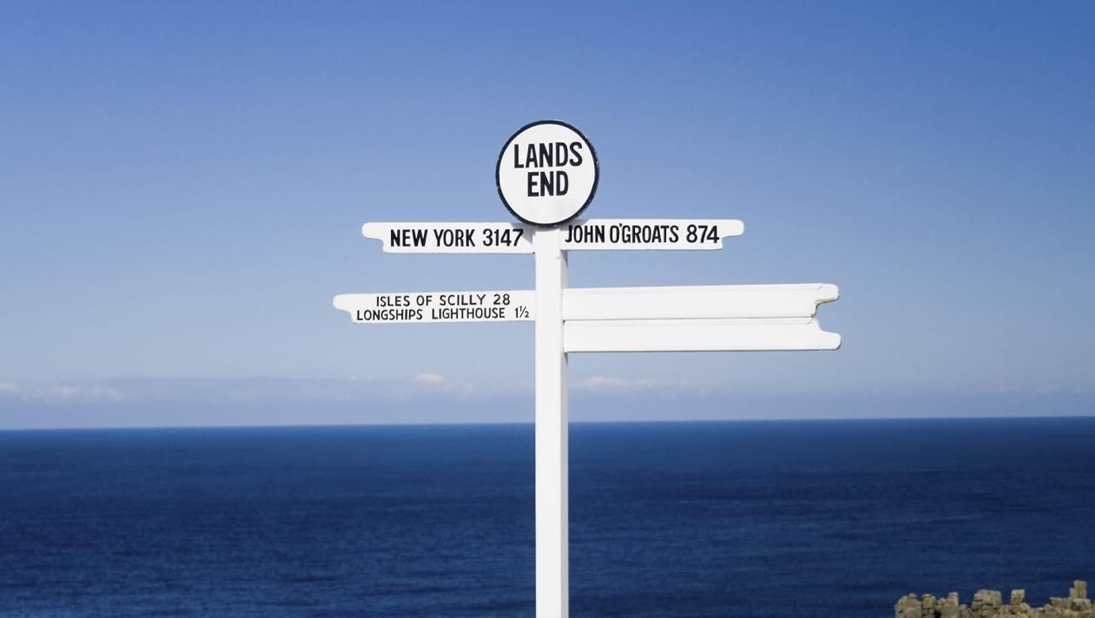 This is a really popular experience and one that you may or may not want to do – depending on the wait times. When we visited Land's End Signpost, it was really quiet and we only had to wait five minutes for a turn. So we decided to do it and paid the rather expensive price tag of £12.
A local photography company still owns and operates the Signpost today. All you have to do is tell the photographers your home town and they'll make up its name and fit the lettering into the signpost. They've calculated the distance from Land's End to thousands of cities worldwide, so they're able to complete your 'personal' Land's End Signpost with the number of miles to your nearest town or city – or any other message you'd like. We decided on our surname…
Other Things to do at LAND'S END for Kids
There are a few fun activities and attractions at Land's End for kids. They get close to furry friends at Greeb Farm, which situated along the headland in a 200-year old farmstead. From sheep, goats, rabbits and ferrets, children will love being able to pet and feed them.
For older kids and Wallace & Gromit fans, there is an interactive Aardman experience where you can fly in a rocket and even jump on the moon! Or accept Merlin's challenge and go on Arthur's Quest to solve interactive puzzles and free the King from the fiery jaws of a dragon. This is an engaging, special effects experience for older children. There's even 4D film – Jolly Rodger, which is now open to families to watch.
Not for you? Drive to SENNEN COVE INSTEAD…
If you're prepared to walk around 150-20 minutes around the coastline it is FREE. Drive to Sennen Cove, and you'll rewarded not only with its stunning expanse of golden sands, but also the great vistas afforded by a brief walk up to the old coastguard lookout – and the opportunity to wander a little further to get the most amazing views of Land's End without the hassle and the sky-high prices of the car park! We just wish we'd discovered this before we went.
The footpaths and public pathways will mean you can explore this spectacular natural beauty, without the crowds, and on a sunny day, you will also get clear views of the Isles of Scilly.