Madrid's luxury hotel boom feels almost unstoppable thanks to the city's latest Marriott outpost, the Madrid Edition, which opened in April 2022.
The hotel joins the ranks of the Four Seasons Madrid (opened in late 2020), the Mandarin Oriental Ritz Madrid (opened in early 2021) and the Rosewood Villa Magna Madrid (opened in late 2021), along with the JW Marriott Madrid which should open at some point in 2022. The Madrid Edition seems to be the missing piece of the Spanish capital's luxury hotel puzzle: a trendier, more contemporary points option in the heart of Madrid's historic city center.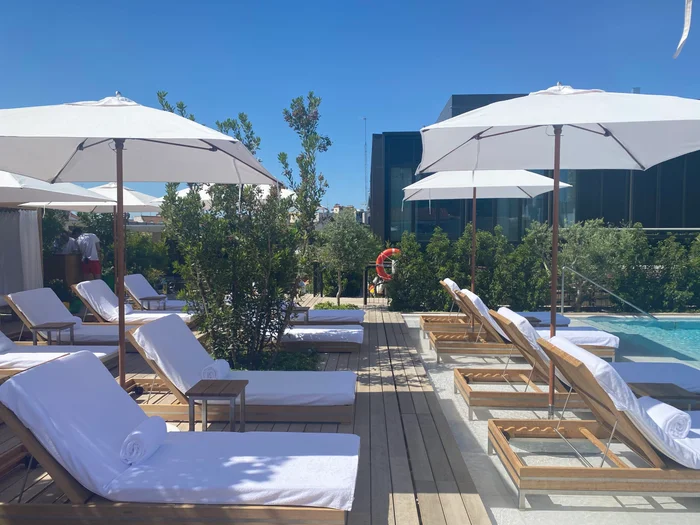 The Madrid Edition makes shared spaces and cuisine a priority. The property features an interesting mix of high-end restaurants, each led by a famous Latino chef. And every detail of the pristine, monochromatic lobby and the inviting rooftop, lined with lush Mediterranean herb bushes, makes the hotel feel like a true urban retreat.
In fact, Ian Schrager, the mastermind behind the Edition concept, explained that the hotel "is a microcosm of the best of Madrid that perfectly captures the city's spirit and essence. It's about creating an original and new kind of gathering place for both locals and visitors alike."
During my recent stay, that philosophy seems to hold true. In fact, the hotel might just be my new favorite spot to hang out in my adopted hometown.
History, location and ambiance
The Madrid Edition is situated in the Plaza de la Descalzas, just a short walk from Madrid's busy Puerta del Sol and close to landmarks like Gran Via, the royal palace, the Plaza Mayor and the opera house. Unlike some other luxury hotels in the city, this space isn't a former palace or bank building that's been renovated with an eye toward the bygone grandeur of Spain's heyday.
Rather, the hotel takes a more contemporary approach, with Spanish details and touches that remind both guests and visitors that modern amenities can indeed mingle seamlessly with historical allusions.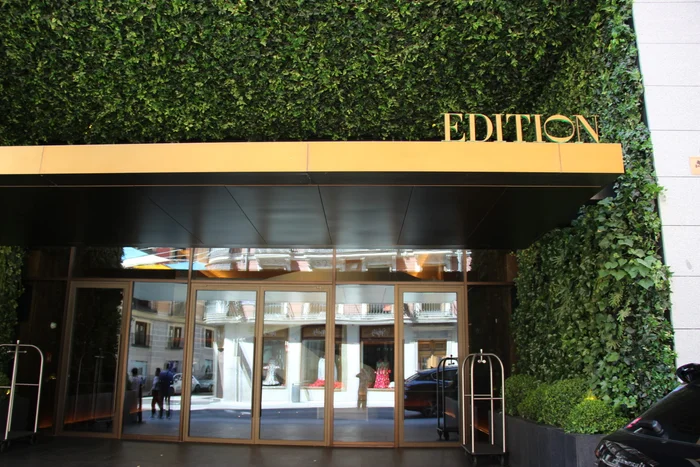 Expect to see nuanced pieces of art contrasted by the hotel's crisp, minimalist design aesthetic, such as an 18th-century baroque door designed by Don Pedro de Ribera placed among the clean grid lines of the building's exterior.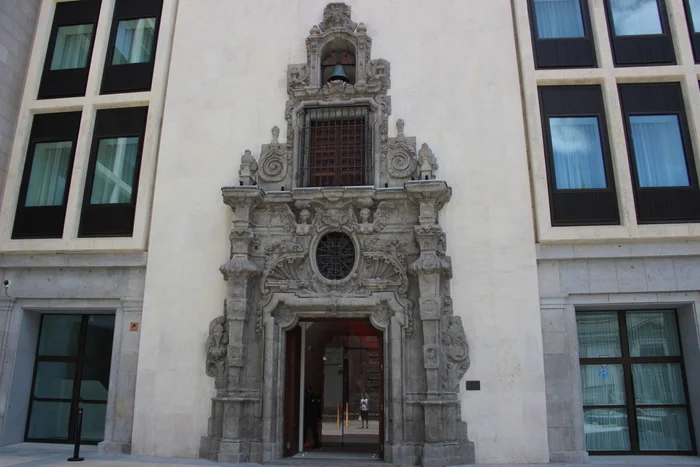 Likewise, a faded but still colorful tapestry from Madrid's Royal Tapestry Factory presides over the sleek lobby furnishings. Hand-woven flamenco shawls are tossed casually over the lobby's Jean-Michel Frank sofas and armchairs are draped with signature Edition faux fur throws.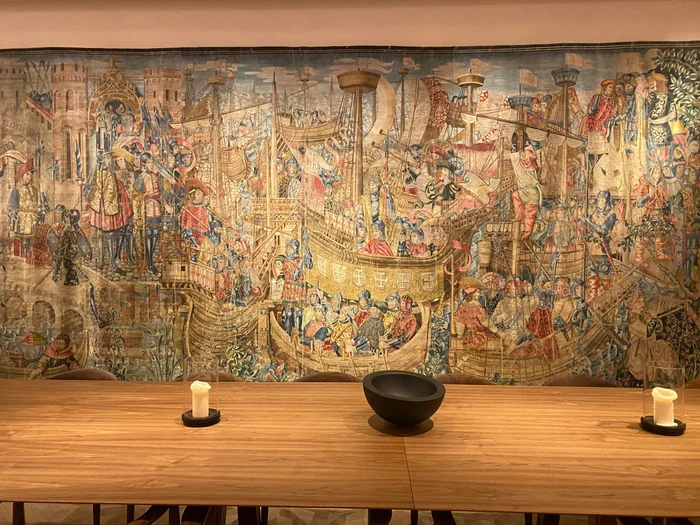 The hotel's wow factor starts upon entering. A first glimpse at the property's white floating staircase, backed by warm wooden walls, is positively jaw-dropping, setting the space apart from any other hotel in Madrid.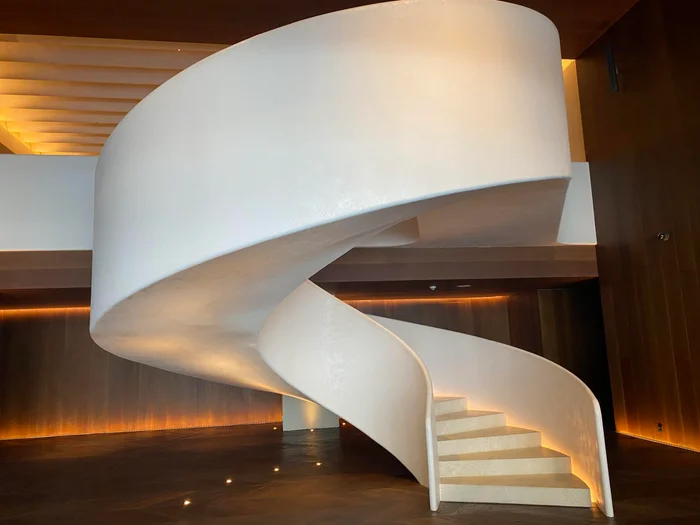 The staircase opens up to a spacious lobby, where chic locals and guests can enjoy cocktails set to DJ beats once the sun sets, or play a game of billiards on the pool table, sculpted from a giant slab of white Bianco Neve matte marble. The refined, backlit bar is inviting, serving up signature cocktails, wine and other drinks.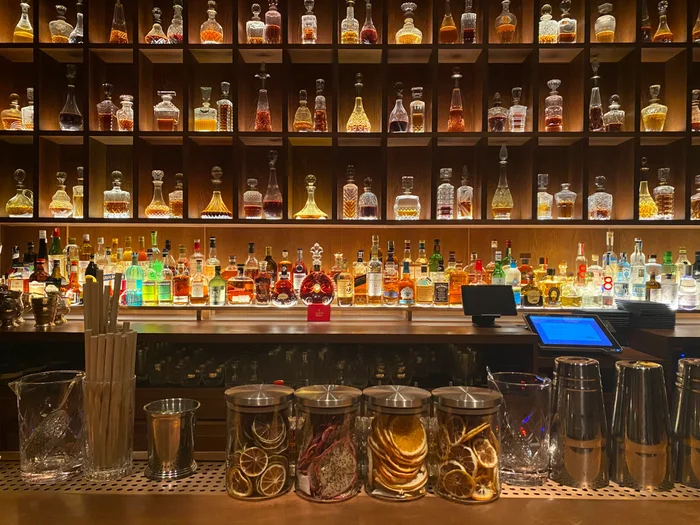 As with most Edition hotels, you can count on a trendy crowd. But because few Madrid residents have caught on to this new hotspot, it still feels relatively underground. It's a chic respite from the returning tourist crowds and the hot Spanish sun, since only those in the know are visiting. There's also a speakeasy-style bar, the Punch Room, and the forthcoming Supper Club, a venue that will open later this year in the basement of the hotel, as well as a planned outdoor terrace for the Jeronimo restaurant.
Here's what else guests and visitors will find inside.
Guest rooms and suites
Much of the hotel's intrigue lies in the fact that it has yet to publish photos of many of its guest rooms and suites on its own site, so would-be guests can only guess at what they might be booking.
I was hoping to get a glimpse of the suites and the penthouses while there, but all were fully booked (the main penthouse was occupied by Dua Lipa, though I didn't see her during my stay). Luckily, as a resident of Madrid, I was able to make a return visit to the hotel later that week to get a sneak peek at some of the most coveted suites and the dreamy Madrid penthouse (the Opera Penthouse is a bit smaller).
My own room was a first-floor deluxe, with views of a neighboring 16th-century monastery. (The church bells do ring on the hour Sunday morning, so bring your earplugs. If you're an early riser, though, it's a cool sight to see the bells ringing from the rooftop deck).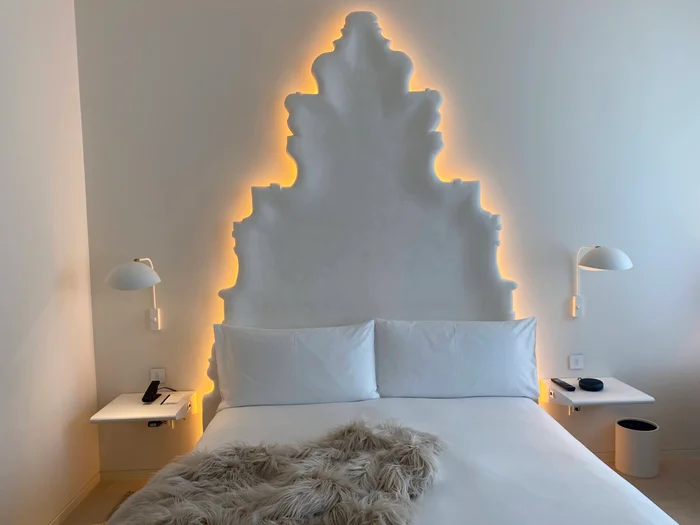 A step up from the lowest room category (superior), the room featured a king bed backed with a signature headboard. The headboard's unique shape is a nod to the aforementioned 18th-century Baroque door — these headboards are present on the beds in each of the 200 guestrooms, which include 21 suites and two penthouses. Of course, the hallmark faux fur throw was carefully arranged on the bed, too, a reminder that the Edition's very specific design aesthetic is a reliable constant no matter where you are in the world.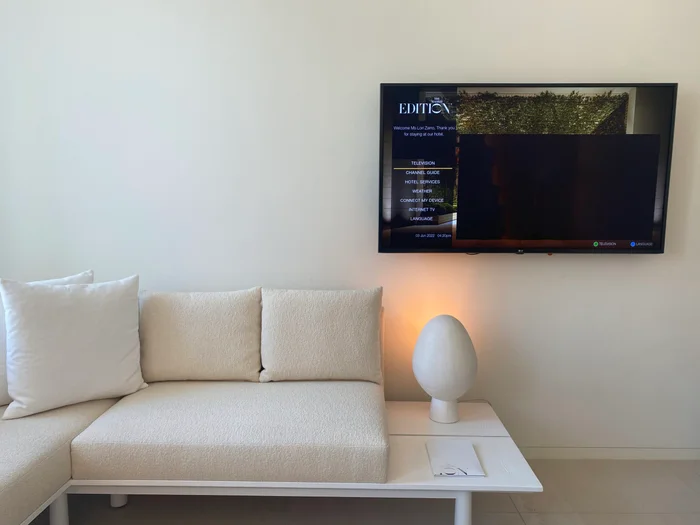 An L-shaped sofa, along with a table and chairs, sat in front of two large windows that gave a luminous feel to the all-white room when the sunshine streamed in. The light contrasted perfectly with the dark, wood-paneled walls of the entrance and the bathroom, which had a single, large vanity with mirror and separate rooms for a toilet and rainfall shower. The room featured high ceilings and the shower did too, complete with excellent pressure. The bathroom lacked natural light, though the mirror had a special ring light for guests wanting extra illumination for applying makeup.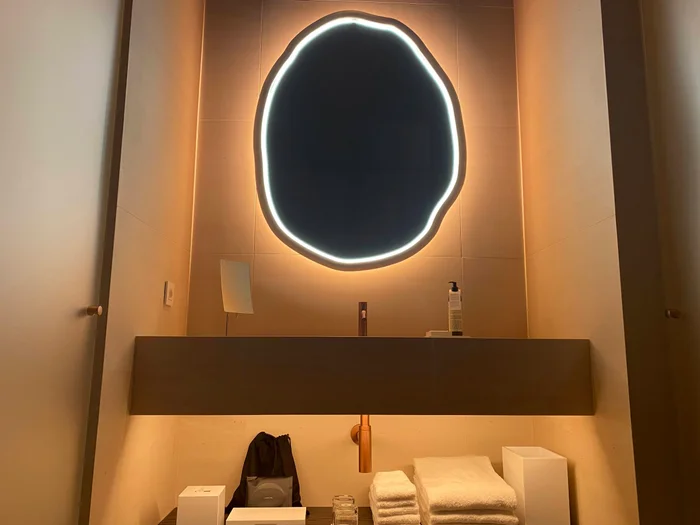 When it comes to the coveted Le Labo amenities with the signature Edition black tea scent, the hotel isn't providing single-use bottles. Instead, larger pump bottles of the Le Labo amenities were in the shower and on the sink. A small card placed on the sink bottle read (and only in Spanish, so future monolingual guests take note now) that anyone taking these bottles home with them will be charged 70 euros ($73) per bottle.
Le Labo amenities and candles are available for purchase at the property's gift shop, which also features a selection of other boutique items.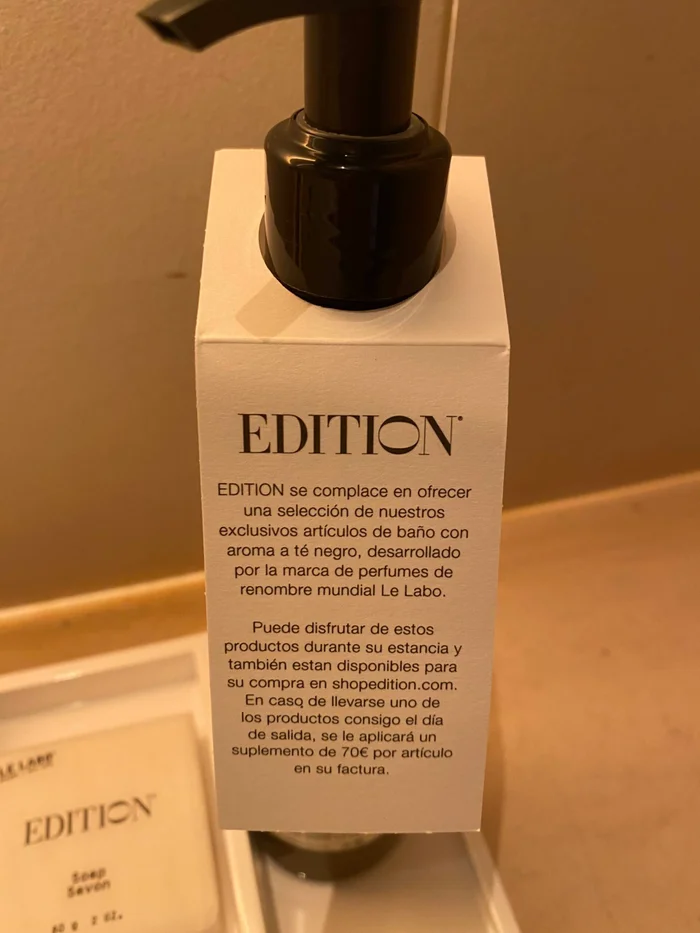 After a long pandemic of limited housekeeping, I noticed that my room was cleaned twice daily — once for usual housekeeping and then tidied up again during turndown service. Small, sustainable cartons of water were replenished daily. The bathroom had a GHD hair dryer and the room had a Nespresso machine with capsules as well as a minibar with all the usual suspects like juices, wine, soda, spirits and snacks.
As I previously mentioned, I was able to come back to the hotel and take a look at a few of the suites: a Loft suite, a Courtyard suite, which offered views of greenery within one of the hotel's small patios, and a Corner suite, the largest of the three types. The suites were airy and large, each with its own layout, some with amenities like double sinks, bathroom windows, large bathtubs and separate living spaces.
The hotel has two penthouses: the Opera Penthouse and the Madrid Penthouse, both duplexes with kitchens, living areas, massive outdoor space and private pools. Each features floor-to-ceiling windows with panoramic views of Madrid's rooftops — perhaps even better views than the main pool and shared hotel rooftop. The suites are some of the largest in Madrid and come with a high price tag to match: Rates start at 20,000 euros ($20,860) per night.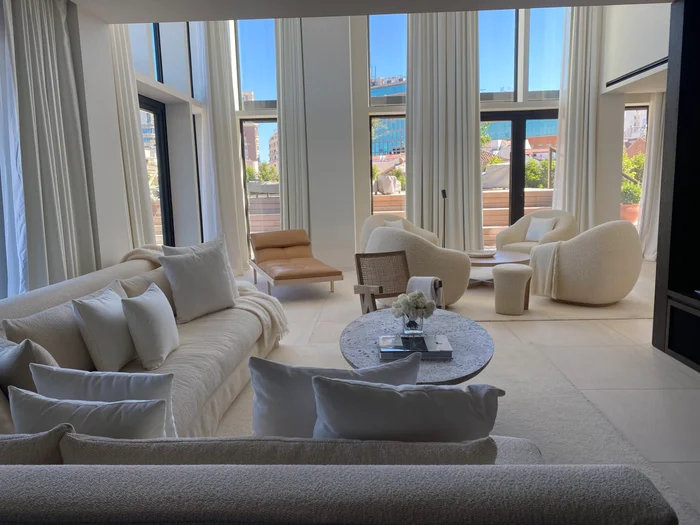 Cuisine
The Madrid Edition houses two high-end restaurants led by famous chefs. Downstairs is Jeronimo, helmed by chef Enrique Olvera of Mexico City's Pujol (ranked one of the top 50 restaurants in the world) as well as lauded U.S. restaurants like Cosme, Atla and Damian.
Up on the rooftop, Oroya's menus were created by Peruvian-born chef Diego Muñoz, and the restaurant's verdant decor and glimmering Morocco lamps impart an exotic ambiance.
Jernonimo's menu is Mexican with a twist, seemingly developed to appeal to a European palate without losing some of that Mexican spice and flavor. The restaurant has a mezcal-heavy cocktail list and fan favorites like guacamole and al pastor gringas with shrimp. Diners can enjoy the cuisine while seated in bold yellow booths next to massive Mexican flower pots overflowing with tropical plants.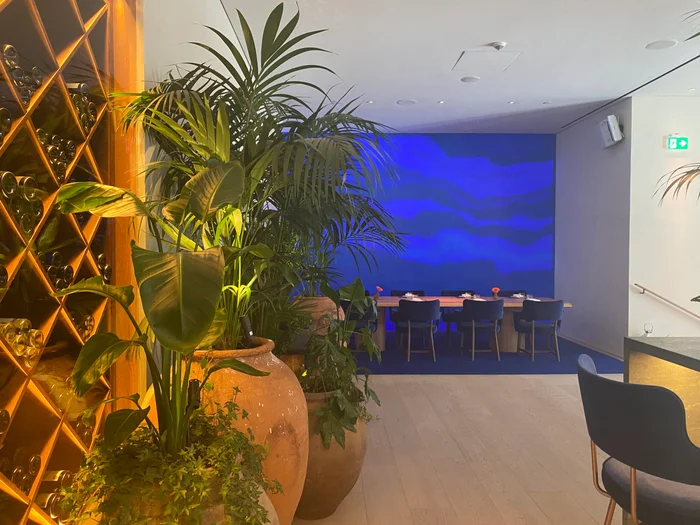 There's also a unique room set off to the left of the entrance with two eye-catching alabaster and plaster hanging lamps that resemble moons or other celestial bodies. Similar to the hotel's iconic staircase, these lamps, created by designer Emmanuel Level Stenne, are the "wow" pieces of the restaurant.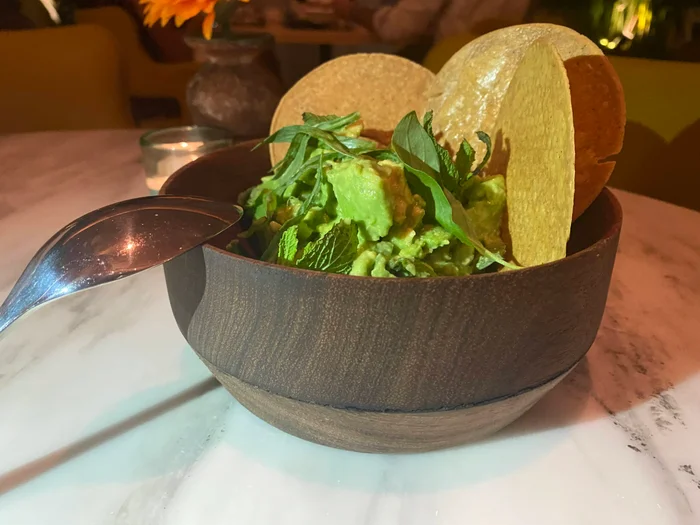 For dinner, I ordered the flavorful Veracruz squid in a tomato and olive sauce, the savory cochinita pibil and the guacamole. You can always count on guacamole. For dessert, I tested out the rich and creamy flan de calabaza and the subtle yet sweet eggnog meringue, both recommended to me by a friendly waiter.
Breakfast is served in Jeronimo a la carte (not buffet) from 7 to 11 a.m. daily. The menu has all the regular favorites like eggs any style, avocado toast and a selection of fruit, as well as Olvera's take on huevos rancheros, poached eggs with black beans on a tortilla hidden beneath in a creamy, thick ranchero sauce and topped with flaky cheese and hoja santa, a Mexican herb.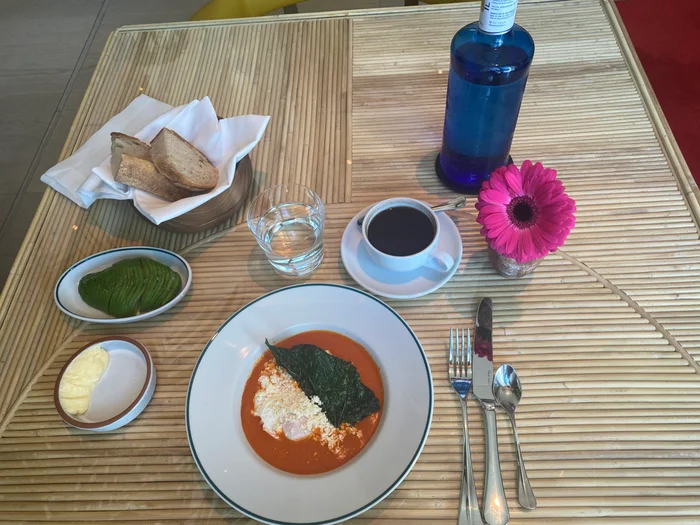 If you're on the hunt for typical Spanish cuisine, you'll want to eat outside of the hotel, though the room service menu does throw in a few Spanish delights, like Manchego cheese and ham croquettes, along with more typical room service items like burgers, Caesar salad and a club sandwich.
Set out on the rooftop, Oroya is the place to be in the summer months, at least until Jeronimo's outdoor seating area opens (hopefully later this year). Open to both guests and the public, this is a tranquil paradise set above Madrid's hectic streets. The space is teeming with floral overhangs and large plants, along with dim lighting, rattan and wicker furniture and even a fire pit. The interior's high ceilings, wall of windows, bold decor and overhead lamps feel more North African than Spanish, but the menu is all Peruvian.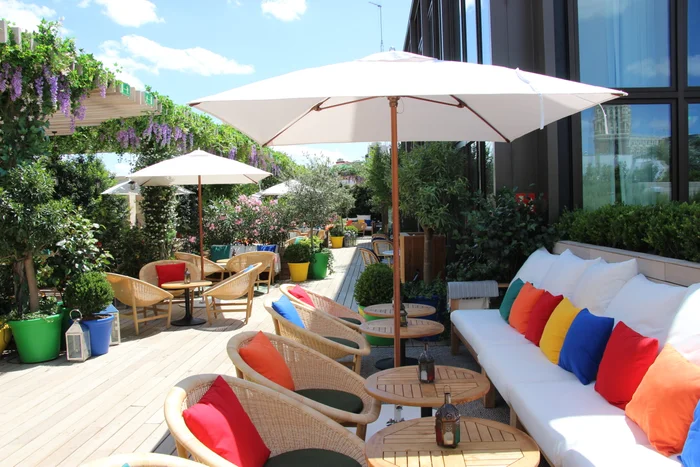 An outdoor lunch at Oroya is one of the best ways to enjoy both the space and the gastronomic treats in store. It has a pisco-focused cocktail list, fresh seafood and Andean accents; fans of Latin American cuisine won't be disappointed here.
I sampled the ceviche, which melted in my mouth, as well as potatoes in a special aji sauce with spicy huancaina, slow-roasted pork tongue skewers and the matured, grilled beef, which was smoky and spicy. The chef came out to explain each dish in more depth and, after years of loving Peruvian cuisine, I finally have some clarity on the difference between certain aji peppers.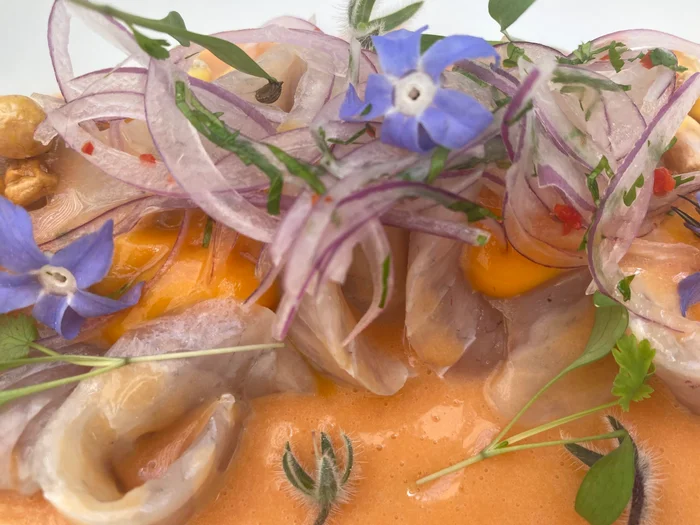 Susana, the head waitress, catered to our every need, including providing excellent recommendations from the wine list, which was compiled by sommelier Julio Barluenga. I chose a light, fruity Riesling and later, a full-bodied Spanish Ribera del Duero to pair with the beef. The ambiance was both relaxing and luxurious, and I plan to return frequently for rooftop drinks, even when I'm not a hotel guest.
Relaxation
The Edition Madrid's most enticing feature is its rooftop pool. The hotel claims it's the largest in Madrid's city center, and while I can't officially confirm that, after visiting many hotels in the Spanish capital, it feels accurate. Either way, the pool is an inviting and refreshing way to experience Madrid's hot, sunny days — and there are more than 300 of them a year, making this rooftop a bona fide respite in the middle of the city.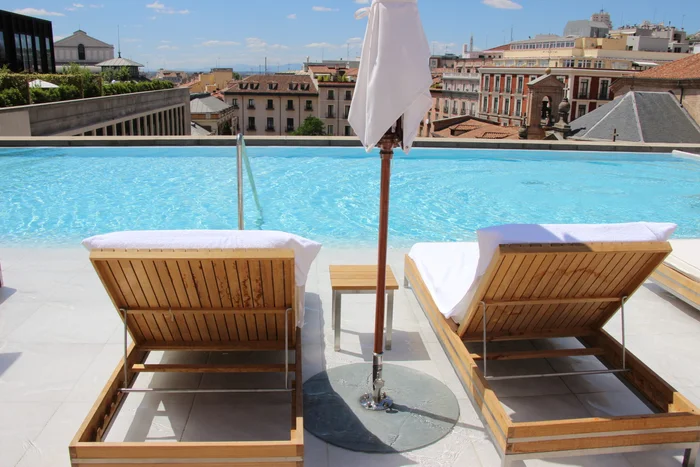 The pool area, which has 60 sun beds (including a few that sit directly in the pool) and 10 cabanas, is limited to guests only, making it a private and intimate space to soak in the Iberian sun and admire colorful sunsets away from the rooftop bar and restaurant area.
The pool staff was attentive, bringing guests complimentary water and offering water and fruit juices throughout the day and evening. If guests wanted to order snacks or drinks to the pool, someone was usually available to help, and service was prompt. The rooftop also has a small grassy area that almost feels like someone's backyard, providing a lush but laid-back atmosphere.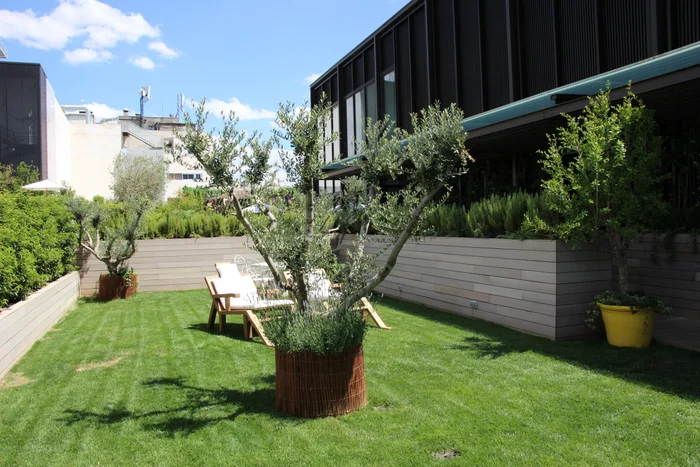 Folks looking for fitness facilities can visit the small basement gym, equipped with exercise machines and weight equipment, as well as a very private spa hidden beneath the hotel. Candlelit and tranquil, the spa has a few treatment rooms, including a couples' room complete with its own private mud room for body treatments.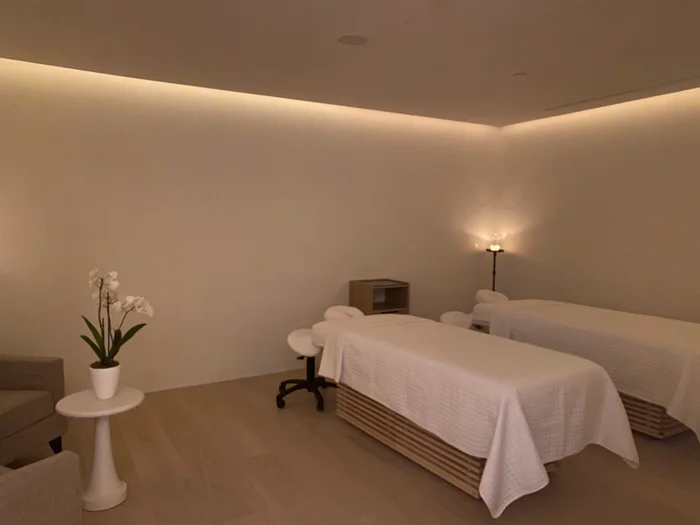 I tried a signature Madrid Edition massage, which costs 170 euros ($177)  for 60 minutes, with therapist Ana, which was wonderful and had just the right amount of pressure. This particular treatment allows guests to pick a specific scented aromatherapy oil to use during the massage. The spa also contains a steam room and sauna, which guests can use without booking a treatment.
How to get the most out of your stay
With so many luxury hotels in Madrid, it may be difficult to decide where to stay. Obviously, if the rooftop pool and its accompanying scene is important to you, staying at the Madrid Edition is an easy choice. But during the winter months, you might still want to stay at the Edition because, well, it's just a cool hotel.
The property is the most contemporary luxury hotel in Madrid right now and the central location is ideal for visitors who want to be as close as possible to the city's tourist attractions and landmarks. The Madrid Edition does not have the history of the Four Seasons or the over-the-top opulence of the Mandarin Oriental Ritz, but the hotel's general vibe — a coveted, sophisticated place to dine, drink and sleep — is one most travelers should appreciate.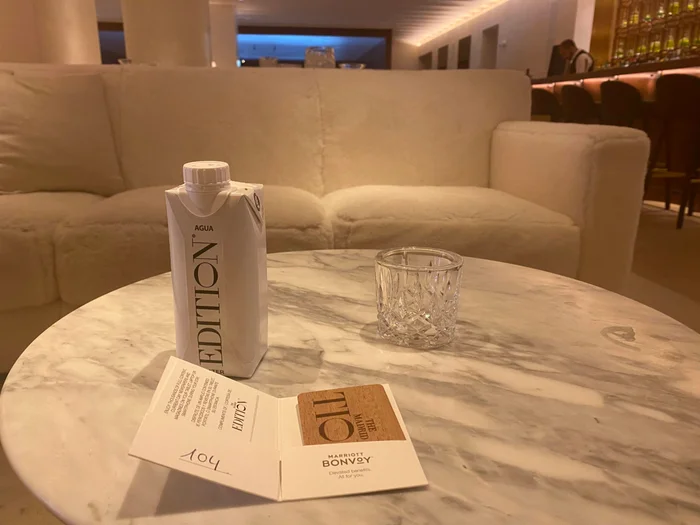 Of course, chic doesn't always come cheap. Expect to pay at least 500 euros ($521) per night on the lowest category room, though rates usually hover closer to 700 euros ($730). If you have a stash of Marriott points, award nights start at 70,000 points apiece. There are many nights this summer where that rate is available, though award rates do soar to the range of 90,000 to 100,000 points on some evenings.
Even if you can't manage to stay here, you should still consider dining at Oroya or playing a game of pool over a cocktail in the lobby and seeing where the night takes you.