About Glow Recipe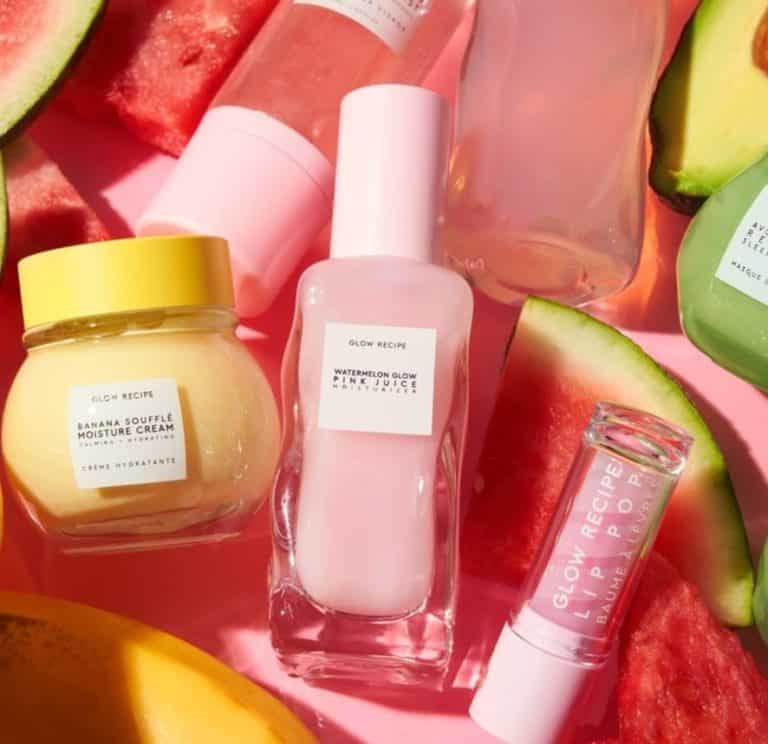 Glow Recipe is a Korean beauty and skincare line that specializes in selling fruit-based facial treatments. They sell cleansers, toners, lotions, serums, masks, and more. Glow Recipe, with a following of over 850K on Instagram, has been featured in several publications such as Refinery29, New York Magazine, Allure Magazine, and Glamour.
If you're curious about this up-and-coming skincare line, look no further than this Glow Recipe review. We will explore the brand, their products, customer ratings, promotions, and more, to help you decide if their products are worth the buy for your skin.
Overview of Glow Recipe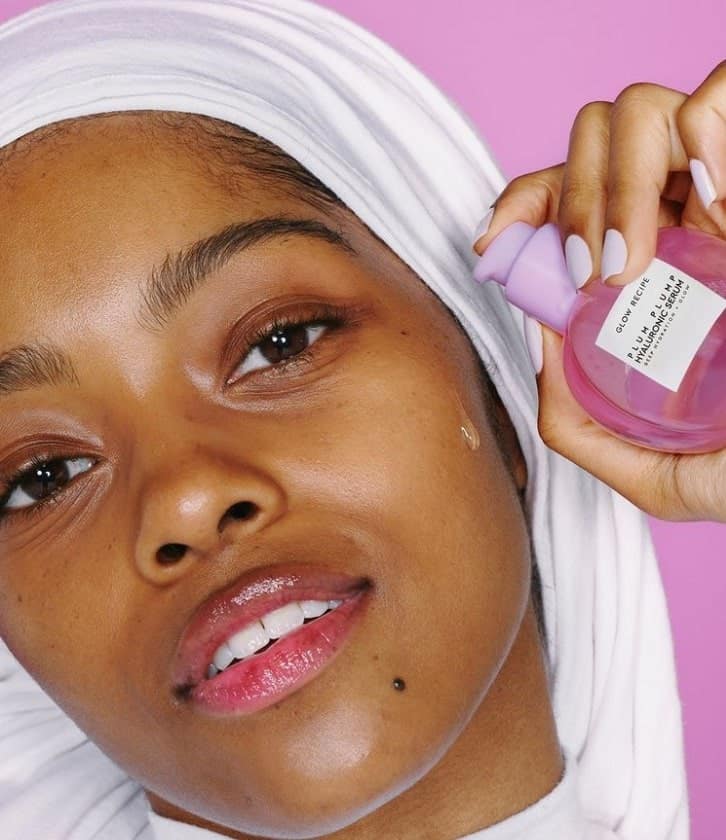 Glow Recipe was envisioned over a girls night of sheet masks and wine between founders Christine Chang and Sarah Lee. They decided to take a chance and try to pitch their business idea to Shark Tank, with hopes of kick-starting their new skincare company. Christine and Sarah, both marketers for L'Oreal Korea, already had knowledge and experience under their belts within the industry.
After a video audition, Christine and Sarah were featured in the Shark Tank Glow Recipe episode, where they were brought into the famous Shark Tank studio room to sell their idea to five intimidating looking sharks.
Christine and Sarah were offered a deal; a $425,000 investment from Robert Herjavec. The Glow Recipe founders decided to turn down the investment but continue credit Shark Tank for helping them lift their business off the ground.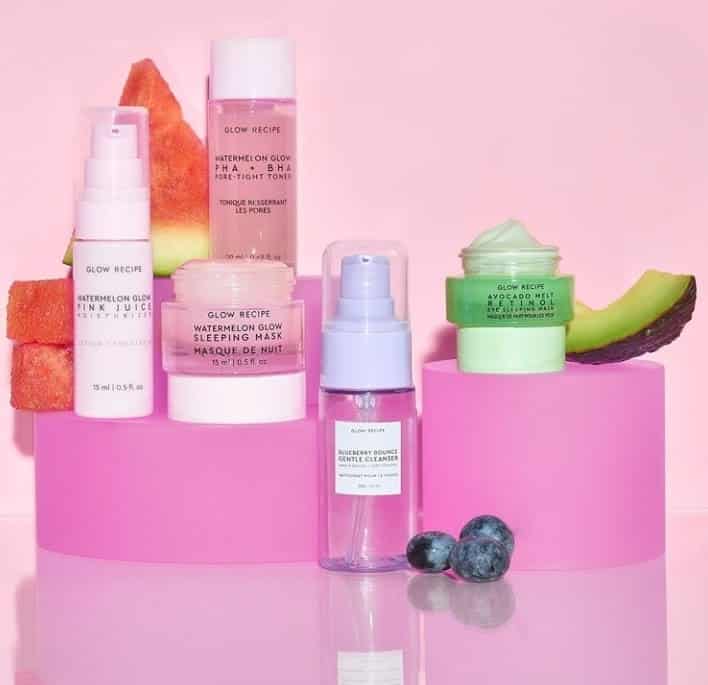 "We have no idea what Shark Tank will mean for our business but we want to promise our customers that we will do everything in our power to ensure that we continue to provide you with an enjoyable, seamless experience and best-in-class customer service," Christine and Sarah said in regards to the Glow Recipe Shark Tank episode via The Glow Edit blog.
Glow Recipe continued to grow, as the brand became a bestseller at Sephora, and as they launched their Pink Juice Moisturizer, which sold out in the first 2 hours of their pre-sale. They also created their sister brand, Sweet Chef, which sells vitamins and health-related products targeted towards skincare.
Before we get into this Glow Recipe review, let's go over some initial pros and cons of the brand
Pros
Cruelty-free, environmentally friendly skincare products including moisturizers, masks, toners, and more
Glow Recipe donates a portion of its sales to organizations related to diversity and inclusion, environmental preservation and female empowerment, and education
Positive customer reviews
Customers receive free samples with every order
Cons
Glow Recipe does not accept returns and exchanges on international orders and shipments, including Canada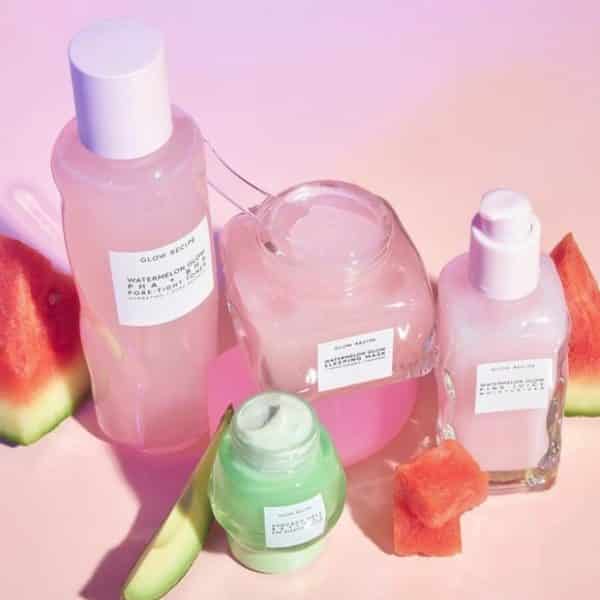 Glow Recipe has a variety of 'ingredients' related to skincare. This includes items such as cleansers, toners, mists, eyecare, serums, moisturizers, masks, lip products, and primers. Customers can also purchase kits that contain a range of skincare products.
All of Glow Recipe's facial treatments are organized into what type of fruit is used, any included added active ingredients, and what area of the face the product specifically treats.
The brand also sells their line of merchandise, ranging from hair clips, clothing, and stickers. This Glow Recipe review will highlight 9 of their fan favorites down below.
Glow Recipe Watermelon Glow Sleeping Mask Review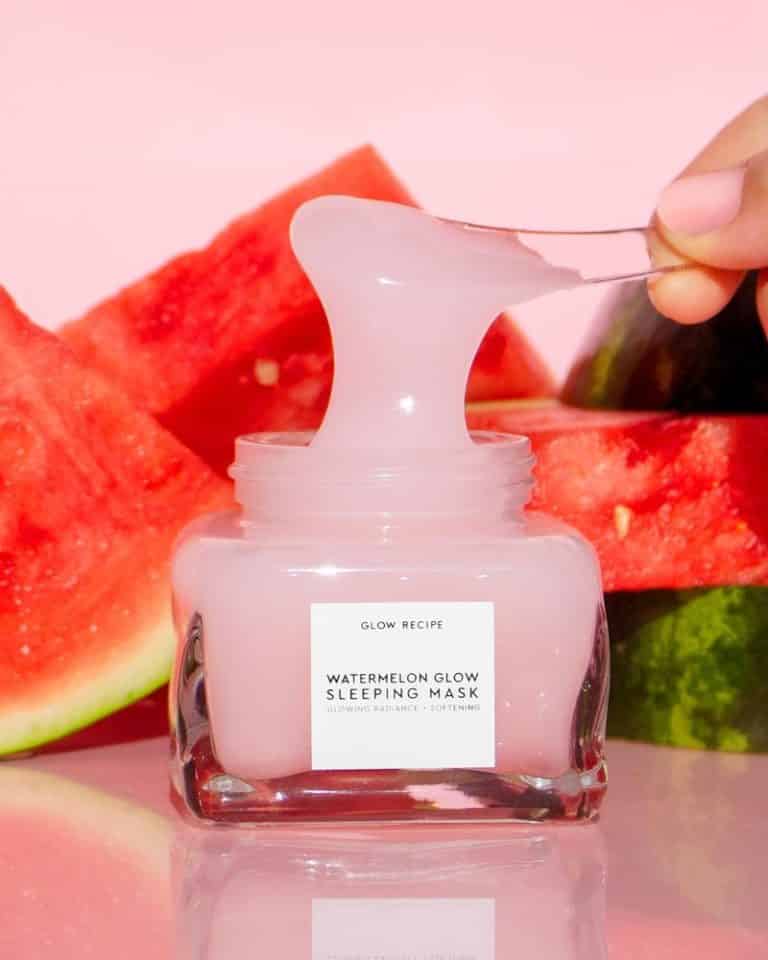 Known as one of the best selling skincare products at Sephora, the Glow Recipe Watermelon Glow Sleeping Mask is not your typical face mask. It's shiny, slime-based consistency is luxurious and bouncy, which works to smoothen and perfect skin overnight. If you're worried about staining your sheets, there's no need to sweat as this mask pillow-proof.
This formula acts as a radiance-boosting hyaluronic acid face mask with added amino-rich watermelon extract. The Glow Recipe Watermelon Glow Sleeping Mask also has pore refining AHAs that help to gently exfoliate the skin.
It tested that 90% of women aged 21 to 73 felt their skin become more hydrated immediately after applying. After 4 weeks of use, 96% of women agreed that their skin looked more radiant and brighter.
There are 2 sizing options for this sleeping mask. You can purchase an 80ml bottle for just $45, or a 30ml bottle for $22. Go ahead and get some beauty rest with the Glow Recipe Watermelon Glow Sleeping Mask.
Glow Recipe Avocado Melt Sleeping Mask Review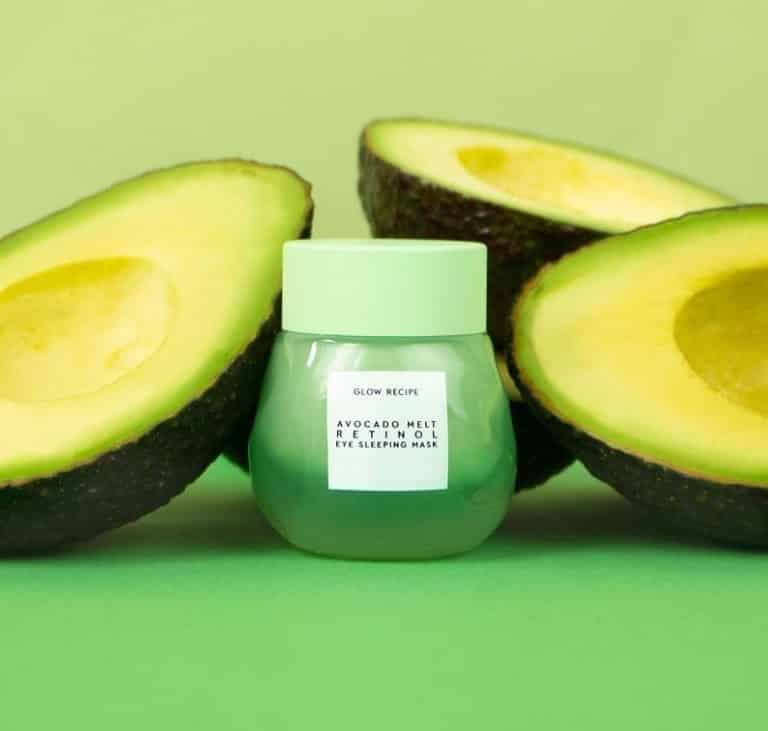 Concealing dark circles under our eyes can be frustrating. However, you can improve your under-eye area with just one simple product. The Glow Recipe Avocado Melt Sleeping Mask will help freshen your eyes, as it is formulated with avocado, encapsulated retinol, coffeeberry, and niacinamide.
Used to de-puffen, moisturize, brighten, and smoothen lines, you will feel younger and more awake in no time. This ophthalmologist and dermatologist tested product is free of parabens, silicone, synthetic dyes, and phthalates that could negatively affect your skin overtime.
The brand recommends applying a pea-sized amount of the Glow Recipe avocado mask at night. For a 15ml bottle, you can purchase the Glow Recipe Avocado Melt Sleeping Mask for $42.
Glow Recipe Pineapple-C Bright Serum Review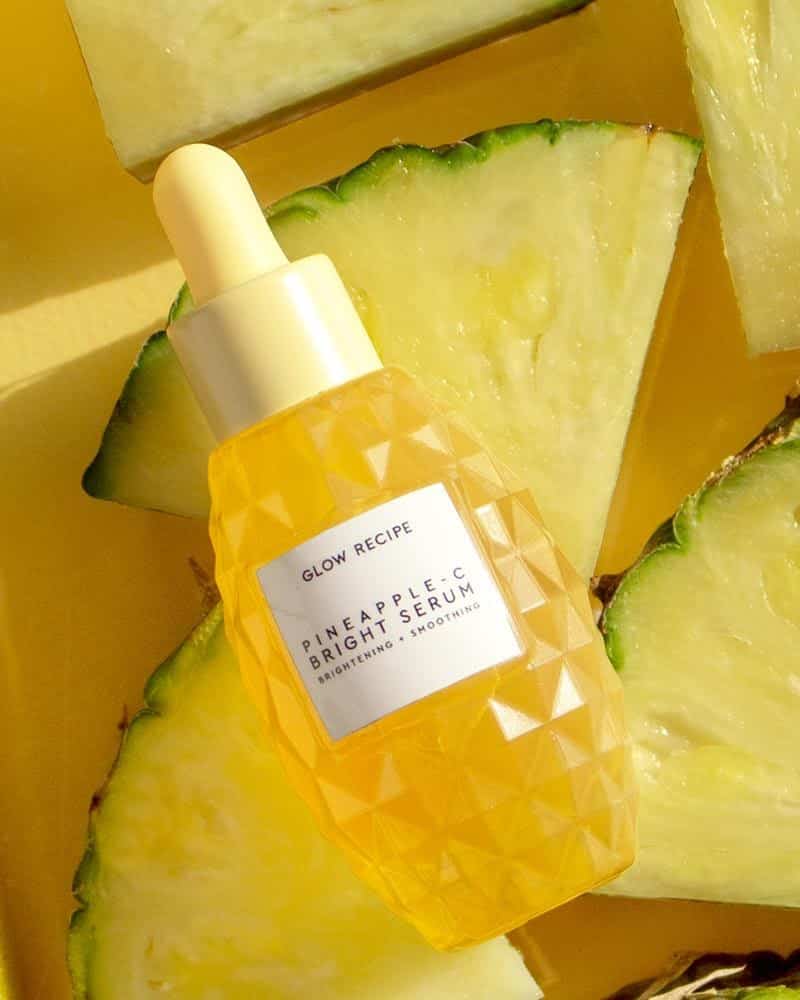 Korean 'glass skin' is all the rage within the beauty community. To attain such a complexion, you'll need to adopt a serious step-by-step routine. If you're determined to implement a new, rigorous skincare routine. You should consider adding the Glow Recipe Pineapple-C Bright Serum as part of your regimen.
Packaged in a cute Glow Recipe pineapple inspired bottle. Yhis serum offers 22% pineapple juice, which a powerful source of Vitamin C. It also has pure ascorbic acid and stable 3-0-Ethyl ascorbic acid to help fight acne scars, dark spots, and hyperpigmentation.
There are also natural AHAs and Bromelain enzymes derived from the pineapple to gently exfoliate the skin. Treat your skin to some love with the Glow Recipe Pineapple-C Bright Serum for $49 (30ml bottle).
Glow Recipe Plum Plump Hyaluronic Serum Review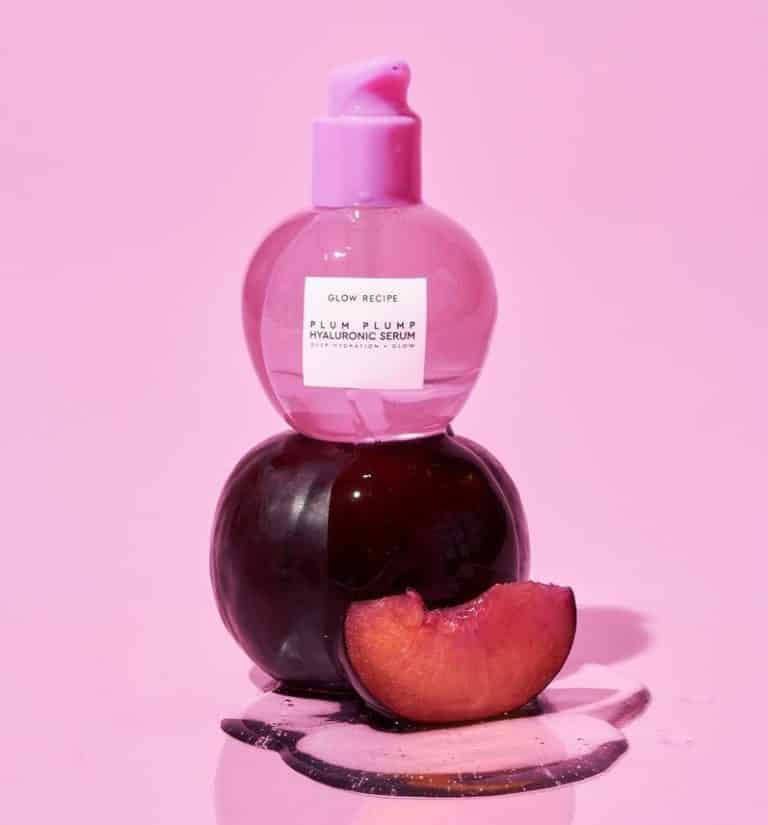 The Glow Recipe Plum Plump Hyaluronic Serum will help your skin feel smooth and plump, just like a freshly picked plum. Its luxurious water-gel consistency infused with plum extract and 5 molecular weights of hyaluronic acid that visibly helps with hydrating your skin. It also includes vegan collagen and silk protein, which aids in moisturization.
In a study conducted by Glow Recipe, 100% of 36 participants agreed that their skin felt hydrated, and that 94% agreed that the product made their face feel soft, smooth, radiant, and plumper after using the Glow Recipe Plum Plump Hyaluronic Serum.
Designed in an adorable purple plum 30ml bottle, the only thing separating you from healthy moisturized skin is $42.
Glow Recipe Watermelon Glow Pore-Tight Toner Review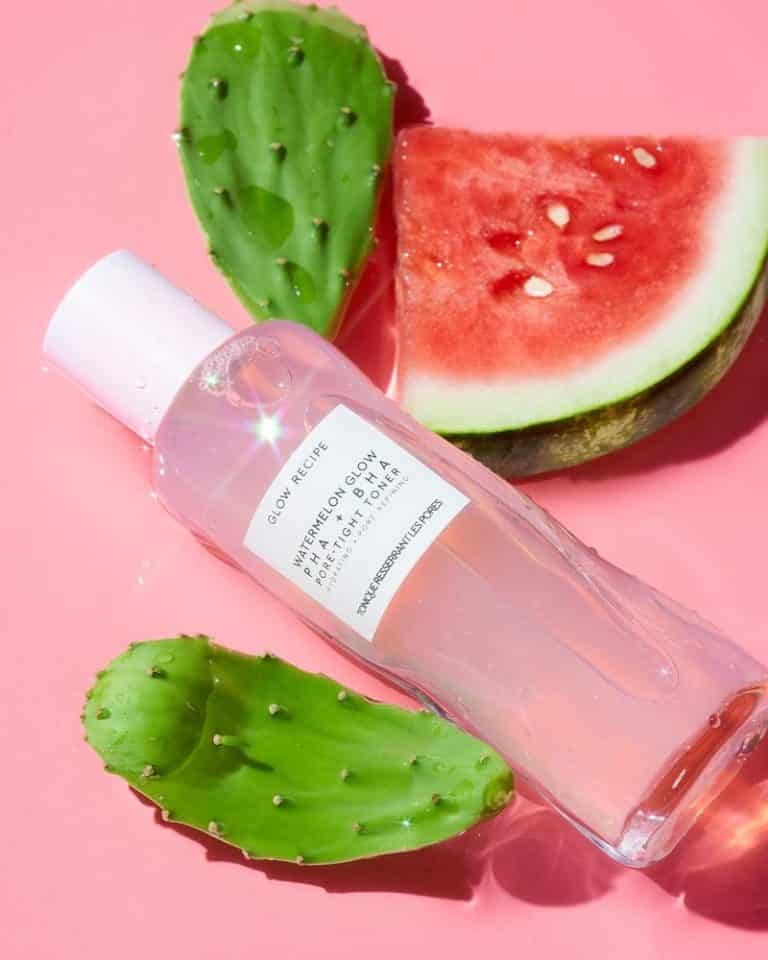 Toners are an important part of skincare, as it helps cleanse the skin, shrinks pores, moisturizes, and leaves your skin feeling refreshed and healthy. With the Glow Recipe Watermelon Glow Pore-Tight Toner, you can hydrate and tighten your pores at the same time.
This formula contains watermelon extract, cactus water, PHA, BHA, hyaluronic acid, tea tree extract, and cucumber extract.
This toner is inspired by the Korean Aqua Peel facial, which is used to exfoliate and hydrate the skin. In a study conducted by Glow Recipe, 90% of those surveyed saw a significant reduction in the appearance of pore size.
There are currently 2 sizing options for the Glow Recipe Watermelon Glow Pore-Tight Toner: a 150ml bottle for $34, or a 40ml bottle for $15.
Glow Recipe Papaya Sorbet Cleansing Balm Review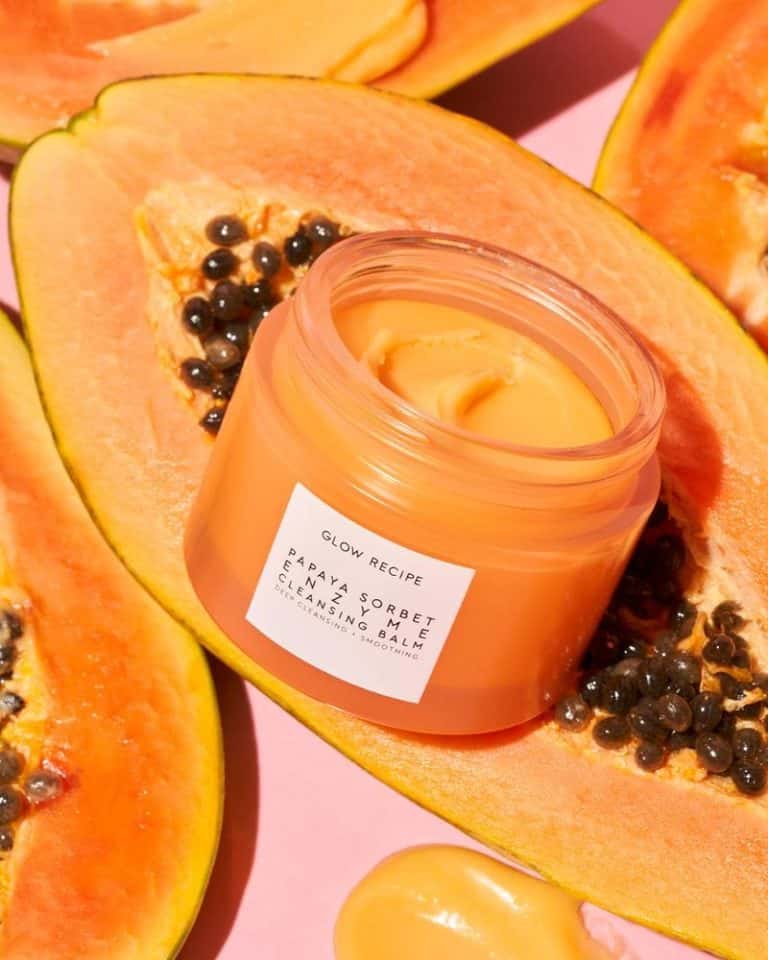 Conventional makeup removers can sometimes be a hassle. There are times where it doesn't do an adequate job of removing your makeup, or can leave your skin feeling dull and dry.
The Glow Recipe Papaya Sorbet Cleansing Balm does neither. This remover is effective in dissolving makeup and dirt with its balm-to-milky oil. It harnesses the natural enzymes of papaya to gently cleanse the skin, leaving it soft and baby smooth.
This Glow Recipe papaya balm inspired by the Korean beauty 1:1 method. Which uses massage skincare products for a full minute in each step. This ensures that the skin thoroughly cleansed and moisturized.
The papaya-based balm ophthalmologist tested, safe for sensitive eyes, skin, and contact lens wearers. For a 100ml container, you can make the Glow Recipe Papaya Sorbet Cleansing Balm part of your daily skincare routine for just $32.
Glow Recipe Watermelon Pink Juice Moisturizer Review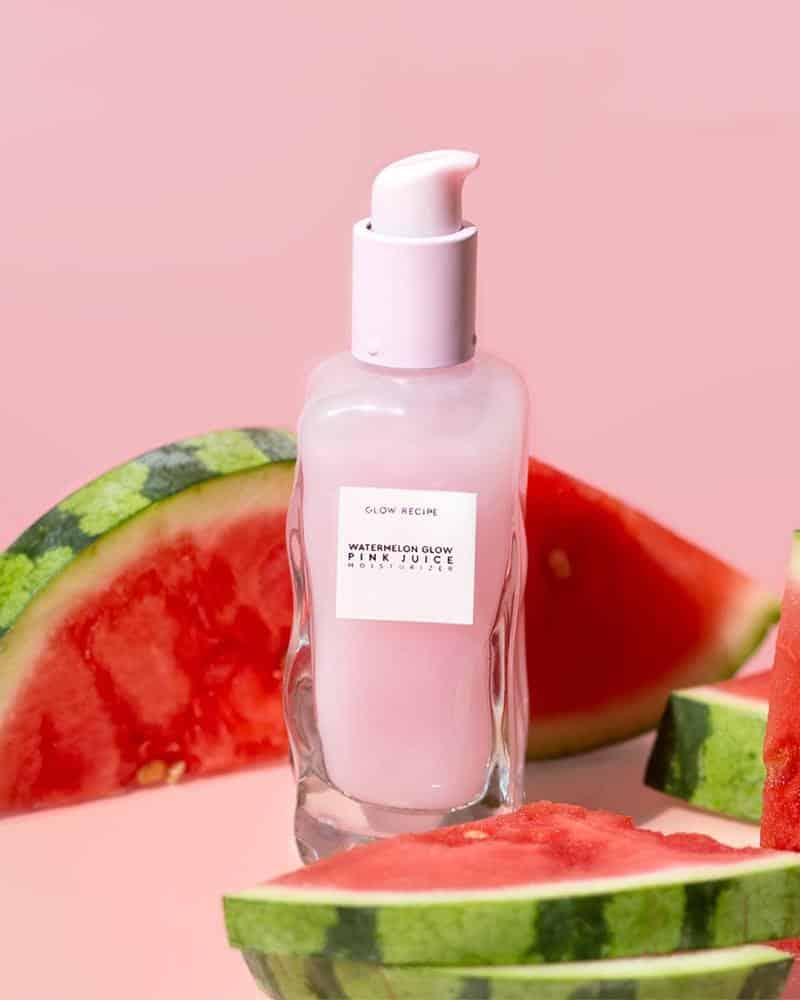 Known as a company bestseller that sold out within 2 hours of its pre-sale, the Glow Recipe Watermelon Pink Juice Moisturizer will surely live up to the hype. Ninety percent of the formula contains vitamin, amino acid-rich watermelon extract, hyaluronic acid, and soothing botanicals such as peony and jasmine extracts.
This Glow Recipe moisturizer is also 100% oil-free and is designed to be a cooling gel emulsion that hydrates and preps the skin for the day ahead. The antioxidants prevent damage from free radicals and also helps to repair damaged cells.
This product can be used both day and night. There are currently 3 sizing options for the Glow Recipe Watermelon Pink Juice Moisturizer:
25ml for $21
60ml for $39
95ml for $49
Glow Recipe Blueberry Bounce Gentle Cleanser Review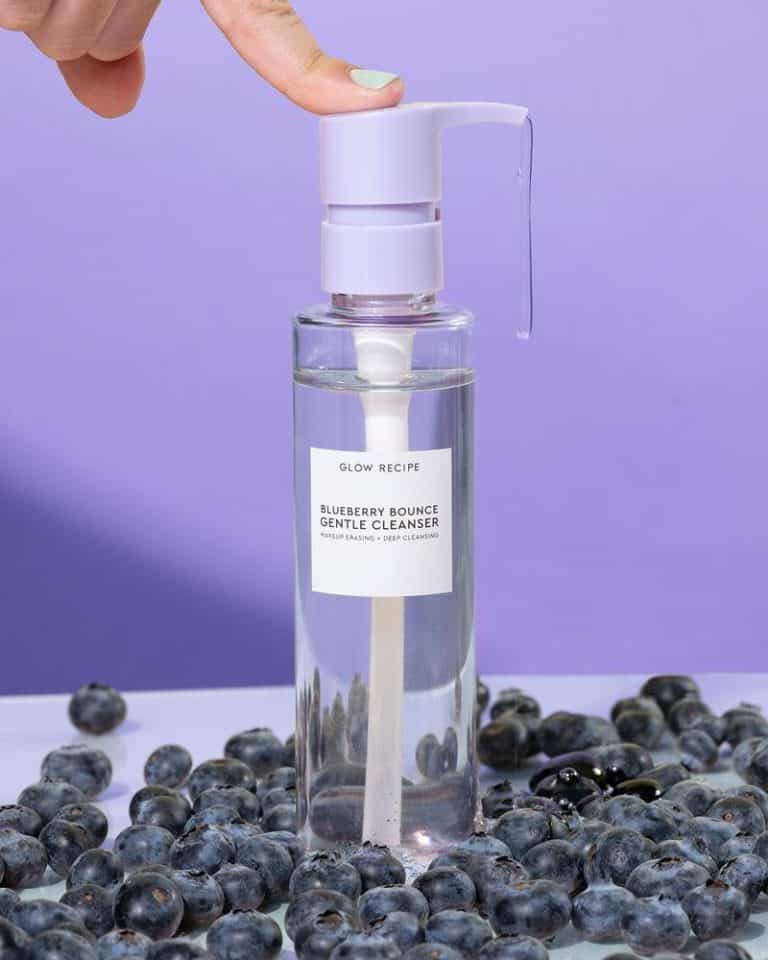 Wouldn't it be great to have a skincare item that helps to erase blemishes after you've taken off your daily makeup? The Glow Recipe Blueberry Bounce Gentle Cleanser may be the product you've been looking for.
This gentle 3-in-1 bouncy makeup remover is a combined cleanser that helps hydrate the skin while combating blemishes and breakouts in the future.
Its star ingredient, blueberry extract, contains rich vitamins and antioxidants which help prevent premature aging, calm inflammation, minimize discoloration, and in turn, hydrate the skin. There are 3 ways of using this product:
Cleanser
Makeup Remover
A 5-minute Wash Off Mask
The Glow Recipe Blueberry Bounce Gentle Cleanser has 2 different sizing options, a 160ml bottle for $34, and a 30ml bottle for $10.
Glow Recipe Skincare Wardrobe Vault Set Review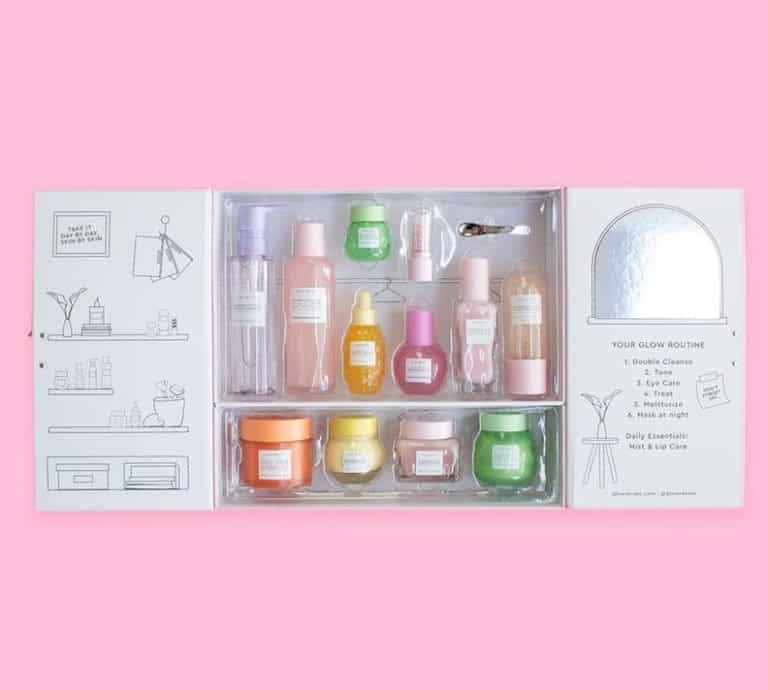 Skincare routines never condensed to just one product, as it usually encompasses a line of 5 or more items. If you find yourself on the edge of purchasing individual toners, moisturizers, serums, and cleansers, but are worried about the final checkout price, you can save money with the Glow Recipe Skincare Wardrobe Vault Set.
This set is all you need for your updated skincare routine, including a Glow Recipe toner and a Glow Recipe ampoule. This set contains:
Watermelon Glow Sleeping Mask (80 ml)
Avocado Melt Retinol Sleeping Mask (70 ml)
Avocado Melt Retinal Eye Sleeping Mask (15 ml)
Watermelon Glow Ultra-Fine Mist (75 ml)
Glow Recipe Watermelon Moisturizer (60 ml)
Blueberry Bounce Gentle Cleanser (160 ml)
Pineapple C-Bright Serum (30 ml)
Watermelon Glow Pore-Tight Toner (150 ml)
Banana Souffle Moisture Cream (50 ml)
Watermelon Glow lip pop (0.10 oz)
Plum Pump Hyaluronic Serum (30 ml)
Papaya Sorbet Cleansing Balm (100 ml)
Sustainable Spatula
Including all of its bestsellers, this 13-piece kit retails for $310.
Glow Recipe Reviews: What Do Customers Think?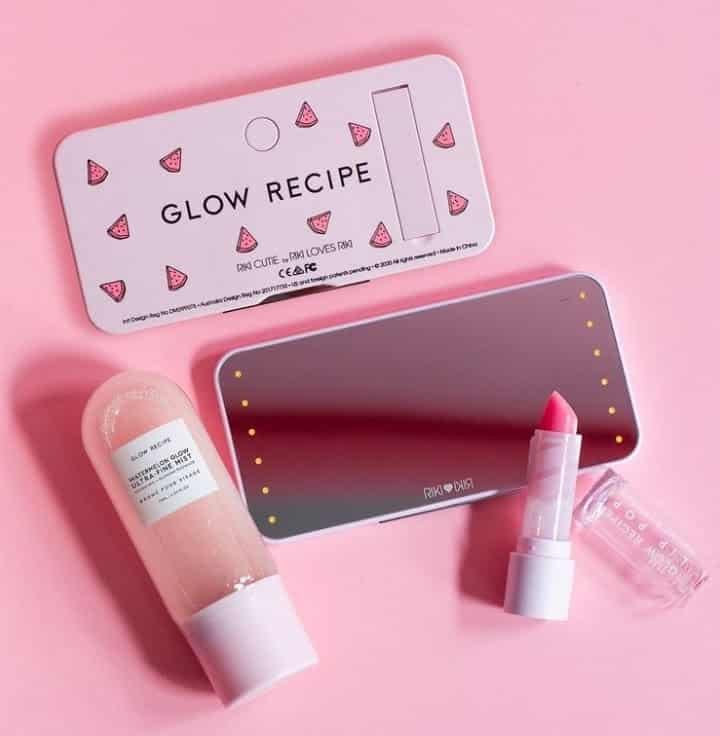 This Glow Recipe review found that a majority of customers rate the skincare brand favorably. On their website, buyers have commented that their products left their skin feeling smooth, moisturized, and noticed a notable difference when integrating the products into their skincare routine.
"The Avocado Retinol Eye is my absolute favorite eye cream. It has a thick, moisturizing feel and I instantly notice improvement with dark circles and puffiness," one reviewer wrote on their website.
On Trustpilot, Glow Recipe has an average of 3.8 stars out of 5, but only with 4 reviews. Other websites, such as Sephora and Influenster, reveal overly positive reviews. Most people have commented that the products smell amazing and have an overall positive effect on their skin.
"Whether you use it as an overnight mask or for a shorter amount of time, the effects are drastic. My skin was brighter, tighter, extremely hydrated, and even a blemish faded much faster than usual," one Influenster reviewer wrote for the Glow Recipe Watermelon Sleeping Mask.
This Glow Recipe Review hasn't come across many notable red flags and complaints, but there are a few. One Trustpilot reviewer noted issues with delivery and customer service. Others have also noted that their Glow Recipe Watermelon Glow Sleeping Mask felt a bit too sticky in the application, and the Glow Recipe Pineapple-C Bright Serum arrived chunky and "rancid smelling."
Is Glow Recipe Worth It?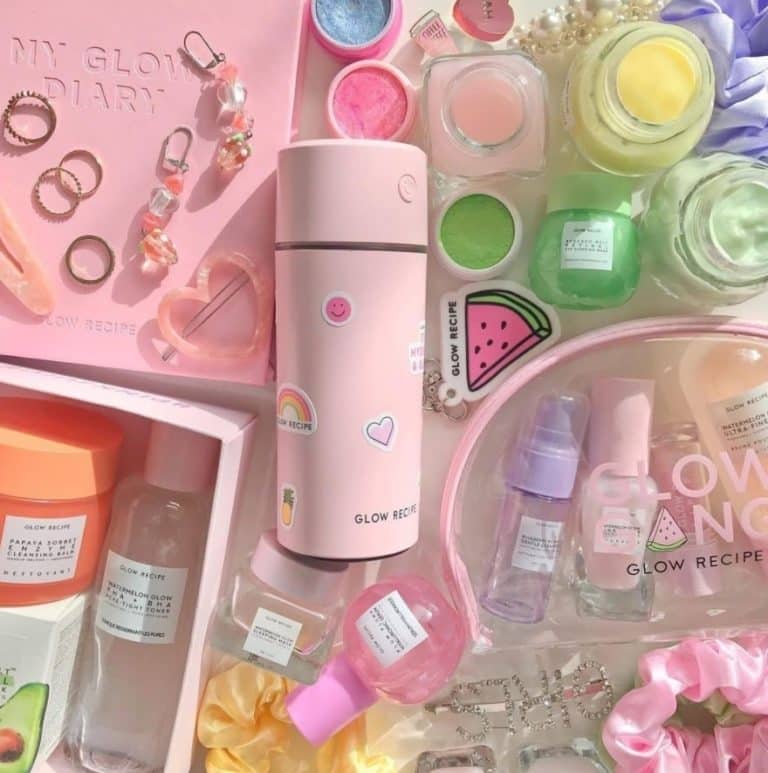 Is Glow Recipe good? Yes! This Glow Recipe review encourages you to give this skincare brand a try. They have dozens of products to choose from, and it's overall an easy website to explore.
All of their items are organized into categories, so you can shop products. That are based on the specific type of fruit extract, the key active ingredients included in their formulas. Or by what product is best used to treat certain types of facial blemishes or skin types.
Within each Glow Recipe product description, it lists in detail the exact ingredients used. The effects it has on the skin, which is extremely helpful in the buying process.
Additionally, it's nice to know that this brand committed to manufacturing 100% natural and sustainable products both in their formulas and packaging.
This Glow Recipe review cannot overlook some of the negative feedback that the brand has received. Reports of customer service and shipping issues, combined with the dissatisfaction with some products' consistencies, are not favorable.
That said, there are thousands of reviews that prove there are many happy customers when it comes to the brand and its services. If all else fails, Glow Recipe offers free returns for all of their orders.
Glow Recipe Promotions & Discounts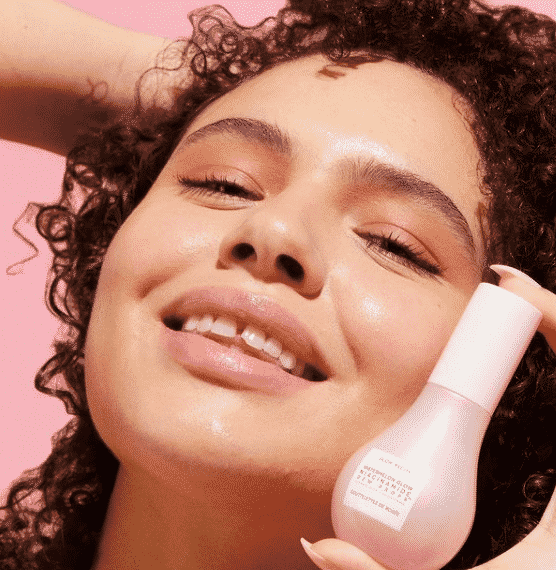 This Glow Recipe review found that they offer a give $15 and receive $15 program if you refer a friend. They also have a rewards system in which customers can accumulate points to gain access to special product perks and exclusive offers. Buyers can also sign up for their newsletter to receive 10% off their first order.
Glow Recipe also offers a 15% student discount. If you're a professional makeup artist or esthetician, you can apply to their Glow Pro Program. Where you can receive 30% off products purchased at GlowRecipe.
Where to Buy Glow Recipe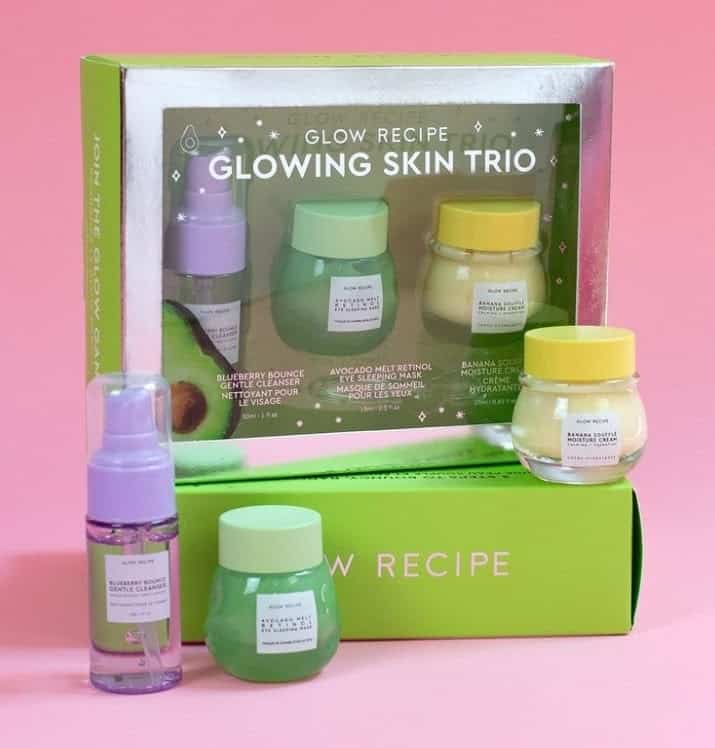 Customers can buy Glow Recipe products at GlowRecipe, or:
Glow Recipe Sephora
Glow Recipe Amazon
FAQ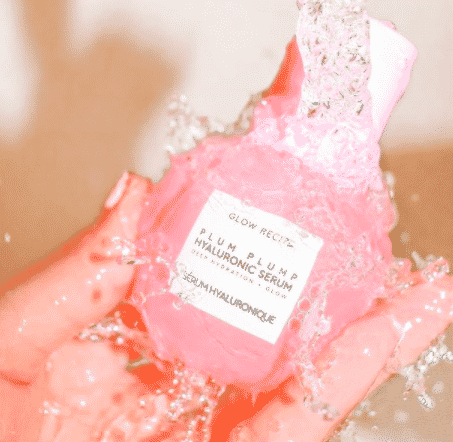 Who owns Glow Recipe?
Founders Christine Chang and Sarah Lee own Glow Recipe.
Is Glow Recipe safe?
Glow Recipe only uses 100% natural ingredients and is safe for the environment.
Is Glow Recipe a clean brand?
Glow Recipe states that their products are clean, cruelty-free, and free of parabens, sulfates, and phthalates.
Do Glow Recipe products expire?
Are you wondering what the Glow Recipe watermelon mask shelf life is? Like all skincare products, Glow Recipe items do have an expiration date, which can found on the bottle and packaging. All products sold by Glow Recipe carefully inspected for production and expiry dates before shipping.
Where are Glow Recipe products made?
While Glow Recipe headquarters are based in California, their factories are located in South Korea.
How long does Glow Recipe take to ship?
This Glow Recipe review found that there are multiple shipping options for customers living in the United States. Standard shipping is free for orders above $35 (not including promotions). Any orders below that amount charged $7. Express shipping is also free for orders above $100. Standard shipping takes 5 to 8 business days after the order placed.
Glow Recipe also offers FedEx Express (which is 3 to 4 business days to deliver), and FedEx 2nd Day Air at additional costs. Currently, they do not ship to the Virgin Islands or Puerto Rico. For Canadian orders, Glow Recipe ships via DHL International Standard. First-class mail takes 5 to 15 business days and has a flat rate of $17.50.
The company does offer free shipping on orders to Canada that are over $100. For international orders, they currently ship with DHL International Standard. The service takes up to 15 business days. You can find a full list of their shipping rates for select countries on their website: GlowRecipe.
What is the Glow Recipe Return Policy?
This Glow Recipe review found out that US return shipping is free of charge. Their Glow Recipe return policy states that select products must returned within 30 days. Customers can initiate their returns using their return portal on their website.
Glow Recipe does not accept exchanges or returns on international shipments, including those in Canada. Additionally, any kits, merch, gifts with purchase, box sets, routine kits, or Mystery Boxes are final sale and ineligible for return.