About Cupshe 
If you're looking for stylish and affordable beachwear, Cupshe could be an option for you. Cupshe is an all-inclusive women's beachwear brand, focusing on swimsuits, cover ups and beach dresses. This brand has exploded in popularity in the past few years and this Cupshe swimsuits review is going to take a look at why.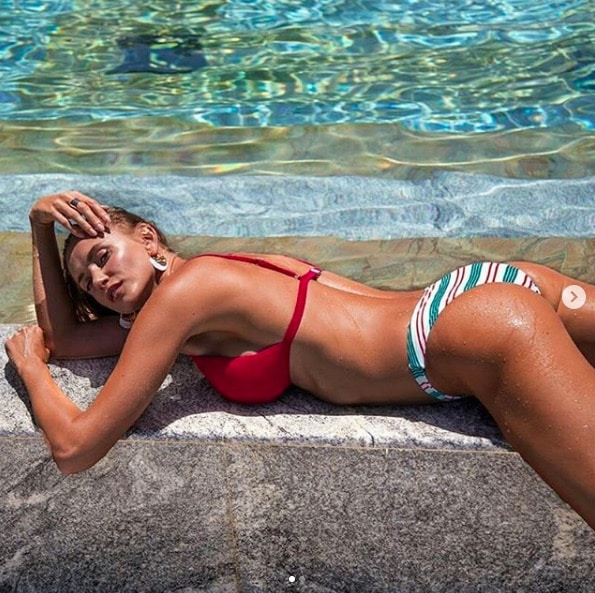 We give the full scoop on Cupshe so you can make an informed purchase decision on whether the brand is right for you—taking a look at popular swimsuit designs, promotions, customer feedback, and more.
Overview of Cupshe 
Cupshe is a China-based brand headquartered in the US, founded in 2015 by a team that celebrates the beach lifestyle. Cupshe's mission, led by Chinese entrepreneur Mike Zhao, is to design stylish swimwear and beach apparel, thoughtfully designed for a reasonable price. The Cupshe story started with just a few swimsuits sold in the US and exploded into a successful brand with millions of customers worldwide.
Cupshe's level of affordability is a huge factor in the brand's worldwide popularity (and the reason we caught wind of it in the first place). They take inspiration from beach cultures around the world like those of the Australian coastline, Miami shores, and the sparkling waters of the Caribbean islands. Cupshe's cultural fusion offers a ton of swimwear variety, so women can choose suits that flatter their figures and cater to their unique styles.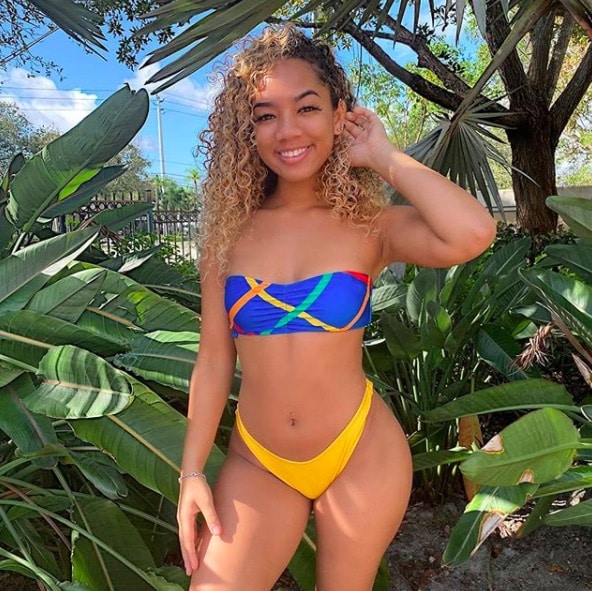 This Cupshe swimsuits review lays it all out for you, with a helpful summary if you're in a hurry:
Pros
Huge selection of trendy swimsuits, cover ups, beach dresses, towels, and accessories
Size-inclusive brand catering to both regular and plus sizes
Cupshe's plus size collection goes up to 4x, making it much more size-inclusive compared to other competing brands
Prices are very reasonable, especially given the quality reported by customers
No matter where you live in the world, Cupshe will deliver to you
Cupshe has a Mix and Match option, allowing you to purchase pieces individually vs. in a set for a more personalized style
Cons
Though Cupshe markets itself as a beachwear brand, they do not offer clothing options beyond dresses and cover ups
Cupshe's collection of plus size swimsuits is limited and more expensive than their regular sizes
There are no additional colour options when it comes to their individual swimsuits
Both Cupshe's accessories and towel sections are incredibly limited and only have 2-3 products per section
Customers have reported Cupshe's customer service to either be terrible or non-existent 
Our Cupshe swimsuits review aims to be as relevant as possible, so we'll take a look at some of their bestselling suits:
Cupshe One-Piece Review 
Dark Red Scalloped Edge One-Piece Swimsuit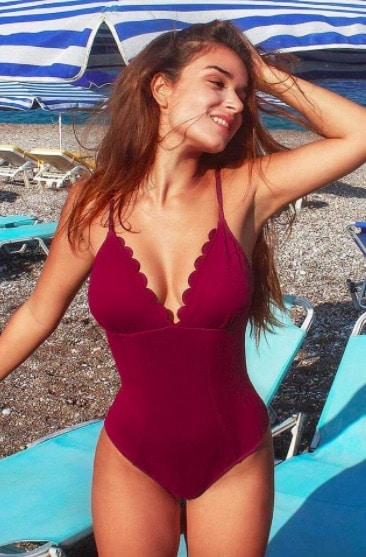 The classically sexy silhouette features a plunging neckline, framed by a half-circle (scalloped) trim. This one piece includes padded cups for extra push-up and support, designed to subtly flaunt your cleavage. We say subtle, since most of your girls are covered in this piece.
Though it only comes in a reddish, almost purple color, this shade is ultra romantic, and a solid choice in our books. The Dark Red Scalloped Edge One-Piece Swimsuit is $24.99, which is pretty decent considering all the fabric. It's made of a quick-drying 90% polyester and 5% spandex blend, creating a tight and flexible fit to hug your curves.
Black Floral Print Halter One-Piece Swimsuit
This one-piece has an impressively high rating on Cupshe, with over 282 five-star reviews. The half floral design and twist front is pretty original, standing out against the black. Its high waist probably comes in handy at a beach BBQ⁠—that's what comes to mind for me as a foodie, anyway! Plus, it offers some stellar cleavage, while also providing coverage on the sides (the side-boob look just isn't for everyone).
The Black Floral Print Halter One-Piece Swimsuit comes in at $29.99, which is actually the most expensive of their regular-sized one-pieces. It's made of 80% chinlon (a type of Nylon) and 20% spandex, quick-drying and flexible like the last suit we covered. This piece only comes in ⁠black, so you'll have to be set on the colors.
Cupshe Bikini Review 
Lime Green Textured High-Waisted Bikini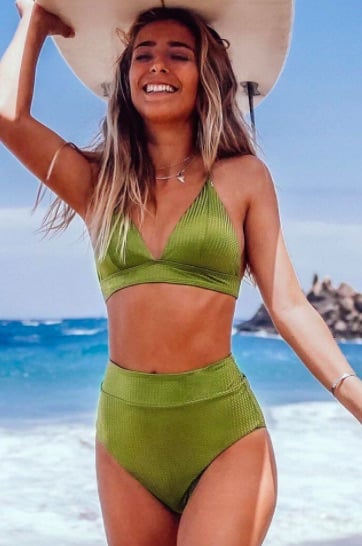 The old-school 70s look is in right now, and bikinis are no exception. The Lime Green Textured High-Waisted Bikini is only offered in this shade—so if your goal stand out at the pool, there's a pretty good chance no one else will be wearing lime green. It's clear that Cupshe manages to make their limited selection of colours work, though this is obviously still a drawback for some.
I'm also a fan of its high-waist design, and the textured chevron print adds the element of glamour. It provides great coverage on top, with removable triangle padding to control the cleavage. This suit is also made from 80% chinlon and 20% spandex, priced at $24.99.
Green Ruffled Polka Dot Bikini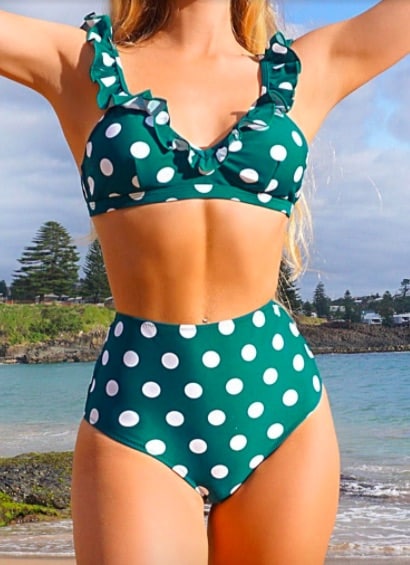 The Green Ruffled Polka Dot Bikini is one of the brand's huge sellers, so we obviously had to feature it in our Cupshe swimsuits review. The top ruffles and polka dots are playful and feminine, and I think the high waist really suits it. I'm really loving the green on white contrast. This bikini looks straight out of the 50s and seems like something Marilyn Munroe would have worn.
Cupshe bikinis tend to be the classic combo of 80% chinlon and 20% spandex. This one is designed with a back-hook closure, adjustable straps and removable padding. I can imagine this $27.99 piece flattering different body types.
Cupshe Plus Size Review 
Bold Floral and Stripe Plus Size Halter One Piece Swimsuit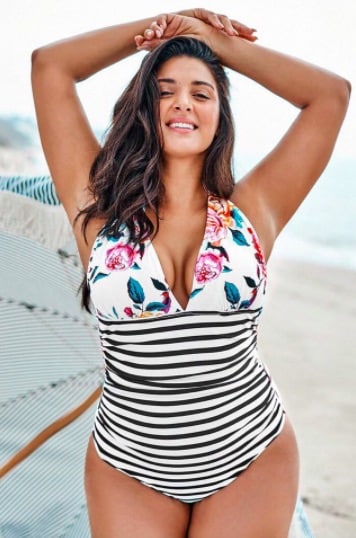 The Bold Floral and Stripe Plus Size Halter One Piece Swimsuit is a Cupshe plus size bestseller, a flirty floral and striking stripe combo. The medium-thick horizontal stripes are designed to be slimming, and you'll definitely catch eyes on the beach with the pattern contrast.
The suit contains 100% polyester and includes shirring, elements meant to flatter the figure by slightly bunching up the fabric. With its padded cups, plunging neckline and self-tie halter (YES to minimizing tan lines), it definitely is a flattering piece, priced at $29.99.
Blue and Striped V-Neck Plus Size One Piece Swimsuit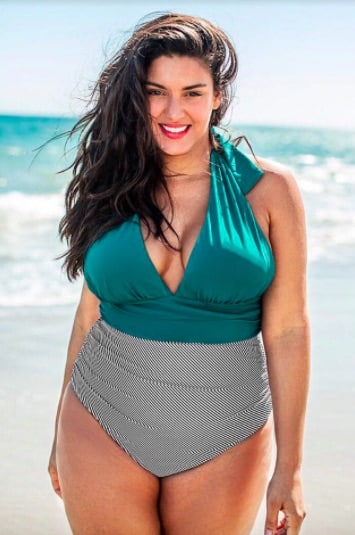 Here's another gorgeous halter by Cupshe, featuring a plunging V-neck and shirring at the side. The solid blue-teal upper paired with a fine black and white striped bottom accentuates the waist, with non-padded cups and a tie halter to keep things securely in place.
The Blue and Striped V-Neck Plus Size One Piece Swimsuit contains a 80% chinlon and 20% spandex blend. This one-piece is tastefully simple, yet it's one of Cupshe's most expensive swimsuit options at $34.99.
Cupshe Blue Review 
Cupshe Blue is its own collection, featuring more daring styles. Prepare for brighter colours, bolder prints and sexier silhouettes in this Cupshe swimsuits review!
Stylish Polka Dot Strappy Bikini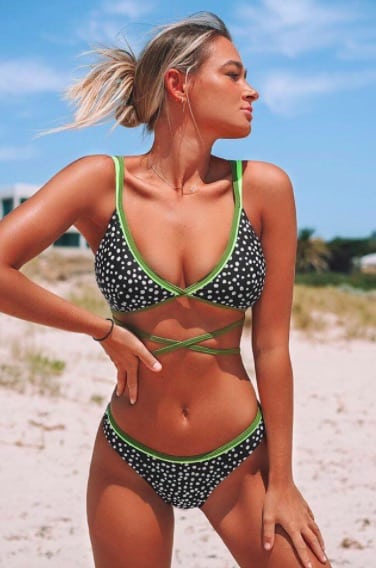 The Stylish Polka Dot Strappy Bikini caught my eye immediately. Literally, everything about it. The two-tone green trimmed with white upper straps (front and back), the criss-cross midline straps and cleavage-friendly v-neck. The polka dots are a little different in the best way: smaller and more subtle compared to the typical dots, plus they're not perfectly round like most bikinis with this pattern.
If you're looking for something playful, revealing, and interesting to look at, this piece is one to look into. Bonus: it's only $19.99. The suit contains 85% polyester and 15% spandex and includes removable padding.
Pink One-Shoulder One-Piece Swimsuit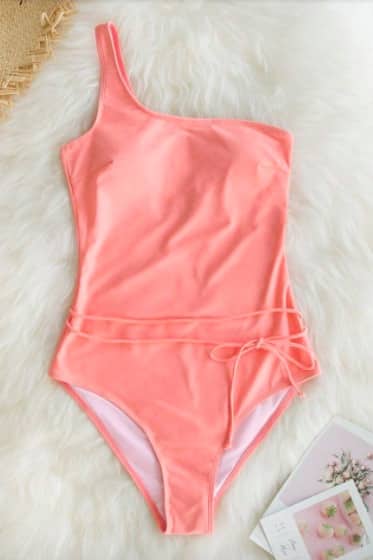 So I wouldn't call the Pink One-Shoulder One-Piece daring, other than its pink-peach neon shade. Single straps are designed to flatter your arms and shoulders (personally, those aren't my greatest features, but I know gals that can really pull it off). This one-piece has an 80s vibe to me, but maybe that's just based on the color.
The material is 100% chinlon and has a thin removable tie-belt, which can give you two slightly different looks. These kinds of ties also accentuate your waist. This suit is on the lower price end at $19.99.
More Cupshe
When it comes to other products in this Cupshe swimsuits review, there are some pretty versatile options. We'll just give you a taste of what's out there.
Cupshe offers stunning beachy and everyday dresses, like this Floral Lace Backless Midi Dress. The tropical florals are something different compared to other more traditional flower patterns. I think the lace open back is tres elegant. It'll set you back $24.99, which is pretty reasonable. Most Cupshe dresses range from $19.99-$32.99.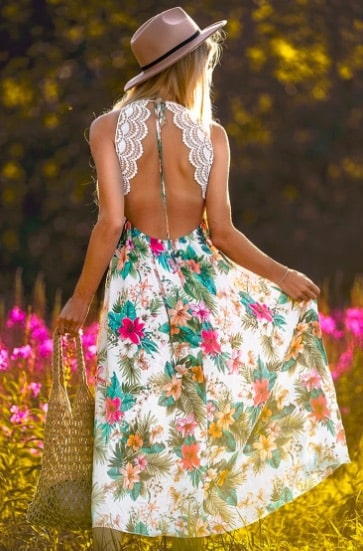 Cupshe's cover ups are another hot sell, with a focus on a whites and beiges, florals, crochets, lace, and flowiness. This Romantic Floral Belted Cover Up is a feminine sophisticated look, and I bet you can wear it as a longer top. This dress is goals if you want to show off your legs. The plunging neckline and front tie belt highlight your chest and waist, while all this flaunt is balanced by the long sleeves.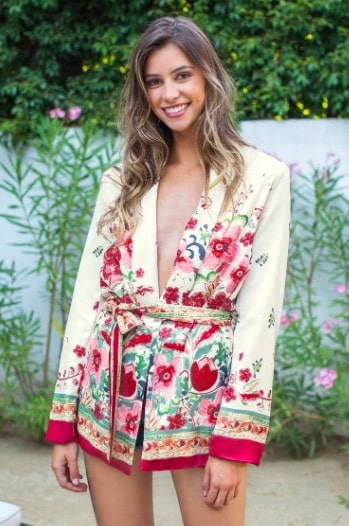 Cupshe cover ups will usually range from $16.99-$34.99, with this being their most expensive one for $42.99.
While Cupshe does technically have both an accessories and a towels section, their selection is limited. When we say limited, we mean 2-3 items per section. The few towels offered are circular, oversized, and vibrant ranging from $19.99-$24.99. This Black and Purple Flamingo Print Beach Towel is cute and funky:
Is Cupshe Reliable? What Customers Think
So, is Cupshe legit? You can usually tell what's what with a brand by looking at their customer reviews. Cupshe allows customers to freely post a Cupshe review on individual products, an increasingly less common option among brands. Cupshe is not afraid of their customer reviews, indicating they have confidence in their products.
Reviews on Cupshe's website rave about the fit of their swimsuits, commending the affordable price for the quality. Negative Cupshe bathing suit reviews have been few and far between, with the occasional complaint about the fit running small. One Cupshe swimsuits review complained about the high-waisted bikini being "too high". We'll just leave that with you.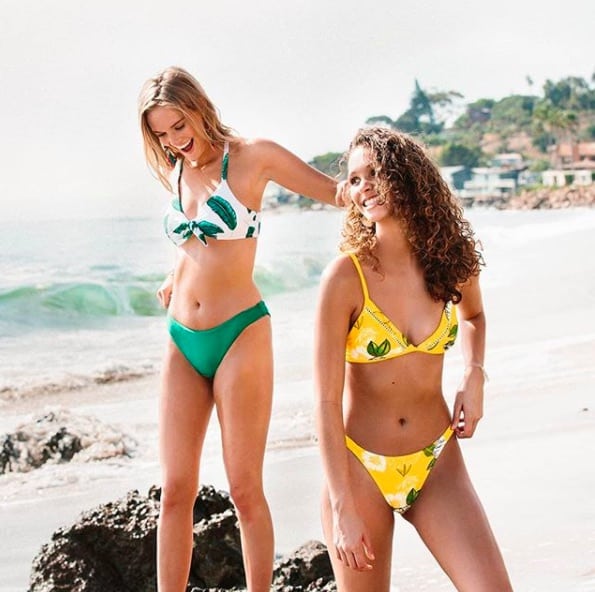 The main issue beyond the brand's website reviews is on their "terrible" customer service. There have been many customer complaints about Cupshe being incredibly difficult to get a hold of, especially when it comes to initiating returns. Unfortunately, this has caused many former customers to give up on the brand.
Cupshe Promotions & Discounts 
Looking for Cupshe promo codes in this Cupshe swimsuits review? There's not a whole lot of usable Cupshe discount codes available at the moment. We were able to find:
Use Cupshe promo code: BACK10 to get 10% off your order of $90 or more.
Use Cupshe discount code: APPVIP on the Cupshe app to get $10 your first order of $65 or more.
You can also get a 10% student discount for orders of $60 when you verify your student status.
For some Cupshe coupons, subscribe to their newsletter to get an extra 15% off your first order of $75 or more.
Where to Buy Cupshe Swimwear 
Our Cupshe swimsuits review answers your questions on how to purchase their products:
Where is Cupshe Located? 
Cupshe is not very upfront about where they're located – like, at all. By doing some research, it appears that they are a China-based company, who has a US-based warehouse in New Jersey, NY, but this is not confirmed by Cupshe anywhere online.
Can I Buy Cupshe Online?
Cupshe is purely an online retailer, which can be found at cupshe. Cupshe also has a partnership with Cupshe Amazon, where you can find a decent selection of their swimsuits, dresses and coverups.
FAQ
Cupshe Sizing 
As mentioned, Cupshe has a great selection of sizes, ranging from XS-XXL for regular sizes and 0X-4X for plus sizes. Size charts run differently for one-piece swimsuits/clothing and bikini tops, which you can see below:
Size Charts for sizes XS-XXL: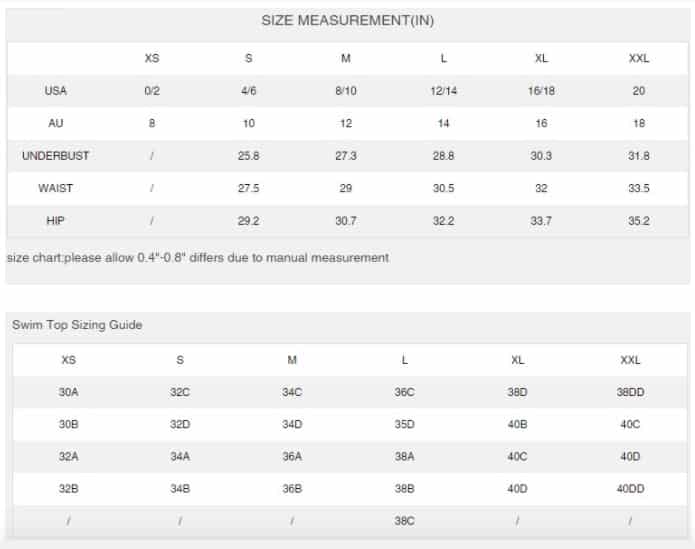 Size Charts for sizes 0X-4X: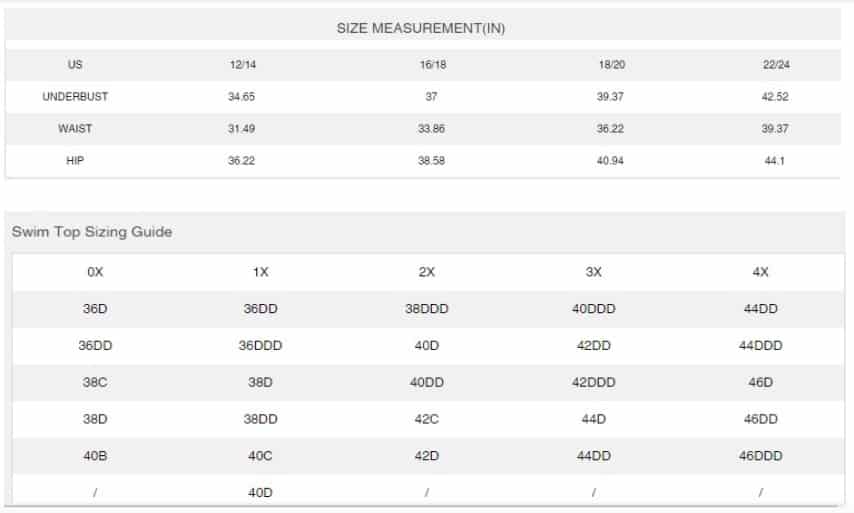 Cupshe Shipping Policy
We took a look at Cupshe's shipping policy for this Cupshe swimsuits review and were honestly impressed. Cupshe ships worldwide and has an excellent policy when it comes to the cost. For most countries, shipping is free when you spend over a certain amount.
For the US, shipping is free for orders over $15 (Standard Shipping) and free for orders over $40 (Expedited Shipping). Their shipping times also vary from 2-10 business days, depending on the selected option. No matter where you are in the world, Standard Shipping will never cost you over $4, which is pretty great.
Cupshe orders leave their warehouse within 1 business day, with an additional 1-2 business days for processing before dispatch.
Cupshe Tracking 
In order to track your order with Cupshe, you need to go onto their website through Cupshe Track Order. You then submit your email and your order number to their form and voila! Order tracked.
Cupshe Return Policy
As mentioned, most of the issues that customers have with this brand are centered around Cupshe Returns. Not only do customers have to contact Cupshe to even initiate a return, the process is not free. Customers have to pay for all return shipping costs themselves.
You cannot return accessories or beach towels, whether they've been used or not. Returns for all other items have to be initiated within 30 days and cannot be worn, washed, damaged or have missing tags or hygiene seals.