Shopping for bathing suits can be scary and don't event get me started about buying them online. A little while back, I came across a Cupshe swimwear ad online and I was instantly intrigued. I couldn't get over 1. how cute Cupshe bathing suits were and 2. that they were extremely affordable. I did a little research and decided to jump on in and order a couple Cupshe swimsuits for this summer and my trip to Virginia Beach!
Update: I have included similar styles for any that are out of stock or sold out. I will do my best to check back and update these links to make sure you can easily shop!
Disclosure: This post may contain affiliate links, which means I may receive a commission if you click a link and purchase something that I have recommended. Clicking on these links won't cost you any extra money.
CUPSHE SIZING
Let's be honest, bathing suit shopping sucks. It feels like each brand has a completely different way of sizing. I can be anywhere from a size small to large in swimwear depending on the brand. Cupshe swimwear is sold in pairs – meaning you are buying the same size in both the top and bottom. I know, I know…when was the last time you were the same size in both a top and bottom? For some odd reason, it works. I ordered a size small in all of the Cupshe bathing suits below. I am 5′ 4″ and about 140 pounds. FYI – I'm only telling you that because I love you, no one likes to share that info. It was also extremely helpful to read the reviews on each bathing suit. Some of the Cupshe reviews provided the person's height, weight and how it fit, which ultimately helped me choose my size in ordering. I am usually a medium in bathing suits so I was hesitant to order a size small. I wasn't looking for an itsy, bitsy (yellow polka-dot) bikini.
APPROACHING HOLIDAYS STRIPE BIKINI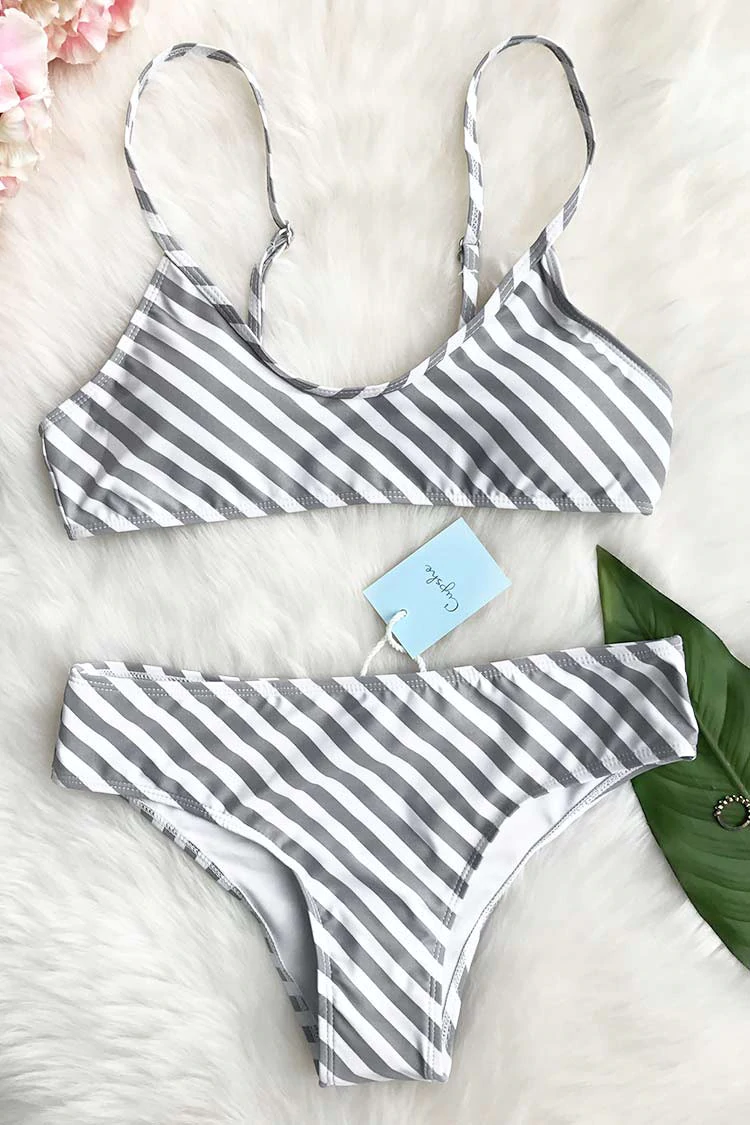 First off, I fell in love with the stripes! The bottom has full coverage and is more of a high waist fit than others but I wouldn't consider it high-waisted. The top has light padding, two adjustable straps and a latch on the back. Overall: the approaching holidays stripe bikini (out of stock) didn't mak my top two but I know this will be a great bikini for swimming and playing beach volleyball. I don't actually play beach volleyball but if I did, this is what I would wear.
Similar Styles: Hit Summer Stripe Bikini Set | Fete Ready Solid Bikini Set
WATCH THE SUNRISE HALTER BIKINI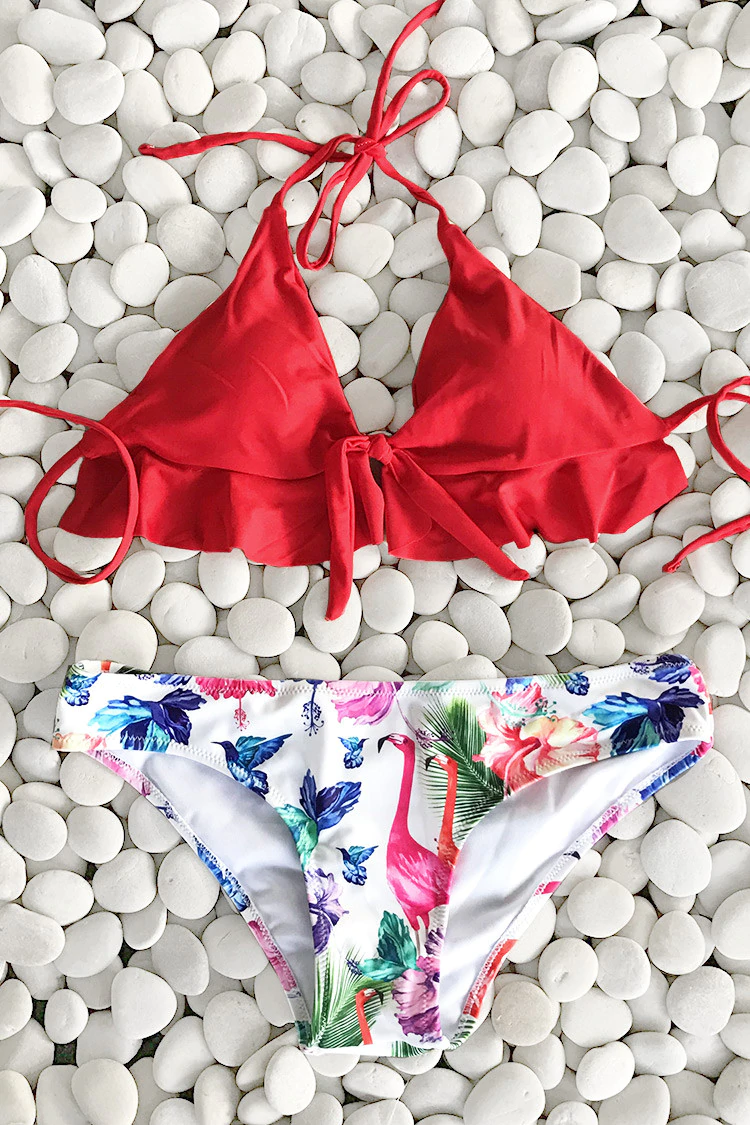 Hello summer! The bright tropical pattern and ruffled red top are perfect for a tropical vacation and spending the day at the beach. This was a lot more snug than the first one. It wasn't bad enough that I would need to return it but it was definitely smaller than the approaching holidays stripe bikini. The top is padded and I love the ruffle detail. I don't think it would be ideal for jumping off a boat, if you know what I mean. But it would be perfect for getting your tan on. The bottoms had medium coverage because it fit me a little smaller. Overall: This was one of my favorite Cupshe bikinis!
Similar Style: Floral Smocked Bandeau Bikini | Ruffled Bandeau Bikini
ALL ABOUT STRIPE ONE-PIECE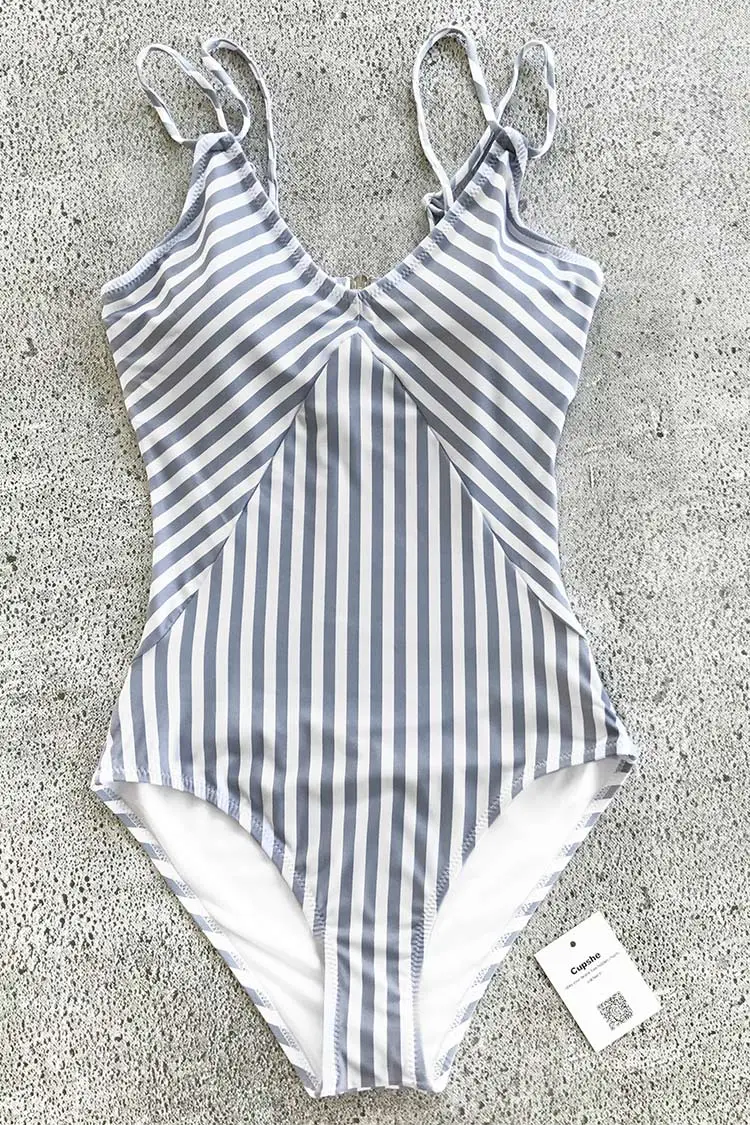 I was so nervous to order a one-piece. When was the last time I even wore one of those? Maybe elementary school…okay don't judge! I'm still unsure if I love it but I'm excited to try it out. The bottom had great coverage and stopped enough up my back that my booty was covered but still showed off my back. The top has adjustable straps and padding. Just like the bikini, I loved the pattern and felt it was very flattering even as a one-piece. Overall: I think the all about stripe one-piece (out of stock) is going to take some time to get used to. I can't wait to try it out this summer once I get a good tan going. I've linked some more super cute Cupshe one-piece swimsuits below!
Similar Styles:  Stay Young Stripe One-piece Swimsuit | Shine For U Stripe One-piece Swimsuit
OUT OF THE ORDINARY SOLID BIKINI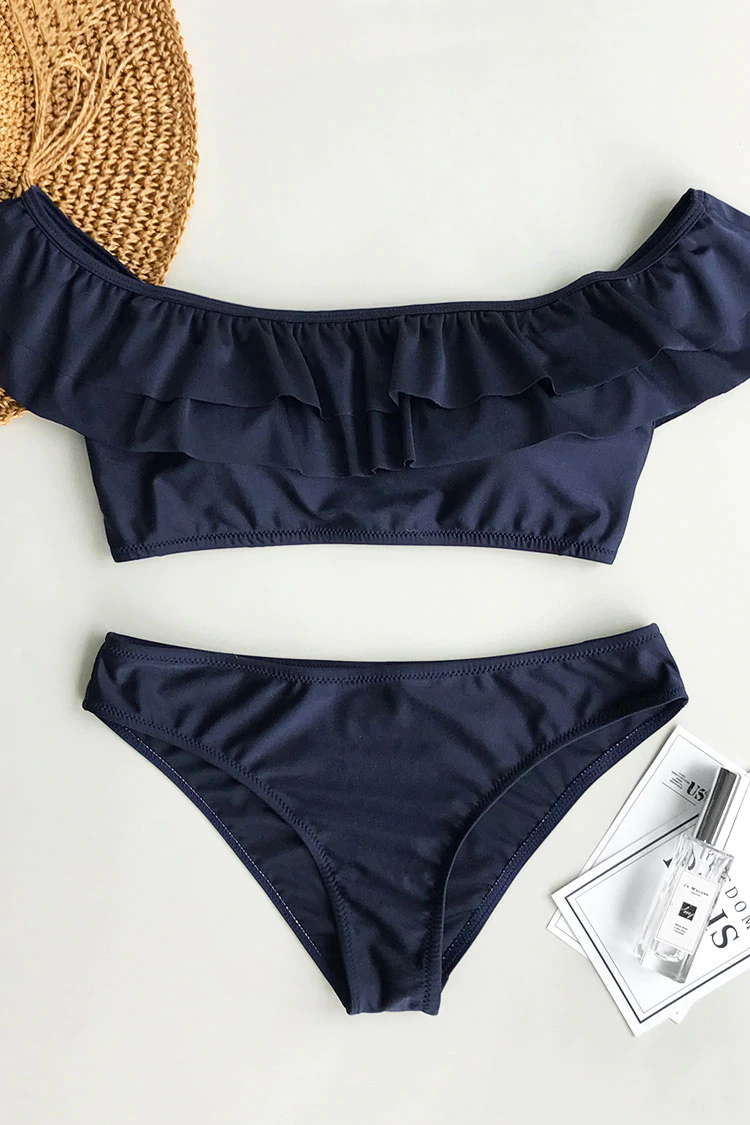 Hello, my one true bikini love! I am obsessed with this bikini and out of all the Cupshe bikinis, it's hands down my favorite. The top is padded and has off the shoulder ruffles that actually stay in place! The bottoms have full coverage and I felt so comfortable once I put this on. I know this will be my most worn bikini this summer. Overall: I LOVE everything about it. The out of the ordinary solid bikini (out of stock) is the perfect bikini!
Similar Styles: Gray Off-The-Shoulder Bikini Set | Rain Of Petals Solid Bikini Set

CUPSHE SHIPPING
When I ordered, I had a free VIP expedited shipping code that I used but it still took about 9 days to get my order. I have heard from multiple people to be cautious if you need your order exactly at the expected shipping date. Also, for some reason they wouldn't leave my package in my mailbox and it had to be picked up at the post office and signed for. I know other people who had their package delivered to their mailbox so I'm not sure what the issue was.
CUPSHE SWIMWEAR REVIEW
I would highly recommend Cupshe swimwear if you are looking to purchase some new bathing suits this summer. The bathing suits I purchased cost me between $17.99-$25.99 each. The quality is great for the price you are paying. Also, am I the only one who has a drawer filled with bathing suits? I love to buy them every year and this year I was able to do that without breaking the bank.
Have you tried Cupshe swimwear yet? I would love to add more Cupshe reviews in the comments below!