Are you interested in learning arts & crafts like knitting, sewing, and quilting?
I used Craftsy, which produces high-quality content on a budget, and acquired different craft-making skills. In fact, I attended live workshops in Craftsy.
After making the best use of Craftsy, I decided to share my honest review with you. Wait, I have some BONUS for you 🙂
In this article, you will learn about Craftsy, how Craftsy works, its suitability, areas of improvement, and its pricing plans.
I also suggest similar platforms like Craftsy, followed by the verdict towards the end!
Craftsy Review: In A Nutshell
Craftsy is a creative-focussed online learning platform that teaches thousands of courses on crafty things like knitting, sewing, quilting, decoring, and even baking.
I can proudly say that Craftsy is the right destination for you to unleash the creativity in you and create masterpiece-like craftworks instantly by taking up quick lessons.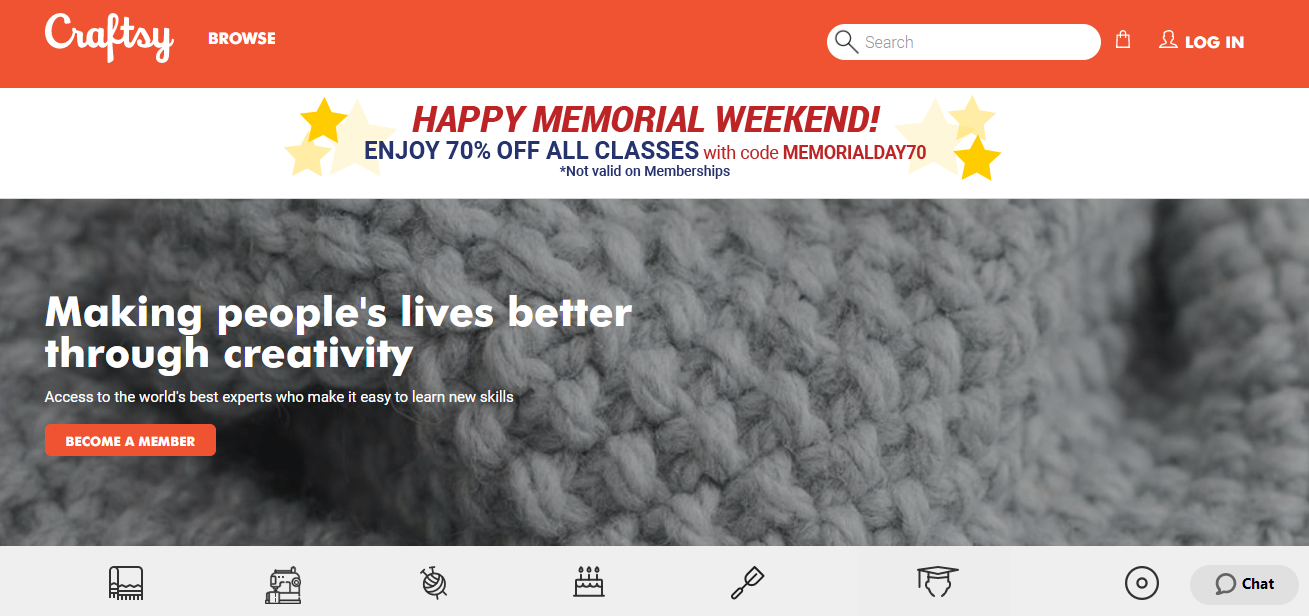 Craftsy stands out by instructing and suggesting helpful resources that you might need, along with structured modules and high-quality teaching.
Gone are the days when you sat for an Art & Craft class in school privately. In today's learning trend, Craftsy is ensured to deliver the finest learning experience.
Despite following a subscription-based service, Craftsy allows you to take free introductory classes and start learning without hassles. Plus, you can also download the lessons for later purposes. Say you got assignments or other work!
As a follow-up, let me remind you that you can purchase an individual course on a budget in Craftsy without having to spend hundreds of dollars on unwanted courses.
You can also expect a regular insightful newsletter directly from the Craftsy team.
The Working of Craftsy (Explained)
Have you checked the overview I genuinely wrote above? If not, do it now. I briefly explained what Craftsy is and how it is beneficial for the creatives out there.
Still, you might have mind-battles in your head about the working of Craftsy and how to get started with it. Calm down. The world is not ending. You got time.
Let me quickly highlight the working of Craftsy before you put a hand on me.
Craftsy has simplified and easy-to-navigate features, and you do not feel lost when it comes to enrolling in a course or buying a Craftsy Premium membership.

Speaking of memberships, you need to know that there are two instant ways you can opt for Craftsy. Either you can purchase an individual course in Craftsy and get lifetime access or pay for a monthly or annual subscription in Craftsy and get full access to the entire course library without any restrictions. Hear me out.
You know how to get a course in Craftsy. Now, you need to look out for the most appropriate course for you among the 1,500+ courses on 20+ categories in Craftsy.
How do you do that? It is very simple. Pick the niche you want, like crocheting, drawing, knitting, painting, quilting, or sewing. You can also choose baking/cooking.
Still, note that Craftsy only offers courses on craft-related content and so please do not expect courses on web designing, programming, or coding. Craftsy is different.
After picking the desired course on Craftsy, you can unlock resourceful materials like user manual-like instructions, exclusive recipes, and easy patterns to get going.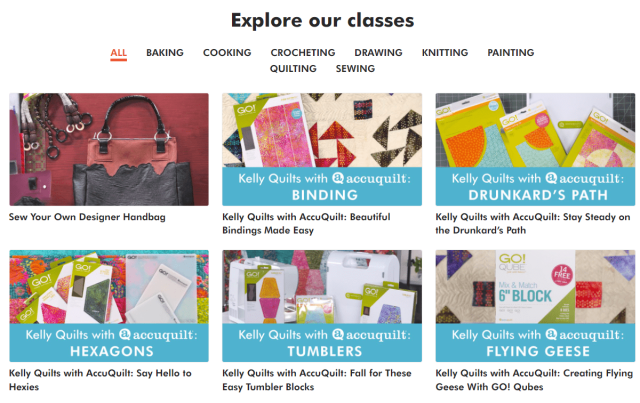 Like most online learning platforms, Craftsy also has a dedicated student community forum that allows you to join craftworkers with similar interests and experiences.
The good news is that Craftsy is mobile-friendly and has a significant mobile application that you can use for easy learning if you are on the run. Since the courses in Craftsy are short and quick to learn, you can finish them in no time efficiently.
Regarding instructors, you do not worry or even frown a bit because all the instructors in Craftsy are experts in each respective field listed in Craftsy.
Yes – Craftsy only allows professional expertise to teach a course in their platform. For instance, if you are taught how to bake, only a Pro Baker will teach you.
Last but not least, if you need a practical learning experience with live sessions, it is possible in Craftsy because the membership plan allows you to join workshops. If an instructor hosts a live session on a specific topic, you will receive an invite to join.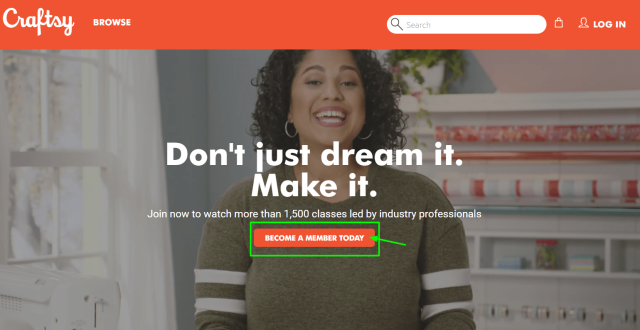 To wrap up the working of Craftsy, I'd say that it is well-designed with no troubling instructions or a confusing interface. Any creative person can cherish Craftsy!
Is Craftsy Legit Or a Scam? (My Experience)
Oh god. Do I have to address the rumored conspiracy that Craftsy is a scam?
I guess I should. I understand that it is fair not to believe everything you see on the internet, especially if it comes at a cost. Yes, a bag filled with big bucks!
In my experience with Craftsy, I must say that before enrolling, I was in your shoes and felt the same. Even when the money transaction was processing, I almost thought I had lost my money, but boom, Craftsy hit me with reality right away.
I got access to high-quality courses led by craft-based experts.
The breakdown of each section was splendid, and the objectives set in each course were easy to aim at. From the introduction to the teaching to the conclusion, Craftsy courses filled it with edutainment content. That's correct. The instructors are not strict but cool.
In comparison to traditional craft classes, you might not accurately see what the instructor is teaching or even doing on their desk. In contrast, the classes in Craftsy ensured to incorporate closer shots and zoomed-in the sections if needed.
Although I paid for the Craftsy membership, I did not instantly hop on it. Remember the free classes that I talked about earlier? Being a cheap person, I obviously took those courses first to ensure the quality was promising and good enough to opt for.
The free courses were convincing, and so the rest is history. Nowadays, I sit with my grandma in my backyard with a knitting kit and do it with her every Sunday!
Who Is Most Likely Suitable For Craftsy?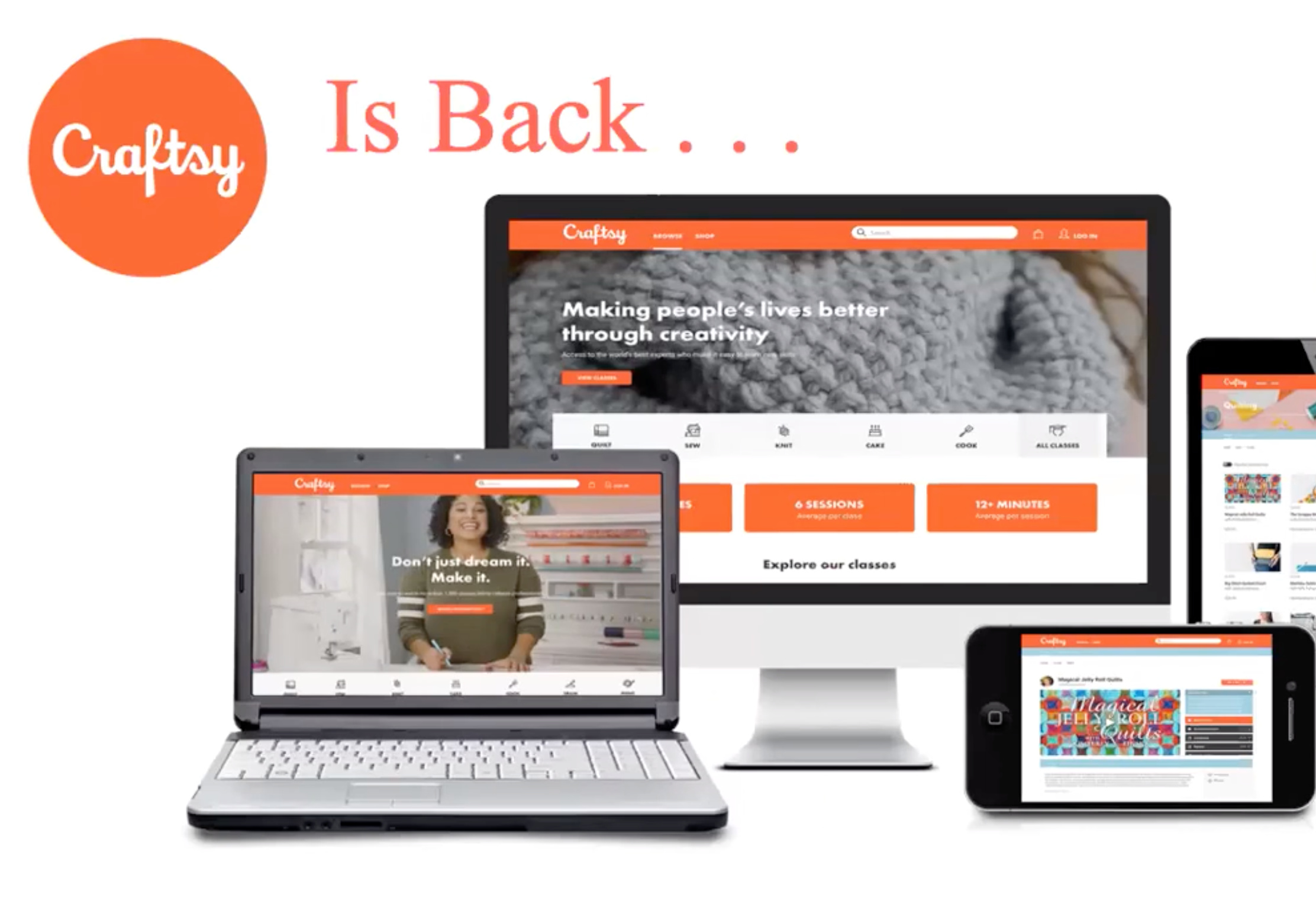 If you haven't figured out the suitability of Craftsy by now, I might be a little pissed.
Why? I relentlessly kept talking about creativity – art – crafts – things related. At least find the suitability using the mini hints development I attempted here. I will help.
Craftsy is suitable for:
Aspiring Art & Craft students
Most students who enroll in any craft program and have to learn the art as a part of the school curriculum board may not fully utilize the resources. Plus, the teachers in the school may not consider "craft" as their core subject.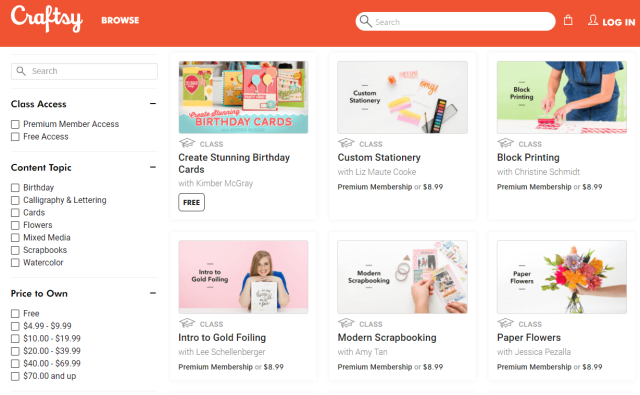 Upcoming small business owners
Nowadays, many artisans have leveraged social media and turned into small business owners by capitalizing on crafting skills like pottery, knitting, and quilting.
If you are a beginner at craft-making, you can get better at it by using Craftsy and eventually monetize your skill and start earning from your skill-set.
Homemakers & Hobbyists
If you are sick of seeing the four walls and following a boring schedule every day, make it a little fun and interesting by taking up craft classes for free in Craftsy. Even parents who'd like their kids to indulge in art activities can choose Craftsy right away.
To give a heads-up, I would not necessarily claim that only the above-listed people should take up Craftsy. I mean, it is art & craft, and there is no requirement.
Literally, anyone can learn from Craftsy. If not, I would have gone mad about it!
What Makes Craftsy Stand Apart?
Take a guess. If you could blindly guess something that makes Craftsy stand apart, what would you say? I am assuming the easy access to craft classes online.
Suppose you had a different guess, 10+ points for the efforts. Craftsy is quite intriguing and has free introductory that you can take without paying money.
As of now, I noticed that Craftsy is the only platform on the internet that produces courses on craft-making which means you are getting exclusive content directly.
With the option of offline download and lifetime access to individual courses, Craftsy has quite the benefit to make use of. In fact, the instructors in Crafty reveal secret recipes and methods that only craft experts and artisans have known for years.
Craftsy is one way of bringing back the legacy of handmade products. Not literally, but you can get the opportunity to learn from legendary artisans face-to-face.
What I Think Can Be Improved In Craftsy: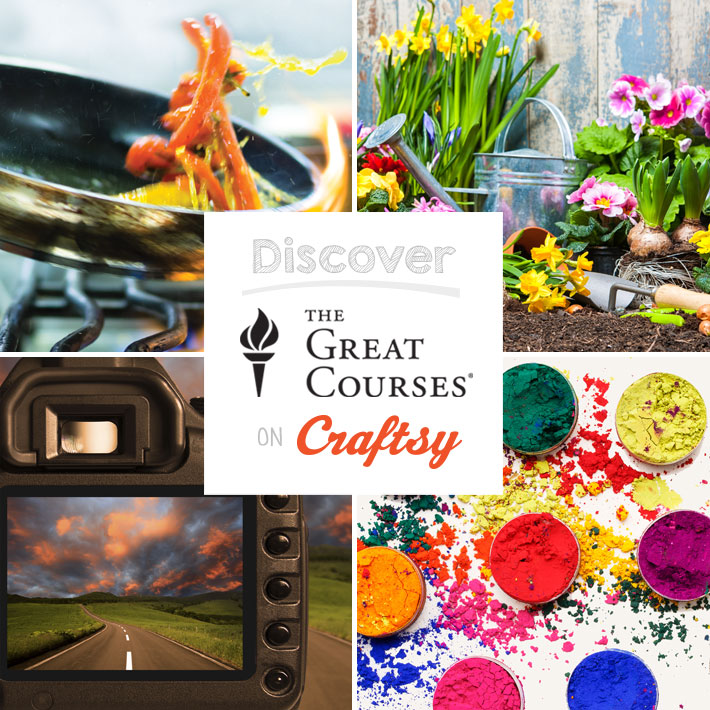 Enough of bragging about how beneficial and insightful Craftsy is.
Let's talk about the downsides and how Craftsy can improve in order to rank the top:
Progress Tracker
Although the Craftsy membership allowed me to take any course in Craftsy, there was a bit of confusion that took place during the process.
If I start a class in Craftsy, the platform does not have a feature like adding to the dashboard or showing progress.
You literally have to search for the course to start to know what the course is. Still, it was manageable, but the absence of such a feature was annoying after a point. I hope Craftsy can fix this or update with a progress tracker in the future.
Duration is unavailable
How bizarre would it be if I conveyed that you have classes but did not tell the timing?
You would be clueless about scheduling the rest of the day besides taking your classes. Likewise, Craftsy has structured the lessons and modules well yet forgot to update the timing of each course and the duration it takes to complete a class.
It is quite disappointing that being an established platform, Craftsy has not added a primary feature that is universally expected, especially in an online learning platform.
Craftsy Review: Pros & Cons
Here are the pros & cons of Craftsy.
Pros
The pricing of Craftsy is affordable
It allows you to download class materials such as PDF
Free classes available
No contract boundation, cancel whenever you want
All the old classes & patterns are also available on the new Craftsy accounts
Subscribe to its newsletter to get tips & tricks
Cons
There is no lifetime access available to classes, you need to pay the monthly subscription to keep on accessing the classes
Craftsy doesn't offer a money-back guarantee on the monthly membership plan
Some classes can be overwhelming sometimes
Pricing: Is Craftsy Affordable?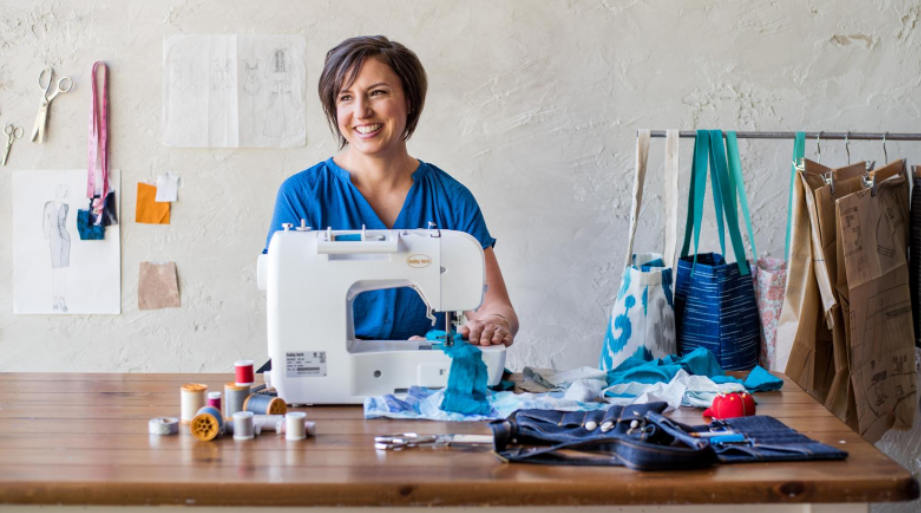 You know 90% about Craftsy so far, but the vital aspect that will help make the final call is yet to be revealed. Keep reading as I tell you ways you can use Craftsy.
Let me recall by reminding you about the good news in Craftsy that you get FREE classes that you can take without spending a single penny from your wallet.
Still, the free classes cannot be downloaded and have limited modules to learn from. If you are desperate to take premium classes in Craftsy, I got you covered.
You can buy individual classes from Craftsy for anywhere from $4 to a maximum of $70. Wait, what? That's it? Yes – Craftsy is budget-friendly. Although Craftsy offers courses worth $100 and more, you can find affordable classes immediately. You can also save a few bucks on your purchase with Craftsy Coupon here.
Craftsy Membership
The best way to access the entire course library in Craftsy and get exclusive resources is through Craftsy Premium, which you can purchase as:
Monthly subscription – $7.99 per month
Yearly subscription – $89.99 per year
What's the difference between purchasing individual courses in Craftsy and Craftsy Membership? Well, if you find four compelling courses, it might have varying costs.
Using Craftsy Membership, you can instantly access all the courses on a budget. Plus, you can join workshops and get helpful newsletters only with Craftsy Membership.
Additionally, Craftsy offers an exclusive Membership Sharing feature that allows you to share your membership with your loved ones. Such a thoughtful gesture, Craftsy!
Craftsy Refund Policy
If you purchased the Craftsy Membership and still do not like Crafsty for specific reasons, you can instantly request a refund but ensure that you are asking for the refund within the first 30 days of purchase. If not, things can get complicated.
Unlike the Craftsy annual membership, you cannot request a refund in the Craftsy monthly membership after the first month has passed. The first 30 days are crucial!
Craftsy Alternatives:
Craftsy might not be the best learning platform out there. Still, some learning platforms produce high-quality content in different niches.
In fact, I have the best alternatives to Craftsy listed below:
Skillshare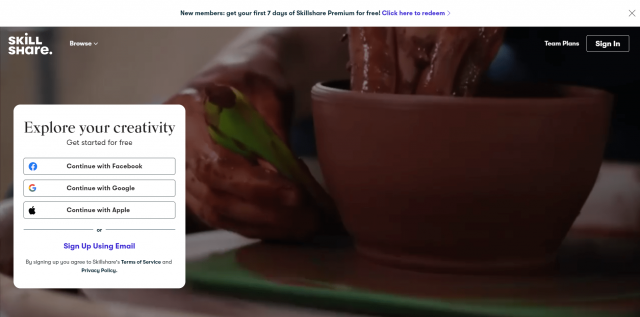 Like Craftsy, Skillshare is another creative-focussed platform that offers courses in diverse fields, categories, and niches. You can also find courses on marketing, technology, architecture, and many more. Skillshare gives a tough competition to Craftsy by giving short and digestible content. The skillshare also allows you to become an instructor without being a celebrity or a rich person. Skillshare is budget-friendly.
Udemy

Udemy is a great learning platform known for its compelling quality and range of courses. The udemy also provides certificates on completion by validating its users. Like Skillshare, Udemy is another platform to become an instructor. If you search for creative courses like Craftsy, you might find fewer courses.
Final Thoughts On Craftsy
Being indulged in the world of craft and creativity, it has been a delightful journey with Craftsy for apparent reasons. Crafts ensured to teach things from scratch.
If you are a newbie to craft-making, Craftsy has got you covered with everything that you need to know. From the craft creativity to the process to the outcome, Craftsy covers it all, and you are guided with easy steps and instructions.
In conclusion, I'd say that Craftsy is the right learning platform to consider if you are looking for a way to acquire craft-making skills like jewel-making, knitting, quilting, and crocheting.
In the newest update, Craftsy has also added writing and photography classes. If you are still doubtful about Craftsy, go ahead and take FREE courses in Craftsy first.
Make your life better through creativity by using Craftsy. Catchy tagline?
I stole it from Craftsy.
FAQs On Craftsy
Is Craftsy worth it?
Yes, Craftsy has a promising course quality with insightful resources.
Can you buy a single course in Craftsy?
Yes, you can buy a single course starting from $4 and get lifetime access in Craftsy.
Who is suitable for Craftsy?
Creatives, hobbyists, homemakers, and anyone who'd like to learn craft making are suitable for Craftsy.
Does Craftsy produce courses other than craft-making?
Yes, Craftsy has updated its course library with new courses on photography, writing, and even baking.