About Naot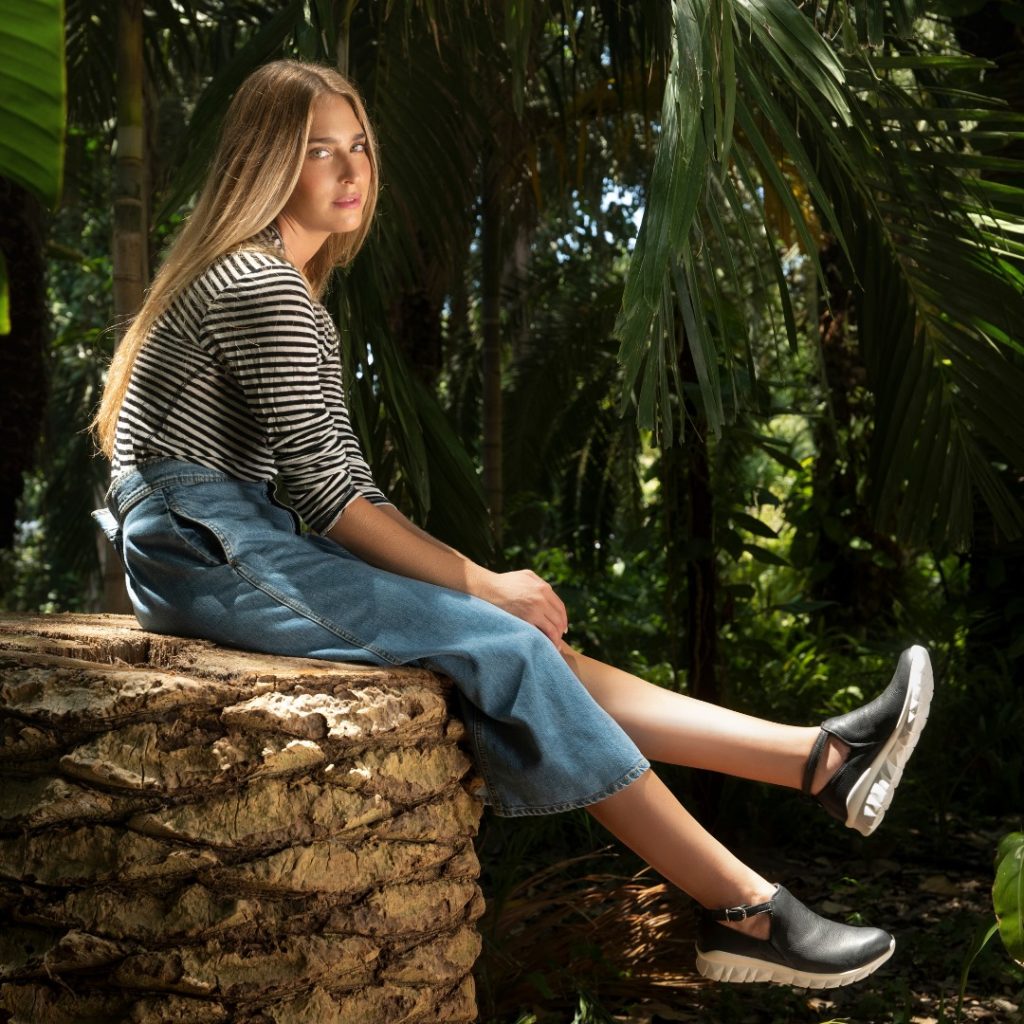 When you're walking down the street, you want your shoes to reflect your personality and be comfortable too. No one has time for painful shoes; we're so past that. Thankfully, there are companies like Naot to fit our feet with amazing footwear.
An Israeli brand that specializes in handcrafting comfortable footwear for men and women, Naot prioritizes quality, fashion, and inclusivity — their employees work together from all different cultures and backgrounds.
The brand has been in the market for several decades and for good reason because they've been featured in Better Homes & Gardens and Forbes. Plus, they're active on social media and have a collective following of 22k on Instagram.
Even with an 80-year history of making shoes, does this company still live up to the hype? This Naot shoes review will take a look at the brand's history, some of their most popular products, while also seeing what customers are saying so you can decide if you want these shoes in your wardrobe.
Overview of Naot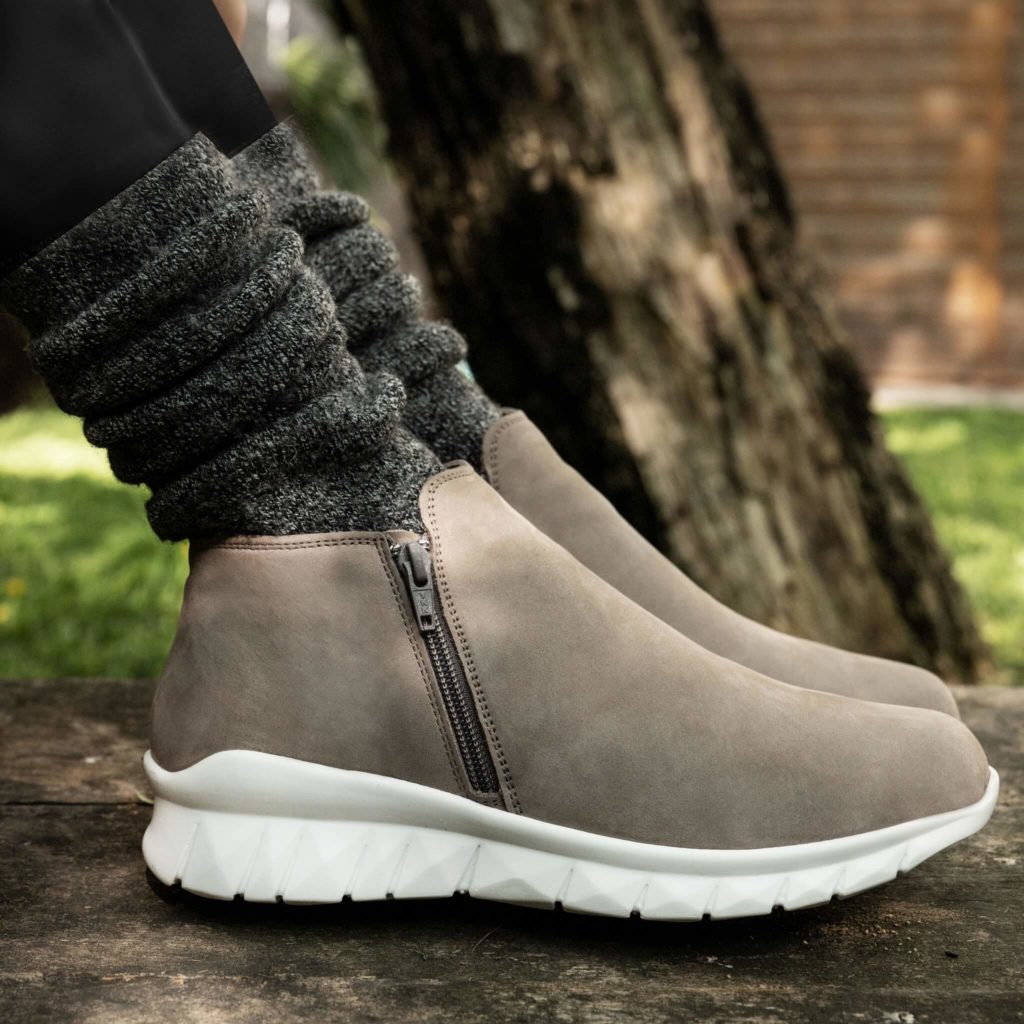 In 1942, a group of farmers in Israel began making shoes on Kibbutz Naot Mordechai. Though Naot is a global brand offering comfy footwear to people everywhere, their craftsmanship and care for each pair of shoes remains.
The brand's mission is as follows: "At Naot, we are passionate about creating a better world by making people feel comfortable." 
Your feet are important because they take you everywhere, from point A to B. It's important you treat them with the care and tenderness they deserve. The translation of the word 'Naot' is oasis, which refers to the relief one feels when wearing their shoes.
With removable insoles and orthotic friendly, Naot shoes are designed to be supportive, flexible, and durable.
Before we get into the nitty-gritty details of the brand's best footwear, let's go over some of the key highlights:
Highlights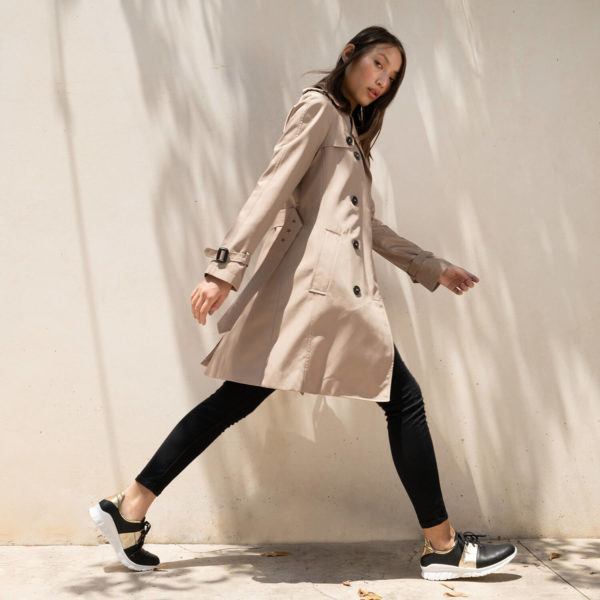 Ethically-manufactured shoes with sustainable practices
Uses renewable materials such as vegetable tanning and cork
Wide variety of options and long-lasting materials
Orthotic friendly
Accepted by American Podiatric Medical Association
Free standard shipping over $50
Vegan footwear options are available
Payment plans through AfterPay available
Since we put on shoes every day, investing in good-quality footwear is a necessity. Luckily, brands like Naot understand the importance of comfortable footwear.
Almost all the products in this line are designed to fit individual needs, with the insoles of these shoes conforming to your feet. Next, this Naot shoes review will explore some of the brand's best-selling products.
Naot Shoes for Women Review
Naot shoes for women come in a variety of different designs for just about any lifestyle. Whether you need a new pair of boots, sandals, or sneakers, this Naot shoes review will cover all your bases. Let's check out some of the brand's best-selling footwear in the women's collection.
Naot Aura Maestro Boots Review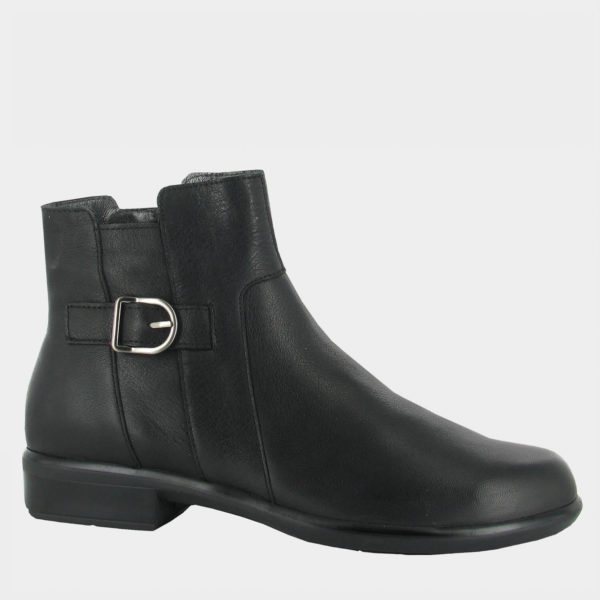 Forget about the little black dress, everyone needs a little black boot! Whether you're heading to school or the office, these shoes make for perfect everyday wear. And they're versatile enough that you can dress them up or down.
The Naot Aura Maestro Boots add a dash of class and sophistication to your spring or fall outfit. The smooth leather and side buckle will make you feel like you are going on your next adventure or date, whichever comes first.
If you happen to get caught in a storm with these boots on, don't fret! You'll be protected due to the shoe's ability to resist water and any sort of slipping. However, it's important to point out that the shoes are not waterproof. So, maybe keep the puddle jumping to a minimum.
These boots retail for $230, which is on the higher end. However, the quality of this product offsets the price tag. Sizes range from US women's 4 to 11.
Naot Apollo Galaxy Sneaker Review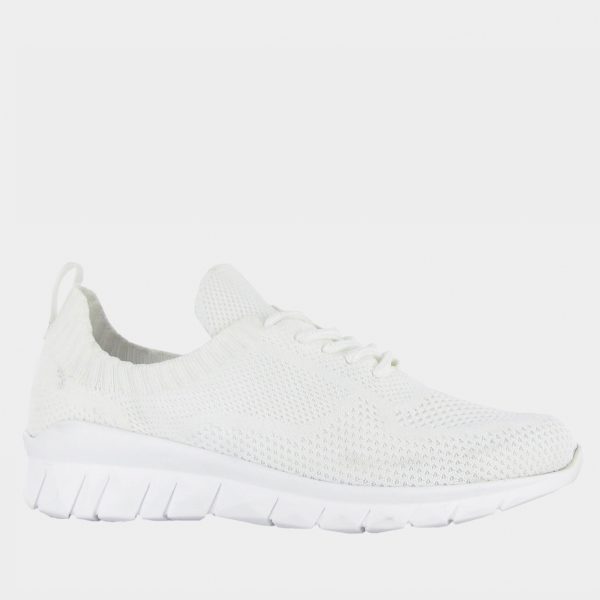 If you are looking for a sign to start your Couch to 5K program, here it is. This Naot Apollo Galaxy Sneaker is made out of a knitted material, giving it more of a breathable quality.
These sneakers include a removable cork and latex insole that will provide you with comfort whether you're in the gym or out running for errands. Not only will your feet thank you, but the animals and environment will too! These shoes are made out of completely vegan materials.
You can purchase these sneakers for $155. Sizes range from US Women's 4 to 12 with a medium width, coming in 4 colors, including light pink knit, light gray knit, black knit, and white knit (which is on sale for $124).
Naot Prima Bella Brava Heels Review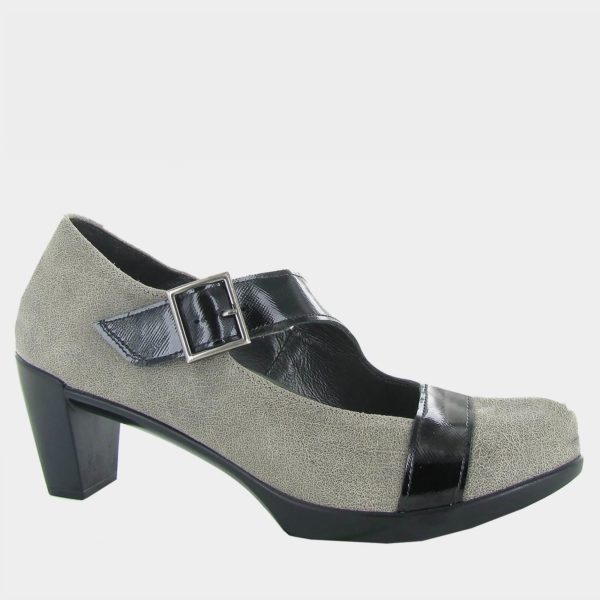 Have you ever heard the saying "Beauty is pain?"  Whoever said this was probably referring to high heels. These pumps are notorious for causing blisters and aches, leading to future foot problems. However, many people deal with the consequences in the name of fashion.
Well, that can all change now because the Naot Prima Bella Brava Heels will make you feel like you're a hip librarian who works after-hours, exuding an air of mystery. They come with a lightly padded insole so that you can be comfortable without compromising style.
The 2.75" Mary Jane heel gives you a little bit of height without being too dramatic. If you're into it, this Naot shoes review recommends pairing these heels with a long dress or flowy skirt for a super cute look.
You can choose between speckled beige leather/black luster leather or black velvet/black luster. Both colors are currently on sale for $160 (regularly $200).
Naot Shoes for Men Review
Not only does this brand have various options of footwear for women, but they also have numerous styles for men. Whether you are looking for a new pair of boots, slippers, sandals, clogs, or running shoes, Naot carries high-quality footwear to fulfill any need.
Naot  Apollo Galaxy Shoes Review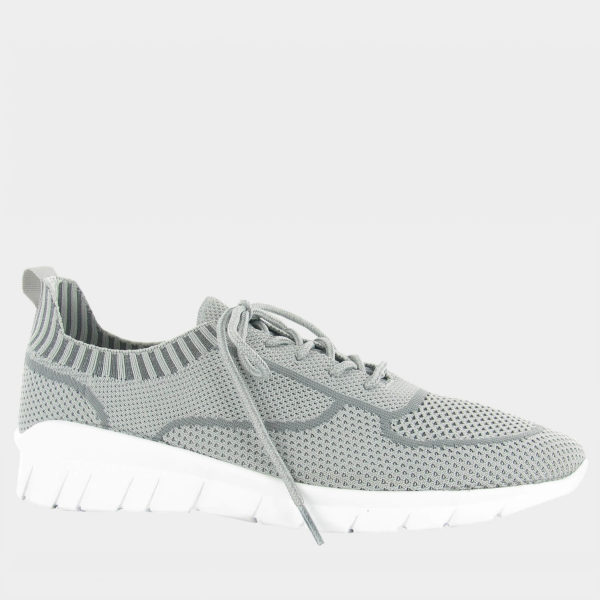 It should come as no surprise that working out does the body good. However, not all gym shoes are built the same. Quality and durability are critical when it comes to buying shoes that you'll be running, hopping, skipping, and squatting in.
The Naot Apollo Galaxy Shoes make for a great pair of trainers you can stash in your gym bag. These versatile sneakers come in a light knit gray or black knit which matches virtually any outfit. Plus, they're slip-resistant and orthotic friendly, which is perfect for those who need that extra bit of help.
Like their female counterpart, these kicks are completely vegan, coming with a removable cork and latex insole to pamper your hard-working feet. For those who are constantly up and moving, a lightweight pair of shoes that offer much-needed support throughout the day is vital.
These sneakers retail for $160 and come in sizes US Men's 7-14.
Naot Executive General Boots Review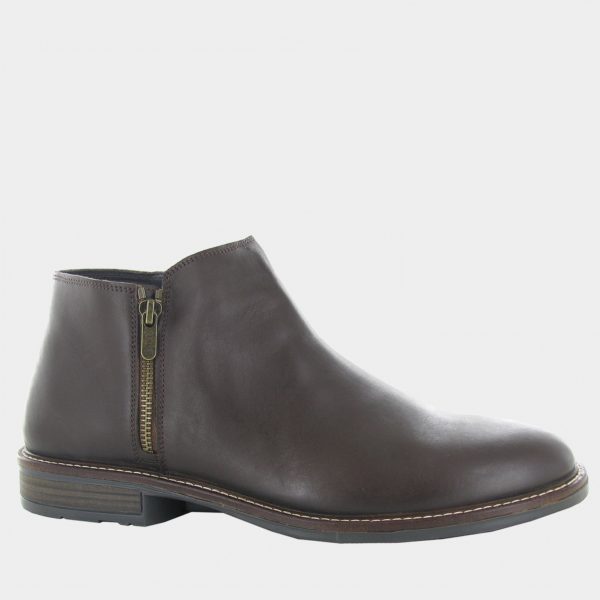 Ankle boots are a wardrobe staple for women and men because they can help you transition between the seasons and are adaptable enough to be worn on many occasions — a first date, dinner party, or to your 9-5. These Naot Executive General Boots are a dapper choice for a casual or formal affair.
These timeless shoes are available in brown or black leather. This Naot shoes review recommends pairing them with a pair of jeans and a leather jacket, but they're truly versatile enough to wear with anything. You'll want to keep these boots for as long as possible!
Like many Naot shoes, these boots are slip-resistant and orthotic friendly. Regardless of your daily step count, you can wear these boots all day without the negative side effects that come with low-quality footwear.
The Naot Executive General Boots are 3.5" in height and only come in medium-width. These boots retail for $220 and come in US men's sizes 7-14.
Naot Santa Barbara Sandals Review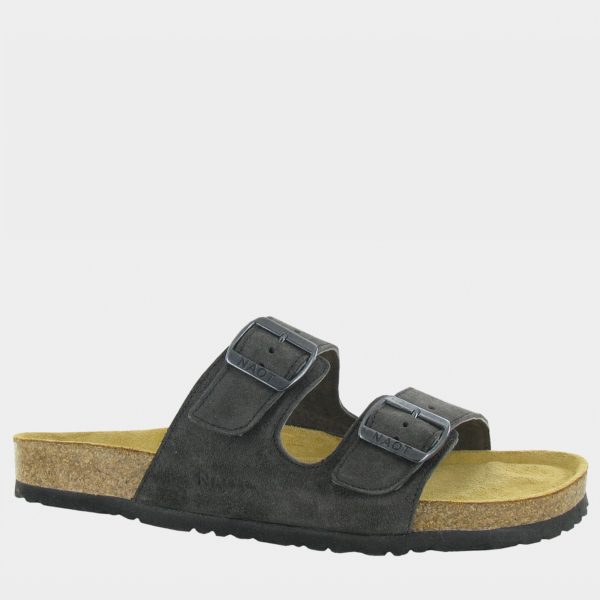 There's nothing easier than slipping on a pair of slides in the summer. Unfortunately, many slides on the market can wreak havoc on your feet and offer little to no support. No, thank you! Whether you're hosting a backyard BBQ or heading to a pool party, you want something that will be effortless yet can handle anything you throw at them.
However, the Naot Barbara Sandals have a cork and latex footbed covered in suede that will make you feel like you're walking on a cloud. These Naot sandals come in three different shades, including midnight blue suede, soft black leather, and buffalo leather. They retail for $140 and are available in US men's sizes 7-16.
Who Is Naot For?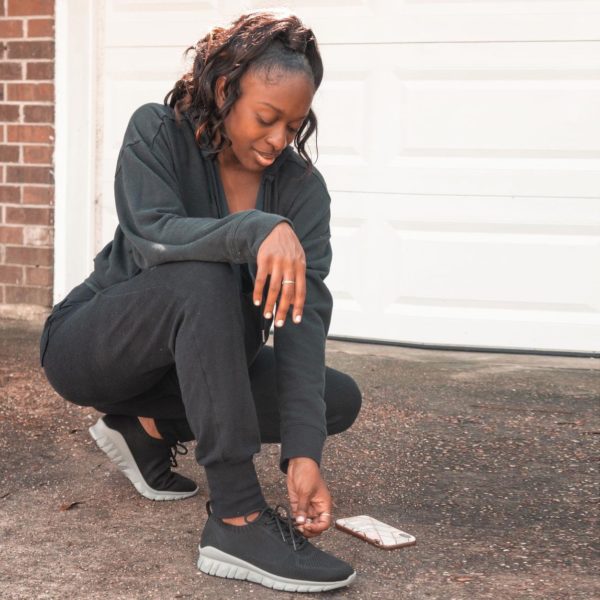 Naot shoes are for anyone who wants to invest in high-quality footwear that can last you quite some time. Since the prices of the brand's shoes reflect its quality, these products may not be suitable for those who are on a tight budget.
The brand is passionate about producing ethically sourced and sustainable footwear making its shoes ideal for those who are more on the eco-conscious side.
This Naot shoes review also recommends the brand for people who have orthotics or back pain as their shoes are built to be supportive. And if you prefer vegan shoes, you'll find a section dedicated to that on the site.
Naot Reviews: What Do Customers Think?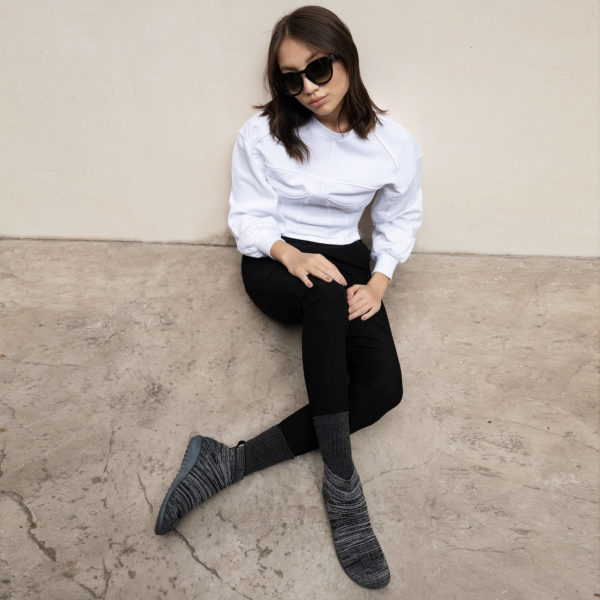 This Naot shoes review combed the internet to find out what customers had to say about the brand's shoes. Since the company's website did not provide an adequate amount of product reviews, we looked to third-party retailers such as Zappos, Amazon, and Simon Shoes to get all the deets.
Before we examine what customers have to say about specific products, let's go over a breakdown of the best-selling products we mentioned above from Zappos:
Naot Apollo Galaxy Sneaker: 5/5 stars from 2 ratings
Naot Prima Bella Brava Heels: 4/5 stars from 16 ratings
Naot Santa Barbara Sandals: 4/5 stars from 21 ratings
Naot Executive General Boots: 4/5 stars from 5 ratings
Let's begin with what reviewers have to say about the Naot Prima Bella Brava Heels. Out of 16 reviews on Zappos and a 4/5 star rating, many reviewers comment on the versatility and comfort of these heels.
One 5-star reviewer says, "Purchased the Brava and Luna and decided to keep the Brava. I've had foot surgery, and the Brava felt like a glove when I tried it on. Plan to wear this shoe with business attire and evening wear." 
People on Amazon seem to favor Naot Santa Barbara sandals as well. Out of 50 global ratings, the brand has a 4.3/5 star rating: "Immediately comfortable, and will only become more so with time. I love these sandals, and wear them almost nonstop in the summer. They're almost the same as Birkenstocks' Arizonas, but I favor Naot, I have actually visited their kibbutz in Israel." 
And out of 5 reviews on Simon Shoes along with a rating of 5/5 stars, customers remarked on the comfort and quality of their Naot Santa Barbara sandals: "I definitely have to say these Naot's are very comfortable straight from the box, and are worth every penny." 
Overall, Naot customer reviews are scarce, and most people tend to report only good things about the brand. This Naot shoes review only came across a few minor complaints from customers which is impressive!
Is Naot Worth It?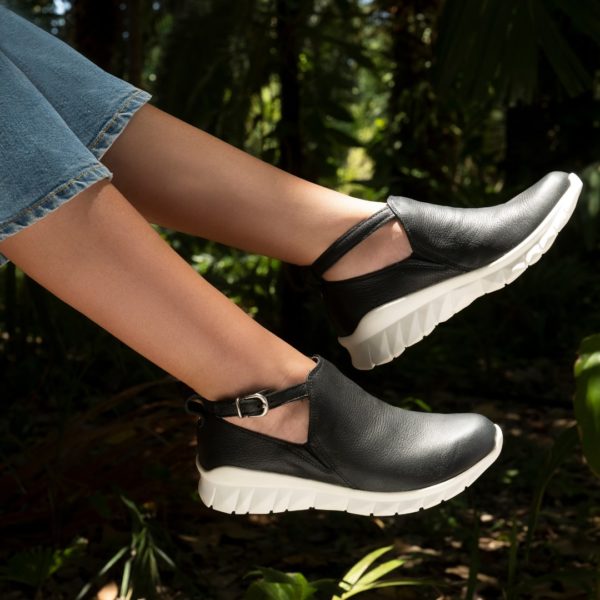 It's safe to say that this Naot shoes review recommends the brand. The company has strong values including inclusivity, human rights, and environmentalism. They treat every product they make with care and precision, providing their customers with comfortable shoes.
Even if the price is high compared to other companies, the quality makes up for it. Shoes from this brand are designed to last which makes them a sustainable choice and worth the buy. The company also stands behind their sustainability values, encouraging repairs at places near you (found through a link on their site).
This brand started small and although it has grown, it's clear that its original principles remain intact. They are transparent about how their products are made and who makes them, as well as making sure all of their employees are paid a living wage.
On top of that, Naot donates around 15,000 shoes to charities every year. They take pride in giving back to their community which is very wholesome.