Naot shoes can stand up on any list of supportive, comfortable stylish shoes for women. But some people are not as familiar with this comfort brand. Here's more on Naot shoes, including a look at some of the styles we love and that women with foot problems swear by.
Naot is an Israeli brand that gets rave reviews for the unique footbed that is offered in each style. If you've not heard of this shoemaker we can tell you they are the leading manufacturer and exporter of shoes in Israel. They have 80 branches in countries around the world.
We should add their beautiful shoes are on the pricier side…most Naots cost more than $150. But owners say they wear them day-in and day-out all year long, sometimes adding tights to the mix.
Naot Shoes feature…
Now more on that footbed: Naot insoles are an anatomic combination of latex and cork designed to mold to the shape of the bottom of your feet.  According to the manufacturer, "The footbed is a 'negative' print of the foot, just like the footprint you leave while walking in the sand."
This material molds to your foot and helps provide stability, support (even arch support) and helps properly distribute weight around your foot. All this can help reduce and may even prevent certain foot problems in us gals who want shoes that are supportive but still cute.
The special footbeds are covered in suede while the upper parts of their shoe are made from Italian leather. All this construction combines to create a pretty amazing footwear experience. According to many wearers, it is rare to find a brand that is so orthotic-friendly but usually doesn't actually need an orthotic when you wear them.
The front- and midfoot straps on many styles allow a more customized fit over and around foot problems and also help increase stability.
Naot shoes also come with a supportive heel area. This means a heel cup that sits around the bottom edge of your heel which provides the support that foot experts say is so important in shoes. Some closed heel sandal styles such as the Naot Papaki may be a good option if you decide you still need to slip in a custom orthotic or slim-profile insole. This is great news for gals who dread sandal season. For those of us who need orthotics, it can be difficult to find open, summery shoe styles that still allow orthotic support inside. That deep heel cup also adds to arch support and stability which can also help with posture. Check out Naot's complete collection of orthotic-friendly footwear here.
The arch support, heel cushioning and shock absorbing outsoles can be helpful for plantar fasciitis.  Experts say the sharp pain of Plantar fasciitis in your heels occurs when you develop tiny tears in the thick rubber-band like tissue that runs from your heel to your toes.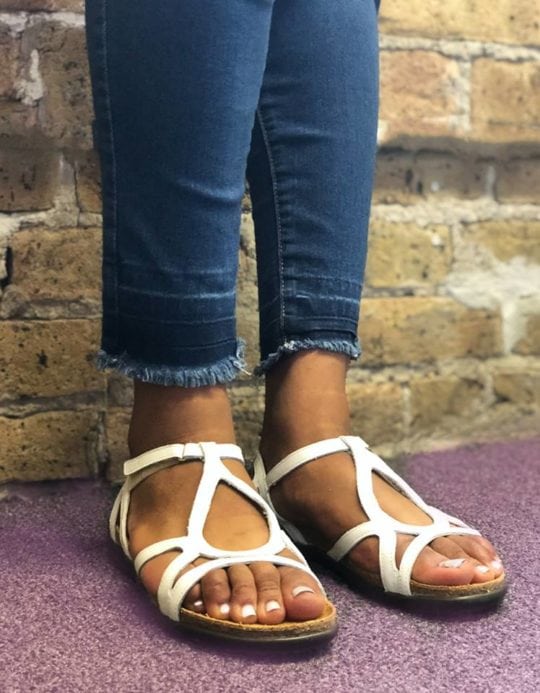 For some reason in PF these tiny tears in this tissue don't heal. Supportive shoes with arch support and a slightly raised heel may reduce stress on the tissue and ease the pain of PF. And, we're happy to say many styles from Naot are a far cry from the rocker sole clogs you may think you'll be stuck wearing forever when you talk to many podiatrists. For more on PF check out our guide. And check out the Naots in our Best Shoes for Plantar Fasciitis post.
Naot also makes their shoes with built-in big toe support. This can be helpful for ladies who are dealing with the stiff painful toes of hallux ridigus/limitus. When that joint between the big toe and your foot is having issues, each step can be difficult. Its important to look for stiff soles in that spot to reduce the bend required in your toes as you step.
That's a bit on how Naot shoes may help us gals with problem feet.
Naot sizing guide
As for fit, in general Naot shoes and sandals tend to fit narrower and medium width feet the best. This is great news for gals with less wide feet who still need stylish shoes for feet problems like bunions. In fact, as one blogger noted recently, Naot has hundred of style and color combos available and all but a few are offered in narrow widths! And they come in tiny sizes too going down to a ladies size 4.
Naot's are sold in Europeon sizes. Here is a size conversion guide from their website to help you:
Naot Womens Shoe Size Conversion
Chart (Euro/ U.S.)
35 (4-4.5)
36 (5-5.5)
37 (6-6.5)
38 (7-7.5)
39 (8-8.5)
40 (9-9.5)
41 (10-10.5)
42 (11-11.5)
43 (12-12.5)
44 (13-13.5)
If you're curious about how Naot puts together their shoes, the company even has a video to show you the process of creating their comfortable footwear.
Some of our favorite Naot shoes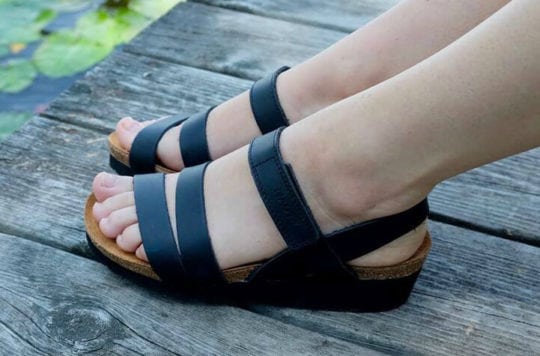 We've been including Naot shoes in our reviews since the early days of barkingdogshoes.com because of their supportive style and how readers tell us this brand has helped their feet problems. So here are a few of our favorite Naot styles and some new ones to consider as well.
We'd be remiss not to start with the Naot Kayla. This is their top selling sandal and the style is 16 going on 17 in its years of gracing women's feet. As we said in a recent review: "The Naot Kayla shows off a great pedicure while obscuring a bunion. Its lack of sparkly studs…and clean lines make it a versatile sandal for everyday wear." The Kayla comes in 15 colors. Its 1 1/2 inch wedge sole and supportive footbed and heal cup can be helpful for plantar fasciitis. A sandal like the Kayla may also be helpful for gals with Morton's Neuroma, which can show up as if you have a pebble in your shoe and progress to quite a painful problem. Our readers swear by shoes like the Kayla for helping that irritated nerve heal. The Naot Kayla comes in wide widths too!
For many of us who follow shoes, Naot used to be synonymous with Birkenstocks – two straps with a cork footbed. But today this brand has lots more style to offer footwear fashionistas who find they need support too. You might say this shoe brand covers orthopedic insides with stylish outsides. Consider styles like trendy Gillie laces sandals and other dress sandals such as the Favorite.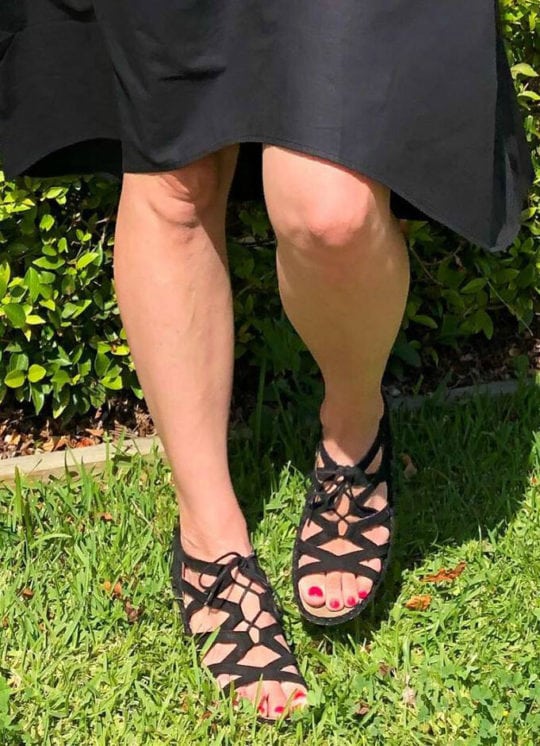 Got bunions? We're na-ot kidding, this brand has shoes that can work for your feet. As we shared in our recent Best Shoes Styles from 5 Comfort Brands post, the Naot Matai is sort of a typical Mary Jane style with an edge. It has soft leather uppers, a wide toe box and best of all for us gals with bunions, a vamp that crosses below bunions. (In case you don't know the 'vamp' is where the top of your shoe style ends on the top of your foot.)
You can throw on socks and tights to make Naot shoes work year round, but the brand offers boots too. Their cooler weather lines come with that same anatomical footbed that is removable. Although some users say this brand is the only one they can wear without their orthotics – something to consider when shopping. Here are a few of the Naot boot styles we love.
Ankle boots that are hand sewn with removable footbeds. Check out our review of the Boreas.
There are also tall boots like the Shamal- featured in our guide to orthotic friendly boots.
And cool styles like the Surge freatured in our post on Hallux Limitus shoes without the orthopedic look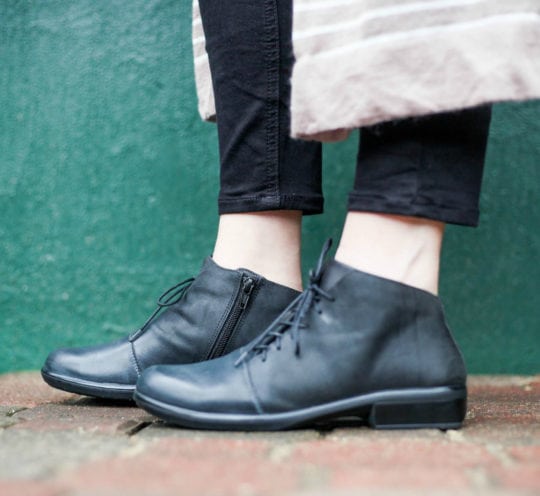 As you can see Naot (which means "Oasis") belongs among our go-to comfort brands for gals with feet problems. We're happy to see this established brand continue to innovate with trendy styles that still maintain the special footbed and offer support that women with problem feet need to keep stepping.
Contact us:
Do you have a style in the Naot line that you love or that has helped your feet? We'd love to hear about it. Do you have a question about the Naot brand or one of their styles in particular? We'd love to hear from you. We also invite you to join our active Facebook community.