Weebly is a good option if you want to build a website for free thanks to its generous free plan. However, it's more outdated than a lot of other platforms, with limited customization and few of the tools necessary for long-term growth. That said, it's good for beginners, providing step-by-step guidance, particularly for SEO.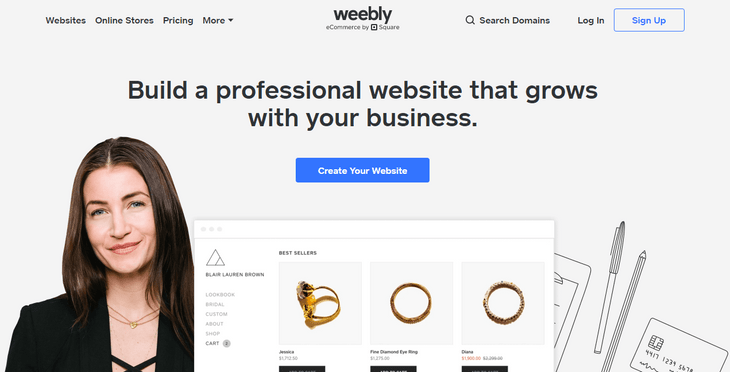 Overview of Weebly

Overall, Weebly scored 4 out of 5, placing in fourth position behind Wix, Squarespace, and GoDaddy. Weebly's standout strength is its value for money – it came top in this category with full marks thanks to its free plan and its selection of affordable premium packages.
Scoring 3.5 out of 5 for its features, it's safe to say that although Weebly isn't the best of the bunch, it does cover all the basics and it has an impressive app store. This makes it perfect if you're just starting out. We particularly like the way it eases users into Search Engine Optimization (SEO), providing in-depth knowledge guides and tips to help you get your head around it.
However, where once we might have recommended this website builder for new businesses, our latest research shows it's not your best choice. It no longer offers a high enough standard of tools to promote good growth and scalability in comparison to the competition. Instead, it's better suited for websites that want to stay small.
Back in 2018, the platform was acquired by payment company Square. Initially, this meant that Weebly adopted a stronger ecommerce focus, however in the past years, these developments have stagnated.
This is not to say that Weebly is a bad choice for ecommerce. It's one of the only builders that allows you to sell for free. However, if you are planning to start an online store, it would make more sense to head straight to Square Online, which is a purpose-made ecommerce solution
One of the good things about Weebly is that it caters to users of all abilities. Its drag-and-drop editor is pretty basic, but it's designed so that anyone can build a Weebly website once you've got a grip on the basics.
It might not be the most flashy or modern of builders, but Weebly has everything you need to create functional websites without spending too much time or money. Compared to its competition, Weebly is outdated in some areas, but it gets the job done and is a favorite of those who aren't particularly tech-savvy.
Who Is Weebly Best For?
Weebly is best for small businesses who want to stay small. As far as website builders go, it's pretty basic, but the advantage of this is that you can get your site up and running in no time. It also comes with a great app store, meaning you can add extra tools to your site as and when you need them.
It's also a good choice for personal websites such as blogs or CVs. Its simple themes make the ideal backdrop for your writing or various achievements. It also allows multiple user profiles, blog-specific SEO, comments, and social sharing.
We don't recommend Weebly if you want a lot of customization control over your website. Because of the structure of its editor, Weebly is limited here. Wix provides tons more creative freedom, and Squarespace's designs are much more professional. The chances are, you'll find Weebly limiting if you're after anything too advanced, or scalable for that matter.
Weebly's ecommerce functionality is actually powered by popular online store builder Square Online. In fact, if you are wanting to sell products online, we'd encourage you to go directly to Square Online from the start, as this is where Weebly will redirect you if you say you want to build an ecommerce site.
In our Weebly review, we'll be walking you through each of the areas we tested – including Weebly's ease of use, designs, pricing, and features – to help you decide if it's the right website builder for you!
Weebly Video Review
In a rush? If you don't want to sit and read this whole review, we get it (it is pretty long!) Instead, you can watch as we talk you through Weebly's features, pricing, ease of use, design, and more. Sit back and relax as we show you what Weebly is all about, and if it's right for you
Is Weebly Easy to Use?
Quick Look: Yes, but it's a bit complicated. Weebly is easy to use in the sense that instead of dealing with abstract lines of code, you drag actual images, text boxes, buttons, and more around your page until you're happy. However, there are limits to where you can move things, and you are somewhat restricted by the structure of the theme you choose.
For this reason, Weebly scored 3.4 out of 5 in our ease of use testing. It's not quite as easy to use as Weebly's top competitor Wix, due to frustrations over limited customization. But for beginners looking for an easy start, Weebly isn't a bad choice.
Weebly is a "what you see is what you get" website builder, meaning you build your page exactly as you'd see it online. No skipping between a backend and a front-end, or having to edit raw code just to move an image.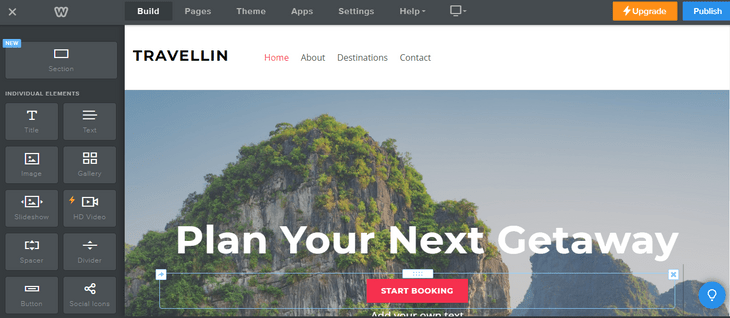 With Weebly's drag-and-drop editor, you simply use your mouse to move elements such as text boxes, forms, buttons, and images around your page. This makes building your website super easy – if you've ever made a Powerpoint presentation, you can build a Weebly website!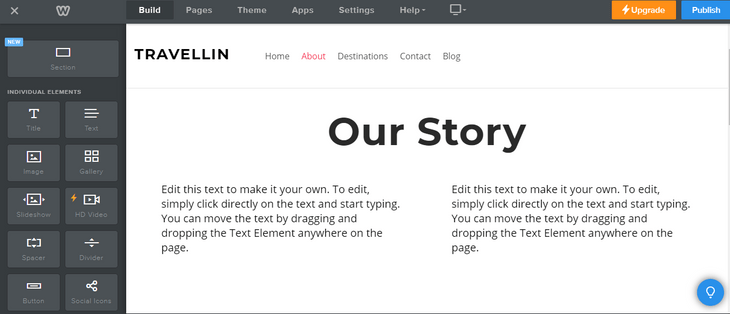 That said, Weebly couldn't quite keep up with Wix in our ease of use testing. Since its purchase by Square Online, the Weebly editor seems to have been somewhat neglected. This means that where other website builders have been working hard to update their interfaces and make them even simpler, Weebly has stagnated.
It's still easier to use than others but most website builders on the market use this drag-and-drop technology, so what really sets them apart is how intuitive each builder's editor is.
In the end, Weebly only scored 3.4 out of 5 in our ease of use testing. It's beginner-friendly and straightforward, but it could be easier still and it would benefit from a bit of developer attention.
Another area Weebly fell down in during our ease of use testing was in its customizability. People found the basics on Weebly super simple – but when it came to making their website look exactly how they wanted, they ran into difficulty. We'll go into more detail on this in the themes section of this Weebly review!
On the whole, though, Weebly is a straightforward and uncomplicated builder. Once you've learned your way around, you'll be creating websites quickly and easily – especially if you don't need to push the boundaries of Weebly's templates too far.
Customer Satisfaction
Okay, so we keep talking about our user testing and research – we're pretty proud of it, because we go the extra mile compared to a lot of other reviews sites. But what exactly did our users have to say about Weebly? 
Like its fairly average ease of use score, our users found Weebly to be slightly underwhelming. It received a customer score of 3.6 out of 5, placing it towards the bottom of the scale for this category.
Here are just some of the things people said after using Weebly for themselves – both the good and the bad!
The one thing we can't tell you about Weebly is whether or not you'll enjoy using it for yourself – that depends on your own preferences. The only way to find out is to try it out yourself. You can do this at any time by jumping on Weebly's free plan – you don't even need payment details, just an email, to sign up.
What Kind of Website Can You Make With Weebly?
Weebly has a huge app store, and like many website builders out there, it also comes with a ton of built-in features to help you build the website of your dreams. However, Weebly also has strengths and weaknesses that make it a better fit for some users than others. Let's take a look at who Weebly is best for, to help you make the right decision.
Business
Business websites are right at home with Weebly – in fact, businesses are Weebly's main target audience. Visit Weebly's website, and you'll see a lot of messaging focused on helping businesses get started, grow online, find customers, and sell products.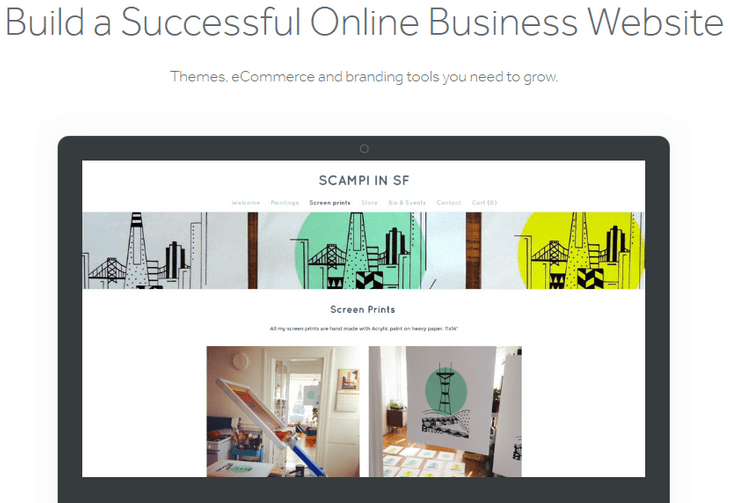 There's a reason for this, namely that Weebly's features are all tailored towards building an online business presence: 
Business-specific themes
Strong SEO tools and support
Ecommerce tools on all plans (yep, even the free plan!)
Marketing tools such as blogging and newsletters
Analytics to provide insights on your performance and visitor interactions
Weebly also has seamless integrations with Square's payment suite – making it easier than ever for pop-up shops, brick and mortar stores, and ecommerce websites to start selling online.
However, our research found that Weebly is no longer top choice for business scalability. It lacks the tools to really help your business grow, partly down to the fact that, as we mentioned earlier, much of Square's attention remains fixed on its ecommerce platform rather than on Weebly. As a result, Weebly has fallen behind the majority of its competitors, with its features scoring 3.5 out of 5.
So, what does this mean? Well, don't write Weebly off just yet. If you're looking for a small business website that acts as a point of information for your clients, it'll do exactly what you need it to. As long as you're looking to stay small, Weebly is a perfect small business builder.
Find Out More
Discover How to Build a Business Website in five easy steps
Check out the Best Small Business Website Builders to see how Weebly compares to its rivals (spoiler: it places in the top three!)
Ecommerce
Many of Weebly's business features plus its integration with Square Online also make it a sensible choice for small online stores. Strong SEO and marketing tools are still vital, and your theme will be optimized for ecommerce.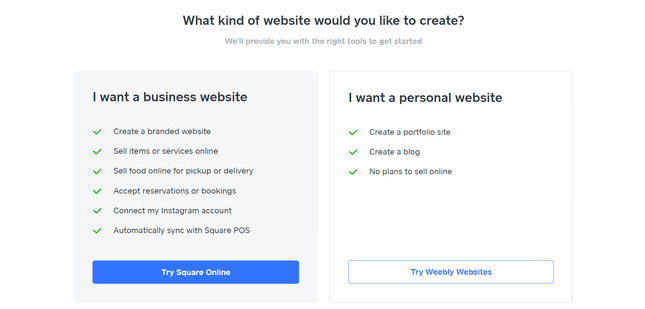 When you create your account, you'll be prompted to select the kind of website you want to build. If you want to sell online, you'll be directed to try Square Online rather than Weebly, although you can still add ecommerce functions to your Weebly site.
However, given that Square Online is a purpose-made ecommerce platform, it's the smarter choice between the two. Overall, Weebly's ecommerce offerings lack the depth needed to create a successful and scalable online store. If you want a custom-branded storefront, you're better off with Wix or Shopify.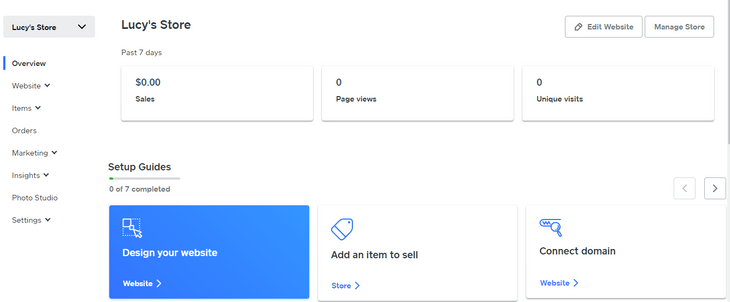 This being said, one of the biggest perks for new sellers in the US is that Weebly is one of the only builders we've reviewed that lets you sell for free. Historically, this has been its biggest selling point in the ecommerce world. Although, it is slightly less impressive when you consider that Square Online also provides a free plan with a much more impressive suite of sales tools.
Find Out More
If you want to sell online, read our Weebly Ecommerce Review to help decide if Weebly is right for your business
Check out our guide on How to Build an Online Store for top tips on creating a successful ecommerce site
Read our Square Online Review for an insight into how it works and if it's a better fit for you than Weebly.
Find the best builder for your store in our Best Online Store Builders Comparison Chart 
Personal and Portfolio
Weebly has a lot to offer personal projects, too. Although Weebly's designs aren't the most flashy on the market, they are clean, simple, and stylish – perfect for creating a website without hassle or headaches.
Good to know… If you want a truly stunning website, or a professional portfolio, Squarespace is a better fit – it's the best website builder for portfolios that we've tested, with award-winning designs and impressive features. In comparison, Weebly is a more affordable option for personal portfolios.
Here just some of the features that make Weebly a popular choice for personal and portfolio sites:
Built-in image editor 
Parallax and reveal animation effects 
Custom fonts
Video backgrounds
Newsletters
Social media marketing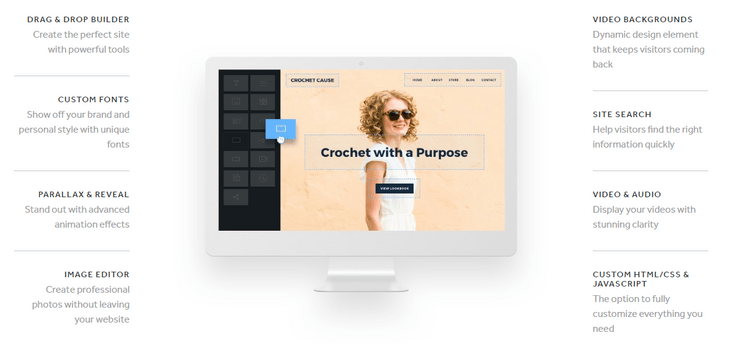 Weebly is best if you want to focus on your work, rather than on perfecting your site's design. If you want creative freedom then you're better off with Wix or Squarespace, but overall, Weebly is a solid choice for personal websites.
Find Out More
Which are the Best Portfolio Website Builders? Find out in our helpful review!
Check out our guide on How to Make a Resume Online for tips on getting started
Squarespace beats Weebly when it comes to creating a truly impressive portfolio. Find out why in our full Squarespace Review
Blogging
When it comes to blogging, Weebly has always been a long-standing favorite. Its list of blogging features have always been rock solid, scoring it a respectable 4.1 out of 5 for blogging in our research!
Whether you're looking to start a blogging website, or you just want to run a small blog alongside your store or business, Weebly has an awesome set of blogging tools to keep you and your readers happy. These include:
Blog-specific themes
RSS and social sharing features automatically built-in
Scheduled sharing across Facebook and Twitter
Media integrations in your blog dashboard and app store
Category, tag, and sidebar customizations
Advanced comment management

You also get strong blog SEO options, such as adding custom header and footer code to your pages, as well as custom URLs, title tags, and meta descriptions. Weebly makes it easy to create attractive but powerful blog content, and then share it with your readers.
Find Out More
Discover the Best Blogging Platforms to make sure you choose the best builder for your blog
Read our Squarespace Review to find out why it's the best blogging platform on the web
Scalability
Is Weebly scalable? In short, not really. Although it comes with tools for small growth, it's not built to support rapidly growing and expanding websites.  This isn't helped by the fact that the platform hasn't seen much innovation in recent years. You'll start off small… and you won't really be able to go anywhere from there.
We also wouldn't say Weebly is ideal for very large online stores. If you're serious about selling online, then a dedicated ecommerce builder like Shopify or BigCommerce is a better fit. Or, if you want a platform that still comes with all the website features Weebly has and more, take a look at Wix.
How Good Are Weebly's Themes?
Quick Look: Weebly's themes are its biggest weakness. Although they're by no means bad, they also aren't winning any prizes either. They tick the box for clean and simple, but unfortunately, they're also pretty outdated. Weebly's editor is also quite restrictive, meaning that you won't be able to customize them as much as you might want. On the plus side, you can switch themes whenever you want, and if aesthetics and customizability aren't top priorities, Weebly is a good fit.
Weebly doesn't have the biggest range of themes – there are around 50 to choose from in total – but the ones it does have aren't the most spectacular. They aren't bad and you can switch templates at any time– but they equally can't compare to those offered by the likes of Wix and Squarespace.
The good thing is that they come in a range of styles, although they do favor grid layouts and full-screen image backgrounds. This makes for quite a pleasing look on desktops, but things start to go a little wrong when you move to a mobile device.
Unfortunately, despite their claims, Weebly's templates aren't mobile responsive. Its designs don't translate well to smaller screens, and very often, the formatting is completely wrong. This is disappointing considering that mobile accounts for around half of web traffic worldwide, and plays a large role in Google rankings!
This is just one of the reasons that design emerged as Weebly's weakest area in our research. It scored a very disappointing 2.5 out of 5, which is a 36% decrease from its pre-2021 score. Once again, this shows Weebly's lack of development and innovation in recent years, leaving it trailing behind other platforms that have moved with the times.
Weebly's themes are split into categories to help you find the best design for your site. You can get an overview of these categories and their themes below, or read on to find out how customizable Weebly's themes are.
How Customizable Are Weebly's Themes?
Despite being pretty underwhelming, Weebly's themes tick most of the basic boxes – they look okay, they're all free, and there's a variety of different designs to choose from. You can even switch themes at any time. There's one more important box left to check off, though, and that's customizability.
You want to make your website unique and stand out from the crowd – you might even want to change the design of your theme to do this. This is where Weebly makes it super easy to edit your website, but offers less creative freedom than other builders, such as Wix.
Weebly's themes are more structured – you can't simply drag anything anywhere you like. This is a positive if you're nervous about designing your site, because it acts as a guide for your page layout. But, if you want total control over your website, Wix is a better choice. Weebly's structured themes may become frustrating as you try to customize your site exactly how you want.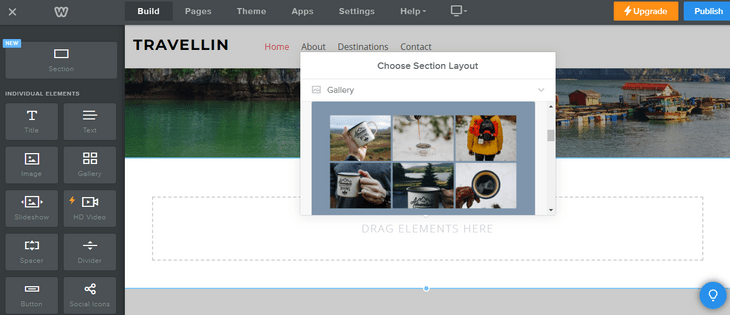 If you're after total creative control, then Weebly's structured themes may become frustrating as you try to customize your site exactly how you want.
For example, when changing your color scheme, you only have a few color options to choose from in the sidebar, and it only applies to areas such as buttons and menus: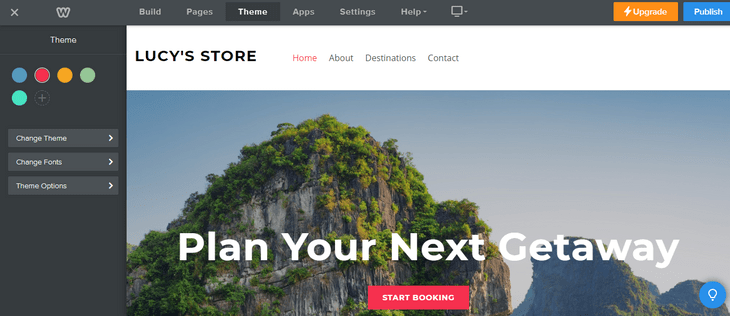 You can manually edit the color of other blocks, but not buttons – this can take a while to get used to, but it's intended to help create a more consistent design across your website. 
There are, of course, good sides to Weebly's design process, such as the fact that it's easy to add new elements from the side bar. Plus, if you're feeling confident, you can even input your own code to edit your theme.
Unfortunately, these positives aren't enough to outweigh the fact that lots of our users found the design process to be frustrating and at times, a bit clunky because of the template restrictions. This, paired with its outdated designs and lack of mobile optimization, makes Weebly one of our worst-rated builders for design functionalities.