Introduction to StackPath
StackPath is one of the newest entrants into a fast growing market in content distribution networks (CDN). How fast growing? From US$7.5 billion in 2017 to US$30.9 billion in 2022 or over 30% per year. This explains part of why the company has been able to gain $180 million in quick funding. Another part would be that the company is founded by the extremely successful Lance Crosby.
Stackpath was founded back in 2015 but in January 2018 reached a $200 million annual revenue rate. Growth has been quick in part because of five acquisitions between April 2016 and February 2018. The acquisitions covered established businesses in security, virtual private networking (VPN) and CDN where they've been able to bring existing customers across.
Although they haven't completely integrated the businesses yet, they continue to make ongoing progress towards a single platform.
Pricing
Where StackPath excels is their attractive pricing structure, especially given they are a CDN with integrated security features. They use a flat subscription base with gradual uplifts on usage. Unlike many alternatives, this pricing doesn't vary with the location making the per GB rates extremely competitive. These rates are particularly attractive for websites which may serve customers outside the US. Below are the different packages but refer to the features to see their standard features.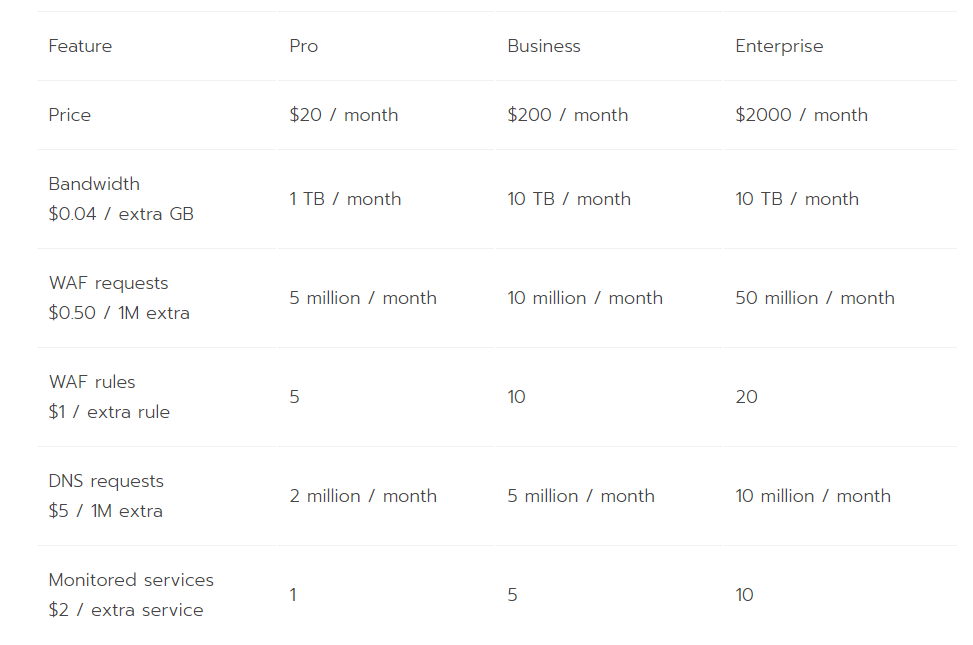 Their additional DNS costs are the only element on the high side, the rest are extremely competitive. If you need an alternative DNS, DNS Made Easy performs extremely well at lower prices and with additional features. For a free alternative Cloudflare is excellent.
There are two other notes that make their plans particularly attractive. First, unlike many other security services, they allow support for multiple websites. People will say so what, I only have one but at their prices the flexibility is attractive. Perhaps you'll just use it for a test website.
Features
Firstly, lets start with the positive. Unlike many services there's no variation in basic features with price. The only difference with price is capacity. All the basic features like WAF functionality, analytics, SSL support are consistent across the board. This is a refreshing change given that most competitors restrict the offering based on price. This means a startup can have the same protection as a large enterprise, which when it comes to security is the way it should be.
Furthermore, as seen in the map below, their CDN covers 45 locations around the world. While this isn't the breadth of Cloudflare or some competitors, it is broad enough that they have good coverage of critical western countries. They could do more in areas such as China, India, Russia and the Middle East, however.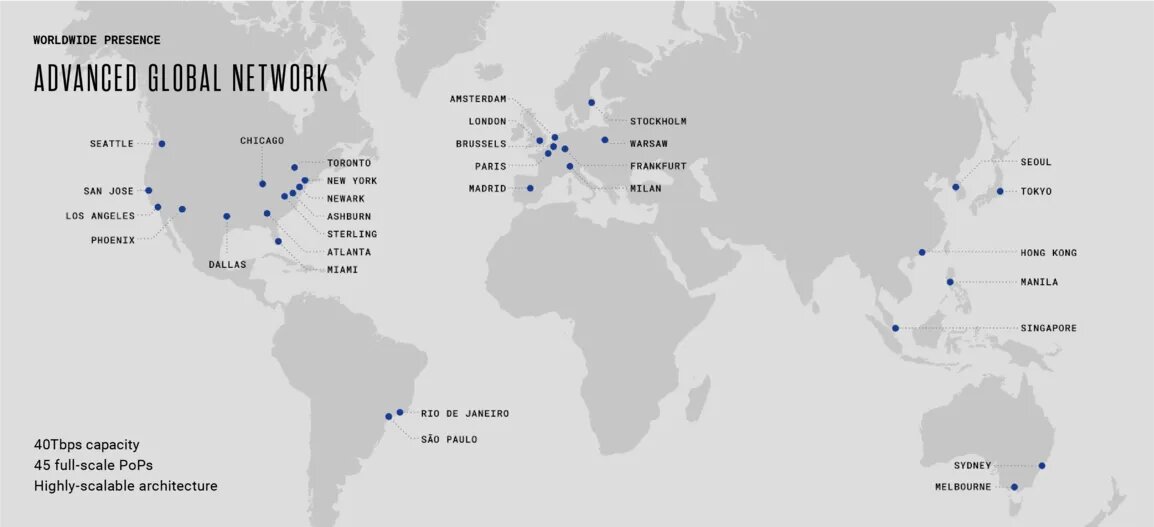 StackPath provides a competitive group of features including:
DDoS protection – To protect your site from excessive traffic aimed at bringing it offline.
StackPath includes network and application protection.
Web application firewall – To protect your site against the main online threats
Site acceleration through CDN
Real-time reporting
Free Lets Encrypt edge certificate. Alternatively, if you want a longer term certificate to load onto your server as well, you can arrange your own. Thankfully, Namecheap, who we use, offers certificates starting at just US$9 per year.
Missing features
While most of the features are excellent, there are a few technologies they don't yet support that are notable. Note the following is not a complete list, just those I noticed.
Brotli compression – You may not have heard of this, but on this site, we find it reduces the page size by around 10%. While that may not seem like much, for high traffic websites it can add up. Also, all current web browsers support it, and it makes up 83% of global web traffic as at the time of writing this article.
IPv6 support – At this stage, only IP version 4 is supported by default. While this isn't a problem yet as only 18% of the internet's traffic is IPv6, traffic is increasing based on the current Google statistics.
Log timezones aren't customisable. Unfortunately, all logs will be set to UTC time instead of the time zone you'd like.
Thankfully one nice thing about StackPath is that it is very easy to provide feedback. There is also a public list of planned features that have been requested, which include Brotli.
Setup and ease of use
Sadly, the one area where StackPath has significant work still to do is in the ease of use. From the initial setup to general usage, there is a lot of work to do.
For larger businesses and companies with IT staff, the solution is excellent. However, the solution will take some education if IT skills are scarce. For instance, in the web application firewall (WAF), settings have no tooltips or help. People familiar with technology will understand, but this can make it easy to make errors during the setup that may block legitimate website traffic.
Secondly, compared to the checkbox system of some competitors, there's a lot of opportunity in the interface. While StackPath have made significant improvements in the new portal, there is significant opportunity to simplify still.
One benefit in their system is the levels of intervention. It doesn't need to be a simple block or allow. Instead, you can monitor, CAPTCHA or carry out an extended validation.
Their solution is functional but not user friendly. Even as an engineer I find it disappointing. Perhaps it wouldn't be as bad if their support documentation was excellent, but sadly even that is a bit lacking.
Reporting and logging
Thankfully there is one area which is very easy to use, the reporting and logging screens are good. Firstly, you are able to see traffic by location, but in addition to this you can see caching percentages and also your top 50 files. While there will be no surprise in the files for the top 50, it does show you an area to focus your optimisation.
Finally, their logging is very good. My only comment would be there is an opportunity to simplify the click through into the details but this is a minor gripe. Overall, the reporting ease is excellent.
Performance
This is the trickier part of the test. The performance will depend on a number of factors so I'm reluctant to give single values, even load times are highly dependent on web page design. Instead I will give a few key observations based on comparisons to other providers.
Content size – As mentioned previously StackPath doesn't support Brotli, this resulted in an average page size of 820kB versus 725kB w/ Brotli enabled. This may seem small, but it will also impact your page load speed, which can be particularly notable on mobile devices.
Caching performance – StackPath has really improved their default caching performance. Similar to Sucuri, they reach in excess of 50% fairly easily. This is a big improvement over the past.
Location – I found StackPath's performance to be of a par with CloudFlare. What I did find is their time to the first byte could be slow away from the server location, but the actual load performance was very fast. This meant where you were requesting a location close to your main server, load times were exceptional. Beyond that range, they could vary, although overall they were very good.
When I compared 5 locations to another CDN, StackPath was faster for Australia (significantly although this was the hosting location) and Europe, but very marginally slower into North America and Asia, which I believe was primarily due to lack of Brotli support. Ultimately, I found the performance good enough that this would not be the deciding factor for me.
Closing thoughts
I find StackPath an incredibly interesting offering. As the operator of multiple websites, I find the value for money extremely attractive. Developers who sell security options for client sites they maintain may want to consider StackPath for that reason alone given the strong feature set.
However, I was disappointed in the lack of support for newer technologies. While StackPath isn't as simple as Cloudflare or Sucuri, they are making significant improvements to their platform.
If you aren't sure which provider, try our comparison article of Sucuri, Cloudflare and StackPath first.