Introduction
This Teachable review will tell you everything you need to know about this unique online course platform.
What does Teachable have to offer that other online learning opportunities do not? The list goes on and on, but if you're looking for a learning management system that caters to instructors, this is the one. Teachable courses are easy to create and ideal for the average course creator looking to get his feet wet with offering online courses.
With unlimited courses to choose from and numerous pricing options, Teachable is the user-friendly platform you need to consider if you want to get started with online learning. In our Teachable platform review, we'll tell you everything you need to know.
What is Teachable?
Teachable was founded by Ankur Nagpal late in 2013. A graduate of UC Berkeley, Nagpal was in the process of teaching a course in marketing on another course platform. Growing increasingly frustrated with the course platform's limited accessibility, he decided he wanted to build something with a more profitable payment system and more customization tools.
He originally launched Teachable as Fedora before it evolved two years later as a widespread course platform to offer all kinds of courses, from baking to business analytics.
Today, Teachable is a course platform that doesn't necessarily offer its own classes but instead serves as an avenue for instructors to build and sell courses of their own. As of 2020, Teachable has welcomed more than 100,000 instructors who have created thousands of classes earning more than $500 million to date.
Features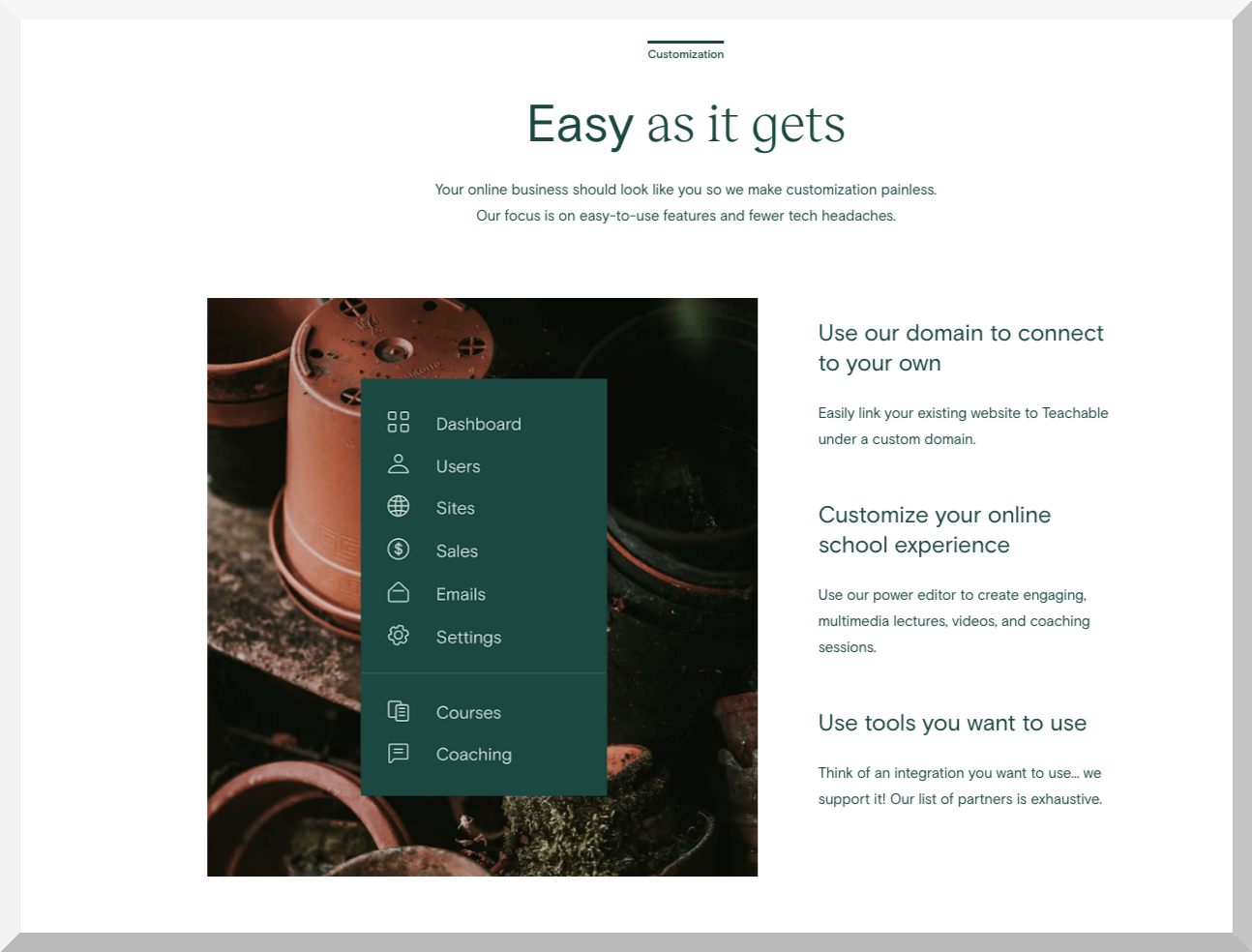 Cloud LMS Platform
Teachable is unique in that it is a cloud LMS (learning management system) platform. This means that it is a reliable solution for hosting so you don't have to worry about finding a host for your course. You also don't need to worry about managing a website. Everything is done for you by the platform.
Nor do you need to worry about installing software on your computer to get started. You can do everything fully online. After you sign up for a plan and log in, you can work on your course whenever you want.
Demo Options
With Teachable, you'll be able to try out the platform immediately by signing up for the free plan. You can get a full demo and create a fully functional course (and even offer it for sale, though the fees on a free plan can be astronomical).
Custom Domain
With Teachable, you can use their domain to connect to your own. It's easy to link to your existing website under a custom domain. You'll also be able to fully customize your learners' experience by using the power editor to develop engaging lectures, coaching sessions, and videos.
Data Tracking and Marketing Tools
Teachable makes it easy for you to keep track of your facts and figures. You can create gorgeous sales pages that drive traffic with a flexible page editor and keep track of sales and student insights alike with the platform's comprehensive dashboards.
Teachable offers plenty of ways for course creators to make a living – and you don't have to pay a fortune to sign up for Teachable, either. You can offer coupons and advanced pricing options like memberships, subscriptions, bundles, one-time payments and more. Plus, Teachable offers affiliate marketing tools that will help you (and others!) spread the news about your business and get paid in the process.
Teachable handles everything, from pixel support to affiliate payouts, so you don't have to worry about it. Plus, the platform accepts international payment in more than 130 currencies (and mobile and PayPal payment options so you can take your course on the road).
Interaction With Students
Teachable is one of the best platforms to consider if you want to be able to interact with your students. It's easy to build classes and milestones with built-in call hosting, task creation, and other features. You can even schedule and host using Calendly to help manage your intake, booking, learning, and other scheduling tasks.
Helpful Course Completion and Feedback Features
With Teachable, you can even engage your students with features that you'd likely include for other courses you create. You can offer course completion certificates and engage your students with quizzes. You'll be able to offer and include any kind of course compliance controls to ensure your students have mastered the content before they move on.
Not only that, but you can offer a superior level of customer service. You'll be able to use third-party forms and surveys to get student feedback and Teachable is also integrated with Zapier to allow you to take support up a notch with services like Zendesk, Intercom, Olark, and more.
Exceptional Security
When it comes to your business, you probably don't want anybody to affect how well it functions – and especially not somebody who wants to defraud you or otherwise compromise the safety and security of the courses you've created.
That's why Teachable offers some of the best safety and security policies to seamlessly protect the data that you are hosting. The company has 24/7 monitoring so you don't have to worry about outages along with instant upgrades so you don't have to wait for the latest features to come into play – or worse, risk missing out on them entirely.
Teachable has a 2048-bit SSL certificate to keep your students' information safe while they are logging in and checking out. The company only works with payment providers that are PCI level-1 compliant, too, so the data your students share will always be safe and secure.
User Learning Experience
There are plenty of good reasons to consider using Teachable when you're creating your online course and building your online business. While creating a class is certainly no walk in the park, there are several good reasons to consider Teachable as your course creator solution.
One of these is the extensive customer support you'll receive. Teachable has an easy to use system but if you struggle with any kind of question or technical issue along the way, you'll get the help you need from the team of professionals that work with the site-building tools.
You'll find that this service is far easier to use than many other site builders, allowing you to focus more on your course content rather than the ins and outs of the technology.
Once your course is set up, you won't have to do any kind of maintenance or modifications. Teachable will handle everything. Unlike other website builders, such as WordPress, there are no membership site plugins or ongoing maintenance that you'll need to worry about.
Because of this, Teachable is a great option for people who have next to no experience using content management systems, plugging in eCommerce capabilities, or creating and hosting webpages. If you don't want the headaches that go along with course creation, Teachable is the way to go.
Another awesome feature of Teachable that you will see echoed in far more than just one Teachable platform review is that it will allow you to reap the benefits of working with an affiliate program. You can enjoy all the perks of affiliate marketing tools without having to actively manage them. You can even get instant payouts within your course platform, since it can be integrated with PayPal or Stripe in most upgraded plans.
Customer Support
Another major benefit of using Teachable is its exceptional customer support, a feature that you'll see praised in just about every review of Teachable and its related perks.
For the most part, all customer service and support is done via email. You will often receive a link to a tutorial in response to a question, but the support staff here are incredibly responsive. Send a question, and you'll usually hear back in a day. The professionals are kind, helpful, and extremely knowledgeable.
The only downside of the customer support at Teachable is that there is no live chat feature or a phone number you can contact. The company does have a Facebook group you can join, though, where you can get help from other Teachable users and read other Teachable review sections.
Teachable Pricing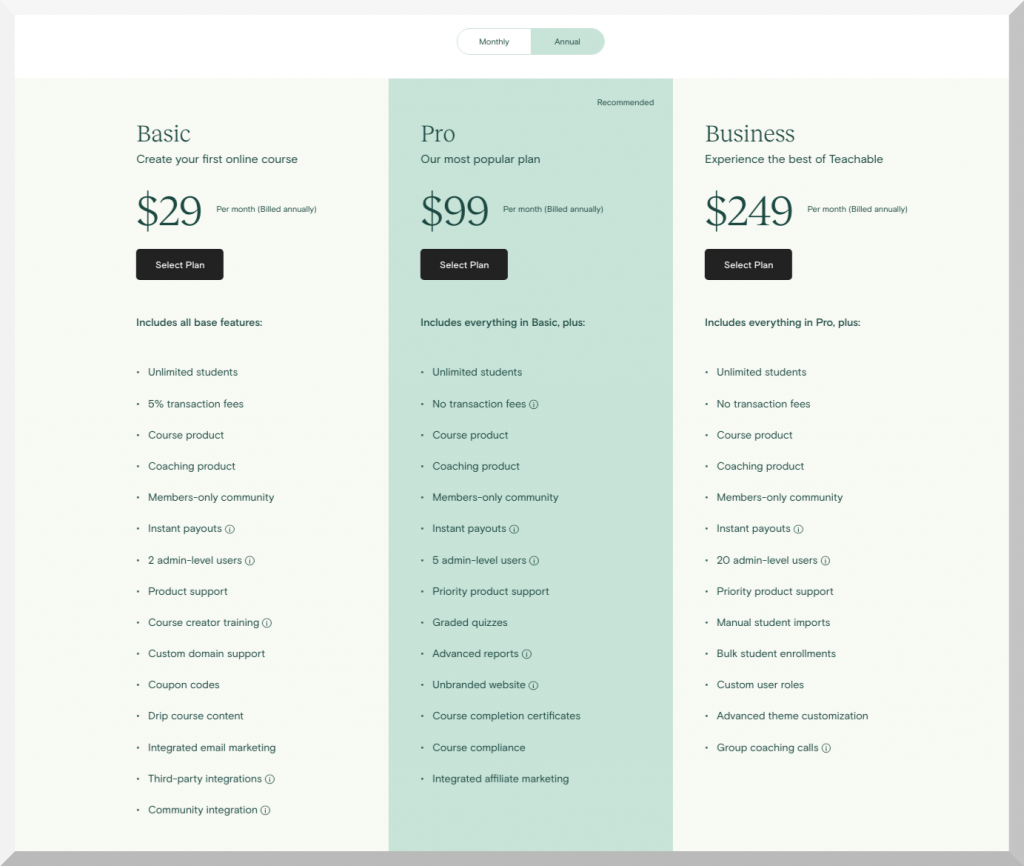 Teachable has several different payment plans, each of which varies in cost so that you can likely find an option that will fit well with your budget and needs.
First and foremost is the free plan. The free plan is a good option if you want to see what Teachable has to offer, but I wouldn't recommend it if you are planning on sticking around for the long haul.
However, you should be able to try everything you want to try and you can then upgrade to a paid plan later on. You'll pay a 10% transaction fee on any course sales along with a credit card fee of 2.9% of the course's price and an additional 30 cents on top of that.
The next step up in the pricing plans is the basic payment plan. At $29 a month, this is a good option for beginners. You'll be able to get everything imaginable through the platform, including unlimited videos, unlimited students, and automated signups. On this plan, you'll pay the monthly fee along with 5% transaction fees and a credit card processing fee of 2.9% of the total course price (and processing fees of 30 cents, again).
The next option is the professional plan, which is $99 per month, billed annually. The professional plan will give you access to everything that you had in the basic but you can also integrate with PayPal or Stripe. You'll be able to get instant payouts so you don't have to worry about fees – or you can use the Teachable payment processor and you'll pay just 2% plus credit card processing fees of 2.9% of the course price and 30 cents.
With the professional plan, you will be able to add additional owners or authors, provide students with graded quizzes and customized reports of their progress, access branding features, and even deliver course completion certifications.
Last but not least is the business plan. Not for the faint of heart, this plan is best for professionals who are designing massive course platforms with numerous course authors and lots of sales. You don't have to worry about any transaction fees with the professional plan, but you'll pay a whopping $249 per month.
For all the plans offered, you'll get the following features:
Zero fees on free courses
Basic quizzes and commenting on lectures
Student management
Integrated payment processing
Unlimited courses, video, and hosting
Value-added tax for EU
What Type of Courses Does Teachable Offer?
Teachable is unique from many of the other online course providers or MOOCs that we have reviewed in that it is less of a course provider and more of a course hosting service.
Because of this, you'll find some of the best online courses on Teachable and you won't be limited in what you can teach and learn here.
Some of the most popular categories, and examples of courses in those categories, include:
Arts 
Watercolor Painting
Hand Lettering
Make Fabulous Cakes
Sketch Master
Acrylic Pouring
Paper Flower
Health
Fitness Bootcamp
Triathlon Training
Nutrition
Yoga
Healthy Cooking
Breastfeeding
Niche
Blacksmith
Home Cooking
Houseplant Care
UAV Coach
Minute Physics
Shoemaking
Academics
A-Levels Tutoring
Languages
3D Design
Self-Published Authors
Music Production
E-learning Courses
Membership 
Harmonica School
Trading Skills
Coding Classes
Jewelry
Photoshop Training
Marketing
Business
StackSkills
The New York Times (offers courses to professional and pre-college audiences to learn how to tell courses through video)
GetResponse
G3N3 Academy
Product Marketing Alliance
Cover Insurance
All kinds of industry and market leaders use Teachable to build their courses and enrich their businesses, including Pearson, The New York Times, Penn Law, Intuit, Shopify, and more.
Teachable Integrations
Teachable can easily be integrated with multiple third-party programs. You can not only use Zoom with coaching but you can also integrate services like MailChimp, ConvertKit, Vizia, Zapier, Webhooks, and more.
In fact, Teachable allows you to connect with more than 200 different apps in total. Some other popular choices include Square, Salesforce PayPal, Drip, Microsoft Dynamics, ClickFUnnels, and much more.
Teachable Certificates
Like other online learning resources, Teachable allows you to issue certificates of completion for your courses. That way, you can give your students something tangible to show prospective employers and others in their professional networks that they know what they are talking about when it comes to mastering the content of your course.
Upon completing your course, students are issued certificates with unique serial numbers. You can use one of the templates that are provided to you by Teachable or you can use Liquid/HTML to develop your own. Certificates are easy to create and even easier for your students to download.
The Advantages (Pros) of Teachable
User-Friendly Course Builder
One of the biggest benefits of using Teachable is that it is extremely easy to use. While there is a bit of a learning curve when it comes to using some of the software, for the most part, everything is very intuitive. You can get all of your content uploaded so it's there and organized just how you want it. The end result will likely be highly attractive, too.
Mixed Media Capabilities
With Teachable, you can even add mixed media features, like video, PDF files, and audio. This can help give your students more perspective on the topic and provide them with an additional method of learning.
Another unique feature of this platform? You can start your own blog! You can set up a blog within your admin page so you don't have to pay a separate fee or worry about hosting your blog in another location. You can even register a domain name rather than using the Teachable subdomain for a minimal cost to make yourself even more accessible to potential and current students.
Sales Features
If you want to get started with affiliate marketing tools but don't know where to start, then Teachable is a good option for you. Teachable has a built-in payment option so that you don't have to worry about dealing with affiliates or working with a payment processor.
Teachable does deduct a portion of your earnings in exchange, but it takes so much legwork out of the equation that it's definitely worth it. There are also special tax settings that you can turn on to make your website more user friendly.
Additional Marketing Tools
From a single check-out page to resources that will allow you to upsell your course when you send a customized thank you page, Techalbe offers plenty of resources to help you make your class more marketable. You can even embed videos to thank students for taking your course!
Commenting
One of the biggest complaints you'll see about online courses is not one that you'll see echoed in a single review of Teachable – that is, about students not being able to interact fully with the course material.
With Teachable, you can easily add discussion and comment sections to your course. This not only makes the course look that more professional, but it also will make it easier for you to interact with students during the lessons.
The Disadvantages (Cons) of Teachable
Longer Payout Times
If you don't choose one of the Teachable paid plans, you'll unfortunately have to wait quite a long time to get paid – up to 30 days, in many cases. However, there are many reasons for this that might make it more worth it. For example, Teachable will take care of paying your affiliates. Again, if you choose a paid plan, this isn't a disadvantage that you'll have to worry about anyway.
No White Labeling
If you haven't heard of white labeling, it refers to making a course look as though it is being offered on your own platform. Unfortunately, this can't really happen with teachable – there will always be pages that have the Teachable URL in them, even if you're able to use your own domain name. This can be frustrating, mostly for aesthetic purposes.
It can also be difficult to integrate the platform with email marketing tools. Although Teachable offers many built-in marketing bonuses, you can't use a lot of external integrations effectively.
Transaction Fees
If you choose a low-end or free Teachable plan, you're going to find yourself paying some pretty steep transaction fees – up to 10% for a free plan.
That said, the professional plan does not charge a transaction fee if you use Stripe or PayPal. These processors do charge their own fee but it's less than what you'd pay Teachable under the free plan. This fee is pretty commonplace, too, and about what would be charged by most merchants for processing credit cards.
Some Complaints About Site Builder
One complaint you'll see in a number of Teachable review articles is that the site builder isn't the best it could be. While you'll have access to most of the features you want and need, it is true that there are some that are dismally lacking.
You will likely appreciate the tools for the course pages and sales page at the most basic level, but if you want it to really stand out, you'll need to hire a web designer who knows how to work with HTML/CSS (or try to do it yourself).
Less Opportunity For Customization
If you host an online course on your own platform, you'll find that there are plenty of ways you can customize the material to meet your own needs, goals, and preferences. That's not the case with Teachable. If you ever take more than one course hosted on Teachable, you'll notice that the layout is very similar. A seasoned eye will be able to detect that the sales pages are all running off Teachable, too.
This may not be relevant based on your professional goals, but since it's mentioned in just about every Teachable platform review, it's something worth mentioning here for sure.
Teachable Alternatives
There are plenty of Teachable alternatives that you might want to consider. In fact, there are a range of other choices that you might consider to allow you to tackle the building of your online course in a more effective way.
To decide which Teachable alternative is right for you, you should think carefully about the pieces of the course you'll need to include and how you'd like to deliver and market that material to your potential students.
Who are your ideal learners? What do you want them to learn? What is the best way for you to craft a unique program of study for these learners, and what ways will you need to market that course?
For many students, Teachable offers the perfect solution, but for many, it's lacking in certain areas. That's where these Teachable alternatives come into play.
Thinkific is one such option. While Teachable focuses on providing the ideal learning experience for your members, allowing them to access quizzes, PDFs, video, and audio, it doesn't allow you to customize much in the way of design. Thinkific does.
When it comes to pricing, it's similar to what you'll pay for Teachable – $49 per month for a basic plan and $99 for a professional plan. With Thinkific, you'll enjoy the freedom to make all kinds of decisions about publishing and promoting your courses just as you can with Teachable, too.
Kajabi is another alternative. Although Teachable reigns supreme when it comes to crafting and delivering courses, Kajabi lets you tack on a bunch of features that are better suited when it comes to marketing purposes. You can use the software more as a service platform that will allow you to deliver online courses and to do things like send em
ails and professionally market your courses. It's ideal for more tech-savvy folks who want to market their courses as best as they can.
Conclusion
As with any online course platform, Teachable has plenty of benefits and disadvantages. Hopefully, this review of Teachable has given you a good idea of whether the platform is right for you. With lots of market tools, plenty of pricing options, and a fantastic and user-friendly learning management system for you to explore, there are plenty of reasons to consider giving Teachable a try today.
FAQ
Who is Teachable best for?
Teachable is best for individuals with a minimal tech knowledge base who wants to get going with their own online courses. You don't need to know much about technology or website hosting in order to build your page and your course – you just need a good idea! You will need to play around with the platform a bit to get it set up the exact way you want it, but for the most part, the website is extremely intuitive.
How much is Teachable?
There are several pricing options for Teachable. There is a free plan but you can also pay for a basic, professional, or business plan. The basic plan is $29 per month, billed annually, while the professional is $99 per month. The business plan is $249 per month.
Does Teachable have a free plan?
Yes, Teachable does have a free plan. This free plan will allow you to try out all of the Teachable features to get an idea of whether it's right for you.
Does Teachable have an app?
Teachable has an app that is available on iOS. There is currently no app available for Android users. With the iOS app, you will be able to get full access to the content and using it is completely free.
How does Teachable make money?
The most obvious way for you to make money with Teachable is by selling online courses – but how does Teachable make money? This is primarily done through the transaction fees the company charges on every course sale.
Is Teachable mobile-friendly?
Yes, Teachable is mobile friendly – but only if you have an iPhone. Its app allows you to make more course sales through the platform, letting you get in front of users who would much rather complete courses from their smartphones.
Is Teachable legit?
Teachable is legit and by far one of the best options when it comes to making and marketing courses online. Since you can integrate it with all kinds of third-party software, it is one of the most versatile and adaptable options you have when it comes to creating and delivering courses to your students. You don't have to start from scratch, making it a good choice for beginners, yet also offers the potential for a serious payday.
Is Teachable worth paying for?
Teachable is worth paying for, particularly if you don't want to have to put the effort into putting together a variety of software programs and systems. You don't have to worry about paying for a WordPress subscription or working with complicated plugins –  everything is right there for you.
If you aren't sure whether Teachable is worth the money, the platform offers the perfect solution in its free plan. With the free plan, you will be able to try out all of the features of the paid versions – without, of course, having to pay for the subscription itself.
Is Teachable safe to use?
Yes. Teachable offers best-in-class safety and security, making it a good choice for people who are concerned about the data security of their students. Not only will your courses be guarded by 24/7 monitoring so you don't have to worry about outages (along with regular, automatic upgrades), but it also has a 2048-bit SSL certificate to make sure your students' information is safe when they're registering for courses and providing their personal details.
Do Teachable certificates expire?
Teachable certificates can be considered either active or inactive. Active certificates are issued automatically when a student completes a course while inactive ones can be issued manually.
Because of this, they don't technically expire. However, once a student is unenrolled from a course, they can no longer view the actual certificate.