When I first made an online course back in 2014 there were hardly any options out there to simplify the technology behind hosting and selling your course on Teachable.
I spent hours researching different WordPress LMS plugins and in the end had to pay a developer to help us get it all working.
Thankfully, alongside the boom in people selling online courses, things have improved massively in the last couple of years. There are now lots of options for creating an online course and getting it all set up online without touching a single bit of code.
The trouble is choosing which platform to use – which can be a major headache in itself!
For some guidance in understanding all the different options and working out what is going to be right for, check out my in-depth guide to choosing an online course platform.
All the options claim to be the best and it can be hard to know which is best for you. This Teachable review will help you decide if it's the right platform for your needs as we take a look at the main pros and cons.
As with any option in this area, the proper choice for you will depend on your individual circumstances. This article is intended to help you make the best choice of platform to create and sell online courses. By evaluating these pros and cons, you can compare them to your individual needs, and see whether Teachable is the online course platform for you.
Who is Teachable Made For?
In a nutshell, Teachable is made for anyone wanting to create and sell their own online course.
Check out their sales video to see how they explain what they're all about and who they are pitching their online course platform at:
As you can tell from the video, Teachable is for anyone wanting to get away from the extra work and tech headaches that can come from creating an online course on your own WordPress website.
In essence, it allows you to create and sell online courses without having to worry about all the technical details involved in coding and web development.
You can get your course all set up and selling easily using their simple dashboard and features – which would take longer with your own WordPress system.
You can also choose the prices you want to charge and have direct control over your communication and marketing with students (which you can't do with an online course marketplace like Udemy, for example).
So, if you want to just get up and running and focus on creat​ing and sell online courses (a wise use of your time), Teachable could be a great option for you.
The platform is built with this focus in mind – to reduce the tech headaches and leave you to focus on creating and selling your course instead.
It is intended to be a very simple platform for people who aren't wanting to worry about complicated coding. Next up, we'll take a look at the best features of Teachable to see if it succeeds in this regard.
Best Features
Let's take a look at the best features of Teachable and how they can help you to create and sell your online course:
Easy to use
This is a big one! The main dashboard which you use to create and run your course(s) is really intuitive and easy to use. It's a huge benefit of Teachable – it makes it really simple to do any of the main tasks you might need to do: upload course files, check on analytics, monitor payouts, issue refunds, communicate with students etc.
It saves a lot of time which you can focus on creating and selling your course instead.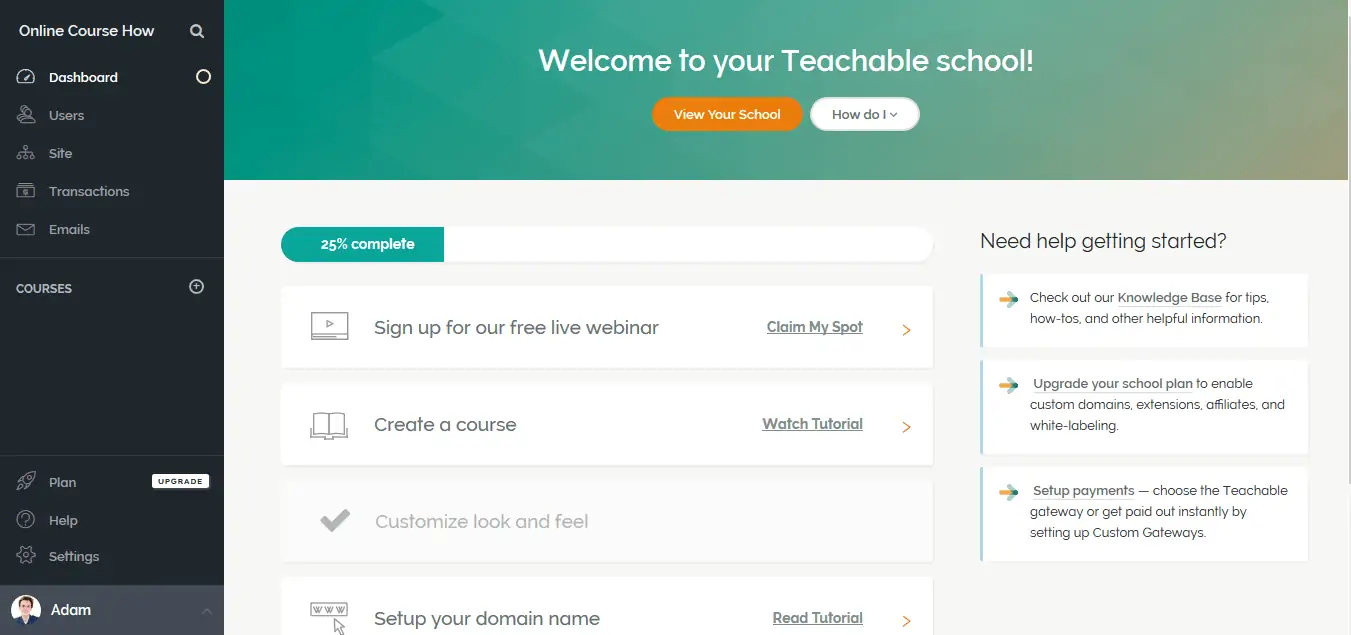 The actual content for each course is organised within Teachable using the Curriculum Editor. You can group resources together according to topics and themes.
These easy organization and customization features make this course a winner if you are not especially tech savvy but still crave customization features and want to organize and sell your course your own way.
Teachable is great so you can create and customize the offer your own way without the complicated tech aspect.
Drag and drop functionality allows you to shift things around and re-organize without fuss. The interface is clean and uncluttered, making it easy to see what is where, but as you'll see further below, the look and feel of the area your students see is fairly basic at the moment.
Image and branding
How your online course looks is important, not just in terms of how usable it is for the student, but also in terms of the brand and positioning you wish to portray.
Whether you're working as a business or an individual, you need a professional looking design that is clearly identifiable as yours. Teachable understands this and offers marketing features so you can brand your course your own way.
Teachable understands your needs and provides a nice looking theme for your school and course landing pages out of the box. You just have to upload your logos, images, text and choose colour schemes to get something that looks like this: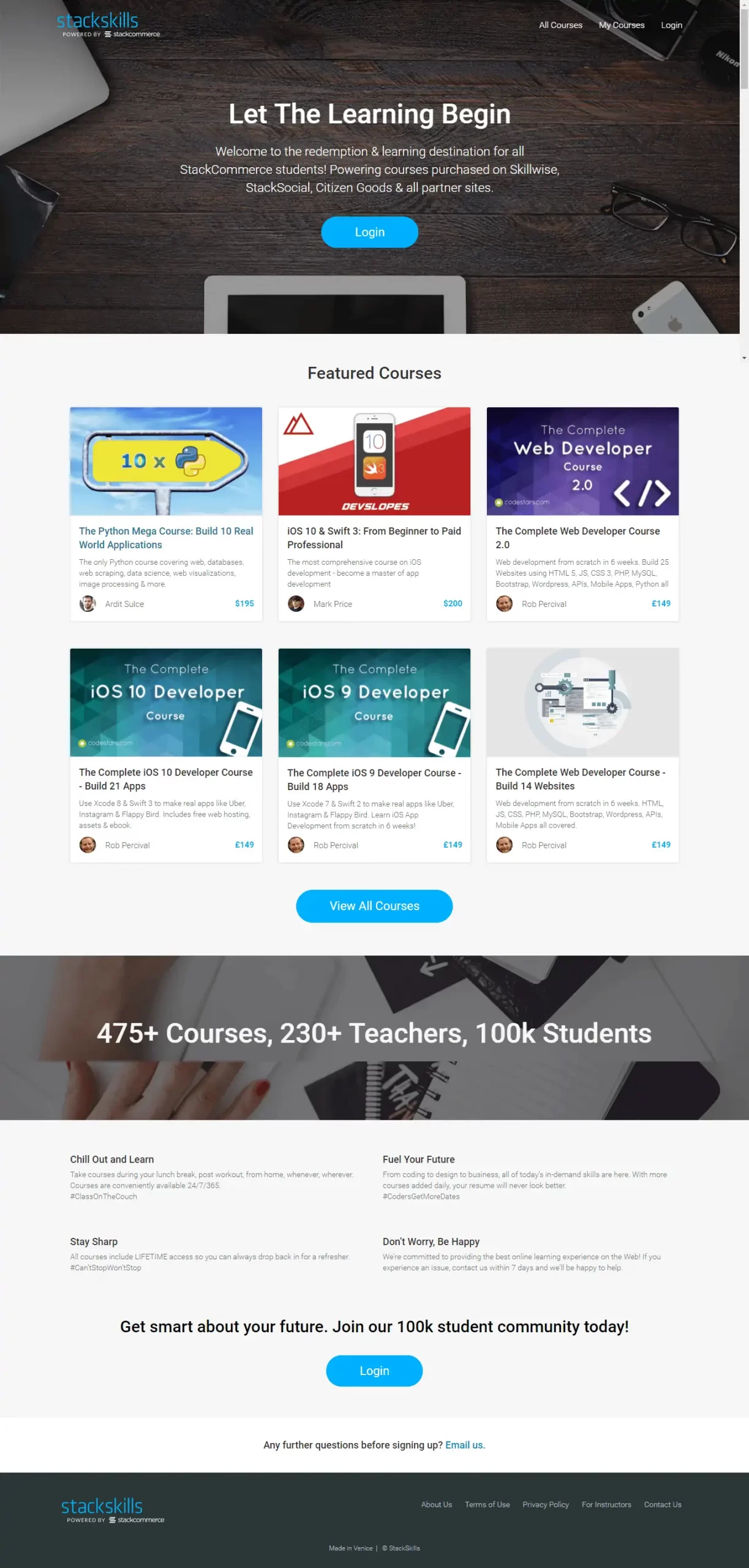 You can also host your course on a custom domain (e.g. www.courses.yourdomain.com) on all plans from Basic upwards and you can remove the Teachable branding on the Professional and High Volume plans too if you wish, though it's not intrusive if you do keep it.
These marketing integrations are all highly useful to help you create and market your course as you see fit.
Teachable also offers the ability to customise the look of your course homepage and landing page using it's Power Editor, although it requires an understanding of HTML or CSS code and is not very user friendly (this is one of my main criticisms of Teachable, see below).
You could pay someone to do this for you, but it sort of defeats the point of using Teachable. If custom design is important to you, you may be better of creating your course with WordPress.
Teachable tries to strike a balance between simplicity and complexity, so if you are looking for advanced design features, you may find that the ones on offer are not quite what you need.
Easy & efficient uploading
When creating your course, you're likely to have a lot of files to upload – videos, pdf's, document or spreadsheets for example.
This should be as quick and intuitive as possible. Teachable does well here. Its drag and drop interface allows you to easily pull in your files from wherever they're stored.
It links up nicely with cloud storage, Google Drive and Dropbox and there's also a bulk upload facility, which saves a lot of time. Uploading can be a headache for course creators, and Teachable does its best to eliminate this stress with simple drag and drop technology.
Good file handling
Teachable can handle all the main file types, including images and films. There's no need for additional coding, embedding or manual linkage as there would be if built on your own website. Once your files are in there, they're ready to use.
Video is well optimized and supports high-quality playback across a range of devices, including iPads and other tablets. It can cope with different bandwidths and video content can also be played at different speeds.
Once again, this intuitiveness eliminates the stress of dealing with multiple file types for providing your digital products, and contributes to Teachable's overall ease of use.
Monitoring & Analytics
Creating a course and publishing it online is only part of the story. Once it's gone live, it's important to be able to keep track of how it's progressing, how many students have enrolled and how engaged they are with your course.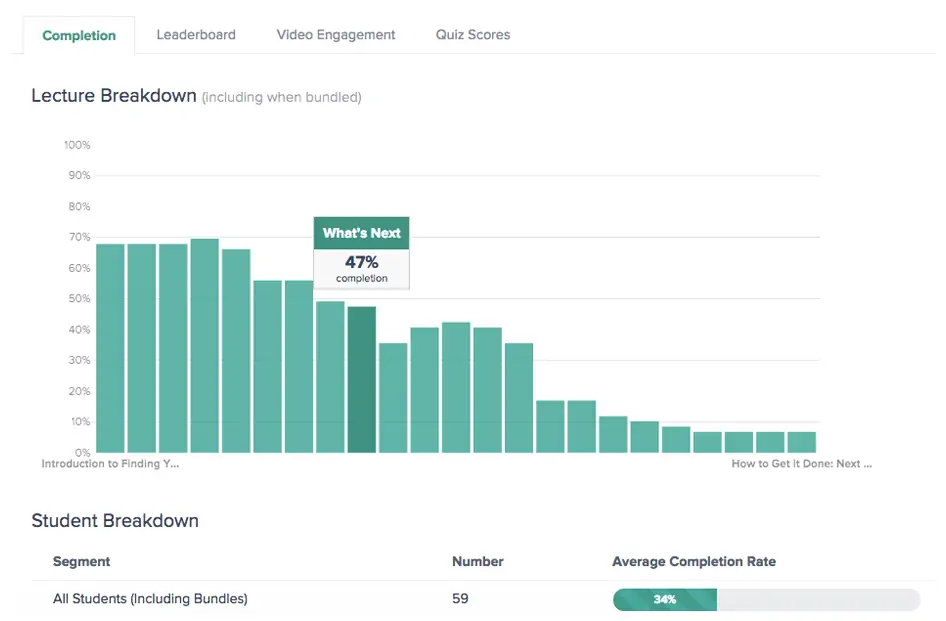 Teachable makes this easy with at-a-glance access to data on student numbers, revenue figures and keeping track of a student's progress so you can see how far they've got through your course.
You can then use this student progress data to engage students who may be struggling or asking for testimonials from your most committed students for example.
You can also integrate Google Analytics and conversion pixels to track where traffic comes to your courses from and which bits of content are working well at converting interest into students.
By monitoring these sales funnels, you can identify which areas of your site you can best optimize and where to focus your marketing efforts for maximizing your conversions.
Communication with students
Although online courses are great for independent learning, communication with students is still important, either to give feedback or just to ensure they're happy and on track. Student e-mail comes as standard with all Teachable plans.
You can communicate with students within the Teachable platform, so there's no need to swap backwards and forwards to and from your e-mail software.
The platform also contains integrations with some popular e-mail software, like Mail chimp (with Mailchimp Google Analytics), ConvertKit (see why I recommend Convertkit for online course creators here) and Infusionsoft but to connect with other email clients you'll likely to need to use Zapier.
E-mail marketing is an extremely valuable tool to market and sell online courses. It allows you to maintain direct communication with your current and target customers, and is proven to be one of the most successful tools for digital marketing overall.
Support
When you put all your faith in a third party platform to create and sell your course on, it's important to know there's good and reliable customer support on hand for any questions or problems that rise.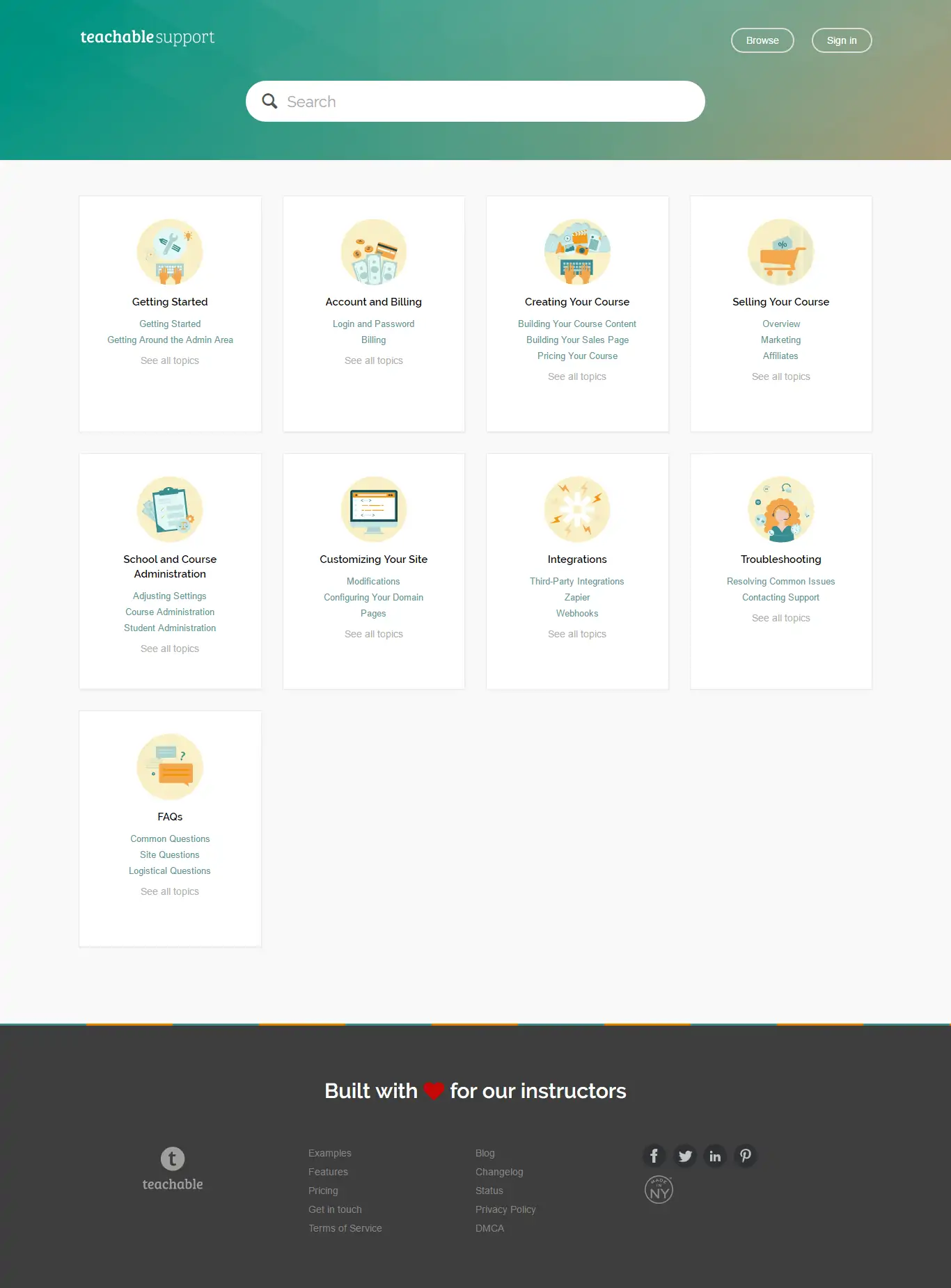 Teachable has a good set of pre-written customer support articles covering all the most likely questions you may have and then a ticket system for anything more specific.
On the whole, this seems to work well for people and I found my query dealt with quickly when I tested it, but I have also heard others complaining about tickets not being answering quickly (read more about this below in the section on What's Lacking).
So while it is likely that your customer support problems will be readily resolved by the prewritten articles, it is possible that you will have more trouble should your problem be more complex.
Marketing & Sales
Teachable gives you plenty of tools for marketing and selling your online course. The actual process of collecting payments is simple, and you can make use of coupons to create limited time offers or offer subscription and payment plan options.
These are great tools whether you are looking for a passive income or looking to grow this into a full-time pursuit.
You can also set up your own affiliate marketing program or bundle different courses together and sell them as a package.
The Teachable Blog includes lots of marketing tips and is a really valuable resource with weekly posts looking in depth at different ways to reach out and acquire new students.
Be sure to keep up to date with current digital marketing trends and advancements. Often, marketing your course effectively can be the most decisive part of your success.
There are also case studies and insights from the successes of other Teachable instructors – which feels supportive and motivating when you're just starting out, and provides really useful ideas once you're already in motion.
Teachable Pricing
Teachable is free to sign up to and there's also no transaction fees for running free courses (read more about what's included in their free plan here).
However, if you really want to make use of the main features you will need one of the paid plans.
Teachable has four pricing plans to suit the stage you're at: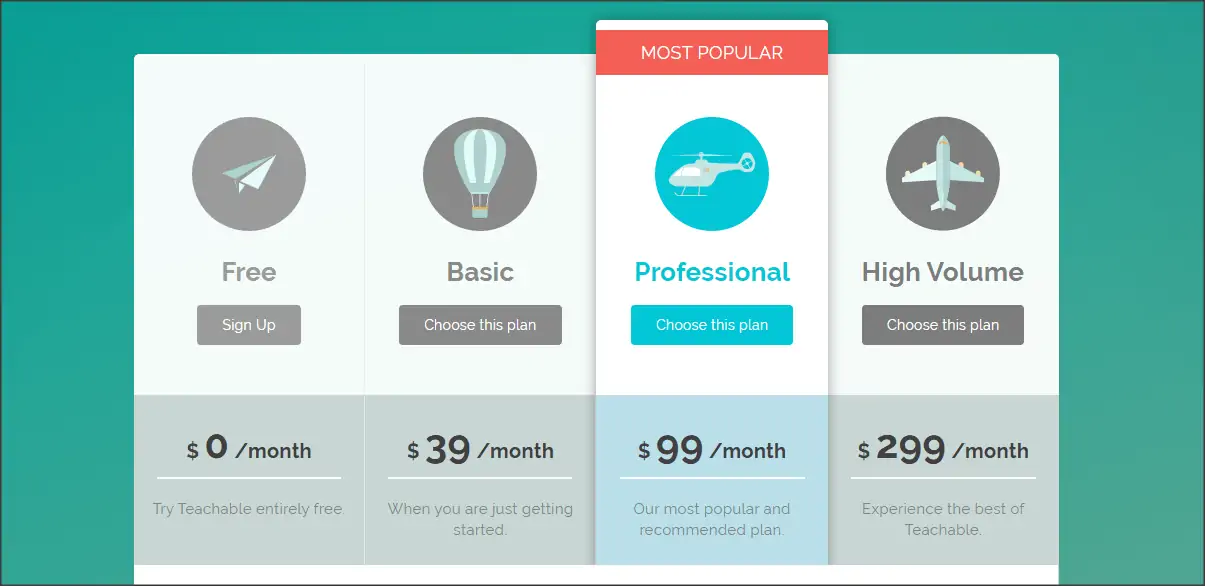 For full info about what's included at each level, check out the page this screenshot was taken from, or read my guide to the Teachable pricing plans to understand the differences between them in more detail.
1) Free P​lan (no monthly cost, but $1 + 10% of any sales)
Maybe you're completely new to developing an online course and want to see what it's all about. Teachable's free plan lets you try your ideas out with no monthly cost, however you will be charged $1 + 10% of any sales you make and some of the features are limited.
You get most of Teachable's main features with the free plan, but you don't have guaranteed support or some of the marketing features, making it fairly limited if you really want to make lots of sales.
You will find that the marketing features are one of the most important tools in growing your course, so you may want to invest in one of the higher priced plans below.
2) Basic ($39/month + 5% of sales)
With the basic plan, you get all the key Teachable features like custom domains, inbuilt e-mail marketing, usage of coupons, dripping out course content and running an affiliate program.
You do have to wait to receive any money you've earned though, which happens through a PayPal deposit once a month and with a 30 day delay – be aware that this can be nearly 2 months in some instances!
3) Professional ($99, no sales fees)
Teachable's most popular plan. On top of everything you get with the basic plan, and you have additional functionality like advanced theme customisation, advanced analytics and, importantly – instant access to any funds you've earnt.
You also get higher priority for support requests (6 hours vs 12 with Basic plan). This is a complete plan, and you may find that it satisfies all your needs if you are looking to take this pursuit very seriously.
4) High volume ($299/month, no sales fees)
This is Teachable's biggest package designed more for running a larger school marketplace with multiple courses. With this, you get 2 x 1hour onboarding sessions to help you get set up and priority 2 hour response to support requests.
You also have the ability to bulk import and bulk enrol students. You can also have up to twenty-five separate authors.
What's Lacking?
So far, so good.
Although Teachable does pretty well to pack in a lot of features at a decent price, there are a few problems that are worth mentioning:
Poor student interface
I like good design, so this is a big downside to Teachable at the moment for me. I suspect they'll improve it in the future, but for now the interface that your students are faced with when they log in to take your course is pretty basic: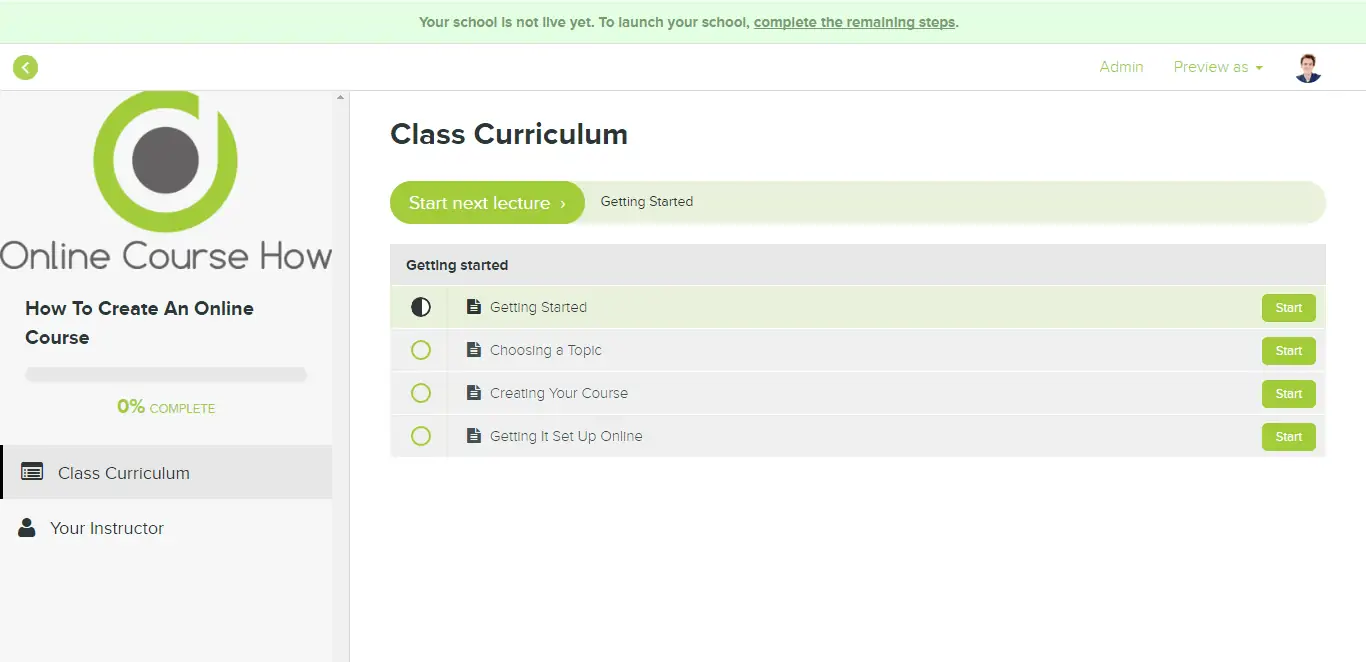 Of course, it is completely functional – it has everything your students need to navigate and interact with your course, but it's just not very visual. It doesn't look as good as it could if the use of images were possible to link to each module for example.
Contrast it with the course homepage I made for my other business using WordPress and you'll see what I mean: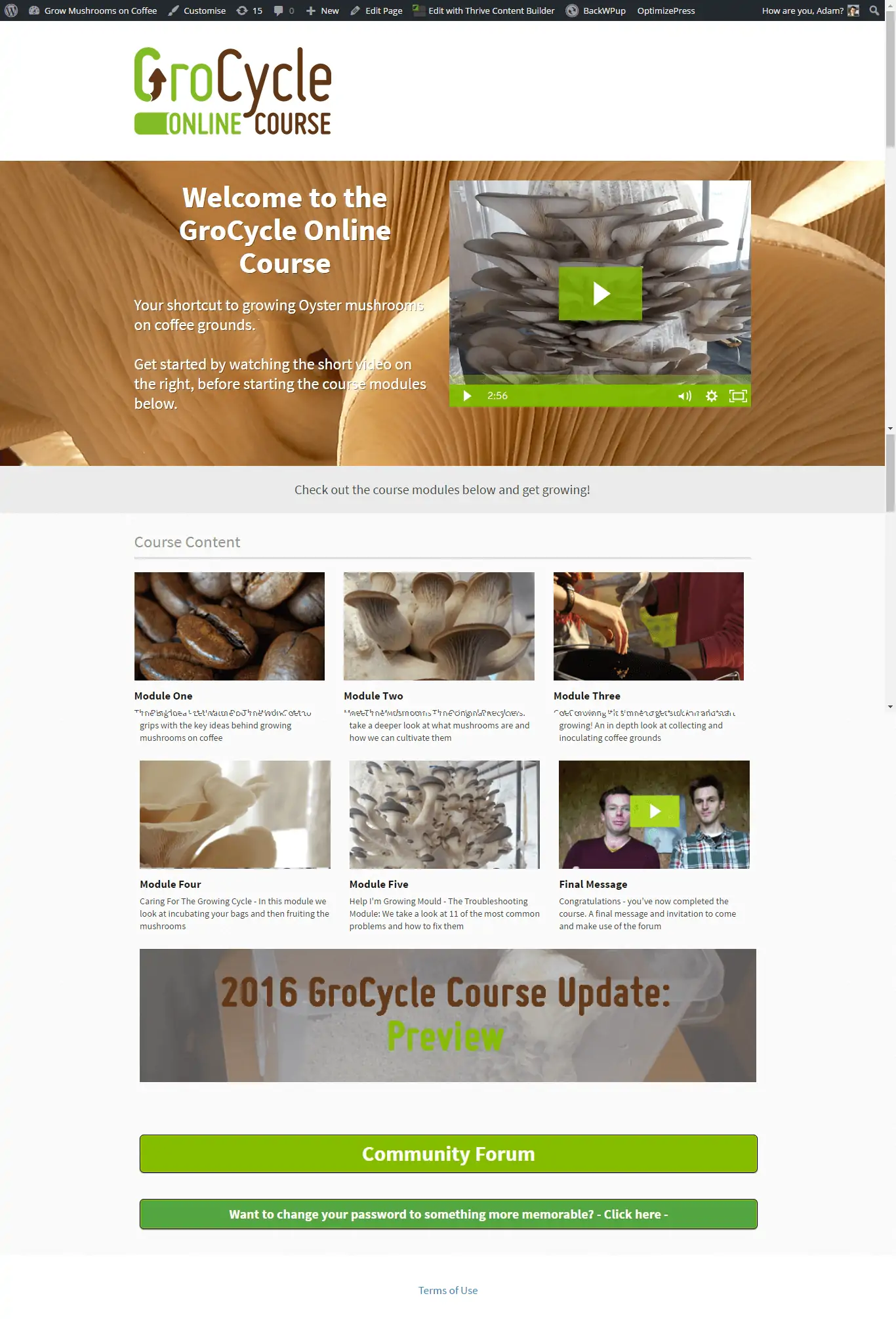 It's almost as if the mission for Teachable has been focused on making it easy for the course creator with a nice looking dashboard and lots of useful features – and they've yet to make the experience 100% for the course creators students.
Design can be a major factor in marketing and growing your course. The visual appeal can be very important to students of your course. So if you are looking for a platform with more design options, Teachable may not yet offer the type of options you need.
I am pretty sure this will get better before long as it is a relatively simple issue to resolve and would add a lot of additional value to the platform.
Limited custom design ability
Teachable comes with just a couple of template options for your course homepage and landing page out of the box.
Thankfully they don't look half bad- check out these examples to see what I mean. You can alter colour schemes, add your own text, logo and images, and make something look consistent with the rest of your brand.
However, if you have a particular look you want to create or wish to add custom features in precise places you can't do this very easily. So if the default designs don't match your tastes, you may find yourself out of luck.
If you are comfortable with html, CSSor liquid code then you can customise the design of your course and landing pages with the Professional plan mentioned above, or pay a developer to do this for you, but for me I'd like to see more of a drag and drop style editor which would give you much greater control and enable you to make it look exactly as you want.
Have to wait to receive payments (on Basic plan)
If you use Teachable on the Free or Basic plan, the payout scheme is via a PayPal deposit once a month, with a 30 day delay.
Depending on the timing of a course purchase this could equate to nearly 2 months that you would have to wait to receive the funds from that sale. This is quite a significant delay.
This can cause difficulties for your cash flow when you're just starting out, and also just feels a bit like you're not really in control of your own hard earned money.
Support has struggled to keep up with growth at times
Although Teachable's customer support system is quite extensive with their combination of pre documented support articles and ticket system, it has struggled to keep up at times.
I've been hanging out in the Facebook group for Teachable members and have occasionally noticed complaints from people about support requests not being answered very quickly.
This has seemed to coincide with times of peak growth for the company as thousands of new teachers have come on board in the last year alone.
I read somewhere that an average day saw 200 new instructors sign up to use the platform! In theory this problem should sort itself out pretty quick as more users bring more revenue which can be spent on better support.
Each time that complaints have rolled in about poor support, Teachable's founder, Ankur Nagpal has addressed the Facebook group personally to apologize and explain what's causing the issue – so my feeling is that this is an issue they are keen to address and probably can be put down to growing pains.
Teachable Review Conclusion
Hopefully this in depth review of Teachable has helped you to see what a great little platform it is. It's packed with features which enable you to create and sell your online course with ease.
If you are just venturing into the world of creating online courses, Teachable is a great place to start. You don't need to waste loads of time learning difficult technology or paying a fortune for someone else to get your course all set up online.
Which is good news, because there is plenty of other stuff you should be focussed on – like creating great course content, engaging with your students and promoting and selling your online course instead.
As a creator, it can be tough to do it all on your own, and Teachable helps to eliminate some of this grind with a highly intuitive platform.
At the end of the day the platform you choose to build your course on is nowhere near as important as any of these things, and ultimately you should probably stop wasting your time trying to decide between all the different options and just pick one to get started.
With that in mind, the question is: is Teachable the right platform for you?
Put this way: if any of the following apply to you:
You are just getting started with online courses
You are not a tech wizard already familiar with customising WordPress plugins & design
…….then I think Teachable is the best option out there at the moment for creating and selling an online course with ease.