If you sell training courses or are thinking about selling online courses of any type, you don't have to do much searching to come up with a Teachable review. There are plenty of Teachable reviews out there. What makes this the best one (IMHO), aside from the fact that it is extremely thorough, is that it is written by someone with:
More than 20 years of experience in the e-learning industry, with a specific focus on businesses that sell education and sell courses (as opposed to, for example, corporate training departments that do not have to convince their learners to buy)
Extensive experience designing, developing, and implementing digital course platforms (I was the founder and CEO of an e-learning platform and course development company)
More than a decade of experience tracking and researching online course platforms and helping organizations and individuals pick the right platform for selling online courses
Personal, hands-on experience in creating, selling, and delivering online learning experiences
I've been closely tracking Teachable and other providers that have emerged as a new class of course platforms in the past several years. These are platforms that are much more user-friendly and less costly than traditional learning management systems, or LMSs. They are a real boon for solo edupreneurs and small companies that want to get into the selling online courses business and earn smart passive income. Over time, I think they also have real potential to disrupt the traditional learning management system market.
So, having said all that, let's get started.
Teachable Review: Teachable Snapshot
In general, Teachable is a straightforward, solid teaching platform for online business owners and individuals who want to create their own online school and offer courses. The interface is clean, and your learners will have no trouble accessing and navigating your courses. What Teachable isn't is a learning management system that is geared more towards your corporate learning or external training needs. A learning management system of this nature is going to be costly and Teachable is reasonable in terms of price and has features geared more towards course building and selling.
In my opinion, its strength is with video-driven content. And, Teachable also shines when it comes to simple tools that help to support selling your first online course – like, for example, it's customizable sales, checkout, and thank you pages.
It's also worth noting that Teachable is one of the biggest, if not the biggest player in its class of platforms. This is an important point given the large number of companies that have rushed in to try to sell online course platforms. A lot of them will be gone within a couple of years. I don't think Teachable will.
In general, for anyone looking for a solid, straightforward platform to create and sell online courses, Teachable is a hard platform to beat.
Now, let's start taking a look at the Teachable experience in detail.
Teachable Review: Building and Branding Your Online Course Website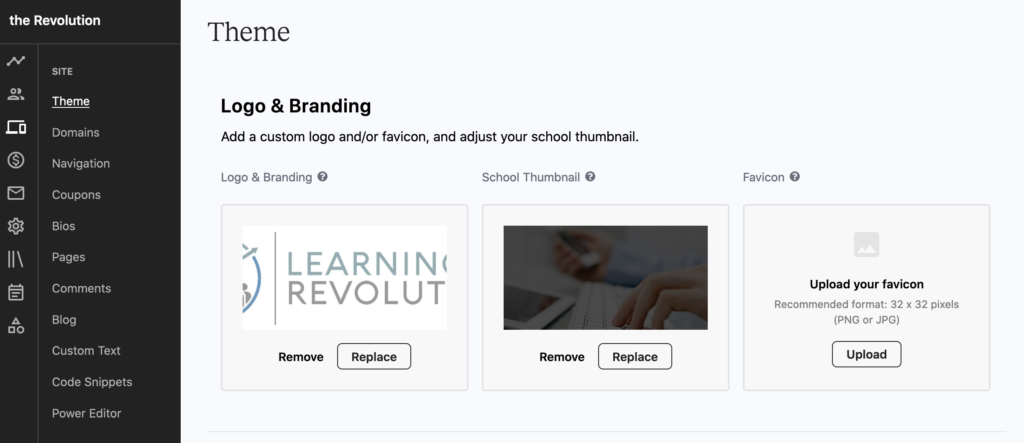 My bias is that even a great online course platform should not be relied on as your main website. (The exception is if you use an all-in-one platform like Kajabi.) That said, like most platforms in its class, Teachable does offer a range of options for configuring and branding the site where your course material will live.
There are enough options and customization tools that, if you are just getting started, you could, in fact, rely on Teachable for your web presence for at least a while, and without too much of a learning curve. Here's a quick run-down of the key areas you can control.
Theme – The "Site" area of the Teachable administrative panel provides a user-friendly interface for adjusting key elements of your course site's branding, including adding your logo, uploading a background image (or choosing from a variety of stock images provided by Teachable), and changing the fonts and colors that will be used throughout the site. Even with these basic tools you can put together a nice-looking site, but for more advanced users, there is also an option for inserting custom CSS in the "Code Snippets" area.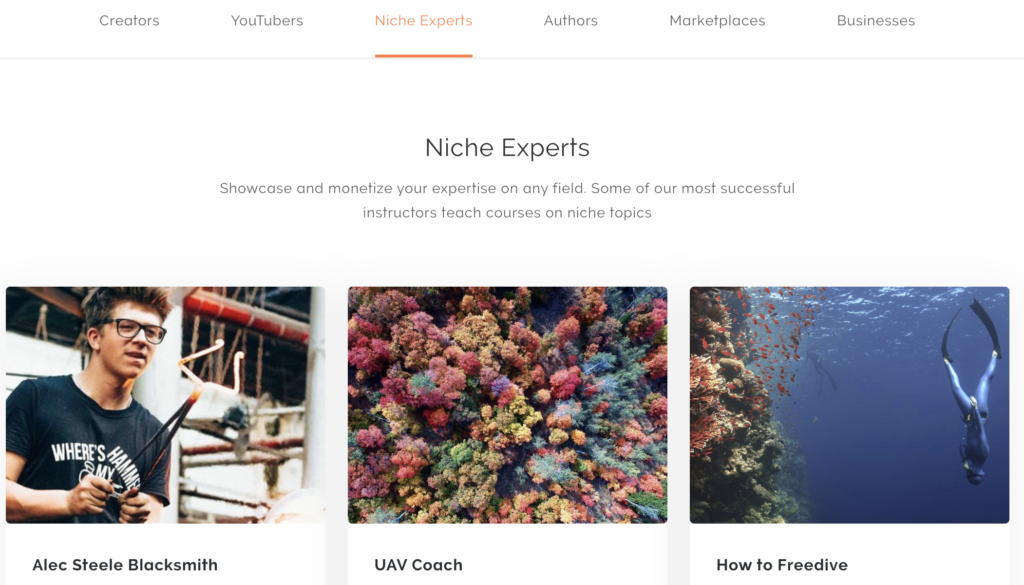 Custom Domain – A custom domain is important for long-term success and growth from SEO. If you are looking to build a business to create and sell online, I highly recommend a custom domain. In Teachable, by default, the address for your school will be a subdomain of Teachable– e.g.., learningrevolution.teachable– but with any Teachable paid plan (starting at $39 per month), you have the option for adding a custom domain – e.g., learn.learningrevolution.net. At the Professional level and above you also have the ability to turn off Teachable branding – which otherwise shows up as "powered by Teachable" on all your site pages.
Navigation and Pages – Teachable comes pre-loaded with default navigation links and some stock Web pages, but you have the ability to edit these. You can also easily add links to both the main navigation and the footer menus in Teachable. These can link to pages you create and – a very nice feature – you can easily control whether the navigation items are seen by logged in users, logged out users, or all users.
These Teachable features make it possible to add as many pages as you like to your site and control who sees them, but keep in mind there is no drop-down or side bar navigation. So, so your menus can start looking crowded pretty quickly.
Blog – Unlike many of its competitors, Teachable offers the ability to publish a blog within your school site. If you are already blogging somewhere else, this may not matter to you, but if you don't have a blog or just want a place to publish content that ties tightly to your courses, this can be very valuable. As I have said on many occasions, a good blog is one of the most valuable assets any edupreneur can create.
Custom Text – Teachable has some of the most extensive capabilities I've seen on any platform for changing the default text in the system to language you prefer. This includes everything from e-commerce links, to course navigation buttons, to error messages. Basically, there doesn't seem to be anything you can't change to language you prefer.
Custom Code – As mentioned above, you can insert custom CSS in the Code Snippets area of Teachable. For users who know what they are doing, this is also the area where you can insert HTML and Javascript in your head tag. Advanced users with a Professional license or higher can also take advantage of Teachable's Power Editor to make extensive modifications to their Teachable theme. Note that Teachable says that documentation for this capability is still in development and no support is provided. So, proceed with caution if you go this route.
Teachable Review: Creating Online Courses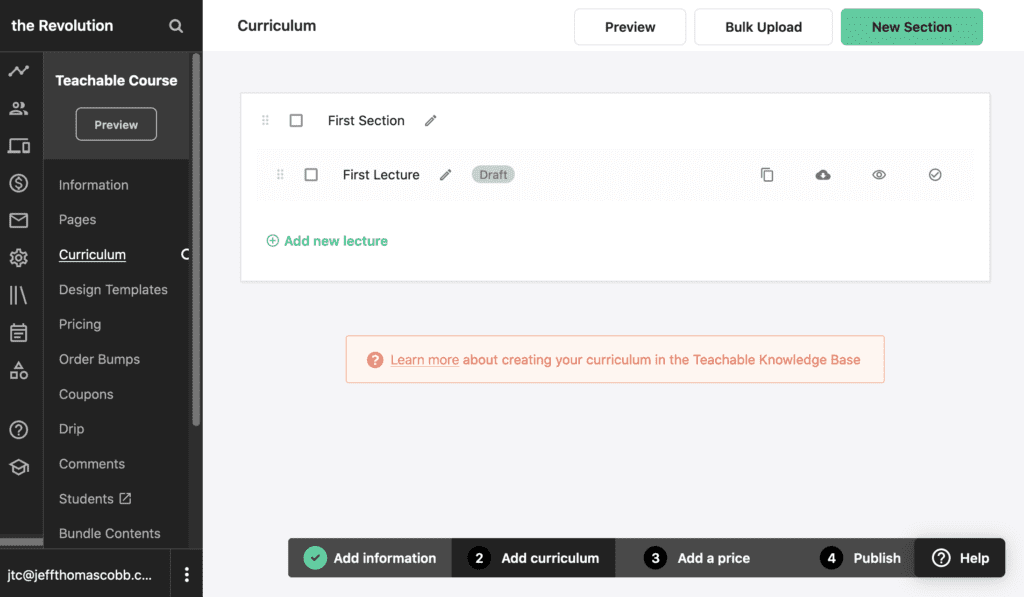 An important part of a good Teachable review – or any other online course platform review – is a look at how easy it is to create online courses, training courses, and other learning experiences in the platform to support your online business.
In Teachable, setting up online courses and course pages pretty straightforward – well within the grasp of beginners, and perhaps a relief for seasoned course creators tired of dealing with overly-complex platforms.
One of the first things that struck me in the Courses area of the administrative panel is that Teachable is clearly geared toward selling courses. As part of the set-up process for a course you specify basic things the name of the course and the instructor, but you can also specify a search engine optimized (SEO) URL, page title and meta-description for each course you create.
You can also easily upload a thumbnail image that will displayed in the catalog and on the course interface as well as a promotion video that can displayed on the sales page for the course.
Before you start selling, you have to have something to sell. Teachable's approach to course creation is fairly basic, in my opinion, and definitely favors on-demand, video-based courses. Still, this is likely to be sufficient for most online course creators.
Course organized as Sections filled with Lectures. You name the sections as you set them up (e.g., Introduction, First Module) and, if you want, you can use the Custom Text feature discussed above to replace the word "lecture" with something more to your liking. Lectures can consist of multimedia files (video, audio, PDF, etc), text that you type directly into Teachable, quizzes, or any combination of these.
There is also an "Add Code" option for Lectures that you can use to embed live video streams or webinars directly into a lecture. This is a nice option, though likely too advanced for most course entrepreneurs – it would be nice to see a more user-friendly option for streaming video and Webinars.
Finally, there is a "Drip" option that allows you to publish lectures over a period of time based on the number of days after your students enroll. (Requires Basic plan or above)
Aside from the "Add Code" feature, I think most online course creators will find it pretty easy to set up their first course in Teachable and the final product looks attractive and professional.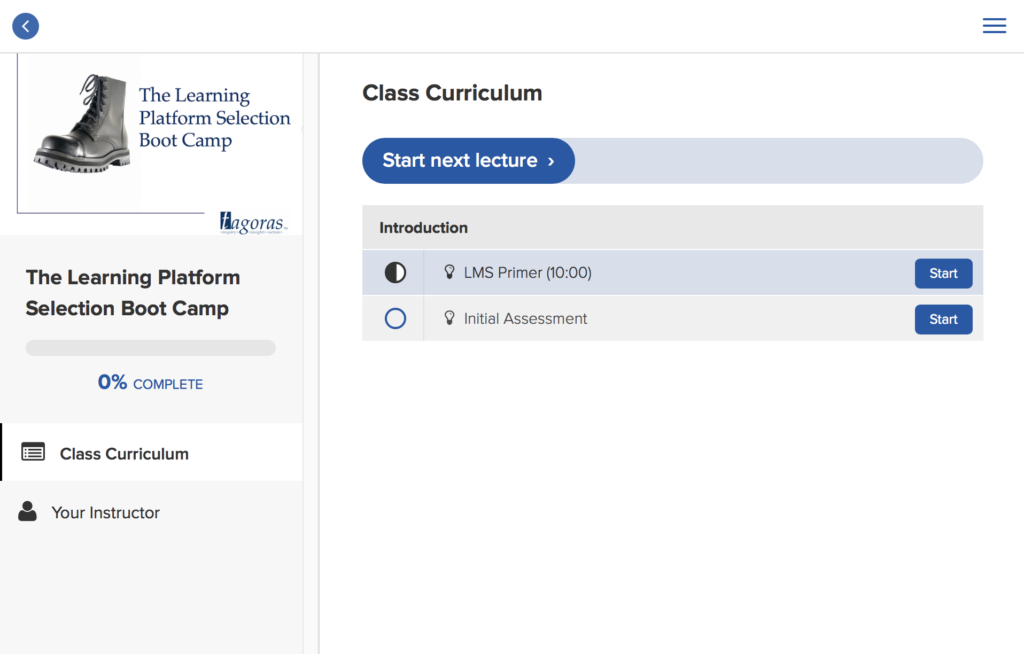 Keep in mind that one of the key Teachable features is Author creation, who, once created, then have the rights to do most of what I describe above – as well as earn a revenue share from sales of the courses they create. So, if you want to set up a Teachable site and then have multiple teachers create some or all of the content, Teachable makes that pretty easy to manage.
Before wrapping up this section, I want to cover some areas that Learning Revolution readers often ask me about: quizzes, certificates, and the ability to import online courses made in course authoring software like Articulate or Captivate.
Teachable Review: Creating Quizzes in Teachable
Teachable provides for simple, multiple choices quizzing. You can indicate as many potential Teachable provides for simple, multiple choices quizzing. You can indicate as many potential answers as you like for any question you create, and questions can have one or multiple correct answers. Also specify whether a quiz will be graded or not. If it is, then the scores will be viewable in the reporting area of Teachable (more on that below).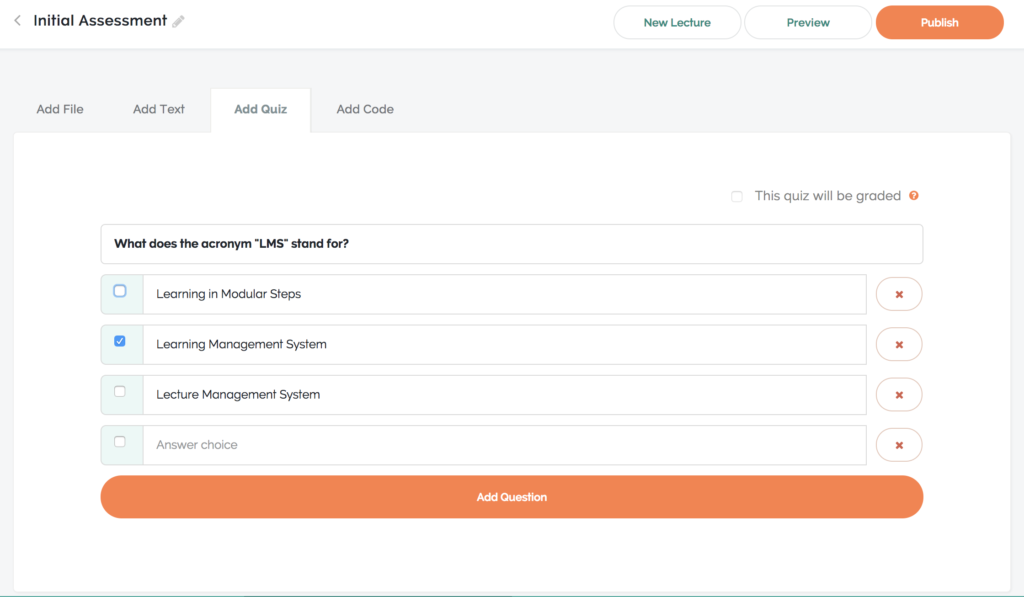 That's it. Creating quizzes in Teachable is an easy process, but keep in mind that your options are fairly limited. For example, there is no way to provide student feedback on their answer choices. And more advanced features like randomizing questions or storing questions in a question bank. So that you can use them in multiple quizzes are not available.
There is also no ability to bulk import quiz questions. So, if you happen to have a collection of quiz questions you have already been using. You will have to enter them into Teachable one-by-one for each course in which you use them.
Teachable Review: Completion Certificates in Teachable
Teachable has good capabilities for creating a certificate that can be awarded upon completion of any course, but you have to have a Professional plan or higher to access them.
To create completion certificates, you can choose from three templates or – if you have the capabilities to do it. You can create a completely custom template using HTML and/or the Liquid coding language.
With the templates, you are able to insert your logo, change the colors, add a signature (as JPG or PNG file), and change the pre-set text. Teachable automatically inserts your school name, the student's name. The name of the course when the certificate in generated for a student. (There is no ability to remove these items from the certificate.)
All in all, the completion certificates capabilities are probably good enough to meet the needs of the vast majority of online course entrepreneurs.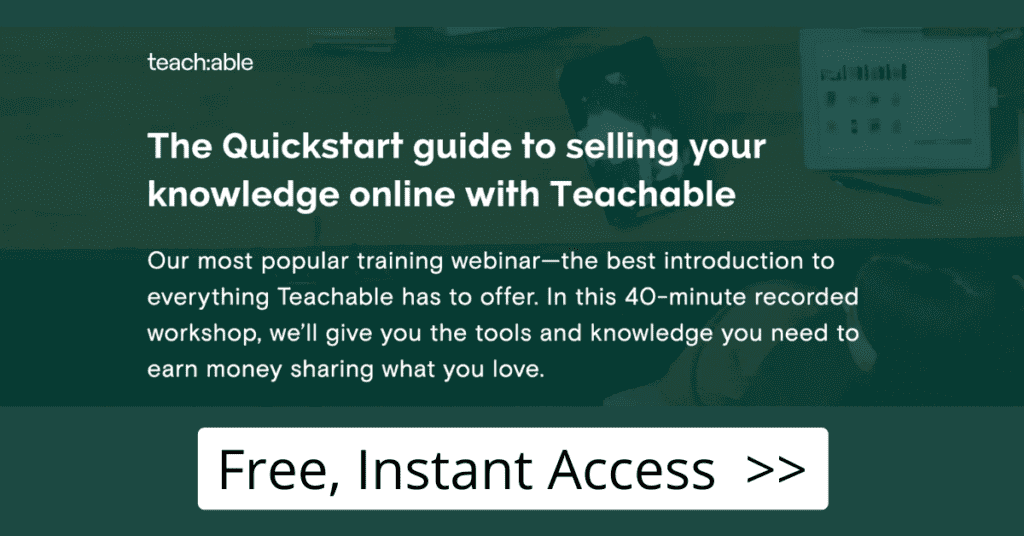 Teachable Review: Use of Articulate and Captivate
Many course creators will be perfectly content with using the tools in Teachable to create courses, but some may prefer the option of creating their courses with third-party e-learning course creation software like Articulate Storyline or Adobe Captivate.
Why use third-party tools?
Basically, using a third-party tool is an option to seriously consider if you (a) already have a significant number of courses built out in one of these tools (in which you case you probably do not want to have to re-create them using Teachable course creation tools), and/or (b) you anticipate developing a significant catalog of courses with a relatively long "shelf life" – in which case you may not want to have your courses locked into a specific delivery platform.
Teachable does not provide any capabilities for importing and configuring courses developed with third-party tools like Articulate and Captivate. It is possible that, like Thinkific, the company would configure these courses for you. If requested, but I haven't found anything that suggests this is the case.
Bottom line: if getting the full benefit of using course creation software like Articulate and Captivate is important to you, Teachable is probably not your platform. You may want to try LearnWorlds instead. (Full Review)
Teachable Review: Coaching Sessions
Coaching is a powerful business model for expertise-based businesses, whether than means offering coaching services as a standalone of combining online courses and coaching. Either way, Teachable makes it easy to provide – and charge for – coaching services through a native integration with the popular Calendly scheduling app.
Combining Teachable, Calendly, and Zoom you can schedule check-ins and milestone calls with individual students or with groups. You can even set intake forms that require approval and configure your coaching offering as subscription product. This can be a very rapid way to get set up to monetize your expertise even if you don't have an online course ready to go.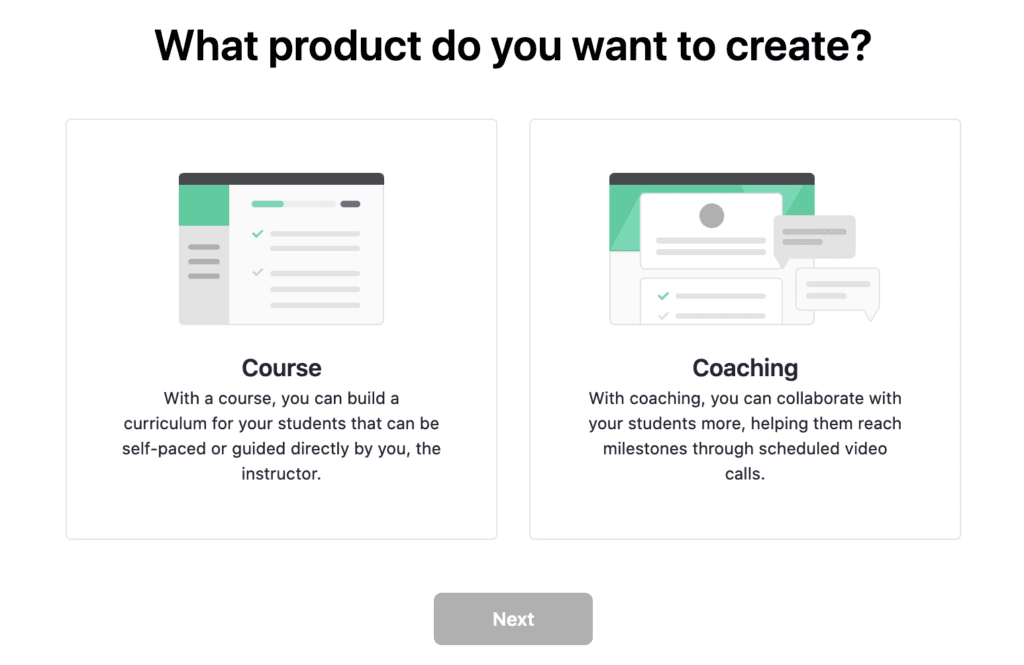 Teachable Review: Marketing and Selling Courses
As I mentioned above, Teachable is clearly geared toward marketing and selling courses, but I only scratched the surface. Other sales and marketing-oriented features you will find in the Curriculum area of the administrative panel include:
Pricing – You have the ability to set multiple prices for a course and there are multiple types of pricing plans, including free, subscription, one-time purchase, and payment plan (to allow learners to pay for the course with multiple payments over time). A nice touch: there is an option under Setting to allow or not allow students to opt out of their payment plans (basically, cancel their enrollment). By default it is set to not allow them to opt out.
Coupons – You can create coupons to offer discounts to specific customers. Coupons can be created for all payment plans and come in the form of a set amount or percentage off. (Requires Basic plan or above)
Bundling – You can bundle multiple courses together to sell them in a single transaction.
Sales Pages – AKA Landing Pages, Teachable gives you the ability to create sales pages customize them, including:
Customizing the "hero" header at the top of each sales page with an image of your preference
Including a coupon banner, if appropriate, to promote any discounts you are offering
Creating a course description
Displaying a bio for the course author/instructor
Displaying the course curriculum on the sales page
If the course is a bundle, showing all the courses that make up the bundle
Course page closing letter to help seal the deal
Enroll button
You can remove any of the "blocks" above and/or add in your own custom or pre-made blocks, including:
Rich Text
HTML
Background Image
Embedded Video
Embedded Form
Testimonial
Featured Courses / Other Courses
All in all, Teachable gives you pretty much everything you need to set up the effective sales page you need to sell courses.
Checkout Page
Once a prospect clicks the "enroll" button, Teachable generates a checkout page with the standard e-commerce options for entering payment information, but you also have the option to add in three elements to help you close the sale.
Testimonials –easily insert testimonials you have gotten for up to two customers
Value Proposition bullets – list the major positive outcomes students will get from participating in your course
Guarantee – use one of the 30-day guarantee images provided by Teachable or upload a custom image of your own
Here's what the results can look like: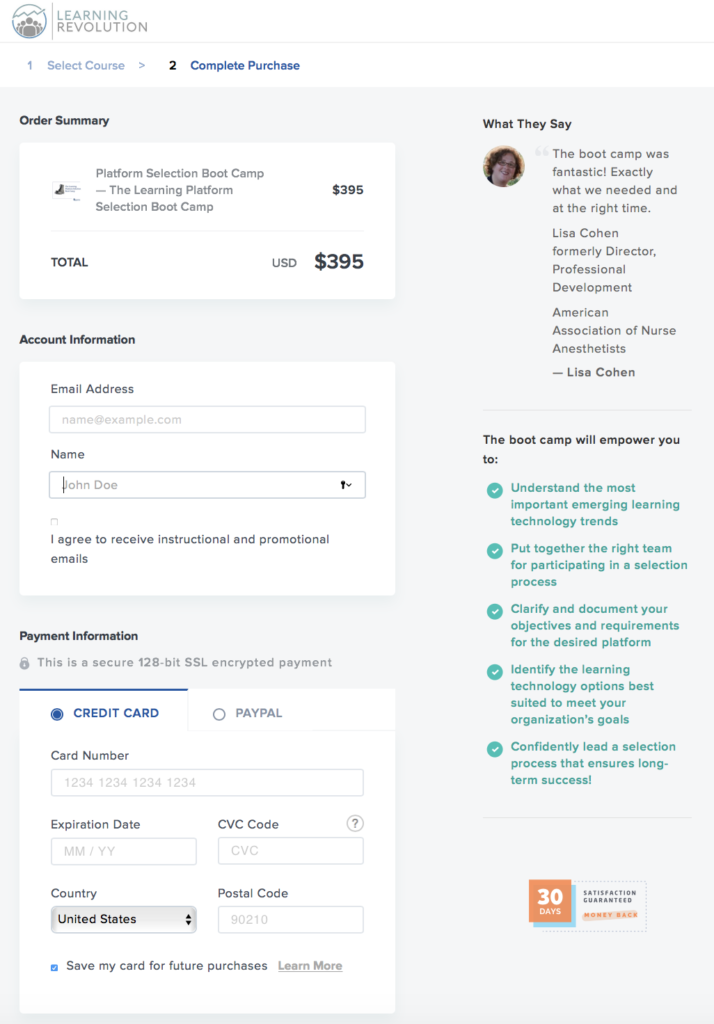 Thank You Page
Teachable is very focused on empowering you to squeeze as much value as possible out of the sales process, right up until the point where you thank your new student for the purchase.
On this page, you can simply say "thank you" and provide a button for the student to easily access the course platform content, or you can also opt to drop in a video with a personalized thank you or other messaging from you – a great way to build engagement with and message students.
Finally, you can encourage customers to enroll in other relevant course content you offer by including an "upsell" block in this page. This enables you to easily sell courses by include a purchase link for more than one course or bundle and set the price, including the ability to set a discount.
As easy as it is to include an upsell item, Teachable could improve this process significantly. Right now, the only way to "set-up" the upsell is by including a video block in the page. While this is a good approach, there is no way to add explanatory text or images to help the student understand what the offering is and why they should consider it.
Authors and Affiliates
A couple of additional areas I definitely do not want to miss in Teachable are the ability to set up Authors and Affiliates.
I've already mentioned Authors above. These are people who you set up to have rights to create and manage their own courses in Teachable, and who get a share of the Teachable sales of a course (as set by you).
I mention Authors again here because they can be powerful partners in selling to your existing audience or by bringing their own audiences in. They have skin in the game, so to speak, and Teachable provides tools for them to track their own sales and payouts. They can also, if you allow them (under Settings > General), do things like set their own course prices, create coupons, and customize their course sales pages and landing pages. Additionally, Teachable gives you, as the site owner, good tools for tracking and communicating with Authors.
In addition to Authors, you can also create Affiliates who earn commissions from course sales. As with Authors, Teachable gives you good tools to track and communicate with Affiliates and Affiliates are able to easily track their own course sales.
Also, if you use Teachable to process all of your course platform sales (more on this below), you can also opt to have them manage all of the payouts to your Authors and Affiliates through their Back Office program. An extra 2% fee per transaction applies, but these transaction fees may be well worth it to many edupreneurs to cut down on the hassle of handling these payouts yourself. (Link to post re: choosing good affiliates.)
Teachable Review: Payment Options
Finally, given that most people interested in Teachable are interested in selling online courses, a good Teachable review wouldn't be complete without covering payment options and associated transaction fees. There are three main options for accepting payments for courses. Teachable Payments, Teachable Legacy Monthly Payments, and Custom Payment Gateways.
The first is to use Teachable Payments (introduced in October 2018), which is available on all payment plans for residents of the United States and Canada. When you do this, Teachable Payments walks you through a process to set-up a Stripe Express account (or add an existing account). This enables you to accept credit card payments through Stripe payment gateway and it is also possible to opt to allow PayPal payments.
Under this option, Teachable charges no transaction fees on course sales for Professional plan and Enterprise users (though PayPal and Stripe fees do still apply). Free plan users pay a 10% fee plus $1 per transaction and Basic plan users pay 5% in transaction fees.

Additionally, Teachable Payouts offers the ability to get paid daily rather than having to wait for a monthly payout.
For users outside of the United States and Canada, Teachable's legacy Monthly Payments option remains available – though I have to admit the difference between this and Teachable Payments are not very clear to me (or very well documented by Teachable).
Finally, you have the option to set up a custom payment gateway that connects directly to your PayPal Business account or your Stripe account. The main advantage of doing this that you paid out faster and will usually have lower processing fees.
Teachable Review: Teachable Integrations
Most online course platforms offer integrations with other types of platforms (e.g., e-mail marketing, customer relationship management). Teachable is no exception.
In case "integration" is not a familiar term, it just means that one piece of software is able to "talk" to another by passing data to it through some special coding. This is one-way integration. If the other piece of software can send data back – i.e., "talk back" – there is two-way integration.
The number of pre-configured integrations available in Teachable relatively limited compared to some other systems. Instead, Teachable relies heavily on the use of Zapier, a popular platform for creating integrations – and Zapier is only available as an option under paid plans.
With a free Teachable account, you have the ability to insert Google Analytics code and connect to the marketing platform Sumo (which, among other things, enables you to create forms for collecting e-mail addresses on your Teachable site). Note that Sumo is free only up to 200 subscribers. After that, plans start at $29 per month.
With any of the paid plans, you get access to integrations with:
Convert Kit and Mailchimp – two of the most popular e-mail marketing. (Surprisingly, Teachable does not have a pre-configured integration with Aweber.)
Segment a unified interface into hundreds of analytics services (enabling you to pass Teachable data to these services). I think only more advanced users will be interested in this, but it good to have as an option.
Beyond those integrations, the main approach is – as noted above – is to use Zapier and/or to use "Webhooks" created in Teachable.
Teachable does make it easy to access a number of the most popular "Zaps" – the connections between software applications created in Zapier. These include, for example, Zaps for Aweber, Infusionsoft, Drip, and Google Sheets. Keep in mind that Zapier is free only up to 100 "tasks" per month. Beyond, fees kick in starting at $20 per month. (So, for example, if you enroll 100 students in a month and use Zapier to put the e-mails of students into Aweber, you have to start paying before student 101 enrolls that month.)
Webhooks, which you can create in the aptly named "Webhooks" area of the administrative panel, can enable you to do some of the same things that you might with Zapier, but this is a somewhat more advanced area that may feel daunting to most online course creators.
Teachable Review: Managing and Communicating with Students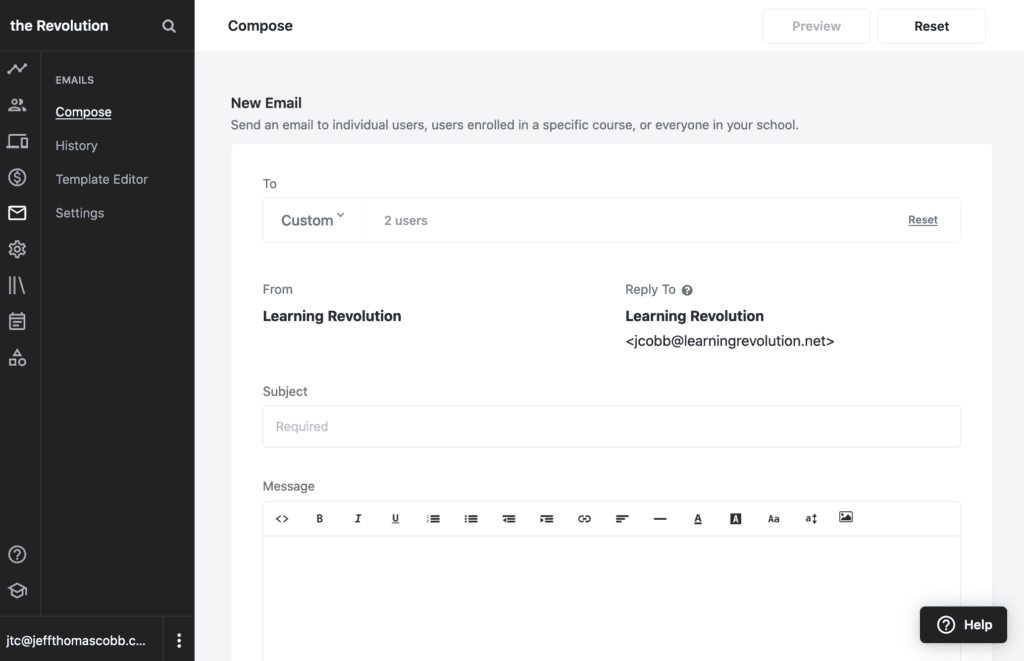 When a user signs up at your site, Teachable captures their contact data (e.g., first name, last name, e-mail). Beyond this basic information, Teachable does not provide options for collecting more detailed and/or or custom data about learners (as, for example, Thinkific does).
Nor does Teachable provide for organizing learners into groups – like, for example, a group from company A and a group from company B. For online course creators that sell to businesses, this is a shortcoming that may be a deal breaker. (Again, this is an area in which Thinkific offers more options.)
On the other hand, Teachable does offer the ability to enable MyTeachable accounts on your school, making it possible for an existing audience who has already signed up to take courses on a different Teachable school to very easily register at yours.
As the company puts it, this solves the common student frustration of needing to create a new account every time they want to take a course on a Teachable-powered school. For you, as a school owner, this means that new students will potentially be able to sign up for your school with a single click, resulting in higher conversion rates and a smoother user experience.
Given the market share that Teachable has achieved, this does seem like a valuable feature.
As far as communicating with your learners goes, there are a few options in Teachable.
First, you can enable Comments on a Lecture-by-Lecture basis in Teachable. (Remember, Lectures are basically the components of a Teachable course and you have the ability to call them something else by changing the language under Site > Custom Text.) You can also specify, on a sitewide level (under Settings > General), whether comments will be moderated – i.e., you or another instructor reviews and approves them before publishing – and whether the responses will be threaded – i.e., all of the responses to a comment are nested under that comment, making them easier to find.
Under Settings > Notifications you can set whether you will be notified when a new comment or reply to a comment is posted or when a comment require moderation. Under this area, you can also say whether you want to be notified when a new student registers for your school, enrolls in a course, or cancels an enrollment or subscription. These e-mails, as well as all of the various automated e-mails that get sent out to students from Teachable, can be modified under Emails > Template Editor, though making modifications does require some familiarity with HTML.
With any paid plan you also gain the ability to manually send e-mails out to your students. These can be sent to all of your site users, individual users, or just the enrollees in a specific course. As with all other e-mails, you have the ability to customize the template for these e-mails (though, again, you need to be comfortable with HTML).
One final note: Teachable does not currently feature any way for student to submit reviews for courses. So, if you are looking for the market insight and "social proof" that reviews can provide, you'll have to reach out to students through e-mail, an end-of-course evaluation, or some other method.
Teachable Review: Tracking and Reporting
Teachable offers relatively standard visibility into student enrollments, progress, and quiz scores for this class of system. Keep in mind, though, that progress reporting does not kick in until the Professional level, potentially a drawback for serious teachers who are not yet prepared to go to that level.
One of the more notable features of Teachable reporting the Video Heatmap. For each video in your courses, the heatmaps indicate which parts of a video have watched (in green), rewatched (in yellow), rewatched multiple times (in orange), or skipped (in white). Keep in mind that this feature applies only to videos that have been uploaded directly to Teachable using the file uploader. Any videos that have been embedded using an embed code are not included in the Video Heatmap report. For course producers who rely heavily on video, it's definitely worth taking advantage of Teachable video hosting (included with the platform) and the Video Heatmap feature.
Teachable Review: Support for Course Creators
The ideal situation is to have a platform so easy to use that you don't need any support. The reality is that most of us – and especially new course creators are going to need at least some support figuring out how a platform works and getting up and running.
Teachable offers reasonably good "inline" support throughout the platform – i.e., explanations. That pop up when you click the question mark icon next to a specific feature. That said, the use of the question mark icon throughout the platform is pretty inconsistent and incomplete. You may or may not find one there when you need it.
There is also a knowledge base that provides articles about all major aspects of the system and seems to be kept up to date.
Finally, with any paid plan you get access to Teachable U, a collection of online lessons, live and recorded Webinars, and other resources to support you in creating and launching your courses and growing your business. All in all, a useful and valuable part of the Teachable offering.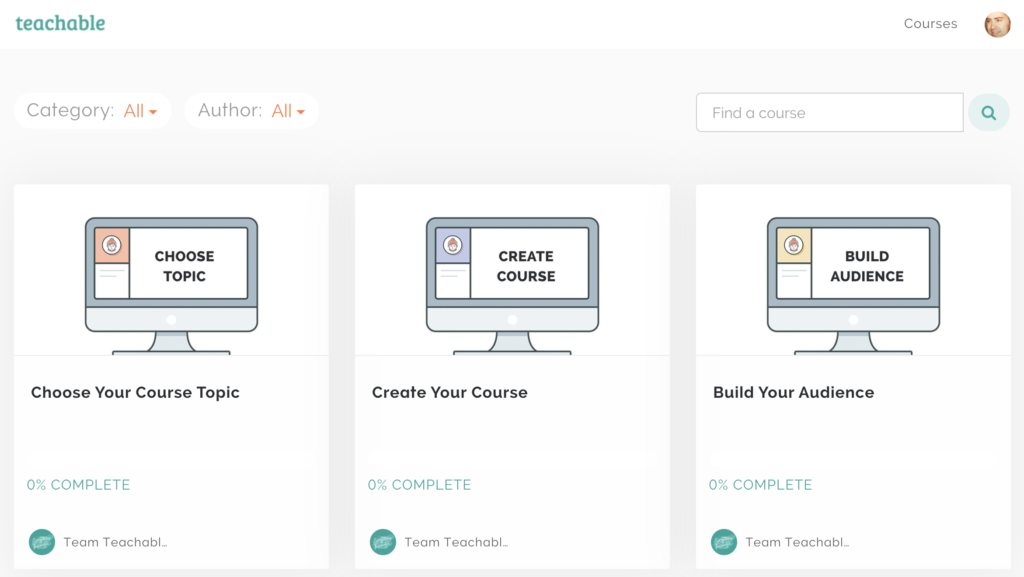 Teachable Review: What Teachable is missing? (so far)
Teachable is a very solid, straightforward platform for online course creators who want to get up and running quickly with professional-looking, user-friendly courses. But, like any platform, there are areas where it may fall short for some course producers, and a Teachable review that doesn't mention these is not worth much. They include:
No multi-tenancy option
Multi-tenancy means that you can create and manage multiple instances of a platform under a single umbrella. This can be really handy if, for example, you are a training company with many corporate clients and those clients want their own branded instance of the platform for serving and managing their users.
Arguably, you could achieve a limited version of multi-tenancy in Teachable by enabling Authors to publish their own courses and customize their sale pages. Still, if you need true multi-tenancy, there are many better options (like most of the platforms on this page).
No continuing education credit capabilities
While Teachable does enable you to issue a completion certificate for a course, there is no way to indicate the amount of time associated with a course or the amount of continuing education credit that may be available. While there may be work-arounds, if earning continuing education credit is important to your learners, Teachable is not your best option. (If you are serious about continuing education, I recommend checking out the platform reviews on ReviewMyLMS.)
No support for SCORM or xAPI/TinCan
As noted above, Teachable has no capabilities for importing or configuring courses created in common authoring tools like Articulate and Captivate. By extension, it also does not support the use of the SCORM, xAPI/TinCan, or other e-learning standards for packaging courses. If you have a strong and valid reason for using one of the major e-learning standards, Teachable would not be the way to go. (More on SCORM.)
Very limited multi-lingual support
While it is technically possible to create courses in multiple languages, it is not all that easy. And, there is not option for presenting your school navigation in more than one language. In general, if you are serious about multilingual, Teachable is not your best option.
Teachable Review: Teachable Pricing
Teachable pricing and plans are pretty easy to understand. The paid plans start at $39 per month ($29 if paid annually) for its basic plan. With the lowest level paid plan you still pay a 5% transaction fees on all sales. Transaction fees disappear once you jump up to the next level. All plans include unlimited courses and unlimited students. Teachable does offer a free plan, but the free plan strips out many of the key features an online course creator would need to be successful long-term.
Since pricing and related features can change pretty frequently, I encourage you to visit the Teachable site to compare the various plans that are available.

Teachable Transaction Fees
As mentioned above, Teachable transaction fees vary based on your plan. The free plan has the highest Teachable fees plus an additional $1 charge per transaction on top of payment gateway fees. This plus the lack of other key features probably doesn't make the free plan that beneficial for most. Who wish to successfully create and sell online.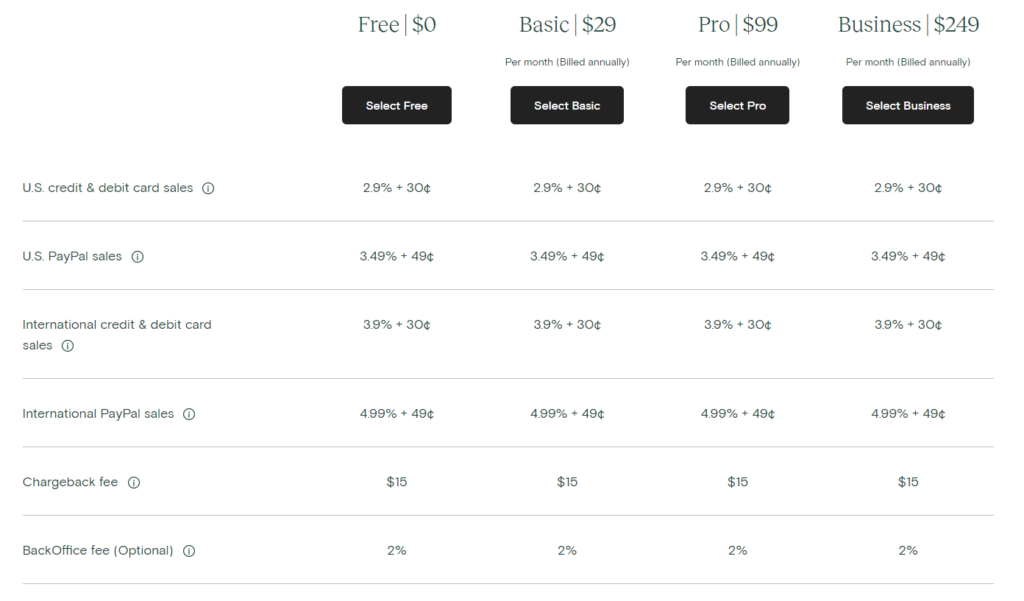 Teachable Support
Teachable offers levels of customer support and access to their customer service team depending on the plan you choose. The professional plan offers the most support as you would imagine, along with the business plan. But all levels offer email support.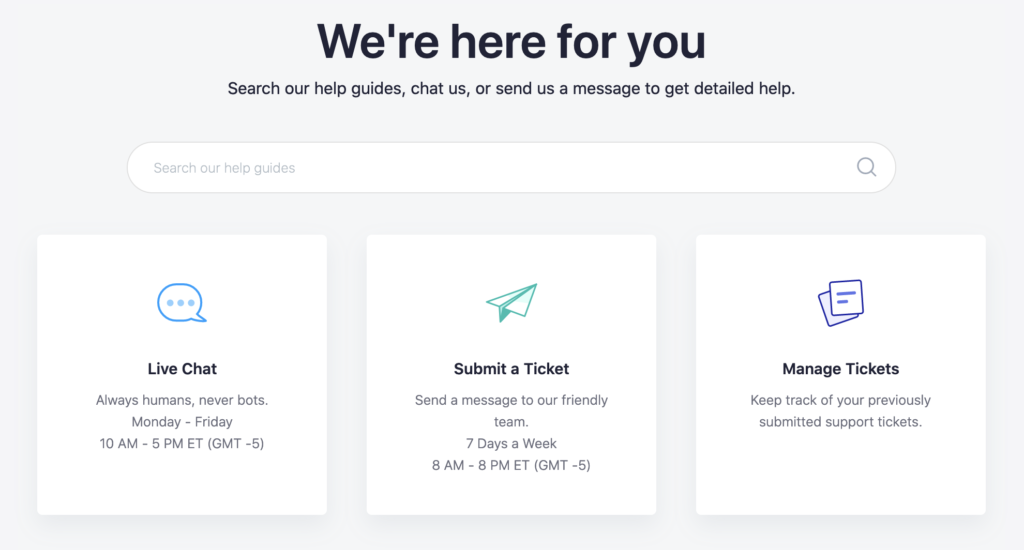 Teachable Additional Benefits
Some of the intangibles that make Teachable legit is the additional benefits. You can get with a professional plan and higher like the coaching calls. Which as outlined, can be very helpful to understanding how you can take advantage of everything. Your professional plan offers but also help you create and sell from your very first course on.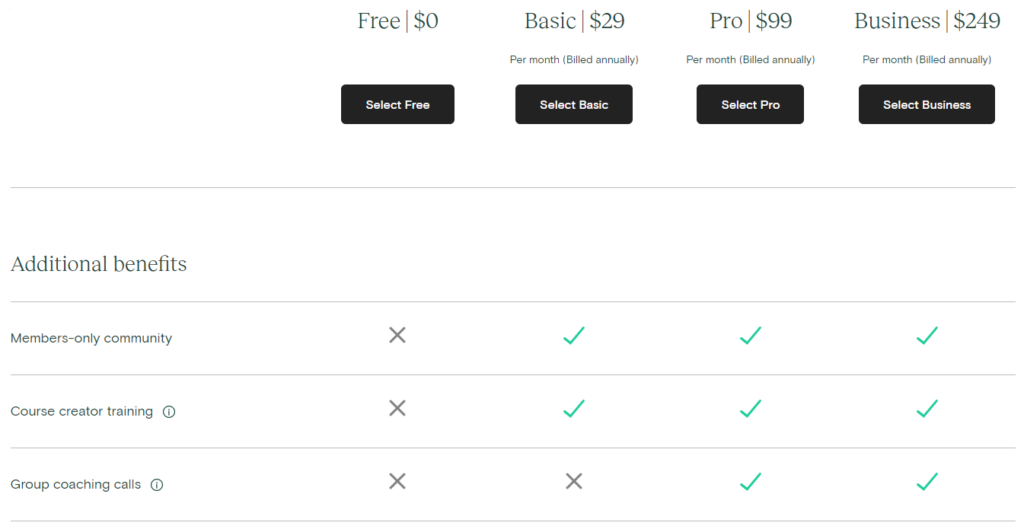 Teachable Review: The Bottom Line
All in all, if you are a course creator who wants to sell online courses. You have relatively simple course creation needs – and particularly those relying heavily on video – Teachable is a great option. I find the platform easy to use and the end user experience very good. At the professional plan level (currently $99 per month, billed annually). Teachable offers the range of features that most solo edupreneurs or small businesses will need for successfully creating and selling online courses and the pricing is on par with similar platforms in the space (e.g., Thinkific)
Of course, I still recommend that you do the work to figure out your specific needs and priorities before making a platform decision. For doing that, I recommend downloading my free Course Platform Selection Guide to understand your needs and make your own decision.
There are many features that make Teachable legit when it comes to smart passive income creation. And, if you do end up going with Teachable, I encourage you to share your own Teachable review in the comments here.
Frequently Asked Questions
Here are some of the questions I often get from readers or see asked in other places.
Does Teachable have a free plan?
Not really. The company used to offer a free plan, but now what you get when you sign up to "get started for free" a 14-day trial of the Pro Plan ($99 per month normally). After 14-days, you either need to upgrade to switch to a paid plan or your school gets deactivated. (Note: Many Teachable reviews our there are not up to date on this and say that Teachable does have a free plan. This entry updated on August 15, 2020.)
Is Teachable better than Thinkific?
In general, Thinkific wins for overall course website capabilities, managing bulks sales and content, and quiz/testing capabilities. Teachable wins for student engagement and interactivity, ease of navigation, selling/conversion tools, and customer support. You can read a comprehensive Teachable vs. Thinkific comparison here.
What are the main alternatives to Teachable?
If you are considering Teachable, the three other platforms I would recommend vetting are LearnWorlds, Podia, and Thinkific.
Is Teachable Mobile Friendly?
Yes, Teachable is mobile friendly for all student interactions and online learning. Course administration best done on a larger device like a laptop or desktop.
Teachable Payments seems to be fairly robust. Does any other platform have something similar?
Teachable payments are quite robust as far as platform payout support is concerned. A strong feature that allows for payments daily is tough to beat.
Does Teachable allow you to build membership sites?
Not really. You can sell subscription, but that's about it. Teachable is best for those who already have a website or membership site. Teachable fits best as the learning portal within a structure already built. Kajabi is the best solution if you want to build membership sites that have learning in tow.
Teachable Updates
I do major revisions to this post from time to time. In between, I list major updates here:
Teachable – Circle.so Integration (April 2021) – For course creators looking to add strong community capabilities (or vice-versa). This integration with one of the most popular community platforms may be just the ticket.
Page Editor Update (October 2019) – Teachable released  a major update to its page editor (what you use create pages in your Teachable school and courses). The new editor has a live preview function, auto-save, and some new/improved content blocks to make building things easier.
Coaching – In Summer 2020 Teachable significantly updated the platform to support to support coaching as a business model. Additional upgrades included free trials for your student subscriptions and limited course access duration.