All you yoga fanatics, mid-day power walkers, and people who just like rocking athleisure 24/7, we're here to debunk what may be the perfect pair of leggings. The lululemon InStill High-Rise Tight might already be on your shopping radar after its launch last September was followed by serious fanfare. As the very popular activewear brand's latest legging innovation, the InStill Tight is known for combining Align-quality softness with Wunder-level compression — a feeling we imagine Goldilocks suiting up for a yoga class would call "just right." Unsurprisingly, these high-rise tights were designed specifically with yoga in mind; providing an overall fit lululemon describes as "a hugged feel" that "stays put so you don't have to pull them up mid practice." Other bells n' whistles include the brand's trademark SmoothCover fabric (a blend of 74% nylon and 26% lycra elastane), a 25″ inseam, a back drop-in pocket, ten colorway options, and sizes ranging from 0-20 (we'd love to see this extend further!).
Ever since our beauty and wellness writer's glowing review of the InStill Tight was published in the fall of 2021, we began to notice an upward trend of our readers adding the style to their carts. Priced at a premium of $128 and still consistently clocking in as a top-purchased item, month after month, our interests were more than piqued in just what was making these tights so magic. After winning the Leggings 2.0 title in our second-ever MVP Awards this past January by a landslide, we decided it was high time for the entire Shopping team to give the legendary lululemon style a try.
InStill High-Rise Tight 25″, $128 (Black)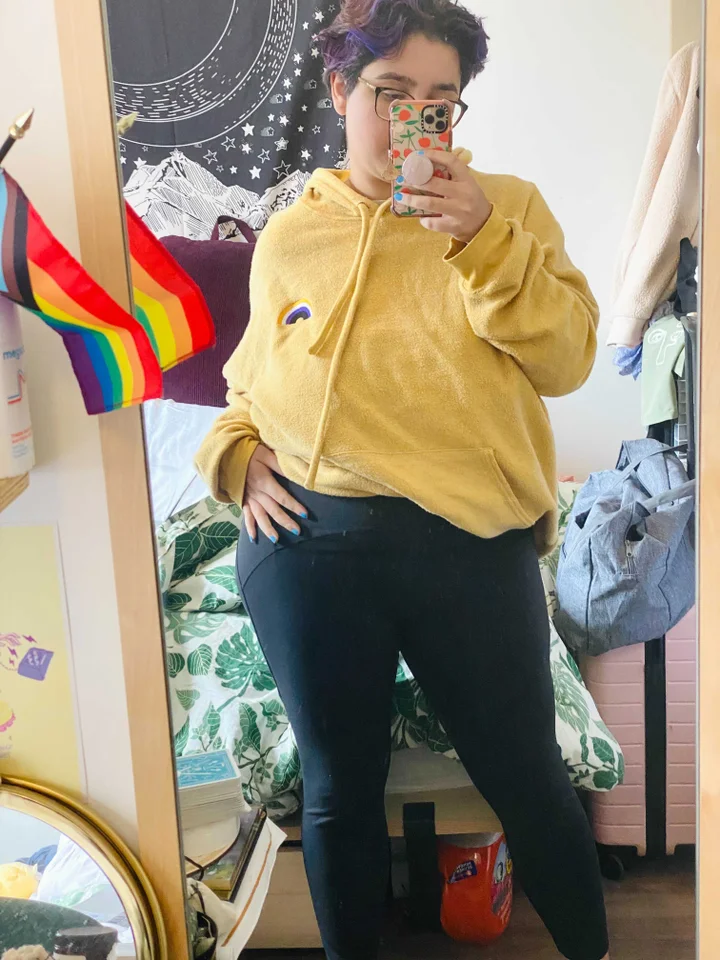 "My ideal when it comes to leggings is comfort. I don't work out, so I don't care whether or not it sucks me in, or how sweatproof the fabric is, or any of that. I only care about how perfect they are for lounging — and these are perfect for that! They're buttery-soft and a winner in my book.
I recently put them to the test on a trip. The leggings were a part of my travel outfit both ways, and honestly? I've never worn a more incredible pair of leggings at the airport. They're not too thin that you'll be cold, and they're not too thick that you'll sweat right away. As for physical activity, I think these would actually be perfect for yoga or any low-impact activity.
I don't know how many times I can express how soft these leggings are! That's definitely my favorite and best part. The only negative is, with a 25-inch inseam, they're a tiny bit too long on me — but that's every pair of leggings I've ever owned, and it doesn't really bother me.
InStill High-Rise Tight 25″, $128 (Bronze Green)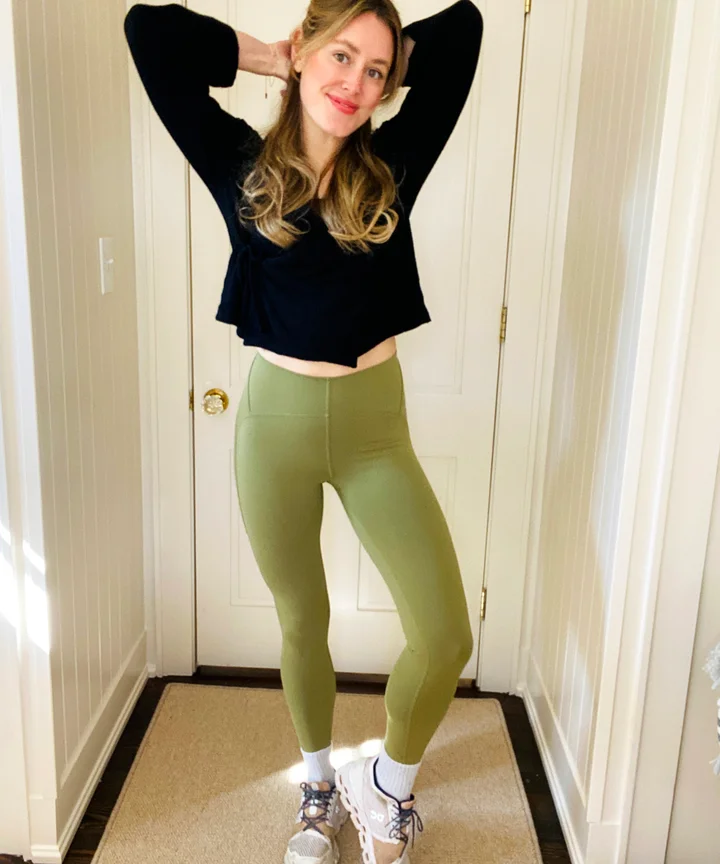 "Surprisingly enough, these are my first-ever pair of lululemon leggings — and, after hearing all the hype about the InStill Tights from many a Shopping teammate and R29 reader, my first impressions of the best-selling style did not disappoint. Even before pulling them on, I could tell they were well made. The material felt silky but substantial; the creamy artichoke (aka bronze green) colorway was soothing yet eye-catching.
The best way to describe the feel of the InStill Tights is like wearing supportive butter. These are, without a doubt, the most flattering pair of leggings I own. I cannot get over how velvety soft they are, without feeling too thin or revealing on my legs, booty, and (especially) crotch areas — an issue I often run into with many of my other lightweight leggings.
My ideal leggings aren't too thick OR too thin — I want them to be compressive, but also lightweight and breathable. Additionally, I'm partial to high-waisted seamless styles that provide a smooth and streamlined silhouette instead of lower-rise and cropped or compartmentalized by chaotic seaming patterns. Oh, and pockets, leggings with pockets are very important. The InStill Tights are all of these things.
I've been putting these leggings to the physical test for the past month, doing a range of activities in them on multiple days out of the week: working from home in them; binging Netflix on the couch in them while hungover; walking the dog in them; taking hot yoga classes in them; running in them on very cold days; traveling on a plane in them; running errands in them; going to brunch in them; etc. The applicable possibilities for wear and tear on these babies are endless.
The leggings held up super well throughout my past few weeks of testing. They seemed to move with me and adapt to each activity or task: feeling breathable and stretchy when things got sweaty and tight; keeping me warm and contained when things got high-impact and frigid.
I am obsessed with the InStill Tight's smooth seam that runs up the crotch area and connects to the waistband — it creates an unexpected flattering-dip shape to the waist, like a less extreme version of the viral cross-over-style leggings.
If there were one thing I had to critique about these leggings, it would be the steep price. (If they were less, I would buy a pair in every single colorway.) But, the quality IS there — so, I foresee these lasting me a long time without degrading or fading.
InStill High-Rise Tight 25″, $128 (Dark Red)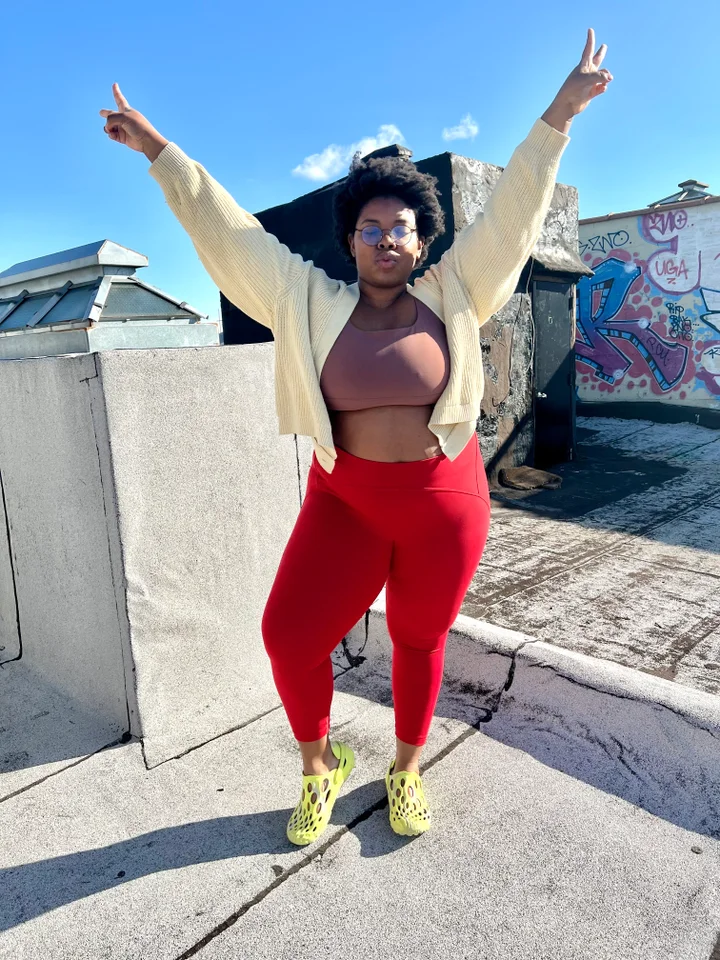 For me, an ideal legging feels soft and comfortable on my skin which these definitely live up to. I look for leggings that stay put during physical activity and these require the occasional adjusting. I'm not sure if that's because of the sizing. I did get a size 20, the largest size currently offered. Perhaps a slightly larger size would have held put better or maybe the design could allow a little more for a curvy belly.
To test them out, I walked and did yoga as well as some standard calisthenics. For walking and yoga, it was mostly fine. I did have to do a little bit of adjusting because the waistband would slide down a little.
InStill High-Rise Tight 25″, $128 (Black)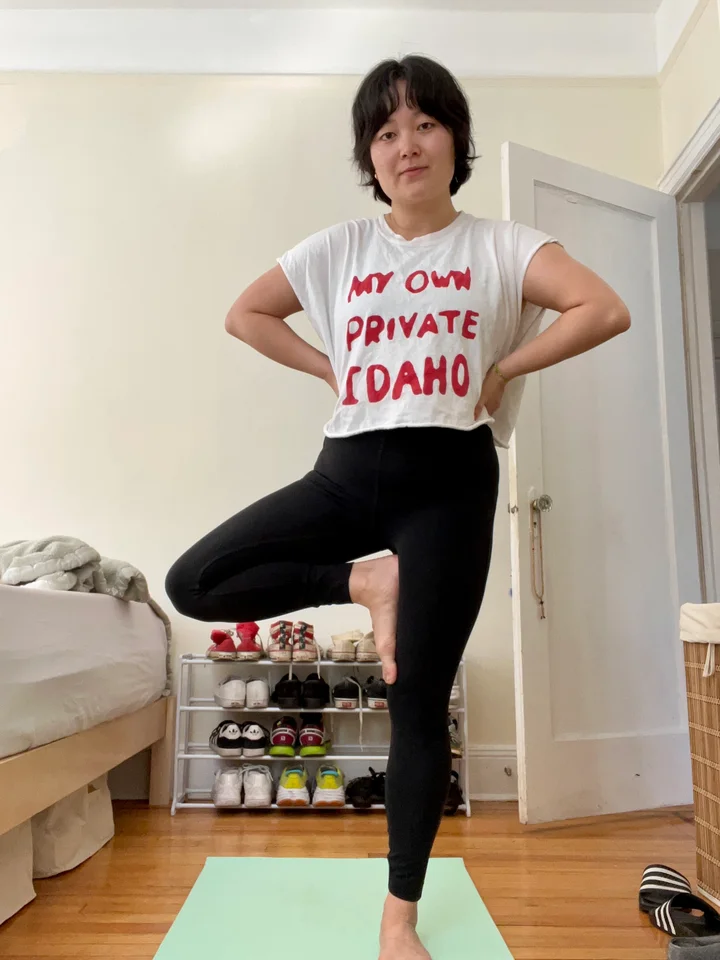 I don't think I know any activewear brand that uses numerical sizing for its leggings — but lululemon does, so the whole notion of "ordering the right size" kind of threw me off. I ended up ordering my normal pant size and the leggings fit totally fine, but not in any specific or life-changing way where I must only order my exact legging size from now on. I do appreciate the attention to detail, however — I can only imagine the sizing must attribute to lululemon's cult-like status in the activewear space.
Since these leggings are meant for yoga, I did a yoga-pilates session in them right away. I will say that the compression is nice and snug and there's this piped stitching detail that goes around the backside that I think just kind of reinforces the overall smooth fit around the butt. The material is thicker than what I'm normally used to wearing, but the wicking material didn't leave me overly sweaty in the crotch area. A few days later, I wore the leggings again, this time to a barre class and they held up solidly for a session that included a lot of squats, bends, chairs, bridge poses, and leg lifts. The inseam is also great for my 5'3″ frame but I did have to kind of adjust them a bit to evenly distribute the fabric on my legs.
InStill High-Rise Tight 25″, $128 (Graphite Grey)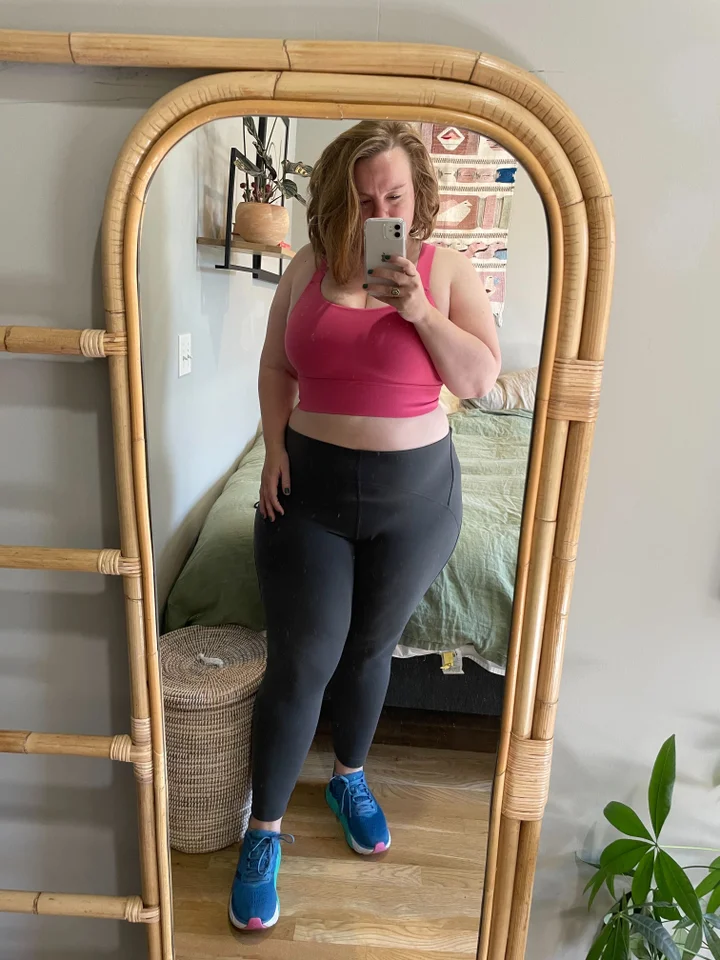 I've never bought clothes from lululemon, but friends have told me they tend to run small. So, I did what I'm always too lazy to do and actually measured myself before selecting a size. My hip and waist measurements are perfectly lined up with a size 20 per lululemon's size chart. This is on the larger side for me (I tend to be a size 14/16) but since my measurements lined up so well I expected these to be a perfect fit. Well… they weren't.
They were at least one size too big, maybe two. Instead of being compressive, they were a tad baggy and bunched in spots. In other words, they were simply the wrong size. I took a nap in them and felt fine, but after a yoga class and some cleaning around the house, I noticed they were actually falling down. Which was too bad because, otherwise, there was a lot that I liked about them.
I like yoga pants that feel soft but are still compressive without pinching and I imagine, in the right size, these pants would be just that. Most of my leggings are Girlfriend Collective, and I actually preferred lululemon's much softer hand feel. I also liked the length and stitching (I'm almost 5'4″), though I like GC's larger back pocket better since it actually will hold an iPhone.
InStill High-Rise Tight 25″, $128 (Olive Green)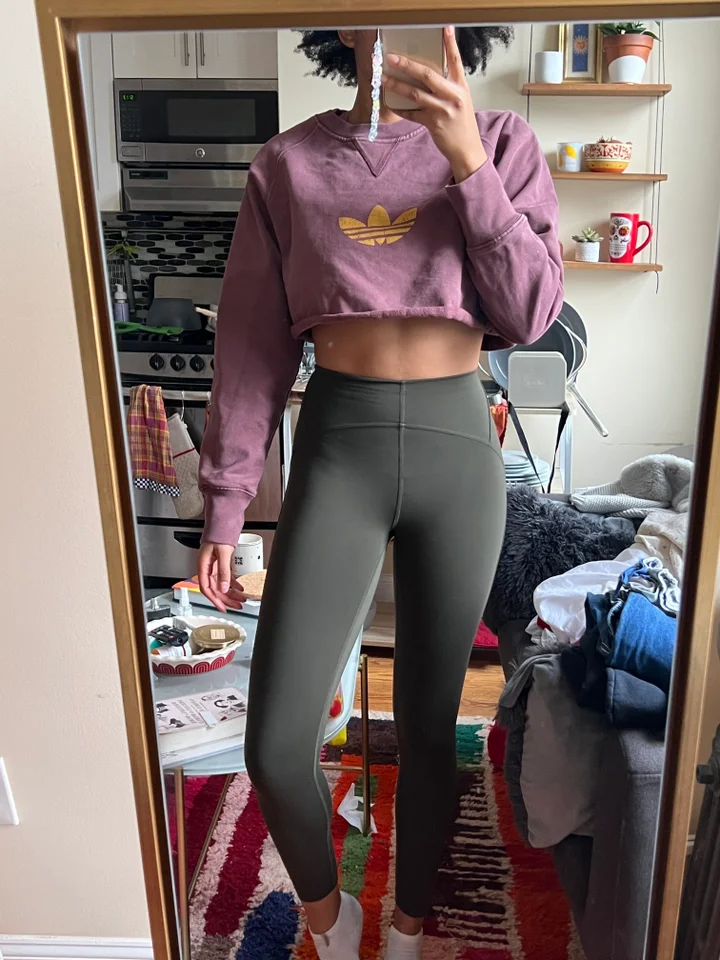 I actually brought my Lulu package with me to the office so I didn't have to run up the stairs and put it in my apartment — so, picture a few of my coworkers and I collectively rubbing a pair of leggings and cooing at how soft the fabric is. I expect no less from Lululemon because of the brand's consistent insurmountable hype and vast cult-following. However, I was quite impressed and excited to try them on for size.
It was love at first thigh hug, seriously. Unfortunately, Lululemon clothing notoriously only caters to skinny bodies like my own, so I wasn't surprised once again — what did shock me though, was the cinch. The stitching on these leggings is so flattering it's crazy. All the lines and the tight fit snatch everything to the smallest part of your body at the waist and I felt confident wearing them.
All that is to say, I'm not really a legging gal. The jegging craze of the early 2010s gave me anxiety because I like thick denim. But, I love a good legging for exercise and have three dire needs: One, no slippage when running; two, no sweat stains (all my leggings are black, so the Olive green was a risk); and three, make my butt look just a little less square. These leggings check two out of the three boxes: no slippage and my butt looked better than average. However, the whole gym knew that I went hard on the treadmill because sweat stains were sprinkled all over the place…specifically, intimate places. But, I'm not too self-conscious so I will be wearing them again, but perhaps only on less intense gym days. I actually would prefer to use them for social exercise like yoga, hiking, or something that isn't too intense. They did stay stuck in place and felt wonderful though.