I've been wearing Lululemon gear for workouts, hikes, and lounging around the house for over a decade. And yes, I was even that person that occasionally paired their leggings with Uggs and wore them to college lectures when that was a style. I am well aware that Lululemon clothes don't come cheap (though you can always browse the "We Made Too Much" section to try to snag a deal). And yes, I agree that $100 or more is a slightly absurd amount to spend on leggings. But hear me out. Lululemon is well worth the steep price tag.
Over the years I've tried numerous other brands from Athleta to Fabletics in the hopes of finding workout clothes I love just as much. I have other leggings, tops, and bras I like, but none that have lasted me over 10 years and look and feel the same as the day I bought them.
I've worn them on 12-hour treks through Patagonia and on runs through humid Brooklyn streets, and still, nearly everything I own has held up. Because I know I'll own everything I buy for years to come, I'm more than willing to pay the extra price. Several of my coworkers also own and have tested out Lululemon pieces. We've put sports bras, leggings, shorts, and tanks to the test in yoga classes, at our home gyms, and more. You can find all the details on fit, style, and performance for our favorites below.
Generally, sizes run from 0 to 20 to fit a wide range of body types. Prices vary and run around $14 for small accessories like socks and headbands, $58 for sports bras, and $128 for some of their most popular workout leggings.
12 of our favorite Lululemon pieces and what they're like to wear:
I never wanted to love Lululemon because I knew it would be an expensive habit, but these leggings made me a convert. They're soft and lightweight enough to sleep in but still substantial enough to work out in. And unlike so many other pairs I've owned, the high-rise waist never rolls down. I haven't taken them off since the start of the pandemic, and once I wear them out, I'll be running to the store to buy more. As far as sizing, I typically wear a size 0 in most clothing, but I went with a 4 in these leggings and they fit perfectly.
The classic Wunder Under leggings in black were my first-ever Lululemon purchase more than a decade ago now, and I continue to wear them. They're soft, stretchy, suck you in at all the right places, but are still comfortable enough to wear with a cozy oversized sweatshirt all day. Even if you don't hit the gym too often, you'll likely end up wearing these around the house daily. They also still get the job done during workouts, though I've found they aren't quite as good for sweat-wicking or quick-drying as options like the Fast and Free Tight. Additionally, while they do have a small waistband pocket for keys or your credit card, I do now prefer the convenience of leggings with side pockets for hitting the gym or going on runs.
This is probably my number one most favorite sports bra in the world, and I've tested over 20 of them for my job as a style editor. As a short person with a DD chest, I have a really hard time finding sports bras that work. The straps are always too long for my short torso and the padding is often too intense for my taste. But this bra is the ultimate middle ground. The straps aren't too long or too short, and the amount of padding is minimal.
The cross-back straps help create enough lift that I feel really supported, even for high-intensity workouts, and the material is really soft and seamless for a comfy fit. There's almost always going to be some uniboob action going on with sports bras for large chests, but I find that it's less so with this style versus some of my other high-intensity sports bras.
Lululemon has become my number one destination for whenever I need new joggers or sweatpants. The material itself is incredibly comfortable, but the bigger value for me lies in the versatility of these joggers. The shorter taper at the bottom of the joggers prevents any wear and tear or fraying that I typically see in my sweatpants, which allows me to work from home comfortably, run errands and even workout. I have put a lot of mileage in these joggers and they have yet to fail me and still stand up to the most demanding days.
Down For It All Jacket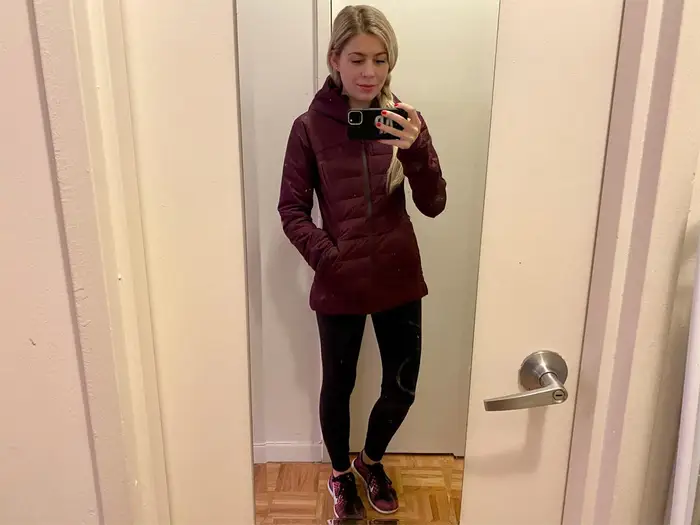 The best part about this jacket is all the pockets. There are front zip pockets for small items like keys and credit cards, and side pockets that are perfectly sized for a phone. I love the lightweight feel (although you'll probably want something heavier for temperatures below 50 degrees) and I reach for it every time I'm going out for a walk and don't want to bring a handbag. The fit is really slim since it was designed for running, so I sized up to a 6 (I'm typically a 2 or 4 in Lululemon) and there's just enough room to layer a long-sleeve top underneath. The hood and water-resistant material have come in handy several times on drizzly days.
If you're large-chested, this top probably won't work for you. But as a 36A, if I could live in one shirt for the rest of my life, it would be this one. That's largely because I wear this both as a top with anything high-waisted, as well as a way more comfortable but equally supportive bra under baggy shirts and sweatshirts. The fabric here is uber-soft and comfortable and just lovely on your skin. The slight v-neck and scoop back are super flattering and it has a built-in bra (it comes with fabric cups too but these are easily removable).
The feature that really sets this apart from other crop tops or bra tops is that something about the cut and the compression delivers the near-impossible for us small-chested ladies: it gives you cleavage. This sounds silly considering it's a workout top, but my tiny chest basically never looks tantalizing in anything without a lot of underwire and padding — yet this tank delivers cleavage and comfort. (For what it's worth, I've heard womxn as big as a C cup be equally excited about its lifting potential, but I imagine it might squish bigger boobs uncomfortably.)
This top is designed for yoga and would definitely hold up through a flow, but I also wear mine a lot on hikes and it's very comfortable to work up a serious sweat in (though it wouldn't be enough support for a run). Because this top is tight, I'd recommend sizing up (I'm a 36A and usually a 6, but wear an 8 in this top).
This workout top is super versatile since you can wear it loose and flowy, or, thanks to the slits in the back, wear it tied up. I almost always wear it tied back and I like that I can adjust it to whatever height my leggings or shorts are. The fabric is super lightweight and breathable. It's cotton, but I've always found it quite sweat-wicking in the heat. I like the high-neck for more coverage, particularly when doing barbell cleans. The only bummer is the knot in the back is annoying for floor exercises or carrying a daypack hiking, but it's easy to undo and re-tie.
These are amazing pants to travel in. They're a loose fit overall but have a drawstring waist, so they're comfy to sit for a long time in without being skin tight. The fabric is an unusual poly-blend but it's very comfortable and doesn't wrinkle. I like that they look a little more business casual than your typical legging. The pockets are perfectly placed and rather deep, which is great if you're going through an airport and need an easy-access stash for your phone or passport. I personally wish they were a little more high-waisted, but I think most people would be happy with the just-below-the-belly-button rise.
Thanks to the fact that these pants use Lululemon's fastest drying fabric, feel nice and cool inside, and are sweat-wicking, I like to wear these leggings to hot yoga classes, on summer hikes, or even, as shown above, ATVing through Tahiti. Like all my favorite styles, these also have side pockets. However, I've found these leggings don't quite suck me in like the Wunder Under or Fast and Free styles, which can be a pro or con depending on what you're going for.
City Sweat Pullover & Metal Vent Tech Hoodies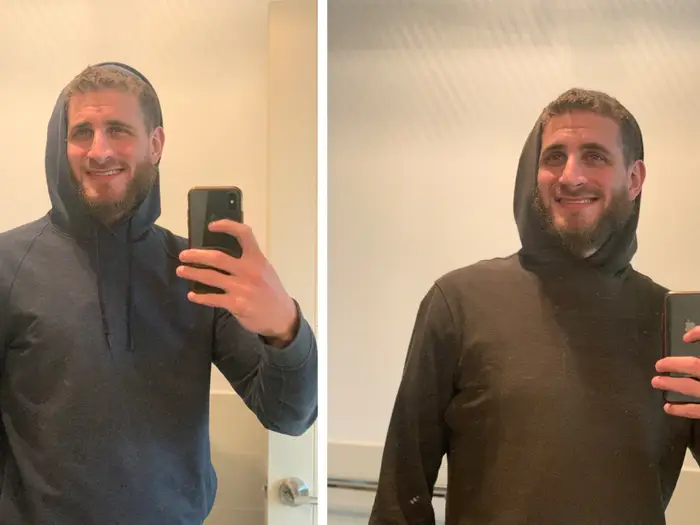 During non-pandemic times, I travel frequently. As is well known, planes are freezing and I will not fly without a Lululemon hoodie or sweater, which gives me much-needed comfort, warmth, and good street-cred. The City Sweat Pullover Hoodie (left) is also great for hanging out around the house in the winter. I use it more as a pajama hoodie, and it goes well with jogger pants. Heavier than a lot of classic hoodies, the City Sweat is an ideal layer for added warmth.
I'm also a big fan of the Metal Vent Tech Hoodie. True to its name, this is the perfect hoodie to go to your hip, latte-infused, ping-pong bashing startup where you can comfortably code for eight or more hours. This hoodie is not too warm or heavy, but rather a light replacement of a regular button-down shirt.
The Energy Bra is a versatile, medium-support sports bra for B to D cup sizes. I'm right in the middle with a C chest and wear it for both low- and high-intensity workouts with no issue. It's comfortable, supportive, and the strappy back makes it a little cute too. Lululemon's bra sizing is honestly very confusing to me, so if it's your first time ordering from the brand, I suggest looking at the size chart and ordering two sizes if you're on the fence. I'm a 34C and the 8 fits me best.