This Lululemon Align leggings review is NOT sponsored and was written based on my honest opinion as a busy mom working on her fitness!
Thinking about investing in a pair of Lululemon Align leggings but aren't sure they're worth it?
Then this guide is for you!
Keep reading for a breakdown of:
how these pants feel for daily wear
how these leggings hold up during tough workouts
whether you should size down in Lululemon leggings
how long you can expect them to last
how to wash Lululemon
a rough estimate of the resale value they hold when you're ready to switch it up!
a few places to check out Align leggings dupe options
are Lululemon aligns worth it
Disclosure: Affiliate links are used throughout this post. You can read our full disclosure here.
Lululemon Align Leggings Review (NOT Sponsored)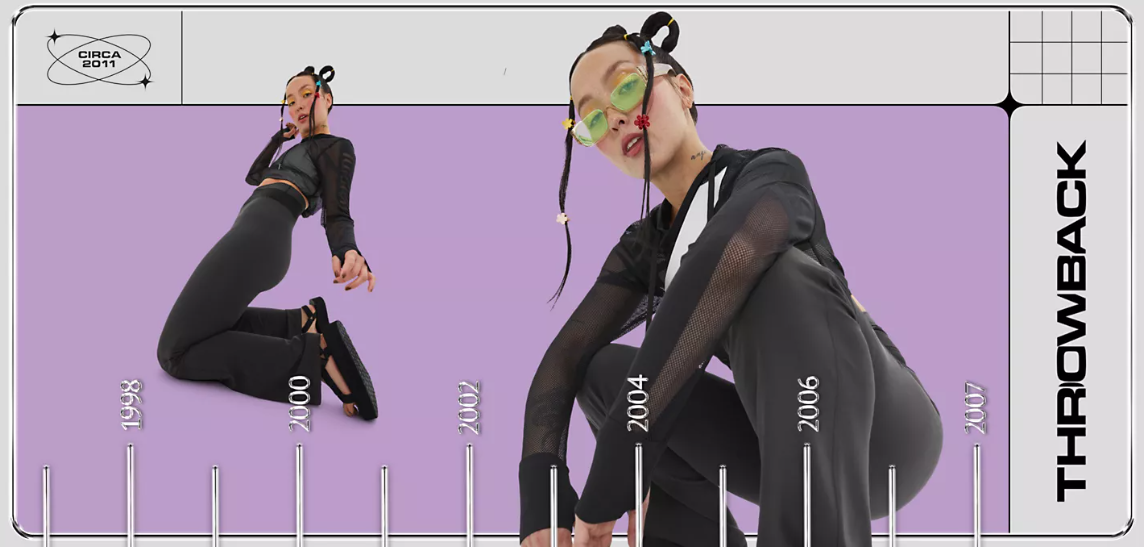 Ah, I remember my first Lululemon experience like it was yesterday.
I bought the Groove pant with absolutely zero intention of working out in them, haha!
Lululemon definitely had a role in the athleisure trend that still dominates fashion today.
But the pant styles they offer now have definitely changed.
Lulu Aligns are now one of the most popular leggings on the market and for good reason!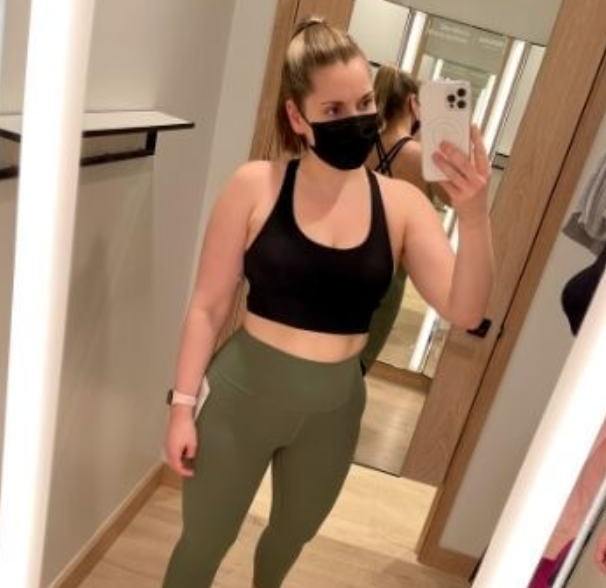 They're an incredibly versatile pair of pants that's great for:
daily wear
lounging at home
dressing up or down
moderate intensity workouts
I bought my first pair of Align leggings in 2019 and they're still holding up well with weekly wear since I first brought them home.
So, 3 years multiplied by at least one wear a week for 52 weeks would make that at least 156 uses.
Aligns as a Daily Wear Legging
I basically live in my Aligns – I'm not joking.
The only event they're not comfortable for is sleeping!
Whether it's working out, cleaning the house, going shopping, playing at the park with the kids, or visiting loved ones, these are my go-to leggings.
The light compression is just enough to hug your body's curves and create a more toned figure.
Lululemon Aligns are great everyday pants that you can take from am to pm!
Aligns for Working Out
I wear my Aligns for all of the following workouts:
Peloton bike classes
Strength training
Yoga
I love how light they feel on and I find that the compression gives me a little extra pep in my step!
I've even done 60-minute Peloton BootCamp classes in my Aligns.
These leggings are solid!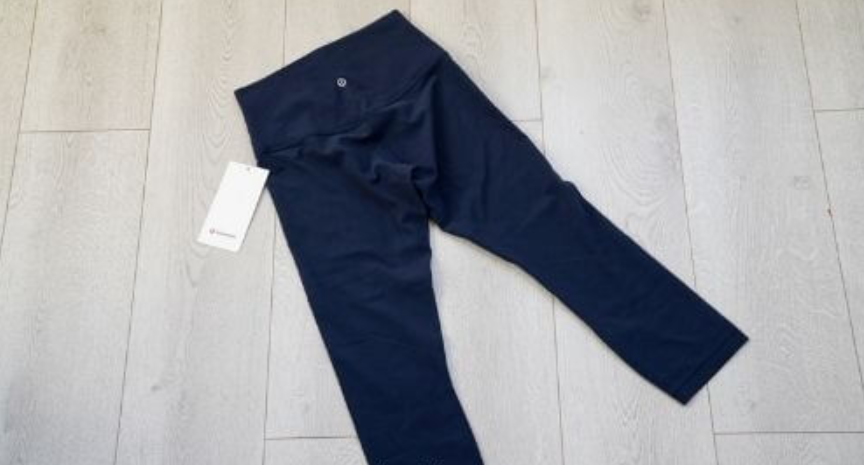 More athletic wear reviews and comparisons:
Lululemon vs Athleta: Which Leggings are Best?
Is the Lululemon Energy Bra Actually Worth It? I Tried EVERY Style to Find Out!
Best Gymshark Leggings: Which Ones are Best for Short + Curvy Figures
Aligns for Pregnancy
I wore my Aligns before I found out I was pregnant all the way up until I was induced with my second baby!
And the best part is, I wore the EXACT same size throughout.
I started my pregnancy as a size 8 and although I had a massive belly, finished as a size 8 too!
The waistband isn't as constricting as other similar sports brand leggings and, so long as you switch them out after 2 days of wear (this is exactly what I did), your waistband will have enough time to return to its natural size between wears.
A Note on Pilling
While I haven't personally experienced much pilling with my newer Align leggings (I did in the past due to improper care), it does seem to happen for some wearers of this style.
My thighs rub together too – so, from my experience, I wouldn't say that this is what causes it.
If your leggings are prone to pilling, consider wearing your Aligns exclusively for low impact activities though.
How to Prevent Leggings from Pilling

Laundering your Aligns with cotton clothing and towels WILL cause pilling – it's just a matter of time.
You might experience it after just one wash or it could take several but why take a chance?
Even worse than washing your Nulu leggings with fluffy and abrasive materials is drying them with these fabrics though – particularly on high heat!
When clothing goes through the dryer, it's constantly rubbing against itself AND the other pieces you've laundered with it.
And since we know rubbing is what causes pilling, it's best to just avoid it.
Instead, always lay your Aligns and other Lululemon leggings flat to dry.
It can be really tempting to dry your Lululemon apparel in the dryer, especially if you're short on time but trust me, it's not worth destroying it over.
With proper care, you'll extend the life of your leggings and be able to resell them for a higher price later if and when you're ready to part ways!
You can find my personal guide to washing Lululemon leggings at the end of this post or checkout Lululemon's official care instructions for more details.
What lengths are Lululemon Align leggings available in?
You can get Aligns in the following lengths:
To give you an idea of how they look on, I usually wear the 21″ length.
At 5″6 and wearing a size 6, they sit about 3″ above my ankles.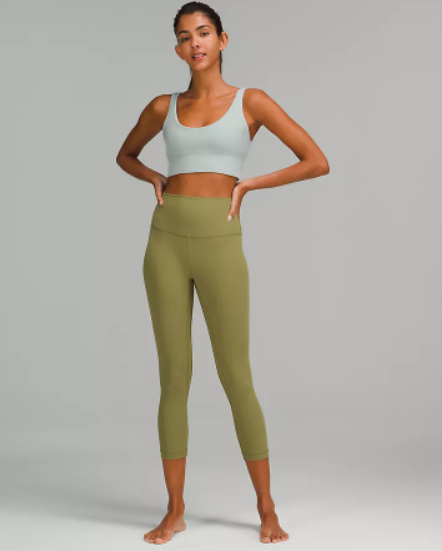 This is the most comfortable feeling for me but I also have a black pair in the 23″ length to wear with boots – it's cold in Canada and I prefer my leggings to be long enough that my skin isn't exposed when they start to ride up during a walk.
A Note on Pricing
Lululemon Align leggings price points change according to print and length.
Lengths between 17″ to 23″ usually cost around $88 USD with the exception of fancy prints like the Diamond Dye Pitch Grey Graphite Grey print ($98 USD).
Lululemon Align lengths between 25″ and 31″ start at $98 USD and again, the Diamond Dye prints are priced higher ($118 USD).
So, if you measure in around my height – 5″6 – and don't mind your leggings sitting above your ankle, you may want to consider purchasing a legging that measures 23″ or less to save yourself $10 a pair!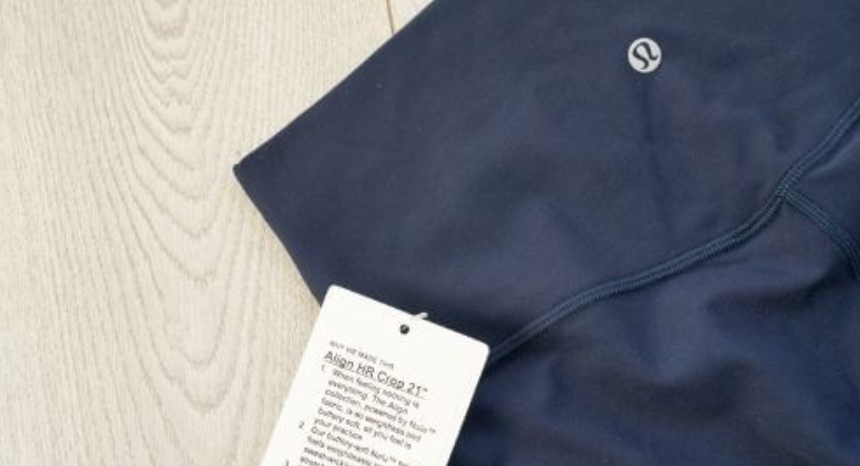 Are Lululemon Align leggings see through?
No, Lululemon Aligns are not see-through.
They're incredibly skin-tight though, so it's important to wear the right pair of underwear or a long shirt with them!
As soon as you put a pair of Aligns on, you'll notice how they shape and accentuate all of your curves.
A note on Lululemon Align leggings colorful fabrics
If you plan on buying girly pastels like pink, purple, or even yellow, I recommend trying these on in-store.
I tried on a lavender pair and was stunned to feel how different the material felt compared to the other Aligns I own.
Compared to my black, camo, and even light blue Align leggings, the lavender fabric was three times thicker – I am NOT exaggerating!
Here's what the lavender Aligns look like on – I think they're stunning.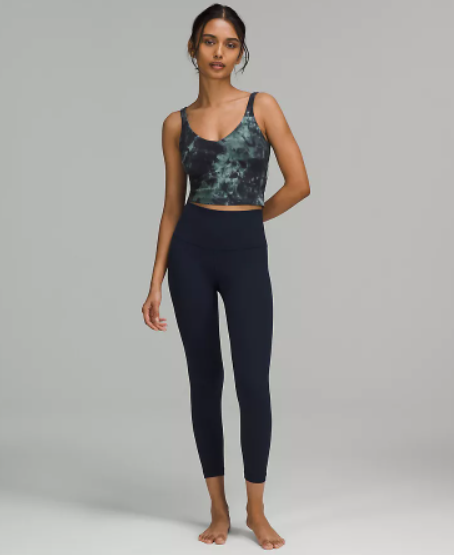 I didn't end up bringing them home though because I just didn't like how thick and bulky the lighter colored fabric felt on my skin.
The buttery soft Nulu fabric is what makes Aligns so comfortable but it definitely doesn't feel the same when you're wearing three layers of it!
Are Lululemon Aligns squat proof leggings?
Yes, ma'am!
I've had no troubles with sheerness even when wearing my lightest color Aligns.
Panty lines are a different story, obviously.
You'll want to wear seamless panties when doing squats in these.
Lulu's InvisiWear Mid-Rise thongs have my vote for this but honestly, even the bikini style is pretty invisible during squats.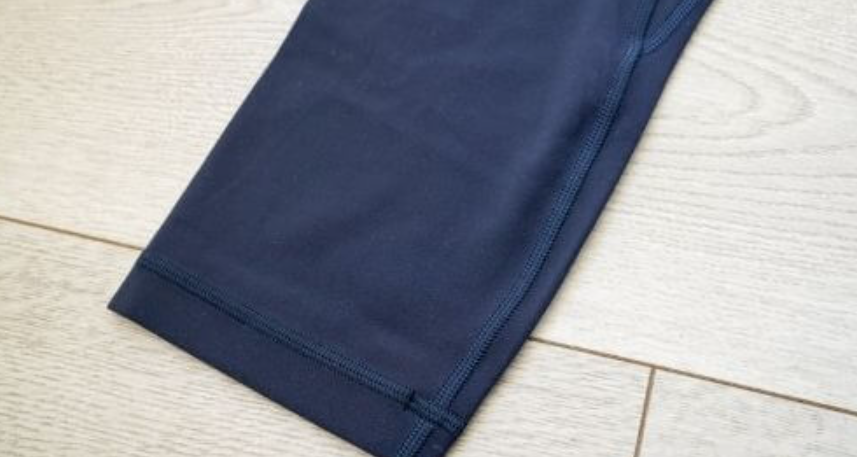 Best Lululemon Align leggings dupe
I have three pairs of Align leggings dupes that I purchased from AliExpress.
As you know by now, I prefer capris so these ones are my favorite.
The material is slightly less soft than real Aligns but they fit and look about 90% similar.
The only issue I really noticed on the cropped leggings for me was some tightness in the bottom of the leg.
Real Aligns stretch better on thick calves – these ones have less give.
The full-length 25″ dupes I have didn't have that issue though, most likely because my ankles aren't as thick as my calves!
These leggings are as close as you're going to get but when you get the real thing, you do notice a slight difference.
Lululemon Align Dupes: Purchase Suggestion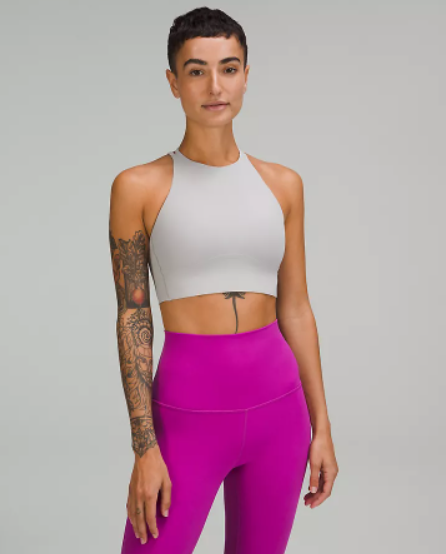 I save my dupe purchases for light and bright colors like pinks and purples these days.
Since real Aligns use a way thicker version of the Nulu fabric for these colors and I like the thin barely-there feel, this lets me enjoy the best of both worlds.
I'm not going to lie to you though – I think the reason Lululemon tripled up on the fabric is to make them squat proof.
I definitely wouldn't do squats at the gym wearing my light-colored Align dupes!
More Lululemon reviews:
Honest Align Jogger Review: I Won't Buy Them Again
Wunder Train Review: Are They Actually Better Than Wunder Unders?
Align Tank Review: I Love It But It's a Rip Off!
Lululemon Align: Size down or up?
In my experience, Lululemon Aligns are as true to size as it gets.
And as a mom with a big behind, I can tell you that the size of your rear won't be an issue.
These pants offer plenty of give to get the booty in!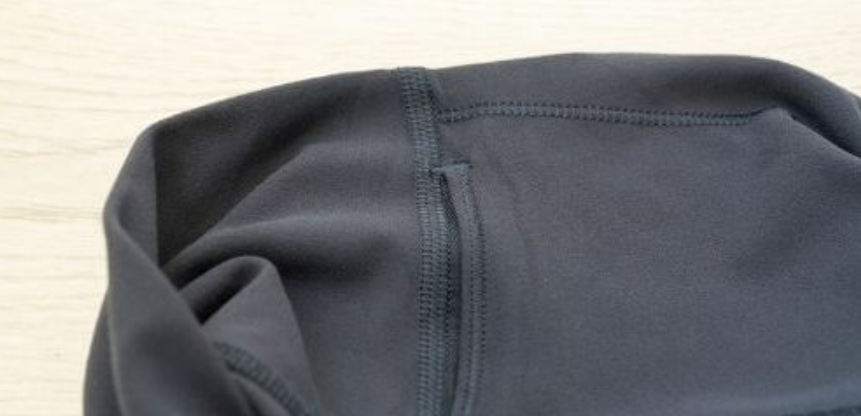 Do Lululemon Align leggings have pockets?
The original minimal seam version of this pant has a secret pocket in the inner front part of the waistband.
You can put a key and a card or two in front of it without altering your leggings' shape.
However, if it's a cellphone pocket you're looking for, check out the updated Lululemon Align High-Rise Pant with Pockets version of this legging.
They also cost $40 more than the regular style of Aligns.
Do keep in mind that the phone pocket will give your leggings a more athletic look though and you may not want to wear them with as many different outfits as you could the minimal seam style.
Are Wunder Under or Align better leggings?
Personally, I prefer the feel of Align leggings these days.
They offer more of a naked sensation and are a super versatile pair of leggings.
Since the material is significantly thinner than the one used for Wunder Unders, you'll find Aligns make a better option to dress up when you feel like wearing a pair of leggings to a more formal event.
You can't tell Aligns are a sports brand legging in darker colors but the thick fabric of the Wunder Under can be a bit trickier to disguise.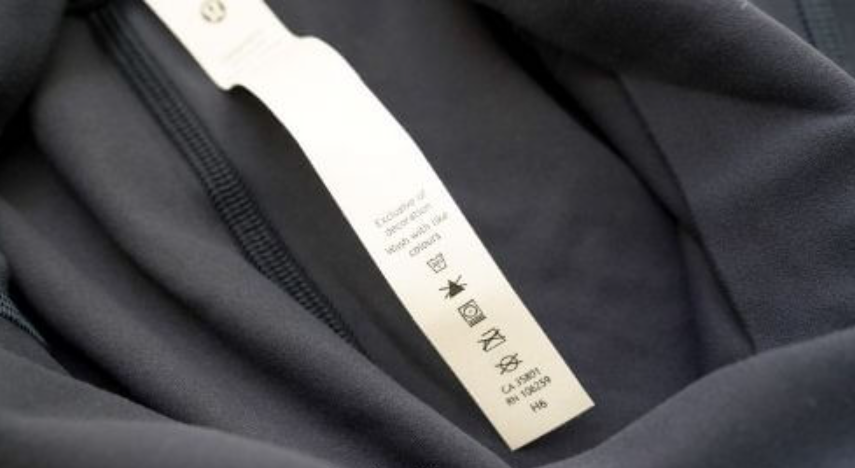 Are Align leggings good for everyday wear?
Absolutely!
You can wear Aligns with a t-shirt, sweater, tunic, to the gym, work, classes, and everywhere in between.
I think I spend between five to seven days a week wearing my Aligns – I'm wearing them while I write this, haha!
They are honestly one of the most versatile and comfortable pairs of leggings on the market.
How to Wash Lululemon Align Leggings
To preserve the comfort and condition of your Aligns, be sure to wash them with similar fabrics.
Lululemon Aligns are made with Nulu fabric and are safe to wash with other Lululemon items including: Everlux, Luon, Luxtreme, Nulux, Rulu, Seamless, Swift, and Warpstreme.
Here's the best way to wash Lululemon Aligns:
Avoid using fabric softeners and washing with abrasive fabrics and cotton – you'll come to find that cotton fluffs get attached to your leggings if you do!
Wash like to like – sort blues and greens together, whites, pinks, and reds seperately, and dark colors like black on their own
Wash in a front loading washing machine with mild detergent
Choose a normal or delicate cycle using cold water
Lay flat to dry – if you NEED to use machine dry them, tumble dry on low with like fabrics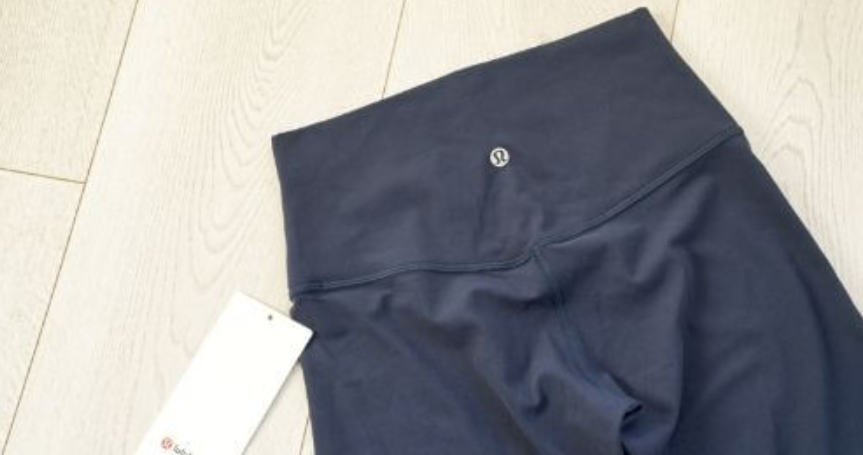 Lululemon Resale Value
When we began trying to live a more minimal lifestyle, I did a ton of selling on Facebook and Poshmark.
And I have to say – Lululemon's resale value is one of the best around!
So long as you keep your leggings, bras, pullovers, and other clothing and accessories in the best condition you can, you'll be able to resell them for 30 to 80% of the retail value.
I sold used 25″ Align leggings for $72 on Poshmark!
I recommend listing items on Poshmark before Facebook Marketplace – Poshmark shoppers are willing to pay much more than Facebook customers are.
And with a much broader audience on Posh, you'll find that clothing sells a lot faster too.
You can check out my guide for how to sell on Poshmark to get started.
Are Lululemon Aligns worth it?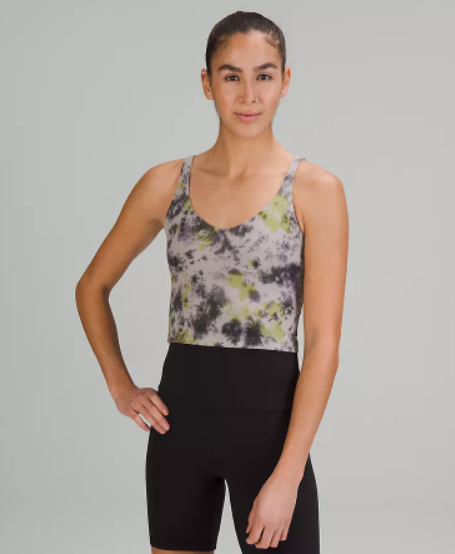 Short answer – yes, they are!
These high-quality pants offer a slight amount of compression that makes them comfortable for every size, activity, and even stage of life – I wore my Lululemon Aligns leggings for all 41 weeks of my last pregnancy.
Whether you love working up a sweat on your Peloton or want a comfortable pair of leggings for doing huge grocery shops at Costco, these leggings could be the first pair you reach for in your closet!
The minimal seams design makes them incredible for dressing up and down and they're very flattering on.
Seriously, I've worn mine with fancy dress shirts to formal Christmas dinners – and they felt comfortable afterward btw!
So, which length Align legging will you get? How will you wear yours?
Have another question about Align leggings?