What is Silk Maison?
Silk just exudes elegance which everyone wishes to wear any time of the day to make you feel luxurious and glamorous. Undeniably the best way to wake up is covered in silk, but a lot of women love to wear silk in boardrooms, on a date night, or on a luxurious holiday getaway. But as investing in silk burns a hole in our pockets not everyone indulges in it.
Thankfully there is a company that strives to bring the finest silk at affordable prices and make everyone look effortlessly glamorous. Get ready to be wrapped in elegant designs crafted with the finest silk from Silk Maison. Read along to know why you should buy from Silk Maison and their budget-friendly silk collection that encapsulates an entire look from day tonight.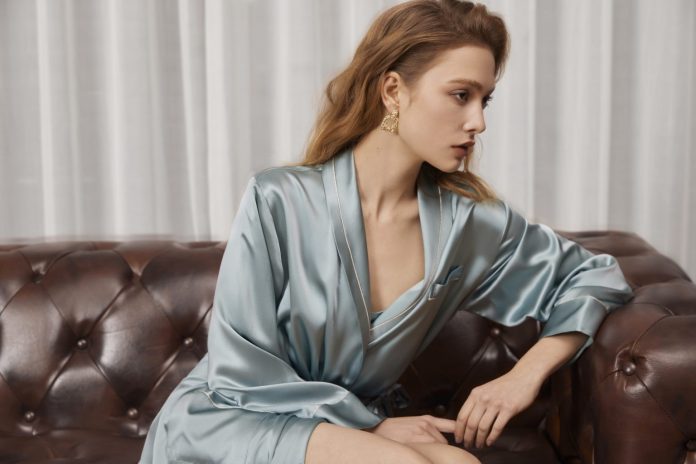 Silk Maison thrives to bring the highest quality Mulberry Silk known as "the queen of fibers" in the most trendy designs. Their collection encapsulates an entire range of clothing from day to night, along with accessories, bags, scarves, face masks, eye masks, bags, and shoes. Even with the highest quality products, their goal is to make products at affordable prices which can make everyone feel glamorous and comfortable in silk without feeling the pinch on their pockets.
All of their clothing and accessories are designed for your comfort with silk that is skin-friendly, eco-friendly, hair-friendly, sleep conducive.
Some Of The Best Seller Pieces

Maison Trim Silk Pajama Set
made with 100%mulberry silk. This full sleeves pajama set has black piped silk trim and mother of pearl buttons

French Puff Sleeve Silk Dress
This modern black dress has a deep V neckline, with hallow designs at the waist, and puffy sleeves.

Long Sleeves Black Midi Silk Dress
Long Sleeves Black Midi Silk Dress is a silk georgette dress with French long poet sleeves. The dress has a light and thin texture with tulle and crepe effect fabric on the dress.

Dusty Rose Black Trim silk robe
Dusty Rose Black Trim silk robe perfect to indulge in summers.

Black and White printed wide-leg silk trousers
Black and White printed wide-leg silk trousers with a mixed irregular print with a flowing silhouette with a relaxed and loose fit.
Who Is Silk Maison For?
Silk Maison is a women's clothing brand. But, it does not design its products with a specific type of consumer in mind. Regardless of age, sexual orientation, or ethnic background, anyone is welcome to purchase and wear this company's items.
Since the brand also uses real, high-quality silk fabric, its clothing is hypoallergenic and suitable for all skin types. It is worth noting that Silk Maison does not have a plus-size line, and only a handful of products are offered in 2XL or 3XL.
Is Silk Maison Worth It?
Silk is a staple for any woman's wardrobe. Whether that's an elegant little black dress, a luxurious pajama set, or a hair-protecting scrunchie—there's certainly a silk garment calling your name. Silk Maison is here to help you add that elegance to your wardrobe for a more competitive price than other retailers.
Plus, the brand still uses high-quality materials—100% Mulberry Silk, in fact. The brand describes this material as the "queen of fibers" due to its luxurious feel. Customers across the web complement the way this material feels and drapes across their bodies.
To sweeten the deal, the company also offers multiple ways to save on your order. For all of these reasons, this Silk Maison review believes the company's products are absolutely worth the investment.
FAQ
Where is Silk Maison Made?
Silk Maison does not disclose where its products are made. But, we found reports that shipments are sent from China, which may be where its manufacturing facilities are located.
Does Silk Maison Fit True to Size?
Most customers report that the brand's garments fit true to size, including the Silk Maison silver slip dresses. But, some pieces are designed to fit differently, so be sure to read the size guide for each item before making a purchase.
What is Silk Maison's Shipping Policy?
Silk Maison ships internationally. Orders are typically processed within 5-7 days. Once your package is on its way to you, you'll receive a tracking number.
US orders over  $188 ship for free, with delivery expected within 7-15 business days. For orders under that amount or outside of the US, your shipping costs and expected delivery times will be calculated at checkout. The typical international shipping estimate is 7-30 working days.
Duties and customs fees are usually the customer's responsibility. But, the brand may cover them in some cases.
What is Silk Maison's Return Policy?
Silk Maison offers a 14-day return policy. Any returns or exchanges attempted after that 14 day period will not be accepted. It is worth noting though that sale items, silk lingerie, and customized items cannot be returned.
Return shipping costs are at the customer's expense.