Are you wondering if KnowFashionStyle is legit? This post is my brutally honest review of the online fashion site KnowFashionStyle.
KnowFashionStyle is an inexpensive fashion brand based in China and founded in 2005. They feature thousands of different clothing items on their site and ship worldwide.
This post is my honest review of KnowFashionStyle in terms of prices, shipping, quality, returns, and shopping on their website in general (spoiler: their website is TERRIBLE). For this review, I'm featuring 2 of their dresses and also a zip-up hooded sweatshirt.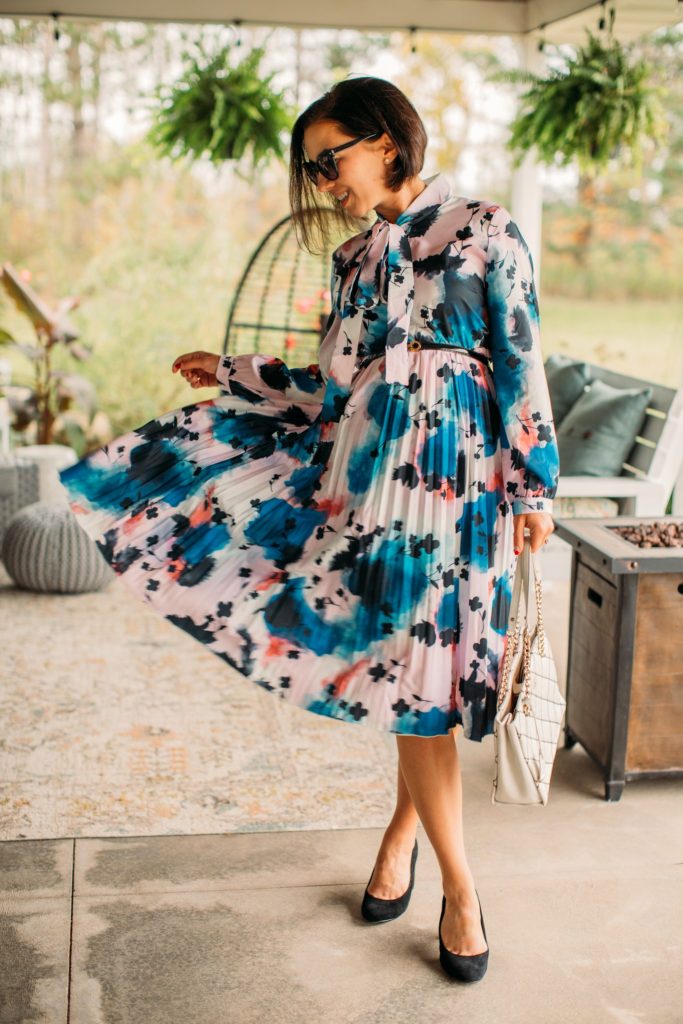 In full disclosure, KnowFashionStyle sent me 2 of the dresses in this post for free, but I turned down their "sponsored post" offer after I went through the ordering process and actually had a chance to wear the items. I wanted this review to be as authentic as possible and not influenced by this brand paying me for a "sponsored post." So, I am NOT being compensated for this article. I also ordered the sweatshirt in this post with my own money, to get a better idea of just how long their typical shipping time is. (As they had likely sent me the dresses via express shipping.)
I am happy to answer any questions you may have about my experience shopping on KnowFashionStyle in the comments section too!
This post contains affiliate links, which means, if you click a link and make a purchase, Have Clothes, Will Travel gets a small commission at no cost to you. Thank you for supporting the brands that make this blog possible!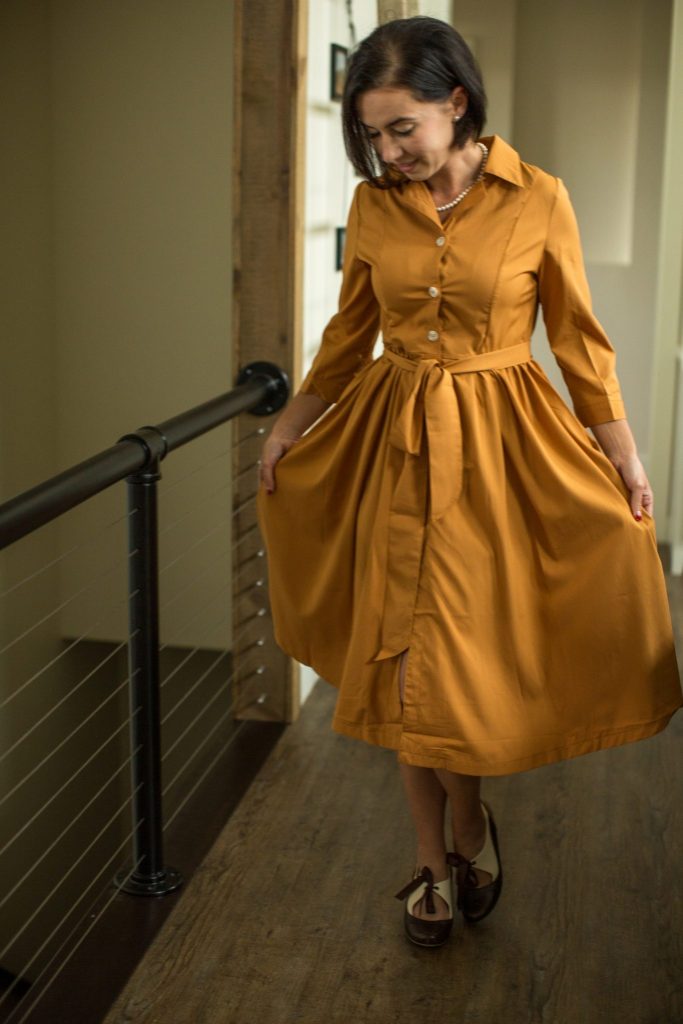 KnowFashionStyle prices – are they worth it?
The majority of Know Fashion Style dresses and clothing items are around $25 or less. So, overall, you really can't beat their prices. Both of the dresses I am featuring in this post are only $20 and the sweatshirt is $10. HOWEVER, KnowFashionStyle's low prices are misleading, as their shipping prices are quite expensive (in my opinion). See the next point…
Click here for the Know Fashion Style website.
*Pro tip: check out Yazing for coupon codes before purchasing from KnowFashionStyle – they can usually save you at least 15% off your order.
How expensive are KnowFashionStyle shipping prices?
It is VERY important to note that while Know Fashion Style's clothing prices are cheap, shipping prices are, in my opinion, not cheap. To have these two dresses shipped to my home in the US with standard shipping is $17. To have the sweatshirt shipped to my US address cost $8.
I also HATE that the only way you can calculate the shipping cost for your order is to basically go through the entire checkout process. This is because KnowFashionStyle doesn't just have a flat shipping rate – they calculate based on your location and the weight of the items you order.
*Pro tip: check out Yazing for coupon codes before purchasing from KnowFashionStyle – they can usually save you at least 15% off your order.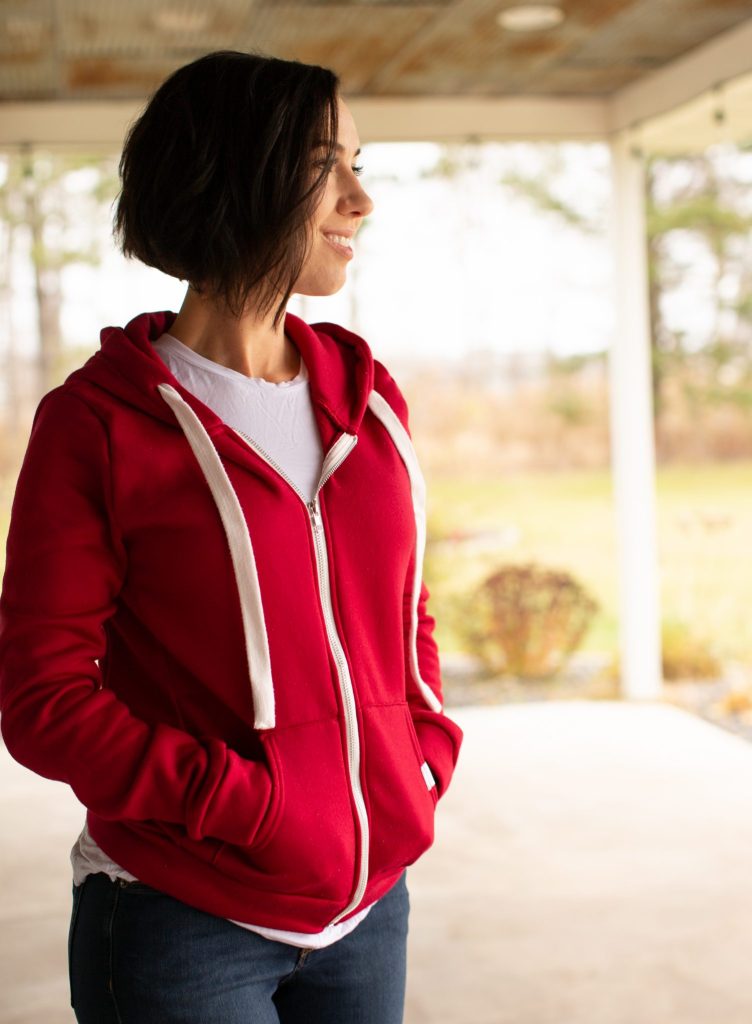 How long does KnowFashionStyle take to deliver?
The first order that KnowFashionStyle had sent me took 8 days to arrive from China to my address in the United States. Which, in my experience, is a good shipping time when ordering from overseas companies. I am assuming that the KnowFashionStyle PR team had sent it via their Expedited shipping option, though. (I had not paid for that order.)
This because I ordered the sweatshirt also featured in this post via their standard shipping option… and this took just over a MONTH to reach me in the US. (But hey, it did arrive. So, I guess that's good?)
What is the KnowFashionStyle return process?
The returns and exchange process is really stupid in my opinion, and NOT worth the trouble. Just keep the items you aren't happy with, sell them on Poshmark, or donate them.
They don't technically do "exchanges." Their website states that "Because of the high cost of international shipping, they will ship the correct one in your next order shipment." So, the only way you can do an exchange is by ordering MORE stuff from them.
And if you want a refund? Well, you will have to pay the shipping fees to return the items to China AND any customs taxes. Your original shipping fee is also NOT refunded. So, the return could end up costing you MORE than the item itself. (For example, my $10 sweatshirt to return would cost me $8 of shipping + $8 to send it back + any customs taxes it incurs – so, it wouldn't be worth it by any means to return it.)
Click here to read their full shipping policy.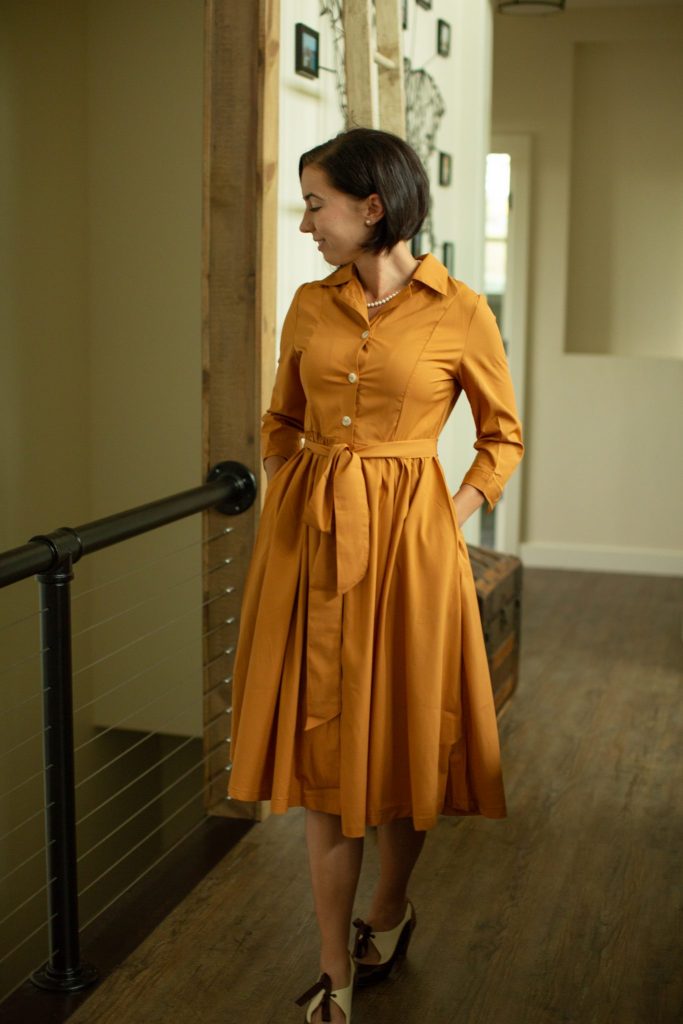 How good of quality is KnowFashionStyle clothing?
Now, I have only had these dresses and the sweatshirt for a couple months. So, I can't attest to their long-term durability yet. I will update this post as I wear these items more.
I'm a little torn on the quality. The two dresses I received are varied quite a bit in terms of their looks and fit, as is the sweatshirt. So, I'm going to break this up by reviewing the two different dresses and also the sweatshirt.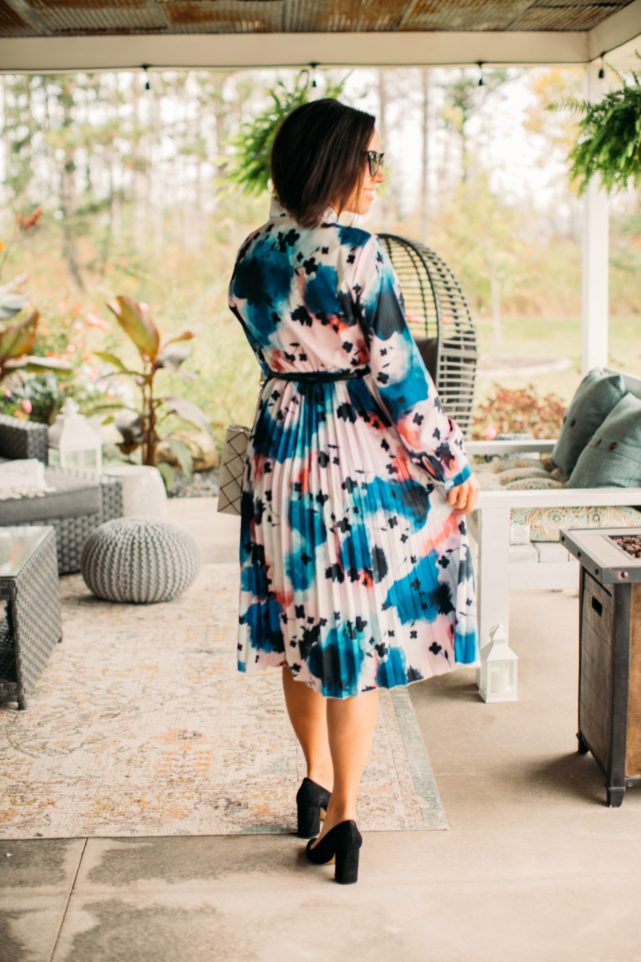 Blue Pink Elegant Print Split Joint Fold O Neck A-Line Dress
This dress I was pleasantly surprised with – it looks way better in person than it does in the photos! With the right accessories too, this dress looks WAY more expensive than its $20 price tag (which with shipping is actually $32). It's a very comfortable and true-to-size fit, too.
I adore the colors and the way this dress moves when I'm walking. Just note, that it does not come with a belt. I am wearing an old one I had gotten off Amazon, and the photos on the website show it with a belt too (but that belt is not included). In my opinion, this is one you're going to want to wear a belt with.
Photo of the dress on a hanger, taken with my cellphone, for a different perspective.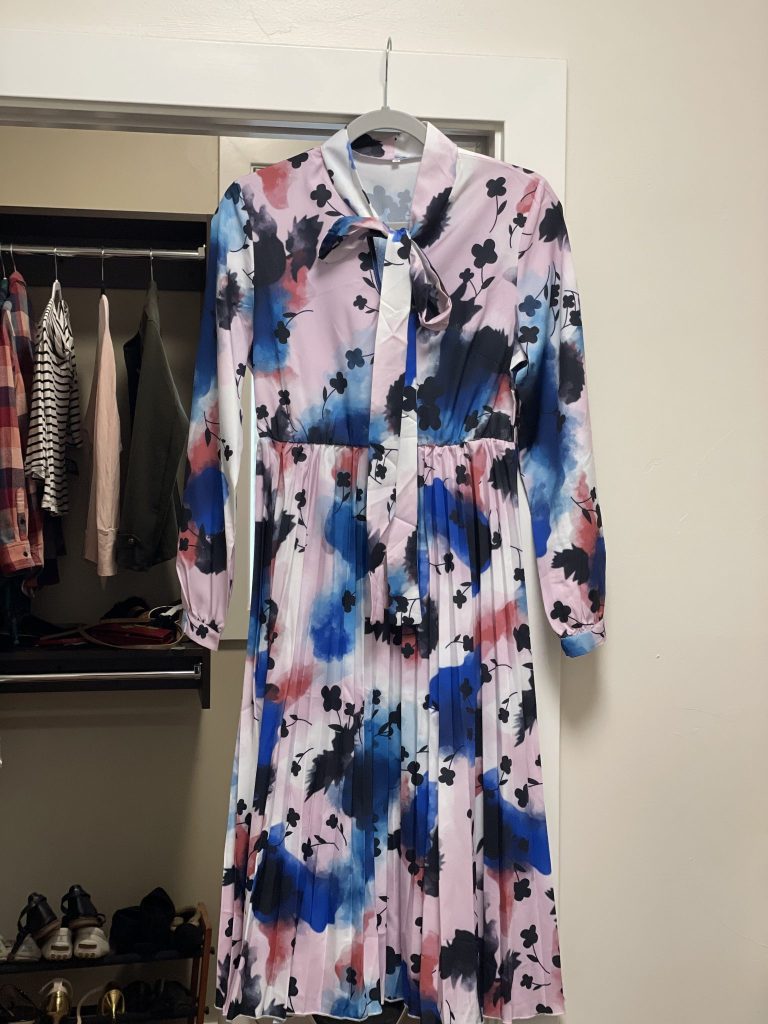 Now, the stitching on this dress is OK. It's not top-notch quality, and it is made of polyester. However, again, this is a $20 dress (or $32, depending on one how you want to look at this)… and for the price, I think this dress is appropriately priced.
Click here to shop this dress.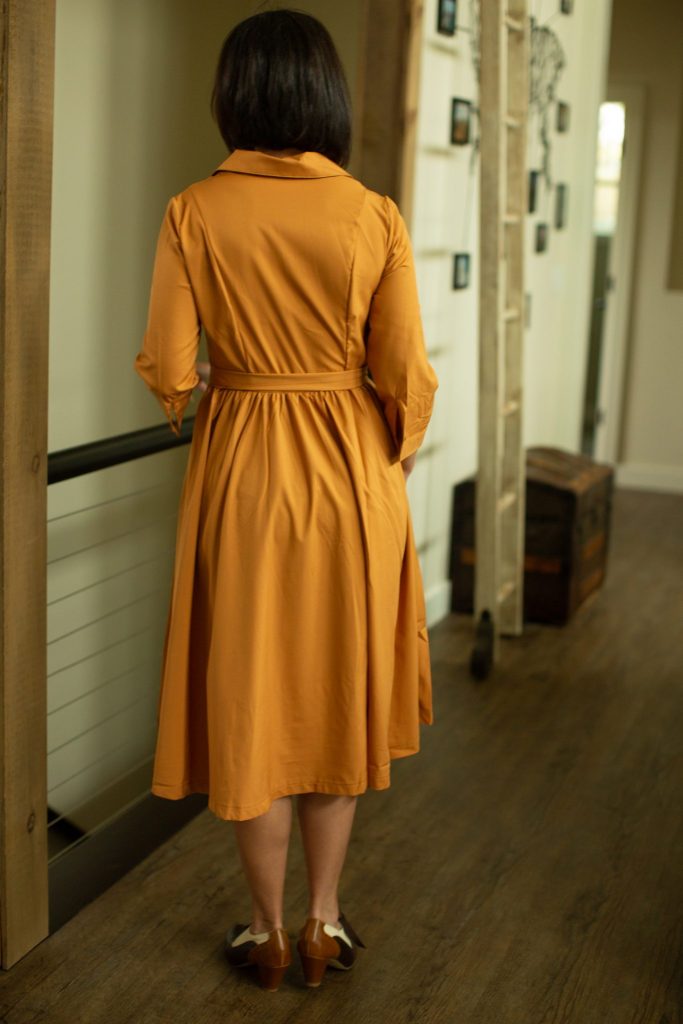 Tangerine Casual Solid Split Joint Buttons Turndown Collar Shirt Dress Dresses
Now, this dress I lowkey hate. This one does not look as good as it does in the website photos. The color is off a bit and the buttons look rather cheap.
Now both dresses are made of polyester, but this one is a slightly thicker material, which I know some people might see as a positive thing. However, it also means that it feels very, ah, tarp-like when you're wearing it. If that makes sense? I DO NOT like feeling like I am wearing a tarp.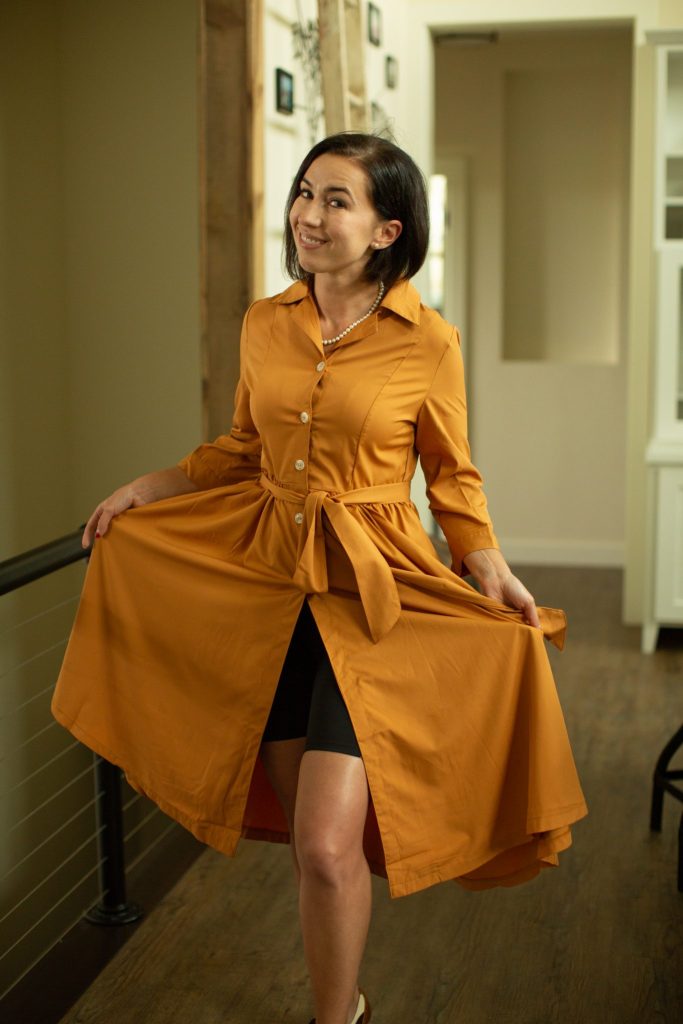 Also do not understand why the buttons stop just under my belly button! I mean, I should have noticed that when I ordered it, as the second photo on the website does show this, but it still surprised me when I first put it on.
Given that the material is thicker though, and when paired with the belt, I don't necessarily think it would cause a wardrobe malfunction unless there is a HUGE gust of wind. (If I actually want to wear this dress, though, I would always wear bike shorts under it!)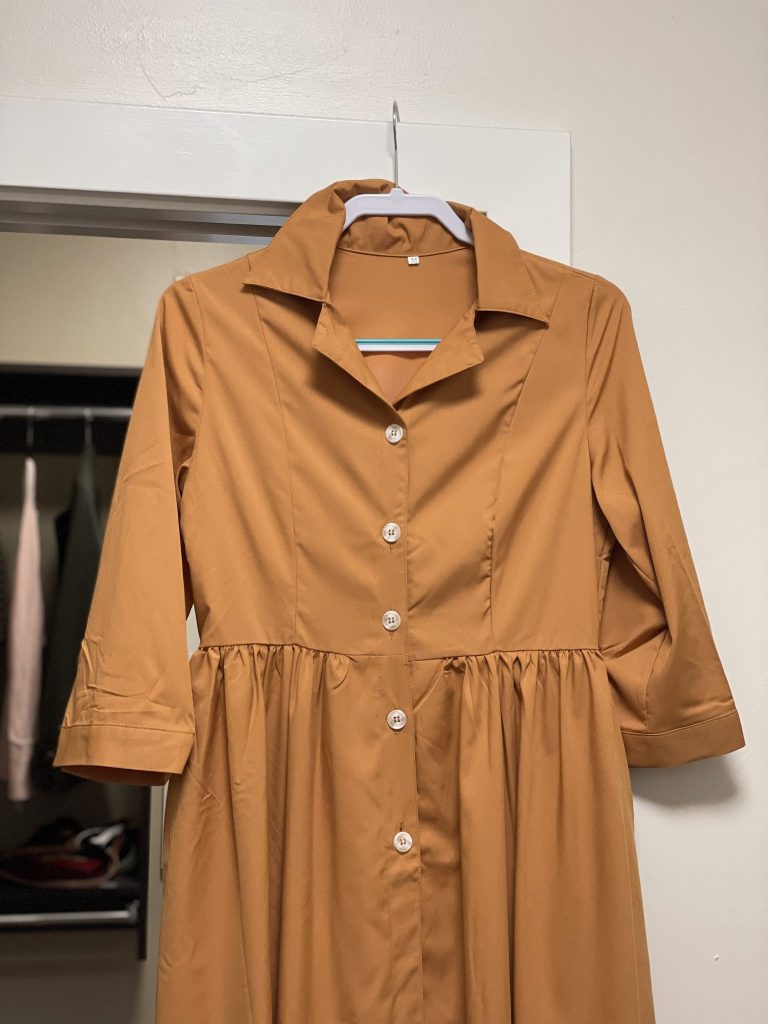 I asked the Know Fashion Style team about this too, and they said it is because it is designed to be "like a shirt". I guess, I have quite a few shirt dresses and I adore the fit of them… but this is the first one that has ever been designed quite like this. Has anyone else had a shirt dress come like this?!
Needless to say, I won't ever be wearing this dress.
Click here to see this dress on the website.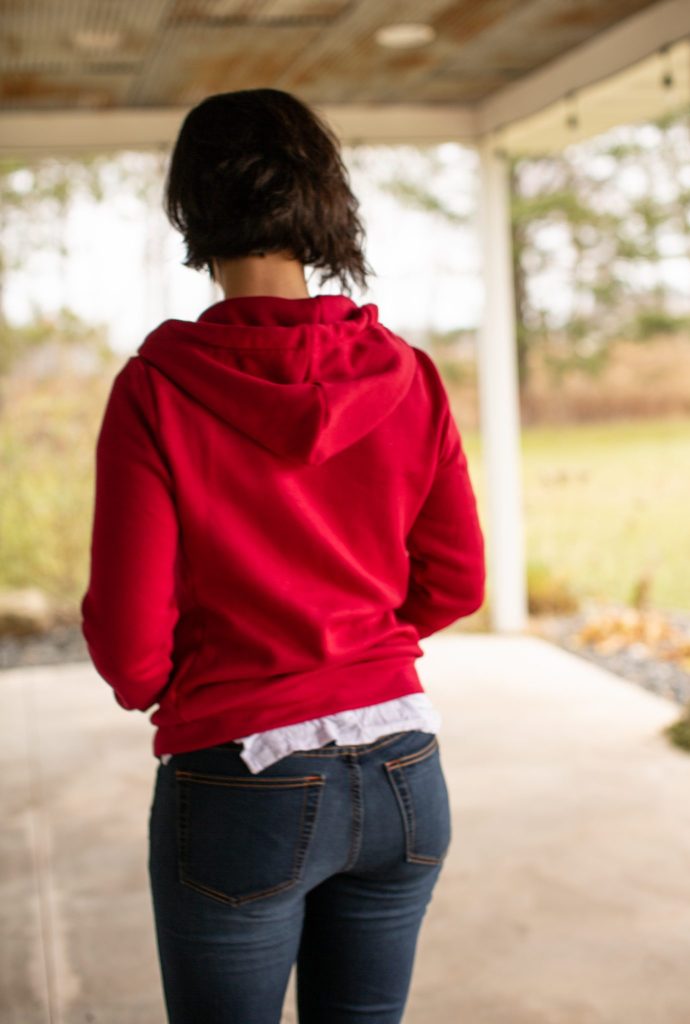 Burgundy Fashion Casual Solid Split Joint Zipper Hooded Collar Outerwear
I honestly ordered this sweatshirt thinking there was no way it was going to look like the photo – this was going to be my "aha, this site sucks" moment. I also knew I was taking a huge gamble ordering a red-colored hoodie that has white strings and accents.
However, this is another item from KnowFashionStyle I was pleasantly surprised with. Again, it's a $10 sweatshirt that I paid $8 in shipping to get. So, really, it's an $18 hoodie. Still, for that price, it's pretty cute, and it's SUPER soft and comfortable. I'm wearing the darn thing even as I'm writing this post.
Click here to shop this hoodie.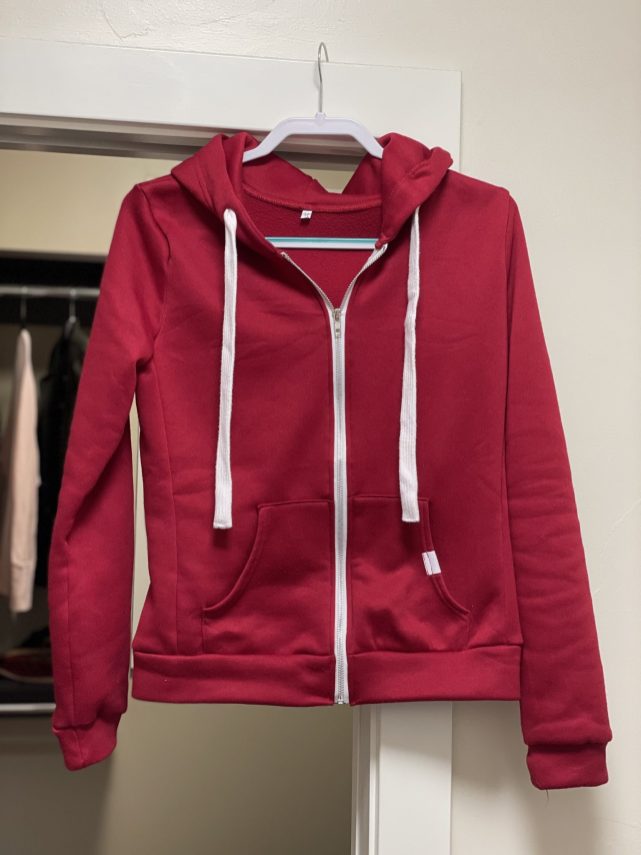 I've washed and dried it a few times now (washed it with cold water and dried on low heat) and it's holding up. It also didn't bleed at all. I do think after a few more washes, though, it looks like it's going to start pilling. I think I might be able to hold this off from happening a little longer, though, by washing it on a delicate cycle and not drying it anymore.
*Update as of January 2022: I've been wearing and washing this for another 2 months since writing this post, and it has started pilling.
It's also true to size. I'm wearing a medium here, which is my normal size, and it fits perfectly. I do recommend this zip-up hoodie. (But note: you are going to have to be very gentle with how you wash this hoodie if you don't want it to pill.)
Click here to shop this hoodie.
Shopping on the KnowFashionStyle Website
Now, if you are planning to shop on Know Fashion Style's website for the first time… there are some things you need to be aware of. First up, at first glance, it looks like this site has more than 16,000 dresses on it and you can't shop by style, length, color, etc.! It's a freaking nightmare.
However, if you scroll to the very bottom of the page, you will see that there are some categories that have the products organized. If you find a product you like too, click on it, scroll to the "detail" section, then look at the tags there – click on the tag that you are looking for (for example "shirt dress") this will show you an organized look at your relevant searches. The search function on this site does NOT work very well – FYI.  I seriously can't get over how bad this site is.
Another thing to note is that the product photos aren't the greatest. Both of the dresses I ordered did not have photos showing the dresses from any angle other than the front. However, the back looked as I would have expected for both dresses based on the fits and descriptions. It was a bit of a gamble of course, but nothing bad came of it with my order.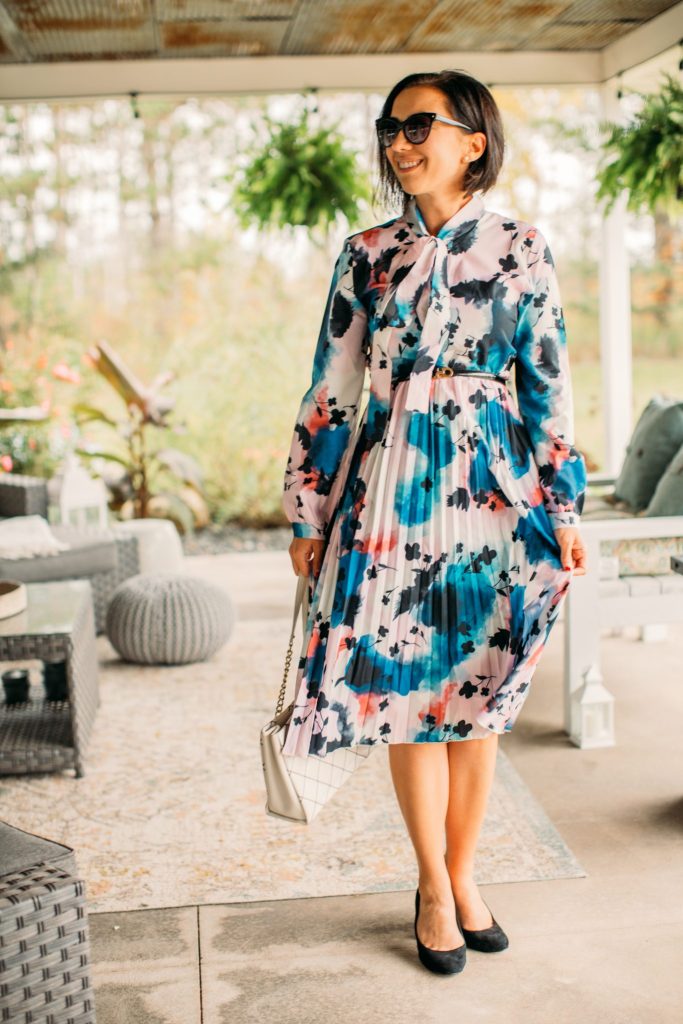 KnowFashionStyle Reviews – are they legit?
I assumed that the reviews on the KnowFashionStyle were NOT legit, but I wasn't sure. (I mean, they are ALL 5 stars and written in broken English.) However, after publishing this post, I now see KnowFashionStyle posted a review on my behalf of the dress above – using my photo without my permission.
While, technically, I am happy with that dress… so, it is true. It is SO shady that they stole that photo and wrote that. So, no, I think it's safe to say the reviews on the KnowFashionStyle website are NOT LEGIT.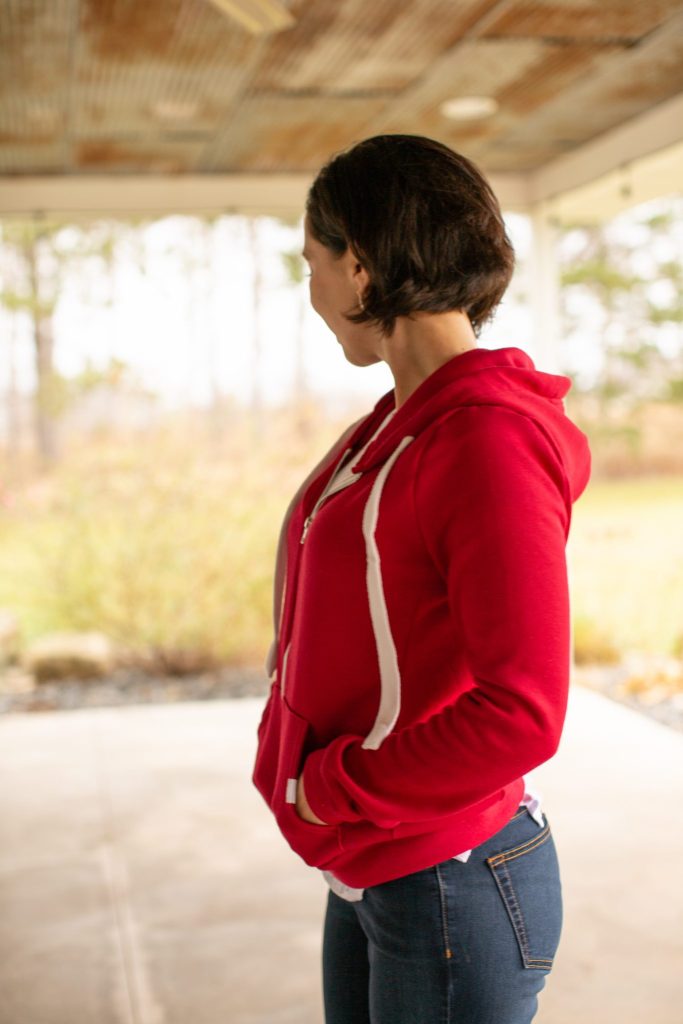 Verdict on KnowFashionStyle – are they legit?!
I mean, KnowFashionStyle is legit in the sense that if you order an item from their website you will get it – and they aren't scamming you. However, it's quite the gamble that you are going to get an item you like – their product photos are pretty bad, and it's hard to tell exactly what you are getting. And if you don't like it, you are stuck with it.
I would honestly only recommend shopping on KnowFashionStyle if you are OK with potentially being stuck with whatever you order AND you've seen photos of the item outside of their website. For example, on a blog (with multiple photos of the item) or by looking at the Know Fashion Style Instagram, as they have their products being worn by real customers and other bloggers, and the photos are usually way better quality than the website. Otherwise, I feel like you are really gambling with what you are going to get, and there really isn't any way to return it.
Click here for the Know Fashion Style website.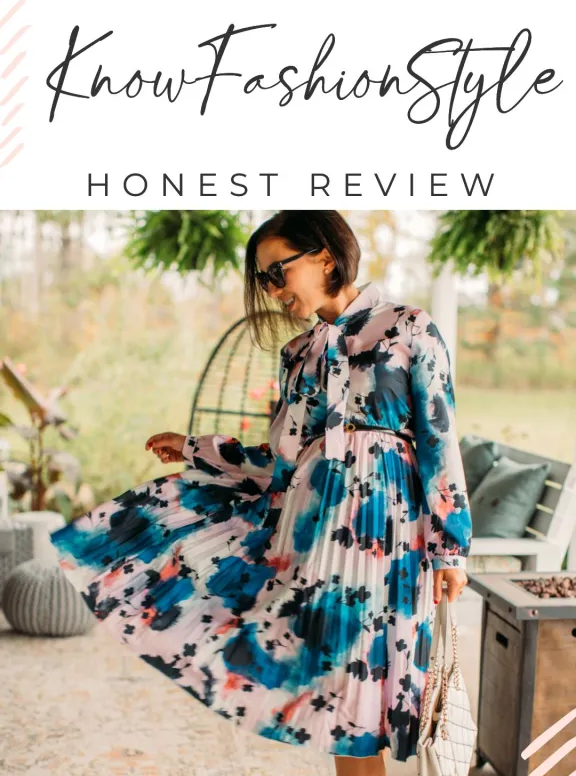 Pro tip: check out Yazing for coupon codes before purchasing from KnowFashionStyle – they can usually save you at least 15% off your order.