The Saatva HD Mattress
Getting a good night sleep is one of the most important things that you can do. In fact, multiple studies have shown that if you don't sleep well, your performance will be negatively affected. In addition, a poor mattress might mean that you wake up with back pain, as you aren't getting the support that you need. The best way to ensure that you get a great night sleep is by taking the time to select the best mattress for your needs. However, this can be very complicated, as many people don't know what to look for in a mattress. In this review, we'll go over everything that you need to know about the Saatva HD.
Many people struggle to get the support that they need from a mattress. This is made even more difficult for heavier people. Thankfully, the Saatva is designed to support people between 300 and 500 pounds. It also offers five layers of comfort, to take pressure away from your back and joints. This will ensure that you wake up feeling refreshed. In addition, the mattress is made from a combination of latex and cotton. This ensures that air can flow through the mattress, preventing it from overheating. Available in multiple sizes, from Twin to CAL King, this mattress will suit anyone looking for a great night sleep. You can also choose between three foundation heights. This allows you to customize the sleeping experience to benefit you. You can also choose to purchase a steel brace that will support the mattress. The brace sits 7.5 inches off the ground. However, some people have doubts about whether this mattress can truly provide such an amazing experience. So, let's take an in-depth look at the Saatva HD mattress to see how it stacks up.
Branding
When purchasing a mattress online, you want to make sure that you trust the supplier. You should be confident that they will be able to supply both an excellent product and a great service. If you run into any problems, you want to be confident that they will be able to help you out. So, how good is the Saatva brand?
Let's start by looking at how they present the information about the mattress. This can tell us how upfront they are. Everything is presented clearly and explained well. You can see what is in each layer of the mattress and how it affects the product. This will allow you to make an informed decision about whether you want to purchase the mattress. However, for many mattress companies, the biggest difference comes in the support you get after you purchase the product. Saatva offers a 24/7 helpline. This helpline is available all the time, even on holidays. They have listed a phone number that you can call to access this service. Alternatively, you can opt to chat with them online. This will allow you to ask questions and seek clarifications. In addition, they offer a service to help you install the mattress in your home and remove the old mattress. This service is complementary, so you don't need to pay any additional money to access it. This will make the process more convenient for a lot of their customers.
Finally, they have testimonials at the bottom of the page. This will allow you to hear from other customers to see how much they enjoyed their experience. You can also search reviews on the internet, many of which are positive. In fact, the company has earnt 4.8/5 stars on Google. Based on these factors, Saatva is clearly a trustworthy company that you can rely on to deliver an excellent service. For these reasons, I am scoring them 10/10 in this category.
Comfort 
&

 Feel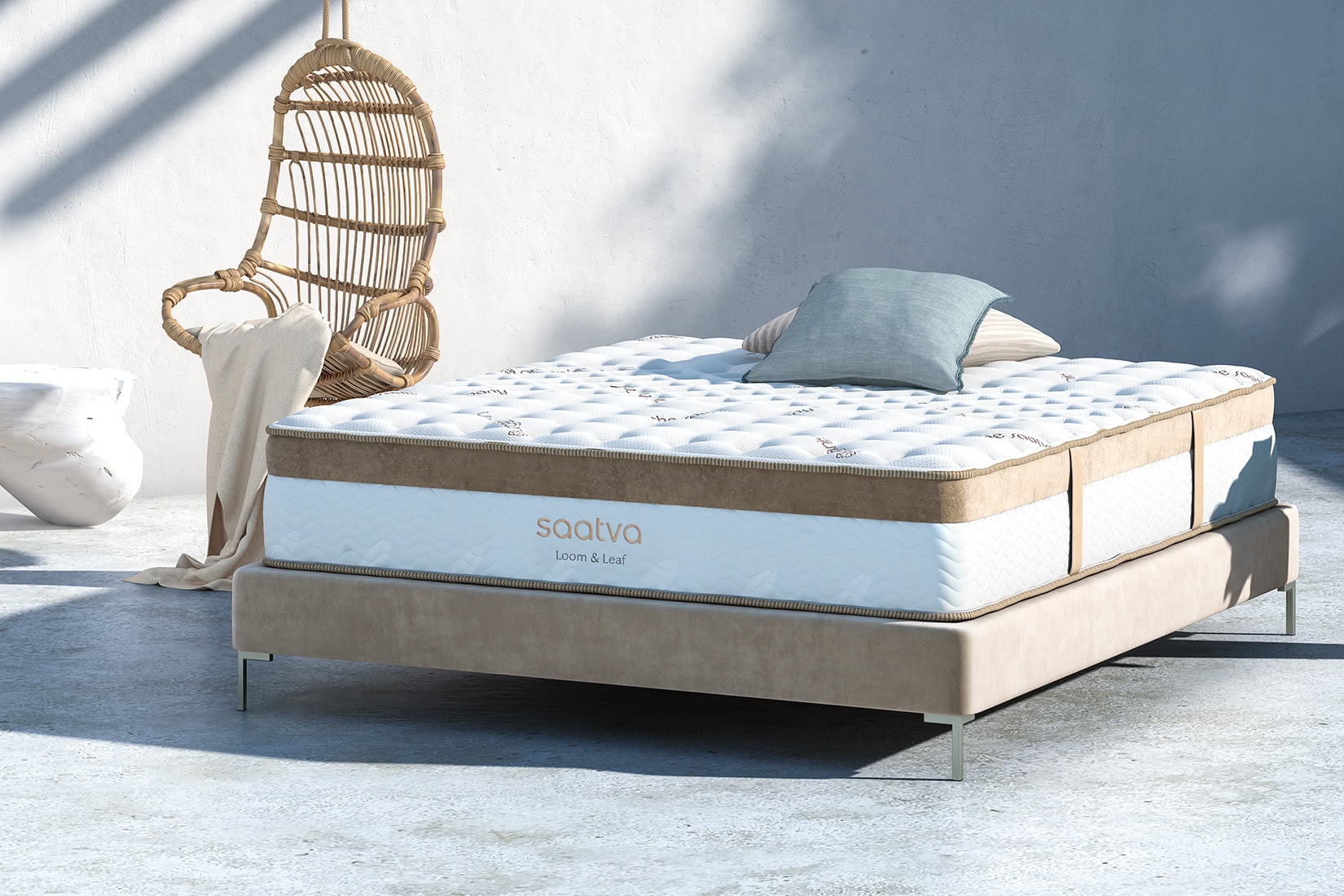 Comfort And Feel
It's vital that you enjoy sleeping on your mattress, this will ensure that you get the best night sleep possible. Thankfully, this mattress was designed to provide a comfortable experience. To understand why this is such a comfortable mattress to sleep on, let's look at some of the materials that it's made from. Saatva has used five layers to create the most comfortable experience possible. Within each layer, they use the latest technology to make it feel as relaxing as possible. In fact, just lying on the mattress was enough to make me get sleepy. So, let's look at each layer to understand why it's so comfortable.
The top layer is a pillow layer that's been made from organic cotton. This layer cushions your body while you sleep. In addition, this layer has been designed to be anti-microbial. This will ensure that mold spores don't germinate in the mattress, which may damage your health. The next layer is latex. This responds to the way you sleep, ensuring that you get the support that your body needs. This layer provides targeting support to your back and hips, helping relieve the pressure of your joints so you get the best night sleep. This will ensure that you wake up the next day feeling refreshed. The third layer is comfort foam.
This contours to your body shape for extra support. This will reduce any additional pressure from your joints. In addition, this foam layer was made without using any harmful chemicals. The fourth layer is the springs. These will adjust to you, providing even more support. In addition, Saatva made sure that these springs can support your weight, making them 25 percent stronger than the industry average. This ensures that your mattress will last for longer. They've also been specially threaded to prevent motion transfer. This will prevent you from getting disturbed if your partner moves during the night. Finally, this mattress has a thick layer of foam that goes around the edge of the mattress. This edge support ensures that you will be able to get in and out of bed more comfortably.
This mattress has been made with comfort in mind. Saatva has also taken care to use the highest quality materials. This will ensure that your mattress doesn't develop any unpleasant odors or trap any potential allergens. Based on this information, I am very satisfied with the high-quality construction of the mattress. The care taken by Saatva has produced one of the most comfortable mattresses I've tested.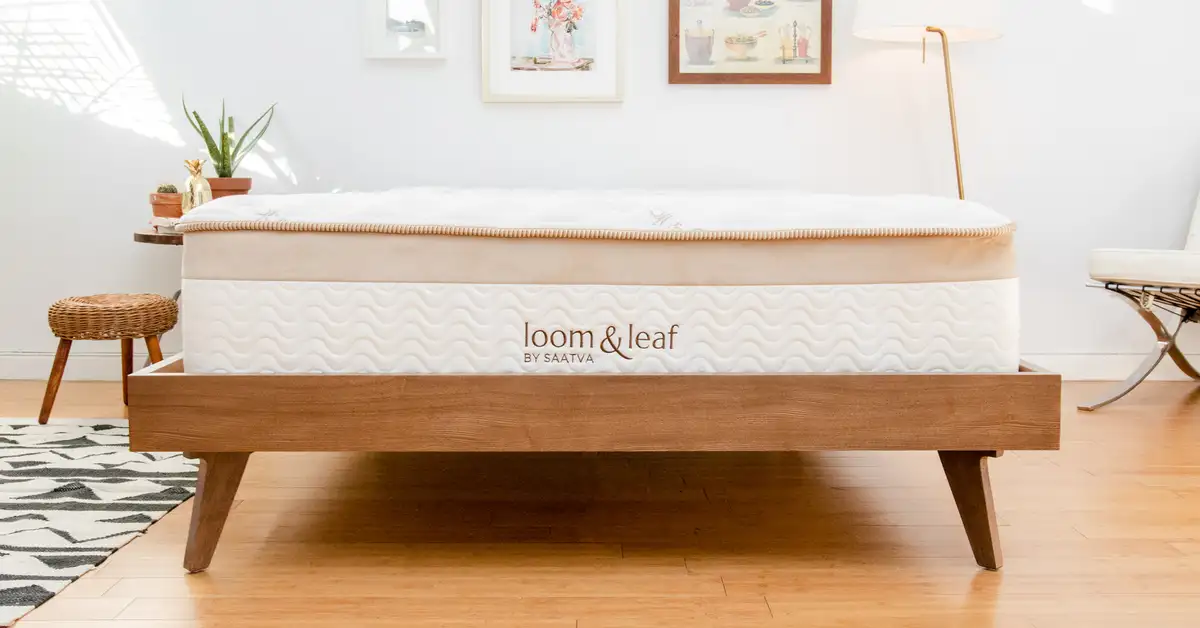 You will like the Saatva HD if you:
Want a comfortable mattress made from high-quality materials
Want something that can support between 300 and 500 pounds comfortably
Want to get a complementary installation service
Would like the ability to try it for 120 days and, if you aren't satisfied, you can send it back for a full refund
Want the assurance of a 20-year warranty
You might not Saatva HD if you:
Want to waste your money on mattress that are poorly constructed and won't last a long time.
Want to wake up feeling uncomfortable because your joints aren't getting enough support.
Only care about the price and want to purchase the cheapest possible option
Don't want to work with a trusted seller
Saatva doesn't sell to your country
What are the customers saying?
Often, the best way to evaluate an online company is by examining the types of reviews that they receive. Saatva is also outstanding in this area. They have put multiple testimonials from satisfied customers on their website. You can also read the multiple other reviews that are available online. For example, they have achieved a score of 4.8/5 on Google. In addition, multiple independent sites have evaluated its performance. In most of these reviews, the mattress gets high scores. Finally, this mattress has been featured in multiple publications like Forbes and The Oprah Magazine. Due to the overwhelmingly positive reception this mattress has received online, I'm giving it 10/10 in this section.
Shipping, Unboxing 
&

 Off Gassing
Set-Up And Delivery
For many people, removing the old mattress and getting in the new one can be a difficult process. If you use the wrong technique when lifting heavy objects like mattresses you might damage your back. For this reason, some people can be reluctant to use online services. Thankfully, you don't have to worry about this problem when you order with Saatva. They offer a complementary white glove delivery and set-up. Let's look at this service and how it can benefit you.
The Saatva service covers multiple areas. First, they will deliver the mattress to your home. This will ensure that you get your mattress on-time. It will also ensure that the mattress isn't damaged in the journey. Then, the Saatva team will remove your old mattress. This prevents you damaging your health by attempting to do this yourself. They will dispose of it correctly, reducing the impact that it will have on the environment. Next, the team will install the mattress. They will make sure that everything has been set-up correctly. When you use their service, you can relax while their trained team takes care of the installation. I was astounded with this level of service, especially because it's included in the price. For this reason, I'm giving Saatva 10/10 for set-up and delivery.
Off-Gassing
No-one wants a mattress that will develop unpleasant odors over time. Thankfully, Saatva uses high-quality anti-microbial materials when constructing the outer layer of their mattresses. This ensures that bacteria can't get established in the mattress, preventing it from developing odors. However, if dirt gets into the mattress it can produce some unpleasant smells. Thankfully, you can stop this from occurring by vacuuming the mattress regularly. In addition, the latex layer is hypoallergic. For these reasons, the Saatva HD mattress gets 10/10.
Saatva HD Mattress Construction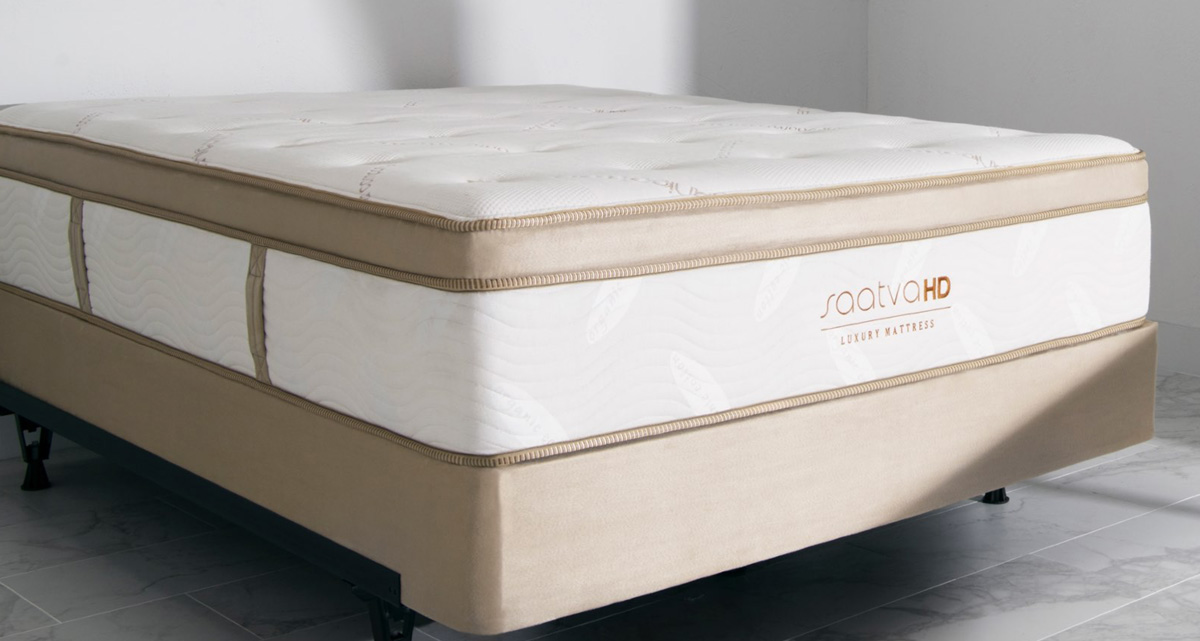 When buying a mattress, you want to make sure that it is made from high-quality materials. This will ensure that you get a great night sleep. It will also make sure that the mattress lasts for a long time. For these reasons, I was delighted with the materials that Saatva used to create their mattresses. The layers have been made from materials that are resistant to allergens and microbes. This will reduce the chances that you will get a disease from your mattress. In addition, the springs have been designed to be 25 percent stronger than their competitors. This means that you can use the mattress for a long time before it starts to sag or dip. These touches make the materials used in Saatva superior to other mattresses available on the market. For this reason, I'm giving them 10/10 in this area.
Motion Transfer
When you're sleeping, you want your mattress to be as still as possible. However, this can be difficult if you sleep with a partner. If they toss and turn during the night, their movement can easier disturb you. Thankfully, the Saatva HD mattress has taken multiple measures to reduce the chances that this will occur. Let's look at what these measures were and how successful they were.
Saatva put multiple layers between you and the springs. This ensures that any movements in the springs in minimized. However, because it uses spring technology, you will still feel some movement when your partner gets in and out of bed. Also, the springs can be affected if you repeatedly sit in the same place. For example, if you sit on the corner of the bed to tie your shoelaces. In this case, the springs in that area will be under more strain than the other springs. This can mean that they will squeak slightly as the mattress ages. Overall, this mattress has used multiple technologies to reduce the amount of motion you feel. Because of this, I'm giving it 8.5/10.
Edge Support
Edge support refers to the layer around the outside of the mattress. If you don't have enough edge support, you can struggle to get in and out of the mattress. In addition, you should have enough support around the springs. This will ensure that the mattress is comfortable to sleep in. In both these cases, the Saatva offers plenty of edge support.
Around the outside of the mattress is a thick layer of foam. This provides support to the springs. It also ensures that you can sleep on the edges of the bed without feeling uncomfortable. This foam layer extends to under the springs. This ensures that they will be able to last for a long time. For these reasons, I am giving the edge support on the Saatva mattress 10/10.