Looking at the multitude of online mattresses, one might start to see double. They all seem to look the same, and many of them are simple all-foam mattresses.
That is not the case with the Saatva, one of the most popular online innerspring mattresses currently available. To find out if it is worth the hype read our full Saatva mattress review!
Saatva Mattress Overview
The Saatva mattress comes from the Saatva company, producer of such mattresses as the Loom and Leaf and Zenhaven. The Saatva is an innerspring mattress that is available in three firmnesses (Plush Soft, Luxury Firm, and Firm) and two heights (11.5″ and 14.5″).
We opted to review the Luxury Firm model with a height of 11.5″ and found it to be a high-quality innerspring mattress that should work for a wide variety of sleepers.
Who Is The Saatva Mattress Best For?
Combination sleepers and those who switch sleeping positions during the night
Those who want one of the best mattresses for back sleepers
Those who are looking for a high-quality mattress that is also an excellent value
Anyone who wants one of the best orthopedic mattresses
Those who prefer to sleep "on top" of their mattress
Sleepers looking for a mattress that offers back pain relief
Who Is The Saatva Mattress Not Recommended For?
Those who prefer a super soft mattress
Lightweight side sleepers who are not heavy enough to compress the Saatva mattress
Anyone who wants a mattress with a slow-moving memory foam feel
Saatva Mattress Video Review
Those who wants to see how the Saatva mattress looks in action should watch our in-depth video review; our reviewer, Marten, discusses the construction, his experience, and runs the mattress through a number of tests.
Saatva Mattress Firmness And Feel
Firmness and feel are two of the most important aspects of any mattress – let's see how firm the Saatva mattress is and what it should feel like for average weight, heavyweight, and lightweight sleepers.
How Firm Is The Saatva?
The Saatva mattress comes in three firmnesses – Plush Soft, Luxury Firm, and Firm – we reviewed the Luxury Firm version, and it felt close to a 7/10 in terms of firmness. The pillow top is quite soft on top of the Saatva, but the two layers of coils beneath are on the firmer side; combined, they make the Saatva mattress feel just a bit firmer-than-average.
We will say, the Saatva in the Plush Soft version makes our list for the best soft mattresses, so if you're looking for something soft, that's the way to go.
Saatva Luxury Firm vs Firm
While we tried the Luxury Firm version of the Saatva for this review, we also have experience with the Firm version. Of course, the main difference is going to be with regard to firmness. The Luxury Firm feels close to a 7/10, but the Firm feels closer to an 8/10. Lying on top of the Firm model, we are barely sinking in at all.
With the extra firmness, the Firm model feels more supportive when we are stomach sleeping. Our hips aren't sinking in at all, and we are feeling better overall support. Also, when we are back sleeping, we can feel more general support. However, we honestly feel more comfortable back sleeping and side sleeping on the Saatva Luxury Firm.
Sleeping On The Saatva Mattress
Back sleeping on the Saatva mattress, we are experiencing an excellent balance of comfort and support, so our hips sink into the pillow top but not too far. Below that, we feel support from the bottom coil layer and a mix of support and contouring from the microcoil layer. The mattress also provides an excellent amount of lumbar support, making it one of the best mattresses for lower back pain and sciatica. Also, it is one of the best mattresses for arthritis.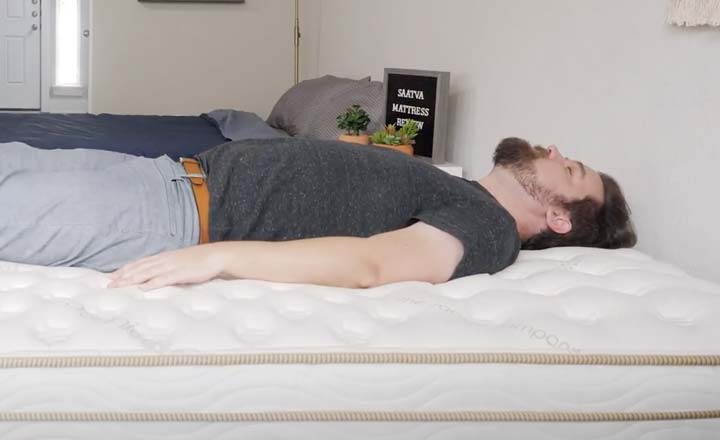 When we are side sleeping, the Saatva is offering us a decent amount of pressure relief on our shoulders and hips, but we do think that those who sleep primarily on their side will prefer the Plush Soft model.
Stomach sleeping, the Saatva is not a bad match at all; our hips do not sink in too far, and we are feeling solid overall support. As we will discuss below, larger stomach sleepers might need a firmer mattress and should consider the Saatva Firm model. It could actually be a good mattress for stomach sleepers.
RELATED: Best Mattress for Neck and Shoulder Pain
What Does The Saatva Mattress Feel Like?
The Saatva exhibits that classic feel many expect from a coil mattress with a pillow top – the mattress has a good bit of bounce due to the multiple layers of coils and some soft plushness right on top. Lying on the Saatva, we do not sink in too far, and it feels more like we are sleeping "on" the mattress rather than "in" the mattress.
See our list of the best innerspring mattresses for more like the Saatva.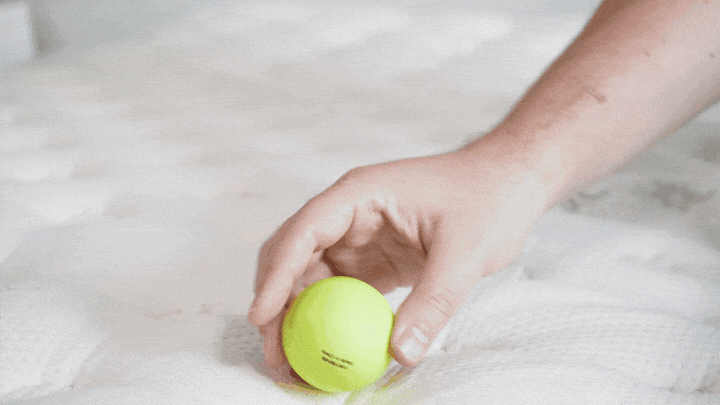 Average Weight Sleepers – 130 lbs – 230 lbs
Average weight sleepers should find the Saatva mattress to be a good fit for all three sleeping positions; they should get the support they require when back and stomach sleeping and decent pressure relief when they are side sleeping. However, as we mentioned above, those who need even more pressure relief can opt for the Plush Soft model of the Saatva.
The Saatva should actually be one of the best mattresses for teenagers.
Heavyweight Sleepers – Over 230 lbs
Larger back sleepers who are closer to 230 lbs should get the support they require from the Saatva mattress. If they require more, they could consider the Firm model or even the Saatva HD, a model made specifically for heavy people.
Larger side sleepers will probably feel decent pressure relief when they are side sleeping on the Saatva mattress. They will press further into the mattress, compressing the coils and feeling less pressure on their shoulders and hips.
Stomach sleeping, most larger people will need a firmer, more supportive mattress – they could feel their hips and center mass bow into the mattress, and this could potentially lead to lower back strain.
Lightweight Sleepers – Under 130 lbs
Lightweight sleepers should feel supported in pretty much any position when they are on the Saatva. That being said, they might find the Luxury Firm a tad firm for side sleeping and might want to take a look at the Saatva Plush Soft.
If you need something for a child, consider the Saatva Youth mattress.
Saatva Mattress Construction
Now, let's take a look at what makes up the Saatva mattress – we will look at each layer, discuss what it is made of, and how this affects the overall feel and performance of the Saatva.
Cover
The Saatva features a cover made from organic cotton, and this makes the top of the mattress soft and breathable. The cover is also tufted and quilted with a soft foam to provide the Saatva with a pillow top look and feel.
Comfort Layers
The main comfort layer of the Saatva really is the pillow top, and that offers a nice, soft feel to the top. In fact, the Saatva is one of the best pillow top mattresses we've reviewed. Below that, there is also a thin layer of memory foam that is meant to add some pressure relief to the top of the mattress.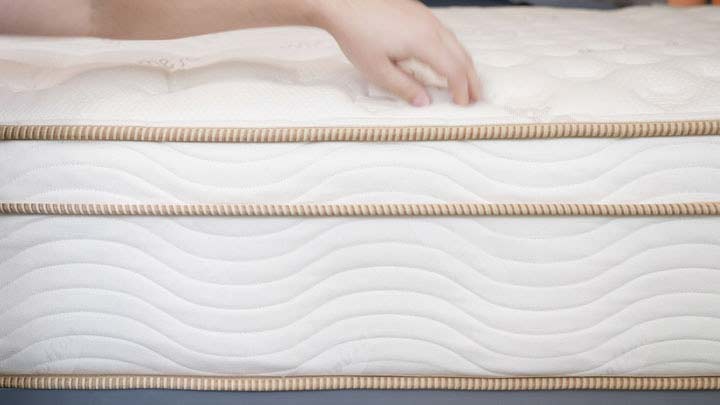 Support Layers
On the bottom of the mattress, the Saatva features a dual set of steel coils. First, it has a layer of microcoils that are supportive but also provide some contouring for sleepers. Below that, thick, high-grade coils act provide excellent support and should be able to handle even heavier weights.
Mattress Height
The Saatva mattress is available in two heights: 11.5″ and 14.5″ – as stated above, we reviewed the 11.5″ model.
Saatva Mattress Size Options And Price
Look at the following chart for the most up-to-date Saatva size and pricing information:
Also, larger sleepers might also want to take a look at our at Saatva HD review – the mattress is extremely supportive and made with heavier people in mind. For the best discount on the Saatva HD, make sure to use our money-saving coupon: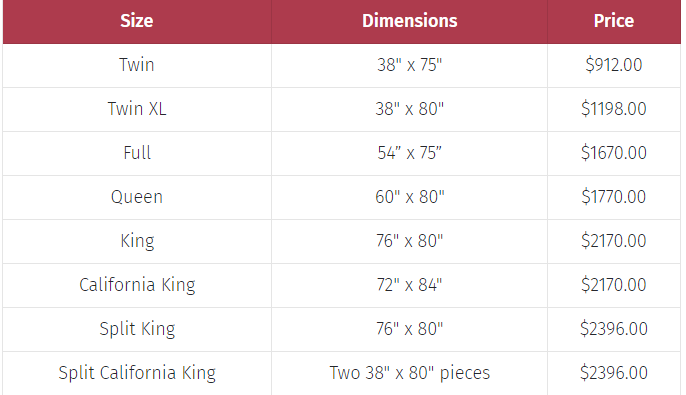 Saatva Mattress Performance
Beyond firmness, feel, and construction, how does the Saatva mattress stack up? We tested the Saatva mattress with regard to motion transfer, edge support, and cooling – let's see how it did!
Sleeping Hot Or Cold
The Saatva is an innerspring mattress with two layers of coils – this leaves a great deal of room for air to flow through the mattress. The top organic cotton cover is also quite breathable and keeps the top of the mattress from trapping too much heat. All told, we thought the Saatva was a solid cooling mattress and did not make us heat up at night.
Motion Transfer
When someone needs a mattress for couples, they are usually better off choosing a soft mattress with some sort of slow-moving memory foam on top. Innerspring, hybrid, and responsive foam mattresses can be too bouncy and won't absorb the motion made by sleeping partners.
When we tested the Saatva mattress, we did notice a good deal of motion transfer. When Marten lay on one side of the mattress, he could feel our other team member moving around on the other side – this means that couples could be disturbed when sleeping on the Saatva.
Edge Support
Edge support is also an important consideration for couples because it could allow each partner to sleep toward the edge of the mattress and get the most sleeping surface possible.
Given that it is an innerspring mattress with two sets of coils, the Saatva features excellent edge support; sitting and lying down near the edge of the Saatva, we feel completely secure.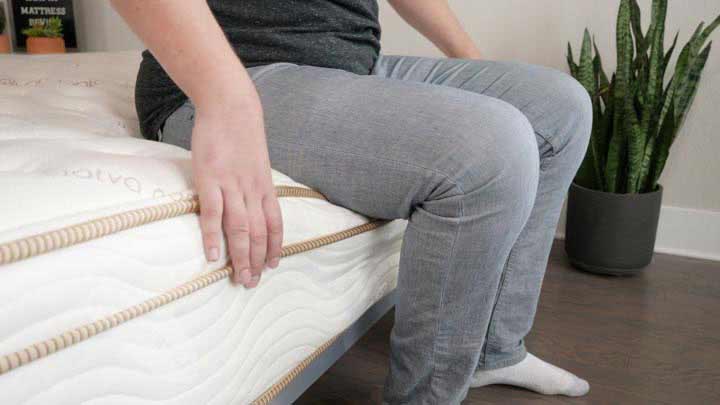 Durability
Looking at the Saatva's materials and construction, it appears to be a very durable mattress. The two sets of coils should add some real life to the mattress, and the Saatva should last for at least seven to 10 years.
Off-gassing
Unlike other online mattresses, the Saatva does not come rolled up in a cardboard box. The company offers free White Glove Delivery where delivery people will set the mattress up in the bedroom and take away the old mattress.
Because of this, the Saatva does not emit the chemical smell you may find in some of the other best best bed-in-a-box mattresses. You'll be able to sleep on this bed immediately.
Noise
Even though the Saatva mattress features coils, we did not hear any significant noise when we changed positions and moved around. That being said, after using the Saatva for a number of years, it is possible it could begin to squeak and creak – this is quite normal with older innerspring mattresses.
Sex
The Saatva is a responsive mattress that doesn't allow people to sink in too far. This should make it easy for sexual partners to move around and reposition on the Saatva mattress – in fact, it's one of the best mattresses for sex.
Overall Rating
SUMMARY
The Saatva mattress is a great option for people that like the innerspring/hybrid feel. It is one of the few innerspring mattresses that is direct to consumer, competing with the top brands (eg Beautyrest Black) at a fraction of the cost. They also have firmness options to accommodate different preferences. Overall I enjoyed my experience on the mattress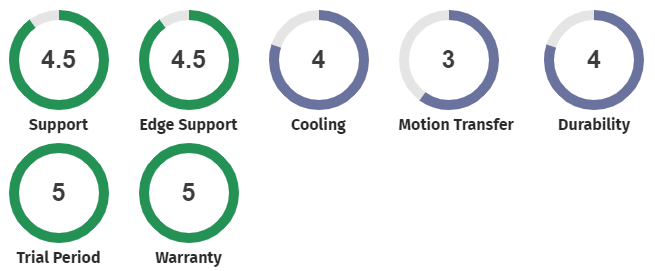 The Saatva mattress is a great value mattress for people seeking the comfort of a high-end innerspring mattress without the overly expensive cost. Available in Plush Soft, Luxury Firm, and Firm options, the Saatva offers tailored support to both average and heavier sleepers.
Want to save money on your purchase? Check out our Saatva mattress coupons page.
Saatva Company Policies
Thinking about buying the Saatva mattress? First, let us guide you through the fine print within the company's policies.
Warranty
With a lifetime warranty, the Saatva will leave you feeling confident in your decision. Learn more about the warranty on Saatva's website.
Sleep Trial
The Saatva mattress comes with a 365-day sleep trial. This offer is above industry average and it will give you ample time to decide if the Saatva is the right fit for you and your sleep habits.
Return Policy
If you aren't completely satisfied with your Saatva mattress during the 180-day trial, Saatva will refund or exchange your mattress for a $99 transportation fee to cover the cost of labor and gas for the mattress pickup.
Common Saatva Mattress Complaints
As with all mattresses, there are a few common complaints that surface with the Saatva mattress. Some people report complaints with delivery issues, although most of these are from before 2018 when Saatva was still a fairly new company. Others complain about the $99 return fee, but Saatva makes it clear that this fee is part of their return policy.
Over time, some customers have experienced sagging in the Saatva mattress. An uneven mattress surface may cause back pain and sleep disruption. Fortunately, mattress sagging is a rare occurrence for average weight Saatva sleepers. If you are a heavyweight sleeper, the Saatva HD may be a better option for you.
Otherwise, we've seen some minor complaints about the mattress feeling too firm. The Saatva is an innerspring mattress, and it does run slightly firmer than an average innerspring, but it also comes in three firmness levels so you can choose a softer version.
How Does The Saatva Compare To Other Mattresses?
It is always a good idea to do some comparison shopping when looking for a new mattress. Let's see how the Saatva compares to some of its major competitors.
Saatva vs Purple
The Purple is one of the most popular mattresses on the market today. It features something a hyper-elastic gel grid that is bouncy, durable, and extremely breathable. Its unique design is quite different than Saatva's more traditional design.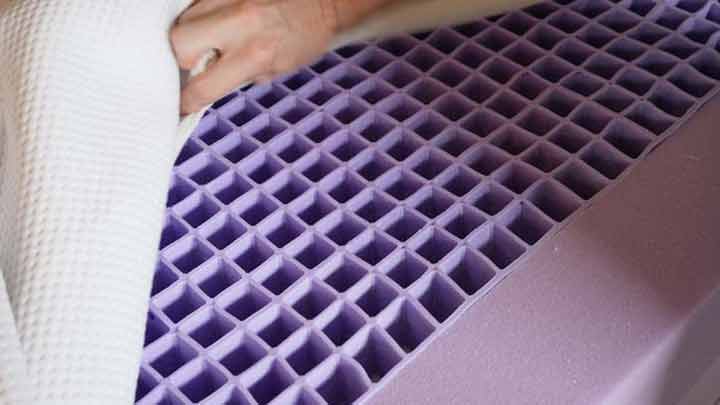 In our experience, the Purple is softer than the Saatva Luxury Firm mattress. Lying down, there is definitely more give with the Purple mattress. In addition, while both mattresses are bouncy, they do feel different. Saatva has a responsive innerspring feel while Purple has more of a squishy gel-like feel.
The Purple's gel grid also makes it a more breathable mattress than the Saatva. This means it should sleep cooler than the Saatva. Speaking of price, the Purple is usually going to cost less than the Saatva.
Who Should Get The Saatva?
Fans of innerspring mattresses
Combination Sleepers
People who struggle with back pain.
Who Should Get The Purple?
Hot sleepers
Back sleepers
Heavyweight side sleepers
Who Should Get The Saatva?
Back sleepers
Stomach sleepers
Those who like to sleep on top of their mattress
Saatva vs DreamCloud
At first glance, the Saatva and DreamCloud are quite similar – they both feature coils and then have plusher layers on top of that. That being said, they are still different in a few ways – the Saatva comes in three firmnesses and two heights, while the DreamCloud is only available in one firmness and height.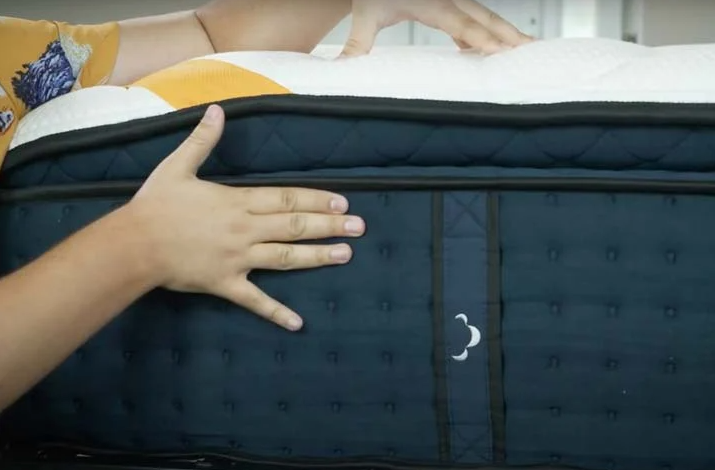 In our experience, the Saatva Luxury Firm mattress is firmer than the DreamCloud mattress. Also, the DreamCloud has a bit more of that slow-moving memory foam feel on top, while the Saatva has more of that classic innerspring mattress feel.
Who Should Get The Saatva?
Back sleepers
Stomach sleepers
Those who like to sleep on top of their mattress
Who Should Get The DreamCloud?
Side sleepers
Fans of softer mattresses
Saatva vs WinkBed
It is probably very difficult to decide between the Saatva vs WinkBed mattresses because they are so alike. They are both innerspring mattresses that feature two sets of coils and a pillow top, and they are both available in a variety of firmnesses.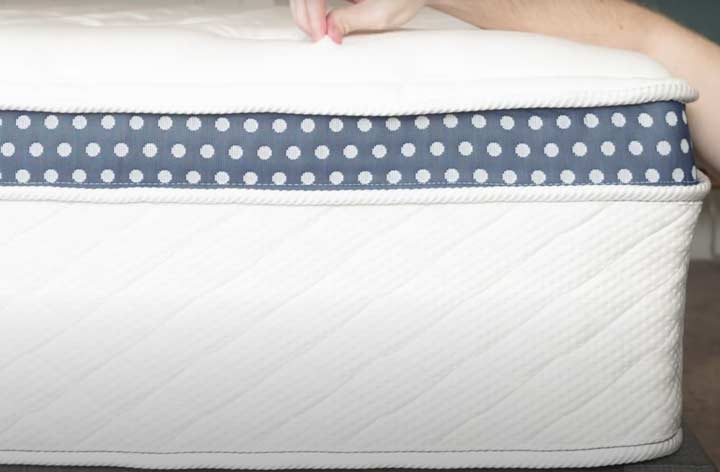 The main difference is going to be their price – for a Queen-size, the Saatva costs about $300 less than the WinkBed mattress. Those who are looking to save a bit of money on their purchase can go with the Saatva mattress but, otherwise, both should work for fans of innerspring mattresses and those who sleep in numerous positions.
Before making a final purchase decision, it's important to check out our mattress comparison page to compare Saatva to other mattresses like Brooklyn Bedding, Helix, and Ghostbed.
Who Should Get The Saatva?
Shoppers who want height choices
Those who want to spend less
Who Should Get The WinkBed?
Hot sleepers
Larger sleepers
Side sleepers
Saatva Mattress FAQs
Now, we would like to answer some of the most frequently asked questions about the Saatva mattress:
Is Saatva a good mattress?
The Saatva is indeed a good mattress – it is a supportive and comfortable innerspring mattress that features some high-quality components. That being said, it is a better fit for back sleepers, stomach sleepers, and those who prefer to sleep on top of their mattress. Side sleepers and those who prefer to sink further into their mattress might want to look elsewhere.
Who makes the Saatva mattress?
The Saatva mattress is made by the Saatva company – they also produce the Loom and Leaf, Zenhaven, Saatva HD, and Solaire, and Saatva Youth mattresses.
How much does the Saatva mattress cost?
The Saatva mattress ranges in price from $887.00 for a Twin-size up to $2296.00 for a Split King or Split California King.
How long do the Saatva mattresses last?
Given that the Saatva features high-end components and boasts a durable construction, it should last for at least 7 to 10 years, possibly more.
Where are Saatva mattresses made?
Saatva mattresses are manufactured in the USA. In fact, the company has 19 different factories.
Do you need a box spring with a Saatva mattress?
Yes. For the best support and comfort, Saatva recommends customers place their mattress on a box spring or foundation. It's important to note: Saatva will void your warranty if you don't place your King or Queen sized bed on a box spring that has proper center support.
Is Saatva a good mattress for side sleepers?
The Saatva can be a good option for side sleepers, especially those looking for pressure relief with good support. However, lightweight side sleepers may not like the Saatva Luxury Firm model (which we reviewed in this article) if they are not heavy enough to compress the mattress. These lightweight sleepers may want to opt for the Plush Soft model instead.