Buying a Rosewe Review dress for $12 that looks like it costs $200 sounds too good to be true—and in many cases. It is but when you see an attractive photo online for dresses or swimsuits at rock-bottom prices, it's hard to resist the bargain.
Today, an increasing number of overseas retailers are being held accountable for stealing images, creating cheap knockoffs, and failing to uphold even mediocre standards of customer service.
With one retailer after the next coming under fire for unethical business practices and scam-worthy social media posts. It can be difficult to spot what is real and what is fake before it's too late or to know which online retailers you can trust to deliver a decent product.
One popular site offering beautiful clothing at greatly discounted prices is Rosewe, a global online retailer. That offers "the latest (almost daily) in women's fashion from the high-streets at a price you can afford."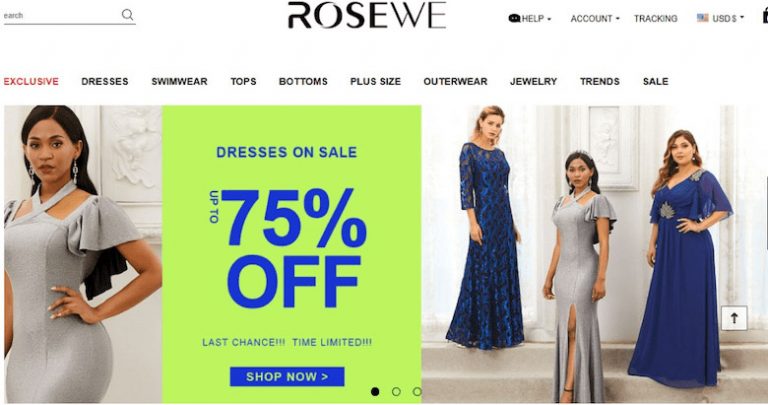 Rosewe clothing has been around for a decade, being launched in 2009. So, does that mean you can trust them? Many shoppers are drawn towards their Rosewe plus sizes and drastic discounts on dresses, tops, outerwear and more, but how happy do those shoppers end up being?
This Rosewe review will attempt to answer that for you by providing an in-depth overview of everything. You should know about Rosewe clothing and accessories, answering common questions like:
Where is Rosewe located?
Are reviews for Rosewe generally positive or negative?
What do Rosewe complaints say?
How easy are Rosewe returns?
Is Rosewe customer service responsive?
More importantly, this Rosewe review will address key questions like "Is Rosewe legit?" and "Is Rosewe a scam?" to help you determine whether Rosewe is worth trying for your next fashion haul.
Rosewe Review | Where is Rosewe Located?
When it comes to determining whether a company is legit, location is often a significant factor. So, where is Rosewe located?
Their website lists an address in Shanghai, China as their primary place of business, though they are careful to note that this is not the return address. (Shoppers will only receive a return address once their return request has been approved.)
Interestingly, we found that where Rosewe is located is also where two other similar online Chinese retailers are based. Both Rotita and Modlily list the same physical address on their websites.
So, these may be sister sites run by the same company or connected companies. To learn more about those other two sites, look for our Rosewe reviews on Rotita and Modlily.
Because Rosewe's location is in China, shoppers can expect drastic differences in customer support availability. Rosewe customer service is available from 9 PM-11:30 PM and 1 AM-6AM Eastern Standard Time, Monday to Thursday.
This means if you're sending them an email, you may have to wait several hours before getting a response.
Rosewe's location plays a large part in the price and overall quality of their products. While low-priced mass production in Asia allows the price of Rosewe clothing to remain relatively low, shoppers will find that the quality of their clothing is often low as well.
This is where the old adage, "You get what you pay for" comes into play. When buying Rosewe jumpsuits, dresses, and other clothing, you may just find that what you receive is a far cry from the photo that enticed you to purchase.
A 2016 journalistic investigation by BuzzFeed News linked Rosewe, Zaful, SammyDress, DressLily, Romwe, and other cheap clothing sites to a Chinese e-commerce company called ShenZhen Global Egrow E-Commerce Co., also known as Global Top.
The company has been doing well; in fact, its current market capitalization as of August 2019 is over $3 billion US, and it is reportedly run by one of China's richest men.
In their article, BuzzFeed authors Sapna Maheshwari and Beimeng Fu explain the collective issues with each of these sites, saying:
If and when the garments finally arrive, shoppers say they're frequently small enough to fit children. Their color is off, and they are made from flimsy materials. Sometimes they smell like chemicals. Customer service, typically located in China, is barely reachable, especially when it comes to returns and refunds.
In this case, Rosewe's location and ownership may not only impact product quality, shipping, and Rosewe customer service availability, but also reputation. Many of the sites listed above have been fielding accusations of copyright infringement and poorly made clothing for years.
We'll learn more about how current Rosewe shoppers feel about the site and what their experiences are next as we get into the reviews of Rosewe.
Rosewe Review | Reviews of Rosewe on SiteJabber
Sitejabber has over 2,700 Rosewe clothing reviews from customers, giving the site an overall rating of 3.5 stars out of 5. The reviews are slightly more positive than negative, with a majority of shoppers being happy.
Approximately 59 percent of Rosewe reviewers gave a 5-star or 4-star rating and 39 percent gave a 1-star or 2-star rating. We'll see what the happy Rosewe shoppers had to say first, and then we'll look at the Rosewe complaints.
Positive Rosewe Reviews
Overall, Rosewe clothing scored high marks in terms of service, shipping, returns, quality, and overall value. Positive reviews praise the company for providing high-quality items at affordable prices.
This is particularly true when it comes to Rosewe swimsuits. Multiple Rosewe reviewers stated that they loved the fit and feel of their swimsuits and had either made multiple purchases or were planning to in the future.
This is a common theme we've found with these overseas retailers, that the swimsuits overall tend to be the closest match to the photo and don't have as many quality issues as other types of clothing.
For example, one Rosewe review says:
We have a pool, and I purchase multiple suits each summer. I recently purchased four tankini style suits from Rosewe at super reasonable prices. The cost per suit averaged $27 each, which is amazingly affordable. Locally, similar suits sell for up to $100! Shipping was relatively fast, and the quality is second to none. Thanks Rosese [sic], and I will return for more!

Another Rosewe reviewer that gave a 4-star review for Rosewe said they got what they paid for, stating:
I am happy with my purchase but quality of material the dress was made from was very cheap. Looking at the dress details I should have read that first. Other than this, It came when it said it would come and in 1 piece and I can still wear it.
While there are plenty of positive Rosewe reviews to choose from on Sitejabber, this Rosewe review did find some instances that may raise suspicion on whether comments are coming from a real customer. For example, some of the phrasing on 5-star Rosewe clothing reviews reads awkwardly, like this one:
I purchased a one-piece cloth from ROSEWE and received it on time. No delays and the cloth was as expected. I am planning more purchases this year.
Similarly, other reviews on Rosewe almost seem unintelligible. In a review titled " Congratulation guys," one Rosewe reviewer says:
I so happy with all my orders O brought from us I encouraged my friends also buy from us keep like.
It's possible, these could just be a person posting in English when it's not their native language and awkward phrasing may not be a deal-breaker for some potential shoppers. But it's important to note, as many overseas companies have been suspected of posting fake reviews.
Negative Rosewe Reviews on Sitejabber
Of the 2,768 total Rosewe reviews, 1,040 of reviewers on Sitejabber left a 1-star rating, the lowest possible score.
Many shoppers report frustration over the Rosewe returns and the refund process, which is complicated and rarely involves a full refund.
According to Rosewe reviews, customers must pay the return shipping cost back to China—which is often more expensive than the item itself—or accept a 50 percent refund from Rosewe customer service and keep the unwanted item.
With an unresponsive customer service department, this process can be challenging, as detailed in a recent Rosewe review:
You have to get a RMA# to return, but I cannot reach them to get the # nor do they provide a return address. Website says the only way to reach them is by submitting a ticket, but you cannot create an account to do so. If you try to email the address you will get a message saying. The only way to communicate is via the submit ticket method – which isn't possible! I tricked into this site via Pininterst. Never Never again!
Along with unresponsive customer service and a frustrating Rosewe return process, many Rosewe complaints on Sitejabber involve the poor quality of the clothing they received. These negative reviews of Rosewe claim that the site uses "false product representation," reinforcing the growing concern that shoppers cannot expect the same quality depicted in product images.
One unhappy reviewer warned,
Do not orders from this company…See below what I ordered and paid for and what I received. They are taking pictures from other websites and using as theirs. However but this isn't what you will receive
This photo the reviewer shared in her Rosewe jumpsuit review. The product image on Rosewe (left) versus what she received (right).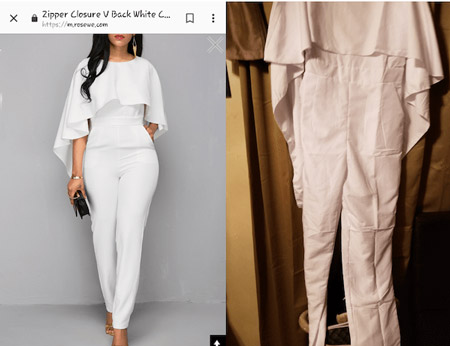 Rosewe Review | Reviews for Rosewe on Trustpilot
Trustpilot has over 1,400 Rosewe clothing reviews, giving the site an overall rating of 3 stars out of 5. The majority of reviews are positive, with 63 percent of shoppers describing their experience as either "Excellent" or "Great."
Positive Rosewe Reviews on Trustpilot
Similar to Rosewe reviews on Sitejabber, shoppers that praise the site mention high-quality clothing, fast shipping, and great customer service. Many even say that the Rosewe dresses and clothing that they received looked exactly like the advertised picture and that they are "quality garments."
One such Rosewe reviewer explains that shoppers "can't go wrong," leaving the following Rosewe dresses review:
I have bought 3 FABULOUS dresses from them, and just love them. Sometimes it takes a couple of weeks for item to come but they offer you, track your package, and that is always updated. My dresses are beautiful…You will be happy every time as I have been with my purchases.
Others advise that, although the shipping times can be long, the wait is well worth it. Additionally, contrary to Rosewe complaints, many positive Rosewe reviewers state that their experience with customer service was "great and prompt" instead of inaccessible.
Here is one reviewer who praised Rosewe customer service:
Rosewe has quality clothing for a fraction of the costs. The customer service is prompt and provides excellent and fast results.

Negative Rosewe Reviews on Trustpilot
34 percent of Trustpilot Rosewe reviews are negative, with shoppers rating their experience as "Bad" or "Poor."
The vast majority of Rosewe complaints on TrustPilot deal with overall product quality, with shoppers commenting on poor stitching and flimsy fabric.
Reviewers describe Rosewe clothing as thin and see-through, with many shoppers saying that they cannot even wear the items that they ordered. For example, in her Rosewe dresses review, one shopper calls her purchase "the worst dress ever," saying:
The pictures may look good, but the merchandise is awful. Poor fit, horrible finishing. No hems, just machine-applied whip stitching. Return process does not work. Dress is in my donate pile. No more Rosewe for me!
Many reviewers urge readers to avoid the site altogether, saying that Rosewe clothing "looks good on the website but not in reality," echoing previous critical Rosewe reviews that buying from the site is simply not worth the money.
Another area of concern we found was with Rosewe returns. Many customers noted trouble getting their money back on clothing even when they followed the proper refund procedure.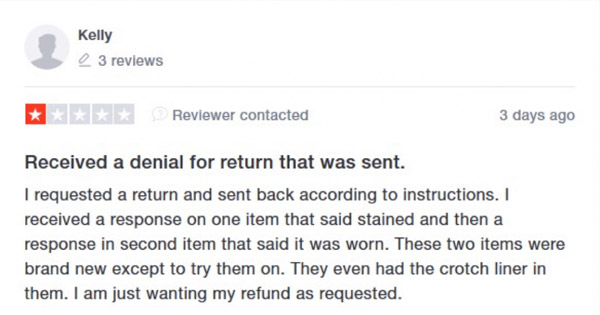 We'll take a look at the Rosewe return policy next to see what it entails.
Rosewe Return Policy
Even though the site says they have a 30-days "easy" return/exchange, doing returns and getting refunds at Rosewe is not at all easy according to multiple reviewers. Here are the details of the Rosewe's return policy.
You have 30 days from delivery to make a return for exchange or refund
Items must be in new conditions (unwashed, unused, no stains, etc.)
Flash sale products and jewelry aren't returnable
You have to apply for a Rosewe return by ticket on the website
Once approved, you'll receive the shipping address and an RMA number
You are responsible to pay to ship the item back, and should not add signature required to the package
You need to update your ticket on the site with the shipment tracking details
Rosewe states that refunds are issued in 7 business days of receipt by the warehouse
While many shoppers say that getting a refund from Rosewe is difficult, some mention that they did receive a refund.
One reviewer, in particular, had posted a negative review for Rosewe on Trustpilot and updated it to state they had sent their refund. But still were miffed about being out the return shipping, which in their case was 18 GBP (about $22US).
That's one thing to keep in mind when ordering on Rosewe or another similar international site. If you're not happy and want a refund, the return shipping could cost you nearly as much as the product itself.
Rosewe Review | Rosewe Complaints
Although Rosewe complaints can found while looking through negative Rosewe reviews on sites. There are also websites dedicated purely to providing a sounding board for frustrating shoppers.
One such website Pissed Consumer, which collected over 850 Rosewe complaints from shoppers across the country. With an overall rating of 1.5 stars out of 5, the most common themes among these complaints are:
Rosewe Customer service
Website
Exchange, refund, and the cancellation policy
When listing Rosewe complaints with Pissed Consumer, users have the option to enter the total amount of money. They lost by shopping through Rosewe, either due to the inability to make a return on Rosewe or ineligibility for a full refund.
As reported by website users, the average loss is $177, with over $55,600 claimed total losses from all users.
Many Rosewe complaints deal with inaccurate sizing and the overall poor quality of the clothes that they purchased. Although Rosewe reviews from Trustpilot and Sitejabber were favorable towards Rosewe swimsuits, users on Pissed Consumer frequently list complaints on their swimwear.
For example, one of these complaints comes from a shopper whose wife had purchased two Rosewe plus size swimsuits in a size XL but received a size S instead. Upon initiating the return process, they were told that they would have to either pay for return shipping to China (nearly the same as the purchase price) or accept a 50 percent refund.
Ultimately, they call Rosewe, "a great way to get rid of inventory if you know the game," warning future shoppers to "read all of the negative reviews. My good wife has learned a lesson to order only from a reputable company."
Anther unhappy reviewer on Pissed Consumer said the Rosewe jumpsuit they ordered arrived "badly made and was nothing like the picture."
Rosewe Review | Is Rosewe a Scam? Is Rosewe Legit?
Based on positive reviews on Rosewe from satisfied shoppers. It seems that Rosewe certainly has a strong following of repeat customers.
However, routine issues with Rosewe customer service, returns, shipping, and overall quality detailed by frustrated reviewers have caused many shoppers to ask the questions: Is Rosewe legit? Is Rosewe a scam?
In fact, many Rosewe reviewers already assume that they have been a victim of a scam, primarily due to unresponsive customer service, shipments that never arrive, and misleading advertisements.
See the sections below for a detailed discussion on whether Rosewe is a legit site, or if this retailer is looking to take your money and run.
Is Rosewe Legit?
One of the most important aspects of determining whether Rosewe is legit comes from analyzing the security settings. Is Rosewe legit and safe to enter your credit card information?
Rosewe.com has an "https" prefix and a small lock next to the address bar. This means that data (like credit card information) transmitted with Secure Sockets Layer, providing an additional layer of security.
There are also hundreds of Rosewe reviews from customers that have successfully received. Their packages and spoken with customer service, meaning that Rosewe is more than a website. It is a business with an address, contact information, stock warehouse, and customer service department.
In terms of online security and basic function, yes, Rosewe is legit. However, just because Rosewe.com will let you fill up your cart and order. That doesn't mean that you will have a good experience. There are plenty of reasons to doubt whether Rosewe clothing is the best way to spend your money, as detailed in the sections below.
Is Rosewe Connected to Other Chinese Manufacturers?
Negative Rosewe dresses reviews and Rosewe swimwear reviews are quick to point out that items received are often not as described, an issue that extends to a wide range of China-based manufacturers.
Complaints on quality are not the only commonality between these sites—in many cases, they also share pictures as well. For example, the image below one of their many Rosewe plus size swimsuits advertised on the site.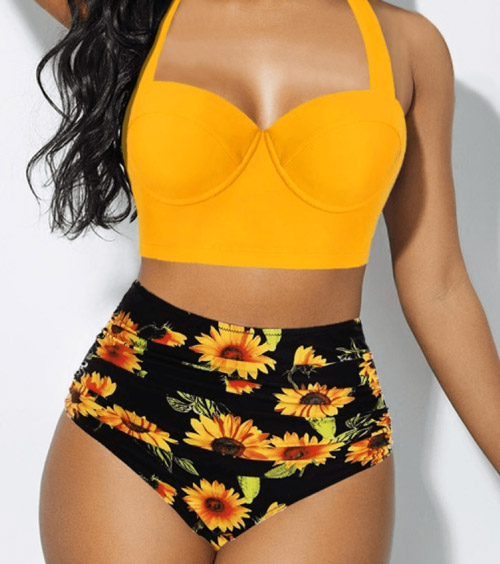 However, doing a quick Google Image search (pictured below) shows that this specific product image linked to multiple retailers, including Modlily, Linkshe, and Rotita.
Not only does this support the link between multiple Chinese manufacturers. But it also raises questions as to who actually owns the image, making many shoppers doubt whether Rosewe is using ethical advertising practices for their clothing.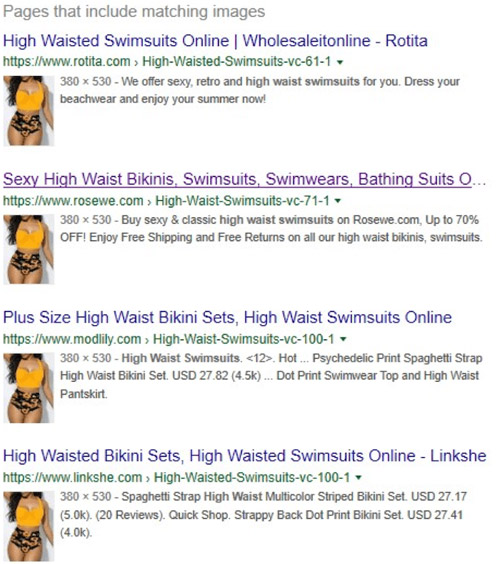 Is Rosewe a Scam?
With Rosewe reviews detailing issues with customer service, shipping, Rosewe returns, and the overall poor quality of Rosewe clothing, many shoppers are calling Rosewe.com a scam.
So, is Rosewe a scam? From a customer's perspective, Rosewe certainly does not appear to care about their best interests. Shipping is unreliable, refunds are difficult (if not impossible) to get, and for many shoppers, the quality of Rosewe dresses, jumpsuits, and swimsuits is significantly lower than expected.
Although concerning, the above characteristics are commonly seen in retailers based in China. Despite criticism on stolen images, low-quality products, frustrating return processes, and dismal customer service. There not yet any legal action taken against them as a scam.
While there no concrete evidence that Rosewe actively trying to scam shoppers, that doesn't mean. You should just hand over your money or expect to get the same product that's represented in the product image.
Hundreds of shoppers believe that they have, in fact, scammed through missing packages, non-existent customer service, and poor quality of clothing.
Ultimately, Rosewe complaints demonstrate that the retailer has a number of issues with quality control and customer service to address. Which should make any online shopper think twice before making purchases there.
Conclusion: Is Rosewe Clothing Worth It?
There's no denying that Rosewe clothing offers on-trend styles at affordable prices—but is the site worth ordering from? It's complicated because there both reviews that praise the great deals and those that claim there's a Rosewe scam.
Based on Rosewe reviews from dissatisfied shoppers, there are plenty of warning signs that Rosewe might not be the best option, earning the retailer an overall 2-star rating.
While there is a significant number of positive Rosewe reviews from shoppers that were lucky enough to have a great experience, critical reviews show alarming trends in the overall value of shopping on Rosewe, including the cost of making returns.
In many cases, shopping for Rosewe dresses, swimsuits, clothing, and accessories ends up being a "shot in the dark" as to whether customers will receive something that they can actually wear or something they will have to give away or pay to return.
Potential customers should consider the following patterns of Rosewe complaints:
Orders that never arrive
Receiving poorly made (or falsely advertised) Rosewe clothing
Contacting Rosewe customer service is either impossible or extremely challenging
Confusing return process and difficulty getting a full refund
Shipping times that extend far past the estimated deadline
If you have some extra cash to spend—and are willing to take a significant chance on product quality. Shipping times, customer service, and returns—then Rosewe might be worth it to get a budget price on trending fashions.
For most shoppers, however, the hassle associated with ordering Rosewe clothing is enough to stay away entirely.
Rather than wasting your money on a chance, you may want to look for retailers that put the customer first through quality products, reliable shipping, flexible returns, and a responsive customer service department that's available during your daytime hours.
(AHQ) Disclaimer:
Reasonable efforts have made by Rosewe to present accurate information, however all info is presented without warranty. Review Terms for details. Also review each firm's site for the most updated data, rates and info.
Note: Firms and products, including the one(s) reviewed above, may be rosewe affiliates. Click to view rosewe advertiser disclosures.