About Pretty Litter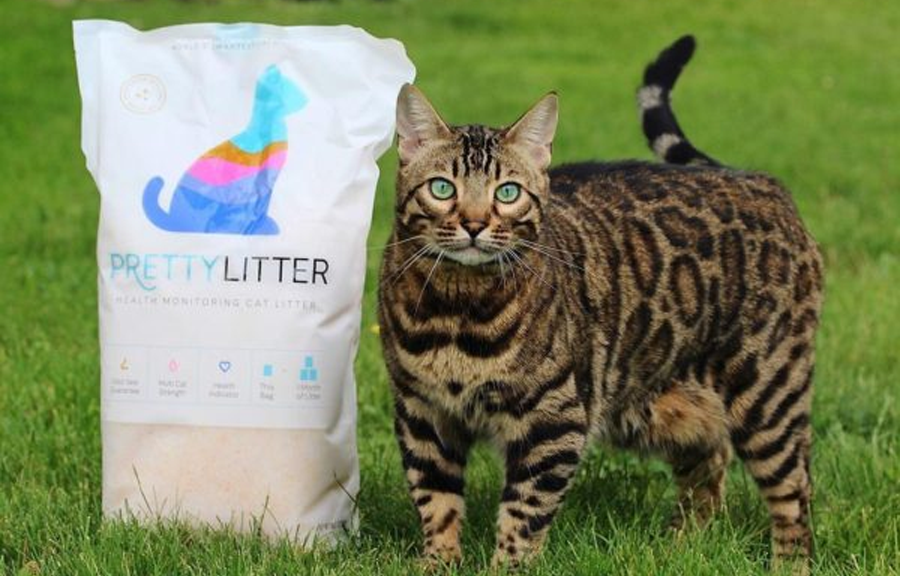 Pretty Litter helps you stay on top of your cat's well-being with its smart, non-toxic formula. Each time your furry friend takes a leak, the silica-based litter will turn a certain color, indicating whether the urine falls inside or outside the healthy range.
The brand has caught the attention of media outlets like National Geographic, Modern Cat, Oprah Magazine, ABC Family, and Forbes. 59.2K Instagram followers have shown major interest in Pretty Litter as well.
This Pretty Litter review will divulge an in-depth analysis of the brand and its best-selling health monitor, explore customer feedback, promotions, and more. If you're concerned about your cat's safety or want to know if it truly works, don't worry, we've got you covered.
Overview of Pretty Litter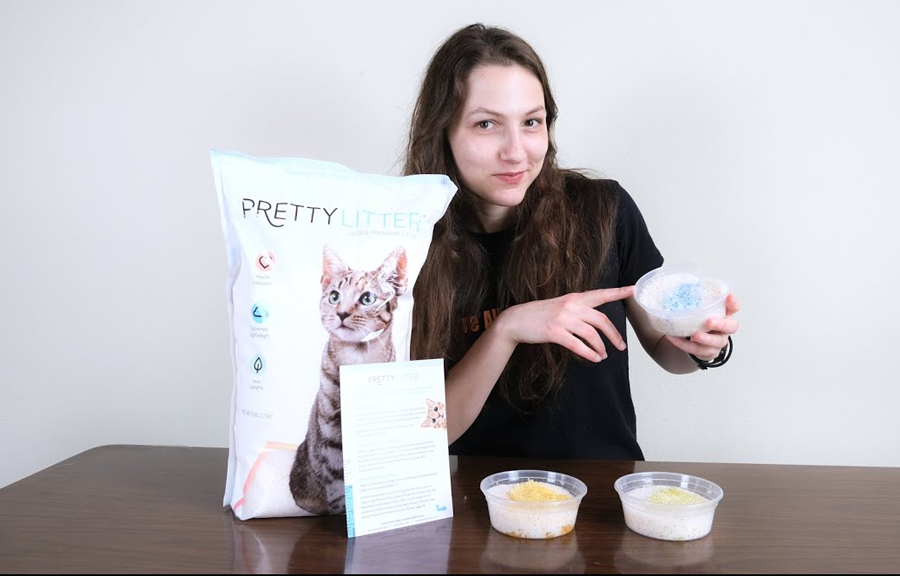 Cats are interesting creatures. Fiercely independent, they tend to keep their pain and illnesses to themselves. Often, you won't know if your secretive feline has a health issue until very late in its course—sometimes, when it's already done a ton of irreversible damage.
Pretty Litter was created in 2015 by Daniel Rotman to solve that issue. Witnessing firsthand the heart-breaking process of losing a pet to a preventable condition, Rotman set out to create a solution.
Pretty Litter's goal is "to get your cat care before urgent medical attention is needed, saving you money, stress, and potentially your fur baby's life." Pet owners can get their dear companions the treatments they need, more efficiently than before.
Through its revolutionary color system, the litter alerts owners of certain imbalances in their cat's systems—detecting a range of conditions not limited to bladder stones, UTIs, kidney disease, and inflammation.
As pet lovers themselves, the brand gives some of its profits back to organizations that are saving animals' lives. This includes The Humane Society, Animals for Armed Forces, Operation Blankets of Love, and many others.
Operating from its headquarters in LA, the brand has brought peace to thousands of pet owners across the US and Canada. Before we jump into how the service works, this Pretty Litter review will quickly fill you in with these highlights.
Highlights
Innovative litter formula helps detect your cat's illnesses early
Better choice for those who have asthma (less dust)
80% lighter than traditional litter
Convenient subscription (delivered straight to your door)
Recommended by veterinarians
Powerful odor-blocking agents
Allows users to scoop less
Many promotions and discounts
30-day money back guarantee
How Does Pretty Litter Work?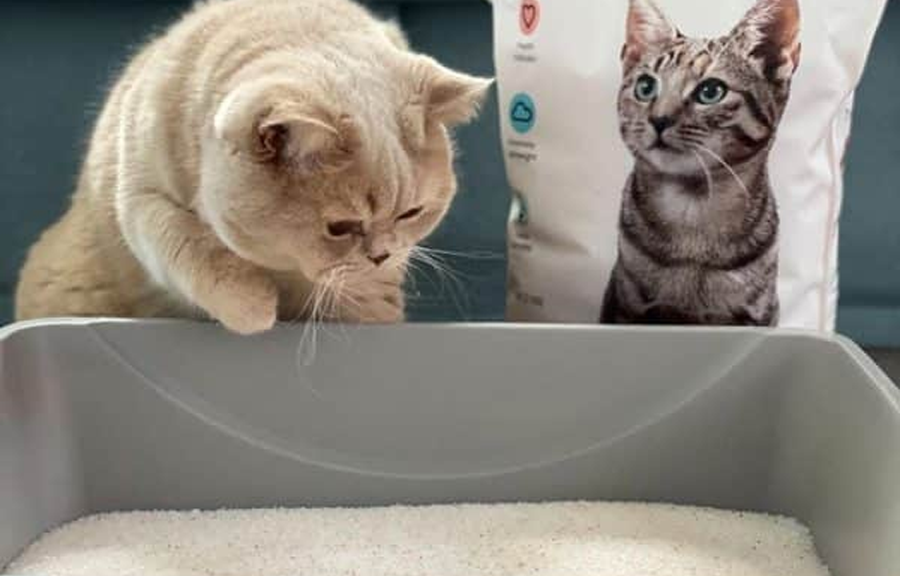 Pretty Litter monitors your cat's health without hurting your wallet in the process. Delivered straight to your door each month, the shade-changing litter uses naturally occurring minerals to transform into bright reds, greens, blues, and yellows. But don't let those colors fool you, some represent dangerous health conditions.
It's up to you to take the appropriate action if there are any signs of trouble. But, the first step is actually buying the litter, and thankfully, doing so is super easy. Although Pretty Litter is subscription-based, there is no minimum time commitment.
You can order Pretty Litter exclusively from their official website, as it won't be carried by your local pet store. The super convenient home delivery subscription saves both time and money—not to mention the numerous savings, free shipping, and promotions the brand offers.
Wondering if you can simply try out the product without subscribing? In a way, the answer is yes. While Pretty Litter isn't available for purchase without a subscription, users can simply sign up to receive a shipment, and then cancel their service before the next billing period.
Subscriptions automatically renew either each month or four times a year, depending on your plan. You can terminate your Pretty Litter cat litter subscription at any time (free of charge), but be sure to do so within the appropriate time frame, as your order is non-refundable.
This next section of this Pretty Litter review will walk you through all the details of their subscription. Then, we'll go over the different plans.
Pretty Litter Cat Litter Subscription Review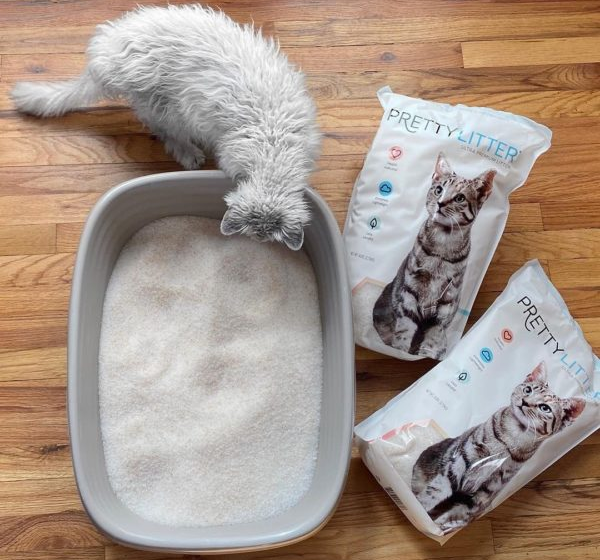 There is just one Pretty Litter formula. So, every plan delivers the same odor-blocking product. During the signup process, you'll need to specify how many four-legged cuties currently roam around your home.
Don't worry, you can add as many bags as you need within each subscription period. So even if you're stocking up for a shelter or SPCA with dozens of cats, Pretty Litter has got you covered!
After you choose how many pets you're accommodating, pick whether you would like your litter delivered every 1 or 3 months. When making bulk purchases, the 3-month subscription is the most time and cost effective choice.
One bag typically lasts for a month. Some users find it safer to make an individual purchase first to gauge how much litter their kitty actually needs.
What do the colors of Pretty Litter mean?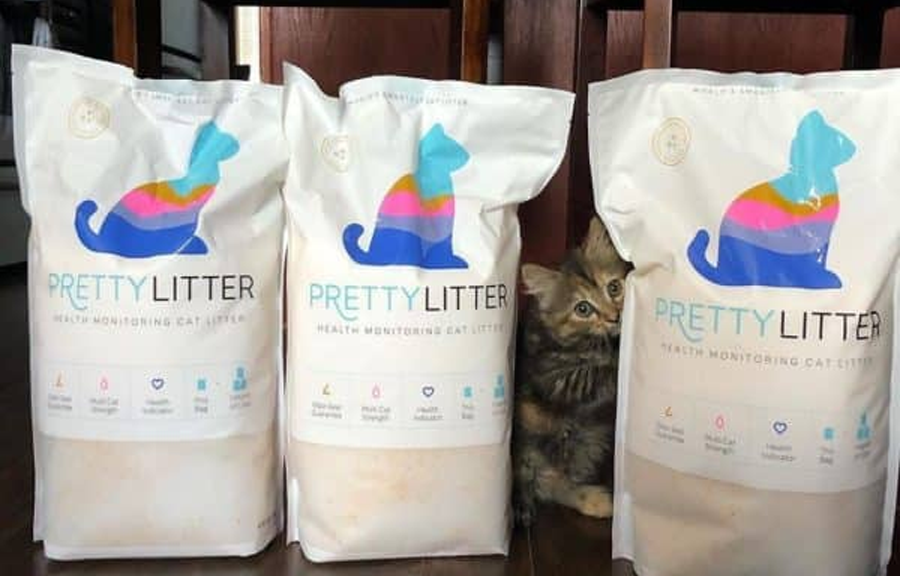 We wish our beloved 'fur babies' could just tell us how they're feeling! Think of Pretty Litter as a communication tool that lets you know if your pet is feeling unwell or has a silent health issue that may cause bigger problems in the future.
These four different Pretty Litter colors indicate certain conditions that require medical attention:
Blue: Alkaline—this may mean your cat has a urinary tract infection or even bladder stones
Orange/Yellow: Acidity—possibly an indication of metabolic acidosis or kidney infection
Dark Yellow/Olive Green: Normal—your kitty is in tip-top shape!
Red: Blood—red blood cells in the urine mean that they may have bladder inflammation, a UTI, or bladder stones
Does Pretty Litter last a month?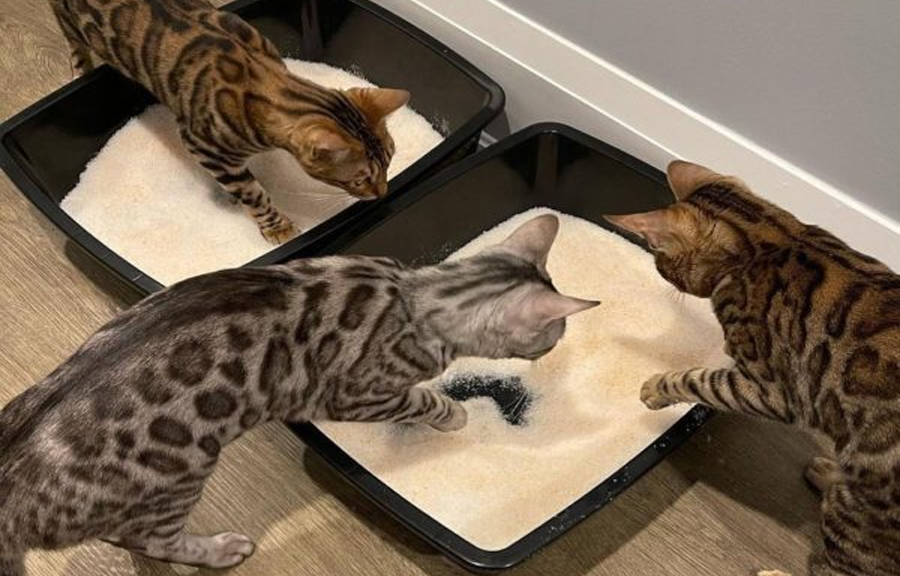 Buyers report that a 4lb bag of Pretty Litter lasts for a month, if not more. Apparently, you need less of it than you do regular litter, so you'll get more out of one sack than you would other brands' offerings of the same size.
This all varies according to how frequently your cat uses the litter box though—if he/ she pees a lot, some users may find that a supply lasts a little under a month, instead.
Can I mix Pretty Litter with regular litter?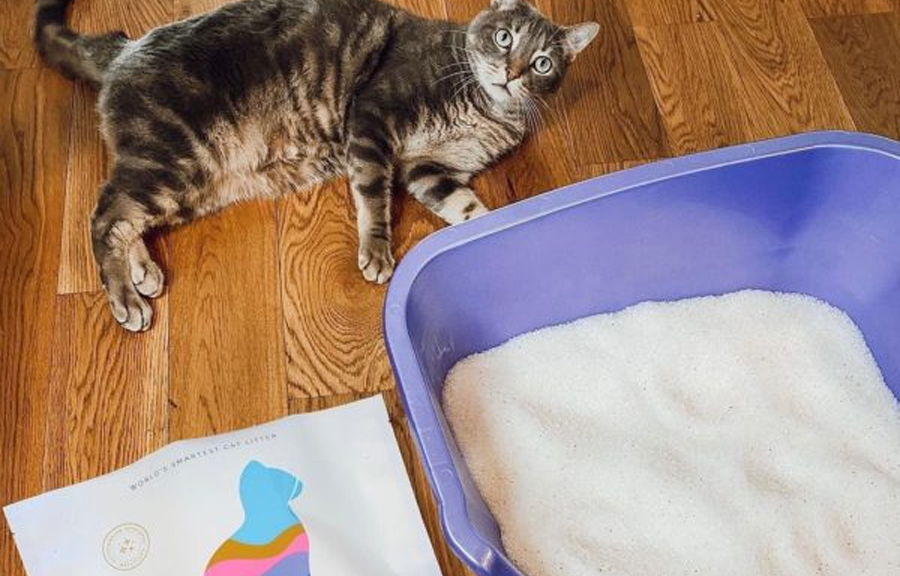 Pretty Litter is an almost snow white color that makes the results of your cat's urine test stand out more. Traditional kitty litter is a sandy grey/beige color. When they're mixed, you won't be able to clearly identify which shade of the Pretty Litter color chart is showing up.
Making a concoction will also muddle with the indicators of Pretty Litter, meaning that it may not be able to do its job as efficiently. Consequently, you may not be able to detect your cat's illness until much later on.
For these reasons, this Pretty Litter review believes that mixing different types of litter isn't ideal, even though it is safe to do so.
How Much is Pretty Litter?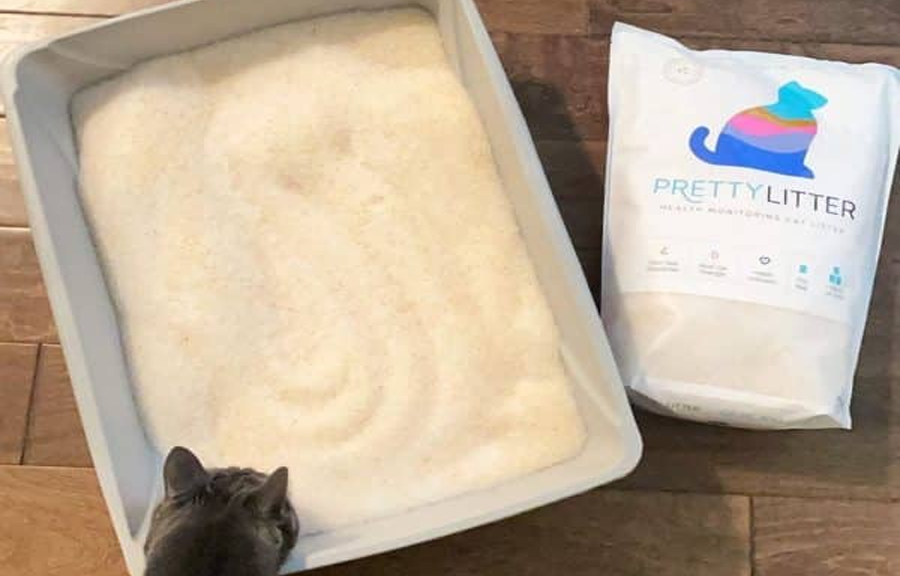 The total cost of your Pretty Litter subscription depends on the number of cats in the household. More feline friends means you go through litter that much quicker. Fortunately, subscribers can tailor their plan to accommodate all of these factors.
Pretty Litter lets you add on as many bags as needed (considering the basic equation that one bag lasts one cat for a month). We'll list the prices for up to three pets below.
1 cat $22/month or $66/3 months
2 cats $40/month or $120/3months
3 cats $60/month or 180/3 months
This Pretty Litter review observes that those who need more than one bag per month will save 10%.
Pretty Litter Reviews: What Do Customers Think?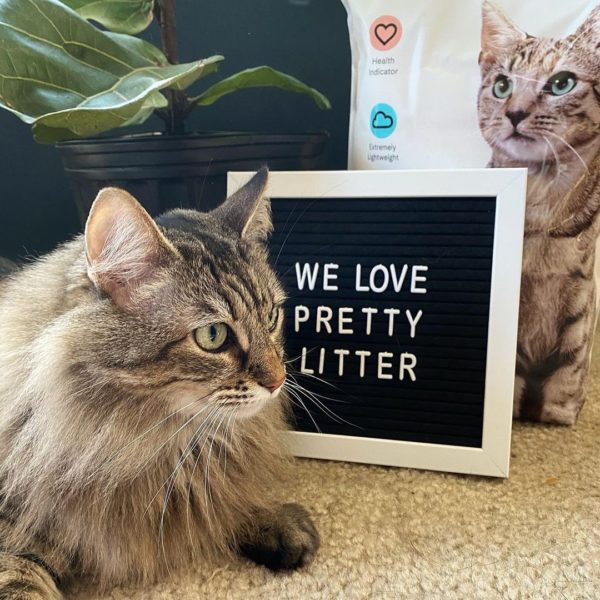 We can undoubtedly see the importance of this litter. On paper, it's a great idea! But if you're wondering about the product's usefulness and efficacy, then keep reading this Pretty Litter review.
Ahead, you'll find results of a thorough search for the most helpful customer reviews. We searched for ratings and in-depth accounts of users' personal experiences with the brand. And if we could ask cats how they like it, we would have done that too!
The brand has an A rating and 3.7/5 stars on the Better Business Bureau—an average that's quite high considering the BBB is a place where customers typically go to complain, and not to compliment a company.
Out of the 318 buyer reviews for Pretty Litter, most of them expressed appreciation for the illness-detecting kitty litter, "amazing customer service", and "no odor" formula. It appears that brand has relieved stress for many owners and saved their pet's lives.
An impartial Pretty Litter review on All About Cats gave the brand an overall rating of 9/10. Here's how they got to that score:
Customer Service 10/10
Price Per Pound 8/10
Multi-Cat Formulas 7/10
Natural/Alternative Options 10/10
Long-Lasting Odor Control 10/10
The reviewer initially harboured some doubts and tested Pretty Litter out for "a few weeks on several cats." After putting the invention to the test, they stated that their "cats took to it easily and we were thrilled with the liquid-absorbing and odor-controlling power of the litter itself." So, it appears that the litter performs well.
Though they found this litter to be helpful in some major areas, it didn't tick every box of common things that pet owners look for. For example, the brand's "lack of product variety and non-clumping" formula gave it a lower overall score. Clumping is certainly important, but the litter does dehydrate solid waste, which is a plus.
The brand's website shows a 4.9/5 star rating, given by 14,199 buyers. That's a pretty incredible number, so let's see what they had to say. One 5-star Pretty Litter review read:
"[It's] easy to clean the box & I appreciate the color not only for detecting possible medical issues but for quick clean up since it's easy to spot where you need to scoop." There are definitely a few perks that come with the unique formula.
Overall, Pretty Litter is well received and most cats seem to have no issues using it. It's important to keep in mind that the texture is different from alternatives you can find in pet stores. This means that it might not perform in all of the same ways—but, the pay-off is that this litter is potentially life-saving for your kitty.
Is Pretty Litter Worth It?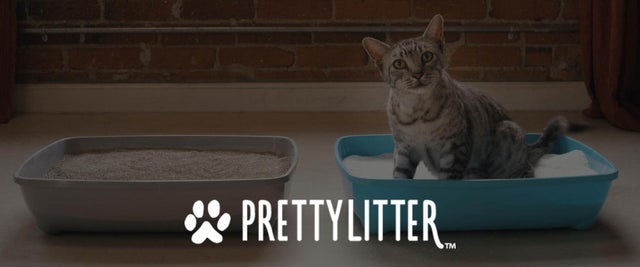 Pretty Litter can alert pet owners if their cat has an urgent medical condition. This is something that makes the product worth it right off the bat. The colour-changing formula is appealing and easy to discern results from—plus, it's safe for your fur baby to use everyday.
The price of $22 is more than what a sack of kitty litter would cost at the store. But, you're essentially getting a urine test every time your cat uses the formula, something that would be much pricier at the vet.
Is Pretty Litter legit? According to pet owners, yes, it is. The easy-to-clean formula delivers on its claims, and customer support seems to be solid. It's also a risk-free subscription, as there's a 30-day money back guarantee just in case your feline friend doesn't respond well to the litter.
Pretty Litter Promotions & Discounts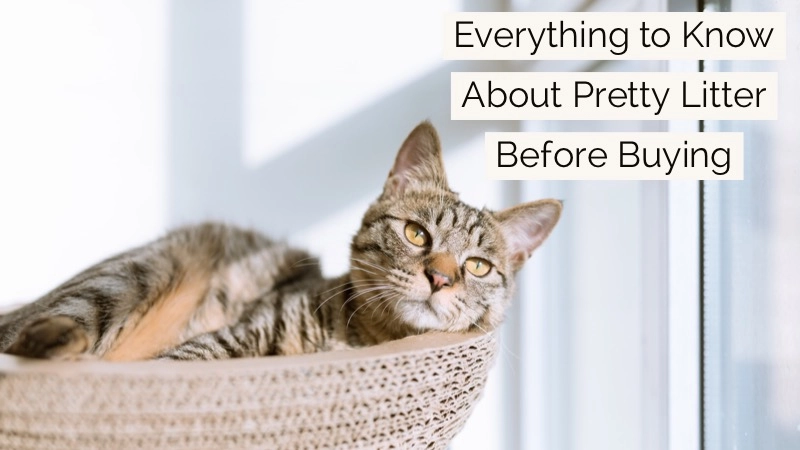 This Pretty Litter review kept an eye out for any deals featured on the brand's website. Discover what we found below:
Free shipping in the contiguous US
Summer Special: Score 20% off plus a free toy
Save 10% when you buy more than one bag
Get $5 off when you buy a 3-month supply
Spin the Wheel, Win a Prize
Get 25% off your first month
Sign up for Pretty Litter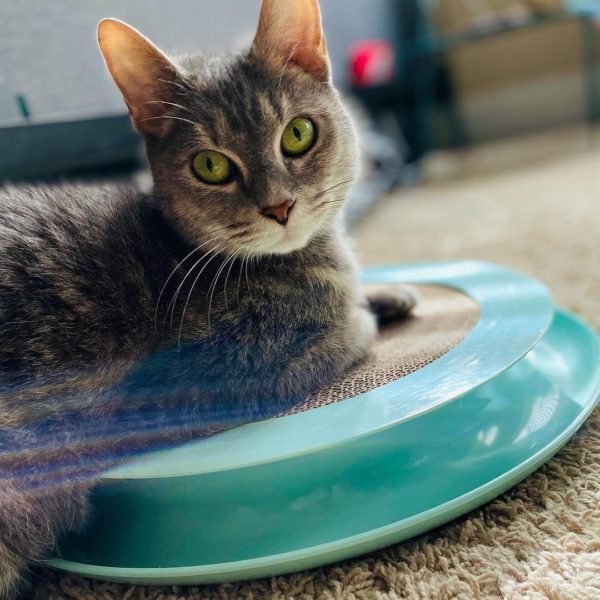 Signing up with the brand takes just a few clicks on the keyboard. Follow along with this Pretty Litter review to see more detailed steps:
Head to prettylitter
Click 'Get Started' in the upper right-hand corner of the webpage
Selects how many cats you have in your household
Press 'Continue'
Choose your plan: every month, or every three months
Checkout as usual
FAQ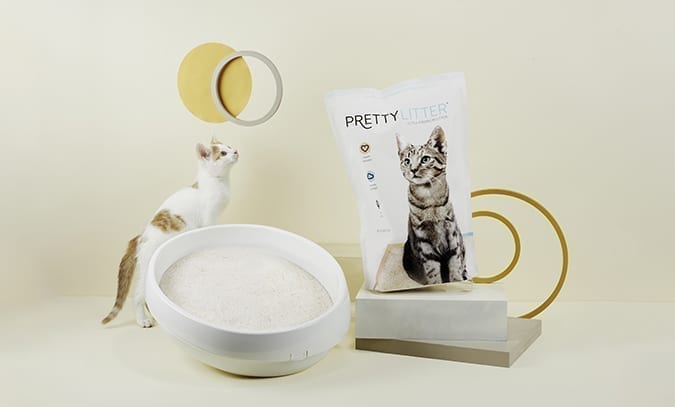 Can you flush Pretty Litter?
This Pretty Litter review recommends that you flush your pet's solid waste, and then dispose of the litter into your usual trash.
Is Pretty Litter toxic?
The super absorbent litter is made from silica gel, which won't have a significant effect on your pet's bowels if they accidentally eat it.
If you're thinking that you've read somewhere that you should not ingest silica gel, that's due to the fact the little pebbles, are a choking hazard, not because they will cause your body any harm.
What chemicals are in Pretty Litter?
With what the brand calls "proprietary formulation indicators", Pretty Litter has not been said to contain any chemicals that will harm your pet. Instead, it uses a blend of naturally occurring minerals. As mentioned, its main base is absorbent silica gel.
How often should I change Pretty Litter?
Fortunately, the indicator is very clear. You'll know it's time to change Pretty Litter once all of the crystals in the box have changed color.
How do I cancel my Pretty Litter subscription?
To cancel your Pretty Litter subscription, email [email protected] or call customer service at (800)838-3381. You can also do this through logging into your account online.
What is Pretty Litter's Shipping Policy?
This Pretty Litter review found that the brand only delivers within US and Canada. Shipping to the contiguous states is free. For others, the cost varies by location and will be shown at checkout.
The brand processes orders within 1 business day to both countries. As for timing, you should expect your Pretty Litter package to arrive between 3–5 business days.
What is Pretty Litter's Return Policy?
The first bag of Pretty Litter is risk-free. That means your cat can test it out for 30 days. If you're not satisfied with the results, simply send it back for a full refund.
The brand will send a prepaid return label once a request is made, and you'll have 7 days to ship your package back.
After the window for their risk-free offer has closed, Pretty Litter is non-refundable. If your bag arrives damaged, let their customer service team know immediately so that they can send a replacement.
How to Contact Pretty Litter
If you need any other information that wasn't included in this Pretty Litter review, you can get in contact with the brand in the following ways: