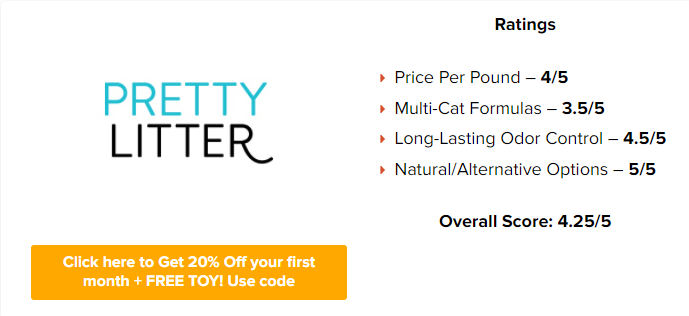 Crystal cat litter is nothing new, but Pretty Litter takes it to the next level. Not only does it do a great job of controlling odor, but it helps you monitor your cat's health.
Pretty Litter is different from other crystal cat litters in that it contains pH-detecting particles that cause the litter to change color when exposed to urine. Changes in the acidity of your cat's urine may be an indicator of common health problems like kidney tubular acidosis, struvite crystals, or urinary tract infection. Though Pretty Litter isn't intended to diagnose your cat's condition, it can help you catch developing issues early while they're still treatable.
I tested Pretty Litter for several weeks to determine how well it works both as a cat litter and as a health monitoring tool. Read on to see what I thought of it.
How We Tested:
In purchased a one-month supply of Pretty Litter Cat Litter
I spent a few weeks testing the cat litter on several cats
I did not receive these products in exchange for a favorable review, they were purchased with my own money
Brand Overview
The Pretty Litter brand is fairly new, though it has already achieved a massive following. In addition to being featured in a number of online magazines, Pretty Litter has made appearances on social media hubs and major websites like Forbes, Nat Geo Wild, and ModernCat.
The story of Pretty Litter starts with Founder and CEO Daniel Rotman. Rotman tells the story of his beloved childhood pet, an orange tabby named Gingi. After accompanying Rotman through high school and into college, Gingi suddenly became ill. Rotman rushed her to the vet where he discovered she'd been suffering from a terminal illness for months.
After the heartbreaking experience of losing Gingi, Rotman set out to create a product to help cat owners be more proactive in protecting their pet's health. Thus, Pretty Litter was born.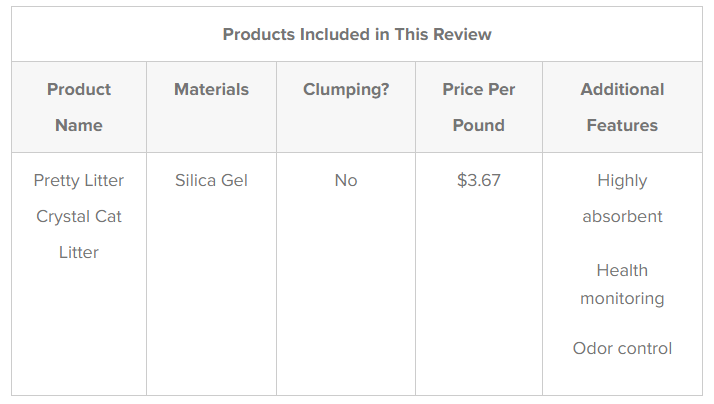 What Kinds of Litter Does Pretty Litter Offer?
Pretty Litter currently offers one type of litter – a silica crystal litter that comes in very fine, lightweight silica gel crystals.
This cat litter was developed by a team of veterinarians and scientists specifically for cats. It is made of highly absorbent silica gel combined with a proprietary formulation of pH-detectors to help cat owners monitor their cat's urine for acidity and alkalinity levels outside of the normal range.
Pretty Litter Crystal Cat Litter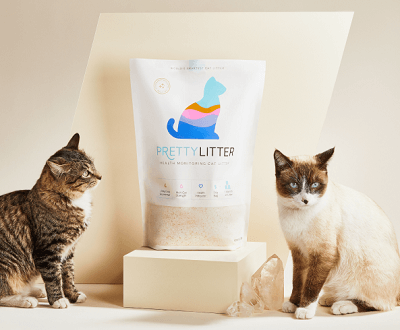 My one-month supply of Pretty Litter arrived within a week of order and came in a surprisingly small cardboard box. It also included a printed insert that explained how the product worked and provided useful tips for how much litter to pour, how to get my cats used to it, and how to maximize odor control.
The first test of Pretty Litter came when I poured it into my litter box. I found the litter a little less dusty than other crystal cat litters I've tried, but it still produced a noticeable cloud of dust. I also found it to be a little dusty later on when I was scooping the cat litter, so it definitely isn't a dust-free litter.
In addition to being a little dusty, Pretty Litter did cling to my cat's paws a little bit. I found myself having to clean up the area around my cat's litter box a few times a week.
It's important to note that crystal cat litter doesn't produce the same type of dust as clay litter. It's amorphous silica dust, not crystalline silica dust, which doesn't have the same reputation for causing lung issues. Its more of a nuisance dust than anything.
After filling litter box, my cats Wessie and Forrest took to the Pretty Litter right away.
The texture of Pretty Litter is very fine and sandy which my cats seemed to find comfortable on their paws. In fact, I was testing another silica gel litter at the same time and my cats preferred Pretty Litter.
In terms of performance, Pretty Litter offers strong odor control, even in a multi-cat household. The key, however, is to maintain the litter box properly by scooping solids daily and stirring the litter from time to time. Litter box maintenance was simple as well, given the super-fine texture of the litter which made it very easy for me to scoop.
Pros Of Pretty Litter:
Monthly subscription delivered automatically to your door
Unique color-changing quality detects potential health issues
Highly absorbent and offers excellent odor control
Cons Of Pretty Litter:
May not absorb liquid as efficiently if cat repeatedly uses the same spot
Non-clumping litter but does dehydrate solid waste
Very expensive compared to most cat litters, costs over $3/pound
Some users found that it didn't last an entire month
This litter comes in a 6-pound bag designed to last about one month for a single medium-sized cat. You can purchase multiple bags as needed, according to the number of cats you have in your home.
Testing The Health Monitoring System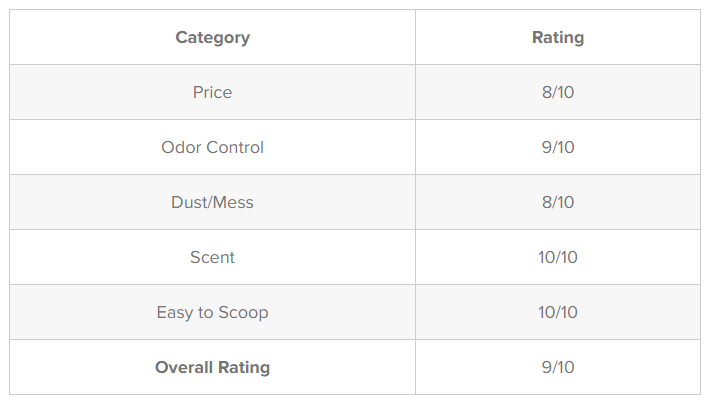 Fortunately, my cats' urine seemed to be within the healthy pH range throughout the testing process.
Because I wanted to see how the litter would respond to different pH levels, however, I ran an experiment using three different solutions:
Water with baking soda
Plain water
Water with vinegar
After pouring the solutions into separate containers of Pretty Litter, I noticed the colors changing and deepening over time. They achieved their deepest color a few minutes after pouring.
Here is what the different colors indicate:
Red (Detection of Blood) – May indicate a Feline Lower Urinary Tract Disorder (FLUTD), kidney stones, bladder stones, bladder inflammation, kidney disease, or clotting disorders. In rare cases, it may also indicate bladder cancer or internal injury.
Orange (Acidity Outside Normal Range) – May be a sign of metabolic acidosis, kidney tubular acidosis, or calcium oxalate crystal formation.
Blue or Dark Green (Alkalinity Outside Normal Range) – May indicate certain types of urinary tract infections and an increased risk for crystal/stone formation.
Dark Yellow/Olive Green – Indicates urine within the typical pH range.
It's important to note that Pretty Litter is a tool that provides insight into your cat's health but should not be used as a replacement for medical diagnostics or veterinary care. If the product indicates a potential health problem, take your cat to the vet.
What Do Customers Think Of Pretty Litter Cat Litter?
For the most part, Pretty Litter receives very positive ratings. The litter fulfills its promise of changing colors when a potential health problem is detected, but it is still on the cat owner to take the cat to the vet. There are many comments about the price being high, but that is fairly standard for crystal cat litter.
The most consistent negative comment is that the 6-pound bag doesn't last quite a month for larger cats or multi-cat households. Some customers also found that Pretty Litter didn't cover feces odor as well as urine odor. Check out some customer reviews for Pretty Litter below:
Positive Customer Reviews For Pretty Litter Cat Litter
"I love it. It's light. Easy to use. Gato took to the change very easily. It let me kno in the middle of the month with a slight color change to blue that his urine was becoming more alkaline. Not good. We were able to take action and change his diet accordingly. You've made believers out of us." – Shelley V.
"It's great, I have a small in-home Sphynx Cattery, with 4 large litter boxes, I transferred two over to pretty litter and the cats are using them instead of old litter, very little tracking and no smell, light weight; so easy to clean boxes instead of heavy clumping." – Beth C.
Negative Customer Reviews For Pretty Litter Cat Litter
"So, it doesn't smell like cat urine, but it doesn't cover up the poop smell. And my cat has managed to get it everywhere just like regular litter. I do like that there's less scoping and it's lighter, but I'm not sure I'm going to continue after I'm through with what I bought." – Becca K.
"I only have 1 cat and clean it out daily and move it around after each visit. I've only had the first bag in for 2 weeks and it is really starting to smell. I am going to have to change it. I won't be able to get a month use out of 1 bag which is disappointing due to the price." – Vicky G.
How Much Does Pretty Litter Cat Litter Cost?
A single 6-pound bag of Pretty Litter retails for $22 on the company website. Depending on how many bags you purchase at one time, you may receive a discount.
For example, two bags cost $40 and three bags costs $60. Expedited shipping is always free.
Pretty Litter frequently offers discounts and promotions, plus you can contact the company via email to ask about bulk discounts. Even so, Pretty Litter is fairly expensive.
It's also worth noting that one bag may not be enough to fill a large litter box and may not last the full month in a multi-cat home.
Overall, Is Pretty Litter Cat Litter A Good Choice?
In testing Pretty Litter with my own two cats, I found it lived up to its promises pretty well. Not only did it offer strong odor control, but the color-changing health monitoring system performed predictably in my experiment. When I was finished, my subscription was easy to cancel.
I did find that one bag of Pretty Litter didn't last a full 30 days, but I was using it in a multi-cat household.
The crystal litter did a great job of absorbing liquid and it made solids easy to scoop, so I am confident in saying that one bag would probably last a full month in a single-cat household.
Overall, Pretty Litter is a pricey product, but the health monitoring system makes it worth it. If budget is your primary concern, however, you might be better off with a cheaper crystal cat litter.
Where Is Pretty Litter Cat Litter Sold?
Pretty Litter is currently only available through the company website. To get started, simply log on to the website and select the number of cats you have (one, two, or more than two). To write this review, I ordered a one-month supply for my two cats, Wessie and Forrest.
I received my order six days after submitting it and found it easy to cancel the subscription once I'd completed testing. Pretty Litter makes it easy to manage your account online.
Pretty Litter FAQ's
How much is Pretty Litter?
A single 4 lbs. bag of Pretty Litter costs $22 and should last a single cat for 1 month. You can purchase additional bags at a discount of $2 per bag. Two bags of Pretty Litter will cost $40 and three bags will cost $60. All orders come with free shipping and you can customize your delivery schedule.
Is Pretty Litter worth it?
Not only does one bag last an entire month, but the silica litter is super-absorbent and lightweight. What really makes Pretty Litter worth it, however, is the fact that it is designed to alert you to changes in the pH of your cat's urine as an indication of potential health problems like urinary tract infections.
What is Pretty Litter made of?
Unlike traditional clay litter, Pretty Litter is made from super-absorbent silica gel combined with a proprietary formula if indicators that help you monitor your cat's health. The litter responds to the alkalinity or acidity of your cat's urine to alert you to abnormalities.
Where do I buy Pretty Litter?
Pretty Litter is currently only available for purchase online.
Is Pretty Litter available in Canada?
Yes, Pretty Litter is available for international shipping, including Canada. Canadian customers will not have to pay customs duties and some provinces may qualify for free shipping.
Is Pretty Litter dust-free?
Pretty Litter does produce a fairly significant amount of dust when poured into the box. Note that it made from super-absorbent silica gel, which means that it produces amorphous, rather than crystalline, silica dust. While still irritating, amorphous silica dust dust does not appear to be carcinogenic and doesn't have the worrying reputation that crystalline silica dust does.
Is Pretty Litter environmentally friendly?
As a silica gel litter, Pretty Litter is less harmful for the environment than bentonite clay litter, but not as environmentally friendly as natural litters made from wheat, corn, or recycled paper.
Is Pretty Litter compostable?
No, Pretty Litter made from silica gel, so it doesn't biodegrade as well as natural cat litters. It not recommended for composting.
Pretty Litter safe?
Yes, Pretty Litter specially developed by a team of veterinarians and scientists to safe for cats. It made from silica gel which super-absorbent but does not swell in the presence of humidity and won't absorbed by the bowel if accidentally ingested.
Can you flush Pretty Litter?
Pretty Litter a non-clumping litter that absorbs urine and dries over time so it can reused. Solid waste should scooped daily and can flushed but the litter itself should disposed of in the trash when you empty the litter box.