What is bodybuilding.Com all access? Today i want to take a look at this workout program and help you decide if it's a good option for achieving your fitness goals. No matter what fitness level you are currently at, please keep reading, and i will walk you through these fitness plans.
As a guy who has been dealing with back problems for many years i am always on the lookout for fitness programs that can help me build core muscles as well as overall strength. Strengthening the muscles that support the spine are very important in helping me alleviate back pain.
I also look for programs that are not going to put added strain on my back and look for ways to modify exercises if necessary. That being said, i like workout programs that offer enough variety to not only keep me from getting bored but also let me pick and choose exercises that will work for me.
If there are enough workout options offered, within a program, i can modify some of the exercises or eliminate the ones that i know are not good for me. So, given all of that, i have some physical limitations when it comes to working out and i am pretty darn picky with any program i take a look at.
That brings me to all access from bodybuilding.Com.
BodyBuilding.com All Access
Bodybuilding.Com has been a trusted name in fitness for a very long time. Not only do they offer a ton of great articles and a supplement shop, but they also have a wide variety of fitness plans from beginner to advanced levels of training.
I have often turned to bodybuilding.Com as a resource when i am looking for exercises to perform at the gym.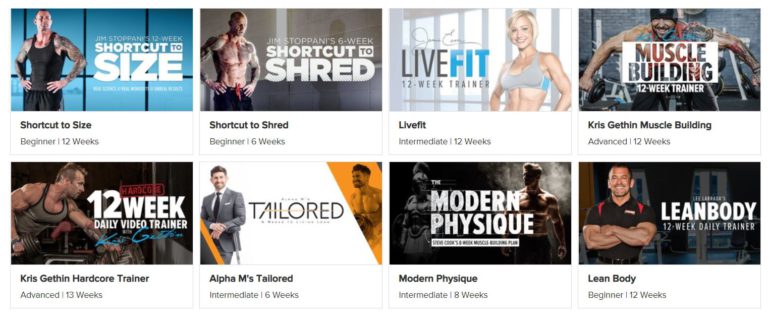 Now that you have a bit of background on me and my story let's get on with this bodybuilding.Com all access review.
With all access, there are a wide variety of workout plans available and most of them come with a nutrition guide as well. So much of improving your fitness level comes down to proper nutrition, so that is a great addition to these workout programs.
BODYBUILDING.COM WORKOUTS
There are more than 60 fitness plans available and there are several different ways to find a workout.
You can search for the following:
Workouts
Muscle building
Weight loss
Gain strength
Get fit
Performance
Education
You can filter by
Most popular
Newest
Coaches
There are plans for
Beginner
Intermediate
Advanced
You can also search by a specific trainer if there is a particular one you are familiar with or think you might like. As you can see, there are a lot of bodybuilding.Com workouts to choose from and a lot of different ways to filter these workouts.
The workouts vary in intensity and length. For instance, some are 7 days/week, and others are 4 days/week. Some programs are 30 minutes and other range up to 70 minutes. There is a lot of variety which is critical for a good workout program and one of the great aspects of bodybuilding all access.
HOW DOES BODYBUILDING.COM ALL ACCESS WORK
Each workout plan will give you an outline of what to expect, including the number of times per week you will work out and how long each workout will last. This gives you a sense of the time commitment you can expect on a daily or weekly basis. This is very helpful if you are short on time, so you can better plan your day.
You can find a workout that fits your schedule and as you progress, you can try more challenging options. If you decide that program is too easy, you can find something more difficult.
One really cool thing is you can search the exercises that are performed within each plan, and there are videos to show you how to implement the exercises. I think the videos are such a great feature and add so much value to this program.
Bodybuilding.com All Access free trial
A 7-day free trial period is available to try the program out, and i highly recommend you do just that and i will get into more specifics in a moment. With the trial, you have use of the entire platform to test it out and see if it's right for you. Sure, you can't get through all the content in 7 days, but this will give you a good idea of what is available so you can make an informed decision going forward.
When you sign up, you will choose a payment option, monthly or annually (see below for pricing). Once you create your account, you will have aces to all access subscription for 7 days. When the trial period is over, you will be charged for the plan you chose. You can cancel at any time.
HOW MUCH DOES BODYBUILDING ALL ACCESS COST
There are three pricing packages available:
Annual – $89 (billed yearly) which works out to $7.49/month
Quarter – $29.99 (billed quarterly) which works out to $9.99/month
Month – $12.99 billed monthly, ironically $12.99/month 🙂
If you sign up for the monthly plan, you can cancel and have access to the end of the current billing cycle. If you sign up for the annual program, there are no refunds for the unused period if you cancel, same with the quarterly billing plan.
The longer you commit, the more friendly on your monthly budget.
That is why it is important to use the bodybuilding.Com all access free trial period and make sure which billing plan will work best for you.
One added bonus is that you will also receive a discount on items in the bodybuilding.Com store with your paid subscription. You will receive a 5% discount if you are on the monthly plan and a 10% discount with the annual or quarterly program.
BODYBUILDING APP
There is a bodybuilding.Com app and you can download it from the app store (available for both android and iphone). This is an awesome way to access all of the workout content at the gym, home, or when you are traveling.
Having an app available can help you narrow down a workout before you get started, and this can help you be more efficient with your time. One of the things that i find difficult about working out, is planning a workout. This app can help take the guesswork out, and allow you to hit the ground running when you start your workout.
I did contact customer service to make sure all of the workouts are available on the app and they confirmed, yes all of the workouts are available on the app.
EDUCATIONAL VIDEOS
One feature that really caught my eye was the educational videos that are available with all access. This is where i was really intrigued. For example, there is a section called "unstoppable" which is a series of videos designed for injury recovery, right up my alley!
Back, shoulder and knee injuries are pretty common for a lot of people. One of the best things you can do for injury recovery is to workout, but you have to do it properly so you will not re-injure yourself or make your injury worse. Lifting weights is a great way to build muscle and prevent future injuries.
"unstoppable" is not a workout plan, but training that you can apply to any of the workout plans available with your subscription. You will be taught to optimize and modify movements, so they work for you.
WHAT EQUIPMENT DO YOU NEED
You will need some gym equipment or access to a gym for All Access.  So, if you have a gym membership or weights at home, you should be good.  But I would recommend checking out the 7-day trial and see if this program will work for you.
WHO IS ALL ACCESS FOR?
As I mentioned earlier, there are a wide variety of workout plans available for different fitness levels. If you are just starting out, or a seasoned veteran, there is a workout program for you.
That said, I think many people can benefit from Bodybuilding.com All Access. Whether you are a beginner and need direction on where to start, or if you work out a lot and just need a change of pace or some new ideas, this program can work well for you.
Conclusion: BodyBuilding.com All Access
Is Bodybuilding.com All Access worth it?  All Access gives you a lot of value for the money.  With a variety of price plans, you have access to some excellent fitness training for all fitness levels.  I think a lot of people will be able to benefit from the great features offered by this program, including using the app at the gym.  You can plan ahead and be more efficient when you are working out.
PROS
Detailed videos show you how to perform workouts
60+ plans to choose from
Fitness plans for all levels
7-day free trial
Discount on other items you purchase
Mobile-friendly – Bodybuilding.com app is super convenient
Workout on your schedule at home or the gym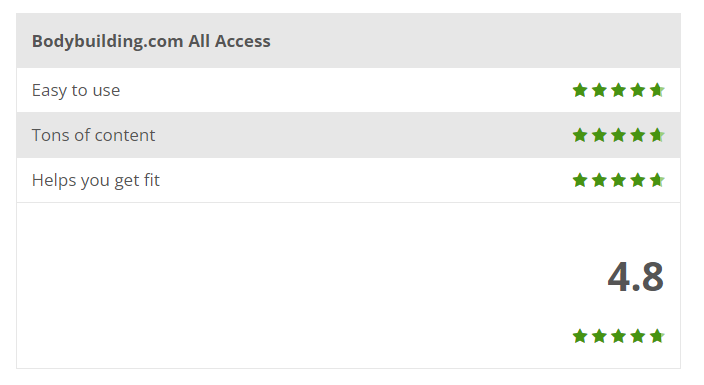 CONS
You have to put in the work (LOL)
Personally, I like the variety of workout plans available.  The videos that show you how to perform different lifts are a great feature of this program.  The videos add significant value, as they will teach proper form and technique, so you are lifting correctly.
Ith the monthly plan, you can cancel at any time and finish out the month. If you are committed long-term, the annual payment plan saves you some money.
Either way, you can try all access risk free for 7 days, so i think that is worth a shot.
Try all access free for 7 days