Benzinga Pro is an excellent stock screener app with exceptional functionalities like charting, unusual options, activity scans, and a community chat room. The platform is easy to use, and Benzinga recently added a brand new options mentorship service with Nic Chahine.
But is it worth it subscribing to Benzinga Pro? What makes Benzinga Pro unique, and how does it compare to its competitors? Is Nic Chahine a good options trading mentor?
The Benzinga Pro review explains all features and functionalities and combines platform insights with helpful guidance. In addition, learn how the subscription plans compare and get a discount of up to 58%.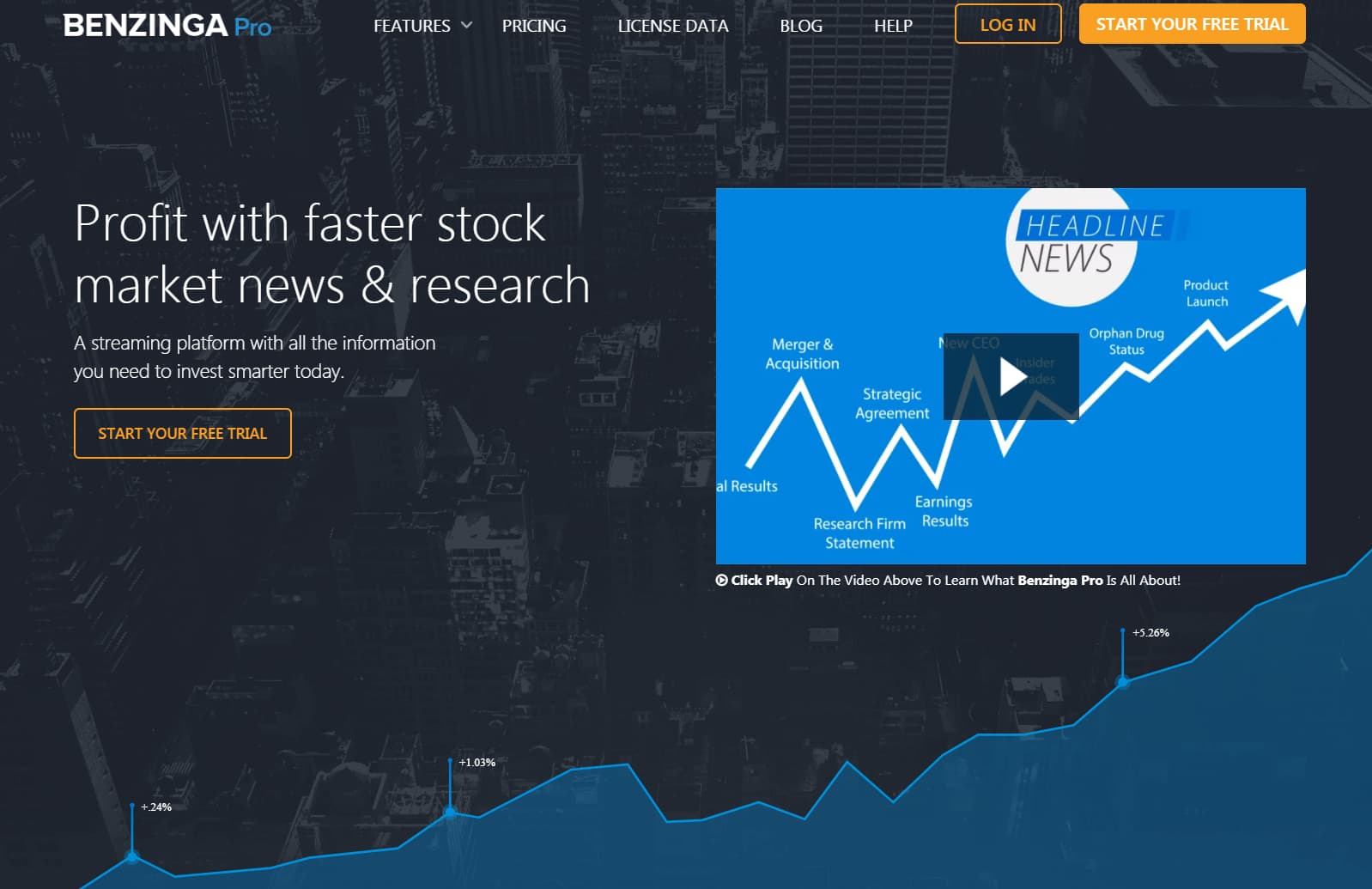 Transparency: We may get compensated when you click on links in this article.
About Benzinga Pro
Jason Raznick founded Benzinga, the data technology and media startup, back in 2010. Benzinga .com is very popular and has about 16 million visitors a month. Within a couple of years, Benzinga Pro, the ultimate newswire tool, was born. Since then, new features were added, the technology got better, and usability improved. The brand new stock screener and chat are the latest innovations.

Core Features
Benzinga Pro started as an event- and news-based platform, but the range of functionalities expanded massively. A stock scanner, stock screener, trade signals feature and the trading chat room are now included.
Benzinga Pro is web-based, and you can run it from any device. Using it from your mobile is an option, and you can also use the Benzinga App. However, using it from a personal computer provides by far the best user experience.
Continue reading the Benzinga Pro review to get insights into all features. I will guide you through every workspace:
Real time news feed
Detailed analysis window
Event calendar
Watchlist feature
Top movers list
Scanner
Signals
Screener
Squawk
Chat Room
Real Time News Feed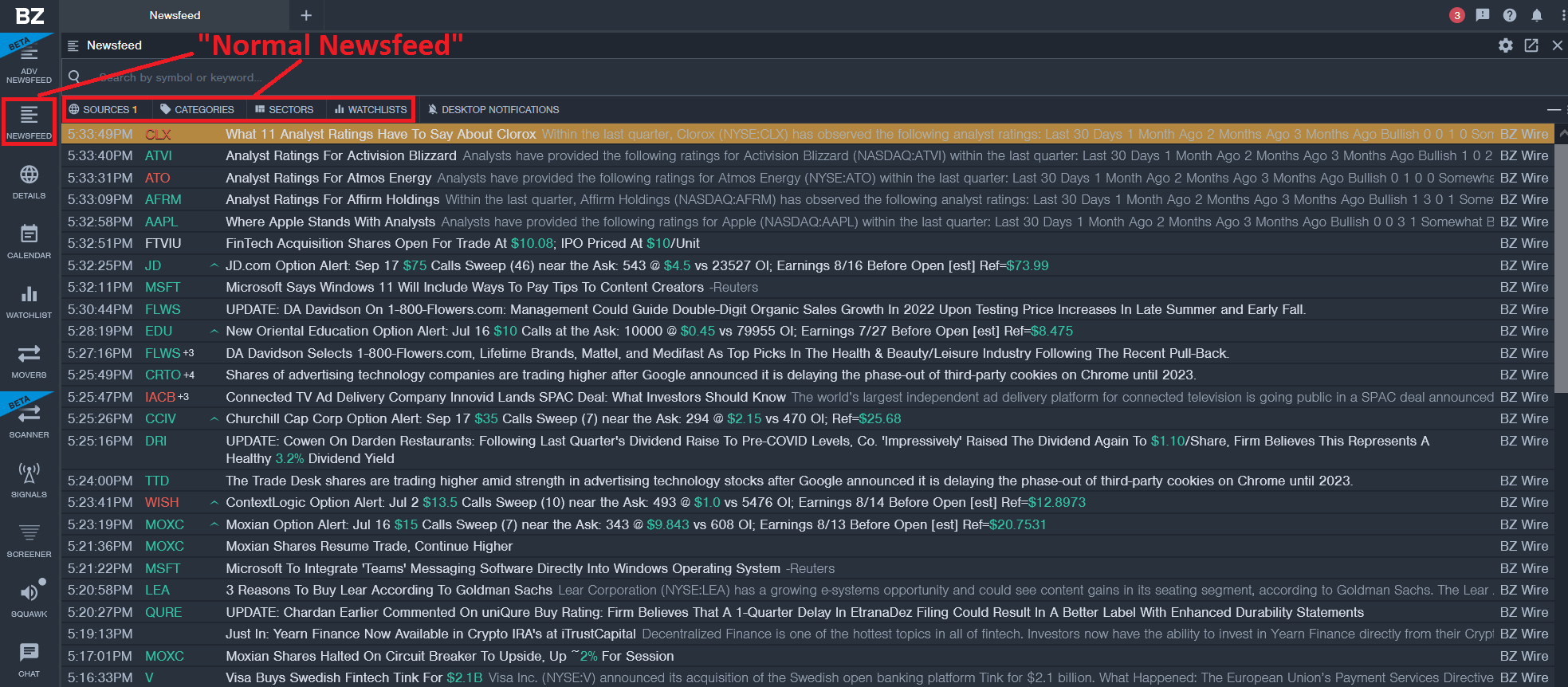 You can open the market news feed right from the main site by choosing "News Feed." Once opened, all market news data gets visible in one window within the news platform. But this is just the most basic configuration. Five different filters are visible with the news feed configuration:
Sources
Categories
Sectors
Watchlist
Desktop Notifications
When you trade based on stock screener signals, then you should, for example, activate ALL sources but not limit any of the other options, to see all market news, analyst ratings, trading ideas, and financial news. Benzinga Pro's news feed is great for stock trading, including penny stocks and low-float stocks. Multiple news outlets are covered, and news articles can be filtered easily by company, sector or use other news desk filters.
News Feed Filters
Sources: Currently, six different news sources are supported. Check any of them when you want to accomplish a broad search. For example, if you prefer a search based on SEC filings, then chose SEC only.
Categories: The categories filter is a great way to limit the financial news shown. For example, if you're looking for all possible stocks but only for the hottest movers, then you can set the filter to "Hot."
Sectors: Are you a real-time biotech breakout trader? Then the Sector selection "Sectors," "Healthcare," "Biotechnology" might be a great choice. Remember, you can freely combine all those filters from each of the items under "sources," "categories," "sectors," and "watchlists" in the way you prefer.
Watchlists: Let's say that you're pretty good at trading 50 specific stocks. You know how they move, you know how the market maker acts, and you know that there is always a good follow through to a move. Or you prepare a daily watchlist before the market opens and want to stay focus on those stocks only during the day or even during a week. Then the watchlist is what you need.
Advanced Financial News Feed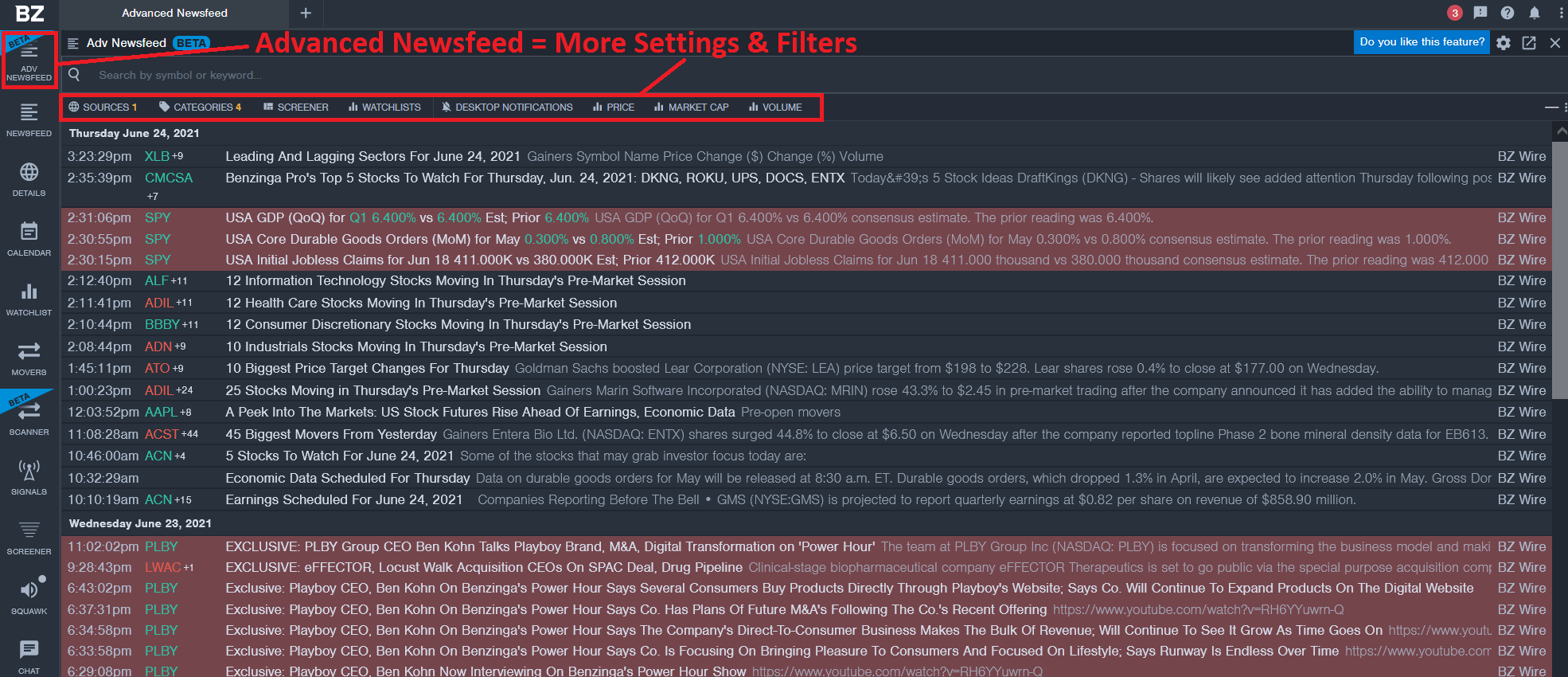 The advanced Benzinga newsfeed can be opened by clicking on ADV Newsfeed in the navigation bar. It is in Beta-Mode, but it already works incredibly well. Like I mentioned before, you can filter the news feeds based on various criteria like sources, categories, sectors and watchlists. However, the advanced news feed goes a step further. You can now add pricing values, fundamental data and volume as a filter to your search.
For example, you can use a filter like this:
Show me all news with "upgrade" in the title, related to stocks listed on Nasdaq, with a price range of $10 – $50, a market cap above $10M and a volume of over 1M shares.
Best Benzinga Newsfeed Search Querries
The Benzinga Newsfeed is much more than just a list of news. You can search for specific queries like having a Bloomberg terminal at your fingertips. For example, type "topline results" into the search box at the upper left of the newsfeed. Now you see a list of stocks with real-time news related to your search query. Benzinga Pro's newsfeed is helpful for traders and investors, while active traders like day traders have the most significant benefit from real-time news.
Here are five more good keywords to start with:
Statistically Significant
Primary Endpoint
FDA Approval
Takeover
Reverse Stock split
Details Analysis Feature
If you click on Details, then a preconfigured window will open. You will realize that this workspace has a lot of potential for detailed analysis. There are three main sections in the detail view. Above the chart, you have the following navigation items:
Overview: Basic chart with most popular time frames
News: All news related to the stock
Calendar: Earnings with dates, estimates, surprise numbers
Chart: Detailed chart with indicators, drawing tools, time frames
Financials: Company financials like balance sheets, income statements, cash flow analysis
Peers: a group of stocks similar to the chosen one
Key data: Fundamental data like float, dividend, PE-ratio
In the lower part of the details feature, you have various news sources arranged in tabs:
All
SEC filings
Press releases
BZ Wire
BZ Signals
Partner News
Finally, you have the most important company financials on the right.
Calendar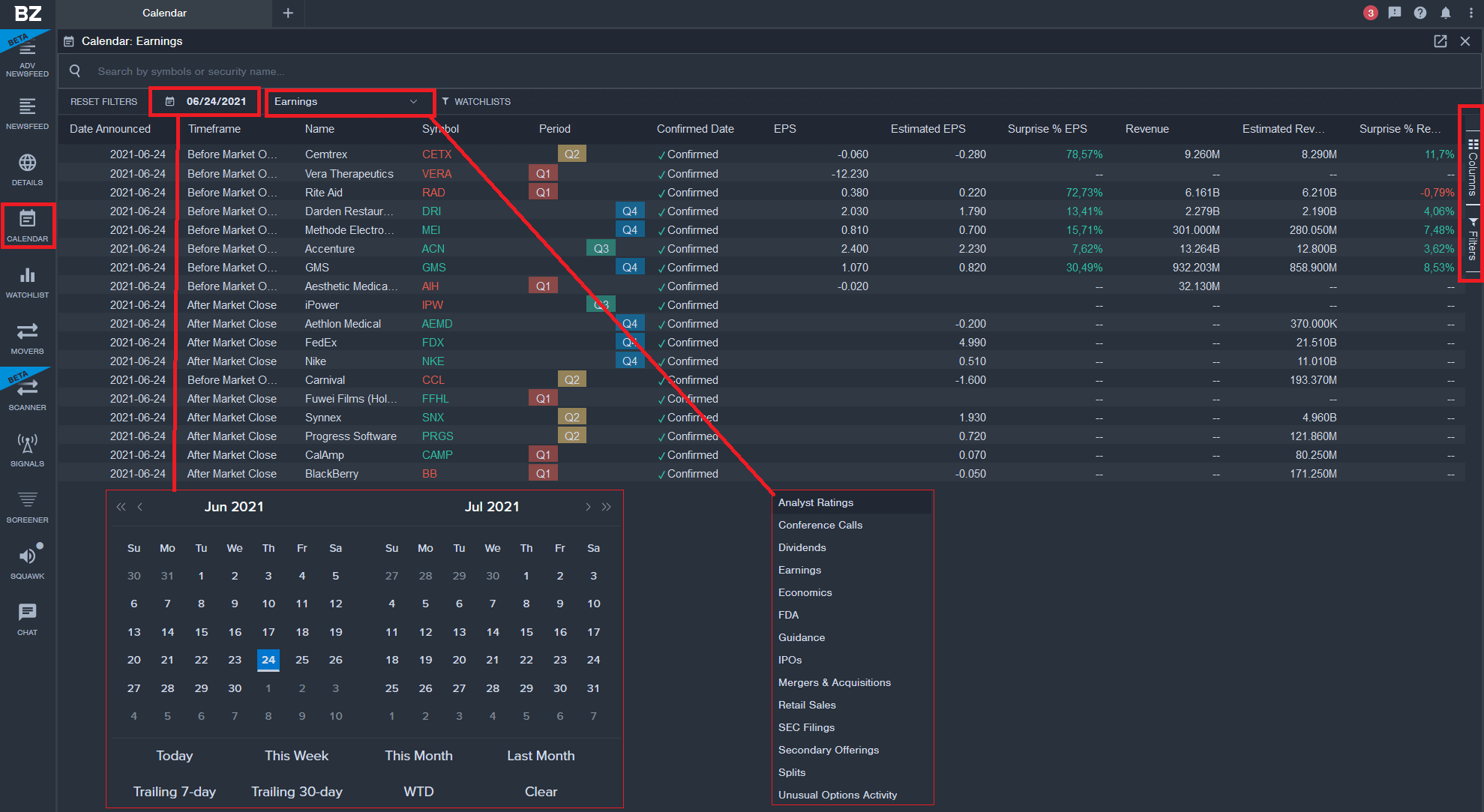 The calendar feature helps you to analyze news related to a specific date or date range. For example, you select a specif date like June 24, 2021, or a date range like "this month" or "last seven days." Now you chose a news source type like:
Analyst ratings
Conference calls
Dividends
Earnings
Economics
FDA
Guidance
IPOs
Mergers & Acquisitions
Retail sales
SEC Filings
Secondary offerings
Splits
Unusual options activity
The number of use cases for such an awesome calendar is incredibly high. For example, you can go back in time to search for specific news events and analyze their impact on the price. You can look at previous unusual options activity. You can look at the earnings calendar for the next day or analyze the most recent earnings results per stock symbol.
Watchlist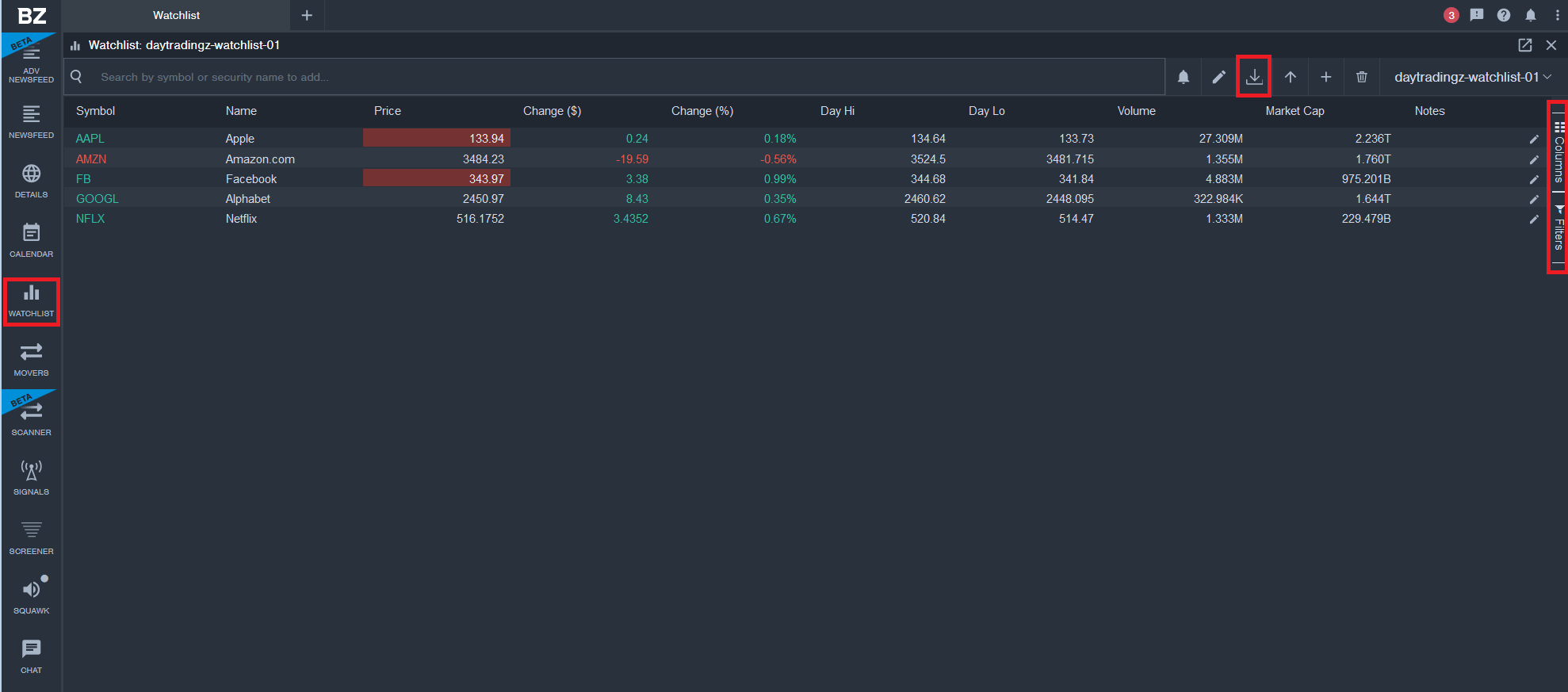 The Benzinga watchlist is what the name suggests. You can add new securities to your virtual portfolio and define your preferred columns like price, change, daily high, daily low, trading volume, market cap and more.
Movers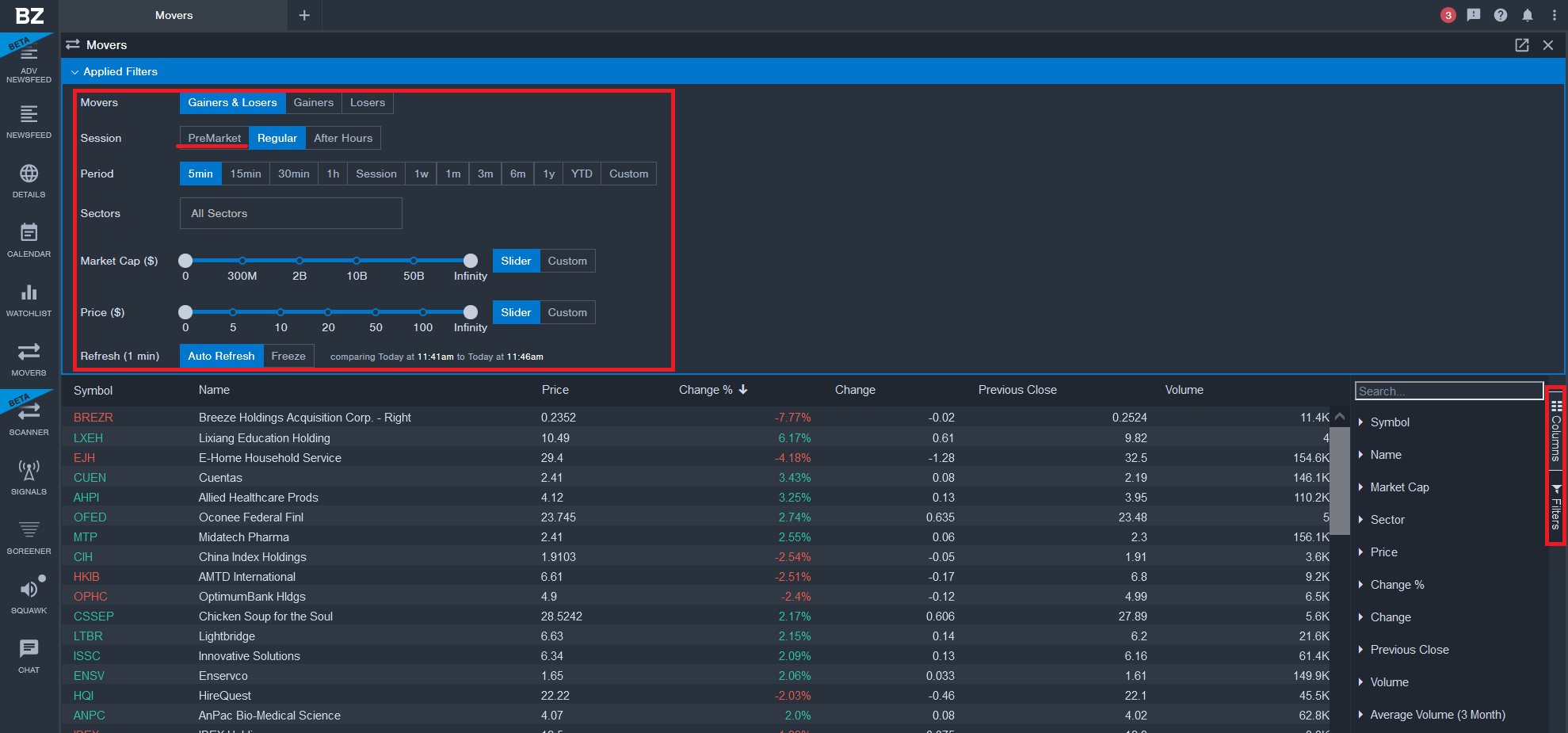 The Movers feature allows you to visualize results for gainers and losers based on various criteria. You set the filters by using the mouse on a pre-defined dashboard.
Define if you want to show gainers, losers, or both
Chose the trading session, this can be pre-market, regular trading hours, after hours
Select the period from 5, 15 or 30 minutes to 1 hour, session, weekly, monthly, annual, YTD, or custom
Chose the sectors
Define the market cap
Select a price range
Decide to either auto-refresh results every minute or freeze the result.
I prepared an example to show you how to use Benzinga Pro's Movers feature.
PreMarket and Benzinga After Hours
Let's say you're looking for the biggest gainers in the pre-market hours. But only stocks with a market cap between $300M and $2B are what you are looking for. Also, you like to filter down the results to stocks with a price range from $5-$10.
The Movers list auto-refreshes the result every minute. You can also freeze the result by clicking on Freeze. You can also apply various additional filters and add or remove columns.
Signals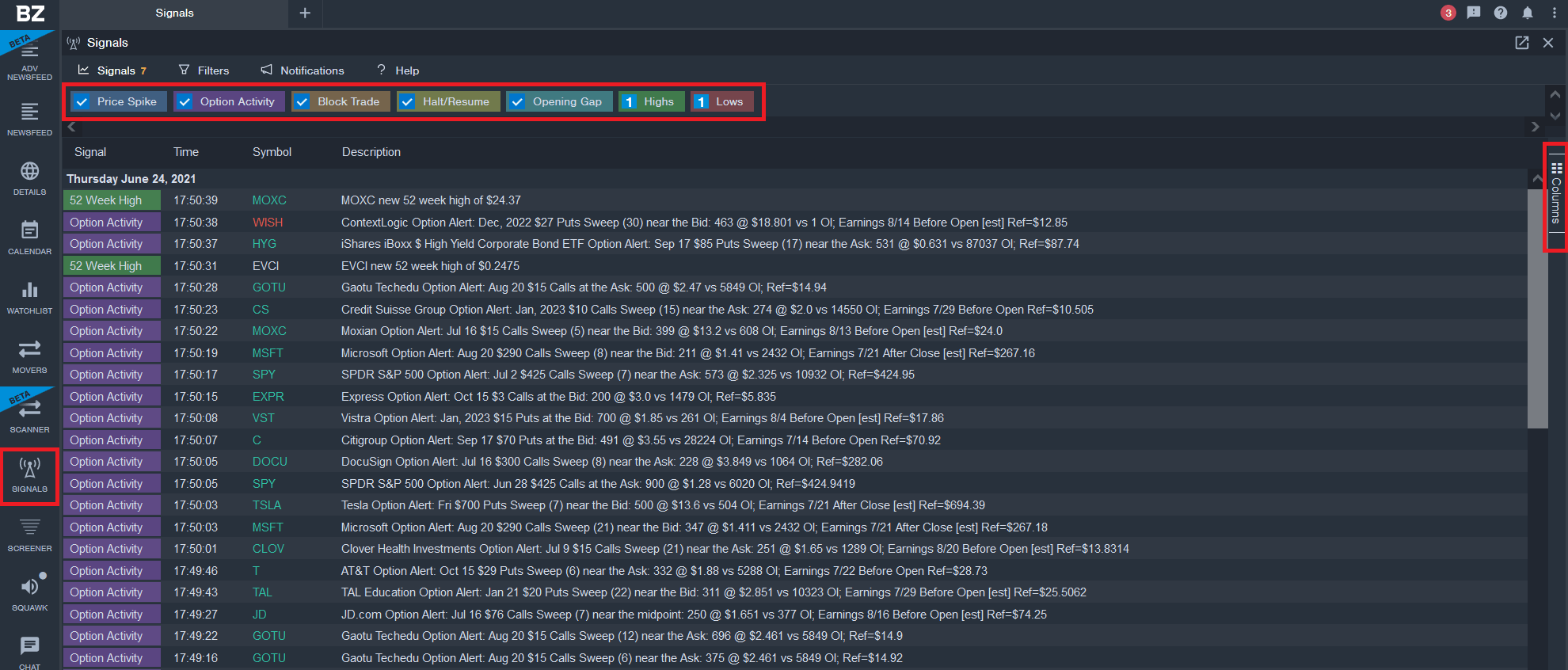 I mentioned the scanner and screener earlier in this Benzinga Pro review. But let me explain Benzinga Pro's Signals feature first. To open the signal-based screen, chose "SIGNALS" in the left navigation. Now you see the main Signal categories:
Price spike: stocks with significant price changes
Option Activity: option sweeps and unusual volume
Block Trade: for identifying block trades
Halt/Resume: circuit breaker halts and resumes
Opening Gap: Leading gappers
Highs: New daily or 52-week highs
Lows: New daily or 52-week lows
The results of each signal are shown with the signal type, timestamp, stock symbol and come with a description.
One thing that I like to point out is that you can export the data as CSV-File. Simply click on the little icon on the top right and click "Export Table to CSV."
Scanner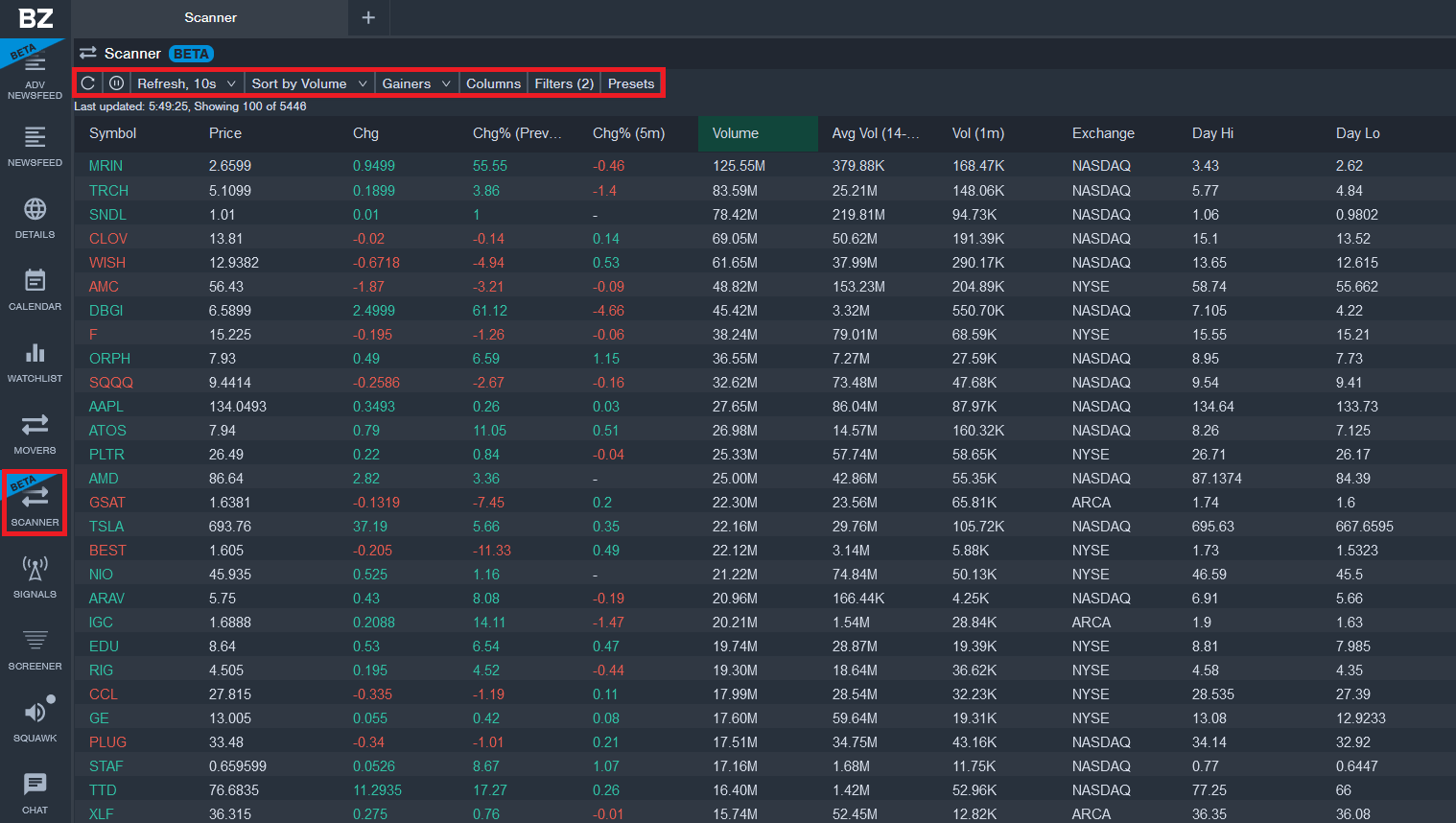 I like to continue with the Benzinga Pro review by talking about the Scanner and Screener feature. The Benzinga Pro stock scanner is designed for day traders and offers the following refresh intervals:
Real time
10 Seconds
30 Seconds
1 Minute
Never
Active traders use the real-time refresh option.
The scanner works for stocks and cryptocurrencies and allows you to use sort functionalities. The most important part of the scanner is the Filter feature. Within the filter, you define things like sectors, stock exchange, price range, market cap range, price change within the last minute and more.
You can define your favorite scan from scratch or choose one of the preconfigured scanners by clicking on Presets. Here are 5 examples:
Overall Gainers
5 Minute Movers
Mid-Cap Movers From Open
Real-Time After Hours Gainers
Large-Cap Gainers
One column I like a lot is the number of traded shares within the last minute. This detail gives a good indicator for a day trader if he can day trade the stock with big size. Of course, like with any Benzinga Pro results, you can always click on a stock symbol, and a chart with news will open for further analysis.
Screener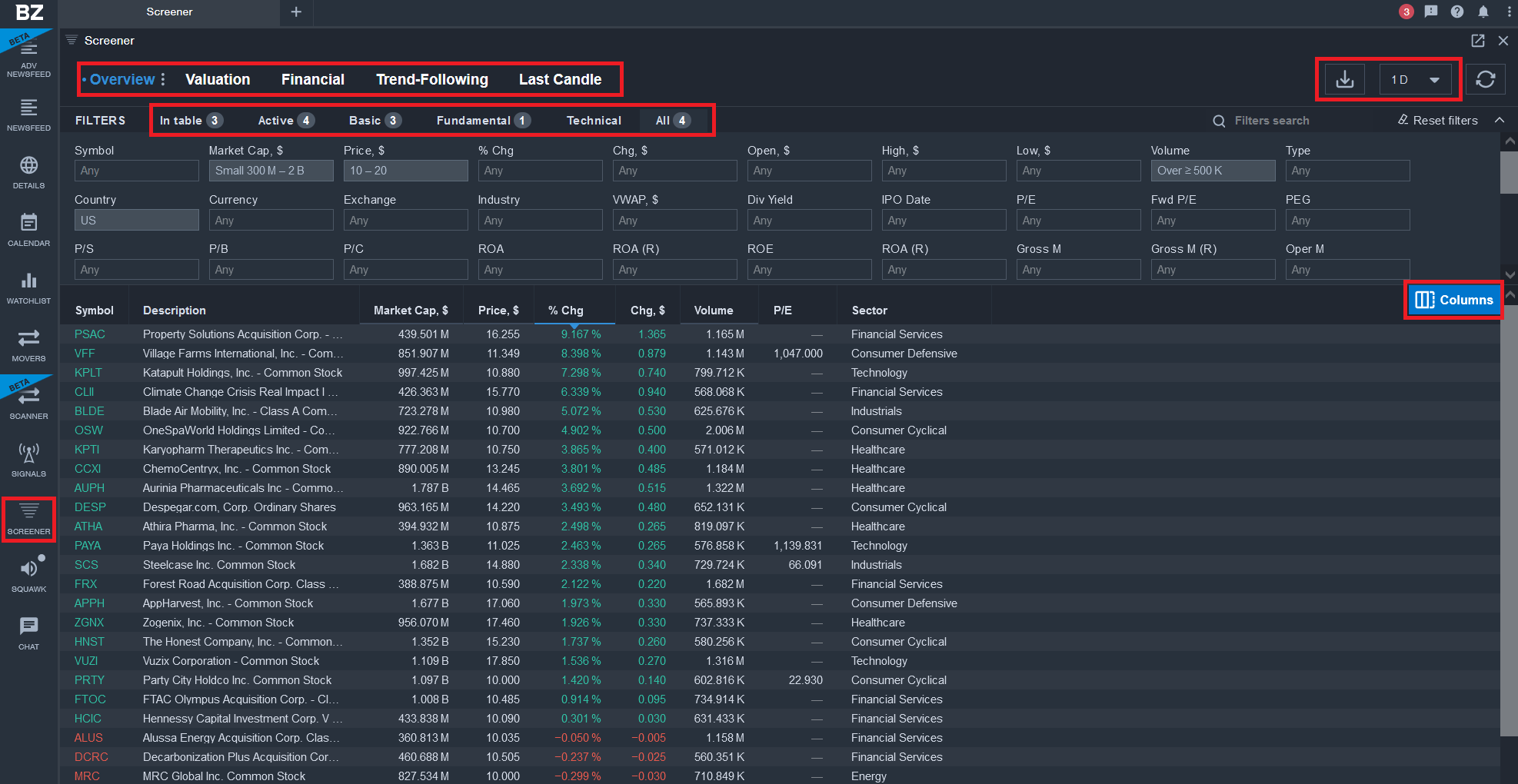 The Benzinga Pro stock screener is designed for swing traders and investors and more of a fundamental stock screener. You can do everything with this screener similar to what you can do with Finviz and much more by using 30+ fundamental data and 20+ technical data screener filters.
There are 5 pre-configured templates:
Overview
Valuation
Financial
Trend Following
Last Candle
The templates vary regarding the columns. In a second step, you can then use the filters to reduce the number of results shown and define if the screen should be related to the daily, weekly, or monthly time frame. For intraday time frames, you use the stock scanner and not the stock screener.
You can export the data with one click at the download symbol at the top right.
Squawk Box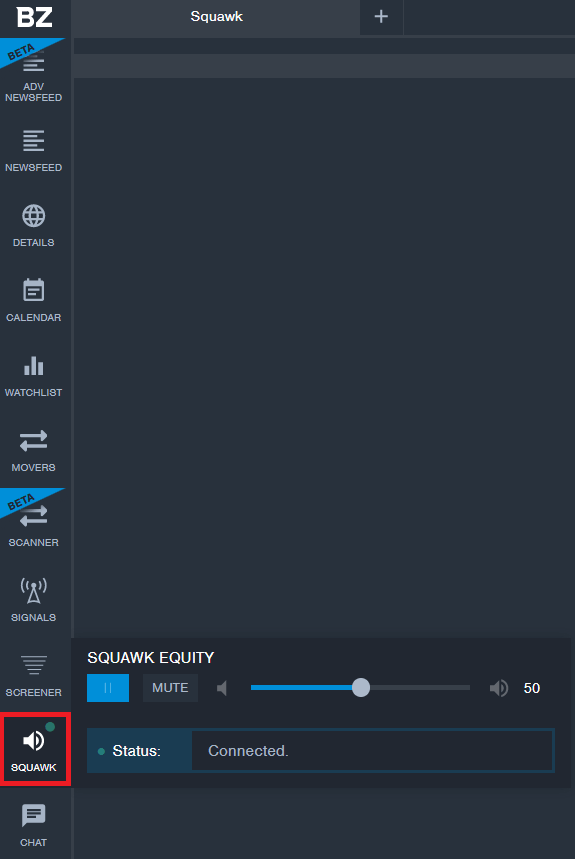 You can be alerted by desktop notifications, sound, and synthesized voice. But, the Benzinga Radio Squawk audio feed takes it even a step further. Day traders are always busy, and using eyes only can be a disadvantage trading based on major news. That's why the Benzinga Radio Squawk Box is a great addition for day traders.
So, if you have only one monitor, then this feature is what you need never to miss any major news again. Use your PC audio and listen to the hottest breaking news and news alerts that drive the market. Audio news are helpful for day trading if you trade based on real-time news.
Benzinga Chat Room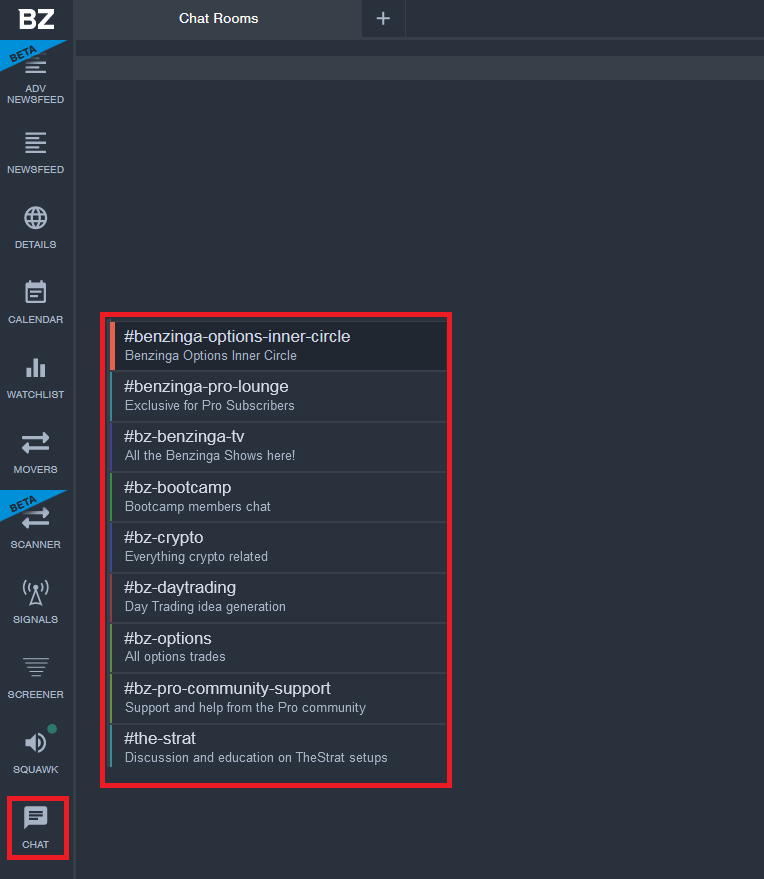 The Benzinga chat room is the go-to place for traders and investors. The chat works in real-time, and there are 9 different channels available:
Benzinga Options Inner Circle
Benzinga Pro Lounge
TheStrat Setups
Benzinga TV
Benzinga Bootcamp
Benzinga Crypto
Benzinga Daytrading
Benzinga Options
Benzinga Pro Community Support
The day trading chat room and the Benzinga Pro lounge are the most active chat rooms. The Inner Circle chat room is only available to Benzinga Options Mentorship subscribers.
Benzinga Options Review
Benzinga Options was introduced in 2021. It includes everything from options trading education, options picks, webinars and trading strategy development.
The lead trader is Nicolas Chahine, a well-known options trader and ranks #3 out of 8,074 bloggers on TipRanks. Nic has a diverse background as Electrical Engineer with an M.B.A., pursued his passion in the stock market and now trades full time focusing on options trading.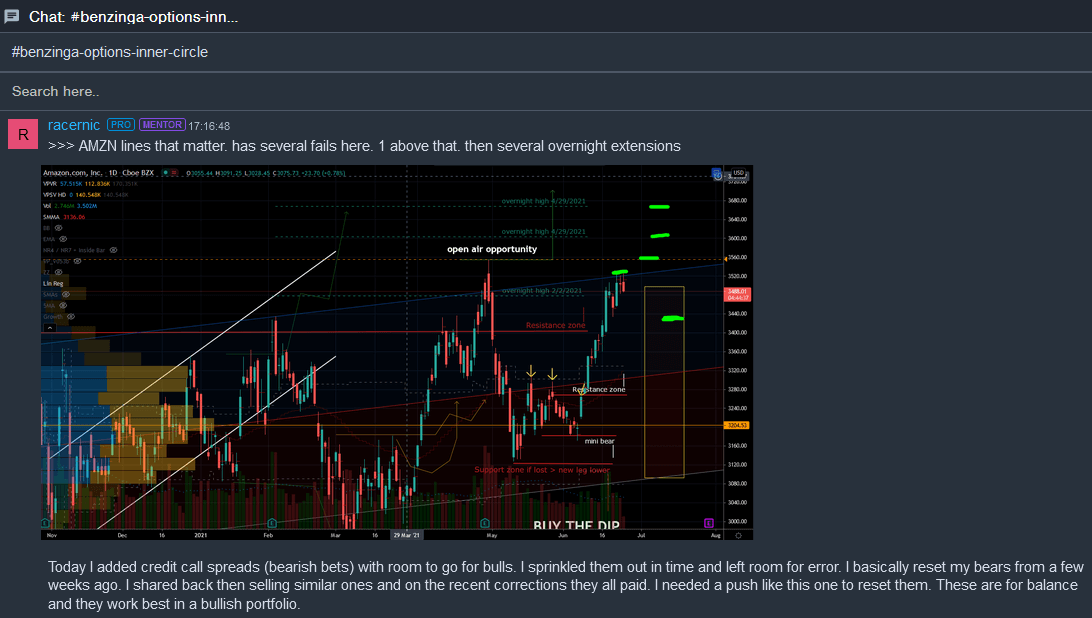 Benzinga Options Features
The following features are included in the Benzinga Options Mentorship:
Trading Mentorship and Education
Inner Circle Chat Room Access
6 High Conviction Options Trades per Month via Email
Exclusive Options Trading Webinars via Zoom Meetings
Market Insights in the chat
Benzinga Pro Essentials
Benzinga Options is only available as a bundle with Benzinga Pro and cannot be purchased as a standalone service. That's because Benzinga Option's is deeply integrated into Benzinga Pro. The most frequently used education platform with daily market comments is the Inner Circle chat room, and webinars take place via Zoom.
Who Is Benzinga Options For?
Benzinga Option's is for traders looking for a great place to learn options trading from scratch while getting 6 options picks per month from a professional options trader. Save money: There is an excellent workaround to get Benzinga Pro and Benzinga Options as a bundle with a 30% discount.
In the next section of the review, I'll explain all subscription options, bundles, pricing and discounts.
Benzinga Pro Costs
There are three subscription plans available: Basic, Essential and the Options Mentorship.
The Basic package is the lowest membership plan and unlocks delayed quotes, watchlist alerts, the Movers feature, newsfeed access and the calendar suite.
The Essential package is the most popular plan and comes with every Basic feature plus real-time quotes, audio squawk, chat room access, sentiment indicators and the Signals feature.
The Benzinga Options Mentorship plan is the highest tier and includes everything from the Essential package plus all mentorship, education and options pick features.
Comparison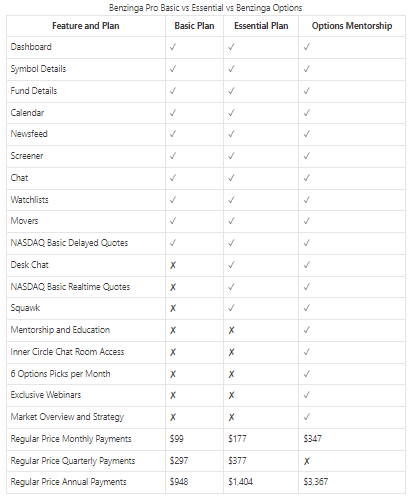 Discount Code
I'm glad to provide you various Benzinga Pro coupon codes, which reduce the subscription costs by 30%-40%. All discounts are applied automatically, and you immediately see the discounted price in the shopping cart once you clicked the link. Scroll down within the shopping cart to see the discounted price with 30%-40% Off.

Benzinga Pro Review Summary
Benzinga Pro is a complete solution with incredible value-adding capabilities at a competitive price. The combination of a news desk, news service, stock screener and analysis platform is unique. The features are extensive and suitable for day trading and investing.
You can save your workspaces, and you can create multiple workspaces and scroll through them, similar to your browser tabs. You can filter down the results to specific criteria and export results to a spreadsheet.
Knowing the cause of a move helps to evaluate the potential of a trade even better. And that's what I use Benzinga Pro for together with my Trade Ideas scanner.
Whenever I had a question, the support team answered my question within minutes. If you have any questions during your 14-day trial or your regular subscription, just hit the blue button in the lower right corner. Their team typically replies in under 5 minutes. Whenever I contacted them, they responded within 1 minute.
I hope that this Benzinga Pro review is helpful for you. I will add more content over time when Benzinga releases additional features.
Pros
Incredible news platform for traders
Fully customizable newsfeed
works on any device due to browser-based technology
Audio alerts and squawk box are beneficial
Desktop notifications are convenient
Cons
The Basic version is not that helpful for day traders.
Best for?
Benzinga Pro is best for traders looking for a news streaming platform with real-time market data and extensive stock screening and charting capabilities. The mentioned discount codes reduce the subscription costs by 30%.
Alternatives
The Fly on the Wall was one of the first day trading news feeds out there. I recently reviewed another Newsfeed called Hammerstone Markets. In the past, it was only available to institutions, but now it is open to everyone. No charts, no stock screener – they focus on the news only and add context to major information. It is one of the fastest news sources I have ever reviewed. Read my Hammerstone Markets review to learn more about the fastest day trading news feed.
FAQ
How much is Benzinga Pro?
Benzinga Pro offers three subscription packages. The Basic package starts at $55.3 per month, the Essential subscription begins at $70.2 per month, and Benzinga Option's costs as low as $86.7 per month using our promo codes.
How long is the Benzinga Pro free trial?
The Benzinga Pro free trial provides full access to all features for 14 days. The 14-day trial allows you to test all functionalities in real-time to make a well-informed decision once the Trial period is over.
How to use Benzinga Pro?
Benzinga Pro is primarily designed for active traders looking for the latest stock market news and market movements. The platform also comes with charting features and stock screening capabilities.
How to get Benzinga Pro free?
Benzinga Pro is available for free by signing up for the 14-day free trial. Free access to all features is provided, and you can cancel your free trial before the paid period starts.
How to cancel Benzinga Pro?
Users can cancel the Benzinga Pro subscription by logging in to the user dashboard. Then, click on the three dots in the upper right, select Billing, and click Cancel Subscription.