Surfshark is a relatively new VPN provider that has quickly become a favorite of ours over the past few months. This VPN service started in 2018 and is located on the British Virgin Islands. A quick look into Surfshark shows that on paper their head offices are indeed situated there, but that Surfshark has several teams working from offices around the world.
Surfshark is a VPN with strong encryption and very user-friendly software. The low prices and user-friendliness make Surfshark a fantastic VPN. Without a doubt, this starter is already on par with long-term champions such as ExpressVPN, NordVPN or CyberGhost.
Specifications Surfshark

Speed – How fast is Surfshark?
Having a VPN that doesn't influence the speed of your internet is essential. VPNs that maintain a big portion of your download and upload speeds let you enjoy the advantages of a VPN without compromising your internet speed. However, if a VPN is slow, it becomes unusable. In other words, the speed can make or break a VPN. To be able to draw some conclusions about Surfshark's performance, we've extensively researched Surfshark by running multiple speed tests. We also tested the VPN during daily use. You can read about our findings below.
Surfshark speed test results
These are the speed test results we found when testing Surfshark. Please note that these results always vary depending on your location, internet provider and the time of day. To take these variables into account, we've also included a speed test of our own connection without VPN as a benchmark.

These are the speedtest.net results of our own connection without using a VPN.
Speed with a local server (Speedtest.net):

These are the speedtest.net results of our connection when we connected to the fastest Surfshark VPN server, closest to our testing location. We did this test to show the speeds a server close to your location might reach (also depending on your data plan of course). The closer the server is to your actual location, the smaller the detour your data has to take. This means the delay will generally be smaller.
As you can see, our ping increased, although this will barely affect your experience. While both the download and upload speeds have dropped, these results will barely be noticeable in practice. Your internet connection will still be very fast. This is a very good result.
Speed when connected to a distant server (Speedtest.net):

These are the speedtest.net results of our connection when we connect to a random Surfshark VPN server that's far away from us (in this case the USA).
As you can see, this server's ping is much higher. At the same time, however, the download speed has remained pretty much the same as with our local server. The upload speed has dropped significantly. Even so, Surfshark has shown some of the best and fastest speed test results of any of the VPNs we've tested so far.
Please note: the difference between servers does not mean the quality of the American servers is worse than that of our local servers. It just shows that servers far away from you affect your speed more than servers that are close. The American servers are still of very good quality, and they are perfect for watching American Netflix.
Speed during daily use
Because of the test results, especially those of the US server, we were very curious about Surfshark's performance when it comes to internet speeds. The VPN didn't disappoint: it worked fantastically during everyday use. We tested Surfshark whilst surfing, watching Netflix, downloading torrents and playing online games, and it surprised us every time.
While browsing, we didn't notice Surfshark's effect on our internet speeds at all. Websites loaded quickly. E-mailing, downloading attachments, and browsing social media all went very quickly. We had no issues watching videos on YouTube and Netflix, either. Netflix even appeared to buffer faster than with other VPN providers. We can confidently say that Surfshark works excellently for streaming (especially Netflix).
Downloading torrents went effortlessly as well. We managed to download relatively large files in no time. What's more, Surfshark even noticed we were using a torrenting program and automatically switched from a regular VPN server to a specialized P2P server to facilitate the downloading. We found this to be very user-friendly.
Likewise, we didn't experience any lag while gaming. We used both local and US servers without noticeable delays. Even when playing an online first-person shooter, we noticed no difference in terms of reaction speed.
Conclusion: Surfshark's speed
The results of the speed tests were fantastic. We experienced no issues during everyday use. In some situations, Surfshark even proved to be faster than some of our other VPN providers. So, to sum it all up, these are our findings:
Surfshark's VPN has great internet speeds during everyday use.
The speed tests show great results for downloading speed, especially.
In our opinion, Surfshark is a VPN with above average internet speeds and fantastic performance during everyday use.
Safety – How secure is Surfshark?
Kill Switch OffInternet safety might be the most important factor when choosing a VPN. When it comes to this, we're very happy with Surfshark. Surfshark takes every necessary precaution to guarantee a secure connection. In addition to secure servers with strong encryption protocols, they offer the possibility to connect through two VPN servers at the same time (MultiHop). This means you'll be even more secure. Surfshark also has a kill switch. Once you've activated this and the VPN connection happens to drop, your data won't be sent online until the connection has been restored. This way, you can still browse and download without having to worry about security or prying eyes.
Furthermore, Surfshark is located on the British Virgin Islands, which is a very safe location for any VPN provider. The only downside is that they appear to be operating from Britain, where privacy laws aren't as advanced as you might think. This is why we can't give Surfshark a perfect score for security. Nevertheless, this VPN is generally safer than most others, especially in comparison to free VPNs.
Protocols
Surfshark uses, among others, the two safest protocols right now: OpenVPN and IKEv2/IPSec. This shows they clearly aren't willing to compromise when it comes to their users' security. On top of this, Surfshark also offers a protocol which was specifically designed to circumvent censorship, specifically censorship in China: Shadowsocks. This protocol is an encrypted proxy.
Logging and privacy
Surfshark has a 'no logs' policy. They have made every effort to require as little personal information of you as possible for your VPN to work. However, this doesn't mean they don't need any information. Just like most other providers, they'll need your email address to create an account and payment information so they can process your payments. More on this later.
Secondly, Surfshark—like most VPNs—requires certain information to monitor their service. For example, they use anonymized information to keep track of how busy their servers are and to see if there are any connection issues. These issues aren't traceable to a specific user and only concern the general use of their servers and service. In addition, Surfshark don't appear to be keeping any logs. As mentioned previously, they have a strict 'no logs' policy, and we couldn't find anything in their regulations that contradicts this.
Furthermore, Surfshark recently switched to a RAM-only server network, which means that there is no longer any data on physical servers. This form of storage also ensures that data is automatically deleted when you disconnect. Your data will therefore only be stored temporarily and cannot be retrieved afterwards. More and more VPN providers are switching to RAM-only servers because it offers more privacy.
What information does Surfshark need?
All you need to do to create an account with Surfshark is provide the VPN with your email address and a password. Therefore, if you make sure neither contain any information about you, you're good. If you want to remain even more anonymous, we recommend paying through an anonymous service such as Bitcoin. Should you choose to pay with a service like PayPal instead, you will have to share some information about your PayPal account in order to complete the payment.
Conclusion: Surfshark's safety
We found Surfshark to be a relatively secure VPN provider. The only downsides we ran into are things that pretty much every VPN struggles with. That is why we came to the following conclusions about Surfshark's safety:
Surfshark's head offices are located on the British Virgin Islands, but they appear to operate from Britain, which is not ideal
Surfshark is a secure VPN with very strong encryption protocols (OpenVPN, IKEv2 and Shadowsocks)
Surfshark does not keep logs
You can pay with Bitcoin to create a Surfshark account and you only have to give them your email address and a password
Surfshark does not keep track of specific user data, but does use anonymized information to determine their server load and spot possible connection issues
Usability – How user-friendly is Surfshark?
Surfshark excels at user-friendliness. Their software is very easy to use, since it has a couple of super convenient options. On top of that, their customer service is very easy to reach, should you need help with anything after all.
The Surfshark website
The Surfshark website reminds us a little of NordVPN's site. The website is well-organized, not too busy, and all available information is readily available. Besides key information such as features and pricing in the top bar, you can find a link to the FAQ in the footer. The FAQ section is very clearly organized as well. Surfshark is a provider that focuses entirely on getting important information across to their readers and users as effectively as possible.
For this purpose, they've kept the 'My Account' section of the website as simple as possible. There are a couple of buttons for downloading software for specific devices and operating systems. You can also see when your subscription will end, and there's a button for changing your password and one for logging out. As a result, managing your Surfshark account is very easy.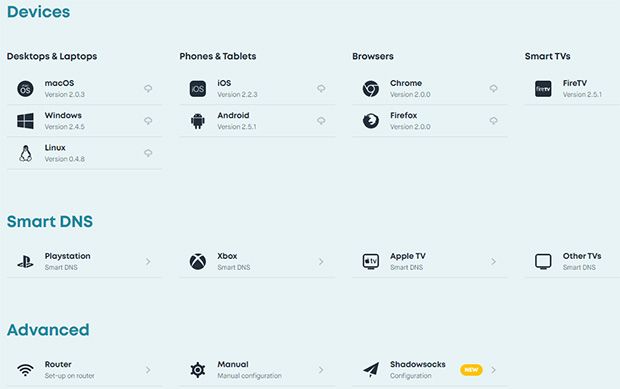 Installing Surfshark
The installing procedure for Surfshark is incredibly easy and straightforward. On mobile devices, you can download the VPN app from the App Store or Google Play. On Mac or PC, simply click the relevant icon on the website.

The actual installation goes like this:
Choose a subscription and go through the order process
Log in to the Surfshark website
Click on the icon of your operating system
Open the .exe file you downloaded
Go through the steps of the installation wizard
Open the Surfshark software by clicking on the hyperlink
Log in with the login information you created for your account
If you want, select a server, then enable Surfshark
Surfshark's design and ease of use
The looks and ease of use of Surfshark's software might be one of the best features of this VPN. Once you've signed in, you won't be overwhelmed by countless options and settings. Instead, you're only shown those things that matter to the average VPN user. All options and settings include a clear description and all menus are easy to navigate.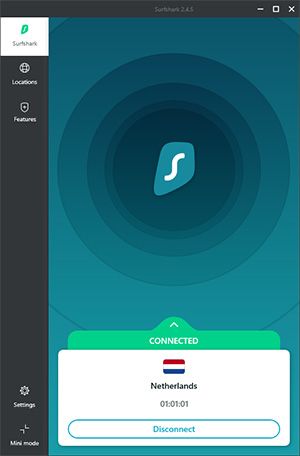 Surfshark doesn't require you to manually select the right server for whatever you plan on doing online. Simply connect to Surfshark's VPN and it will automatically recognize when you're about to download a torrent, for example. In this case, you won't have to manually select a P2P server, as the program will do it for you. Moreover, all American servers appear to work with Netflix, and you can even effortlessly set up a double VPN tunnel. All these separate elements make Surfshark a very well-performing and user-friendly VPN.
Surfshark and Linux
Surfshark is also available for Linux users. Specifically, the terminal app is available to Ubuntu and Debian users. Unfortunately, this does not even come close to the amount of Linux options of competitors like NordVPN and ExpressVPN. Users of other distros can make use of manual OpenVPN servers, however. Below you can read a short summary of our experience with using SurfShark on a Debian system.
The number of servers available to Linux users is somewhat limited compared to Surfshark's overall server network. Rather than the 1810 servers, Linux users have access to about 102 servers spread across 61 countries. Unfortunately, the quality of your connection depends quite strongly on which server you select. Some of Surfshark's servers can compete with the best VPN-providers out there. Other ones barely manage to achieve a quarter of your normal internet speed. As such, be sure to run a quick speed test when you connect to a new server to check if you have one of the good ones.
More worryingly though, Linux users tend to suffer from DNS leaks or transparent proxies while connected to Surfshark. This problem can be resolved if you are particularly savvy with Linux, or with the help of customer service. Nevertheless, the problem shouldn't be occurring in the first place.
The user-friendliness, however, is fine. The installation is a piece of cake and the selection of commands you have to learn is limited and intuitive. Surfshark also includes a number of neat extra features, such as an automated selection of the best available server, a kill switch, multi-hop, and the ability to easily switch between UDP and TCP servers. Unfortunately, these extra features do not make up for the DNS leaks, transparent proxies, or uneven quality of available servers. Moreover, quite often, these features aren't even available. Because of all these negatives, SurfShark is not in our list of the best VPNs for Linux.
Pricing and payment methods
Surfshark is very reasonably priced. It's one of the cheapest options around. As with most other VPNs, you receive a discount when you subscribe for a longer period. A monthly subscription costs $11.95 per month, a 1-year subscription costs $5.99 per month, and a 2-year subscription costs only $1.99 per month. On their website, these prices are also available in euros, AUS/CAN dollars, Chinese yuan, and British pounds.
Surfshark also offers the option to purchase two additional privacy functionalities for an additional $0.99 per month. These are HackLock and BlindSearch. HackLock scans the web and warns you when your email address has been leaked, and BlindSearch is a way to search without seeing ads or logging your information.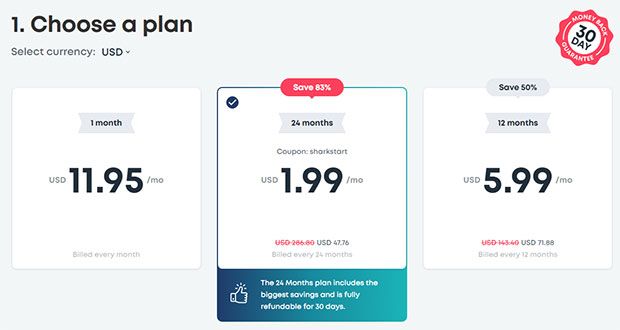 No matter which subscription you get, Surfshark offers a 30-day money-back guarantee, and you can use the subscription on an unlimited number of devices. Payment methods include the following options:
Credit card (Mastercard, Visa, American Express and Discover Card)
PayPal
Google Pay
Bitcoin and other cryptocurrencies (using CoinGate or CoinPayments)
Amazon Pay
Other, local payment options
Customer service
Surfshark has excellent customer service. When we tried the chat function on their website, we were assisted by an actual employee within the space of a minute. Our problem was that we couldn't watch American Netflix at first, but customer service was able to help us fix this in no time. We also appreciated the fact that we were talking to a real person. We didn't receive any automated responses from a bot. This is a relief compared to the customer service at certain other VPNs.
Conclusion: Surfshark's ease of use
Based on our experiences with Surfshark, we arrived at the following conclusions:
Surfshark is a highly user-friendly VPN
Surfshark's software is intuitive and easy to understand
Creating and managing an account is very straightforward
Installing Surfshark's software is easy
Surfshark's customer service is quick to respond and manned by actual humans
Surfshark is one of the cheapest VPN providers and offers a 30-day money-back guarantee on all their subscriptions
Surfshark's server network
Map with locationSurfshark has an extensive server network: they have 1810 servers across 66 countries. This is very convenient for bypassing geo blocks. In most countries, they have multiple servers. Especially the US servers are numerous, most likely to ensure watching the American Netflix keeps working.
Furthermore, all of Surfshark's servers are P2P-friendly. This means you won't have to select a special P2P server if you want to download torrents, for instance. Furthermore, Surfshark gives you the option of connecting to two VPN servers at once (MultiHop). Your data will be sent through not one, but two VPN servers. This increases your online security and anonymity. Not all of Surfshark's servers support this. Instead, there are thirteen pre-selected combinations of two servers you can use. Three of these have a U.S. server as the exit server. This is very useful for unblocking a lot of geo-restricted content, such as the US version of Netflix, while staying extra safe.
Number of servers and locations
Surfshark has 1700+ servers across 70 countries. You can find Surfshark servers in the following countries:
Albania
Algeria
Argentina
Australia
Austria
Azerbaijan
Belgium
Bosnia and Herzegovina
Brazil
Bulgaria
Canada
Chile
Colombia
Costa Rica
Croatia
Cyprus
Czech Republic
Denmark
Egypt
Estonia
Finland
France
Germany
Greece
Hong Kong
Hungary
Iceland
India
Indonesia
Ireland
Israel
Italy
Japan
Kazakhstan
Latvia
Libya
Luxembourg
Malaysia
Mexico
Moldova
The Netherlands
New Zealand
Nigeria
North Macedonia
Norway
Pakistan
Paraguay
The Philippines
Poland
Portugal
Romania
Russia
Saudi Arabia
Serbia
Singapore
Slovakia
Slovenia
South Africa
South Korea
Spain
Sweden
Switzerland
Taiwan
Thailand
Turkey
Ukraine
United Arab Emirates
United Kingdom
United States
Vietnam
Dedicated IP address
So far, Surfshark doesn't offer the possibility to request a dedicated IP address. However, you'll usually connect to the same server and same IP address when choosing a specific server. But this isn't always the case: if you select the 'optimal location' option, chances are you'll get a different server each time. That's because Surfshark looks at the amount of traffic on various servers and selects the server that works best at that moment.
With a recent update, however, Surfshark has added some servers with a 'static' IP-address. This means the IP-address of these servers will always be the same. Though we wouldn't recommend using them as of this moment, because they seem to be shared and not dedicated.
In theory, however, you could use these servers to get access to websites and apps which block you if you log in from a different IP address than you normally do, while still enjoying some added protection, because of Surfshark's VPN tunnel and encryption. We have not tested ourselves whether this actually works well though, so we can't guarantee this is a viable and good way to get access to these services.
Conclusion: Surfshark's server network
These are the conclusions we arrived at regarding Surfshark's server network and locations:
Surfshark has an excellent server network of 1700+ servers across 70 countries
There is a multitude of American servers and all of them appear to work with Netflix
Surfshark has special P2P servers, to which you are connected automatically
It's possible to send your data through two VPN servers at the same time
Surfshark's options
In addition to the standard possibilities, Surfshark also offers useful extra features. For instance, Surfshark has an optional kill switch, the possibility of connecting through two VPN servers at the same time (they call this MultiHop), a Whitelister that allows you to visit certain websites or apps without going through the VPN first, and a CleanWeb option that blocks ads, trackers and malware. On top of that, both Netflix and torrents work well with Surfshark.
MultiHop, Whitelister and CleanWeb
All three of these Surfshark features functioned properly when we tried them. CleanWeb was able to block ads that managed to slip even past our regular adblockers. The MultiHop option provides some additional security, but does have negative impact on your internet speeds. After all, your traffic has to go through two VPN servers instead of one. The Whitelister for apps and websites allows you to connect to specific apps and websites you trust using your own IP address instead of that of the VPN server. This could definitely prove convenient in some situations.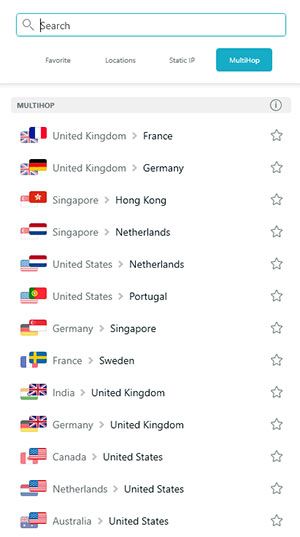 On top of that, Surfshark has recently added two new features: HackLock and BlindSearch. HackLock is an option you can use that will notify you when your email or passwords might be in danger of being compromised. BlindSearch is Surfshark's answer to the anonymous search engine DuckDuckGo. However, both HackLock and BlindSearch are still in beta.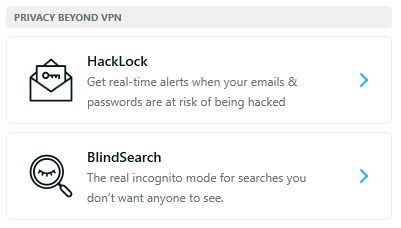 Surfshark and Netflix
Surfshark aims to unblock Netflix for all VPN users. During our tests, all US servers appeared to work with Netflix. Aside from that, Surfshark also allows you to access the content of other local versions of Netflix. Surfshark actively focuses on making the libraries of 16 countries available to their users. These countries are: the United States, the United Kingdom, Canada, France, Germany, Japan, the Netherlands, Italy, India, Turkey, Sweden, Australia, South Korea, Poland, Singapore, and Norway.
If you use a different server location to visit Netflix, you'll automatically be sent on to the American (US) version of Netflix. On their website, Surfshark mentions that you can ask them about any Netflix library you'd like to access, but isn't on their list. They might be able to unlock it for you.
In case you still can't reach Netflix with this clever system, don't hesitate to contact Surfshark. Their customer support live chat works effectively and can usually help. They might give you advice about which server to choose or try to solve the issue from their side. Usually, they're able to help you out in a few minutes. In short, Surfshark is very suitable for streaming and Netflix.
Surfshark and torrents
Surfshark has specialized P2P servers that keep you extra secure while downloading torrents. You don't have to manually select these servers: they are automatically activated when you open a torrenting program. The VPN server will recognize the P2P traffic and connect you to a P2P server. We even suspect it might automatically connect you via MultiHop servers. This means added protection against prying eyes.
NoBorders and Camouflage Mode
Surfshark also has two different VPN modes on top of their regular VPN-service. These are Camouflage Mode and NoBorders Mode. Camouflage Mode ensures that even your ISP cannot see that you are using a VPN. NoBorders Mode is a mode in which, even in areas of strict censorship, you can use the Internet freely.
Conclusion: Surfshark's options
Surfshark offers various features that block ads, whitelist websites and offer increased levels of security
Both US servers and servers of other countries worked with Netflix
You can download torrents with Surfshark safely and easily
Surfshark has a NoBorders Mode for areas with strict censorship, and a Camouflage Mode that prevents your ISP from seeing that you are using a VPN
Conclusion – Our experience with Surfshark