INTRODUCTION TO HANNA ANDERSSON
Perhaps best known for their matching family pajamas, Hanna Andersson is a high-quality children's clothing brand with a nod to Scandinavian culture. Hanna Andersson, or Hanna, was founded in Portland, Oregon in 1983.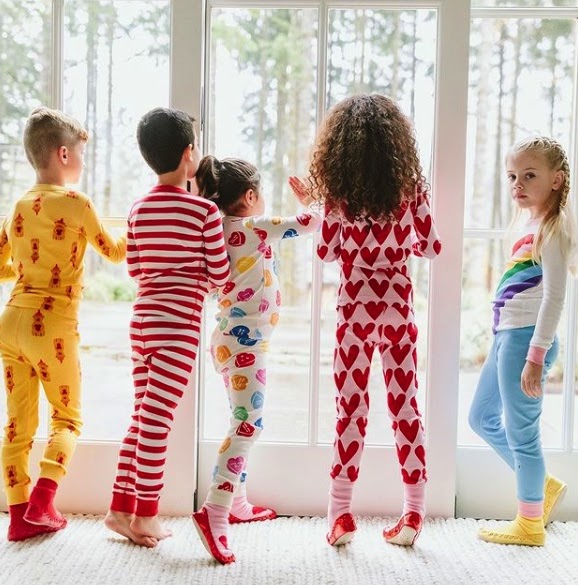 Hanna Andersson sells pajamas, tops, bottoms, onesies, dresses, swimwear, and accessories for infants and children, carrying all sizes from NB to kid's sizes 14/16. You can even find pet and adult size clothing for Hanna's matching family collection clothing and pajamas.
Swedish-born mother, Gun Denhart, created Hanna Andersson over 35 years ago. She found the U.S. clothing market limited, so decided to create her own children's apparel company.
From Hanna Andersson's start, the aim has been to build a clothing line with the Scandinavian principles of design, quality, and satisfaction. Hanna Andersson clothing is built to be soft, durable, and long-lasting. Hanna Andersson also prides itself on creating happy moments that allow kids to be kids while nurturing their independence and growth.
WHAT IS HANNA ANDERSSON?
Hanna Andersson is a premium, high-quality children's brand. Hanna Andersson is known for producing baby and children's clothing in soft, bright colorful patterns and colors based on Scandinavian principles of design, play, and durability. Hanna Andersson clothing lets kids be kids.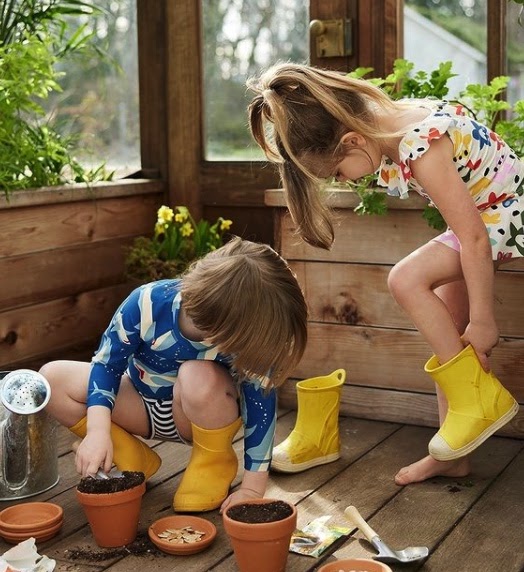 Hanna Andersson clothing is made to be durable, allowing it to be passed down to the next generation. This saves money in the long run, and minimizes the impact on the environment.
DOES AMAZON OWN HANNA ANDERSSON?
Amazon does not own the Hanna Andersson label. Amazon has collaborated with Hanna Andersson to create an exclusive line of Hanna Andersson garments sold only on Amazon. This Amazon-exclusive collection is called Moon and Back. The Moon and Back collaboration has proven popular, introducing new parents and grandparents to the Hanna Andersson label.
WHO OWNS HANNA ANDERSSON?
Hanna Andersson was founded by Gus Denhart and Tom Denhart in 1983. In 2001, the Denharts sold their company for $175 million. Hanna Andersson then changed ownership hands several times, through a succession of different private equity firms.
Today, Hanna Andersson is owned by L Catterton. L Catterton purchased the company for an undisclosed sum of money in August 2016. As of 2021, Hanna Andersson has been led by CEO Sally Pofcher.
IS HANNA ANDERSSON A SWEDISH COMPANY?
Hanna Andersson was founded by a Swedish-born mother in Portland, Oregon in 1983. While American, the company is steeped in Swedish and Scandinavian design principles of simplicity and happiness.
IS HANNA ANDERSSON GOOD QUALITY?
Yes, the quality of Hanna Andersson's clothing is excellent. It's far superior to any brands you'll find sold at Walmart, Target, or other discount retailers. Kids can play hard in Hanna Andersson clothing and the garments still hold up.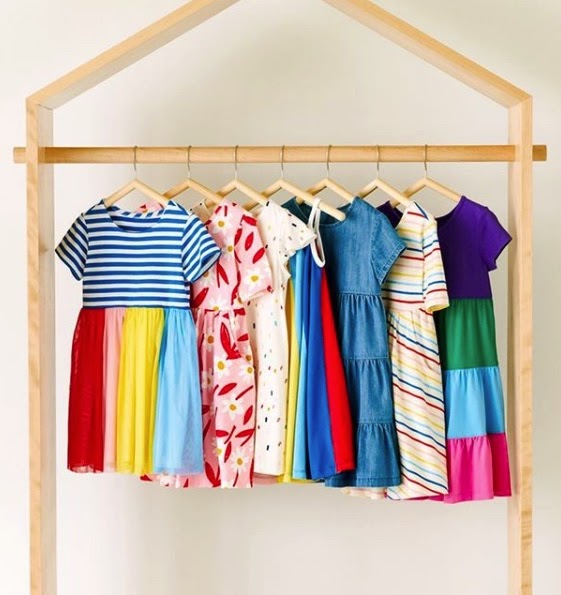 I have found that garments can fade over time, the cotton fabric is super thick and durable and does not pill. Grab a fistful of Hanna Andersson (crumble up a Hanna dress into a ball and squeeze), and then compare it to Cat & Jack and you'll see what I mean. Even just looking at the two garments side by side the difference is clear. (Nothing but love for you though, Cat & Jack. We wear your label, too.)
You can reduce or minimize fading of Hanna Andersson garments through proper care. Follow the care label instructions. Wash like colors together (instead of dumping darks and whites into one load). And avoid washing these clothes with denim jeans and towels as these fabrics can be hard on other laundry items in the load. Also air drying helps too.
ARE HANNA ANDERSSON PAJAMAS WORTH IT?
If you can get a good deal, I think that Hanna Andersson pajamas are worth it. The pajamas are soft, thick, and comfy – and matching family prints are always fun. (Perhaps more fun for moms than the kids.) For many, matching family holiday pajamas are what we immediately envision when thinking of Hanna Andersson.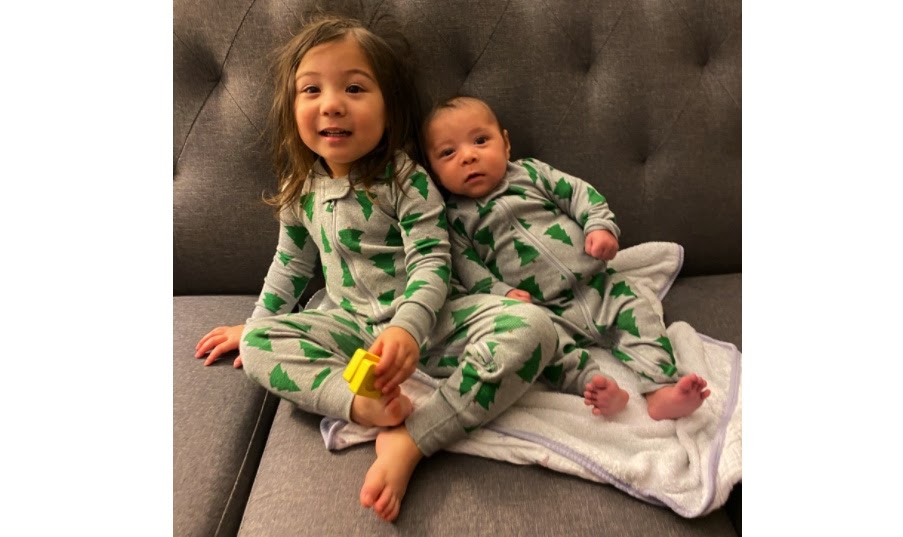 I think Hanna Andersson pajamas are a good deal with some caveats.
You let your kids wear them. Some moms don't because of the price tag, or because they want them to remain intactus to get the best resale price later when selling them to a consignment store or in a Buy Sell Trade group. The brand is meant to be worn and loved. Buying them and letting your kids barely wear them, for fear of sullying them, violates the brand's principles. Kids are meant to play and explore and get dirty. If you're wearing them for holiday prints, take the pictures first while they're pristine and then let your kids wear them.
You buy prints that are gender neutral. Shop for Hanna Andersson unisex pajamas. I am not stating that there are "boy prints" and "girl prints". I know that kids (and other parents) can get particular, and will reject wrong-gendered prints. When you buy gender neutral prints (i.e. yellow and white stripes), it'll be a smoother hand-me-down transition to the next sibling. And when you've finished wearing the garment in your household, it will be easier to find the pajamas their next home.
You buy prints that hide stains. My kiddos have a set of matching Tannenbaum pajamas (a darker heather grey with pine trees). It really hides the stains quite well, or will when they do get marked up. As much as I love the aesthetic of solid colored, earth-toned fabrics (popular among other brands), even the tiniest of stains will stand out on a solid print. Darker solid shades tend to get bleach marks eventually, and lighter solids wind up with visible stains or water marks.
You buy Hanna Andersson pajamas on sale. While the $42 price tag is steep, Hanna commonly has sales where merchandise is 30% to 40% off. If you wait long enough, everything on HannaAndersson will eventually go on sale – even licensed apparel (i.e. Superman) that you can find in the "Characters" section of Hanna's website. Usually you just have to wait a few weeks for the prices to drop. And I like to swoop in and buy Hanna Andersson pajamas when they go on clearance. You'll find more limited sizes and patterns available then.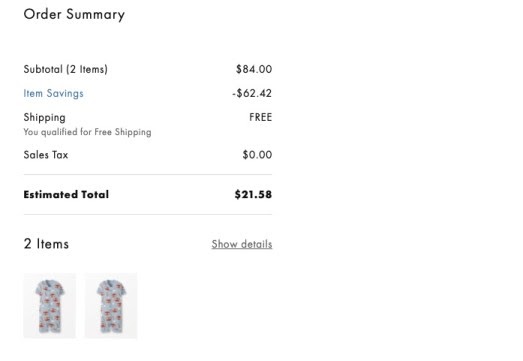 Plan ahead if you want matching family pajamas. Sometimes you'll get lucky and score a great deal on clearance for all the sizes you want. More often, I'll buy the available sizes when they go on clearance (like $10.79) and then look on Mercari or Poshmark for other sizes. I've purchased two sets of family matching pajamas (for all four of us) and spent around $45 total each time. If you wait until November to decide you want matching family pajamas for Christmas Day, you're going to have to shell out well over $100 to $200. And this is including Black Friday sales and assuming everything is in stock. You can find matching holiday or seasonal prints all year long. December 26th through August is a great time to plan ahead for the winter holidays.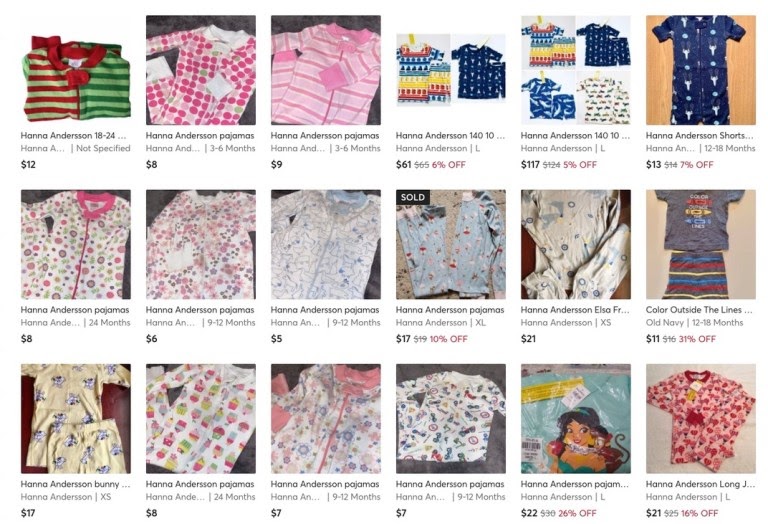 WHEN DO HANNA ANDERSSON PAJAMAS GO ON SALE?
Hanna Andersson pajamas regularly go on sale for 20% to 30% off, with licensed pajamas (Frozen, Peanuts Gang, Marvel, Mickey, etc.) commonly excluded.
40% off Hanna Andersson pajamas are an exceptionally good deal – and about the best price you'll find on pajamas unless you want to wait it out until clearance markdowns and hope you can find your size. 40% off deals tend to happen around major shopping events and holidays like Labor Day, Memorial Day, or the Fourth of July.
For the holiday season, Hanna Andersson Black Friday deals are quite generous. Typically Hanna Andersson sells all kids and baby pajamas for $25 each and everything else on the site is marked down by 50%.
And you can stack a 20% new member Hanna promo code on top of other sales prices, too.
Related: See how this mom scores free Hanna Andersson PJ's and free clothing from other popular brands for her kids. You won't want to miss these 10 hacks.
IS HANNA ANDERSSON GOING OUT OF BUSINESS?
No, Hanna Andersson has not gone out of business. Due to the dynamic changes in the retail market, Hanna Andersson has shuttered its brick and mortar stores. (Including my beloved local Hanna and Andersson store in Minneapolis.) Hanna Andersson has opted to shift into an online only retailer and is offering free shipping on all purchases of any amount.
Since going online only, the prices have gone up on some things (in my opinion). Previously I could find a number of items (mostly accessories) priced at a few dollars or less. Those types of dollar bin deals are much rarer.

WHERE CAN I BUY HANNA ANDERSSON CLOTHING?
During the Covid Pandemic, Hanna Andersson closed its stores for employee and guest safety. Later, during this period, Hanna Andersson became an online only retailer. Hanna Andersson clothes can be purchased on HannaAndersson.
You can also commonly buy this label in buy sell trade groups on Facebook and on clothing resale apps like Kidizen, Poshmark, thredUP, or Mercari.
IS HANNA ANDERSSON CLOTHING MADE IN THE USA?
Hanna Andersson clothes are designed, with a Swedish flair, in Portland, Oregon. However, the production or manufacturing of Hanna Andersson garments takes place in a number of countries around the globe including Peru, Bangladesh, Indonesia, and China.
DOES HANNA ANDERSSON CLOTHING RUN BIG OR SMALL?
Hanna Andersson's clothing runs on the "big side of the real sizes". The brand's goal is to eliminate the need to size up by giving your child room to grow in the garment. This means if your child is a 5T, a 5T will fit your child. But has enough stretch or give to still fit your child as they grow into the next size. The waist has some allowance. This means your kids will always have well-fitting clothes instead of wearing baggy, too-loose clothing that can sag, fall off, or be a tripping hazard.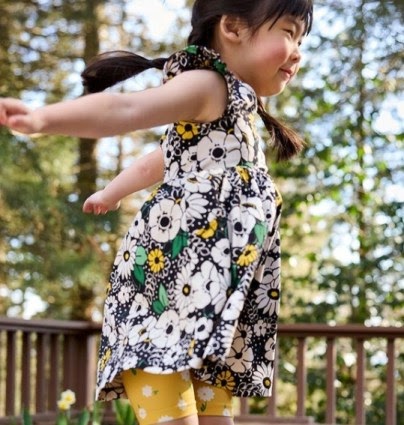 WHAT HAPPENED TO HANNA ANDERSSON'S WOMEN'S CLOTHING?
Nothing happened to Hanna Andersson's women's clothing. Hanna Andersson still sells women's clothing online at HannaAndersson. You can find it in the Matching Family section of the website.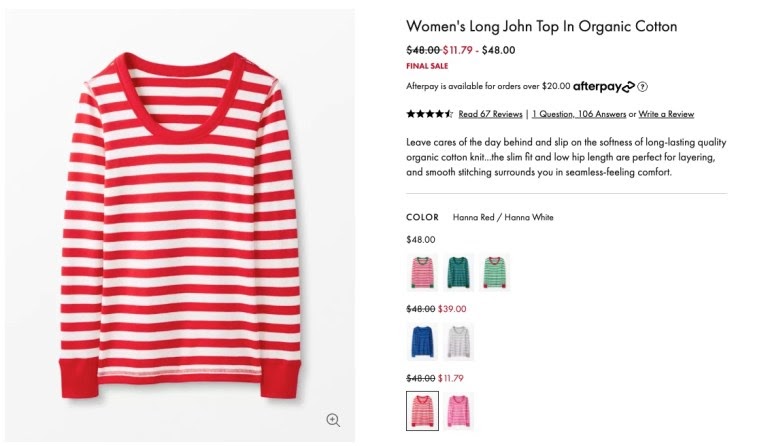 HOW DO I GET A HANNA ANDERSSON PROMO CODE FOR FREE SHIPPING AND OTHER SAVINGS?
You get free shipping on all orders on Hanna Andersson – for any purchase amount.
You can find coupon codes or promo codes for additional savings on the Hanna Andersson website, or on deals sites and shopping apps like Upromise or Swagbucks. You can also earn 1-2% cash back on your purchase. (If you're not a member, you can join the rewards platform for free in under a minute and get a $5.29 signup bonus.)
Additionally, you can join a Hanna Andersson enthusiast Facebook group and ask other members if they have promo code to share
WHERE CAN I GET A HANNA ANDERSSON REFERRAL CODE?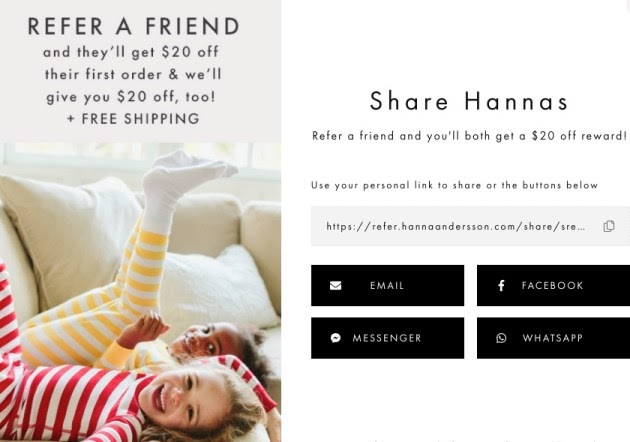 You can sign up with this Hanna Andersson referral link and you'll save $20 off your first purchase at Hanna Andersson and get free shipping. Sign up as a new customer or member with a new email address to get the discount.
HOW MANY HANNA ANDERSSON COUPONS CAN I USE AT ONCE?
Technically, you can only use one coupon code at once on Hanna Andersson. However, I've heard of other moms claiming on occasion they have been able to apply Hanna Andersson coupon codes at a time. I'm not sure if this was a site glitch or shoddy recollection (or sheer wishful boasting), but it never hurts to try.
There are still ways to layer savings in a way that's just like stacking coupons at Hanna Andersson.
Shop Hanna Andersson when there's a sale for 40% to 60% off. (You can wait for that item to go on sale, I believe in you. You might want it now, but you want your kid to get lots of wear out of the item anyway. If you want those PJ's now, but don't want them in 3 weeks, you probably don't want them that much.)
Use the best promo code for Hanna Andersson you can find. Either on HA's website or on deals sites like Swagbucks or MyPoints.
Earn cash back on your Hanna Andersson purchase with a cashback shopping rewards site like InboxDollars, Honey, Upromise, or Swagbucks.
Buy Hanna Andersson with a credit card that gives you cashback. There are hundreds of them out there.
So here's how it can play out shopping at Hanna Andersson when you shop with only 1 coupon but layer the savings.
If you're purchasing 4 pairs of pajamas that are regular priced $168,
Wait until the pajamas go on sale for 40% off so you can get both pairs for $100.80.
Use a Hanna Andersson promo code or referral code to save $20 off, bringing the price to $80.80.
Make your purchase through a cash back shopping site and get 2% cash back (that percentage amount can vary throughout the year). You're getting back $1.62 back, bringing the price down to $78.98.
Make your purchase with a cash back rewards credit card. I get 1.529% cash back so I'll use this figure as an example. That's another $1.24 you're getting back, bringing the price down to $77.74.
Doing this can bring the price of $42 pajamas down to $19.44.
And you don't even have to wait until clearance markdowns at the end of the season. (Although I do love Hanna Andersson Final Sale and Clearance.) And when your kids are done wearing these pajamas (and you've let them wear them through and through to get your money's worth), you can resell them.
Assuming they're in average condition when you're kids have outgrown them (some fade, a couple light stains), you can fairly easily make back $32 by selling them in a Facebook Buy Sell Trade group or other used clothing marketplace online.
Personally, I prefer to buy Hanna pajamas from the retailer only when I can snag them for $20 or less. Then with coupon codes and cash back, I get them for around $15 a pair. And when I re-sell on BST groups or Kidizen, I re-sell for more like $12 a pair.
Which means I score Hanna Andersson pajamas for only $3 out of pocket.
Typically, I don't even pay as much as $20 on Hanna Andersson. I'll wait it out and buy them when they're marked $10 to $16, layer the savings, and then re-sell them after. Which is great. Because it means:
Sometimes my kids wear brand new Hanna Andersson pajamas for free. Or I even make a buck or two for dressing them in brand new Hanna Andersson and being kind to the earth by taking care of them and re-selling them afterwards.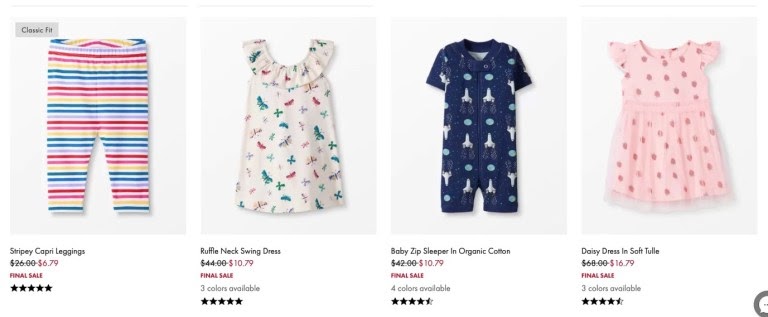 WHERE CAN I BUY AND SELL USED HANNA ANDERSSON CLOTHING?
You can buy and sell used Hanna Andersson clothing at consignment shops like Once Upon A Child, in resale apps like Kidizen or Mercari, or on Facebook in various Buy Sell Trade groups or even on Facebook Marketplace.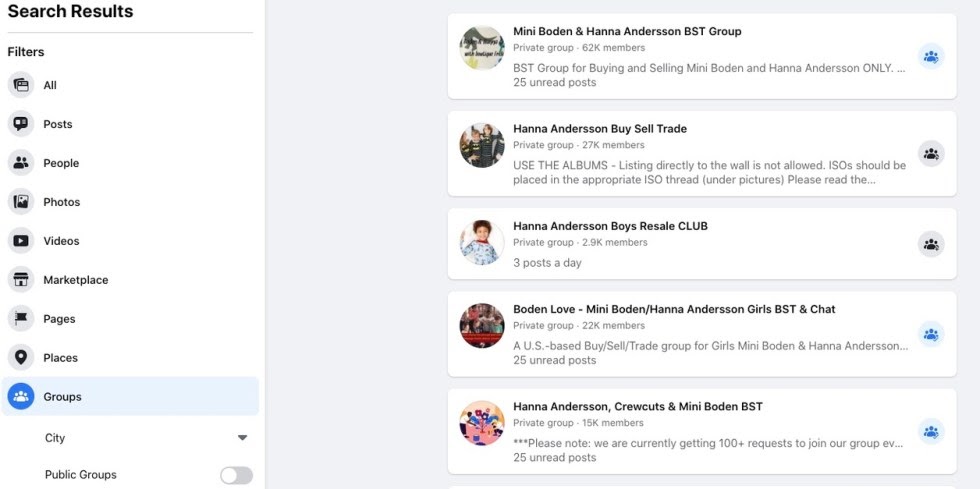 I've heard of one crazy, uber-caffeinated mom who re-sold her kids' used Hanna Andersson clothing and other name brand duds and made over $2,300 in a Facebook group. (Disclaimer: that crazy mom was yours truly.)
Promo Codes for Mercari, Kidizen, and Poshmark
Sign up for Mercari with this referral link, get $30 free. You'll get $10 off your first purchase. And you'll get $20 off any Mercari purchase after you've sold your first $100 on their marketplace. This site is the easiest one to create listings and lowest in seller fees (commissions).
Get $10 Off at Mercari
Join Kidizen with this referral link, get $5 off your first purchase. Minnesota based Kidizen has the largest selection of children's clothing brands, and also toys, books, baby gear, and mama size clothing. There is no easy way to make an offer. (There's no functionality to click and submit an offer. You have to direct-message the seller and wait for a response.) If you sell on here, a big plus is there's an option for your listings to also be shared on Facebook Marketplace where you can reach a broader audience.
Get $5 Off at Kidizen
Join Poshmark with this referral link, get $10 off your first purchase. Poshmark has a huge selection of clothes and accessories for tons of brands, but you'll find that Kidizen has a much larger selection of kids clothes and kids brands. The seller fees (commissions to Poshmark) are a bit steep. And if you're a buyer on Poshmark, you pay the shipping which is set at a flat rate fee. Currently that amount is set at $7.45 (ouch). But you have more flexibility in terms of haggling with the seller to get a good deal. You can make offers at 30% off or more on Poshmark, whereas on Mercari you can't make offers that go below 20% off list price.
Get $10 Off at Poshmark
There are different buyers and different sellers on all of these apps. Plenty of sellers sell on two or more of them, or even on other sites too like thredUP and eBay. And as a buyer, if you're looking for good deals it's worth your time to hit up all of these sites. You can create alerts for when specific brands or items you want get listed.
DOES HANNA ANDERSSON HAVE GOOD RESALE VALUE?
Hanna Andersson has excellent resale value. For some rarer, sought after pieces, you can sell them above their full sticker price. (This happens very infrequently though, and you need to have the item in excellent, if not brand new, condition.)
For more run-of-the-mill pieces, I see pajamas (zip-up or two-piece) commonly going for $8-$15 used in Buy Sell Trade groups. On resale sites, like Mercari or Kidizen, they tend to sell for more like $10-$22 once you factor in shipping fees.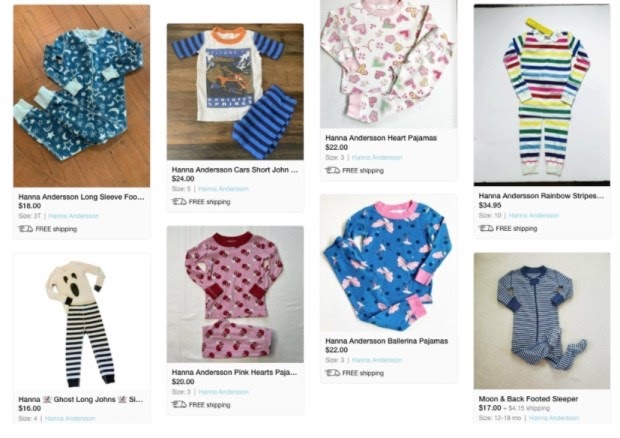 For Hanna's twirly or jersey dresses, when they're in good condition (no stains or rips), I've seen newer more coveted styles and prints go for $20 to $25, or more, used. More commonly, they sell for around $12 to $16.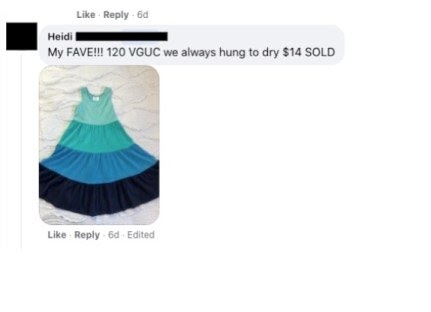 Some moms will specifically buy Hanna Andersson (from local thrift shops or Hanna Andersson clearance sales) to flip the items on a resale group or a resale app. Judgments aside, I think this is a risky proposition for the potential to make $5 max.
Buy a dress at Once Upon A Child for $12. List it, on say, Mercari. You'd have to sell it for at least $15 to make $1 after you factor in Mercari's fees. And then either you or the buyer will have to cover the roughly $3.80 for shipping. It can be a long wait for a buyer who wants to spend $19 on a used dress, vs spending a few more and getting it brand new on Hanna Andersson. And if you wanted to clear $5, you'd have to find a mom willing to pay $24 for that used dress.
For a BST (Buy Sell Trade) resale on Facebook, that can be tricky too. On a local board, you probably won't make more than $14. So for a $2 profit, you'll have to organize a listing or purge sale. Invoice a buyer. And package it for porch pick up or to be mailed out. On national BST groups, you could make more money. But here, you'd likely have to cover PayPal seller fees.
Flipping Hanna Andersson is a crapshoot. And if you're obviously trying to re-sell loads of Hanna Andersson clearance goods at a markup, you're going to piss off other group members.
WHAT IS THE HANNA ANDERSSON RETURN AND EXCHANGE POLICY?
Unwashed and unworn returns on clothing products can be made within 60 days. Refunds are provided via the original form of payment as shown on the receipt, credit card, or other email record.
Purchases made via Paypal must be returned to Hanna Andersson's distribution center and refunds will be issued as a Hanna eGift card.
Items ending in $0.79 are final sale and are not refundable. Similarly, physical gift cards and electronic or e-Gifts cards are non-refundable.
For some orders, a return shipping fee of $5 to $10 may be charged.
View the full Return Policy on Hanna Andersson for more details about returns, refunds, or exchanges.
FINAL THOUGHTS ON HANNA ANDERSSON
Hanna Andersson clothing is bright, colorful, and well designed. Kids love wearing them (the soft cotton makes for a comfy fit), and they look great in school photos and special occasion pictures. With frequent sales, I would never buy Hanna Andersson full price. With referral codes, ongoing sales, and clearance markdowns, you should never have to pay sticker price. And when you factor in resale apps and Facebook resale groups, there are plenty of great sources to buy discounted Hanna jams and sell or re-sell your used Hanna Andersson clothing.