Despite a relatively small footprint — its broadband service is available to about a fifth of homes in the US — this internet provider earns high marks.
In case you hadn't heard, Verizon just unveiled its 5G Ultra Wideband network. A move to unlock more of the full potential of 5G and help it expand its home broadband footprint. Meanwhile, Verizon Fios, the company's fiber-optic internet service, has captured the top spot in the J.D. Power US Residential Internet Service Provider Customer Satisfaction Study for multiple years. Since it launched in 2004 — but it's only available in eight states and the District of Columbia.
Verizon offers home internet via DSL for much of its footprint, primarily for those in the Northeast who are outside its Fios network. Verizon LTE Home Internet service is an option in 200 markets. In addition to the now 900 cities where Verizon 5G Home service is currently available.
All of that makes for a complicated coverage map — and it means there's a lot to consider before signing up for Verizon based solely on the glowing reviews.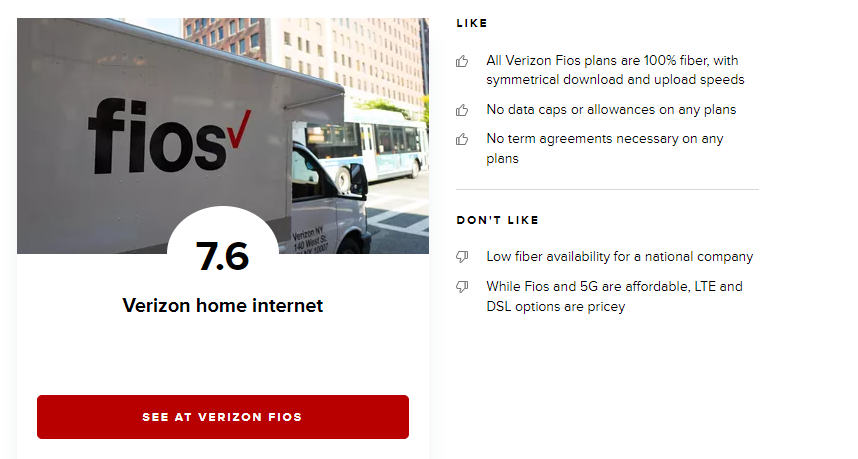 If you live within Verizon's East Coast footprint and Verizon Fios is available at your address, its internet service is tough to beat. If you're outside that area, you may have some form of Verizon home internet service available to you. But you'll need to make some tough side-by-side comparisons to find what's truly best for your address (keep reading, because we can help with that).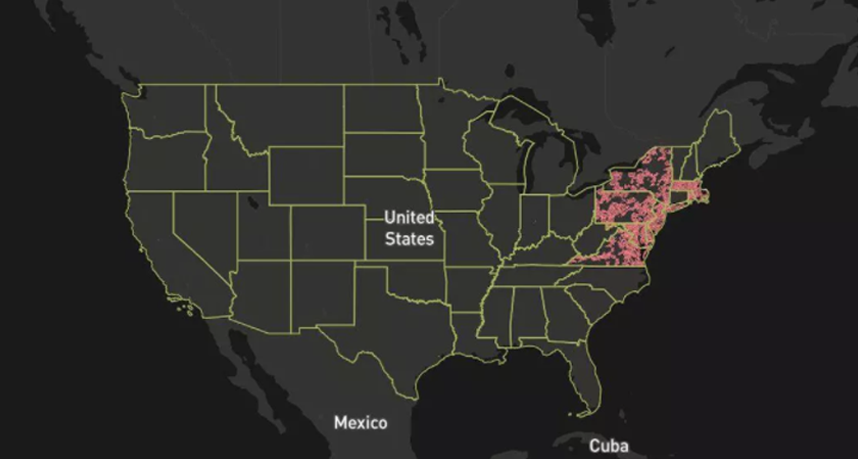 Here's where you can get Verizon internet service
Availability for Verizon Fios is solely in eight eastern states — Delaware, Maryland, Massachusetts, New Jersey, New York, Pennsylvania, Rhode Island and Virginia — and Washington, DC. You can use the Verizon availability checker to see if Fios is available at your address.
Verizon is also aiming to expand the availability of its 5G Home Internet service across the country. As of mid-January, Verizon 5G Home is available in approximately 900 cities and 20 million households.
Available internet plans with Verizon
Verizon Fios, which is 100% fiber-optic, offers three different plans
Verizons High Speed Internet, a DSL service, provides options for those outside the Fios network in the Northeast
Verizon LTE Home Internet is available in select markets in 48 states
Verizon 5G Home Internet is currently available in 900 cities across the US

Verizon's Fios service is the easiest to understand. There are three different tiers — 200, 400 and Gigabit — except in the New York market. Where the three offerings are 300, 500 and Gigabit. Unlike many other providers, Verizon doesn't offer a promo rate that expires after 12 months, causing your bill to go up. That's a good, straightforward approach — even though that also means. Verizon reserves the right to adjust its rates at any point.
That said, I wouldn't be concerned about the lack of a contract and how it might impact your Fios rates. For example, Verizon's Gigabit Connection for $90 a month is quite competitive. It would take an extremely dramatic price hike to lose its value. Case in point, that plan could undergo a 40% rate increase and still be cheaper than Spectrum's regular monthly gigabit price.
Also, a Verizon spokesperson told CNET regarding potential rate changes that "there's no timetable for changing rates and if/when we should do so. All changes are clearly communicated to customers in advance," with 30 days' notice as a minimum lead time.
Finally, as Fios is a fiber-optic network, it delivers near symmetrical download and upload speeds. Meaning you're going to get close to the same upload speeds as your downloads. If you're more accustomed to asymmetrical cable internet (where the upload speeds on a 200-megabit-per-second plan might only go as high as 10Mbps). You know how dramatic a difference that can make. This is particularly important at a time when many more people are working and schooling from home. Those upload speeds (which are crucial for videoconferencing and transferring large files) become more and more critical.
Bring your home up to speed with the latest on automation, security, utilities, networking and more.

Not all addresses within Verizon's availability map can get fiber service. In fact, according to a December 2020 report from the Federal Communications Commission — the most recent data on record — just over 64% of Verizon's potential customer base is eligible. That same report shows that 87% within Verizon's footprint qualify for its High Speed Internet, a digital subscriber line service. DSL uses traditional copper telephone lines to deliver the internet to your home. Still, unlike the older dial-up technology, it uses dedicated, higher frequency bands than phone lines, so you can still make calls while you're online.
However, DSL doesn't deliver anywhere near the Fios plans' speeds, and Verizon's DSL service. Also uses asymmetric technology, emphasizing download over upload speeds. As such, expect the download speeds with Verizon DSL internet plans to range from 1-15Mbps. Based on how close your home is to its closest office, for $75 a month. That includes a phone connection/voice service required for DSL. Additionally, customers must purchase a router from Verizon (a $30 one-time charge) or use their own Verizon-compatible device.
Finally, while Verizon calls this High Speed Internet, it's important to note those speeds do not meet the FCC's qualifications for broadband speed of at least 25Mbps download and 3Mbps upload (which we think is more like the bare minimum for most circumstances).

Verizon's LTE Home Internet uses the Verizon 4G LTE cellular network to connect to the internet in areas. Where no other Verizon broadband options — Fios, DSL or 5G Home Internet — are available. Currently, per Verizon, that's 189 markets in 48 different states.
As for what users should get with LTE Home Internet, customers should expect to see download speeds of 25 to 50Mbps, with approximately 4Mbps upload, per the Verizon LTE FAQs.
Verizon LTE Home Internet is $50 a month (if you use Auto Pay) and you can get up to 50% off with qualifying Verizon wireless plans.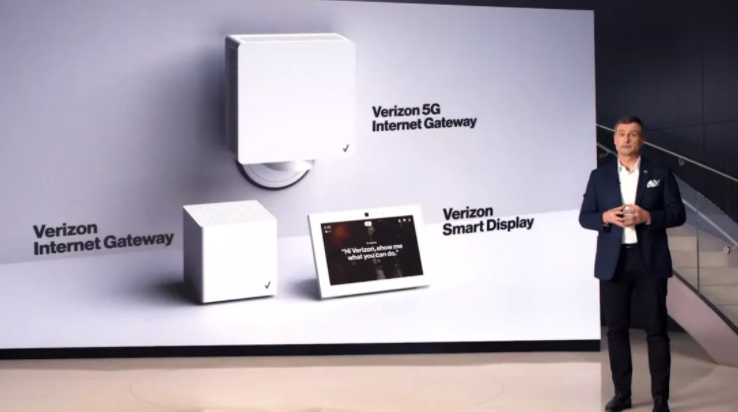 Verizon's 5G internet service, which uses ultrawideband 5G technology, is available in 900 cities across the country. It advertises max download speeds of up to 1 gigabit and an average 300Mbps. Upload speeds, however, are not symmetrical, typically topping out around 50Mbps, depending on one's location.
Verizon 5G Home Internet pricing is $70 a month for a two-year price guarantee or $50 a month to lock in the rate for three years. Either way, it's an all-in price that includes equipment, and like all other Verizon plans, there are no contracts or data caps.
When will Verizon be available in my area?
Beyond the services available in its Northeast market, Verizon is also carving out other options for customers across the country. Last year, Verizon shared with CNET that its 5G home internet service will be available to 15 million homes. It surpassed that number when it flipped the switch on 5G Ultra Wideband in January. The company also aims to expand its fixed wireless internet services to 30 million homes by the close of 2023 and 50 million by 2025.
Other aspects of Verizon Internet you need to know
No contracts are required for any Verizon plans. There are no data caps, either. But just as your mom taught you to always look under the hood, it's still never a bad idea to dig in a bit to get a better idea. What it is you're buying before you commit to any possible internet service.
Additional monthly fees
Depending on the plan you choose, you'll be charged a monthly equipment fee. There's a $15-a-month router charge for Fios plans, but that gets waived. You sign up for the Fios Gigabit service. If you don't have that top-tier Fios plan, you could also avoid that monthly charge by buying the Fios Router outright for $300 or by using your own router. Just make sure it's compatible with your plan and speed.
As we mentioned above, DSL customers must get a home phone plan. Which means there's a one-time $30 charge for buying a router. You can avoid that fee if you have a compatible router. On the other hand, Verizon LTE and Verizon 5G customers don't have to pay for their equipment. As everything comes included in the monthly price.
One-time installation fee
Again, your setup charge will depend on the type of Verizon plan you select. If you choose Fios, your setup charge will be $99, which is waived if you order online; the activation fee for DSL is $30 and is also waived if you order online.
No Verizon data caps
Unlike Cox, HughesNet, Xfinity and some other ISPs, Verizon does not place a data cap on customers. Therefore, you won't need to worry about overage fees or slowing your data once you hit a certain threshold.
Verizon promotions and special deals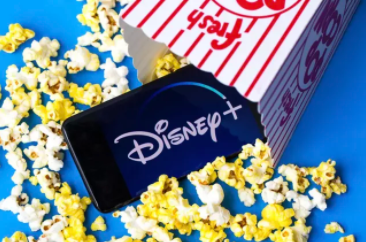 Verizon can lean into the fact that you're not required to sign a term agreement, which means no early termination fees or getting stuck with a service you've either outgrown or need to downsize. But there are also many offers to help sweeten the deal for potential customers.
New Verizon Fios subscribers will receive complimentary subscriptions to Disney Plus and AMC Plus for a year. That's a total value of $17 a month for 12 months.
If you're a new Verizon Fios Gigabit customer, you'll earn a $200 Verizon gift card if you sign up by February 10, 2022. New Fios 400 customers will get a $100 Verizon gift card and Fios 200 customers will receive a $50 Verizon gift card.
Also, with all Fios plans, there's the opportunity to save up to $20 a month if you combine your internet signup with enrollment in Verizon Unlimited Wireless.
Last, Verizon also offers Fios Forward, making the same three Fios plans available to households who qualify for financial assistance (for example, those enrolled in the federal Lifeline program). Through this program, customers might be able to save $20 a month on Fios plans.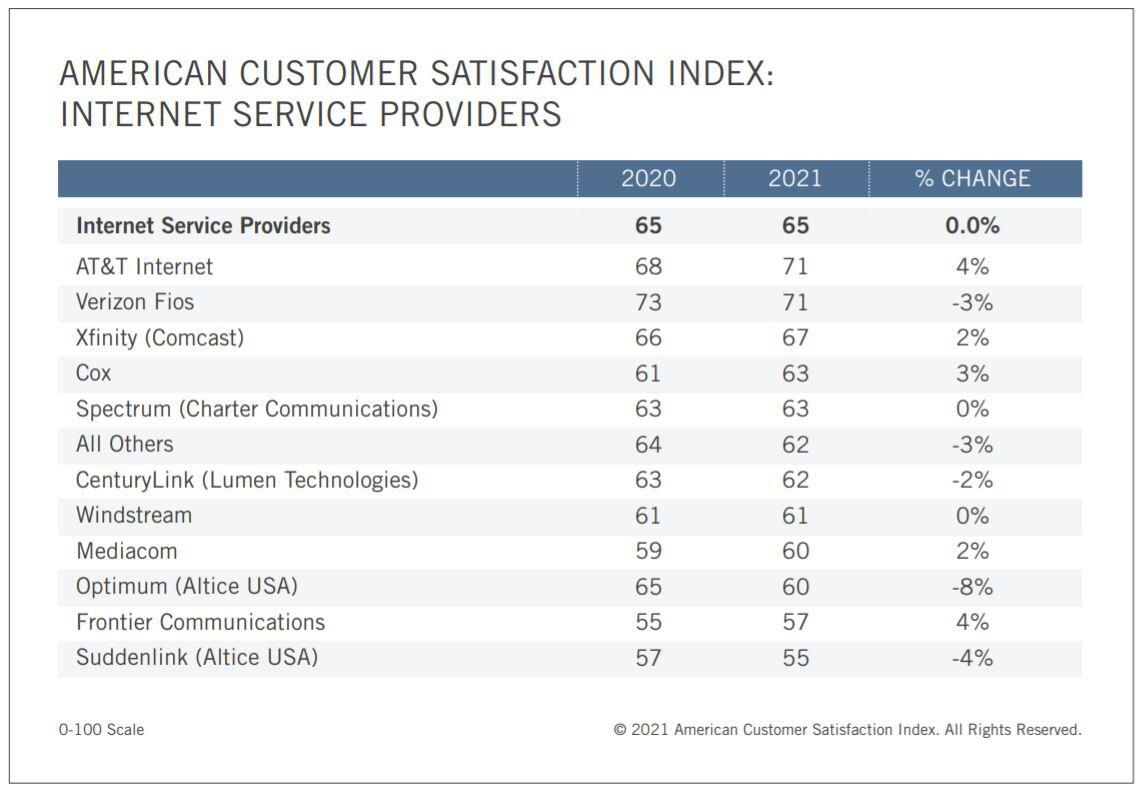 Verizon Fios flies high in customer satisfaction ratings
Verizons has consistently been at the top of customer service metrics for most of the last decade. When you look at the 2022 American Customer Satisfaction Index numbers, it was again in the No. 1 spot — although it finished in a tie this year with competitor AT&T, each scoring 71 points out of 100. 2022 was also the first time in over four years that Verizon's numbers were down from the previous year, albeit by just two points. Still, that marks six years running that Verizon has been at the top spot in ACSI's ISP benchmarks.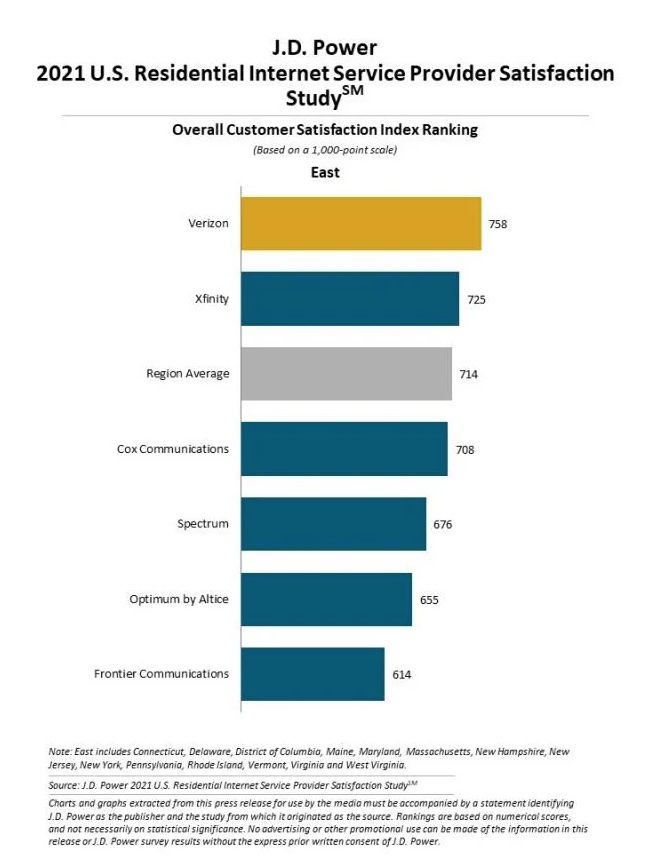 In addition to that, Verizon currently holds the top overall average score in J.D. Power's latest ISP customer satisfaction ranks. However, it's worth pointing out that Verizon was only scored in one out of four regions. In that region, the East, Verizon finished commandingly in first place, scoring 758 points on a 1,000-point scale. That put the company well above the region's average of 714 and earned it the highest score across the entire country. Indeed, Verizon has captured the top spot in the East region of J.D. Power's study for nine years running.
The speed-testing website Ookla tracks ISPs based on a scoring system that looks at both download and upload speeds. Based on the most recent Ookla tests from the third quarter of 2022, Verizon captured the top spot over Cox, with Xfinity, Spectrum and AT&T trailing by a fair amount.
Similarly, Verizon took first place during that same period with the lowest latency among top providers. The only surprise came in Ookla's Consistency Score category, which measures how often an ISP delivers broadband speeds to its customers. There, Verizon placed third with a score of 88.8%, trailing Xfinity's 89.8% and Spectrum's 89.6%.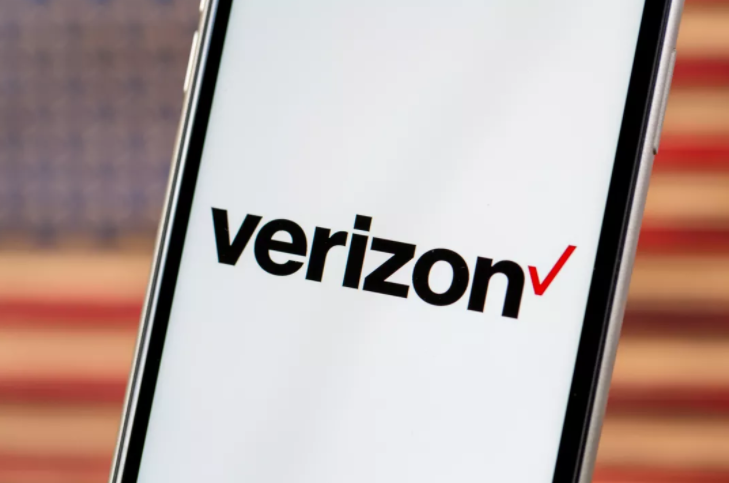 What's the bottom line?
Verizon can boast that its Fios service is 100% fiber — and as internet connection types go, it's tough to beat fiber. On top of that, Verizon can turn to its high customer satisfaction ratings and shout about its consistency at the top of those charts. All true. But the availability of Verizon's fiber plans is mainly limited to those in the Northeast. The company's DSL plans are nothing exceptional, and there's still a large portion of people across the country to whom Verizon isn't available at all.
Verizon's 5G and LTE home internet expansion aims to bridge that gap and is well worth keeping an eye on. Especially as things appear to be moving relatively fast now that 5G Ultra Wideband has been unveiled. Until then, Verizon Fios is a top-notch option for getting online. But if it's not available in your area, the question is moot.
VERIZON INTERNET FAQS
What is Fios?
Fios refers to Verizon's fiber-optic internet service, which features three different speed tiers — 200, 400 and Gigabit Connection. One of the appeals of this service is similar upload speed as your download speed. Verizon also offers other options for home internet service — DSL, LTE, 5G — but none of these are considered Fios.
Can I get Verizon Fios in my area?
The Verizon Fios service is only available in the Northeast. If you want to determine if Fios is available at your address, you can check the Verizon availability checker.
If you want to explore its other internet options, you can call 800-225-5499, though Verizon advises that the quickest option is to use its Chat now feature on the Verizon contact page.
Does Verizon Fios service include a router?
If you choose Verizon's gigabit plan, the router rental is included in your monthly fee. All other Verizon Fios customers will be charged an additional $15 a month for a router. There are two ways to avoid this charge. One way is to use your own Verizon-compatible router. The other way is to buy the router upfront by paying a $300 one-time fee at the beginning of your service. That may seem steep, but if you plan on keeping the service for two years or more. You'll save money in the long run.
Verizon 5G Home availability expands to 900 cities
The carrier's launch of C-band 5G brings its fixed wireless home internet option to hundreds of new cities and millions of potential customers.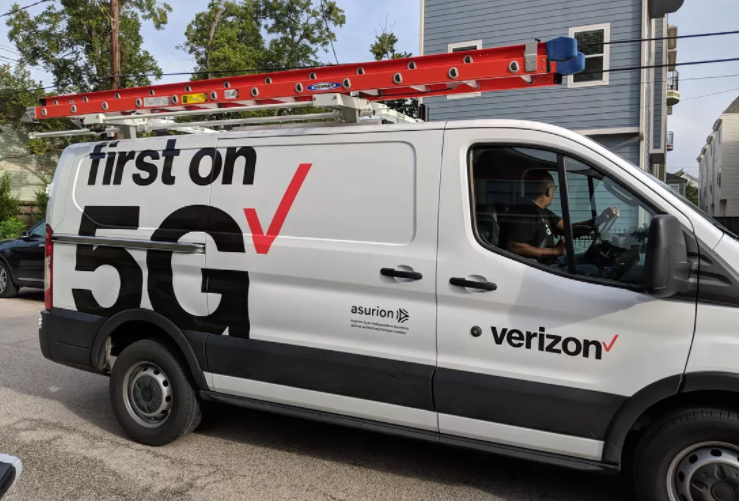 Verizon's 5G Ultra Wideband network, which launched Wednesday with the carrier's rollout of C-band frequency usage. Broadened the availability of its 5G fixed wireless home broadband product. In December, Verizon 5G Home Internet was available in 65 cities. Today, that number has jumped more than tenfold.
"With this expansion, we're talking approximately 900 cities now," Brian Danfield, vice president, Commercial and 5G Strategic Planning, told  CNET about the Ultra Wideband launch. "It's available in a lot more places. The narrative changes, and it's a different dynamic."
Verizon 5G Home's availability in 900 cities is a significant jump that catapults it past T-Mobile Home Internet. Which is currently available to just over 600 cities nationwide. That said, T-Mobile's service is still open to more total households. It launched with availability to over 30 million homes. While Verizon's fixed wireless internet is now available to 20 million households.
"We think people are looking for other choices," said Danfield, pointing out that Verizon wireless customers can try 5G Home for half off. "We want to be that. The want to disrupt in this space."
Danfield added that the current expansion of 5G Home and its existing LTE fixed wireless solution is all part of working out a national broadband offering to consumers that extends well beyond the reach of Verizon Fios. Its fiber internet service available primarily in the Northeast.
"What we've committed to, and what we're still working toward, is by 2025, we are going to cover 50 million households," Danfield said. "Certainly, we will aspire to do that even sooner, but that's our goal. Last year, we said we'd get to 15 million by the end of 2022, and today we're at 20 million."
Verizon 5G Home Internet features max download speeds of up to 1 gigabit and average download speeds around 300 megabits per second. Verizon 5G Home is $50 a month — with a two-year price guarantee — and Verizon 5G Home Plus is $70 a month. Which features a three-year guarantee and additional perks. There are no contracts, data caps or extra fees with either plan, and all equipment is included.