For the last few months, I've been on the hunt for an everyday dress that's breathable, comfortable, and versatile. Turns out that's a hard combination to find. All I kept hearing about was the Outdoor Voices exercise dress, which both my sister and roommate own and are obsessed with. I thought about buying it, but the $100 price tag is too steep for my liking and all of the colors I wanted seem to always be sold out.
One day while mindlessly scrolling through Instagram, I came across an ad for the Halara In My Feels Everyday Dress. It looked very similar to the Outdoor Voices exercise dress. So you can imagine how excited I was when I swiped up to check the price and found out that it's just $50, or half the price of the OV one.
A few days later, I decided to buy it. Fast forward a few months and I've barely taken off the dress—except, of course, to wash it. Is it the best thing I've bought in 2021 so far? I say yes.
What I like about the Halara exercise dress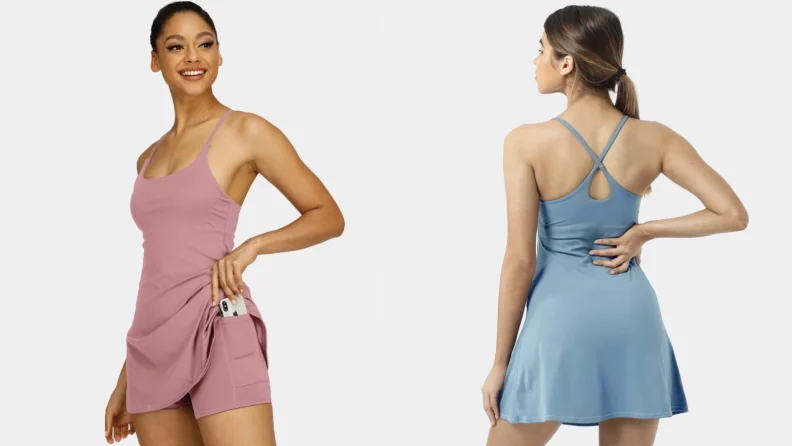 The dress comes in women's sizes XS to 3XL and in a selection of solids, including summer-friendly colors, from pale blue to coral to seafoam. As a first-time buyer who likes to stick with the classics, I chose "Midnight Adventure," which is just a fancy name for black. I ordered my usual size large and found that it fits true to size. The dress is made of a thick and stretchy nylon/spandex material that feels as sturdy as it does soft. At first, I was surprised by how thick it was—I expected something more lightweight because it's a sportier style of dress. However, after walking—and sweating—in the hot Florida sun, I noticed the fabric dried very quickly.
My favorite feature of the Halara dress is the built-in shorts. Which was what drew me to the Outdoor Voices exercise dress in the first place. The shorts are just long enough to cover my upper thighs and prevent any uncomfortable chafing, yet short enough that they don't peek out from under the dress. I can move, jump, or go on a breezy beach stroll without worrying that a sudden gust of wind could leave me exposed. The shorts also have two pockets that that are big enough to comfortably fit a smartphone.
As a busty gal, going without a bra always feels like a bit of risk, no matter how secure an article of clothing claims to be. For this reason, I appreciate that the Halara dress has a "low-support" built-in bra. It doesn't suck you in like a sports bra but it provides some lift and compression for everyday activities. The bra comes with removable pads, so you have the option of adding more shape.

I've worn this dress to dinner with sandals and with sneakers to take my dog out for a walk. It's become my go-to for outdoor summer activities and easy to dress up or down. Seriously—I could wear this dress to any occasion as long as I accessorize accordingly.
What I don't like about the Halara exercise dress
There is one critical thing missing from this dress: adjustable straps. The dress fits me great, let's be clear. But it would have fit me even better if I could tighten the straps to provide extra lift and support in the chest area. (To be fair though, Outdoor Voices only recently incorporated adjustable straps into the design of its exercise dress after an overwhelming amount of negative feedback from customers.) So Halara, if you're reading this, please do me a solid and update the Everyday dress to include the same.
Is the Halara exercise dress worth buying?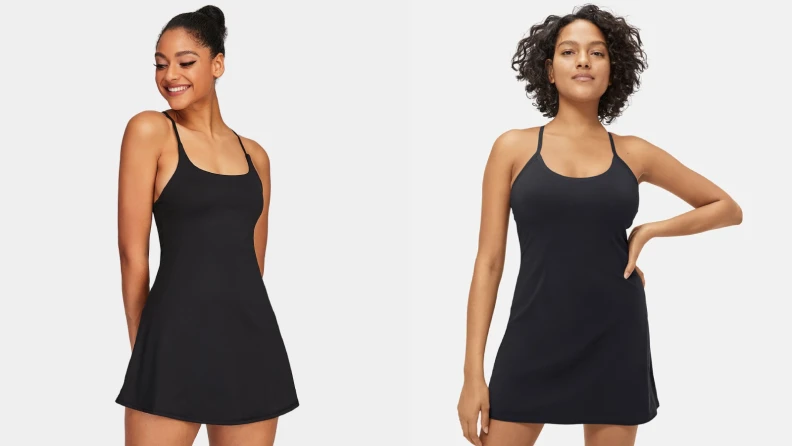 Is this a dress you're going to run a marathon in? No. Can you play a game of tennis in it? Maybe. Will you wear it to take a casual walk around the neighborhood, go grocery shopping, or meet up with your friends at the brewery? Yes. According to Halara's website, the dress "designed for low-intensity recreation and all-day comfort,". In my experience, it more than delivers on those two promises. It's a piece you can wear almost anytime, anywhere.
Note: The fabric is very stretchy so if you're looking for a snugger, more compressive fit, I recommend sizing down. The Halara dress sells out quickly whenever it comes back in stock so if you have your eye on it—which you should—you'll want to snag one ASAP.
Get the Halara In Your Feels Everyday Dress from Halara for $49.95
The product experts at Reviewed have all your shopping needs covered. Follow Reviewed on Facebook, Twitter, and Instagram for the latest deals, product reviews, and more.
Prices accurate at the time this article published but may change over time.