Once a hard-to-find novelty, Korean beauty (or K-beauty) is now just as accessible as drugstore staples. You can thank Glow Recipe for that. While it's currently best known for its adorable fruit-shaped skin-care products and clean ethos, the brand got its footing by creating a marketplace for Americans to shop the best products Korea had to offer. Now the company focuses solely on its own skin-care range, which takes the glow-forward philosophy of Korean skin-care routines and distills it into a smaller number of steps that are simple to follow and fun to use.
To say Glow Recipe has been a smash hit would be an understatement. It's beloved by bloggers and editors, and one of its signature Watermelon Glow Sleeping Masks is sold every three minutes. In addition to having some of the best-smelling products out there, the brand also uses no parabens, SLS, SLES, phthalates, or mineral oil, among others. Add on the Instagram-bait packaging and the fact that no product tops $50, and it's no wonder Glow Recipe is one of the brands we're asked about the most.
We had Glamour editors—ranging from obsessed fans to brand newbies—put the entire line to the test. Scroll on for our honest reviews of the best Glow Recipe products.
All products featured on Glamour are independently selected by our editors. However, when you buy something through our retail links, we may earn an affiliate commission.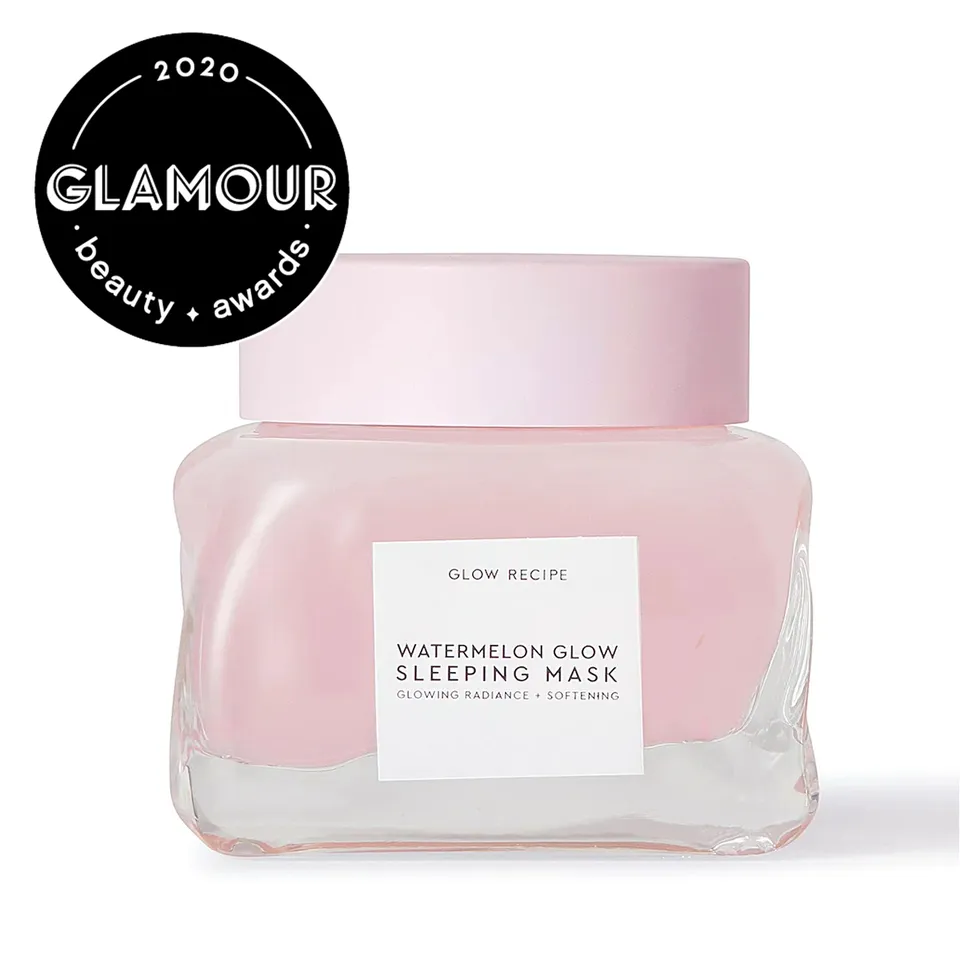 Glow Recipe Watermelon + AHA Glow Sleeping Mask
I'm not usually a huge fan of sweet-smelling beauty products, but it's truly impossible not to love the scent of Glow Recipe's watermelon line. (It smells like a watermelon Jolly Rancher!) And if there's only one product you have to try, it's this subtly plumping, gently exfoliating overnight mask—which racked up a 5,000-person wait list at Sephora after it first launched (and a Glamour Beauty Award in our Readers' Choice category). That's how strong the word of mouth is on this gem. The words sleeping mask might make you think of a thick night cream, but the consistency is more like a gel that instantly sinks into your skin. I put it on before bed, let its combo of amino-acid-rich watermelon extract, hyaluronic acid, and gentle AHAs go to work, and wake up with noticeably dewier-looking skin. —Lindsay Schallon, contributor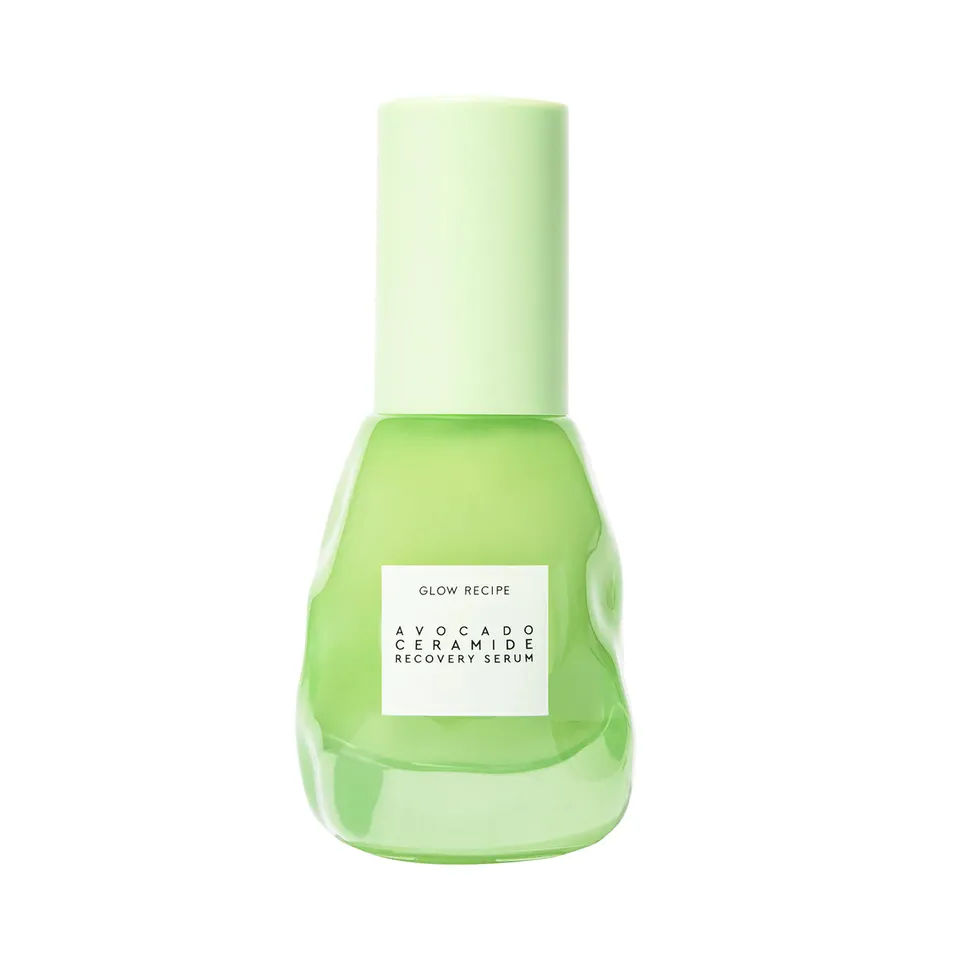 Glow Recipe Avocado Ceramide Redness Relief Serum
My skin had a total meltdown over the summer, with breakouts all over my jawline, dryness on my cheeks, and general lack of cooperation that, frankly, beautifully reflected the mood of the 2021. Applying this ceramide-packed formula was like pressing Control-Alt-Delete on my skin (sorry, Mac devotees), nurturing my skin barrier, giving flakes the boot, and calming the inflammation that stemmed from the maskne. It also has antioxidant-rich avocado to keep the free radicals at bay. —Deanna Pai, acting commerce editor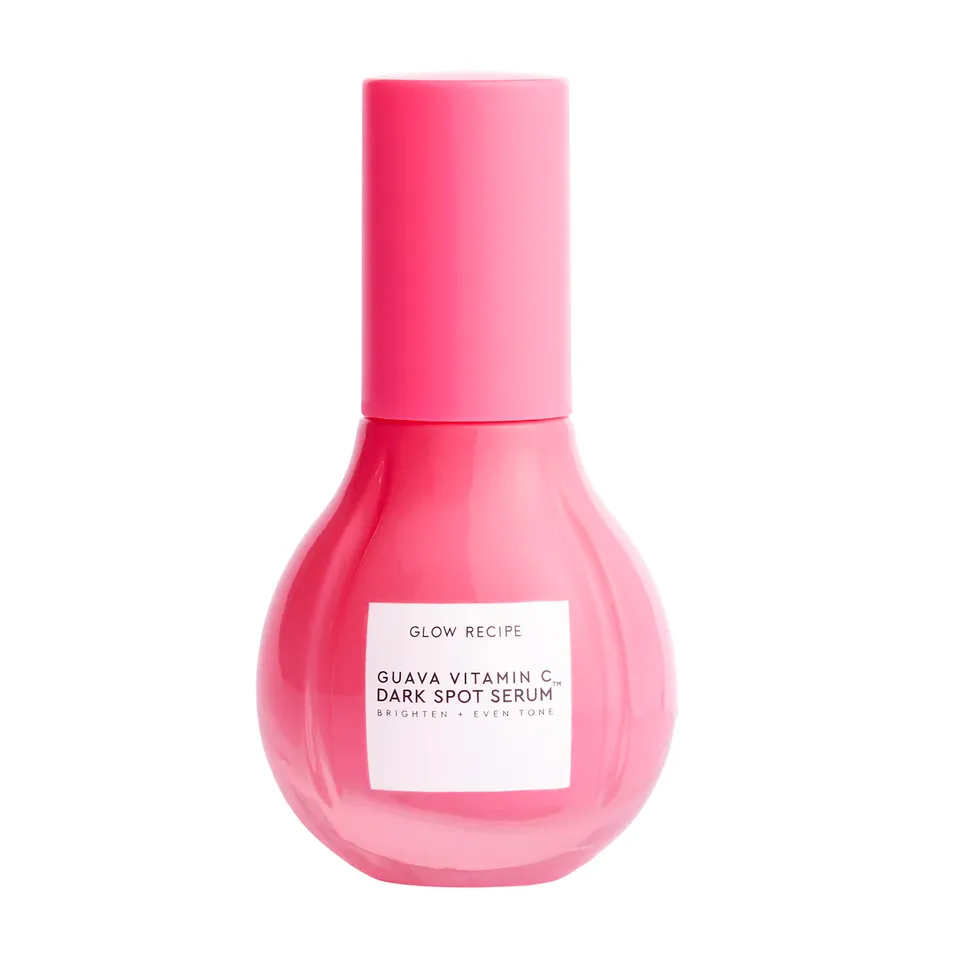 Glow Recipe Guava Vitamin C Dark Spot Treatment Serum
Dark-spot treatments tend to be too harsh for my sensitive skin, but I'm happy to report this formula is anything but. It's packed with five (!!) types of vitamin C—in both water- and oil-soluble form to minimize irritation—that work together to brighten and even out texture from hyperpigmentation or acne scars, and deliver a dewy glow overnight no matter what skin type you have. I use this once or twice a week at night before applying my moisturizer, and wake up with a face that looks noticeably refreshed. —Talia Abbas, associate commerce editor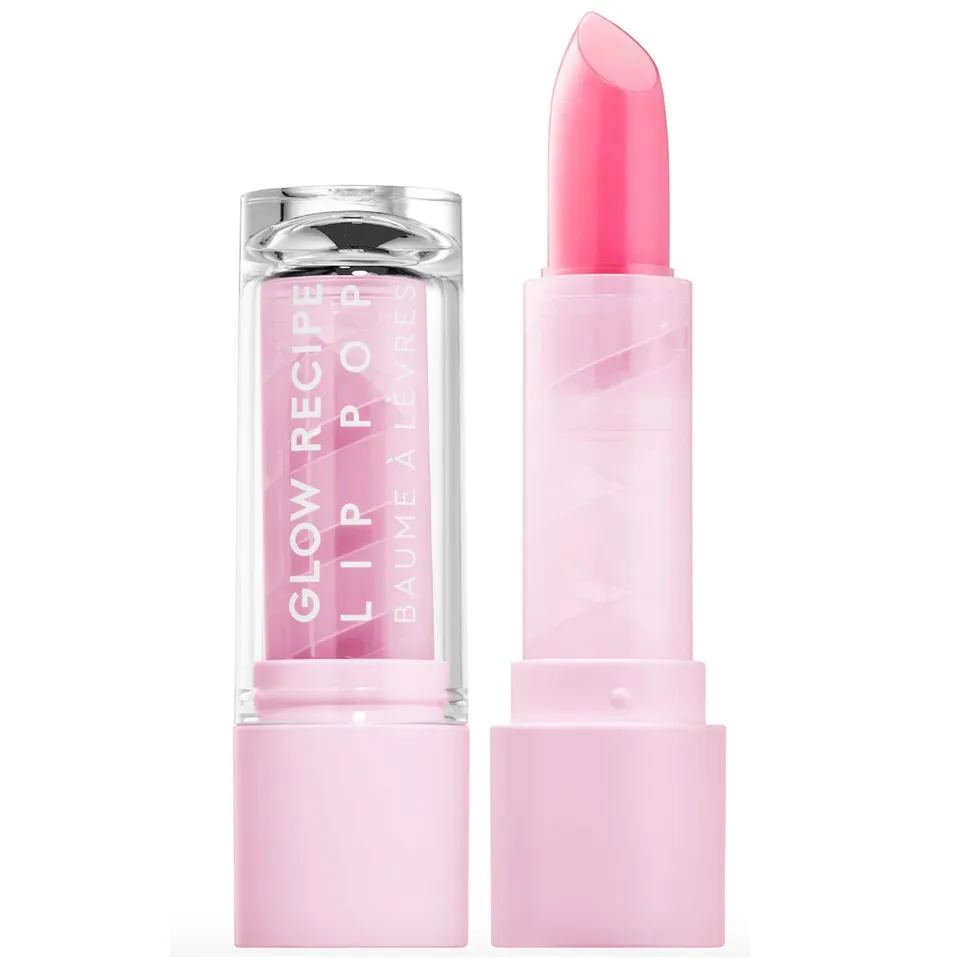 Glow Recipe Watermelon Lip Pop
I love a good lipstick but also suffer from chronically dry lips, so wearing it becomes a whole thing. This all-in-one from Glow Recipe combines lip scrub, lip balm, and tint to make it a little easier. The scrub gently exfoliates flakes before dissolving away, and the balm it leaves behind keeps my lips coated in moisture all day. My favorite part (besides the watermelon scent) is the poppy-pink tint for that perfect Popsicle flush. —Bella Cacciatore, beauty writer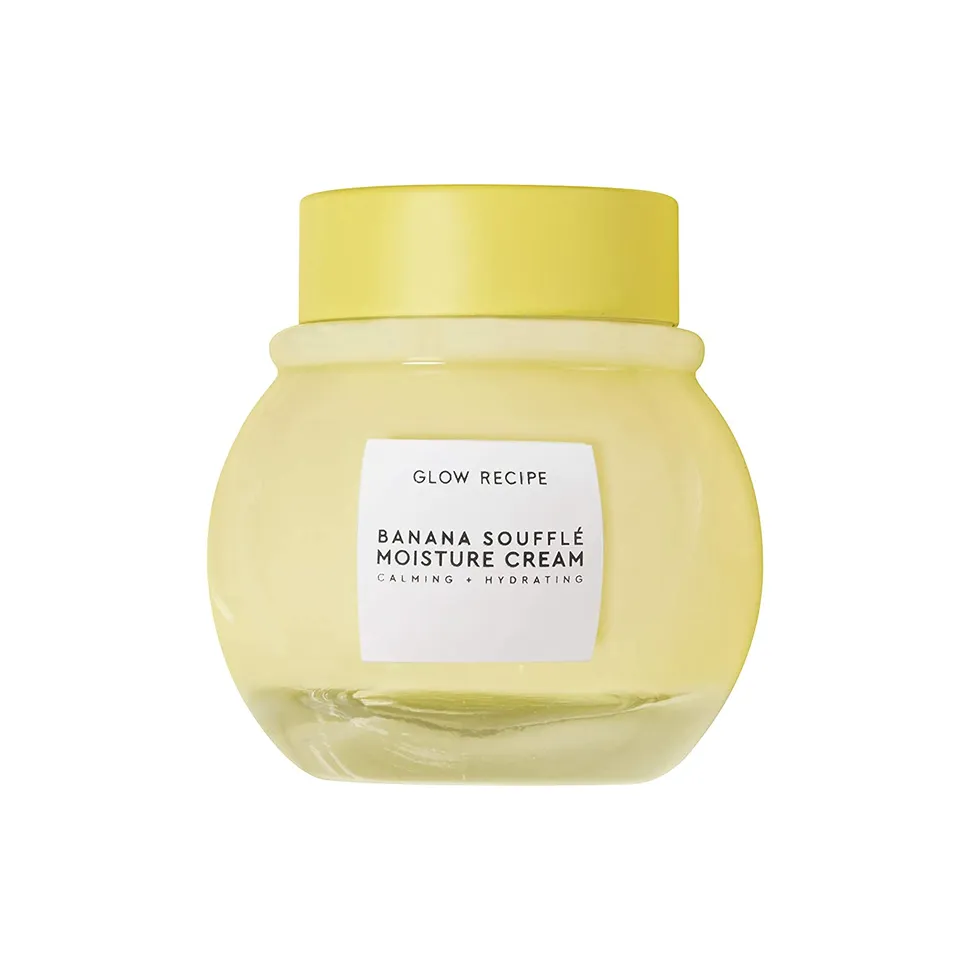 Glow Recipe Banana Soufflé Moisture Cream
If you love bakery-style banana pudding as much as I do, you will be overjoyed when you unscrew the lid of this cream and smell dessert. Even though it looks dense, it's more bouncy gel-cream than buttery lotion, which means it spreads into the thinnest of layers despite being packed with anti-inflammatory ingredients like centella asiatica and turmeric. Miraculously, it achieves the same level of hydration that usually takes me several serums to accomplish, taking my dehydrated skin from parched to plump and keeping it that way. Truly, this is how the universe intended bananas to be used. —Sarah Wu, contributor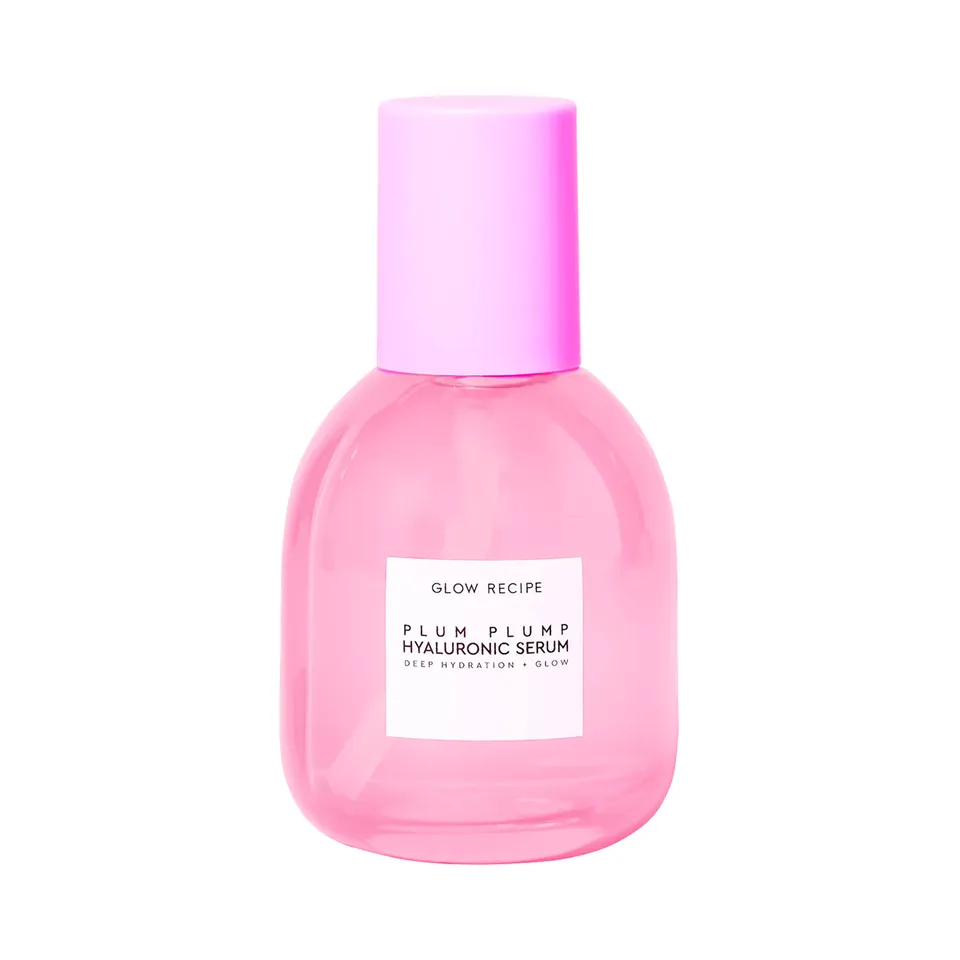 Glow Recipe Plum Plump Hyaluronic Acid Serum
At this point in my career, I've gamely volunteered to try every single product Glow Recipe has to offer. This time around I was most curious to see how Plum Plump would differ from other hydrating serums in the brand's lineup, such as Watermelon Pink Juice or Pineapple Glow. When I received the lilac glass bottle, I added a small pump to my morning routine, right after patting on toner. The faint scent—best described as an idealized, icy version of fresh plums—dissipated almost immediately, and the lightweight gel sank in just as quickly. The most noticeable difference from previous Glow Recipe serums I've tried was the dramatic plumping, smoothing effect—especially on the dry sections of skin around my nose and cheeks. A combination of irritation and overly drying acne treatments has left the lower half of my complexion in less than ideal condition, but a few days (and nights) of Plum Plump later, and you wouldn't even know it. It erased every flaky patch in sight, didn't clog my pores, and gently put me back on the path to the coveted chok-chok skin I thought was beyond my reach. —S.W.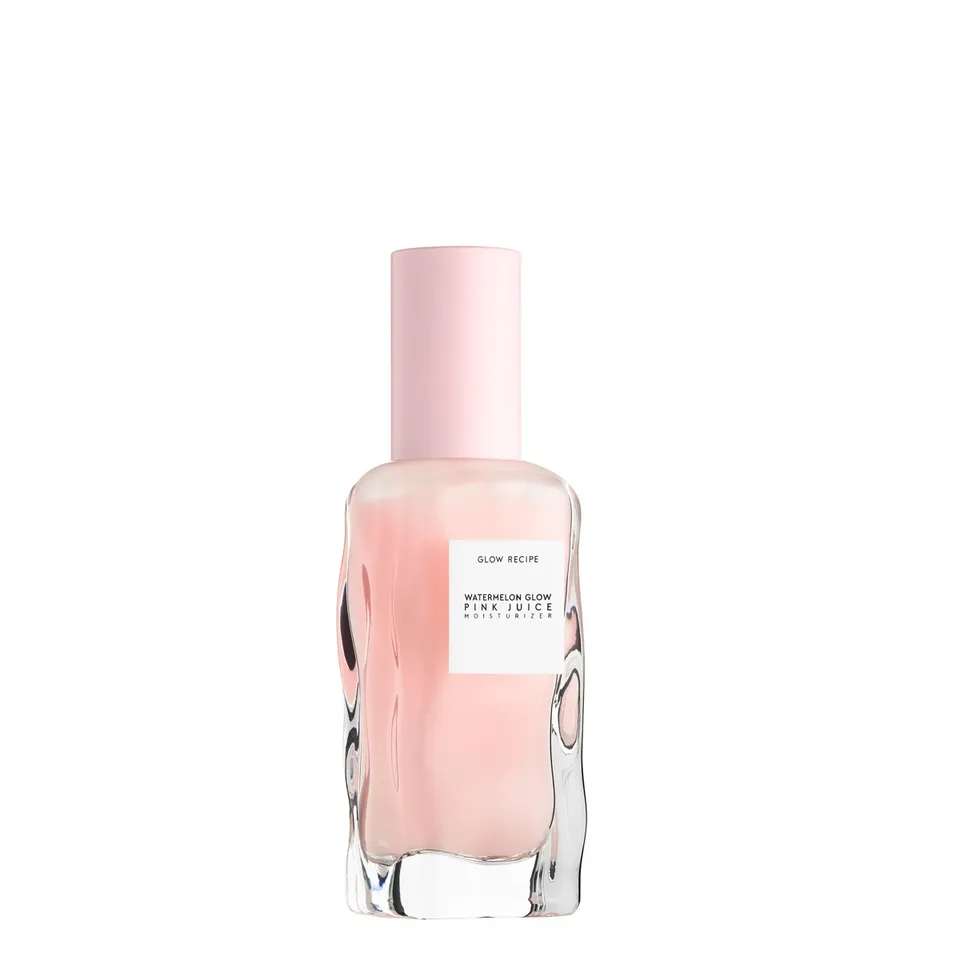 Glow Recipe Watermelon Pink Juice Oil-Free Moisturizer
It was the scent that got me in the door—light and cool, like a summer day with no plans—but the moisturizer itself that made me a true fan. It's so gentle on my dry and irritable skin, which is harder to find than you'd think. I especially love that it actually makes my skin feel hydrated all day without the need to slather on a thick or sticky cream. —Anna Moeslein, deputy editor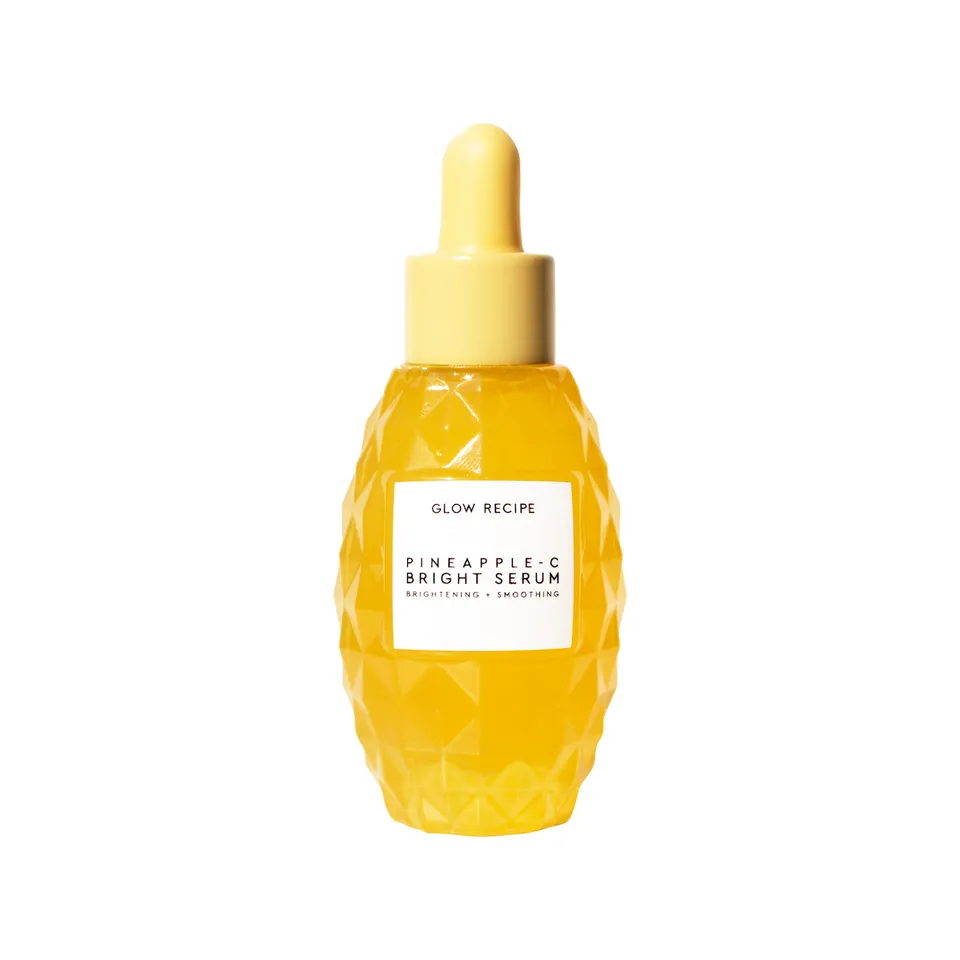 Glow Recipe Pineapple Glow Serum
Vitamin C serums are notoriously hard to formulate since the ingredient is difficult to stabilize, but this serum has three different forms to maximize its stability and potency. It also has AHAs to gently exfoliate and is paired with hydrating and soothing ingredients so it's not too drying. After a few weeks of regular use, I noticed a brighter complexion, reduced hyperpigmentation, and pores that appear smaller. It's gentle enough that it hasn't triggered my rosacea or caused any dry patches to crop up. Plus, the sunny golden hue and irresistible scent are half the reason I willingly get out of bed on weekdays. —S.W.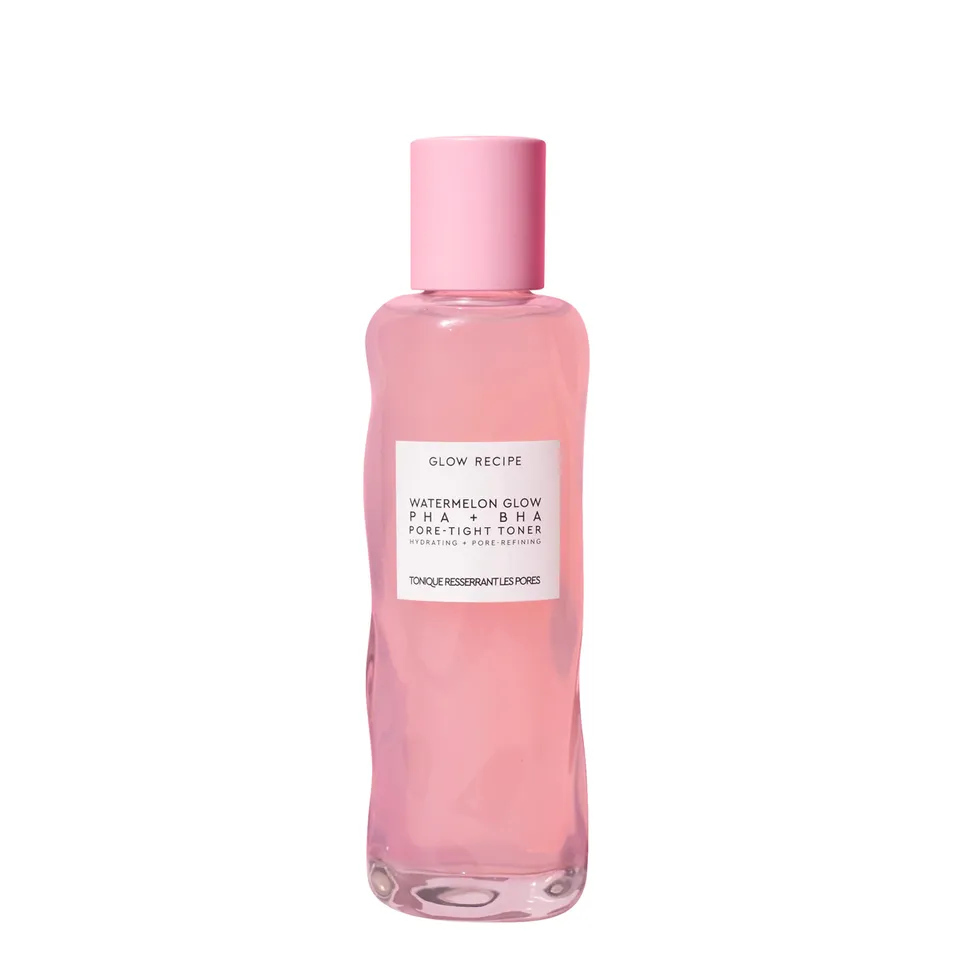 Glow Recipe Watermelon Glow PHA+BHA Pore-Tight Toner
This all-in-one hydrating, exfoliating, and pore-tightening toner from Glow Recipe has truly outdone itself. With a bouncy texture (thanks to the watermelon and cactus extracts), it preps your skin for the steps to come in your skin-care regimen and smells absolutely incredible. Ever since applying this toner both day and night, my skin is soft to the touch and more radiant than ever before. Plus, the bottle looks so pretty on my top shelf. —Tara Gonzalez, contributor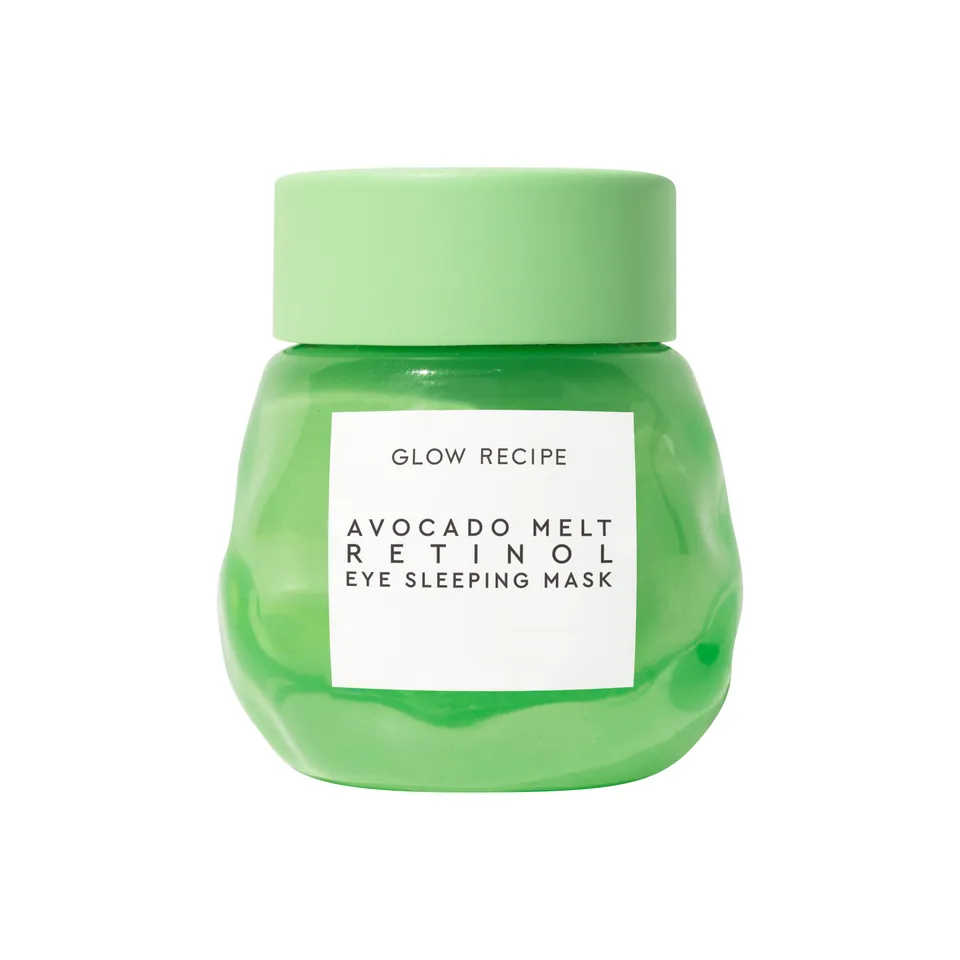 Glow Recipe Avocado Melt Retinol Eye Sleeping Mask
If the word retinol sends you running, don't be scared of this eye cream. The brand used encapsulated retinol here for gentler, slow-release results that minimize the risk of irritation and sensitivity. The idea is that you get the benefits of retinol (speeding up cellular turnover, smoothing your skin's surface, and spiking collagen production) without the stronger side effects (drying, flaking, and peeling—my unholy trinity). Along with retinol, avocado provides a brilliant dose of inspiration for the packaging (it's admittedly really cute and 95% of the reason I decided to try this in the first place), while also adding antioxidants and a soothing, anti-inflammatory effect. Additionally, there is hyaluronic acid (in two forms) and squalane, which are two of my favorite ways to receive potent hydration. What you get in the end is a formula that balances smoothing and brightening effects with plenty of moisture, so there's no risk of dryness or irritation, even with daily use. —S.W.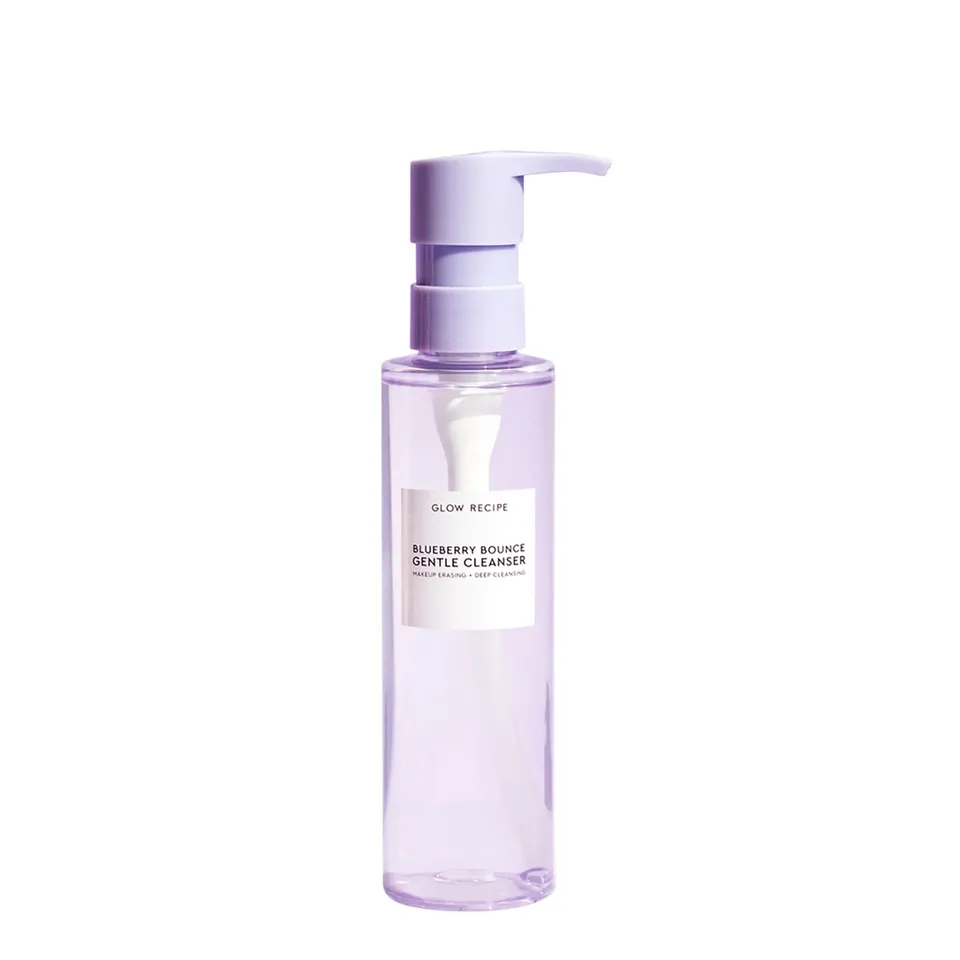 Glow Recipe Blueberry Bounce Gentle Cleanser
My skin-care routine is something I look forward to as soon as I wake up and the second I get done with work. The first step is a great cleanser, and I love this blueberry one. The texture is on the thicker side for a gel, which is ideal for removing makeup from the day, especially stubborn mascara. I also love that it doubles as a clarifying mask when you leave it on for about five minutes. A perfect two-in-one for bouncy-smooth, hydrated skin. —T.G.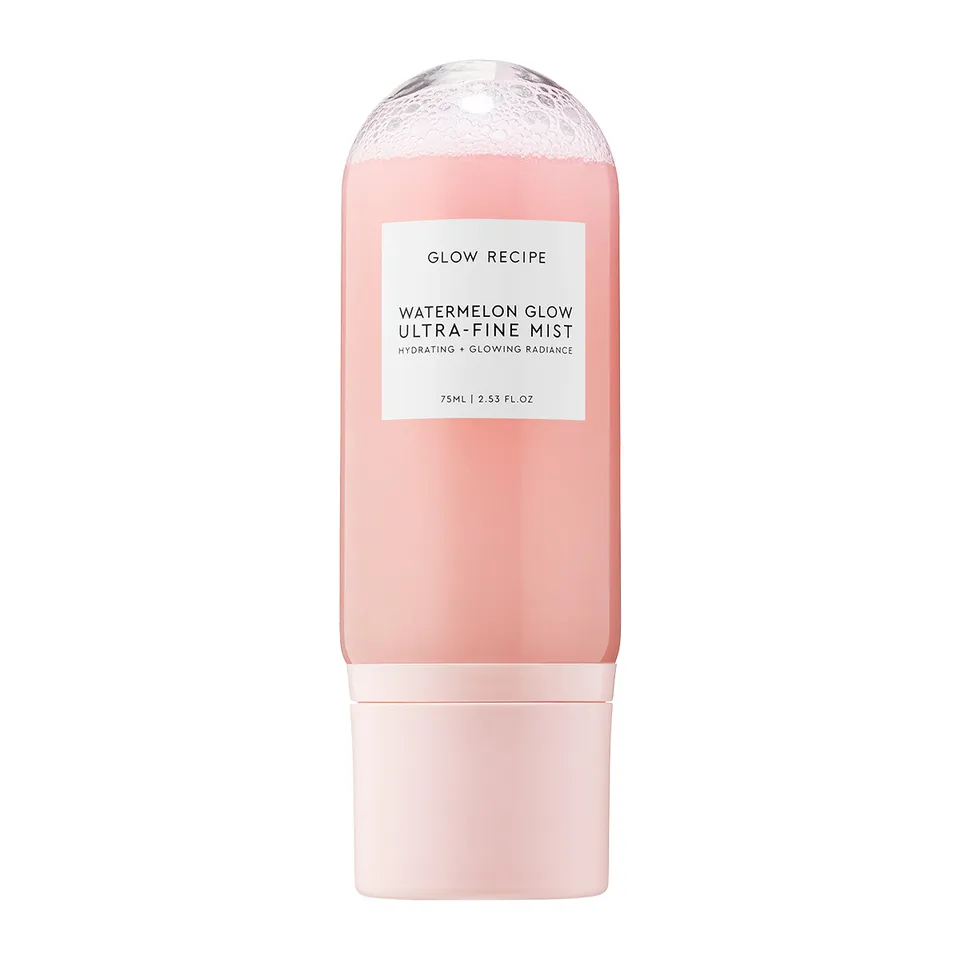 Glow Recipe Watermelon Glow Ultra-Fine Mist
I'm not a big fan of face mists—frankly, I don't see the point—but the smell of this watermelon spray is truly a delight. It's light and refreshing, and the formula doesn't feel sticky or tacky on your face. I'm not sure exactly how hydrating this mist is, but it's perfect to throw in my bag for those times when the sun gets a little too warm. —A.M.