SSLs is a trusted SSL certificate provider. SSLs are one of the most comprehensive SSL options on the web. SSL certificates from Comodo may be purchased at SSLs.com for a fraction of the original vendor price. SSLs.com offers quality 24×7 service to both new and existing clients.
SSLs are for everyone, regardless of project size or scope. They include everything from small company websites to speciality blogs managed by small teams or individuals on a shoestring budget. You won't have to pay a bunch or face a steep technical learning curve.
SSLs has an easy-to-use website. The website is simple to navigate. The website is structured into parts to allow people to learn about their products, what SSL is, and the services offered by the company.
SSls offers a wide range of certificates, from free to premium. The current level of protection provided by free SSL providers comprises basic, encryption-only Domain Validation certificates. Domain Validation certificates are fantastic goods, however free Domain Validation certificates differ from paid Domain Validation certificates in important ways.
Which Certificates to choose from Free or Paid?
Although SSls provides a free certificate, it does not guarantee security. Because of this, we prefer to use premium certificates. Branded certificates give the security, flexibility, and support that corporate websites require. Certificate lives of up to three years are available from traditional Certifying Authorities. They support wildcards, provide warranties, and help with integration.
Non-automated Certifying Authorities allow you to choose between different levels of validation, including Organization Validation and Extended Validation, in addition to basic Domain Validation. With Organization Validation and Extended Validation protection, the Certifying Authorities perform comprehensive verification of the business behind the website before granting the certificate, and they respond quickly when fraud or harmful activity is found. Support is another key issue; only paid suppliers can give full-time customer service and assistance.
When it comes to selecting an SSL certificate, SSLs offer a wide range of options. There are many certificates available depending on whether you are an individual, firm, business, or e-commerce website. They also give certificates based on the domain type and level of confidence.
Free SSL certificates are ideal for personal blogs and other simple websites that do not perform financial transactions or collect sensitive data. E-commerce sites and any site that collects customer data that requires protection and trust should, of course, employ Organization Validation or Extended Validation SSL from known and trusted CAs. These verified products provide the degrees of encryption, validation, and trust that business and commerce websites require to provide consumer security, not only encryption.
SSLs in comparison to other SSL certificate suppliers also offer the most affordable SSL certificates. When it comes to selecting a certificate, the website compares Domain Validation, Organization Validation, and Extended Validation. This kindness can be found on the site itself. They've also included information about how SSL works.
Pricing Plans of SSL Certificates
SSLs Provide a variety of printing plans to choose from, according to your site needs. The pricing plans are as follows.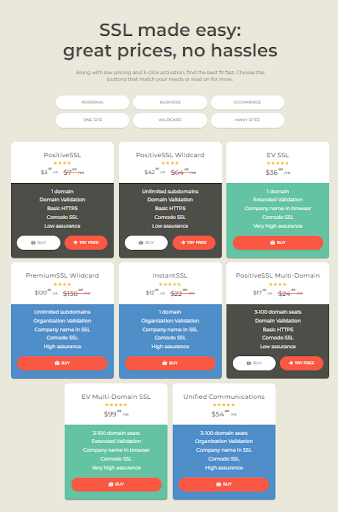 You can choose from this plan which suits your business needs. This certificate can be classified into 6 different types
Personal
Business
E-Commerce
One Site
Wildcard
Many Site
Depending upon your business needs and you can select any of these types and get the SSL certificate you want for your business.
Here you can see the comparison between the SSL certificate websites and SSls.