Started in 1997, Liquid Web has become the leader in managed VPS hosting, managed cloud hosting, and dedicated server hosting. They are famous for their fast and high quality support, known as 'Heroic Support'. All Liquid Web hosting servers are highly tuned for speed, performance, and security making it a completely hassle-free hosting solution. Their WordPress hosting option includes staging sites, automatic updates, and an intuitive dashboard to manage all your sites in one place. There's a reason why top companies like Motorola, Red Bull, ESPN, Audi, and FedEx use Liquid Web.
Liquid Web Review From Our Experts
Liquid Web specializes in providing managed VPS hosting, managed cloud hosting, and dedicated server hosting. They're famous for their Heroic Support, with lightning fast response times and skilled support staff. See our expert Liquid Web review to decide if it's the right choice for you.
About Liquid Web
Founded in 1997, Liquid Web now provides managed web hosting for over 30,000 clients in more than 150 countries around the world. They serve many recognizable big name brands including Motorola, Red Bull, ESPN, and United Way.
Liquid Web is headquartered in Lansing, Michigan, where they own three of their own data centers. They also have additional data centers in Chicago, Dallas, Phoenix, and Amsterdam.
Liquid Web Hosting Plans
Liquid Web specializes in managed hosting with stellar support. They offer fully managed dedicated servers, VPS hosting, cloud hosting, and managed WordPress hosting. They also offer enterprise and custom solutions.
Their premium managed WordPress hosting is optimized specifically for WordPress and tuned for speed, performance, and security. Unlike other managed WordPress hosting providers, there are no limits on the number of visitors you can have or the plugins you can use.
Liquid Web's Managed WordPress hosting comes in three tiers: Personal, Professional, and Agency. They differ based on the number of websites you can host. All plans include:
pre-installed WordPress
automatic WordPress updates
automatic backups and one-click backup restores
choice of Liquid Web's WordPress Dashboard, iThemes Sync Pro, or cPanel with WP-CLI/SSH Access
one-click staging sites (available with the WordPress dashboard only)
free SSL certificates
free migration
For cloud hosting, you can choose from fully managed Cloud VPS hosting, Cloud Dedicated servers, or Cloud Sites for designers and web professionals.
Liquid Web's cloud hosting plans are built on their Storm platform which include SSD drives, CloudFlare CDN, built-in backups, enhanced security, and DDoS protection.
Storm VPS Cloud Servers are customizable servers of several different sizes and configurations, all in a shared cloud environment. There are several tiers of VPS hosting available based on the amount of RAM, processing power, and disk space you need.
Cloud hosting plans also include instant provisioning and daily billing, so you can adjust your plan on the fly and only pay for what you use.
Support and Customer Service
Liquid Web promises 24/7/365 US-based Heroic Support. They have highly trained support staff available via live chat, phone, and support tickets.
Liquid Web guarantees their response time to your support inquiries. Phone calls and live chat inquiries are answered in under a minute, and support tickets are answered within 30 minutes. Staff members are trained to take ownership of your issue, so your ticket won't get passed around before being resolved.
Customers of Liquid Web rave about their amazing customer support. Support staff are friendly, knowledgeable, and quick to resolve any issue that arises.
100% Uptime Guarantee
Liquid Web reviews often mention the hosting company's outstanding uptime. Unlike most other hosting companies, Liquid Web promises 100% uptime. If they don't live up to their promise, you can receive a credit of 10x the amount of time you were down.
For dedicated server customers, they offer a 30 minute hardware replacement guarantee as well. That means that any faulty server hardware will be replaced within 30 minutes of identifying the problem.
Pros and Cons
Liquid Web is a popular web hosting company, but it may not be right for everyone. Consider these pros and cons before choosing a plan.
Pros
Speedy Hosting – All of Liquid Web's hosting plans are optimized for quick page loads. Many customer reviews mention how fast their hosting is.No Plugin Limits – Unlike other managed
WordPress hosting providers, Liquid Web doesn't ban any plugins. You can use any WordPress plugins you want on your site.
Guaranteed Uptime – Liquid Web promises an incredible 100% uptime and will offer you 1000% credit for any downtime.Heroic Support – Liquid Web's claim to fame is their stellar support.
rave about how friendly, helpful, and skilled the support staff is.
Cons
Shared Hosting – Liquid Web doesn't offer any shared hosting plans. Their target audience includes higher-traffic sites that need managed WordPress hosting, cloud hosting, or dedicated server hosting.
No Money Back Guarantee – Liquid Web does not offer any money-back guarantee. However, you're not under any contract and can cancel your service at any time. If you prepaid, you can still get a refund for any full month of service you don't use. You just have to give them notice before the month in question begins.
Higher Costs – Liquid Web's hosting plans are pricier than many cheap hosting providers, but you get what you pay for in quality of service and support.
Liquid Web Performance
The most important performance indicator is your website's speed. It not only affects user experience, it also adversely affect your site's SEO.
Studies prove that a 1 second delay in website speed can reduce your conversions by 7%. A delay of 3 second can cost you 50% of your traffic.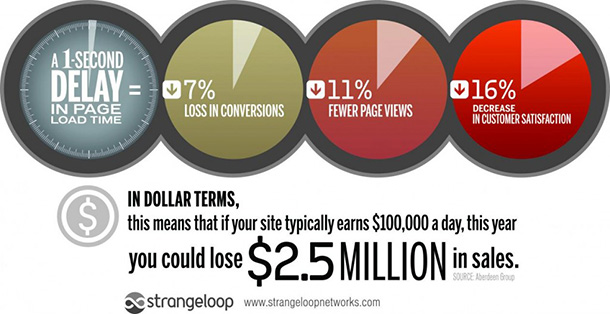 Now let's see how Liquid Web performs under through testing.
Liquid Web Speed Test Results
For a faster website you need faster hosting. To test this out we signed up for Liquid Web hosting and created a dummy test site. We used the default twenty seventeen theme and filled it with content and images so that it looks like an average WordPress site.
First, we used Pingdom to test our demo site's speed. Here are the test results: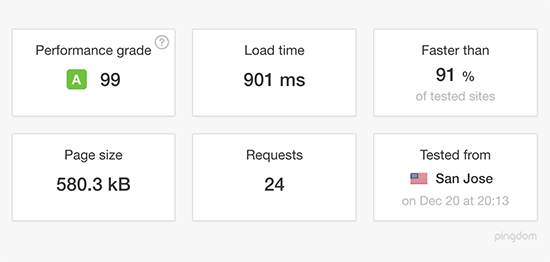 As you can see, our Liquid Web test site loaded in less than a second for a server in San Jose, California. That means our site is faster than 91% of tested sites.
After that, we ran the Load Impact test on Liquid Web servers where we gradually built up to 100 unique visitors at once to see how the server would handle increased requests from multiple connections at once.

The blue line is the number of active virtual users on the site, and the green line is the server load time. As the chart shows, Liquid Web's server load remained stable through out the test even at peak traffic.
Next, we ran response time test to see how fast Liquid Web servers respond to requests from different geographic locations.
As you can see in the results, Liquid Web test site responded with in less than a second. The response time was particularly great in the United States.
Is Liquid Web Right for You?
Now that you have read through our entire Liquid Web review, you might be wondering whether Liquid Web is the right web host for you.
After reviewing Liquid Web services in detail, we are awarding them with the title "Best Hosting Support."
Liquid Web is famous for their Heroic Support. Customers rave about how friendly and helpful the staff are, and many mention feeling like "part of the family." Liquid Web support responds very quickly to any inquiry via phone, live chat, or support ticket, and works with you to figure out and fix any problems.
Ready to get started with Liquid Web? Click here to select your Liquid Web plan today.
Liquid Web Coupon
WPBeginner users get an exclusive 69% off discount on Liquid Web + Free SSL with our Liquid Web coupon code.
All you have to do is click on this link to purchase. And use the coupon code: WPBEGINNER69OFF