BANGGOOD TEST / OPINION
I regularly buy products in China for my blog or simply for my personal needs. I was mainly buying from Aliexpress and Gearbest and I hadn't tried Banggood yet, I honestly didn't really see any advantage in buying from them rather than the sites I used to buy from. What motivated my purchase was a presale offer for a Ulefone Armor 7 which was offered at a much lower price than any other site. Since then I have discovered other offers of this kind and I have multiplied my purchases on Banggood, so I will share my buying experience as I have done for other sites and you can then share yours to help anyone who has questions about Banggood.
WHO IS BANGGOOD? WHO IS BANGGOOD?
Banggood is a Chinese company that was founded in 2006 but it is in 2009 that their first site was launched. Banggood was then a small company that grew to become a big company employing more than 5000 people, they convinced more than 40 million buyers in a couple of years. Although Banggood references more than 100 000 products, their speciality is the sale of Chinese electronic products such as Xiaomi smartphones, projectors, remote controlled toys such as Eachine drones and all kinds of other products made in China.
Banggood is quite similar to Gearbest in its commercial approach, they have a centralized approach where you have only one contact person so unlike Aliexpress, you will not have direct contact with the seller. This can be quite positive because one of the main complaints about Aliexpress is the lack of quality support service.
The name Banggood has a meaning, Bang comes from Chinese and means "good" and Good comes from English to say the same thing.
WARRANTY OFFERED BY BANGGOOD
If we had to choose a negative point for most of the Chinese sites, it would be without any hesitation the warranty because Chinese sites do not have to follow the European legislation, they can do what they want. So before buying, you should always check the type of warranty offered.
Banggood offers the following types of warranties / guarantees:
– 7 day dead on arrival warranty return: if your purchase breaks down 7 days after receipt, you can return it for free. Shipping costs will be refunded with the product refund.
– 30 days return for no reason: if you are not satisfied with your purchase and the purchased product is still in excellent condition, you can request a return but the return shipping costs are at your expense. Return costs to China are often very high.
– 180 days return for quality problems: if the product you purchased has quality problems (ex: a battery that lasts 10 minutes), you can ask for a partial refund or an exchange. Please note that some products are not covered by this warranty (ex: clothes). In case of return, the costs are at your expense.
– 1 year warranty for repair: for certain categories of products (ex: smartphone) you benefit from a 1 year repair warranty. If your product is defective during this warranty period, you will first have to prove the defect by photos and/or videos. The customer service will then accompany you for the rest of the steps but beware, this kind of discussion with Chinese sites is never very easy, you must always insist. The biggest risk with this kind of warranty is that the purchased product is not repairable, in this case they can offer you a partial refund.
Banggood applies a return and warranty policy quite similar to other Chinese sites, check the warranty before buying because sometimes the warranty is low and it is better to buy the product in Europe even if it is more expensive. Everyone will determine the level of risk he is willing to take, the price difference will certainly play a big role.
MY OPINION ON THE SITE BANGGOOD.COM
The site banggood.com looks very similar to gearbest.com, I do not know which one copied the other but the products are presented in the same way, the customer interface also has many features. The search engine works better than on Gearbest but overall, both sites work well.
PAYMENT METHODS
Banggood proposes a rather complete offer of means of payment, the site makes it possible in particular to pay your purchases with Paypal and this can be regarded as an advantage. Paypal has a very accommodating policy for its customers and thus in the event of litigation, you undoubtedly have more chance to recover your money.
WHAT I BOUGHT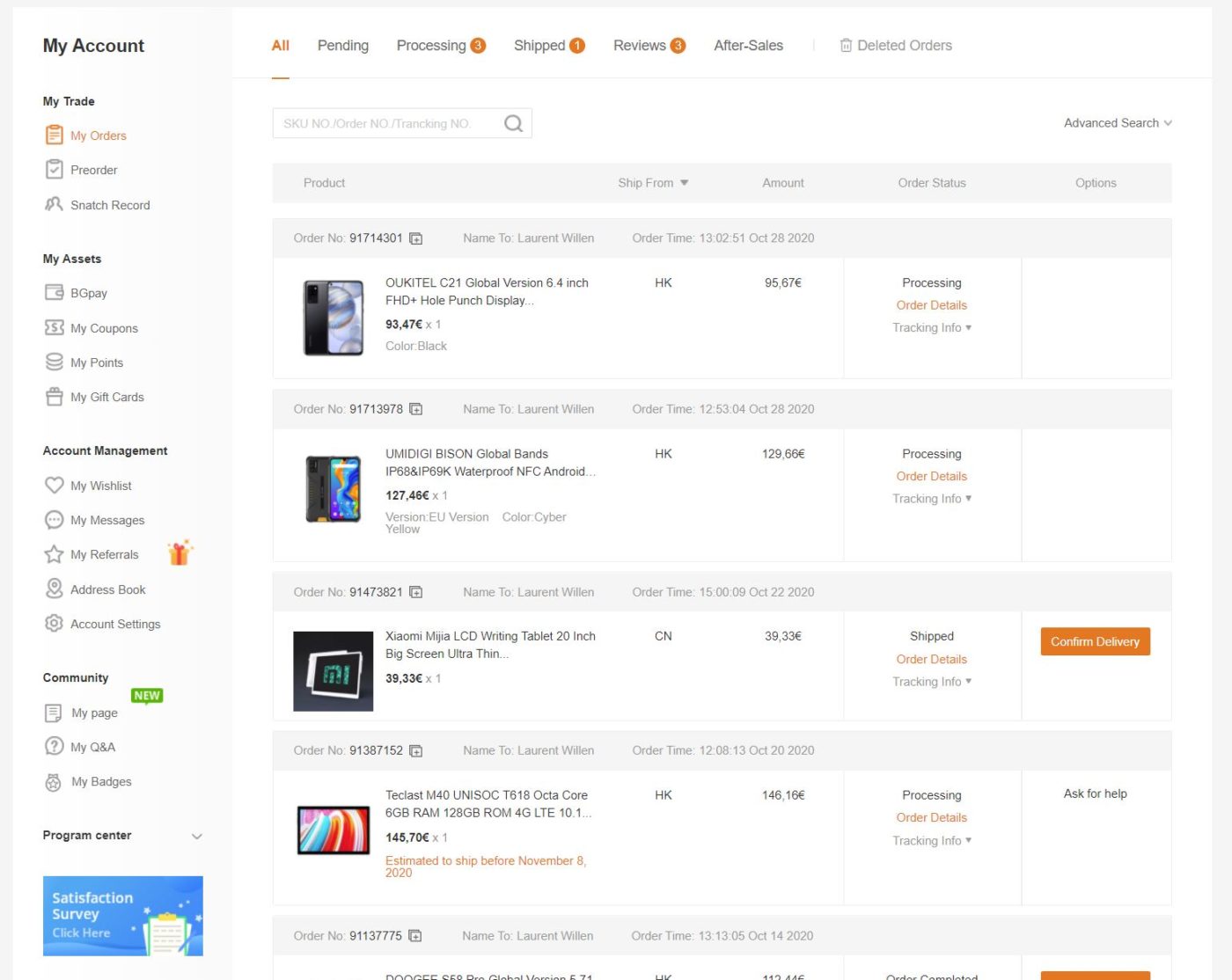 My first purchase was a smartphone, the Ulefone Armor 7, it was in pre-sale at a price much lower than other sites. This is one of the strong points of Banggood, they manage to get products in pre-sale at really interesting prices. I then bought 5 other phones, a drone, a tablet and some other products. I didn't encounter any problems with the order or the delivery.
DELIVERY TIME
I generally had a delivery time of 2 weeks with a delay of one month for one of the products I bought in presale. The products were all sent from China.
CUSTOMS FEES/DUTIES
Out of ten or so orders, I have never had to pay custom duties/fee despite the fact that the products come from China. Banggood has probably found a trick to get around the problem, other sites do the same thing and it seems to work. I think they send their products somewhere in Europe to handle the customs themselves and then they forward the package within Europe to avoid charging customs fees to the customer.
Banggood seems to be quite sure that they can avoid the customs fees because most of the products sold have an insurance to reimburse the customs fees up to 60%. I never had to use this insurance but few sites offer this kind of guarantee, it is a strong point of Banggood.
ATTENTION TO DETAILS

Banggood is a specialist in adding fees just before finalizing your order, these fees are fortunately optional but if you are not careful, you will pay a few euros more for your purchase. When you get to the summary of your order, several options will be checked by default under some products. These are often falculatitves insurances that should protect you against a problem with the delivery or that kind of thing. The amounts are quite small but they can make the difference with a competitor sit.
So far I have never accepted these options and I have never had any problems.
I have also noticed something else with the delivery charges. Prices sometimes change when you use another browser. I had several times the case where I see for example 3€ of delivery on Firefox and then by copying the same link in Chrone, the costs fell for example to 2.2€.
PROBLEMS ENCOUNTERED
After about ten orders, I didn't really encounter any problems related to the orders. I had a problem after my first order where I couldn't login to my account, I contacted customer service and I received an answer two days later, the problem was meanwhile solved. Unlike other sites like Gearbest, I didn't have to open a dispute to resolve the problem.
BANGGOOD – COUPONS / DISCOUNTS
With Banggood and most Chinese sites, it's party time every day, there is always something on promotion and their site often looks like a carnival so much they overload their page with promotional messages. There are actually two types of discounts: flash sales and coupons/promo code.
For flash sales, it's easy, everything is in the same place: Flash sales
For the coupons/promotional codes, most of them are distributed in your customer account, it's a great way to encourage you to create an account with them. In your customer account you will find a section with all your coupons. They also send a daily newsletter with the good deals of the day. Most of the time, I don't pay too much attention to it but sometimes they have interesting exclusive offers.
I will try to develop a tool to automatically retrieve the promotions.
BANGGOOD REVIEW / OPINION
Aliexpress and Amazon are the sites where I buy the most, I've been buying products on these sites for years but now that I also buy products on Banggood, things should balance out. I watch for exclusive offers and as soon as I find one that could be useful for my blog, I take the opportunity. Apart from these exclusive offers, I don't find that Banggood offers lower prices than other Chinese sites, I would say it's more or less the same.
I haven't encountered any problem with Banggood for the moment, I will update this article according to my good and bad experiences.
In summary, here are the strengths and weaknesses of Banggood
Strength
Exclusive product launches with very competitive prices
A loyalty system that works from the first purchase
20 USD welcome for your first purchases
Insurance to cover customs fees
Weaknessess
Automatic addition of miscellaneous charges at the time of the order
Delivery time from 2 to 4 weeks
Many promotional messages on the site
The home page uses the infinite scroll technique, the page shows additional products each time you scroll down. So it is very difficult to reach the link to contact Banggood.