Introduction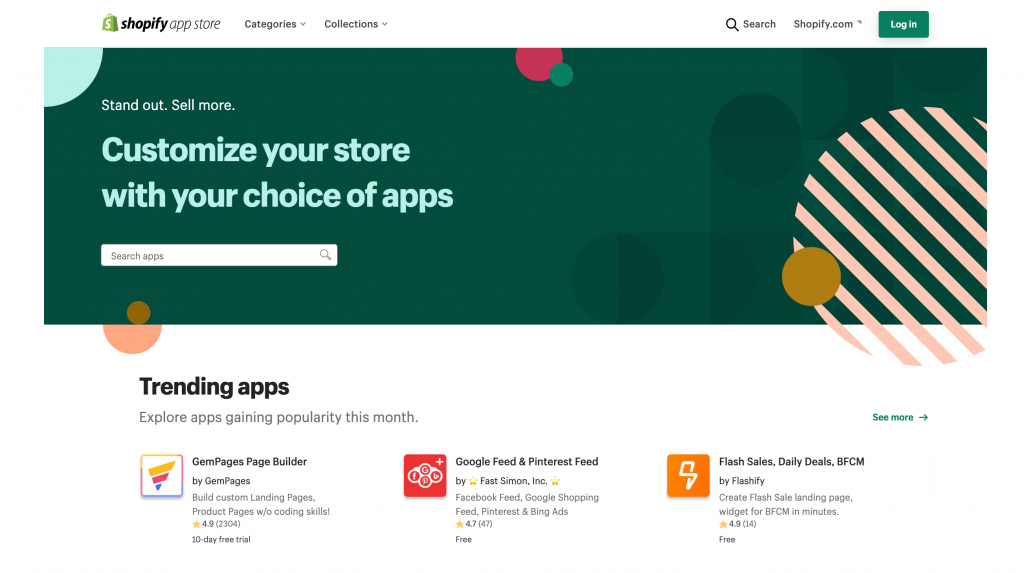 Shopify has been thriving since it was founded in 2004. Powering more than 3 and a half million live websites as of December 2021, Shopify provides users with unmatched functionality while maintaining a smooth and friendly user experience.
For that reason, we have conducted thorough research and written this Shopify review with a view to giving you profound insights into what Shopify has to offer.
What Is Shopify & Is Shopify Worth It?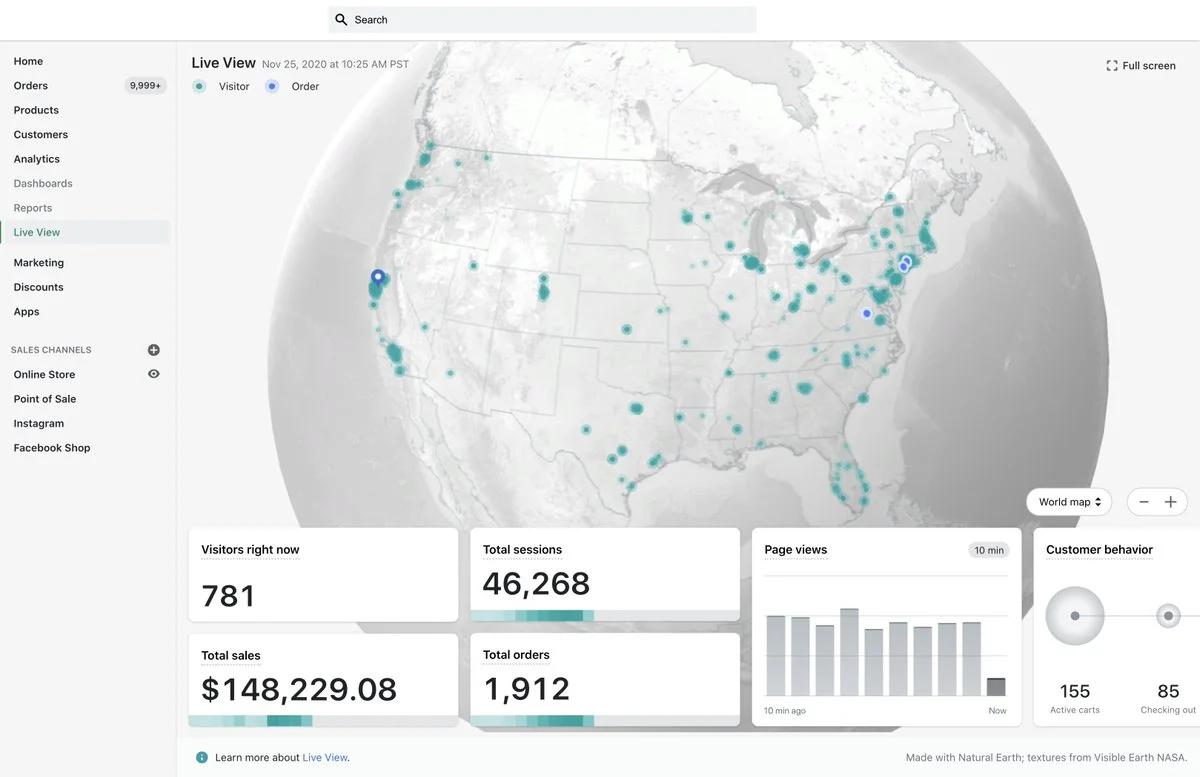 If you are tired of reading these walls of text, check out our visual Shopify review below to catch all the pros and cons of Shopify!
Shopify is a SaaS (software-as-a-service) eCommerce solution, meaning it includes everything you need to create a website. Instead of having to get yourself a host and dealing with technical stuff, you just need to go to the main website, create an account and that's basically it. You can launch your Shopify store with no bustle and hustle.
Reading this article, you can answer the question "Is the Shopify worth it?" by yourself. Then, you'll have the chance to re-confirm your thoughts and considerations by joining the "eCommerce Platform ProFitting" event, experiencing Shopify hands-on without charges
Shopify offers a 14-day free trial and you can try out this platform easily without entering credit card information. Once you decide to opt for a plan, Shopify will charge you a monthly fee, and this varies depending on your plan.
No matter how big your business is, Shopify is always an option worth considering. Its scalability is one of the factors that help build trust and reputation among users. With an astonishing amount of add-ons and integrated functions, the eCommerce platform ensures utmost satisfaction even for large stores.
Shopify Ease of Use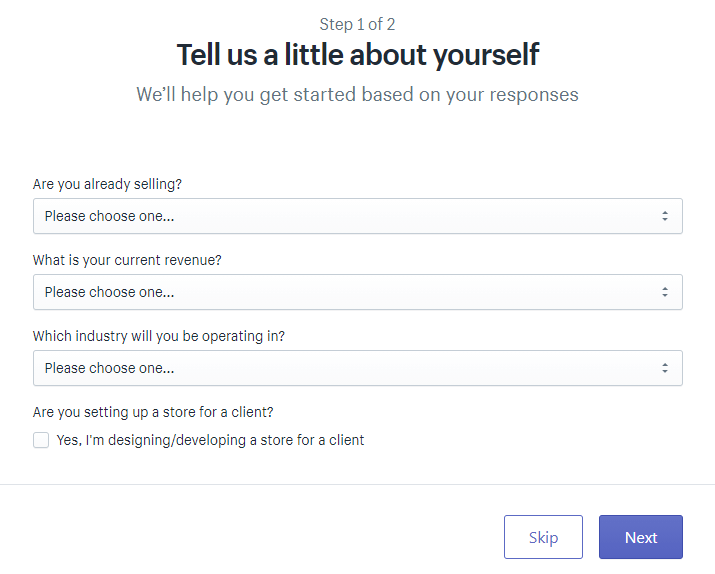 Just like other hosted platforms, Shopify is fairly easy to use. It's designed for everyone, from eCommerce experts to total beginners. You don't need to have experience in creating websites to get yourself a fully functioning online store with the help of Shopify.
While open-source platforms require a lot of steps such as buying a host and uploading the source code to your server, Shopify takes the hassles out of creating a website. It's not even an exaggeration to say you can get your store up and running in a matter of minutes.
You can easily create a Shopify store via simple steps. After filling in your email address, a password for your account, and a store name to begin, Shopify takes you to the initial configurations.
There is hardly a point when you have to spend time looking around to find what you need. Right after you create an account, Shopify guides you through the important steps to make your store fully functional.
The main page shows the shortcuts to add first products, customize your theme and add a new domain or transfer the Shopify domain if you already have one.
As seen from the image, the dashboard is straightforward with categories containing corresponding sub-sections for easy navigation. You can easily import products to Shopify, add some finishing touch and your store will be ready to go live.
Shopify Pricing
You can try Shopify without spending a penny before deciding to provide payment details such as your credit card information.
The platform offers a 14-day free trial with full access to its functions. Even if you give your credit card details during this time, Shopify lets you cancel any time without charging as long as you do it within the first 2 weeks.
Compared to some other platforms, Shopify's pricing plans seem rather costly. However, it is totally cost-effective once your business reaches potential growth with the help of powerful tools from Shopify.
Other than the monthly pricing, Shopify also charges different credit card rates for each plan when using Shopify Payments. If you go for Shopify Basic, the platform charges $2.9 + 30 cents per transaction. The fee is reduced to $2.6 + 30 cents with the Shopify plan and $2.4 + 30 cents with Advanced Shopify.
If you decide to use any payment provider other than Shopify Payments itself, the additional fee per transaction will be 2.0%, 1.0%, and 0.5% for Shopify Basic, Shopify, and Advanced Shopify respectively.
If you have a long-term plan for your business, consider annual Shopify fees. Signing up for an annual plan saves you 10%, and paying once for 2 years uses saves 20%.
Besides these plans, Shopify also has a version that is tailor-made for enterprise-level businesses named Shopify Plus. Wondering what's the difference between Shopify vs Shopify Plus? Below is the thorough comparison between the two.
Shopify Themes
The conversion rate also depends on your store's appearance. Getting yourself a good custom Shopify theme ensures more chances of a customer coming back for more and thus generates more revenue.
Generally speaking, Shopify themes seem tidy, elegant, and attractive. They are made by professional designers, so you don't have to worry about the functionality and usability of each one.
If you are unsure whether investing around $180 in a premium theme is the right decision, you can get free themes to see how that works out for your store. Of course, they will be inferior to the paid ones in terms of functionality and attractiveness.
Having said that, we still recommend switching to a nicely designed paid theme later on when your business generates a decent amount of revenue. The price may be a bit higher for new businesses, but it's not that expensive when you consider it as a one-time payment. Furthermore, the paid themes are designed by UI-UX professionals. Hence, you can expect to get excellent quality as well as highly customizable templates for your store.
Apart from the price, you should also consider the style according to what you're selling and how you want your customers to feel when they see your store. On Shopify's theme page, you can browse by industry or collections. Feel free to spend your time deciding what suits you the most.
Note that all themes are freely customizable with the Liquid code. You can add a personal touch to any of the themes by changing colors, fonts, social media buttons, and more. Once again, Shopify's ease of use makes things much more convenient as you can add, remove or move sections by yourself with just a few clicks.
Shopify eCommerce Tools & Sale Features
Shopify Reporting & Analytics

Shopify offers a decent range of reporting tools, which can be upgraded with higher plans.
Basic Shopify gives you a real-time overview of key factors such as revenue, consumer preferences, and so on. Further upgrades include detailed sales and customer reports, and Advanced Shopify or Shopify Plus both provide deep analysis with the help of filters.
You can also benefit quite a lot from Google Analytics integration. Connecting your store to a Google Analytics account results in an adequate and flexible combination between the two, where you may find almost anything you need.
In 2021, Shopify continued to improve its report and analysis with the new update on the store session and conversion rate KPI's in Overview analytics.
The new function aims to support multi-channel businesses. It allows you to see an overview of key metrics for all your stores in one central place. Hence, you can easily monitor the health of your business as well as grab the big picture of "What's happening right now" for all of your channels.
Shopify Inventory Management

Shopify lets you manually add products or import them using CSV files. Additionally, customers, orders, and other pieces of data can also be imported.
Adding products is extremely simple. Clicking on "Products" right in the main dashboard directs you to the page where you can manage your products. If you haven't had any, Shopify will show a big button right in the middle to add one.
You can fill in all the information related to your products, including title, description, featured images, videos, and so on. SKUs and quantity tracking features help manage your inventory easily and automatically mark out-of-stock products.
Multi-channel & Omnichannel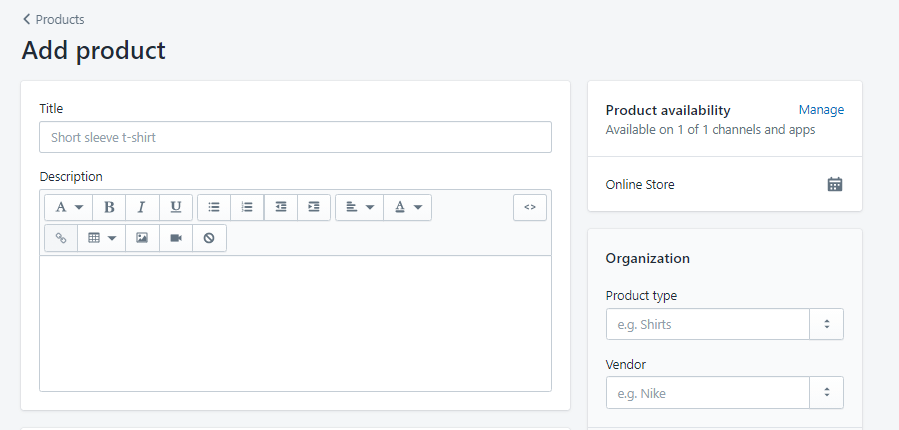 If you're looking for a great eCommerce solution where you can take advantage of multi-channel and omnichannel to boost your sales, Shopify is surely a wise choice for you. Shopify provides merchants with a total of 8 sale channels including Facebook, Instagram, Amazon… By connecting each sales channel to Shopify, you can easily monitor all of your products, orders, and customers in just one place.
If what you need is not on the list, you can always look for third-party integration in the Shopify App Store to get the job done. Now, let's dig deeper into each sales channels
Shopify Payment & Shipping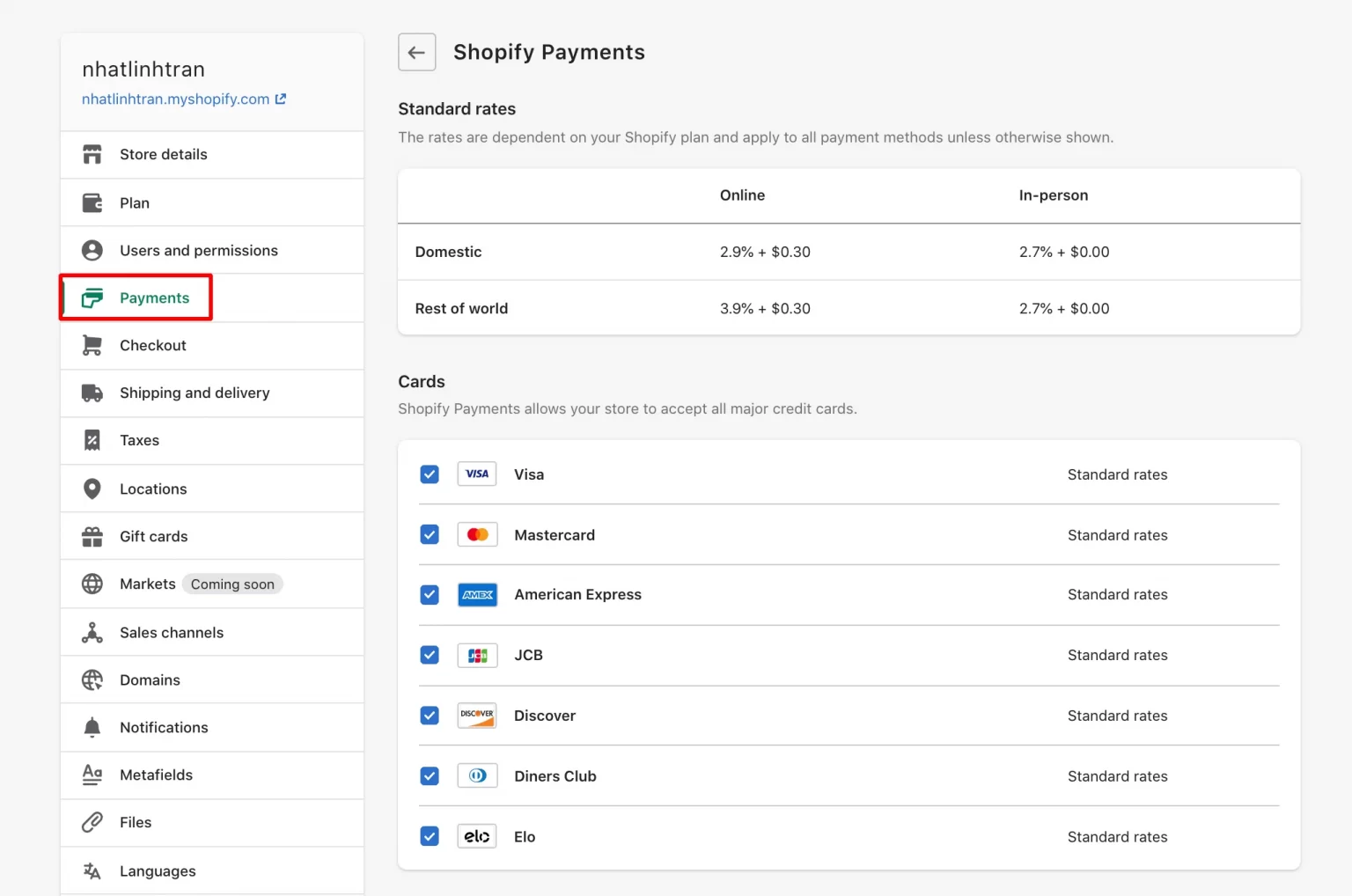 Shopify offers over 100 payment processors (probably more than any other platform), including the most popular names such as Stripe, 2Checkout, PayPal or Authorize.
This is great news except for the fact that Shopify will charge you a transaction fee (2.5% to 0.5% depending on your plan) unless you use its own payment gateway – Shopify Payments.
The option of accepting payment in multiple currencies is only available with Shopify Payments. The system will automatically convert the price according to current exchange rates. You should definitely consider this option if your target market expands overseas and your location is on the list of where Shopify Payments is available.
Besides, opting for Shopify Payments also opens the door for an accelerated checkout function, Shop Pay. To learn more about this built-in feature, please take a look at our Shop Pay review for more.
Shopify App Store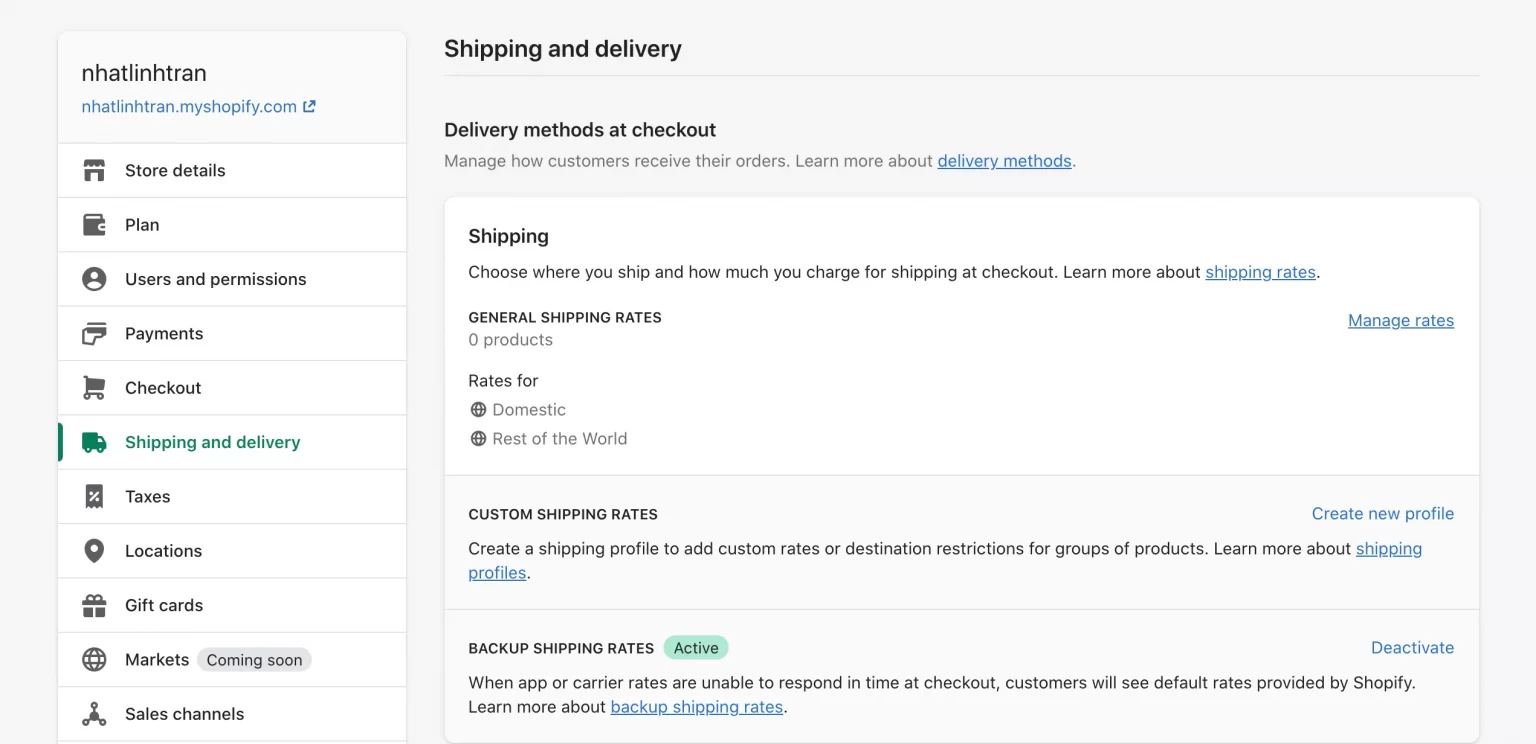 With a total of 6000+ apps, Shopify is by far the platform with the biggest app store on the market. Basically, you can find almost anything you want there.
While Shopify has already included most of the functionalities to meet basic needs, the App Store breaks all limits to what you can make of your eCommerce site.
The Shopify team does a good job helping you navigate through the enormous store by letting you browse by categories or collections. They are even passionate enough to create a "Staff picks" section containing apps personally selected by the team themselves.
One of the popularly used features is dropshipping, which is not integrated by default. Thus, you will need the help of the app store if you want this feature. Fortunately, there are a lot of apps for this, and Obelo is one of the recommendations.
Other than that, you can browse the app store for more marketing tools, order & inventory management, store design tools, more. Some apps let you connect to social media platforms in order to further promote your business and increase traffic to your site.
One of our favorites is Recart that you can build your Messenger and SMS lists with, and segment them any way you like to send targeted flows and high-converting campaigns"
Shopify Internationalisation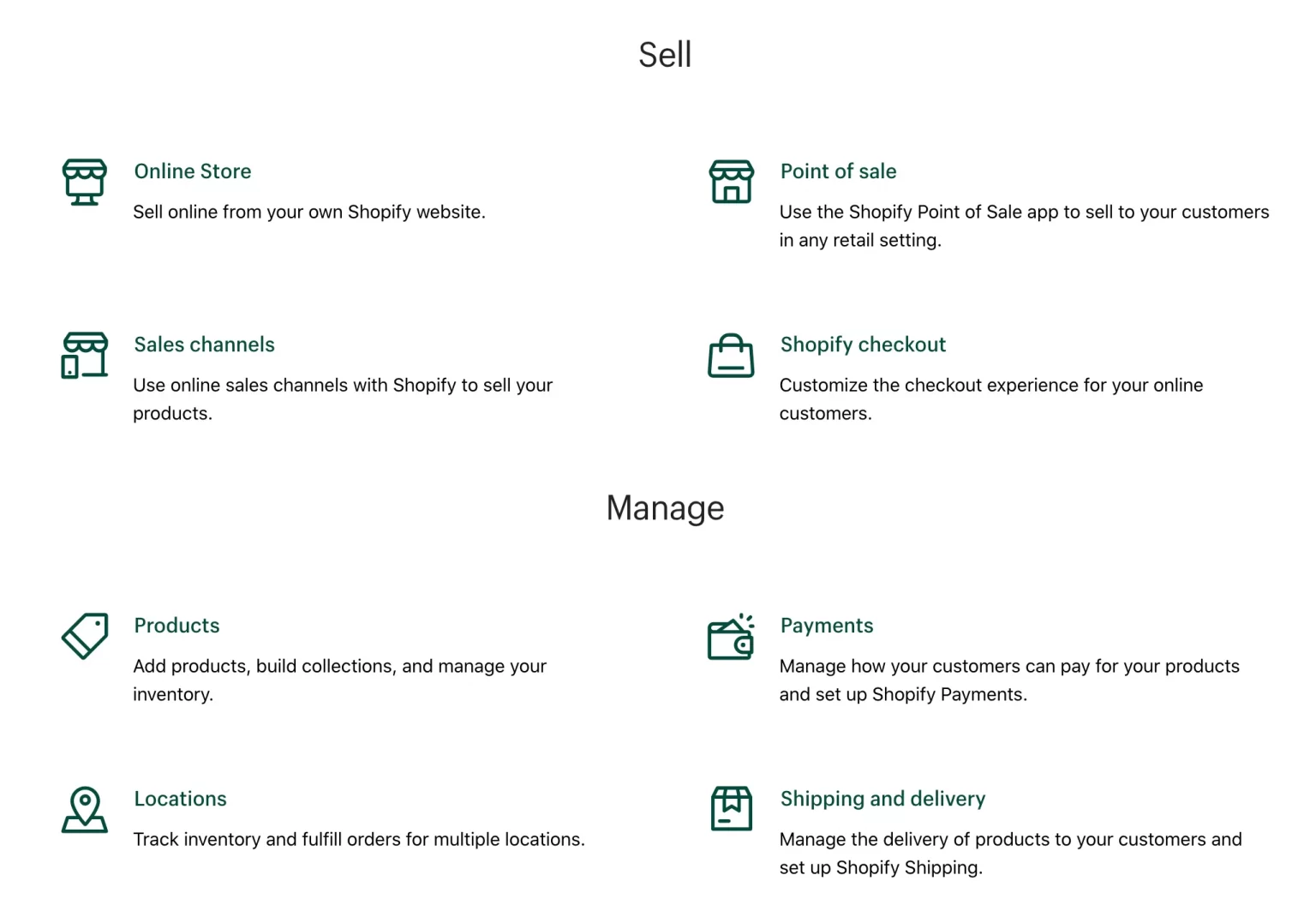 Shopify is a strong candidate if your priority is cross-border selling so you can reach customers all around the world. It allows your store to connect with various sales channels, enable multiple languages, multi-currencies, and location-based tax settings so you can create a localized shopping experience for your visitors.
Shopify Sales Tax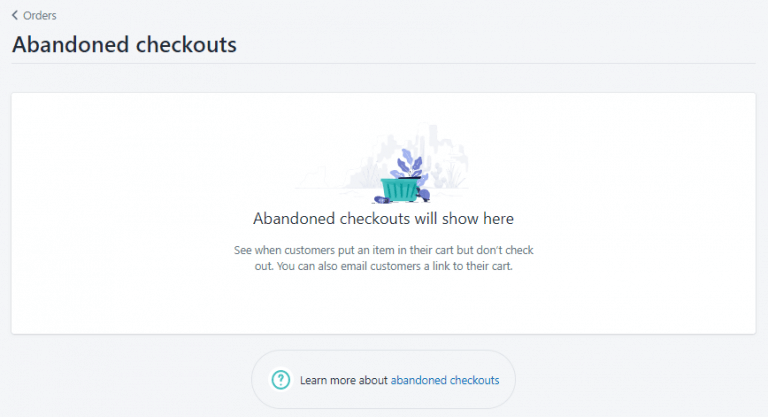 Shopify will handle your problem by an automatic sales tax calculation. You can also set up tax overrides to address unique tax laws and situations.
However, this eCommerce platform won't help you file or remit your sales taxes. You might need to register your business with your local or federal tax authority to have them handle it.
Sometimes, store owners may need to charge tax for some specific types of products on their online business. However, one difficulty is that tax laws and regulations are flexible, they can change depending on your country and religion.
Shopify SEO & Marketing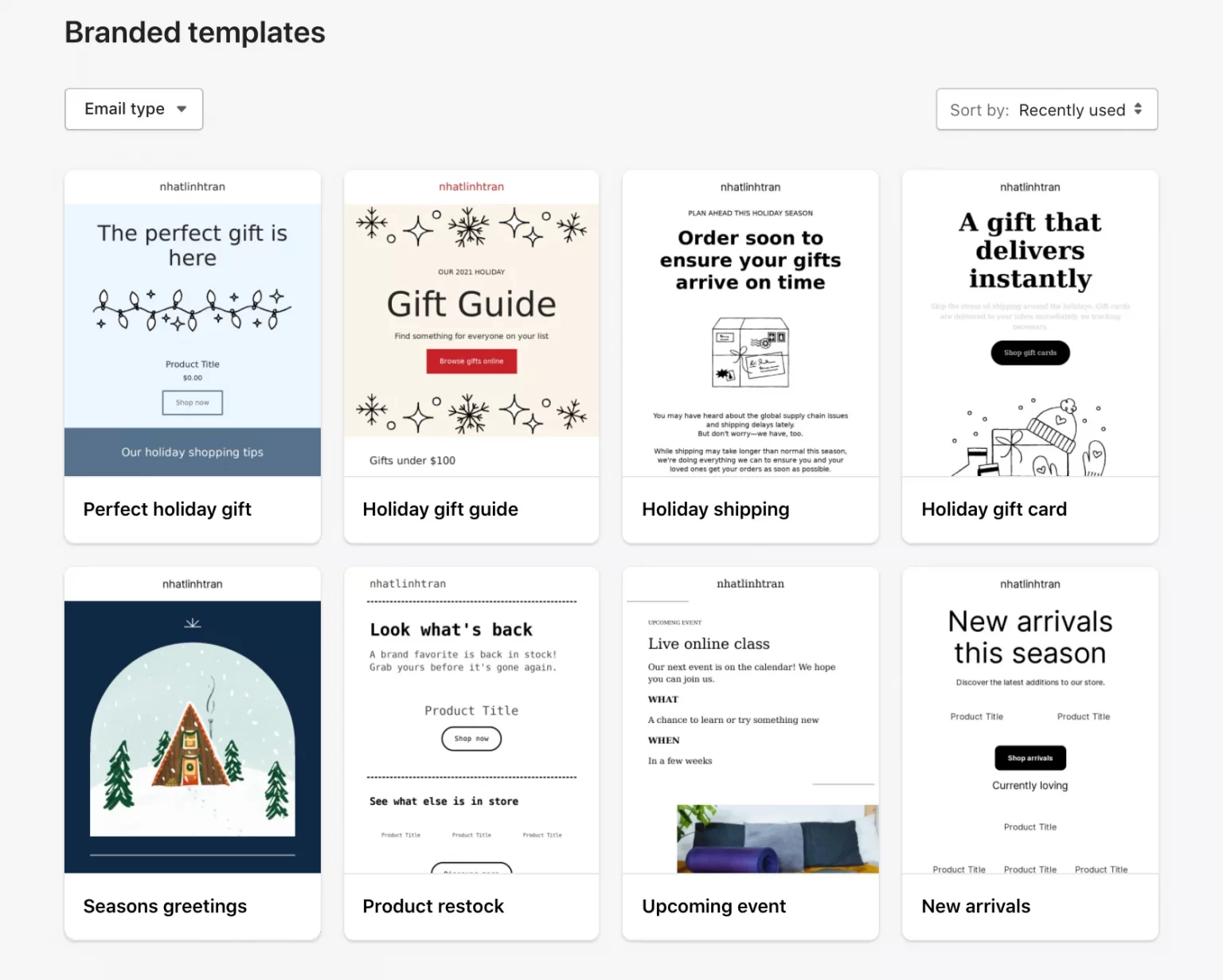 Most (if not all) eCommerce stores rely heavily on SEO & Marketing to sell products. No matter how much time and money you invested in developing your website, bad Search Engine Optimization and improper marketing can always hurt your sales since customers are the core of all businesses.
Fortunately, Shopify's SEO is quite effective. It is adequate, intuitive, and can help you rank well when being utilized properly. Once again, Shopify's ease of use comes in handy as you can access most built-in functions without a hitch.
As seen from the image, adding a title, meta description, and images to your pages is easy and straightforward. Shopify also lets you create custom URLs and 301 redirects every time you change the URL so as to avoid 404 errors.
The site speed is decent. Especially if you choose a simple and light theme, fast loading speed is not so hard to get. You can also structure your site by categories, which not only benefits your SEO but also helps users navigate seamlessly.
Having said that, there is still room for improvement. Certain URLs bear a mandatory string, which isn't good for SEO. For example, product pages have '/products/', and posts are stuck with '/posts/' right after your domain name.
Additionally, the Robots.txt file and Sitemap aren't available for modification, making Shopify SEO a bit frustrating if you're serious about site optimization.
Things aren't that bad though. Those were just some minor inconveniences that are outweighed by the number of benefits you can derive from Shopify. Don't forget the huge app store with endless SEO possibilities, and other tools to help you gain more traffic. Discover here
Shopify Security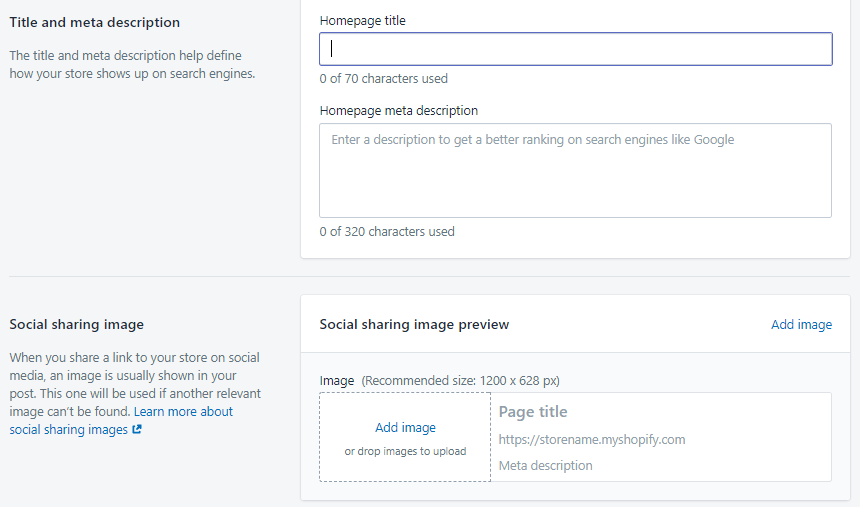 When it comes to security, apparently there's less to worry about when you opt for a hosted eCommerce solution instead of building a store with open-source platforms. Therefore, you don't even need to do anything – Shopify takes care of all tasks regarding security in the background.
With SSL Certificates for every Shopify site, all data transferred between you and your customers is encrypted. This helps increase trustworthiness as sensitive information such as credit card details is completely secure. Additionally, Shopify is also PCI compliant, meaning it follows security standards for processing credit card and debit card details. Besides, this platform also enables users to use Shopify cookies policy generator on their sites.
Shopify Support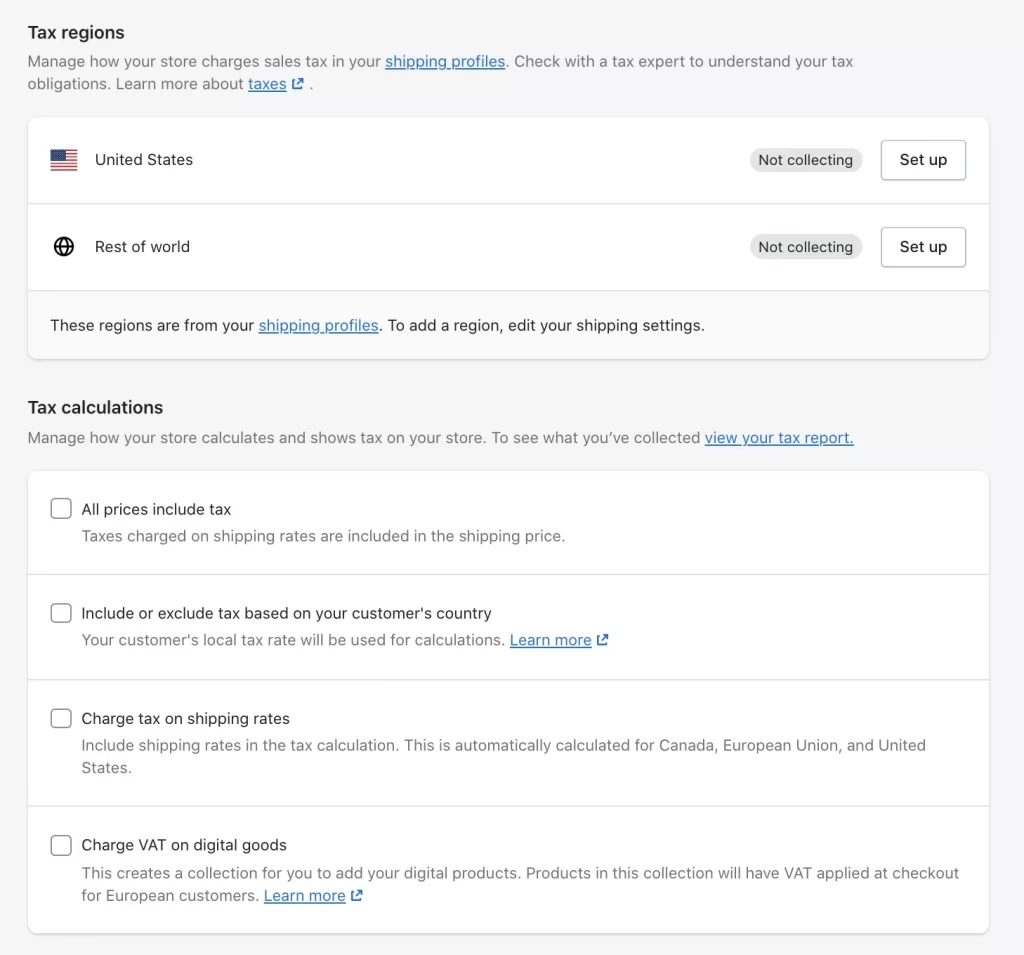 Other than that, you also get to access its community forum, help center, and other video tutorials. The ultimate form of support is hiring professional certified Shopify experts to ensure maximum problem resolution and seamless business operation.
Shopify has a support team available 24/7 for phone, email, and live chat support. This is also a great advantage over its open-source rivals.
For more details, the dedicated Shopify support team delivers valuable service regarding both information quality and response time.
Shopify Review – FAQs
Is Shopify safe to buy from?
Absolutely yes. It's totally safe to buy from online stores hosted by Shopify.
Can you really make money with Shopify?
In some cases, making money on Shopify doesn't even require you to sell anything at all. For instance, the Shopify affiliate marketing program lets you earn money per successful referral made from your account to the Shopify platform.
Is Shopify a legit business?
Shopify is packed with lots of eCommerce features yet it is fairly easy to use. It is suitable for any eCommerce user regardless of their technical background. However, a downside of Shopify is the high transaction fees it charges for every purchase.
What are the best Shopify alternatives?
Magento, BigCommerce, or PrestaShop, can be great solutions for Shopify alternatives.
Is Shopify good for beginners?
As you can see from our Shopify review, Shopify is a dynamic all-in-one solution to host and manage an online store that doesn't take much muscle and technical expertise. Thus, it's ideal for newbies and amateur users.