There is a huge number of online store building tools now available, and choosing the right one for your business can feel really difficult. Shopify is probably the best-known ecommerce solution currently on the market — but is it actually the best fit for you?
In this review, I'm going to help you find out. I'll cover the platform's pricing, templates and selling features in depth — and by the end of this post, you'll have a clear idea of whether Shopify is the right ecommerce solution for your project, or whether you'd be better off with an alternative.
What is Shopify?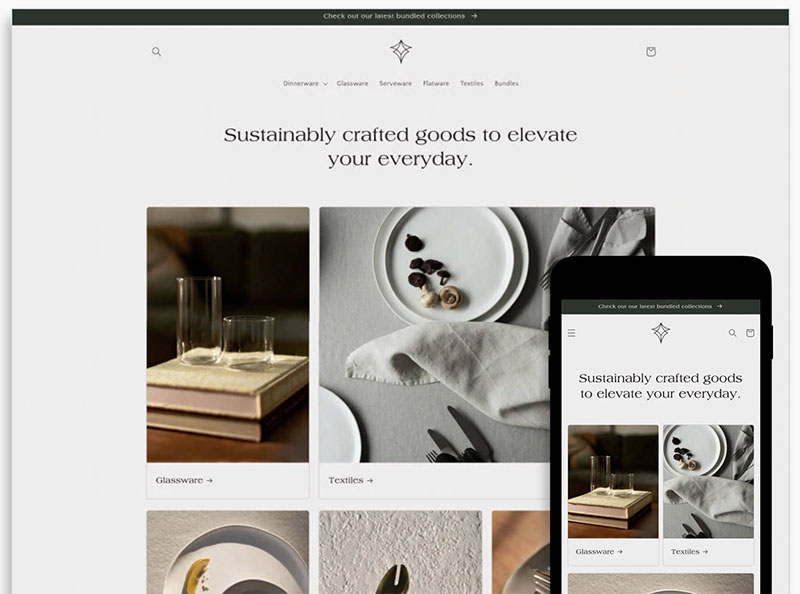 Shopify is a web application that lets you create your own online store. It provides you with a wide range of 'themes' that can be customized to meet your own branding requirements, and allows you to sell either physical or digital products.
The platform aims to let beginners build an online store themselves — you don't need to know how to code to use Shopify. However, the platform also caters for developers, because it provides full access to CSS, HTML and Liquid (Shopify's templating language).
How does Shopify work?

Shopify is a 'hosted' solution. This means that it runs on its own servers and you don't have to buy web hosting or install software anywhere to use it.
You don't own a copy of the product, but instead pay a monthly fee to use it — and, so long as you have access to a web browser and the Internet, you can manage your store from anywhere.
With Shopify, the key things you need to build and market an online store — like templates, a payment processor, a blog and even email marketing tools — are provided 'out of the box.'
That said, you can customize your store more extensively through the addition of apps — more on these later — or using custom code.
The number of Shopify users — and why this matters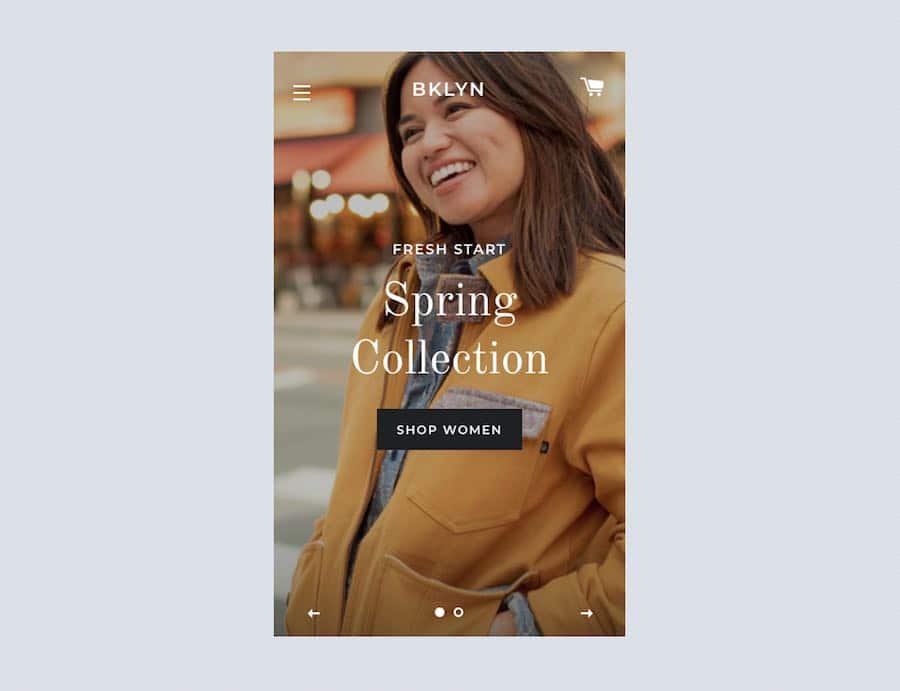 Shopify was founded in Canada in 2006 by German-born entrepreneur Tobias Lütke, who realized that an ecommerce solution he created to sell snowboards could actually be used by — and sold to — other businesses.
Fast forward to today, and the platform has generated over $496bn in sales, and is now used by millions of merchants in 175 countries — according to Internet stats company Builtwith.com, Shopify currently powers around 3.9 million online stores. Over 10,000 staff now work for the company.
These statistics matter because when you choose a hosted solution for your online store, you are placing a huge amount of trust in the company providing it.
There have been instances in the past of similar services closing down — for example, Magento Go — resulting in serious problems for their users, who had to migrate their stores over to a different platform at very short notice. However, Shopify's large user base and market share makes the prospect of this happening very unlikely.
Shopify pricing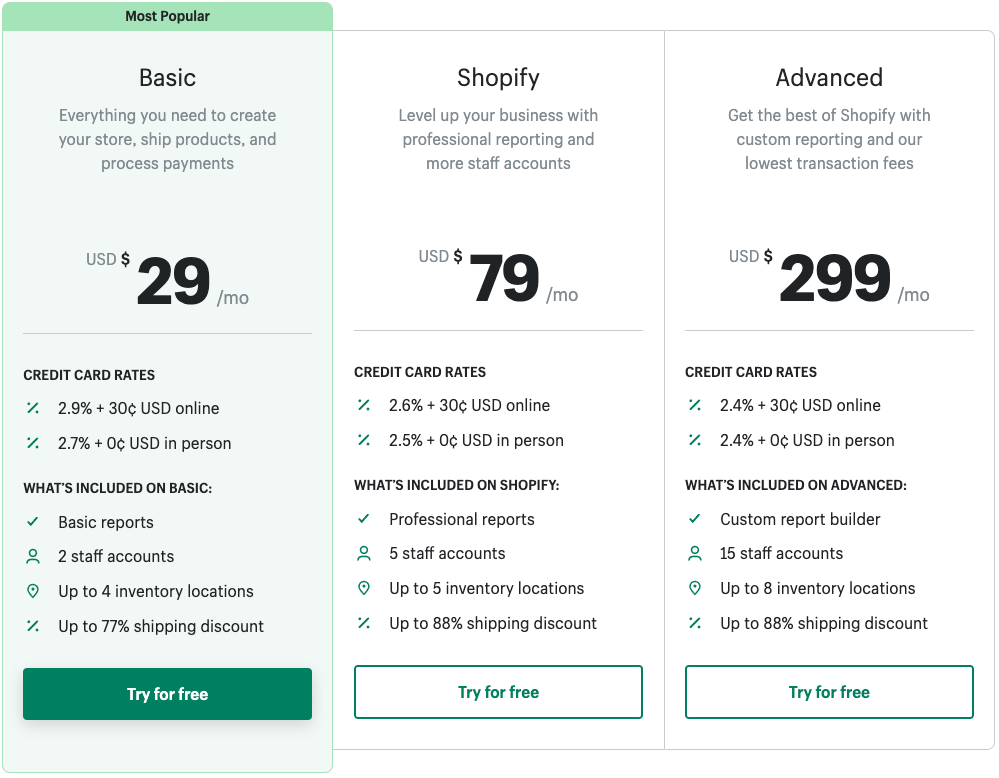 There are five Shopify pricing plans available, with the following monthly fees:
Starter — $5 per month
Basic — $29 per month
Shopify — $79 per month
Advanced — $299 per month
Shopify Plus — custom pricing.
(The above prices are in USD; if you're based outside the US, you'll find that the plan names and features are the same, but fees will be in your own local currency, and broadly equivalent to the US ones.)
There is also a free trial available, which lasts for 14 days (and can usually be extended if you need more time to finish building your store).
All the Shopify plans provide the core ecommerce functionality you'd expect — on every plan you can create catalogs of unlimited products, accept credit card payments, sell gift cards, offer discount codes on purchases and make use of a wide range of third-party apps.
Shopify Plus, the enterprise-grade version of the platform, provides additional functionality and elements aimed at big corporations, including:
(Our Shopify vs Shopify Plus comparison gives you a more detailed overview of all these differences).
I'll explore all the core Shopify ecommerce features shortly, but first, let's take a quick look at how Shopify lets you accept payments for your goods.
Accepting credit cards using Shopify
There are two ways to accept credit card payments with Shopify: with Shopify Payments, its built in payment processing system, or by using a third-party payment gateway.
Shopify Payments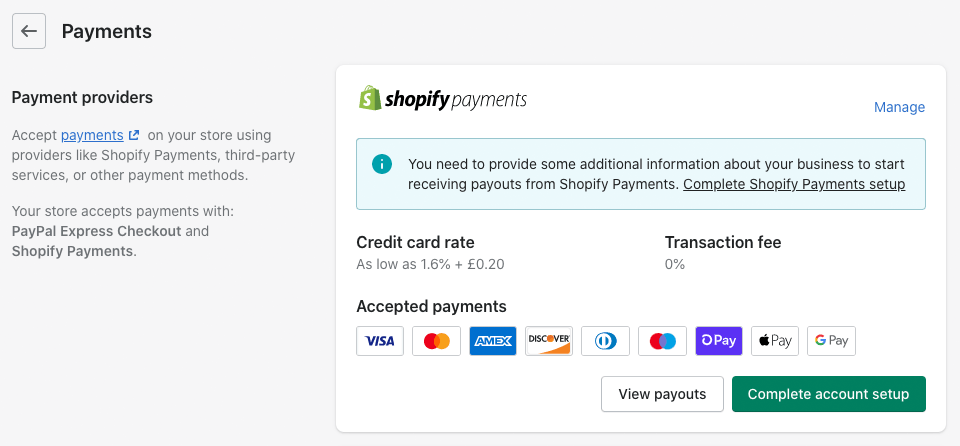 The cheapest and easiest option — for users in countries where it is supported — is to use Shopify Payments, Shopify's built-in payment system.
If you use this, you don't have to pay any transaction fees at all on any plan except the 'Starter' one.
(If you're on the 'Starter' plan, you're looking at transaction fees of 5% per sale. This is quite a high rate).
Additionally, there's a credit card rate to factor in — in the US, depending on your plan, you can expect to pay a credit card processing fee of between 2.4% and 2.9% of each transaction.
Other payment gateways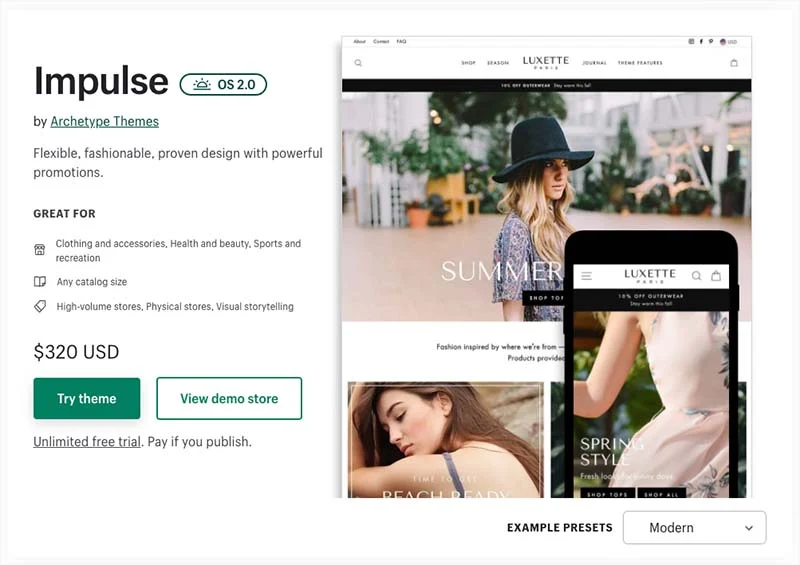 The other way to accept payments in Shopify is by using a third party 'payment gateway' — of which there are over 100 to choose from.
If you do this however, Shopify will apply a transaction fee to each sale — between 0.5% and 2% depending on the plan you're on.
And an important thing worth noting about Shopify Payments is that it is only available only to users based in certain countries / territories.
So if you're not selling from one of those countries then you will have to use a separate payment gateway provider, and you will encounter additional transaction fees for doing so.
Now that we've gone through pricing and payment functionality, let's discuss how Shopify stores actually look.
Shopify themes – how good are they?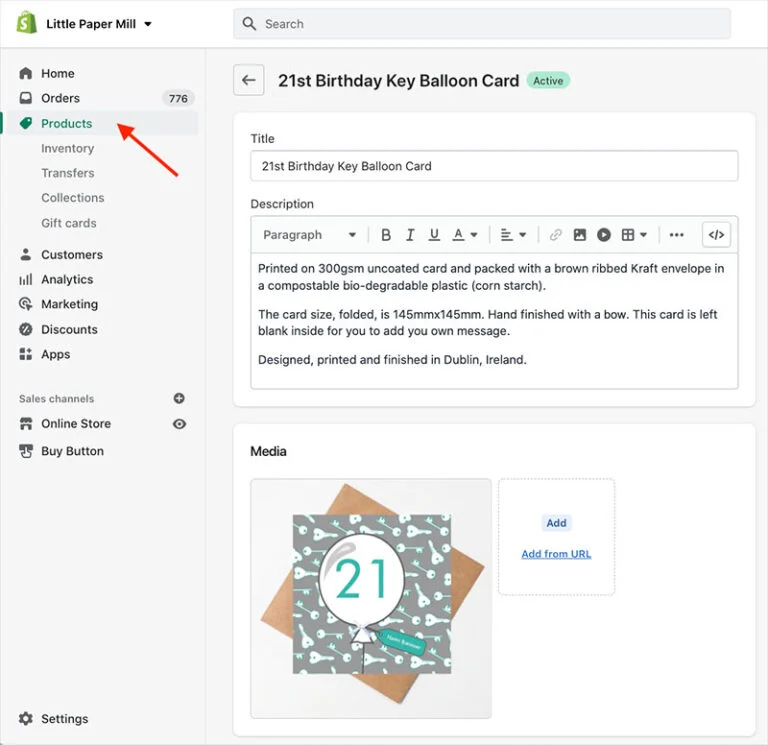 Shopify provides 18 free ecommerce templates (or 'themes') that you can use – and some of these come in two or three different variants, giving you a reasonable number of template options to choose from.
That said, the number of bundled templates on offer is small by comparison to other online store builders like Wix or Squarespace.
The bundled themes are attractive however, and they are fully responsive too, meaning that they will automatically adjust their layout to suit the screen size of the device they're being viewed on (smartphone, tablet, desktop computer etc.).
If the free templates don't appeal, you can use a paid-for or 'premium' theme — of which there are 82 available (and again, each theme comes in a few variants).
The premium themes range in price from $180 to $350 and, as with the free ones, they are all fully responsive.
In the Shopify theme store, you can browse all the free and paid templates using a range of filters, including:
industry type
catalog size
layout type ('minimal' or 'content-rich')
design ('classic' store style or more 'unique').
This means that you should be able to find a suitable theme for your store without too much difficulty.
One thing to watch out for is that there are currently two types of Shopify themes available — 'traditional' ones, and new 'Online Store 2.0' themes (you can use a checkbox in the theme store to display only the latter type).
I'll cover Online Store 2.0 in more depth later on in this review — but to sum it up briefly, it's a new theme format that provides more sophisticated editing capabilities via a new drag-and-drop editor.
In terms of the aesthetics, the Shopify templates are all professional in appearance, easy on the eye, and very contemporary in nature — no complaints at all here.
Shopify themes and customer support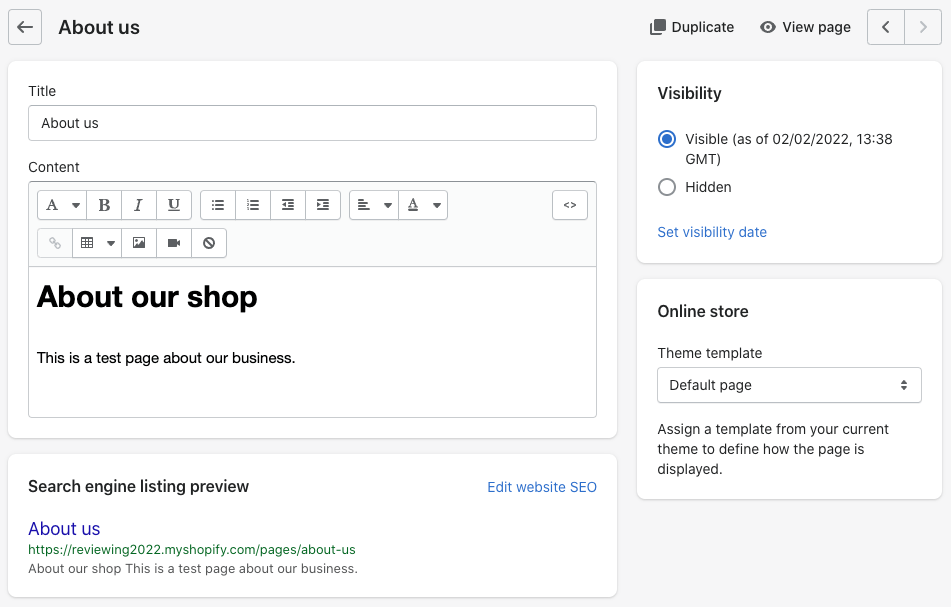 All in all, Shopify's template offering is of a high quality — but if you are not content with the options provided and wish to create something that is truly unique, there is always the option of building your own theme.
It's easy to access the Shopify theme code, and a lot of support materials and tutorials are provided to help you develop your own template (or modify an existing one so that it contains the features you need).
Once you've started a Shopify trial, picked your theme and decided upon a plan, you can focus on selling with the platform.
Interface and ease-of-use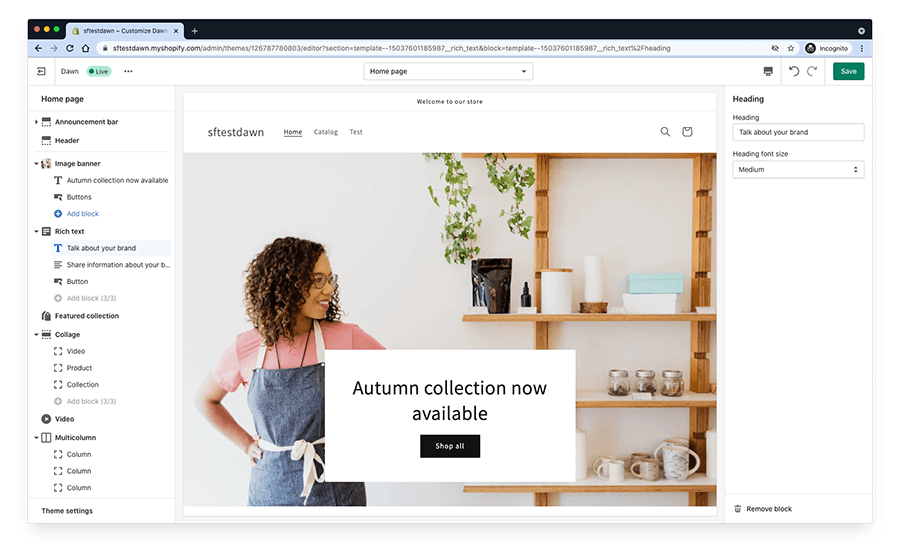 Shopify is pretty straightforward to use – it's got a clean, intuitive interface and provides a generally good user experience.
In common with many other contemporary content management systems, a menu on the left allows you to access features or content, which you can then customize or edit on the right.
The above list covers the key sales channels that you can use 'out of the box.' Several others — including big-hitters like Amazon, Ebay, Etsy and Pinterest — are available via third-party apps.
All in all, it's fairly easy to use these sales channels — and the interface in general — but there's a couple of issues worth zooming in on, to do with content layout and images.
In half of the free Shopify themes, you are still dealing with a WYSIWYG (What You See is What You Get) editor which, while working perfectly well, doesn't provide the kind of flexibility that other website builders now give you when it comes to laying content out around a page.
However, if you use one of Shopify's new 'Online Store 2.0' (OS 2.0) themes, you can avail of drag-and-drop functionality.
The OS 2.0 format unlocks a lot of extremely useful content presentation options that you won't find in 'regular' Shopify templates. Its page builder lets you add blocks and sections to pages and move them around with ease, and is far less clunky than the old WYSIWYG editor.
But most of the paid-for templates have been updated to the new format — 77 of the 82 premium themes now come in the OS 2.0 format.
In order to access the drag-and-drop page builder, you have to use the 'customize theme' option (in the home section of your Shopify dashboard) rather than simply finding your page and editing it in the more obvious 'pages' section.
And, rather than being able to use the drag-and-drop editor to change the content of your pages, it is used to edit page templates. You still have to create pages using the old WYSIWG editor (where you'll also be able to apply your page templates). This can be a little bit confusing initially.
Another improvement that could be made to the new drag-and-drop editor involves forms — at the moment you can only drop a simple 'contact' or mailing list signup form into page templates.
Shopify Point of Sale (POS)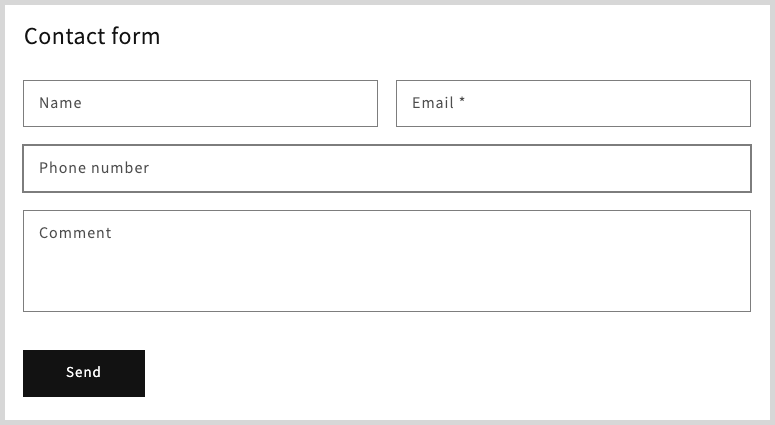 One particularly strong feature offered by Shopify that deserves a special mention, and helps it stand out from its competitors, is its comprehensive Point of Sale (POS) functionality and hardware.
Shopify's POS hardware lets you use the platform to sell not just online but in physical locations too, using your iOS or Android device. A wide range of hardware is available to purchase — barcode readers, tills, receipt printers etc. — to help you do this.
If you live in Australia, Belgium, Canada, Denmark, Germany, Ireland, Italy, the Netherlands, New Zealand, Spain, the UK or the US, you can buy these items online directly from Shopify's hardware store (pictured below). If not, you will need to find an authorized reseller.
And all whilst keeping your offline and online sales data in sync, and your inventory figures accurate.
It's important to note however that POS is not available on the 'Starter' plan; and you need to pay for a 'Shopify POS Pro' add-on get the most out of the point of sale features.
The cost for the 'POS Pro' add-on is quite high: $89 per month, per location. So, if you run a few physical stores, your monthly POS outgoings will increase substantially.
Although the built-in POS features ('Shopify POS Lite') cover the basics, and will be fine for merchants with simple needs, you will need the add-on if you want to:
Using Shopify product categories and collections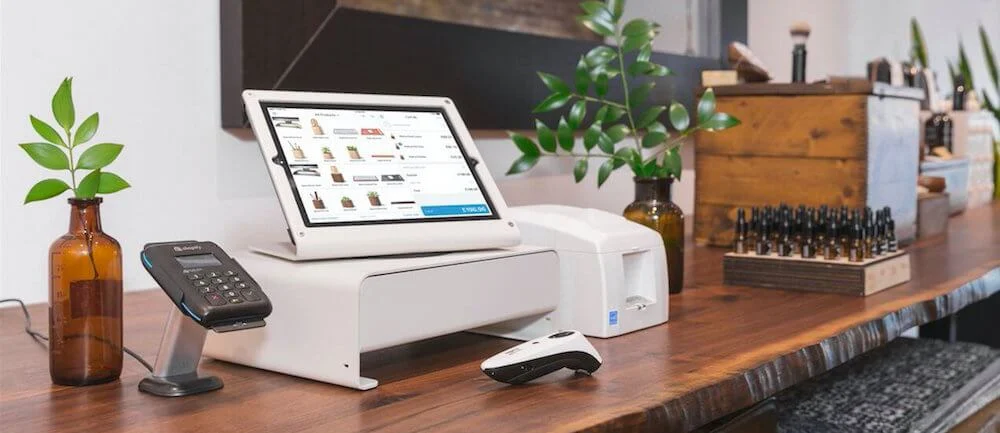 Although there's room for improvement regarding how Shopify handles product variants and options, the way it handles product categories is superb.
You can manually add products to a collection or — and this is a huge time saver for users with large product ranges — use 'automated collections.'
This basically means setting up rules (based on product titles, tags etc.) which automatically categorize your products so that they end up in the correct collection.
This can save you hours if not days of data entry and manipulation — especially if you have a large number of products in your online store.
You'll need to make sure you name or tag your products in a consistent way to take advantage of this functionality however, as the automation only works if you have a very consistent naming convention applied to product titles, tags etc.
Accepting multiple currencies in Shopify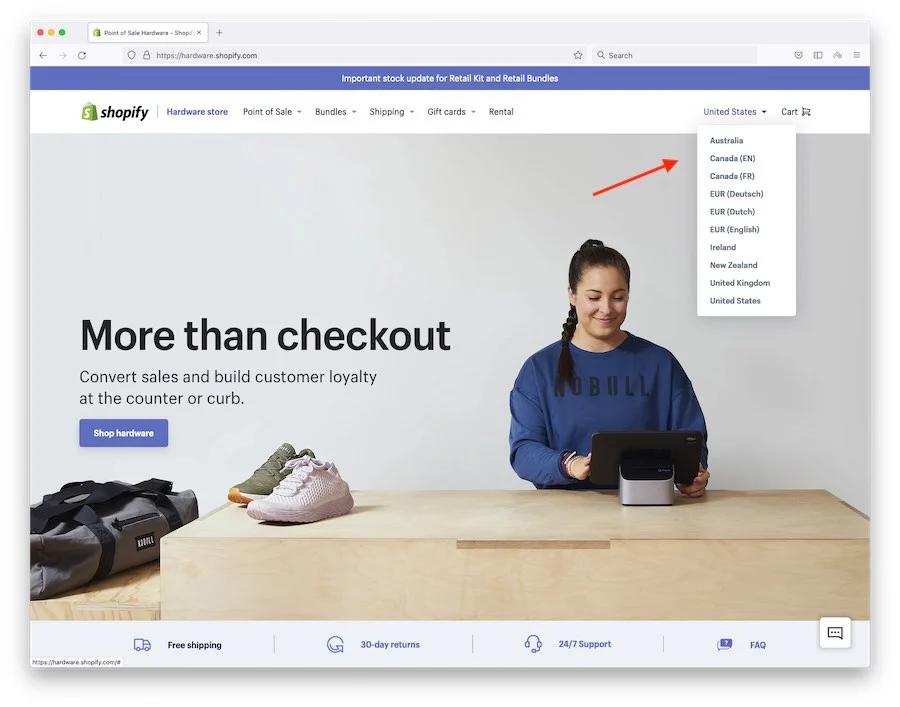 Displaying prices and facilitating checkout in local currencies can improve sales rates considerably.
And, unlike several other well-known ecommerce solutions — notably Squarespace and Wix — Shopify lets you do this easily.
Whilst it's great to have this as a built-in feature, there is a bit of room for improvement with it.
First, unless you're on a Shopify Plus plan, or using a third-party app, your store visitors will have to use a country selector to manually choose their preferred location / currency. They will automatically be prompted via a pop-up to do so, and this works pretty well – but some visitors might benefit from a more seamless, automatic currency conversion process (and some users don't love pop-ups!).
Second, if you want to set specific product prices for specific countries, you'll need to be on an 'Advanced' plan or higher (otherwise a straightforward currency conversion will take place, which might lead to pricing that is inappropriate for some markets).
Similarly, you can only apply duties and import taxes if you're on the 'Advanced' or 'Shopify Plus' plan.
And finally, currency conversion only works if you're using Shopify Payments. If you are based in a country that doesn't yet support Shopify Payments, you will need to use a third-party app like Bold Multi-Currency to sell in different currencies.
SEO in Shopify

The short answer is yes — its SEO features are very strong and compare favourably with other hosted site-building platforms.
The nuts and bolts of on-page SEO are certainly very easy to manage — changing page titles and meta descriptions is very easy, as is adding headings and alt text.
You can also tweak your robots.txt file extensively in Shopify — the platform gives you full control over which URLs can be crawled; lets you add crawl delay rules for certain search engines; block crawlers; and add extra sitemap URLs.
Adding 301 redirects — which let search engines know when a page location has changed — is particularly easy in Shopify. In fact, the platform automatically prompts you to do this, and creates the redirect for you too, if you change a page's URL.
As forgetting to set up 301 redirects is a common source of lost rankings, this automated reminder is an extremely useful feature.
Shopify's theme designs are all responsive, meaning they'll display nicely across all device types, and a CDN (content delivery network) is used to decrease your page loading times — both of these approaches to web design can lead to preferential placement in search results.
With regard to the latter, a new 'site speed' report lets you compare how fast your Shopify store is compared to similar ones — you can use this data to try to speed it up (usually by reducing image size or removing unnecessary scripts or apps).
The Shopify app store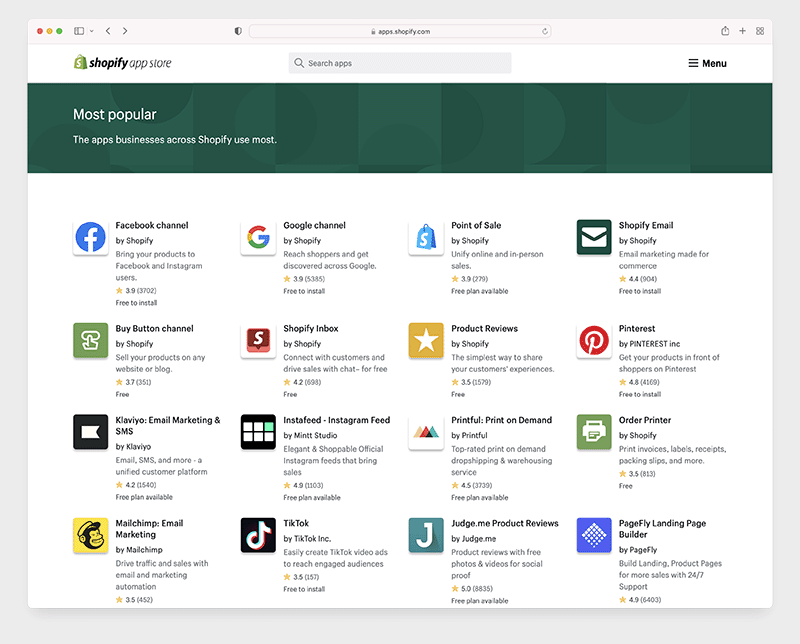 In addition to Shopify's core functionality, there is also an app store that store owners can visit to obtain apps — both free and paid-for — that add new features.
This contains a huge number of apps (around 8,000) — making Shopify's app store bigger than those of all the other ecommerce platforms we've reviewed. These apps either add specific functionality to your store or let it work with other key business apps.
This wide range of apps is one of the strongest arguments for using Shopify over its rivals — but it's also possibly an argument against.
On the plus side, it means that you have a fantastic range of options not only when it comes to adding functionality to your store but when it comes to integrating it with other tools and platforms too.
On the downside, it inevitably leads to lot of situations where getting the functionality you need — relating for example to product reviews, AMP, additional product options and custom fields — involves installing a paid-for app.
And, the more apps you add, the slower your store can perform.
Competing platforms like Wix and BigCommerce, by contrast, tend to include more functionality like this out of the box — meaning that you don't end up spending quite as much on apps.
Shopify customer support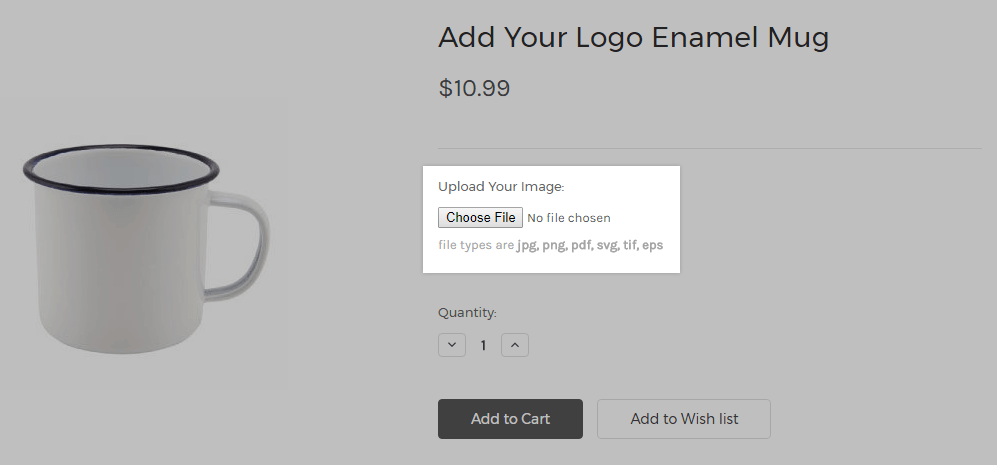 Shopify's customer support is comprehensive — help materials are available in 21 languages, and you can contact the company 24/7 by email, live chat or phone (the 24/7 customer support is offered in English; availability of support in other languages depends on your territory).
The support materials are on the whole very clear — the only thing I feel is missing from them really is screenshots. For some reason, everything is completely text-based.
First, having used Shopify support in the past, I've found that if your enquiry is of a particularly technical nature — i.e., if you want to code something and need help — then you may not always get the answers you're looking for from the standard support service.
You're sometimes better off posting a query in a Shopify community forum and hoping a developer gets back to you on it.
This could be improved a bit, I feel — it it would be better if Shopify offered a more direct way for sellers to contact their developers directly for technical advice.
And finally, in order to access the contact details for Shopify's support team, you're required to search help pages for a solution to your problem first.
This will annoy some, but it's increasingly standard practice for support desks for web applications — and it's not implemented as badly as on some other ecommerce platforms.
Shopify review: conclusion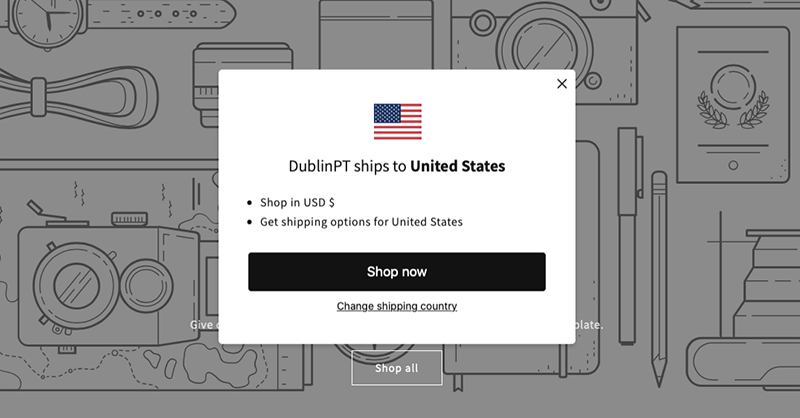 Overall, Shopify is one of the best hosted solutions for those wishing to create an online store – and arguably the best for anyone who wants to use one product to sell online AND in a physical location. It's also particularly good for users who are interested in dropshipping, or want to sell in multiple languages.
The product is competitively priced — particularly when you consider that abandoned cart saver functionality, a feature which many other platforms charge a premium for, is included on all plans. And at just $5 per month, its 'Starter' plan represents great value for anyone needing to sell products on an existing site.
It's also easy to use, integrates well with a huge range of other apps, and its templates are attractive.
All in all, Shopify is a very good option for anyone hoping to start a new business, or existing small businesses hoping to take their product offering online — but there are some disadvantages of using Shopify to be aware of too.
First, there's the transaction fees for those using a third-party payment gateway (some of Shopify's competitors don't charge any transaction fees at all, regardless of the payment options used).
Third, Shopify's multi-currency selling features, while very welcome, don't work in all countries or with all payment gateways. And to get the most out of them, you need to be on an expensive 'Advanced' or 'Shopify Plus' plan (otherwise you won't be able to set individual product prices for individual countries, or collect import and duty taxes at checkout).
A more complete summary of Shopify pros and cons follows below, but as always we recommend that you try before you buy — it's worth having a good play with the platform via the Shopify free trial. You can access this free trial here.
Shopify review FAQ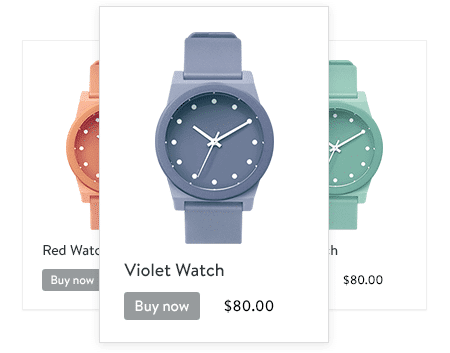 What's the best value Shopify plan?
It really depends on your selling requirements, but for me the 'sweet spot' plan is probably the mid-tier 'Shopify' plan as it gives you the bulk of functionality you need for an online store, including professional reports, full control over multi-currency payments and store translation features.
Does Shopify charge transaction fees?
You can avoid transaction fees by using Shopify's built-in payment gateway, Shopify Payments. However, if you use a third-party payment gateway, Shopify charges you a transaction fee of between 0.5% and 2.0%, depending on your plan.
Do I need any special hardware or software to use Shopify?
Building a standard Shopify store can be done on any sort of desktop computer, and doesn't require you to install any software locally. It doesn't matter whether you're using a Mac, PC or Chromebook — all you need is a web browser and access to the internet to build your store. If you are selling at point of sale however, you will usually need to invest in some hardware, like a card reader, receipt printer or till.
Can I sell video content on Shopify?
Yes — you can use Shopify's free 'Digital Downloads' app to do this, but you might find that a dedicated third-party app like Sky Pilot works better (particularly if your customers need to stream your content).
Can I create multilingual versions of my Shopify store?
Yes. On the 'Basic', 'Shopify' and 'Advanced Shopify' plans you can create up to 5 versions of your sites in different languages; 'Shopify Plus' allows you to create up to 20.
Can I sell in multiple currencies with Shopify?
Shopify's built-in multi-currency feature lets you sell in up to 133 currencies — but it is only available if you are using Shopify Payments as your payment gateway. If you are based in a country that doesn't yet support Shopify Payments, you can still sell in multiple currencies, but you will need to use a third-party app like Bold Multi-Currency to do so.
Is it easy to upgrade or downgrade my Shopify plan?
Yes, you can do this at any time. The price of your previous plan is prorated and applied against the cost of your new subscription.
Should I use a free or paid-for Shopify template?
For most new merchants, a free Shopify template will work perfectly fine — the bundled templates are attractive and their visuals can be easily tweaked to make your storefront consistent with your brand. It's also worth bearing in mind that the free templates are all fully supported by Shopify; if you use a paid-for theme, you may need to source support from a third-party developer. That said, some of the paid-for options can provide a more 'bespoke' look for your online store.
What's the best alternative to Shopify?
There are lots of alternatives available to Shopify — we discuss some of them in depth above. However, for us, the most similar 'hosted' product in terms of billing and basic features is probably BigCommerce.