We recommend Shopify as an ecommerce platform that helps grow your business, without needing any tech skills. We recommend Shopify for large businesses looking to scale up their store. This review dives into Shopify's sales features, ease of use, prices, design, marketing tools, and more, to help you decide if it's really right for you.
If you're in a rush, look below for a quick overview of the most important things you should know about Shopify. Otherwise, read on for more details, as we take you on an in-depth journey through the platform… starting with the question, what actually is Shopify?
What Is Shopify?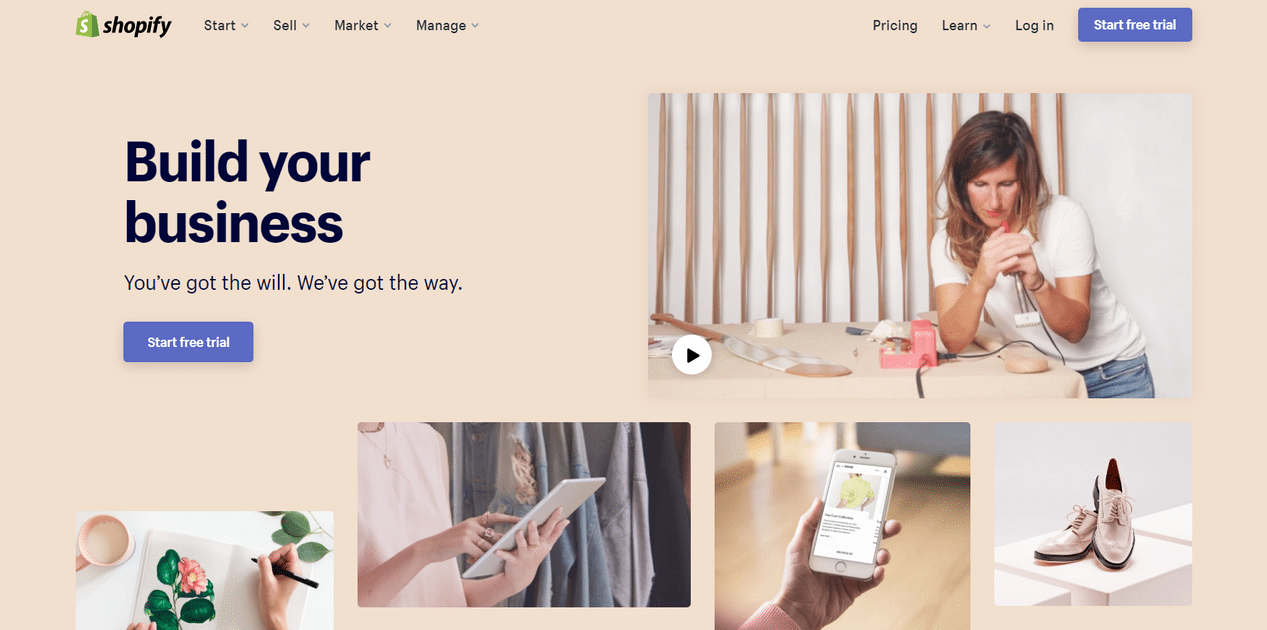 Are you ready to learn how to create your own Shopify store? Maybe you just came up with a wonderful product idea and now you'd like to see if people are willing to buy it. Well, you're in luck, because you no longer have to be an experienced web developer to build a Shopify Store in less than 15 minutes.
Shopify is a dedicated ecommerce website builder that helps people build their very own online store.
It really is as easy as that – you don't need mad tech skills, you don't need a bottomless budget, and you don't need to hire anyone to make your dream a reality. This makes Shopify a quick and affordable way of creating your online store.
Who Can Use Shopify?

Anyone can use Shopify, whether you're a first-time seller, or a multi-million dollar business like Harry's Razors (yep, Harry's Razors is just one of Shopify's satisfied customers). All you need is an idea, something to sell, and an internet connection, and you could have an online store live in no time.
With over 1,200 apps, specialized features such as inventory tracking and shipping tools, and a range of price plans, Shopify is a powerful platform to choose. It can be used by any sized store, and is extremely scalable.
How Did We Test It? And What Were the Results?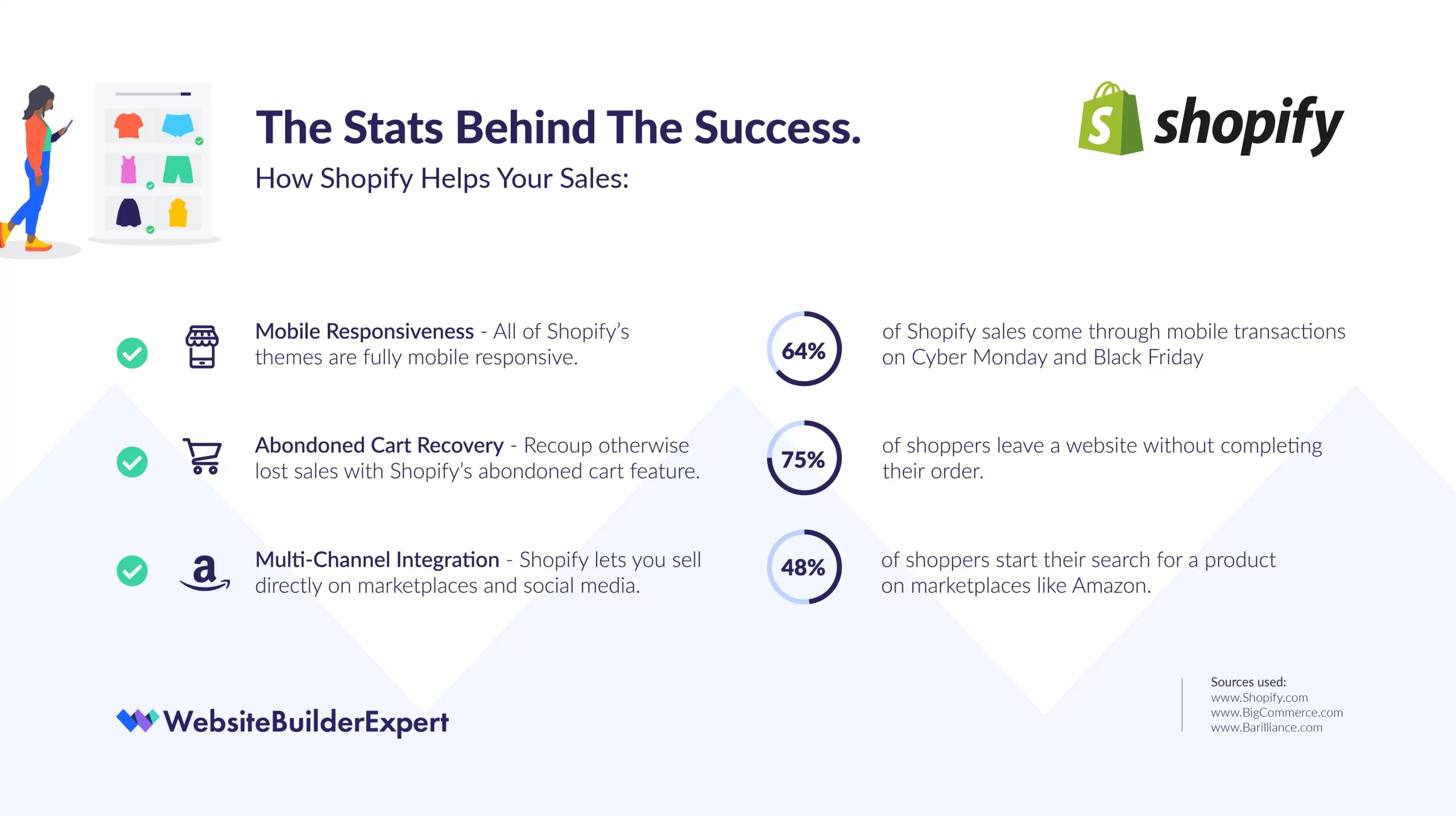 There's a lot of hype around Shopify, but we wanted to get to the truth behind the marketing.
We put our world-class methodology to good use, and went digging into Shopify's designs, sales tools, marketing features, SEO capabilities, and more. As well as testing it ourselves, we even went one step further, asking non-tech experts to try it out and tell us what they thought.
We analyzed all the results, compared Shopify with other platforms we've tested, looked at its strengths and its flaws, and calculated scores for each key area – all so we can give you the most accurate and helpful information about this online store builder.
Straight away, we can tell you that Shopify did extremely well in our testing, scoring 4.6 out of 5 stars overall.
In fact, it outperformed the majority of its competitors, coming in second place to Wix. It achieved the highest customer score out of all the platforms we tested and is perfect for users who want an all-in-one solution. But nobody is perfect – carry on reading our Shopify review to find out why it did so well, where it fell down, and most importantly, if it's the right choice for you.
How Easy Is Shopify to Use?

Quick Answer: It's not the easiest platform on the block but it's still fairly straightforward. You won't get a site live in five minutes, but Shopify manages to combine powerful ecommerce tools with an easy-to-use editor. Its interface is clean and simple, and 80% of our users said they'd recommend Shopify to a friend. Still, we always recommend trying it for yourself before deciding!
The first thing you should look at when trying out a builder is how easy it is to use, especially when building an online store. Ecommerce builders often struggle to combine power with ease of use, but Shopify has excelled in this crucial area.
Shopify has a clean, clear, and simple interface that makes setting up your store a breeze, even for total beginners.
Don't get us wrong – you won't have your site live in five minutes, because Shopify still packs a serious amount of power into its backend. However, it manages to make its editor smooth and simple to use, which we applaud (loudly).
And it's not just us who enjoyed Shopify's interface. After testing it ourselves, we got everyday people to build their own store using Shopify, and score how easy (or difficult) they found certain tasks.
It was clear that, although easy-to-use in the long term, initial interactions with Shopify's interface caused some frustration. Users found it clunky and cumbersome, especially when having to switch between the frontend editor to make aesthetic changes, and the backend to tweak the product display.
This, ultimately, pulled Shopify's ease of use score down, so it only achieved 3.5 out of 5. This puts it in 4th place after Squarespace, Wix, Square, and Big Cartel. However, it still managed to pull ahead of BigCommerce, which is its main competitor for stores that are managing larger inventories, and looking to scale.
Shopify Pricing – Is It Good Value for Money?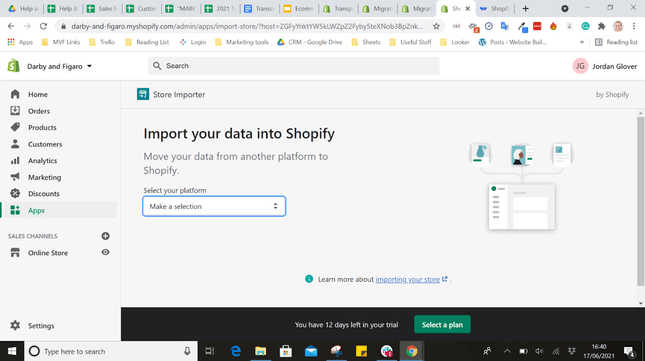 First of all, Shopify provides a 14-day free trial – you don't need to enter any payment details, so there's no risk, and no pressure to sign up. You'll just need an email, and you can test out Shopify totally cost-free for two weeks.
Shopify Lite: $9 per month – lets you add ecommerce to a Facebook page or existing website. 2% transaction fee, unless you use Shopify Payments.
Basic Shopify: $29 per month – cheapest plan to build your own store; provides all the essentials for a new online store. 2% transaction fee, unless you use Shopify Payments.
Shopify: $79 per month – for growing businesses; includes features such as gift card creation. 1% transaction fee, unless you use Shopify Payments.
Advanced Shopify: $299 per month – for big businesses wanting to scale up; includes advanced reports and third-party calculated shipping rates. 0.5% transaction fee, unless you use Shopify Payments.
Shopify Plus: custom pricing – for large-scale, enterprise level businesses with huge budgets. No set pricing – instead, you request a custom quote.
Shopify's three main plans are the Basic Shopify, Shopify, and Advanced Shopify. These sit at the core of what Shopify offers and provide you with unlimited products, abandoned cart recovery, discount code creation, and multichannel integration.
Shopify Lite allows you to sell through an existing website with the purchase of 'Buy' buttons, rather than requiring you to build a store from the ground up. Shopify Plus offers the extreme opposite, delivering a bespoke package for brands who rake in the big bucks, and need the highest level of professional support.
How Good Are Shopify's Themes?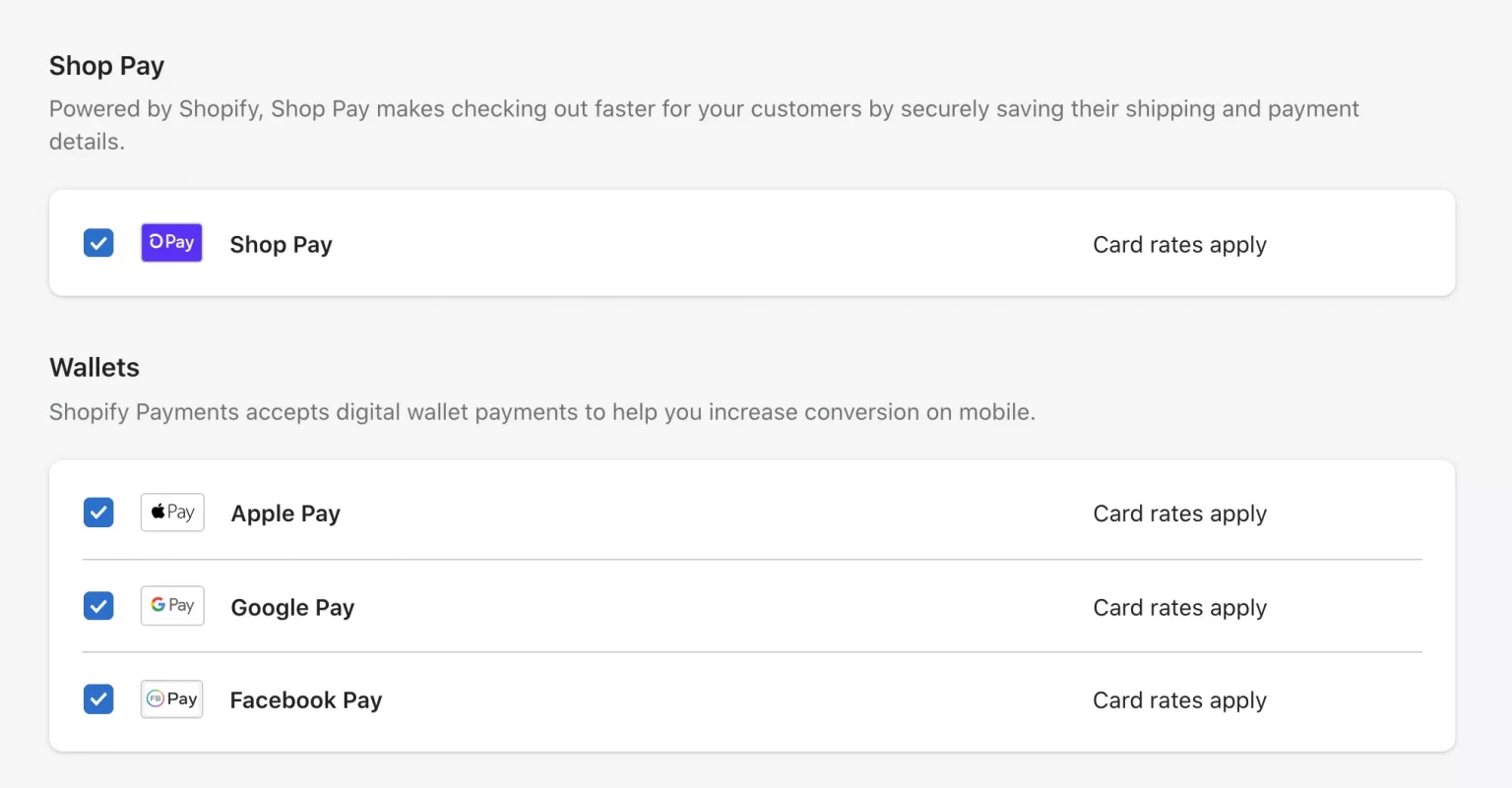 All themes are mobile responsive, meaning they'll automatically reformat to fit mobile and tablet screens. People are 62% less likely to buy from you again if they have a bad mobile experience with your site, so this feature is vitally important.
These are great features, and are important for creating a successful store that will satisfy your customers. But we know what you're really thinking: do the themes actually look any good?
Shopify's themes are professionally designed and look clean, stylish, and appealing. Each one also comes in a variety of different styles and color schemes, so you can always find the right tone for your brand.
You can browse themes by industry, from art and photography to electronics, furniture, and beyond. You can also view by popularity, price, or collection, such as "minimalist," "fun and lively," or "great for small inventories."
Customizable content sections on the home page
SEO (Search Engine Optimization)
Drop-down navigation support
Free theme updates
Mobile-friendly design
Social media icons
Built-in styles and color palettes
Free stock photos by Burst
Each theme also comes with its own specific features. We highly recommend taking a look at these, as it's a great way of deciding whether a theme is right for you:
Look out for features you need, such as product quick view or live search. You can add extra apps (something we'll cover a little later on), but choosing a theme with your favorite features built-in makes your life easier from day one!
How Powerful Are Shopify's Sales Features?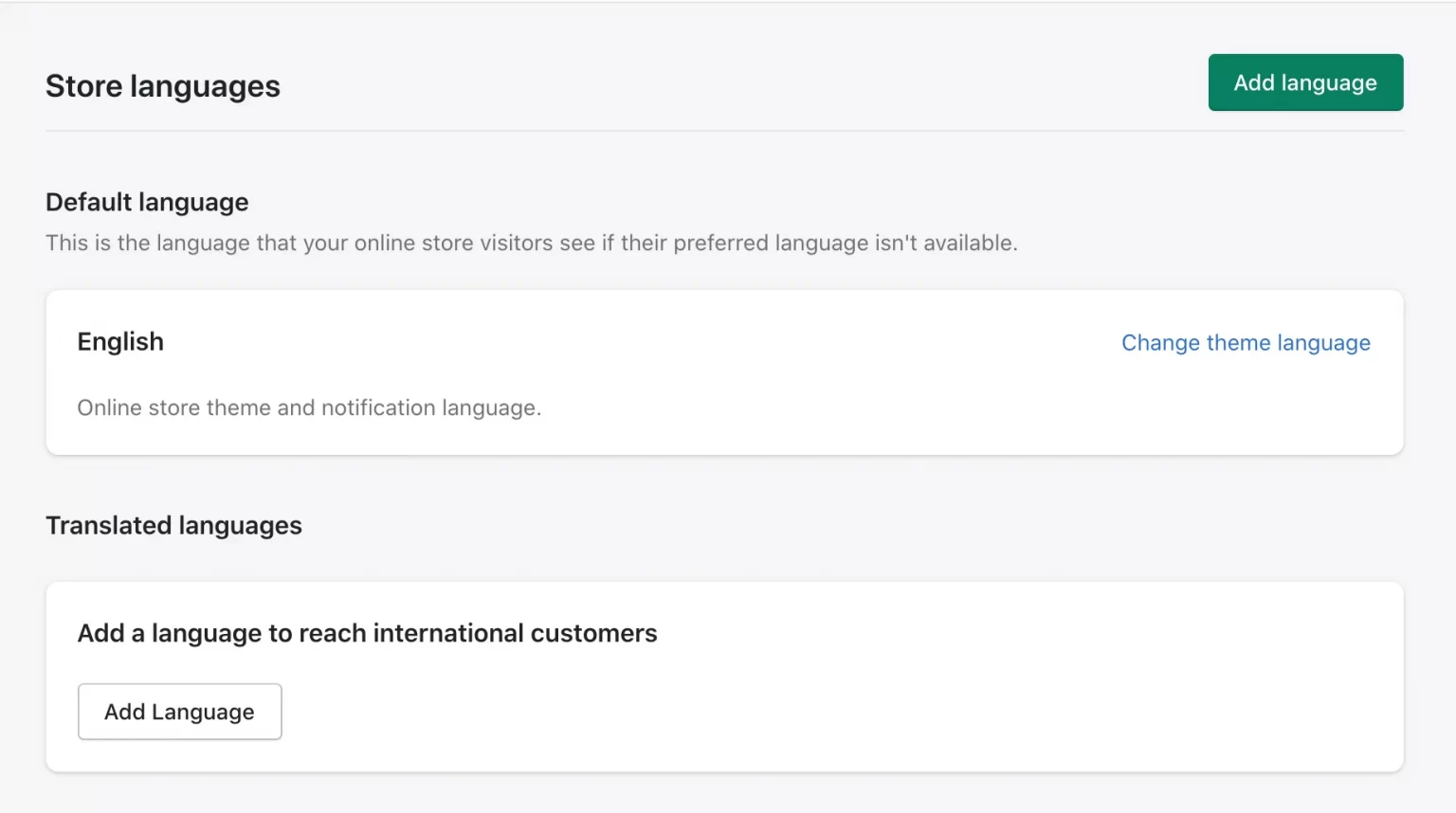 Shopify came second top in our research for its sales tools and features. You won't find better with any other ecommerce builder except for BigCommerce, which just pips Shopify with a score of 4.6 out of 5; thanks to its more generous approach to transaction fees, and its inbuilt multi-channel sales integrations.
Despite playing second fiddle in our rankings, Shopify still gives you all the online essentials you'll need, from analytics and abandoned cart recovery to tons of payment gateways and multi-channel integration.
Apps
Shipping
Dropshipping
Abandoned cart recovery
Product management
Payment options
Multi-channel integration
Digital selling
Tax
POS
We're going to cover all of these offerings in more detail next, but as you can see, there are a lot – so, to make things easier, simply click the plus icon for the features you want to read about!
Will Shopify's SEO and Marketing Tools Help You Get Found?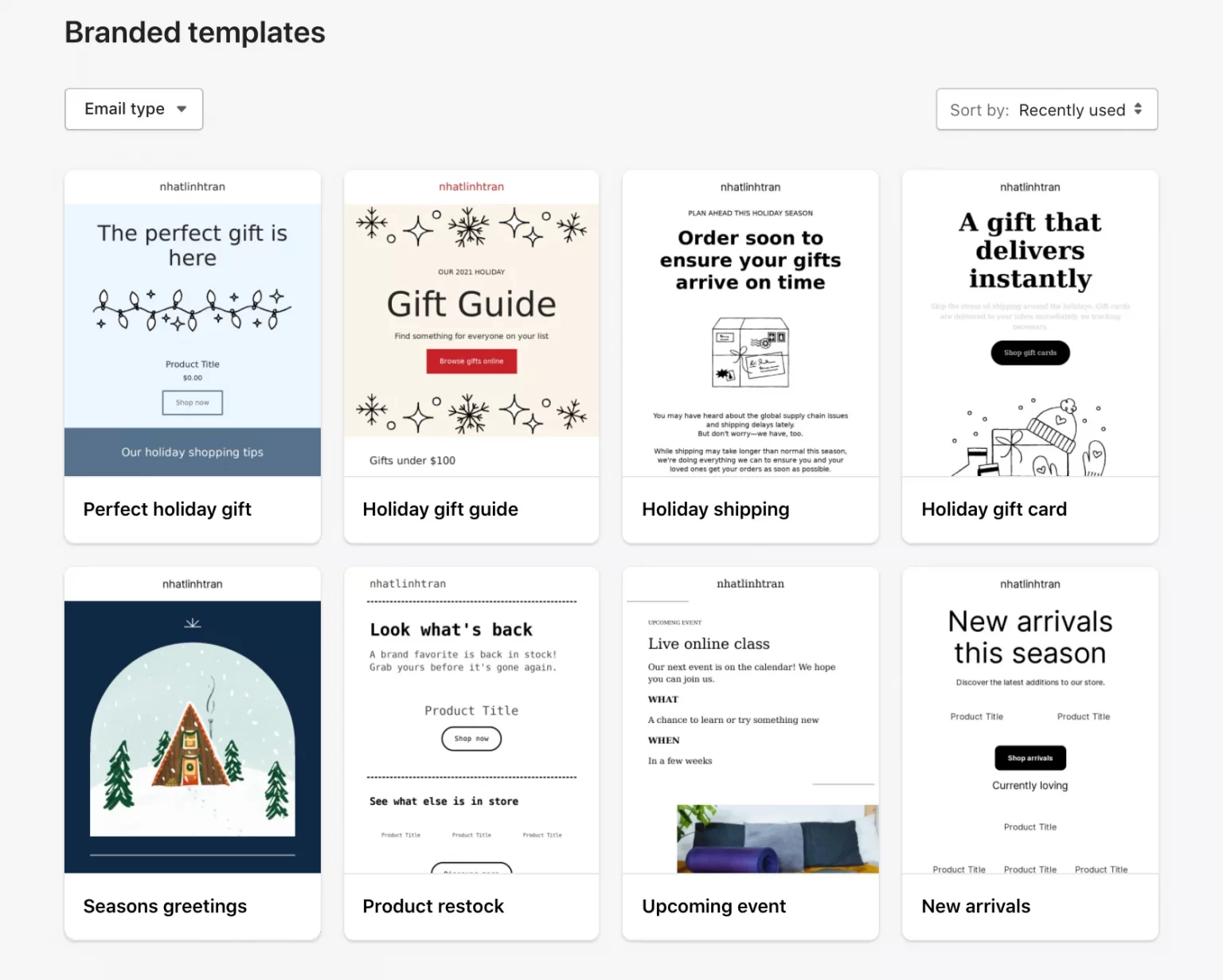 There's no point setting up an online store if nobody is ever going to see it. For your business to succeed, your store needs customers – and lots of them!
That's where SEO comes in. SEO stands for Search Engine Optimization, and is the process of maximizing your site's chances of getting found in Google's search results.
Shopify has a good range of SEO tools at your disposal. It doesn't provide every trick in the book, but most essential areas are covered, from header code to custom URLs. When you add products, Shopify even prompts you with SEO best practices.
The main thing missing from Shopify's SEO set is keyword support – if you need this feature, check out Shopify's rival BigCommerce instead.
SEO is vital for getting found in search results, increasing traffic to your site, and generating more sales. However, it isn't the only way for your store to get noticed. Click the drop-down sections below to find out what else Shopify has to offer, and see if it's good enough to get your store the attention it deserve.
Moving Your Store to Shopify: How Easy Is It?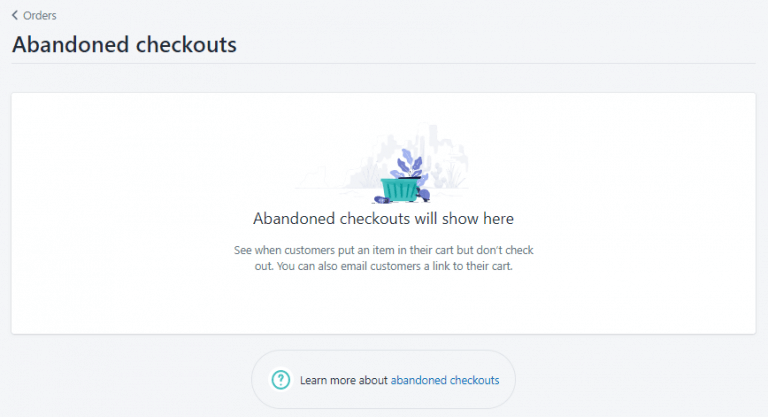 In the real world, if your store gets too big for its current space, or you find that it doesn't suit your brand as well anymore, what do you do? You move elsewhere, of course! This principle still stands in the world of online selling – just because you build your store on one platform, doesn't mean you need to stay there forever.
The answer to this depends on how much data you need to move over to your new Shopify store. If you want to move a whole chunk of it across, it could take some time. Fortunately, you have a few options.
Firstly, you can manually migrate various elements of your site. You can copy and paste content across, or transfer data using CSV files. However, this is a bit old-school, and you won't be able to use it for every element of your site. For example, CSV files can only transfer customers and products, not fully-fledged pages. You'll also need a bit of tech know-how or at least a thorough set of instructions to do this.
If you can feel a headache brewing at the mere thought of that, don't panic. There are other avenues open, such as using a migration app like Store Importer. Or, if you'd rather leave it to the professionals, you can hire a Shopify Expert to do it for you. Be warned, though – this can be quite costly!
If your store is a large one, these last two might be your best options. Ultimately, though, if you're confident in your tech skills, you can have a go at doing it manually yourself.
Either way, don't expect your store to look exactly the same as it did on your previous platform. You'll still need to do a bit of reformatting to fit your products, text, and images to whichever Shopify theme you choose when you create your new store.
Support and Security: Is Shopify Safe to Use?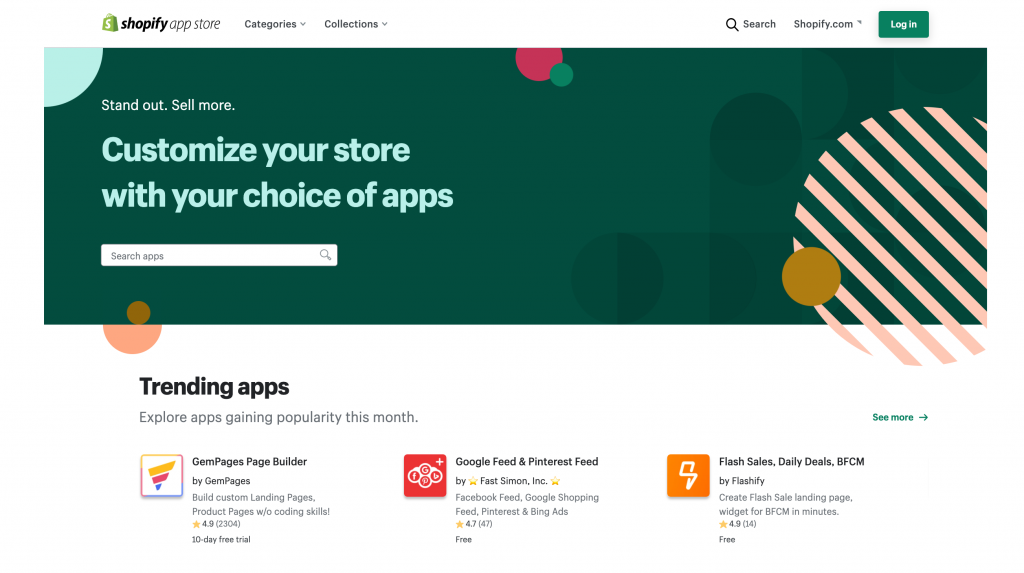 Shopify stores are automatically secure – unlike platforms such as WordPress, you're not responsible for sorting out your site's security. Instead, Shopify handles protection against cyber threats, runs updates, and meets the compliance requirements for handling online transactions.
This makes your life as an online seller much easier than if you had to manage all of these things yourself. To find out more about Shopify's security, simply click on the headings below for a drop-down explanation of each area.
If you need support, you've got it. In our research process, Shopify came joint-second with Wix, scoring 3.8 out of 5 for help and support. It provides help via various channels – which you can read more about in our guide to the best ways to reach Shopify customer service – so you can choose whichever works best for you.
24/7 phone support
Social media support
24/7 live chat support
Community forum
Email support
Help center
Video tutorials
Advanced specialist suppor
The Shopify Help Center has a wealth of information, and you can contact Shopify directly if you need more specific answers to problems.
The Shopify Plus plan provides advanced specialist support, giving you your own dedicated support agent. You don't have to pay big bucks for great support though – 24/7 help is available on even the cheapest price plan.
Not all ecommerce builders can claim this. In fact, Shopify is one of the only builders that offer round-the-clock support, with many others only operating within typical 9-5 work hours.
Shopify Alternatives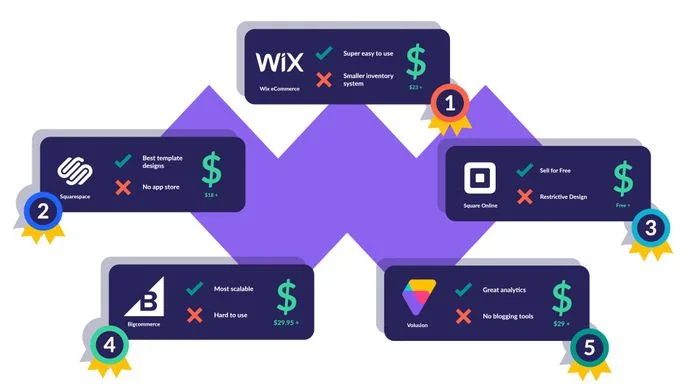 We know that each business is different, so if Shopify isn't ticking your boxes, we've put together a list of the best Shopify alternatives for you to explore. Take a look at the image below for an at a glance look at the top alternatives, or check out the list below for more details.
Wix eCommerce
A website builder first and foremost, Wix has ecommerce plans starting from $27 per month (paid annually), making it a more budget-friendly option. But that's not the only thing that marks it out as stiff competition for Shopify.
It's also got some great sales tools, came second in our ease-of-use testing, and takes the top spot for design functionality alongside Squarespace and BigCommerce. It doesn't quite have the capacity to deal with larger stores like Shopify does, but it's still ideal for small stores that put branding first.
Squarespace
Another website builder/ecommerce hybrid, Squarespace is known for its stunning templates, and its ability to give its users near-complete creative control.
It's not surprising that it scores well in terms of design functionality, but it also comes out near the top of the pack where value for money is concerned, too. Even better, it takes the crown for ease of use, boasting the highest score of all the platforms we tested. Trust us – it will really make your products shine!
Square Online
Square Online is best suited to vendors who are selling at a lower volume or own a brick-and-mortar store. It came out on top for the best value for money thanks to its free plan, great features, and by offering the ability to let you start selling – without having to splurge your life savings!. Square Online's team also provides the best help and support, in case you get stuck!
BigCommerce
BigCommerce is one of Shopify's main rivals because it's been designed to help large and fast-growing stores fulfill their potential. BigCommerce has the most in-house features of any ecommerce builder, meaning you won't have to rely on apps like you do with Shopify. BigCommerce has great SEO and fantastic multi-channel selling, but it's not as easy to use as Shopify.
Volusion
It didn't perform as impressively in our research, but Volusion does come with great analytics tools and payment gateways, and with very similar pricing to Shopify. It doesn't have any blogging tools, however, so bear this in mind when choosing.
Shopify Review: The Verdict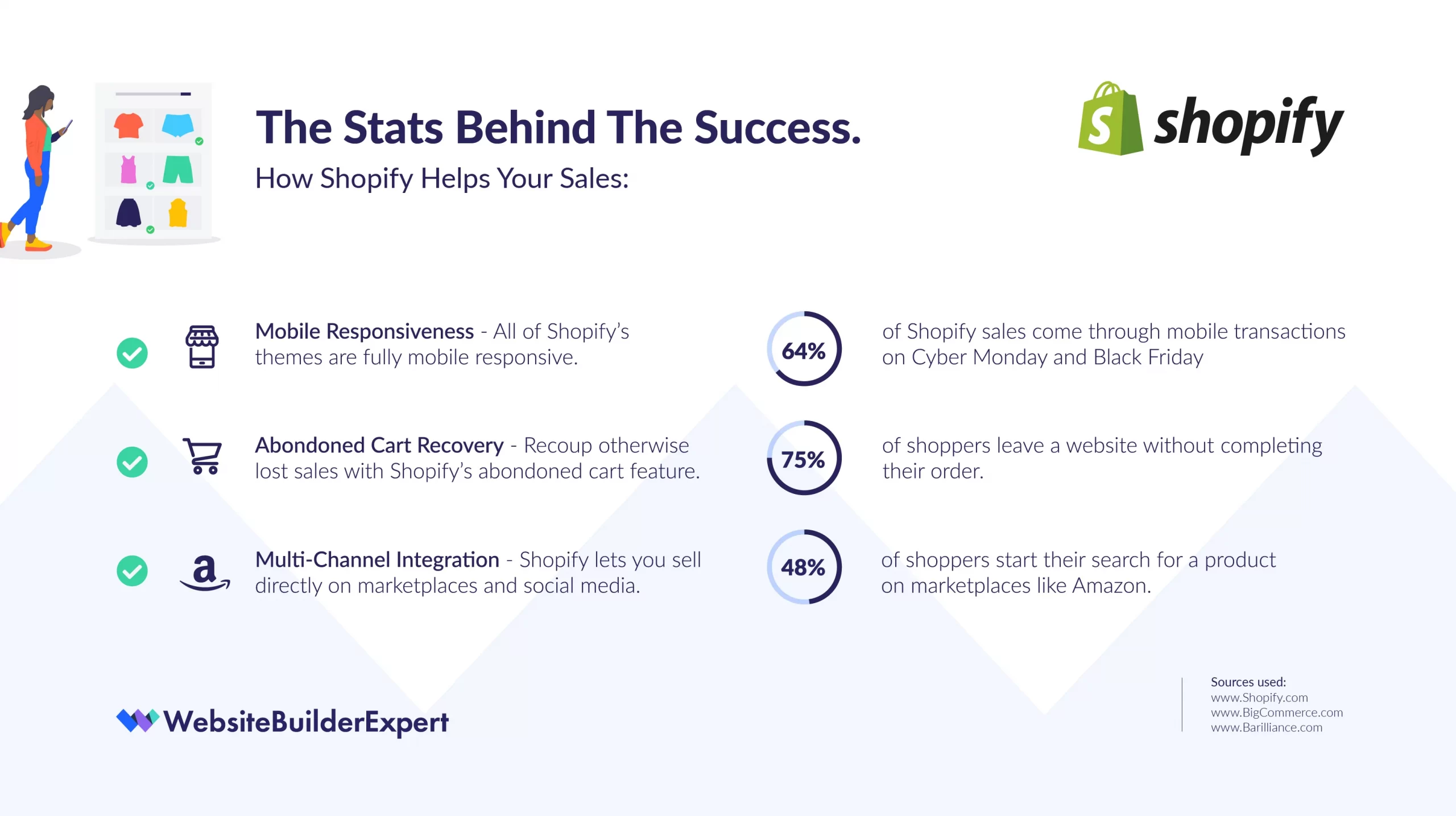 Shopify is one of the most popular ecommerce builders out there, and for good reason. It comes out near the top of the pack in almost every category of our research, and has something for everyone. That's why we recommend it so often! With a massive app store, a range of pricing plans, and an impressive suite of features, it's an extremely scalable platform.
Shopify shines the most in its sales and website features, help and support, and customer satisfaction scores, making it a great choice for both beginners and serious sellers.
Bear in mind that you'll most likely need to rely on apps for some functions, and that this can increase your monthly price. This is Shopify's main drawback, while at the same time giving you the freedom to customize and grow your store at your own pace.
Overall, Shopify has earned its title as the best all-around ecommerce website builder on the market. But there's only one way to know if it's the best choice for you, and that's by trying it out yourself!
FAQs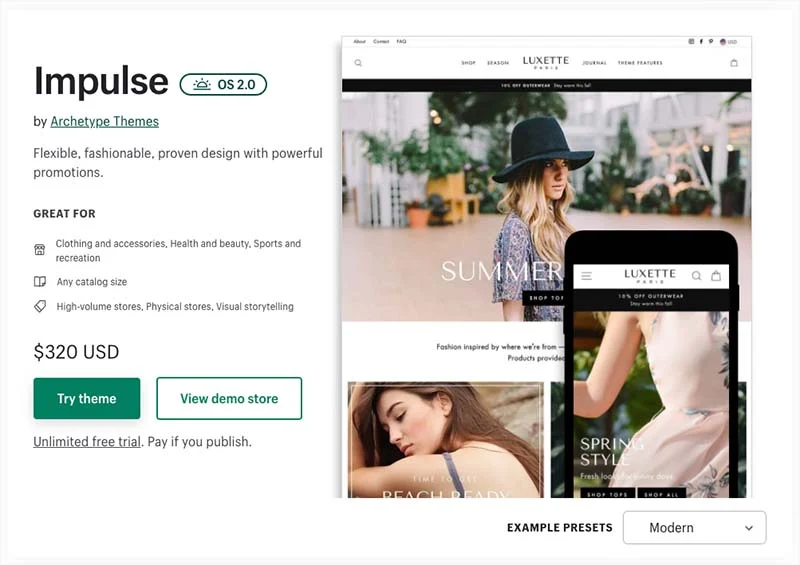 Why should I use Shopify over hiring a web developer?
Website trends are constantly changing, and what's in today may be outdated tomorrow. Shopify ensures it keeps on top of any and all changes, updating features and releasing new apps constantly, so you can make sure your site stays ahead of the curve.
You don't want to be forking out hundreds (maybe even thousands) for a web developer to perform updates every two years. With Shopify, you're in total control.
Will I lose what I've done if I upgrade after a free trial?
Don't worry – as long as you upgrade to one of Shopify's premium plans within the 14-day free trial, all your content will be carried over. Two weeks should give you plenty of time to decide if Shopify's the right product for you, before committing to investing in it!
What's the difference between Shopify and Wix?
Good question. Wix, similar to other platforms like Squarespace and Weebly, is a website builder that offers ecommerce functionality. Shopify is purpose-built for ecommerce, but that doesn't necessarily mean that it's your best bet if you want an online store.
Wix actually did very well in our testing and research, earning an overall star rating of 4.7 out of 5 compared to Shopify's 4.6 out of 5. Despite this, it is worth mentioning that Wix doesn't have quite the same level of scalability that Shopify offers. Instead, it's better equipped to support smaller ecommerce stores.
Can you create a multilingual Shopify store?
Yes! Shopify has a selection of themes that come with different languages built-in, and if you know how to code, you can translate your store's content yourself. However, the easiest way of creating a multilingual Shopify store is by using an app such as Langify or Weglot Translate.
What's the best alternative to Shopify?
For large stores, the best Shopify alternative is BigCommerce – it's very powerful, and has similar pricing to Shopify. For smaller businesses, we recommend looking at Wix eCommerce – it's cheaper, easy to use, and comes packed with some great sales tools to help your store succeed.